When you're looking to start your new Limited Liability Company (LLC), you'll discover many formation service options.
Choosing your LLC services provider is one of the most important decisions you'll have to make in the beginning.
To help you out, we did a deep dive into two popular online legal services: Rocket Lawyer and LegalZoom. We examined each provider's features, prices, user-friendliness, and customer support service.
Our results indicate that LegalZoom is the clear winner
, hands down. Its pricing structure with no subscription obligations, as well as the features it packs into its plans, helps it to outshine Rocket Lawyer's services. Read on for the complete details of what we discovered.
Features
Rocket Lawyer Can't Compete With LegalZoom
When it comes to LLC formation services, both LegalZoom and Rocket Lawyer can do the job for you. However,
LegalZoom offers more even in its free plan than Rocket Lawyer will do for you for a fee
.

LegalZoom charges you only your state's filing fees in its free plan.
For those fees, the company will file your Articles of Organization for you. It also provides access to a business name search tool, a Wix website, and a proprietary digital welcome pack, which walks you step-by-step through the formation process.
LegalZoom offers its services in Spanish
and has a Spanish language section within its FAQs and online resources.
Rocket Lawyer offers a version of its website in several languages,
including Spanish, Portuguese, Dutch, and French. If you
choose a LegalZoom paid plan
, you may be paying more than you would with Rocket Lawyer, but you're also getting more. You'll receive your Employer Identification Number (EIN) or tax ID number.
You'll also have access to the company's legal and tax consultants for 90 days.
Rocket Lawyer makes you pay extra for your EIN and only offers a 7-day trial of its consulting programs.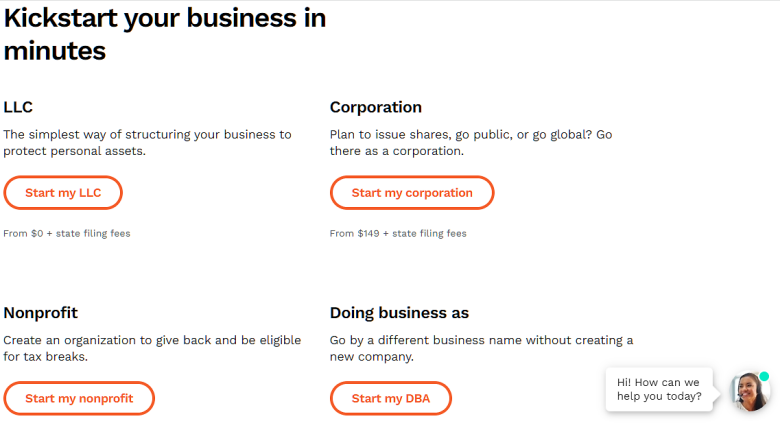 Both companies charge extra for Registered Agent services.
LegalZoom offers the service for a yearly fee. Rocket Lawyer offers it as an add-on service when forming your LLC, but if you're an existing business in need of a Registered Agent, you'll have to contact Rocket Lawyer for details. Both companies can help with other business registrations, including C- and S-corps, sole proprietorships, and nonprofits. And both companies offer a range of tax, legal, and consulting services. One thing to note: neither firm is actually staffed by attorneys or accountants. Both outsource these services with professional partners located around the country.
One advantage to LegalZoom's services, however, is that outsourcing fees can be included in your paid LLC plans, or can be paid separately.
Ease of Use
Everything's Upfront With LegalZoom
When it comes to choosing and signing up for your LLC formation plan,
LegalZoom comes out miles ahead
 of Rocket Lawyer for several reasons. The main one for us is transparency. The LegalZoom website includes prices and a plan comparison chart.
You know what you're getting from LegalZoom and how much it will cost you before you begin.
The situation is the complete opposite with Rocket Lawyer. Its website seldom includes prices, unless the item is "free."
You don't even know how much LLC formation will cost until you go through the sign-up process.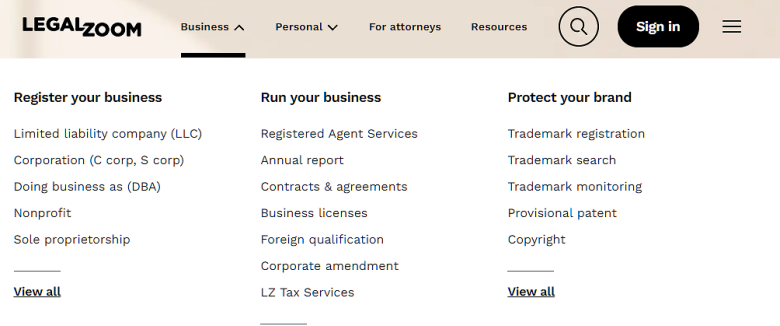 Legal documents are given top billing on Rocket Lawyer's homepage, making you scroll past the fold to find the sign-up button for LLC services. With LegalZoom, simply click the
Business
drop-down menu from the top navigation, and you'll be brought there.
One last thing to mention about Rocket Lawyer is to make sure to visit the
Don't sell my personal information
link in the footer menu.
Otherwise, you'll find your inbox inundated with "special offers," and your social media scrolling will become a Rocket Lawyer ad nightmare. Both companies use a fairly straightforward online sign-up process. Both also include extra add-ons in the process.
One big difference is that Rocket Lawyer preselects extras, including its monthly subscription.
LegalZoom simply asks if you want to add them, so you're less likely to end up paying for things you don't want.
Pricing
Subscription vs. No Strings Attached
Nothing is truly "free" when dealing with Rocket Lawyer
. It uses a membership model with a monthly subscription fee. You can receive certain services "free" if you become a subscribed member. Without a subscription, there are added fees involved. That includes the "free" LLC formation plan. We saw some customer reviews complaining that
users had to sign up for a free trial of the membership to access Rocket Lawyer's so-called "free" documents
. Others claimed that the company automatically signed them up without their knowledge. The monthly membership seems to be a priority regardless of what service or product is involved.
LegalZoom, on the other hand, uses straightforward fees and pricing structures.
What you see is what you pay. And with its various tiers of plans and add-ons, you can customize your services to suit your needs. And yes, its "free" plan is truly no-cost, other than your required state fees. In most cases,
LegalZoom's paid services
 cost more than Rocket Lawyer's. We feel justified in placing LegalZoom on top, however, because it offers the customer more value for money, with no hidden costs and no membership required.
What you see is what you pay, and it's all there in the open on LegalZoom's website.
There's no guessing, deselecting paid add-ons, or pushing you to agree to a costly monthly membership. In the table below, we've compared the free LLC formation plan from LegalZoom to Rocket Lawyer's only LLC formation service. Please keep in mind that
the prices shown for Rocket Lawyer are those for monthly members only.
Without the subscription, you'll have to pay more.
LegalZoom
Rocket Lawyer
Free plan (minus state fees)

$

0

$0
Filing time (minus state processing time)
5 to 14 business days
Same day, or next day if purchased after 6 pm PST
EIN?

✘

✘

Registered Agent?

✘

✘

Business name search?

✔

✘

Welcome package?

✔

✘
Support
Call, Don't Write
In our support experiences with both company formation services, we found that while LegalZoom's support may have some room for improvement, it still beats Rocket Lawyer's far-below-average efforts.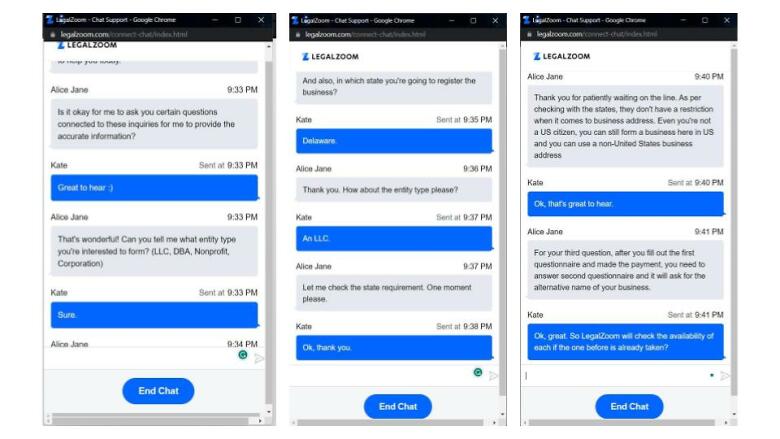 LegalZoom offers phone, email, and online chat support to potential customers and customers who purchase a paid plan. Only email and chat are available to free plan users.
Our email went unacknowledged and unanswered. But both of our chat sessions, including a weekend one, were helpful,
as was our phone call on a Thursday afternoon.
It's a shame about the failed email support, but all in all, we had a satisfactory experience with LegalZoom's support team.
Now, on to Rocket Lawyer, and a completely different experience. Rocket Lawyer advertises live online chat, email, and phone support, with phone support available only Monday through Friday from 6:00 a.m. to 6:00 p.m. PST. On a positive note, my phone call at 1:39 p.m. on a Tuesday afternoon was answered promptly.
Unfortunately, it took me three tries restating the same simple question to finally get an appropriate answer from the agent
as to how long it takes the company to process your paperwork. Here's how it went:
Attempt #1:
How long does it take Rocket Lawyer to process my LLC paperwork and get it to my state? I can't find that info on the website.
Answer #1:
Each state has varying processing times, so it depends on your state.
Attempt #2:
No, how long does it take for my paperwork to reach my state once I place an order?
Answer #2:
There are expedited fees available. If you tell me which state you wish to incorporate in, I can look them up.
Attempt #3:
No. I need to know how long it takes
YOU and YOUR COMPANY
to file my paperwork. Can you tell me?
Answer #3:
Oh, oh, sure! We try to process and file your paperwork within 24 hours, so usually the next day. (
WHEW! Finally!)
Rocket Lawyer's chat function does not appear to be live, and it is not very helpful.
It's an AI generated knowledge base linked to info found elsewhere on the site and hones in on what it
thinks
is your keyword. It's not always right, and like phone support, we tried multiple times restating the same question without ever getting close to an answer.
And just like LegalZoom, our email went unacknowledged and unanswered.
Does LegalZoom's support have some room for improvement? Yes, but overall it was good. Does Rocket Lawyer's? Definitely – it's barely supportive at all.
Another plus for LegalZoom is that it offers weekend support
and not just weekday hours like Rocket Lawyer. Add in that Rocket Lawyer advertises "live" support and then serves up a bot whose intelligence, while certainly artificial, is questionable. And once again, LegalZoom comes out on top.
Start to Finish, There's No Real Competition
When you put Rocket Lawyer and LegalZoom head-to-head as we have,
there's only one choice for the winner: LegalZoom
. The features and freebies it offers LLC owners far outshine those provided by Rocket Lawyer. LegalZoom's website is easy to use, straightforward, and doesn't leave the user guessing about prices or available services.
LegalZoom offers a truly free option
for forming your LLC, whereas Rocket Lawyer wants to make you commit to its monthly subscription fees in exchange for lower or no included fees. And while both companies' support systems could use some upgrading and refinement,
LegalZoom's support is more readily available and true to its word.
We honestly can't recommend Rocket Lawyer for anyone starting a business. If your business is the type to need regular tax or legal advice,
LegalZoom is the better choice
, hands down. We've summed up our experiences with both companies in the table below.
Features
Value-packed packages, including the free plan
Everything comes at a cost, and there's always a subscription to be bought
Ease of Use
Easy-to-use website, straightforward pricing, beginner-friendly sign-up process
Average UX website, hidden fees, preselected upsells during signup, personal data not private unless requested specifically
Pricing
Straightforward, one-time fees
Membership subscription determines actual fees
Support
Excellent phone and chat support, poor email experience
Far-below-average phone, chat, and email support experiences
FAQs
Why should I use an LLC formation service?
Using an LLC formation service like LegalZoom can simplify the process of starting an LLC. These services have expertise in navigating the legal requirements and can save you time and effort. They ensure that the necessary paperwork is completed accurately and submitted on time, reducing the risk of errors or delays.
How long does it take to form an LLC using an LLC formation service?
The time it takes to form an LLC can vary depending on several factors, including the state in which you're forming the LLC and the workload of the formation service. For example, LegalZoom's filing time is between 5 and 14 business days, and then your state will add its processing time to that.
What is a Registered Agent and do I need one for my LLC?
A Registered Agent is someone who is available during business hours to receive legal and tax-related documents. Every LLC throughout the US is required to have a Registered Agent. You can act as your own Registered Agent or have an individual or company such as LegalZoom provide the service for you.
How do I choose the best LLC formation service for my business?
It's important to review the specific needs of your business and ensure that the service provider can meet those requirements effectively, including services offered and the cost of those services. If LegalZoom isn't right for you, perhaps one of our other top ten LLC formation services will be a better fit.