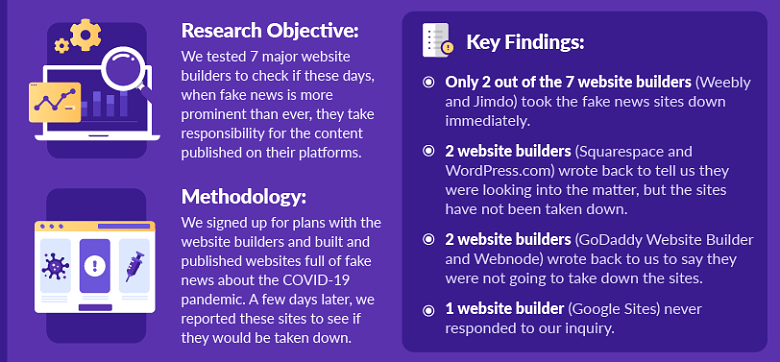 As the world continues to fight the COVID-19 pandemic with lockdown measures, travel restrictions, and vaccination campaigns, misinformation and fake news are as rampant as ever – especially when it comes to
coronavirus-related conspiracy theories
. This has been a problem since the pandemic began, with outspoken individuals spreading unverified information about the causes, treatments, and severity of the virus. Much of this misinformation has been disseminated online,
sowing widespread distrust
 in scientists, researchers, governments, and public health organizations across the world. Over the past several years, there has been plenty of debate and controversy surrounding the control of fake news online. The internet has become a
 battleground between free speech and protecting the public good
 – but where exactly is the line between these two concepts, and who's responsible for drawing it? We're in the business of
reviewing and recommending website builders
, so we wanted to know where they stand. More specifically, we wanted to find out if they
assume any responsibility for fake news
that's posted using their services. To answer these questions,
we put seven major website builders to the test
 in order to assess their response – or lack thereof – to COVID-related misinformation.
What Are the Dangers of COVID-19 Misinformation?
Before I get into the details of our research, I want to address the motivation behind it. There are plenty of conflicting viewpoints when it comes to the COVID-19 pandemic, due largely to the fact that
our collective understanding of the virus is constantly evolving
. This can make it
difficult to distinguish between fact and fiction
; who's to say what's true, when not even the world's top scientists are always in agreement? Organizations like the WHO and the CDC are constantly revising their recommendations as new information becomes available. Naturally, it's not easy to keep up with all the changes. That said,
certain narratives are objectively false
. Amid all the conspiracy theories and political agendas related to the pandemic, fact-checkers have been tackling every new questionable theory that arises, and have definitively proven plenty of them wrong.
Note:
 If you're ever unsure if something is fake news or legitimate information, there are plenty of reliable ways to find out. For example, you can do a search in Google's
Fact Check Explorer
 to see results from a variety of reputable sources. The key is to
think critically about everything you read online
, and to always cross-reference it with trustworthy websites. If you do that, it's not so difficult to identify fake news. Spreading false information – such as the idea that the virus is exacerbated by 5G, that mass vaccination is a plot to implant microchips in people, or that the entire pandemic is a hoax – is not just irresponsible.
It's unethical and ultimately dangerous
. By discouraging people from wearing masks or complying with lockdown restrictions, it puts both them and those around them in danger.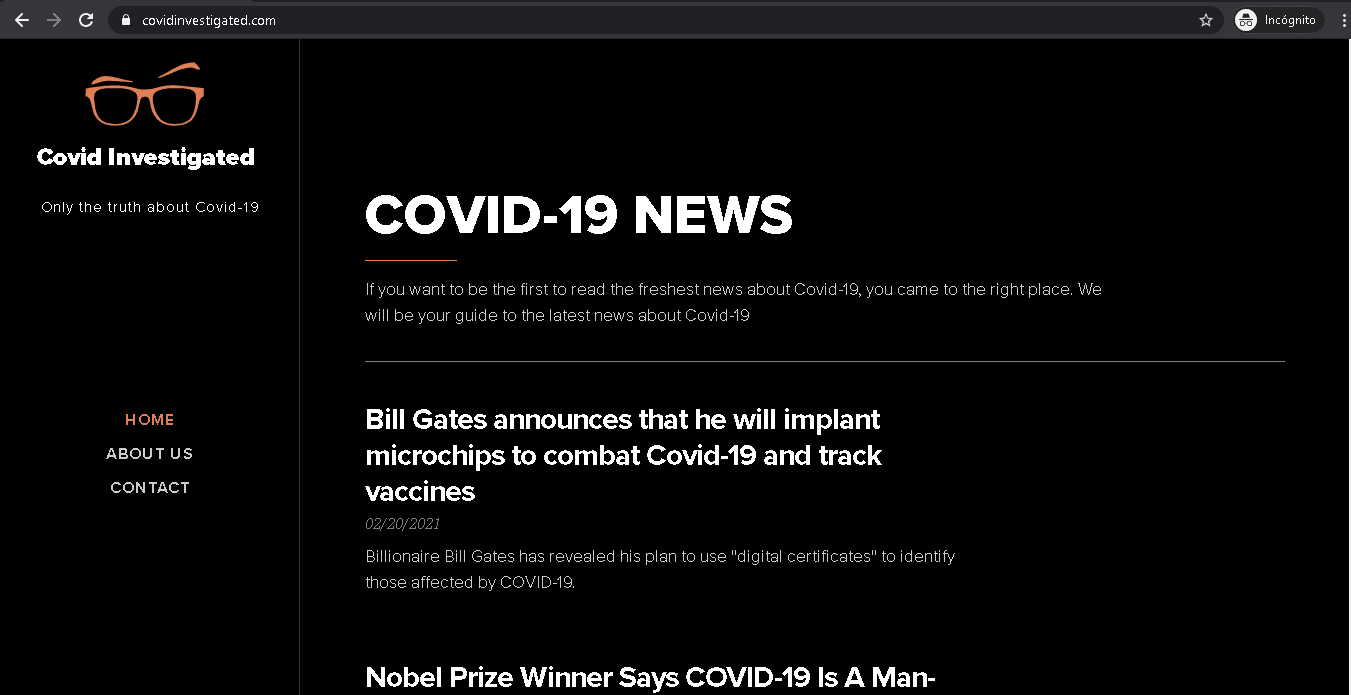 To put it simply,
COVID-19 misinformation directly increases the risk to public health
 at a time when that risk is already unacceptably high. In my personal opinion, allowing this kind of false information to remain online is unacceptable. But of course, not everyone agrees.
How Online Platforms Handle Misinformation
If you've been following the news at all recently, you know that tech giants and social media services are facing tough questions about this topic. At first, many platforms were hesitant to block content and ban users. But after intense media scrutiny and public outrage,
some have taken a stronger stance against fake news
 in the context of the pandemic. For example, Facebook has recently
overhauled its policy
 regarding COVID-related misinformation. Not only does it remove misleading content; it also tells the users who posted, shared, or interacted with that content exactly why it was removed. Twitter has also posted an extremely detailed
COVID-19 misleading information policy
, which lays out all the types of content that are restricted. It explains what is
not
a violation of this policy and also what happens if you violate it. Here's a succinct summary:
"You may not use Twitter's services to share false or misleading information about COVID-19 which may lead to harm."
The actions taken by Facebook and Twitter are especially important because they
set a standard for the entire tech industry
. Smaller companies – including website builders – may look to them for guidance or a precedent to follow. If that's the case, then the services we tested shouldn't have any problem with removing sites that contain blatantly misleading COVID-related content. But as you'll see in the results section below, it turns out things aren't quite that simple.
How We Researched Website Builders' Responses to COVID Misinformation
To find out how different website builders deal with reports of misinformation, we created
seven websites featuring fake news related to COVID-19
. To do so, we used paid accounts (with the exception of Google Sites, which only has a free option). This meant that if the website builders decided to take down our sites, they could lose money. Each site consisted of three main pages: a home page with several headlines promoting conspiracy theories about the pandemic, plus links to the full articles (the same on each site); an "about us" page with a brief summary of the goals of each site (slightly different for each one); and a contact form.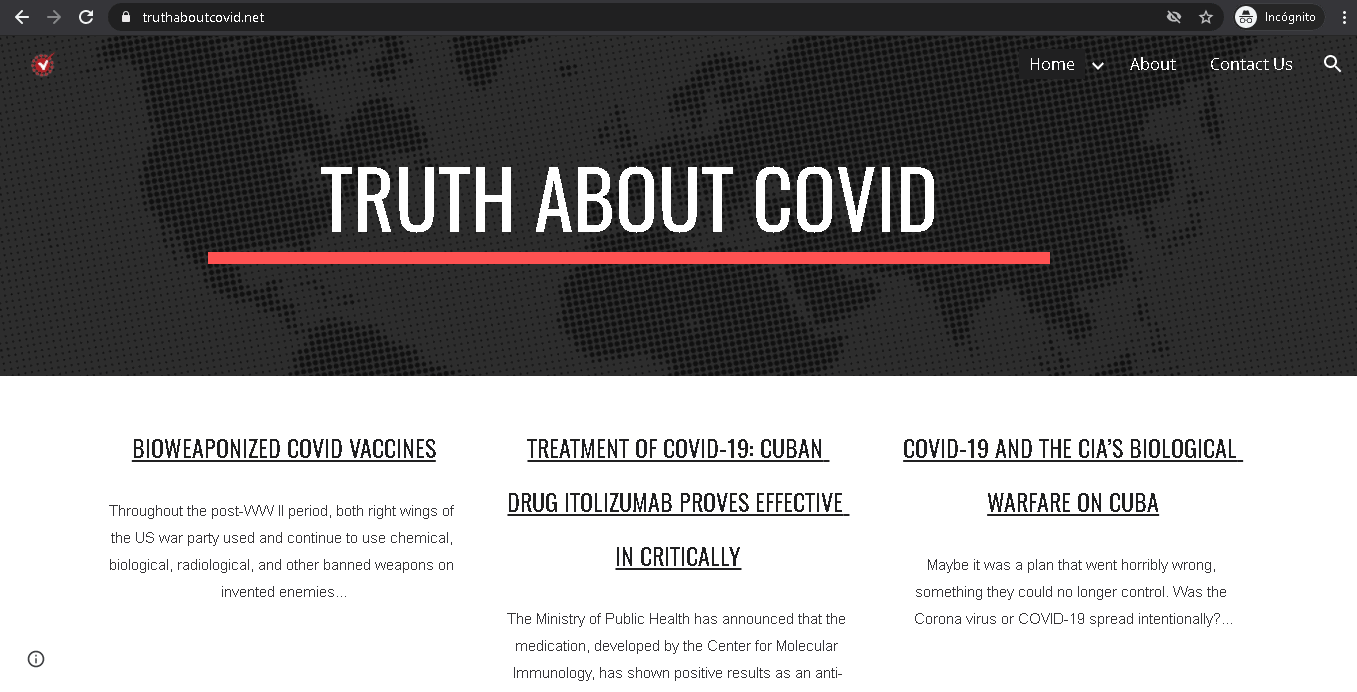 We designed these sites to represent the
most widespread types of misinformation about COVID-19
. Some of the articles argued that it's a man-made virus or a biological weapon, while others declared vaccination to be ineffective or dangerous (among many other claims).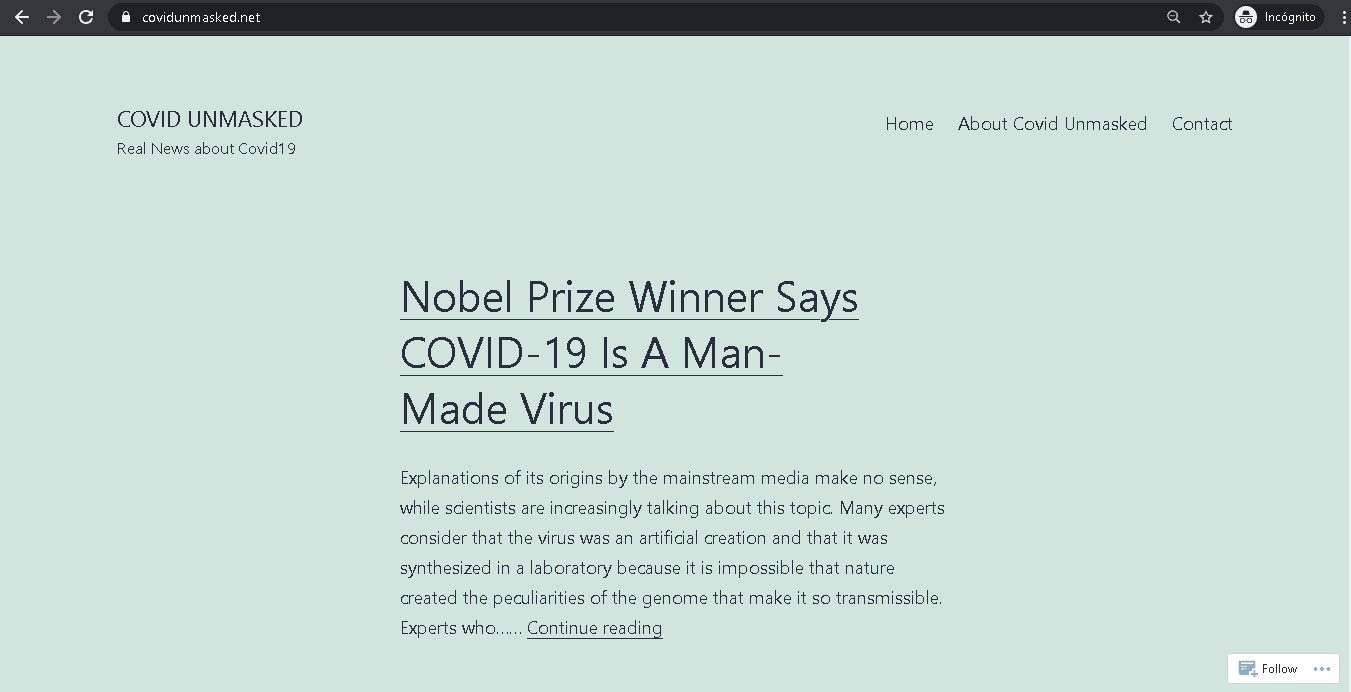 We intentionally chose
the most
 far-fetched and blatantly false headlines
we could find, so there was no doubt about whether they represented fake news or legitimate sources. The "about us" sections presented the websites' owners as truth seekers and experts – without any evidence to back this up. The ease with which we created these entirely inaccurate websites is
reason enough to question what you read online
. It was way too simple to write up sensationalist, blatantly false content and immediately make it public. If we can do it, anyone can… and that's the problem.
IMPORTANT: All of the websites we created for the purposes of this research contain false and misleading information that is not meant to be taken as fact, nor to represent the opinions of any of our team members. In fact, it is in stark opposition to our core values, and we strongly oppose misinformation in all its forms.
How to Report Misleading or Abusive Content to a Website Builder
After we published the sites, I personally researched the
processes in place to report abuse
 to each of the website builders we tested. All of them post their terms and conditions or terms of service online for the public to see. Likewise, they all offer a way to report sites that contain harmful, dangerous, or illegal content. What they don't have in common is
 how they decide what exactly is worthy of removal
. I submitted a complaint to the website builder we used to make each fake news site, either by email or through an online contact form. In my report, I provided a link to the site and a short explanation of why I thought it should be taken down. In some cases, I also
referenced a specific part of the terms and conditions
 to support my point. Once that was done, it was time to wait… and wait some more. After a couple of days, I followed up with the sites that had yet to respond, and sent another report from a different email address.
After more than a week, fewer than half of the sites were removed
. Some of the website builders didn't provide any response or acknowledge my complaint at all.
Results – Which Website Builders Remove Misleading COVID-19 Content?
Of the seven website builders we tested,
only two removed the site in question
 within the first week, and 
three provided a direct response
 to the report(s) I submitted. Below, I'll explain the process and results for each website builder in detail.
1. Squarespace
Squarespace is consistently ranked as one of the top website builders available, so we had high hopes for its customer service and abuse policy. I found the following section in its
Acceptable Use Policy
, which appears to
clearly prohibit misinformation
:

Screenshot from Squarespace's Acceptable Use Policy.
To see if this policy applies to COVID-related fake news – which I would personally categorize as both misleading and unethical – I reported the site our team created using Squarespace. First, I sent an email to [email protected], as indicated in the Acceptable Use Policy, and immediately got an automated email letting me know my report was received.
After two days without a response, I sent another email from a different address. After three days, I followed up from the original email address. And finally, four days after the original report, I received this email:

However,
I never received any further information or follow-up
. At the time of publication of this post, the fake news site remained live at Covidtruefacts.com. This was a surprising result from Squarespace, which ranks consistently well in terms of customer support – especially considering that it specifically prohibits false, inaccurate, misleading, and unethical content.
Note: Squarespace is headquartered in the United States, where many of the tech giants at the center of current debates about fake news are also based.
2. Weebly
Weebly's
Terms of Service
 do not explicitly prohibit fake news or false content, but they do include the open-ended statement highlighted below:

Screenshot from Weebly's Terms of Service.
So Weebly reserves the right to remove any content that they find "objectionable." But does that apply to COVID-related misinformation? Apparently so; the site we created with Weebly was the very first one to be taken down. Strangely, they did not notify us of its removal, but they did immediately issue a refund for the hosting fee.
It's unclear whether this site , which was at Realcovidinfo.net, was removed as a direct result of my complaint. It was taken down about four and a half hours after I reported it using
this form
 (there's no separate form for abuse). But
I never received any response from Weebly
, apart from an automated email letting me know that my complaint was received in the first place. Interestingly, Weebly actually upgraded us to an e-commerce account before blocking our access. We opened a customer support ticket to find out why, but after sending them our email and the site's URL, they closed the ticket with no explanation. Our best guess is that there was some kind of bug, but
we never got any clear communication from Weebly
. We could choose to assume that Weebly is in fact taking action against COVID-related fake news – but if that's true, then they're being oddly subtle and uncommunicative about it.
Note: Weebly is headquartered in the United States.
3. WordPress.com
To test this popular service, we created a site using WordPress.com (not the open-source software of the same name) and connected it to the domain Covidunmasked.net. When it comes to removing content, WordPress may have the most open-ended policy of all the website builders we tested. Its
Terms of Service
 include the following statement: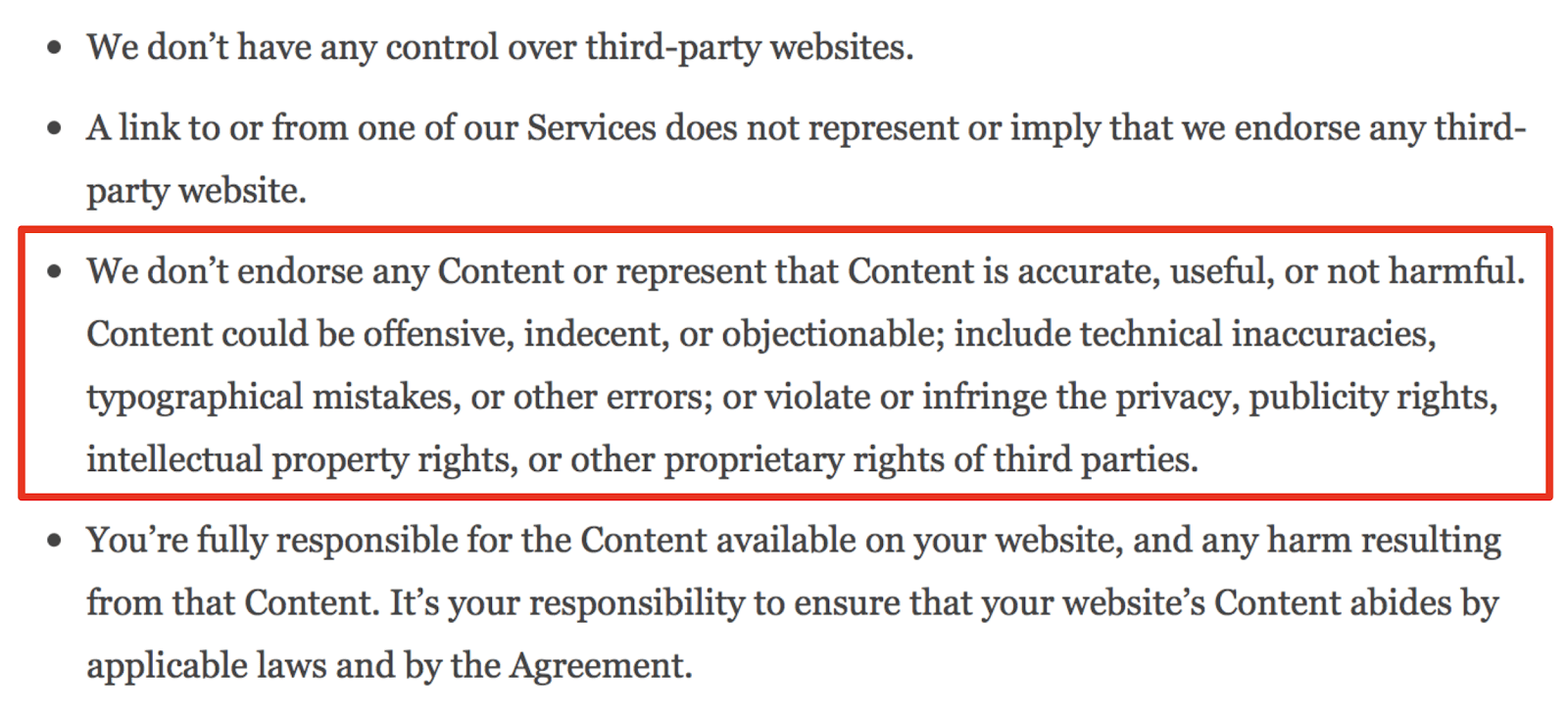 Screenshot from WordPress' Terms of Service.
This could be interpreted as a purposely hands-off approach to conspiracy theories and other "objectionable content." Indeed, WordPress has previously faced criticism – and from some, praise – for limiting content removal.
The underlying goal may be to prevent censorship, but the practical outcome isn't always so positive. For example, the company drew negative attention in 2018 for
refusing to remove offensive conspiracy theories
 about the Sandy Hook shooting from sites it was hosting. With all this in mind, I had a hunch that WordPress wouldn't remove our COVID fake news site. I used
this form
 to report it as abusive, and after a couple of days with no response (or even confirmation that my complaint was received), I reported it again using a different email address. In both complaints, I added a variation of this phrase to specifically address the policy quoted above:
"I understand that you support free speech, but I believe that it is irresponsible, unethical and dangerous to allow this kind of information to spread freely online."
I didn't receive any immediate confirmation from WordPress that either of my reports had been received. But 10 days after I sent the original report, I finally got this email: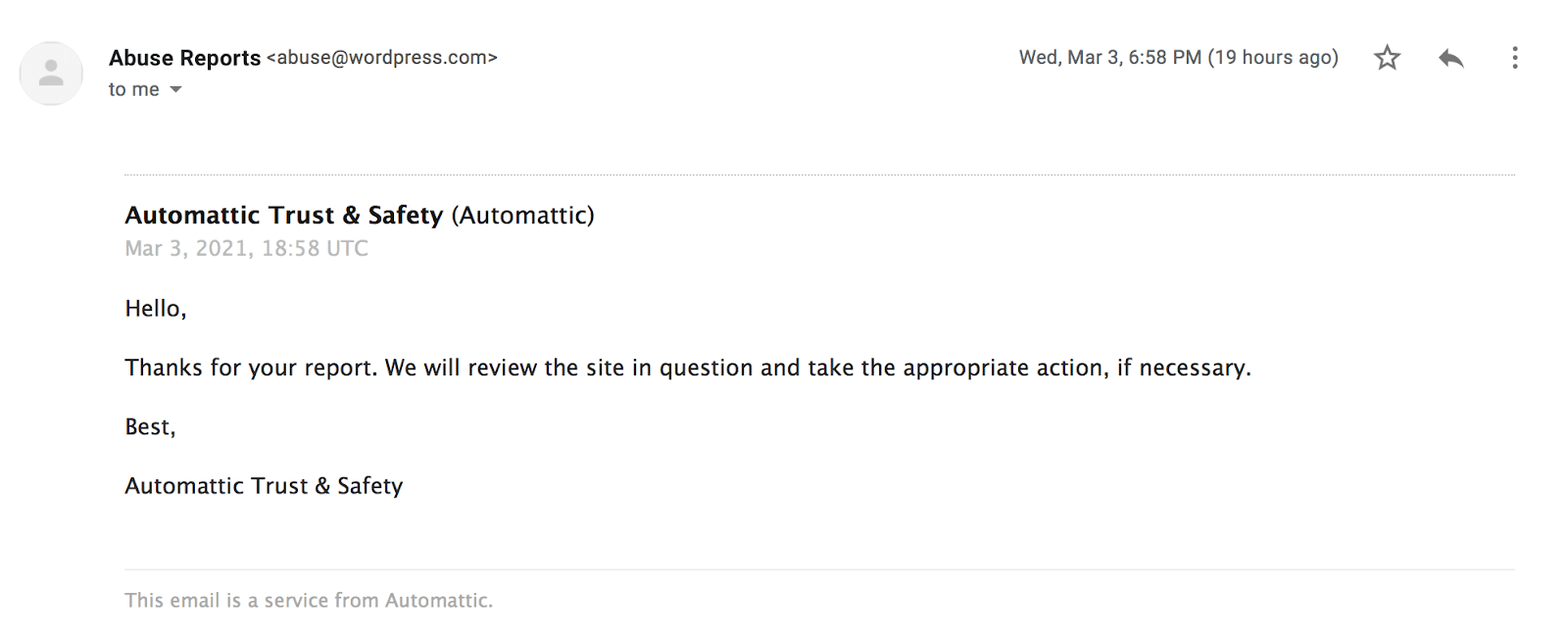 However, WordPress has not yet taken any further action or removed the fake news site. Overall, this was a
disappointing outcome – but not exactly surprising
, given the company's history.
Note: WordPress is headquartered in the United States.
4. GoDaddy Website Builder
GoDaddy is the only website builder on this list advertising a specific
COVID-related abuse policy
, which includes the following:

Screenshot from GoDaddy's COVID-related abuse policy.
GoDaddy asks users to submit reports of COVID-19 abuse or fraud through an online form or to their dedicated email address: [email protected]. I decided to go the email route to report our fake news site, which was at Thetruthishere.org.
I didn't get any initial confirmation that my complaint was received. After a few days without hearing anything, I sent another report from a different email address, and finally received this answer (only to the second email, not the first):
"Thank you for the message. We have reviewed your complaint but at this time we are unable to take action without a court order. GoDaddy does not allow illegal content on our customer's [sic] websites. However, as a hosting provider,* it is not our place to determine if the site you have mentioned is actually engaging in illegal activities.
GoDaddy regularly works with courts and law enforcement from the local to the international level. If you suspect any of our customers are using their website to engage in any illegal activities, please help us by contacting your local law enforcement agency, and request them to investigate this situation. Law enforcement can contact us directly if they need the website(s) taken down, or if they need more information pursuant to an investigation. We have a long-standing history of cooperation with law enforcement and the courts."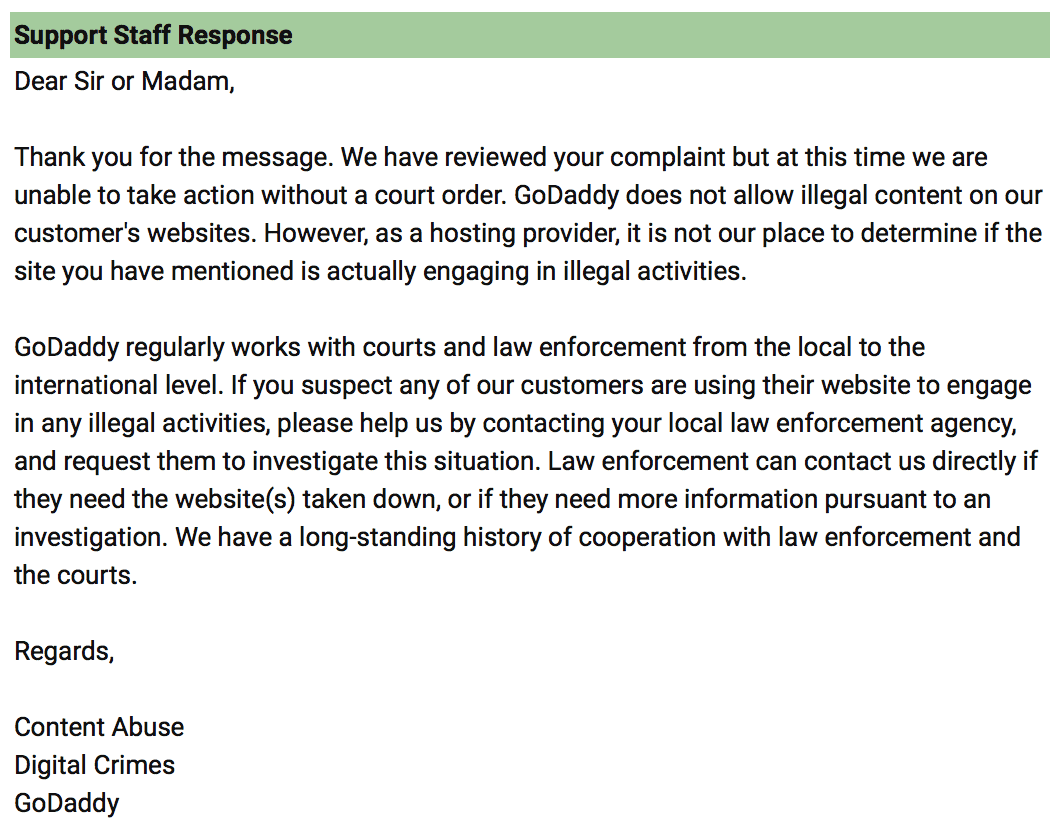 Apparently, GoDaddy doesn't consider fake news to violate its COVID-related abuse policy.
Note: GoDaddy is headquartered in the United States.
*Despite the fact that this email identifies the company as a "hosting provider," we used GoDaddy's website building plan – not its hosting service – to create the fake news site.
5. Webnode
Webnode's
Terms and Conditions
 state the following:
"Materials that somehow violate or infringe, in any way, on Our rights or on the rights of others (including but not limited to intellectual property rights, confidentiality rights and privacy rights) are absolutely forbidden, as well as activities that may cause distress or inconvenience on Us or others."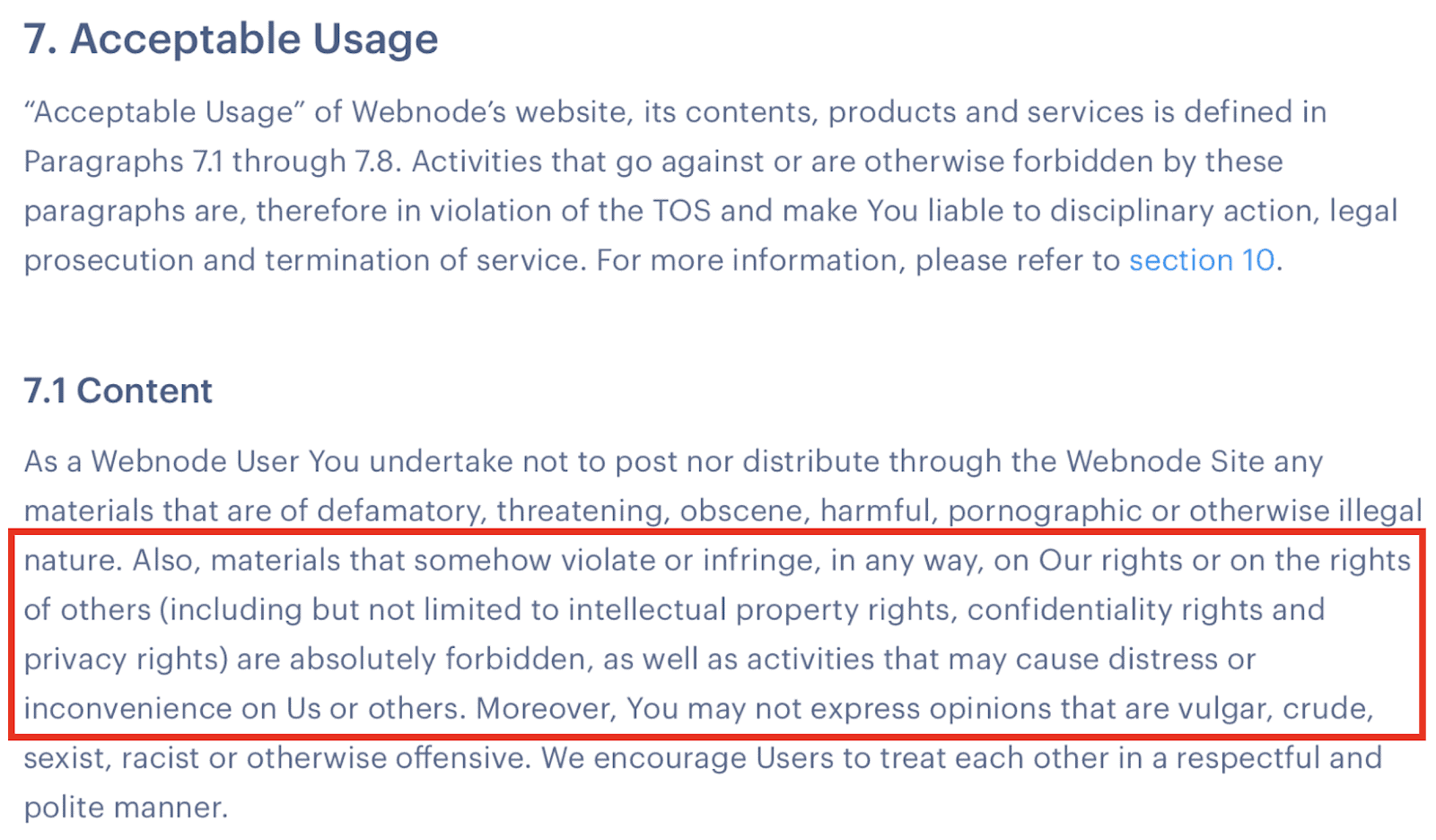 Screenshot from Webnode's Terms and Conditions.
These terms may not specifically address misinformation, but it could certainly be argued that the last part of this sentence applies to COVID-related fake news. I reported our site by sending an email to the address indicated here to "report abuse."
I got an automated follow-up email right away confirming that my report was submitted. And I received the following response just under 12 hours later (the fastest response time of all the website builders we tested):

I responded to this email, pointing out the specific section of the terms and conditions referenced above, and including this question:
"Would you not agree that a website claiming that 'the entire COVID pandemic is nothing more than a hoax based on false statistics' may cause exceptional distress, not to mention threaten the public by spreading distrust in the global health system?"
Just over two hours later, I received this response:

Webnode refused to remove the site, which was at Covidinvestigated.com, because it does not clearly violate their terms and conditions. They seem to be
defending the content on the basis of free speech
, as it "contains an opinion." This appears to be the same stance that WordPress takes, but it's worth mentioning that sites like Facebook and Twitter do not require an official court order or police request to remove misleading content.
Note: Webnode is based in the Czech Republic. Disinformation has become a serious problem in the country recently, especially as related to the COVID-19 pandemic.
6. Jimdo
Jimdo's
Terms of Service
 explicitly prohibit 
"content and/or communications that are deemed to promote and/or support racism, radicalism, fascism, fanaticism, hate, physical and psychological violence or illegal activity (whether explicit or implicit) or that otherwise breach the standards of common decency."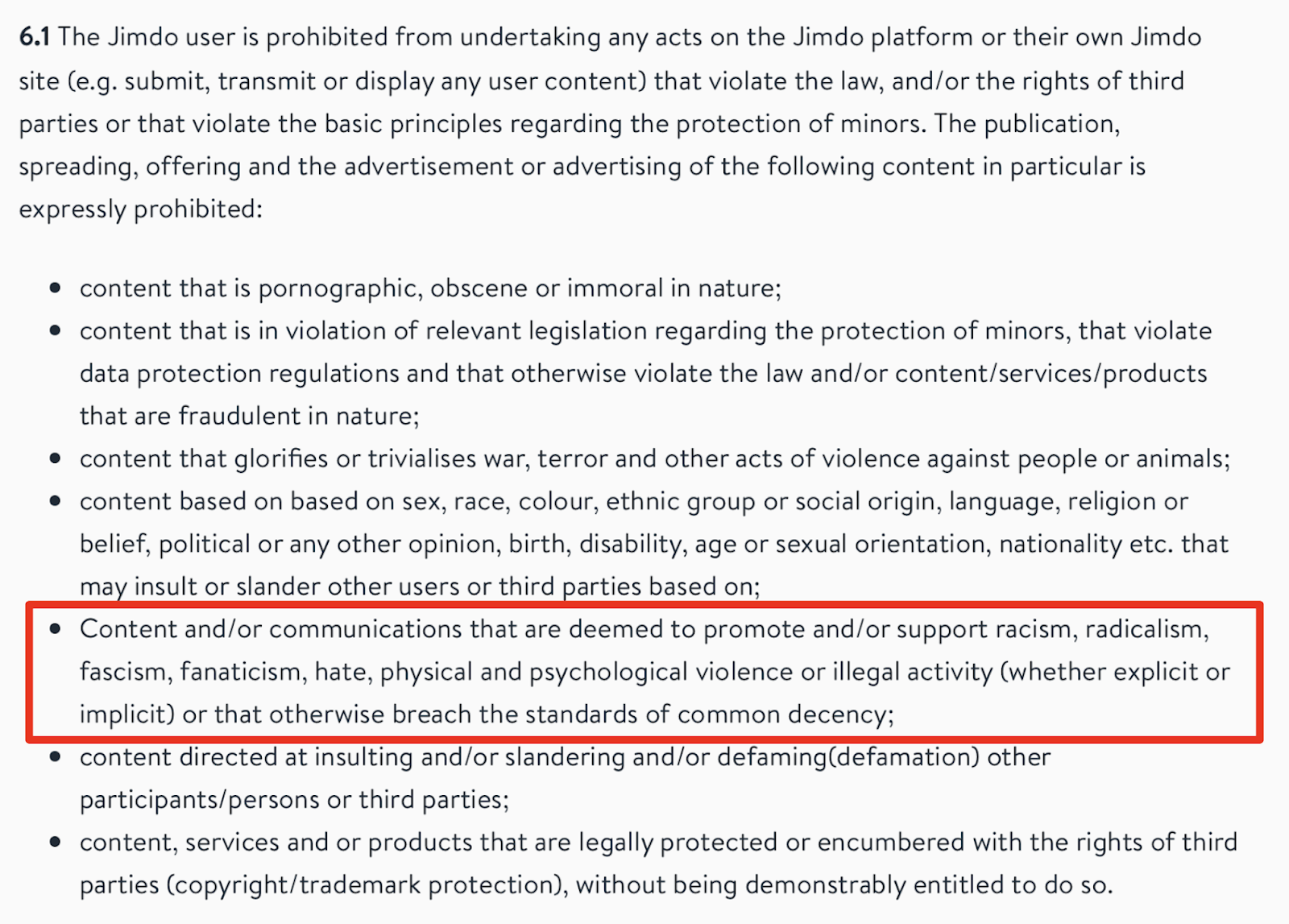 Screenshot from Jimdo's Terms of Service.
I submitted a form to report abuse through their website, specifically drawing their attention to the last part of the section above. There was no automatic confirmation that my report was received, but the next day, a representative from the Jimdo Anti-Abuse Team sent me the following email:
"Thanks a lot for the alert. That site has been removed from our machines. Please let us know if you find similar sites and we will proceed accordingly."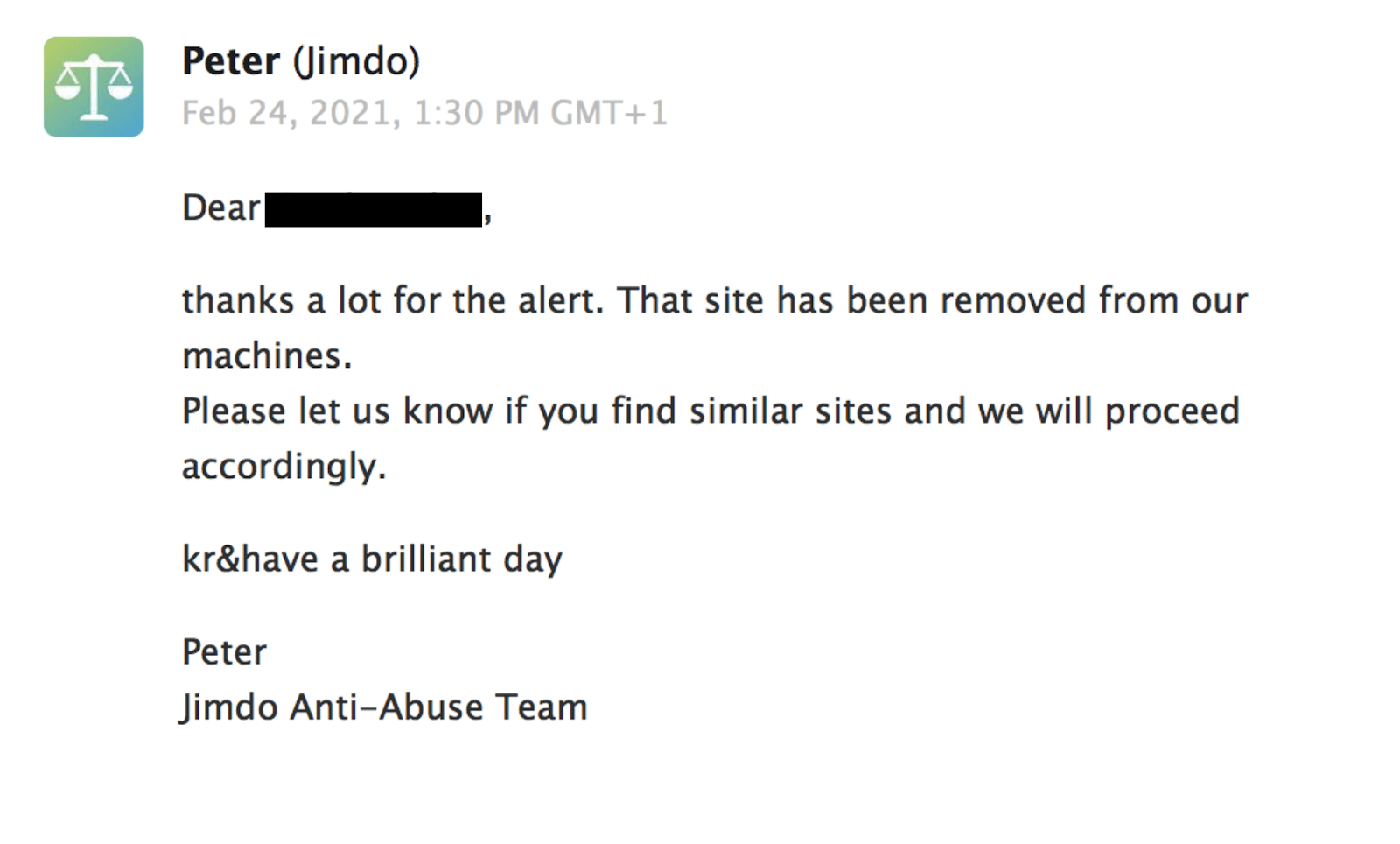 This was an impressively prompt and effective response, proving that
Jimdo takes misinformation seriously
 and is willing to take quick and decisive action against it – no court order required. They also sent an email to the owner of the site (us) to let us know that it had been taken down, and refunded our payment "as a gesture of goodwill."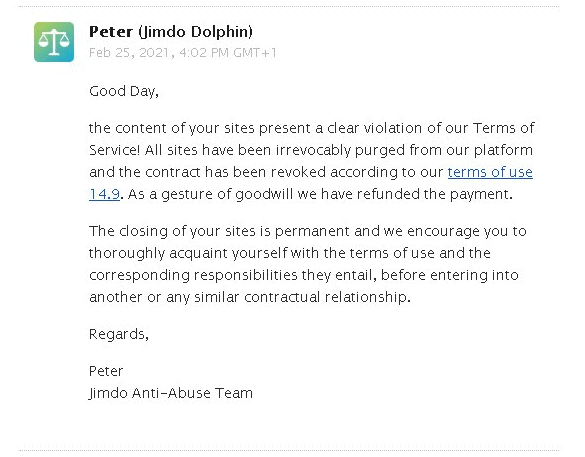 Overall,
Jimdo had the best response to COVID-19 misinformation
 of all the website builders we tested. It was the only one that responded to my report, took down the site (which was at Coronatruecolors.com), and notified the owner that the site was removed. In my opinion, this should be standard procedure for all website builders when confronted with reports of fake news.
Note: Jimdo is based in Germany, which has one of the strictest – and most controversial – policies against online hate speech. The country has responded to criticism for restricting freedom of expression by increasing transparency, while continuing to enforce and even expand its rules.
7. Google Sites
Google Sites has an automated system for reporting abuse on its websites. All you have to do is click on the information symbol in the lower right-hand corner of the site, and then click "Report abuse."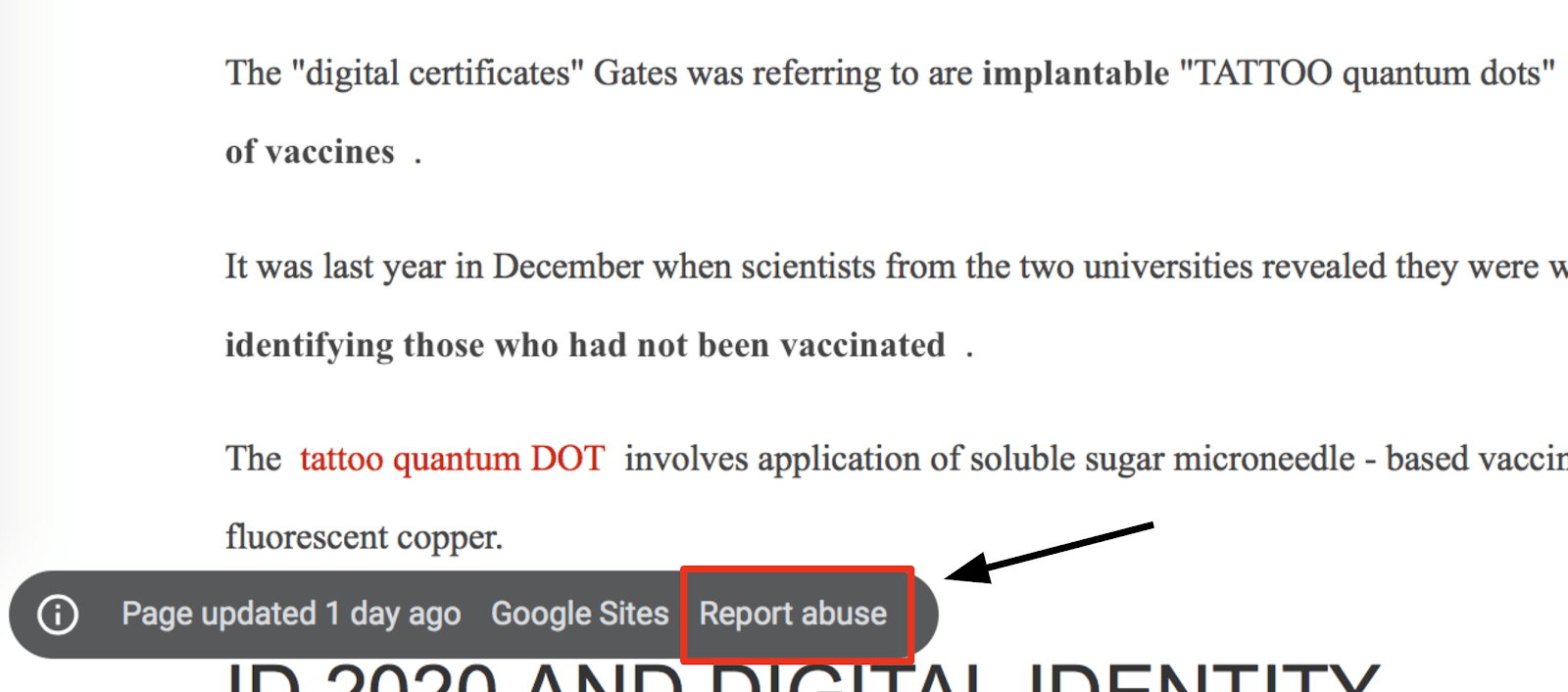 This opens a menu with several different options for the type of abuse, each of which has various subcategories. Once you choose which one applies, your complaint will be automatically submitted.
There are a few issues with this system. First,
there's
no follow-up email
 or anything to let you know that your complaint has been received. Second,
none of the categories provided clearly correspond to fake news
, despite that fact that Google Sites'
Abuse Program Policies
 have an entire section dedicated to misleading content: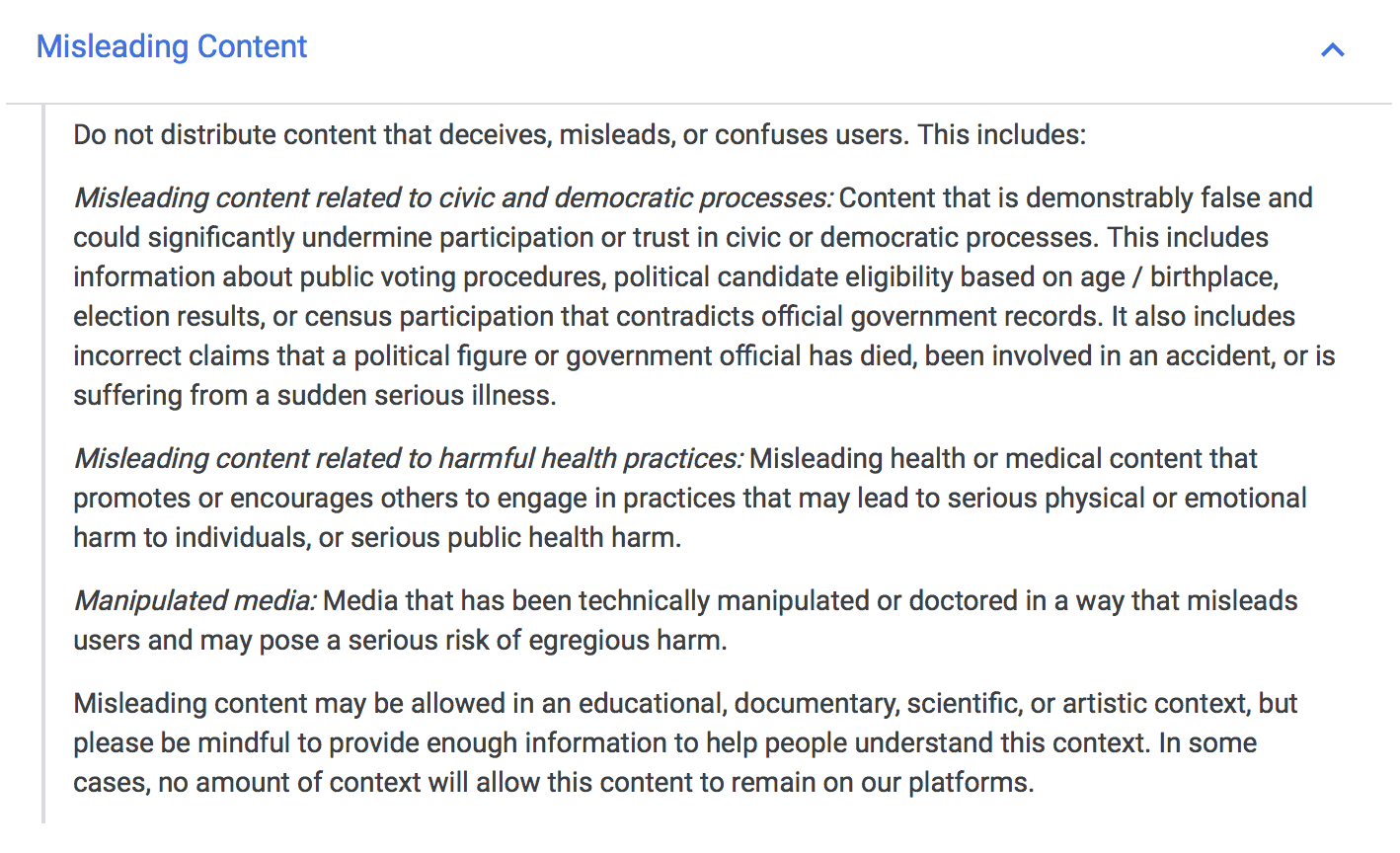 I looked through every single category provided, and the closest matches I could find were "dangerous threats" and "violent content." I reported the site, which was connected to the domain Truthaboutcovid19.net, for both of these violations, but it felt a bit like shouting into the abyss. I didn't receive any communication from Google – and I don't expect to, since the form didn't even require me to input my email address. So far, Google Sites has yet to take down our COVID fake news site.
Note: Google is headquartered in the United States.
Navigating Fake News and Free Speech on Websites
Of all the responses we received from website builders during our research, the ones I found most interesting were those that explained their
reasoning for
not
 removing our sites
. Take, for example, Webnode's statement that "a user is entitled to expressing an opinion." Of course, it's hard to disagree with that logic – but what if the opinion is dangerous? Let me be clear:
we are fully in favor of freedom of speech
, which
Merriam-Webster defines
 as "the right to express information, ideas, and opinions free of government restrictions based on content and subject only to reasonable limitations (as the power of the government to avoid a clear and present danger)." However, this concept is not as simple as it may seem. People often invoke the First Amendment to argue that they should be able to say whatever they want with no consequences – but that's a misinterpretation.
Freedom of speech does not mean that anyone can say anything, regardless of its effects.
 You can't go around threatening, defaming, or otherwise endangering people through your words. And there's a big difference between censoring content that doesn't serve one's personal interests and restricting content that heightens a public health risk. One could argue that fake news does not, in and of itself, pose a direct threat – even if the people who read it take threatening actions because of it. In the case of COVID-19, that could mean refusing to wear a mask or defying social distancing. These kinds of actions may not have an immediate and visible impact,
 but
that doesn't make them any less dangerous
. Indeed, it actually exacerbates the situation. People, as a rule, struggle to grasp the big picture; and when it pertains to managing the pandemic, the big picture takes precedence. Although it may not appear significant for one person to decline staying at home or receiving vaccination, the significance becomes apparent when numerous individuals simultaneously refuse to comply. Each of those individuals is
partially to blame for the consequences of their collective actions
. If a particular website is encouraging those actions, its owners are guilty too. And if the online platform supporting that website is aware of its existence but refuses to take action against it, then
some part of the blame rests with it as well
.
Why We Didn't Test Wix
Wix is the first big name that pops into many people's mind when they hear the term "website builder." We want you to understand the reason we decided to exclude it from this research. The idea for this research came from a friend who noticed a fake news site published through Wix, and reported it to the company (it hasn't been taken down to date). Since we had preliminary knowledge on how Wix's process works, we didn't want to contaminate our research with this existing data.
How Should Website Builders Address COVID-19 Misinformation?
Let's assume for a moment that a particular website builder has become aware of a fake news site on its platform. They've
confirmed that it's misleading and/or dangerous
 and decided they're going to remove it, in line with their acceptable use policy or terms of service. What exactly happens next? In my opinion, the website builder should first remove the site, then
 inform its owner that it's been taken down
 due to a violation of the service's policies. They should also
refund any fees
 that the user paid for the site (profit is not the point here). The clearer this communication, the better – everyone deserves an explanation, after all. In addition, the website builder should notify any users who reported the site that it has been taken down. In order to build trust and respect – which will benefit their business in the long run – website builders should be as communicative as possible. Again,
transparency is key
. Finally, it's important to remember that the majority of people who use website builders just want to create a site for their business or personal project.
Misinformation and fake news shouldn't get in the way of that, and if these issues are handled properly, they won't.