We spoke with
Bojana Dobran from phoenixNAP
, about their solutions designed for you and your business assuring high performance and availability, efficiency, and robust security, while keeping affordability in mind. With locations all over the world, each with full-service OpEx offerings and staffed to meet your needs, they offer a portfolio of IT services that can be built to fit your needs, no matter where you are based.
This interview was originally published on March 13, 2020
What Server and Dedicated Server Hosting do you offer?
As an IaaS provider, phoenixNAP offers colocation, hardware-as-a-service (HaaS), dedicated server, public, and hybrid cloud solutions, as well as backup and disaster recovery services. The diversity of solutions offered is one of our main differentiators. We can meet any organization's IT needs, complementing their in-house IT with specialized solutions. When it comes to dedicated servers, our systems are built on the latest generation architectures, and we continually expand our portfolio with new solutions. Organizations can leverage our dedicated servers for any type of workload, including gaming, HPC, databases, and AI. We are also the only provider in the world that offers vertically scalable CPUs powered by 2
nd
Gen Intel Xeon Scalable processors and Intel SST Technology. FlexServers allow for switching between seven different CPU configurations with a simple reboot, which is unique to the market. Thanks to their advanced features, FlexServers can be used for specialized workloads, allowing for flexible budget planning. You can find additional information about FlexServers on our website. All servers are available on-demand with a monthly billing option to allow for the improved cost efficiencies. Free DDoS protection is also included.
What are the features and advantages of your Cloud Services?
Our cloud services are different than traditional hyper-scale public cloud in many ways. First, we can build customized solutions and offer a better cost-to-performance ration than hyperscaler's. In addition, we can provide advanced security for our clients, as all our solutions are built on best-in-class hardware and software technologies. We are also building the world's most secure cloud platform – Data Security Cloud, which uses enterprise-grade technologies to provide the highest level of protection to organizations of different sizes. Built-in collaboration with VMware and Intel, the platform provides advanced security through micro-segmentation, hardware-enhanced security, and threat intelligence systems. As a secure multi-tenant solution, DSC enables organizations to meet their security and compliance goals without capex investments. More info about Data Security Cloud can be found on our website.
What colocation services do you offer?
phoenixNAP's global footprint can support any organization's market strategies and expansion needs. We have six full-service data centers and ten network points-of-presence across the globe:
Americas
Phoenix, Arizona
Ashburn, Virginia
Atlanta, Georgia
Seattle, Washington
Chicago, Illinois
Los Angeles, California (Network PoP)
Sao Paolo, Brazil
Europe
Amsterdam, the Netherlands
Belgrade, Serbia
Frankfurt, Germany
Milan, Italy
Warsaw, Poland
Madrid, Spain
Sofia, Bulgaria
Asia-Pacific
Singapore, Singapore
Sydney, Australia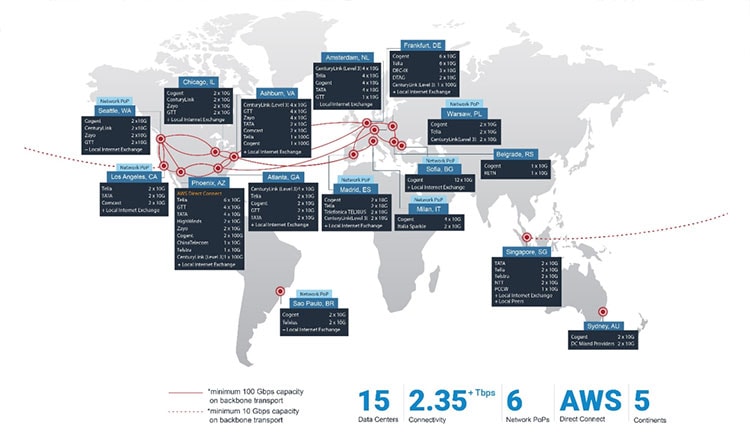 Each of our data centers is strategically located in disaster-free areas, near metro regions and major fiber routes. The facilities are SOC 1 and SOC 2 certified, providing maximum data safety. Among our available solutions are private, locking ¼, ½, and full cabinets, as well as custom cage options, depending on the location. All colocation services come with DDoS protection, diverse carrier options, and the ability to choose phoenixNAP premium bandwidth blend. Additional details on our colocation services could be found on our site.
Do you offer any Managed Services?
Yes, our experts provide setup and configuration of servers, firewalls, and switches, as well as infrastructure monitoring, and 24/7 support services. Organizations can trust us with any technical tasks they may not have the time or skills to manage. We also offer managed platforms, which are particularly convenient for businesses where IT is not the core focus. Our Virtual Private Data Center (VPDC), Managed Private Cloud (MPC), and Data Security Cloud (DSC) provide optimal performance and advanced security on an opex model. They make it easy for organizations to optimize their IT platform and tailor it to their needs, without investing in hardware or IT staff.
Are backup and recovery services available?
With backup and recovery becoming more and more critical for modern business operations, we continually expand our portfolio of availability solutions. We work with industry leaders to provide solutions that any organization can leverage to protect its data and meet its RTO and RPO goals. We offer Veeam backup and disaster recovery services, Managed Backup for Office 365, Zerto replication, and VMware DRaaS.
How are your servers secured against hackers and other cyber threats?
As a security-focused company, we continually work to improve our data protection systems and develop battle-ready platform solutions for modern organizations. All our solutions include 20 Gbps of free DDoS protection against UDP, TCP, and ICMP based attacks. The protection is server-wide and not on an IP level only, which helps us fight a wider variety of possible attacks. For infrastructure and network protection, we use technologies such as VMware NSX, Arrista, Alert Logic, and Sophos. The last two are threat intelligence solutions that help us easily identify anomalies in data center traffic and respond promptly to a potential breach. On top of that, we have expert staff to handle ours and our clients' security.
What support is available to your customers?
Our support team is available 24/7/365 via email, phone, or chat. We also have dedicated solution engineers who are ready to provide consultation or assistance to organizations at any stage of solution implementation, from research to monitoring.