you'll need to choose an appropriate extension.
A domain name extension is the last few letters of your domain after the "dot." This can be .com, .org, .info, and so on. It's an important decision, as
your choice of domain name extension can severely impact the marketability of your site
. A poorly-chosen extension can make your domain name more forgettable, and might even cause mistrust among potential visitors.
Sure, you could pick the popular .com as a safe decision. But it isn't always the best option.
.org can bring unique advantages to the right kind of site, and so can many of the more unique alternatives out there. Read on to find out which extension would work best for you, along with suggestions for registrars that will give you
the best deal on a domain name
.
The Case for a .com Domain
The ".com" extension is derived from the word "commercial," though it isn't just limited to for-profit businesses. Any site can use it regardless of intent. It's easily the most popular –
over 50% of websites use .com
. Here's why you should consider the mainstream option:
Memorability – If you tell someone the name of your site, they're likely to assume it's followed by .com. After all, most sites are! Using the most popular extension helps your visitors easily find and remember your site.
Business credibility – If your site exists to turn a profit, you need your visitors to trust your site. As the .com extension is used by millions of reputable businesses, your visitors will feel safe on your site.
Mobile-friendly – Many mobile phones have a dedicated ".com" button on their touch keyboards, allowing users to type in these domain names more quickly. This makes the .com extension slightly more mobile-friendly.
However, there are some downsides.
Just about all of the short and snappy domain names with this extension have already been registered
. It's also a less effective option if you're looking to stand out from the crowd.
Should You Use a .com for Your Website?
The .com extension works well with most sites if you can get the domain you're looking for, but here's some particularly fitting use cases:
Business landing page – Whether you're a self-employed freelancer or a large enterprise, commercial landing pages are generally expected to have a .com extension.
Online store – Your users need to trust your site before they're willing to make a purchase of any kind. The reputation of the .com extension helps give your site credibility.
Blog – While many blogs are not-for-profit, .com still works well. It helps your domain to be as memorable as possible for returning visitors, and the little extra bit of mobile-friendliness doesn't hurt either.
The Case for a .org Domain
While far less popular, the .org extension provides some unique benefits. Derived from the word "organization,"
.org used to be limited to non-profits, but nowadays, any domain can use it
. Here's why it's worth considering:
Highly available – As it's much less popular, many domain names that are taken with the .com extension are easily available with .org.
Trustworthy – Because this extension was limited to non-profit organizations until recent years, .org still elicits a degree of trust. It's arguably more trustworthy than the .com extension when applied to the right site.
More unique – In a sea of .com websites, .org helps your site stand out a little. It's not so uncommon that users will have trouble remembering it either.
Again, there are disadvantages. Some may not know you are using .org, and assume your site uses the more popular .com extension, which in the worst case could lead them to a completely different site. A minor consideration is that it's also less mobile-friendly, as most touch keyboards on mobile phones do not offer a quick and easy .org button.
Should You Use .org for Your Website?
While the .org domain name extension has its uses, I wouldn't recommend it for all sites. Here are the best use cases:
Charity and fundraising – As these are the kinds of sites this extension was originally reserved for, .org is a natural choice. Your visitors will know that your organization is trustworthy and respectable.
Information and education – The .org extension can help you identify your informational site as an authoritative source, regardless of the subject.
Open-source software – Because open-source software is primarily free, it suits the non-profit values behind .org. You could use the extension to help reassure visitors that you're working towards a greater good.
Other Useful Extensions
With hundreds of millions of registered domain names, the popular extensions are scarce. Sure, you may have more luck with .org as opposed to .com, but there's still no guarantee your desired domain name will be available there either – if .org even suits your site in the first place.
If you want a domain name that isn't available with the popular extensions, you could go for one of the many lesser-known options
. There are hundreds available, covering a wide array of topics. Say you're running a landing page for a law firm – then, .law is a natural fit. Freelance writer? How about .ink? Most of these extensions might seem less memorable than the more mainstream options, but you can try to make your domain name and extension work together in a catchy or clever way. If you're not sure where to start, here's a list of alternative extensions that may be worth considering:
Country code extensions – .us, .ca, .uk, etc – If the majority of your viewership will be coming from a single country, a country code extension is a great choice. Your domestic visitors will know your service is intended for them.
.co – One letter removed from the .com extension, .co has seen increased popularity over recent years. Although it is officially the country code extension assigned to Columbia, anyone in the world can use it. It now represents a similar commercial meaning to .com, yet is much more available. It's also short and memorable.
.net – This extension comes from the word "network." It's most commonly used with technical sites and businesses, such as coding resource sites and internet service providers.
.biz – The .biz extension is a fun shortening of "business." It was originally created to relieve some of the availability issues with the .com domain, and it is still a decent alternative for this reason.
.info – While there are no restrictions placed on this relatively popular alternative, it works best with informative sites, such as wikis, online courses, and so on.
4 Best Domain Name Registrars: We've Tried Them All
Once you've got a domain name and an appropriate extension in mind, your next step is to register it. To do this, you'll need to choose a domain name registrar.
Registrars can differ significantly on pricing and overall value, so you'll need to choose carefully
. Here are my top recommendations.
Hostinger
If you'd like to pair your domain name with some powerful-but-affordable shared hosting, Hostinger is likely the choice for you
. While domains do start cheap, you can get one completely free for a year with a Premium Shared Hosting plan. This plan only costs a couple of dollars per month, and it offers very good performance to boot.
Big discounts for uncommon extensions – Some alternative extensions, such as .online, .net, and .tech, are available for incredibly low prices during your first year. However, keep in mind that they will renew at a much higher price.
Optional priority support – Hostinger offers helpful support, but it can be a little slow at times. By paying a couple of dollars per month, you can ensure you're always at the front of the queue.
Extensive knowledge base – If you ever run into issues with your domain, Hostinger offers a sizable selection of guides and tutorials covering all aspects of domain management.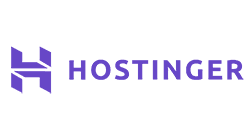 Get a FREE domain with any Hostinger annual plan!
This exclusive offer is only available for your first purchase.
60 users used this coupon!
Namecheap
If you're looking to save some cash,
Namecheap is easily one of the least expensive registrars
, especially over the long-term. This includes the popular .com and .org extensions – you'll be hard-pressed to find them for lower prices elsewhere. Namecheap even manages to stay cheap on renewal.
Easy domain management – Namecheap offers a particularly user-friendly platform. It's easy to set up your domain and point it at your web host's servers.
Good support – Responsive live chat is available 24/7. While the support agents may struggle with advanced issues, they offer more than enough help if you're a beginner.
Premium 100% uptime – For a small fee, Namecheap will ensure your domain name remains available and working 100% of the time, or you will be due compensation. This service also offers a slight boost to website performance.
NameSilo
NameSilo provides over 400 total domain name extensions,
allowing you to get really creative. All the usual extensions are on offer, but unique extensions such as .ninja and .rodeo are also ripe for the picking. Best of all, NameSilo's domain prices are pretty low, especially if you buy in bulk. 
Easy domain management and marketplace

– It's easy to buy and sell domains through NameSilo's dedicated platform. You can use it to keep track of the information and settings for all your domains, even those registered elsewhere. You can organize your domains in any way you'd like, which is especially helpful if you own many.

Domain Defender security

– NameSilo lets you set up to five security questions to protect your domain names from unauthorized users. You'll also be proactively notified by text or email if a change is requested. 

Plenty of supported payment methods

– NameSilo supports most major credit cards, along with many alternative payment methods such as PayPal, Venmo, and even Bitcoin.
Dynadot
Dynadot offers a free drag-and-drop site builder and a minimal amount of hosting space with every registered domain name.
These are connected for you – all you need to do is start building. You are limited to one page with ads unless you pay extra, but if this is all you need, you could save some money on hosting fees.
Multi-year discounts – Some domain name extensions come with discounts for multiple years, rather than just the first year as offered by many other registrars. However, this offer doesn't extend to the popular .com and .org.
Developer-friendly domain management – Dynadot offers a robust domain management platform, ideal for developers and others who deal in great numbers of domain names. You can perform bulk domain adjustments, add desired domains to a watchlist, and even use a flexible API if you want to use your own servers to manage your domain-related operations at Dynadot.
Mobile app – You can easily manage your domain names on the go through a responsive free mobile app. You can register new domain names, or even take part in Dynadot's domain name auctions.
Which Extension Should I Choose?
You should choose an effective domain name that mirrors your brand or site's purpose. It should also assist visitors in finding, remembering, and ideally, spreading the word about your site. Keep in mind that the domain extension plays a crucial role in achieving these goals. If you're still struggling to choose a domain name extension, here's my advice.
For most websites, .com is the safest choice
. As the most common extension, visitors should have no trouble remembering your domain name.
You can get a great deal on a .com domain name with Hostinger
, which offers one for free with most shared hosting plans. However, there are always availability issues with .com names.
If you're creating a not-for-profit site, it's worth considering .org
. While it isn't a good fit for every kind of website, it can bring many benefits – visitors will assume your site to be reputable and trustworthy by the extension alone.
In the case that you can't get your desired domain name with .com or .org, I'd recommend looking at alternative extensions
.
The list above
is a good place to start.
FAQ
Is .com or .org better?
Neither extension is inherently "better." However, they each suit different sites. For example, .com naturally fits with businesses, while .org works well for non-profits. It's equally important to get quality web hosting. Our list of the best web hosting services for 2023 is the best place to start looking. Many of these hosts also cover the cost of domain name registration for the first year.
Can I use .org for a business?
There are no restrictions on the use of .org. That said, it could be a poor choice for a business. Many still see this extension as a sign of a non-profit. Your audience may be confused, or even mistrustful, if you try to sell on a .org site.
Which is better for SEO, .org or .com?
According to information available about Google's algorithm, all extensions are equal for SEO. You may see a lot of .com sites on the first page, but that's simply because it's the most popular extension.
How can I register a domain?
All you need to do is choose a domain registrar and search for your desired domain name. If it's available, you'll be able to register it. For more in-depth help, have a look at our step-by-step guide to launching your first website.
Are .com domains expensive?
They shouldn't be very expensive, but it depends on the registrar. Namecheap offers the lowest prices on all extensions, but Hostinger offers .com domains completely free for a year with its fast and cheap shared hosting plans.