Both Nexcess and GreenGeeks are highly-rated web hosting providers,
and any comparison between these two companies is inevitably going to be a very close one.
Nexcess bills itself as a premium managed WordPress hosting solution, whereas the eco-friendly GreenGeeks focuses on affordability and ease of use.
Is it worth paying more for Nexcess, or is GreenGeeks the superior provider despite the lower price?
To fairly compare Nexcess and GreenGeeks, I put them against each other and tested them across five main categories.
Nexcess' highly WordPress-optimized packages, advanced security features, and more responsive customer support
 made it the ultimate winner of this comparison.
Click here to see Nexcess' latest deals
, or keep reading to see how Nexcess won this battle.
1. Plans and Pricing
GreenGeeks Offers Cheaper Prices Than Nexcess
With Nexcess, you can choose from managed WordPress, WooCommerce, and Magento hosting, managed cloud hosting, and enterprise hosting. It also offers StoreBuilder, a cheap and beginner-friendly ecommerce site builder and management platform.
This allows you to easily build and maintain an online store
without writing a single line of code.
GreenGeeks offers shared hosting, managed WordPress hosting, reseller hosting, VPS, dedicated servers.
When comparing the prices of Nexcess and GreenGeeks' managed WordPress hosting plans, Nexcess offers more high-end WordPress features for businesses and high-traffic websites
(more details in the Features section), at higher prices than GreenGeeks.
GreenGeeks WordPress Hosting
A free domain name is included with some hosting plans from GreenGeeks
Both hosts offer free website migration
. GreekGeeks offer a free domain, but Nexcess doesn't.
Nexcess and GreenGeeks both offer a 30-day money-back guarantee
with both their managed WordPress packages as well as their VPS and cloud solutions.
If we judge these two powerful hosts based on pricing only, then GreenGeeks is obviously the winner.
All in all, GreenGeeks is several times cheaper than Nexcess
 – making it the winner of this section
. That said, Nexcess is still more affordable than many other premium WordPress platforms.
2. Features
Nexcess Is More WordPress-Oriented
What's clever about Nexcess and GreenGeeks is that they both offer top-quality managed WordPress plans tailored for their target audience. With Nexcess,
you can host up to 250 websites and get from 15 GB to 800 GB disk space
 (excellent for businesses), unlimited email accounts, and automatic daily backups (for 30 days).
Nexcess offers smart automatic plugin updates.
Whenever a new update is available for one of your installed plugins, the update will be automatically tested on a clone of your site for issues. If any are detected, it will not be applied to your main site. You also get a site staging platform, and developer-friendly features such as Git integration, WP-CLI, and SSH access.
The GreenGeeks' basic Lite plan offers a single website, 50GB SSD storage, and 50 email accounts. On the other hand,
the GreenGeeks' Pro plan (and up) offers unlimited websites, storage, and email for maximum flexibility
. All plans come with unmetered data transfer, daily backups, easy WordPress installation, site staging, Git integration, SSH access, and WP-CLI.
All of Nexcess' managed WordPress hosting plans run on Nexcess's high-performance cloud platform, giving it an edge over GreenGeeks. See more differences between the two hosts in the following detailed comparison table:
| | | |
| --- | --- | --- |
| | Nexcess | GreenGeeks |
| Hosting Types | Managed WordPress, WooCommerce, and Magento; managed cloud hosting, and enterprise hosting | Shared hosting, managed WordPress, reseller hosting, VPS, and dedicated servers |
| Free Domain | ✘ | ✔ |
| Free SSL Certificate | ✔ | ✔ |
| Disk Space | 150 GB – 800 GB | 50 GB – unlimited |
| Bandwidth | 2TB – 10TB | Unmetered |
| Automatic Backups | ✔ | ✔ |
| Control Panel | Nexcess Client Portal | cPanel |
| Email Accounts | Unlimited | 50 – unlimited |
| Free CDN | ✔ | ✔ |
| Free Site Migration | ✔ | ✔ |
| Money-Back Guarantee | 30 days | 30 days (except for dedicated servers) |
And the winner is? While both hosts offer reliable WordPress hosting solutions for their customers, you get supreme WordPress hosting features with Nexcess making it the winner of this round.
3. Performance
Nexcess Helps Your Site Achieve Faster Loading Speed
Nexcess offers six data centers in the US, three in Europe, and one in Australia
. In comparison, GreenGeeks only offers two in the US and one in Europe.
GreenGeeks uses the LiteSpeed web server, which can offer better performance for WordPress websites
than the traditional Apache web server. This combines extensive caching with other speed-boosting features.
Nexcess instead uses the Apache web server with an NGINX reverse proxy. This is also a fast setup, and the platform is highly optimized for WordPress sites.
Nexcess offers all customers a premium Redis caching solution,
which eases the load of databases and server hardware to deliver faster loading speed. Nexcess also provides access to its own proprietary CDN.
In our tests, Nexcess delivered relatively quick loading speed, and maintained 100% uptime (over a period of five days). See all the details in our expert Nexcess review
.
GreenGeeks was slightly slower on average, and there were a few instances of downtime during our tests. For more information, check out our comprehensive GreenGeeks review
.
Although both Nexcess and GreenGeeks offer impressive performance-boosting features,
Nexcess was the faster and more reliable option of the two – making it the winner of this round
.
4. Security
Nexcess Is More Proactive About Your Website's Security
Both Nexcess and GreenGeeks monitor their servers 24/7 for any threats. In addition, they use their respective CDNs (and in Nexcess' case, the NGINX reverse proxy) to help mitigate any DDoS attacks. This means your website can continue functioning as normal during an attack. 
Nexcess offers the iThemes Security Pro plugin for free with all WordPress plans
. This is a security suite for WordPress that blocks brute force attacks, scans for vulnerabilities and patches them automatically, and bans known bots. GreenGeeks lacks this level of WordPress security.
GreenGeeks uses the popular third-party Imunify360 web application firewall, and vows to help clean and restore your sites if they are ever hacked
. It's enough to provide you with basic security and you will have GreenGeeks' support to fall back on if things do go wrong. That said, it's nothing special – this is what I'd expect from most budget hosts.
Nexcess is definitely the winner of this section, thanks to its more comprehensive set of security features.
5. Support
GreenGeeks Offers More Prompt, More Helpful Support
Nexcess and GreenGeeks provide comprehensive knowledge base sections with articles and tutorials covering most major topics.
Nexcess has 24/7 support via live chat, ticket/email, or phone
. When I asked if I could move my site to a different data center, I got a response within minutes. Initially, the support agent didn't understand my question, but after further clarification, they linked me to the resource I needed.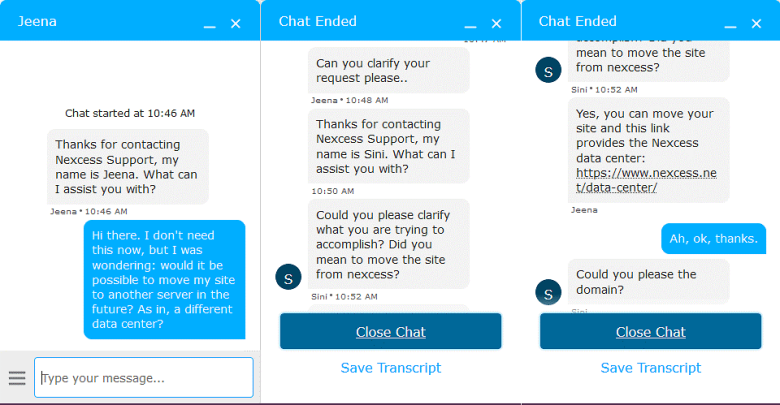 GreenGeeks offers 24/7 live chat and ticket/email support
. You can also contact them via phone from 9AM to 12AM EST any day of the week. Like with Nexcess, I tried to contact them via live chat. I asked some questions about their uptime guarantee and data center locations. They answered
immediately
, and all my questions were answered without issue.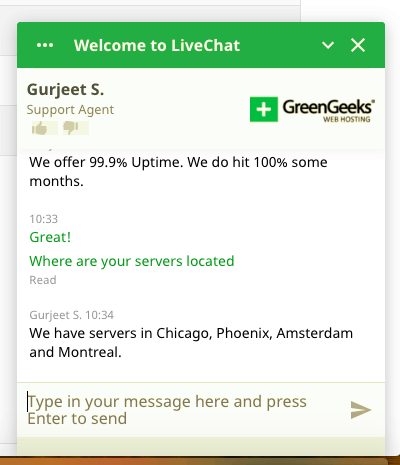 While this was a close comparison, GreenGeeks was the winner of this round. I got quicker and more helpful responses from support in every instance. 
Nexcess Wins by a Slim Margin
There's no doubt that both Nexcess and GreenGeeks put up a good fight with the web hosting services that they offer. Both hosts' plans include a wide range of features, reliable performance, and excellent support. They're also featured in
our list of the best web hosting services.
However, Nexcess offers better performance and has better-quality features
,
especially when it comes to WordPress hosting. You'll benefit from AI-driven automatic plugin updates and a comprehensive security suite, features that GreenGeeks simply cannot compete with.
That said, GreenGeeks isn't too far behind Nexcess. It's less expensive, and it offers reasonable performance, all the basic features you need, and very helpful support.
If you're on a tight budget, you can still do well with GreenGeeks.
But Nexcess is definitely the superior option if you can afford it.
Still unsure? Check out the side-by-side comparison below:
Plans and Pricing
Premium hosting services at reasonable prices
Budget hosting that's several times cheaper
Key Features
WordPress pre-installed, smart automatic plugin updates, and unlimited email in all plans
Easy WordPress installation, unlimited storage and websites in high-tier plans, lack of premium WordPress features
Performance
Premium Redis caching, proprietary CDN, faster average page loading speed, 10 data centers
LSCache optimization plugin, slower average page loading speed, 3 data centers
Security
Free iThemes Security Pro plugin offers extensive WordPress security, 24/7 server monitoring
Lack of WordPress security, but includes Imunify360 firewall and free help from support if your site is compromised
Support
Relatively fast response times, helpful support if you're patient
Immediate response with highly knowledgeable and helpful support agents
FAQ
Which is better, Nexcess or GreenGeeks?
If you run a demanding business and want high-end hosting without having to manage everything yourself, then you should go with Nexcess' feature-rich plans. If you're a budget-conscious individual or have a small business, GreenGeeks is a more suitable option. Both hosts are among the top 10 web hosting services.
Does GreenGeeks offer VPS hosting?
Yes, it does. GreenGeeks offers managed VPS plans, meaning that you can enjoy faster and more reliable performance without needing to know how to configure and maintain the server. That said, it's much more expensive than GreenGeeks' budget-friendly WordPress hosting.
Does Nexcess offer cloud hosting?
Yes, it does. Nexcess offers a variety of cloud hosting plans, some of which are specialized for Magento ecommerce sites. That said, these plans are targeted towards high-traffic sites that require the best in speed and flexibility – individuals and small businesses will likely do just fine on Nexcess' managed WordPress or WooCommerce plans.
Does Nexcess offer a free domain?
No. Nexcess doesn't offer free domain name registration with any of its packages. This means you'll need to factor in domain name costs on top of the price for web hosting.