HubSpot has built up a reputation as a great CRM (Customer Relationship Management) tool, with impressive features for marketing and sales. With the right plan, you'll get project management tools included, which sounds great if you want to streamline your entire workflow into a single app.
But do HubSpot's project management features actually live up to a dedicated project manager like monday.com?
After testing the two platforms, I can say that monday.com is significantly better –
it's a highly customizable work management app with a comprehensive set of project management features. On the other hand, Hubspot's project management tools are much more basic and are only available on costly premium plans. That said, HubSpot's wider scope may still be right for you, especially if you plan to bundle several of its services together.
Try monday.com for free
or read on to find out more about each software's pros and cons.
Features
Monday.com Has an Impressive Set of Project Management Features, while HubSpot Has Limited Tools
HubSpot's project management tools are rather limited. On the free plan, you can create and assign tasks, add notes, and set due dates. You'll get an email when a task is created and assigned to you, provided you enable notifications in your account first. Your tasks show up in daily, upcoming, or overdue to-do lists to give you a clear overview of your work.
There are also 6 form templates you can use for free to create website pages, pop-ups, and banners
.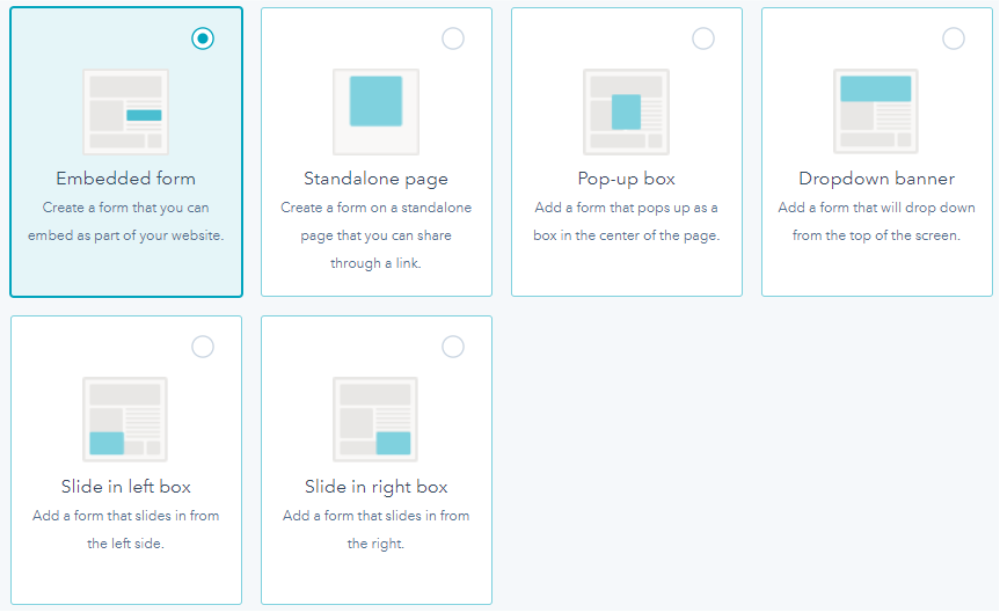 Bear in mind that you can't actually create projects on HubSpot's cheaper plans – you can only assign individual tasks.
To use
HubSpot's Projects tool
,
you'll have to upgrade to the costly Professional or Enterprise plans. This offers access to project templates and the ability to attach site content or files to your projects, among other things. Conversely,
monday.com offers 200+ templates in its free plan
 to help you easily create your first projects. These templates cover several niches, such as portfolio tracking, campaign planning, and team tasks. Compared to HubSpot, monday.com lets you better tackle both simple daily planning and multifaceted long term goals.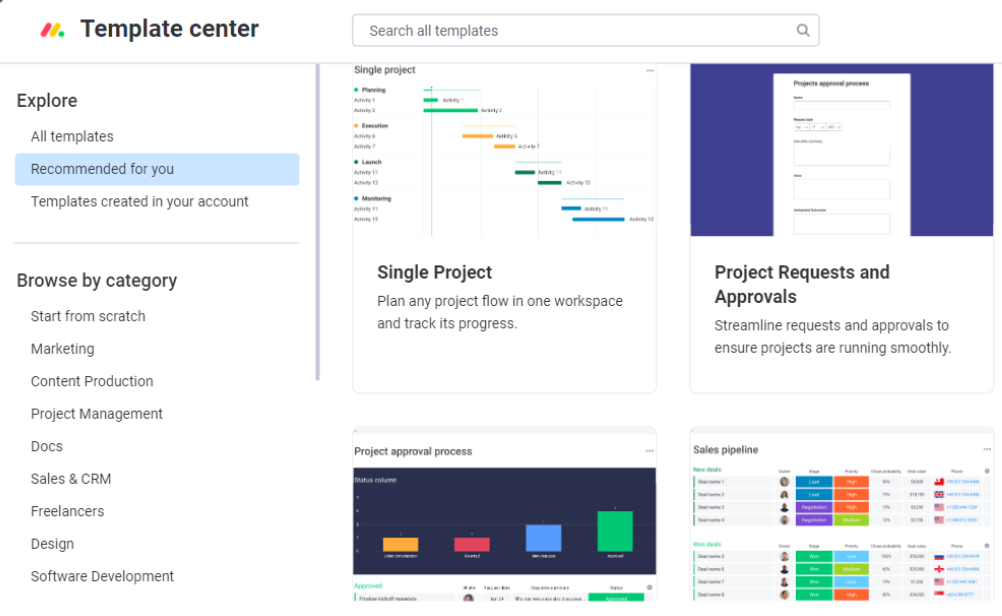 Monday.com offers 9 different ways to see your tasks, including Kanban, Gantt Chart, Timeline, Map view, and more
. Not all of these views are available on the free plan, but you still get more project visualization options than with HubSpot, which only offers the Calendar view. HubSpot does have the advantage when it comes to integrations.
HubSpot's App Marketplace offers hundreds of apps (more than 300 are free)
. Monday.com's app selection is modest – there are about 40 integrations, but you can find popular choices like Dropbox, Slack, Stripe, and Mailchimp. That said, there's a clear winner here: monday.com offers an extensive and more advanced set of tools for much cheaper, whereas HubSpot doesn't even let you create a project unless you sign up for the expensive mid-tier plan.
Ease of Use
Both Are Easy to Use, but monday.com Is Highly Customizable
Monday.com's intuitive interface
looks great, with prominent icons, big buttons and colorful designs. You can access all the main features, such as your inbox and tasks, on the left-hand panel, so it's easy to get around. HubSpot's interface may not be so colorful, but it's equally intuitive.
HubSpot's drag-and-drop editor
 lets you modify forms, emails, website pages, and other templates. You can also choose from 12 different homepage layout options. However,
with monday.com you get more ways to customize your workspace – you can drag and drop elements exactly to your liking.
This includes individual tasks, data columns, and more.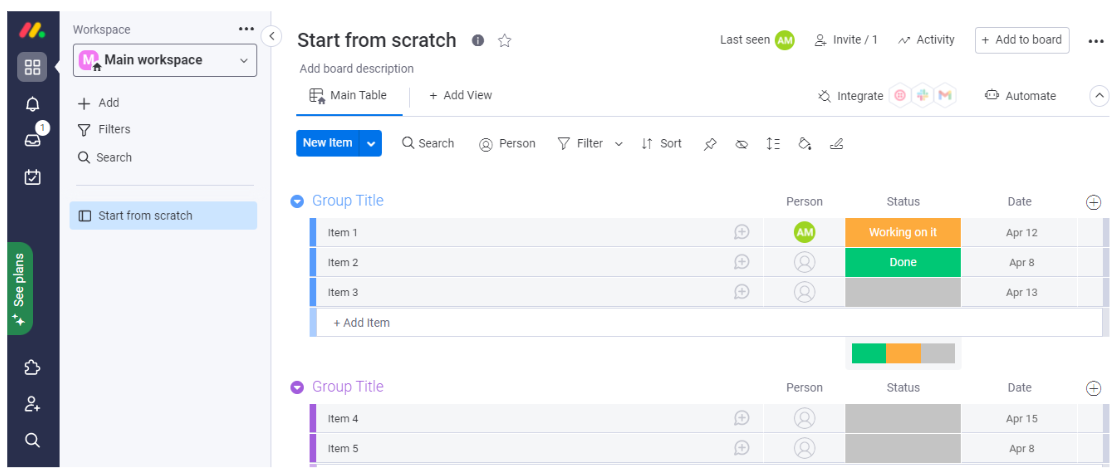 And while both platforms have great in-app support (visual prompts and built-in Help options), HubSpot goes the extra mile to help you get started.
HubSpot provides step-by-step visual demos
that introduce you to the built-in tools and walk you through the process of setting up your account and first project.
Both monday.com and HubSpot offer basic and advanced reporting, although HubSpot has more elaborate tools
. With monday.com, you can display data using charts, add benchmarks, and manage your budget with formulas and filters. HubSpot allows you to create different types of custom reports, such as funnel, lead generation, and revenue reports. Just bear in mind, all these features are costly.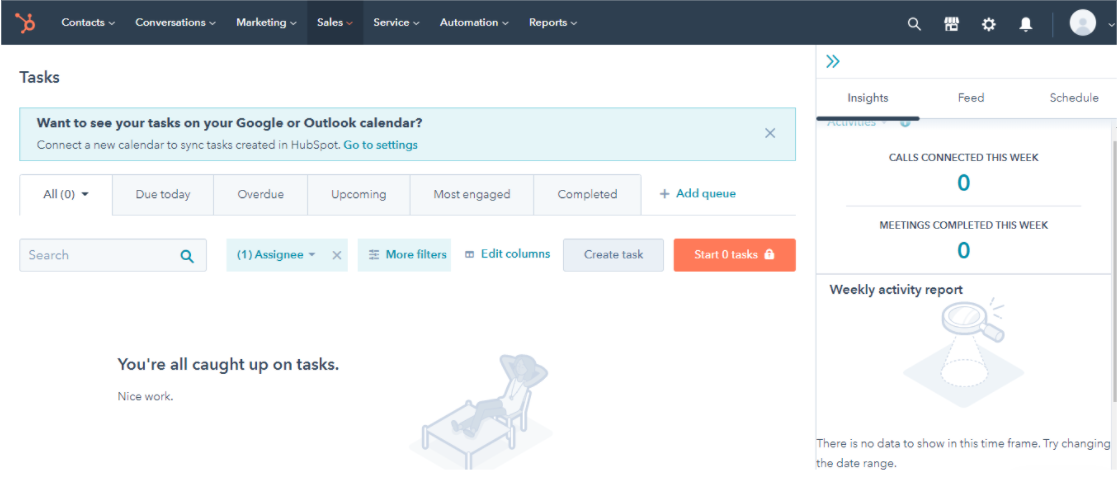 Monday.com also offers extensive automation tools,
which allows you to easily set the automatic creation of tasks, status updates, and more when certain conditions are met. Overall, both monday.com and HubSpot are easy to use even if you're a beginner, but monday.com offers more options to organize your tasks and personalize your workspace.
Collaboration Tools
HubSpot Offers the Essentials & Intuitive Communication Methods for Sales Teams
The majority of communication on monday.com is done through discussion threads on items
. You can comment, give thumbs up, and mention individuals or entire teams. There's no built-in chat feature, but you can incorporate this by integrating with a third-party app like Slack. HubSpot offers similar functionality, but it also integrates its collaboration tools with its CRM features.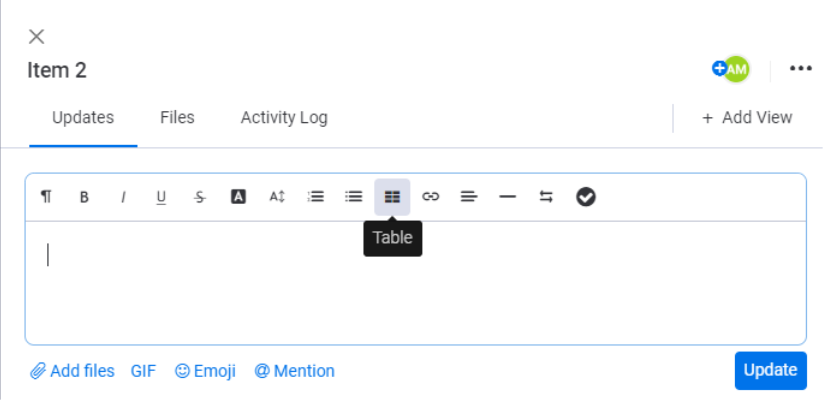 For example,
HubSpot's Shared Inbox
 is primarily for managing ongoing email and chat conversations with customers. You can discuss these conversations with colleagues using a comment system that's hidden to the customer. For businesses that bring in leads through live chat and email, this accessible and rapid form of communication can be a nice advantage.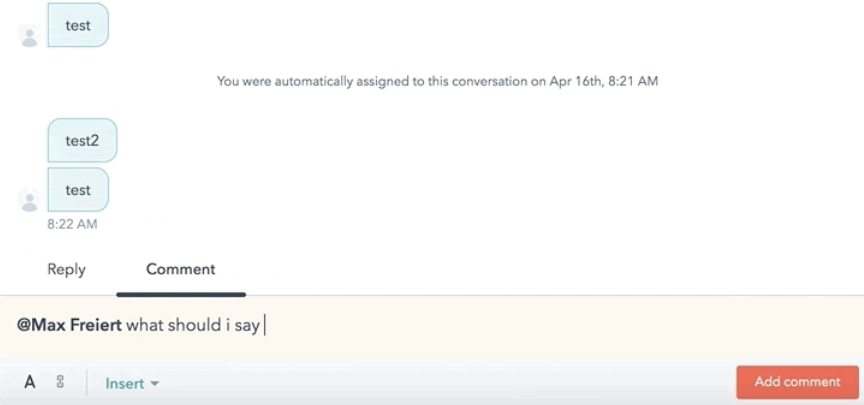 On another note, Monday.com lets you share files with a maximum size of 500 MB each. HubSpot doesn't limit file storage for uploaded files but recommends that you remain within a 1GB limit to avoid loading issues.
What I really like about monday.com's file sharing system is the Search Everything feature
. You can filter results by Boards, Updates, Files, or Tags, and even specify the format of the file you're looking for. HubSpot's file search is good, but it doesn't quite live up to monday's.com number of filters. Overall, both monday.com and HubSpot have all the essential tools to help you improve teamwork. That said, HubSpot has a little more to offer for customer-facing businesses.
Pricing
Monday.com Offers Great Value; HubSpot Costs More Just for the Basics
In addition to the 14-day free trial,
monday.com offers a free plan
 and four paid plans – Basic, Standard, Pro, and Enterprise. With Hubspot, pricing isn't so straightforward, as there are so many options to choose from.
HubSpot has a free plan
 and five individual hubs designed for different niches: Marketing, Sales, Customer Service, CMS, and Operations. Each Hub has three plan tiers: Starter, Professional, and Enterprise.
Here's What You Get for Free
Monday.com's free plan supports up to two users and comes with all of the basic features, including unlimited boards and documents, two project views, and 500MB storage. HubSpot's free plan includes the basic tools from all 5 niches, such as email marketing, the Shared Inbox, live chat, a mobile app, and more. Like monday.com, it allows only 2 users, so it's best suited for individuals. However,
compared to monday.com, HubSpot's free plan is limited – you can only upload 5 files (though there is no size limit) and create 3 dashboards
. Even though monday.com's best features are missing from the free plan, it still provides everything you need for personal or small team organization. In contrast, HubSpot's free plan is spread thin between all of its CRM tools – and as you won't have the Projects tool, you won't be able to access the bulk of its project management features.
Here's What You Get When You Pay
Monday's Basic plan comes with up to 5GB of storage and prioritized customer support, but
the app's most useful features come into play from the Standard plan up
. With Standard, you get three extra views (Timeline, Calendar, and Map view) and guest access, which lets you collaborate with outside users without giving them full access to your account. You can invite up to 4 guests, which will be billed as 1 seat. You'll also get 250 actions for integrations (Excel, Google Drive, Dropbox, and more) and 250 actions for automations (status changes, dependencies, item creations, and more). The Pro plan gives you up to 25,000 automation and integration actions per month and two more project views – Chart view and Workload, the latter enabling you to see every team member's capacity and distribute workload evenly. Other notable features on the Pro plan include unlimited guests, formula columns, and time tracking.
The Standard plan probably offers the best balance between power and price, costing

$

10.00

 per month for each user seat.
That said, the Pro plan is still well worth it, considering the abundance of features you get. HubSpot's paid plans unlock access to extra features such as project templates, unlimited storage space (you can upload up to 5000 files on the Professional-tier plans), a calendar view of your projects and assigned tasks, and analytics data. The added benefit is that
you can subscribe to a single Hub or mix and match one or more to get the tools you need
. That said,
even the more expensive HubSpot plans are missing useful features.
For instance, there's no time-tracking functionality and a lack of useful project views compared to monday.com. HubSpot's price can also rise significantly depending on what you choose. For example, a starter Marketing Hub plan costs around
$
45.00
, while higher-tiered choices can amount to 100 times that price. In addition,
HubSpot's Projects tool is only available on the Professional and Enterprise plans, which are very expensive.
Despite the cost of these plans, you'll still be missing useful features such as time-tracking, Gantt charts, and many other project views offered by monday.com.
If you're looking for a just project management tool, Monday.com offers far better value for money.
That said, HubSpot may be worth it if you plan to use all the available CRM features. Here's a comparison of similarly-priced monday.com and HubSpot plans, so you can decide for yourself.
monday.com Standard Plan
HubSpot Starter CRM Suite
Starting Price

$

10.00

$

45.00

Max number of users
Unlimited
Unlimited (includes two paid users – additional seats cost extra)
File storage
20 GB (unlimited number of files)
Unlimited
Types of the task view
Calendar/Kanban/Gantt view
Calendar
Collaboration tools
Discussion threads
Discussion threads, comment system on Shared Inbox conversations
Automation actions
250
10 for emails and forms; 4 for sales deals
Number of dashboards you can create
1 dashboard with up to 10 boards
10
Support
HubSpot Offers Responsive Live Chat – monday.com Is Stuck to Email Support
Both monday.com and HubSpot offer extensive support documentation with clearly written articles, tutorials, and webinars. HubSpot also provides community support and gives you the option to sign up for free courses.
Monday.com offers 24/7 ticket/email support, even on the free plan
. When I tested the email support, the response was helpful and arrived quickly, but I was still disappointed by the lack of live chat.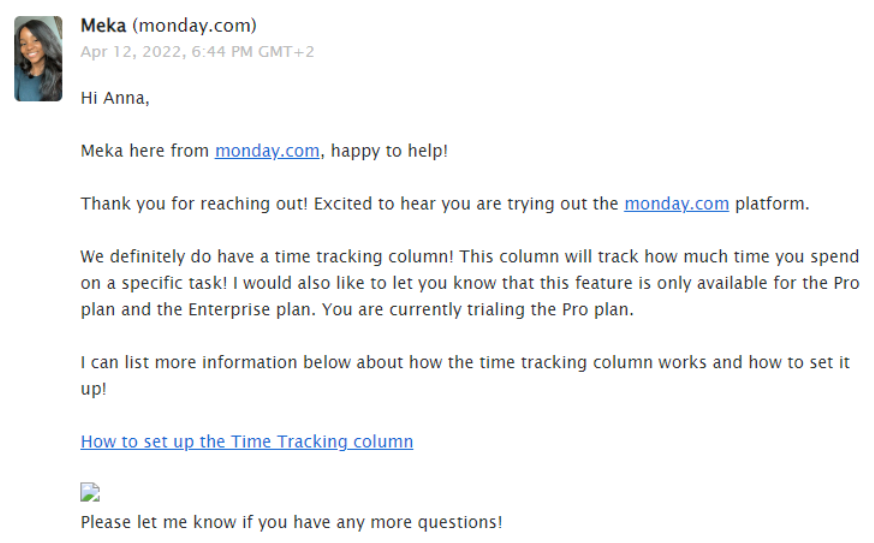 Conversely, HubSpot offers a variety of support channels. With the free plan, you'll only have access to the knowledge base and community forums, alongside Twitter support (available on business days from 5AM to 4PM EST). The Starter plan offers access to technical support via 24/7 email and live chat, while 24/7 phone support is available in the Professional plan.
Compared to monday.com, HubSpot's free plan is missing reliable support options
. However, I found that there is a form of live chat support available to free users that you could use to your advantage – the sales support. I decided to test if the sales team were willing to help an existing user.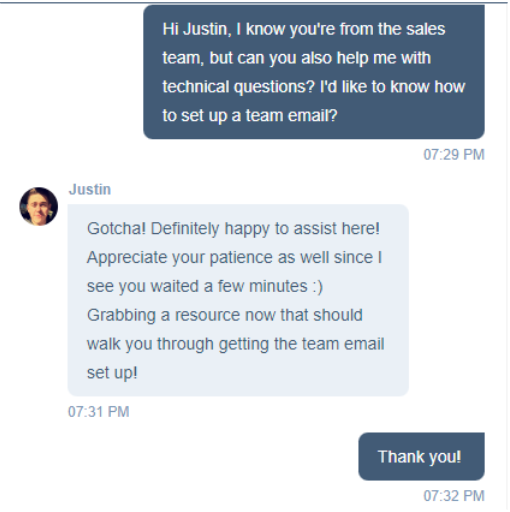 I asked how to set up a team email and interestingly, he was happy to help. He offered a link to relevant documentation and even offered to guide me through the implementation step-by-step. Whether I'd get this same great service every time is a different story – but it seems that the HubSpot sales team
can
provide technical help. However, for anything remotely complex, you'll likely need to upgrade. All in all, HubSpot tends to offer more responsive support options than monday.com. While monday.com definitely has more reliable technical support in its free plan,
HubSpot offers 24/7 live chat to paying customers – which is sorely missing from monday.com
.
Monday.com Is Best for Optimizing Workflow, While HubSpot Has a Wider Focus
Monday.com helps you improve your day-to-day workflow
and it comes with a powerful set of tools to make organizing projects easy regardless of your team's size. HubSpot is much more expensive, but it offers an all-in-one project management and CRM solution that may be enticing to large businesses or enterprises. That said, HubSpot's PM tools are still fairly limited, so
if your focus is on project management, monday.com is feature-rich and more affordable.
Features
200+ free project templates, 9 task views, time tracking, extensive automation tools
Only 6 free form templates, 1 task view, no time tracking, loads of third-party apps
Ease of Use
Easy to use, clean and more customizable interface
Simple to use, great in-app support, easily generate useful custom reports
Collaboration Tools
Communication via discussion threads and file sharing
Communication via discussion threads, file sharing, and comments on Shared Inbox leads
Pricing
A 14-day free trial, a basic free plan, and four paid plans that offer great value
A limited free plan and different sets of expensive paid plans covering different niches that can be bundled with one another
Support
Support documentation
Ticket/email support
Support documentation
Community forum
Live chat support
Email support
Phone support
FAQ
Is HubSpot better than monday.com?
HubSpot is first and foremost a CRM, and it has limited project management tools that require upgrading to its most expensive plans. Compared to HubSpot, monday.com has a wider set of project management features and it's cheaper.
Is monday.com good for CRM?
Monday.com is a user-friendly work management app that not only lets you manage projects and workloads, but it can also function as a basic CRM tool. Monday.com's variety of pre-built templates makes it suitable for any kind of standard CRM workflow. However, HubSpot's CRM features are markedly more advanced, albeit more expensive.
Does monday.com link in with HubSpot?
Yes, HubSpot allows you to integrate monday.com to manage all your leads, contacts, and teams in one place. You can use monday.com to collaborate with your team on project delivery, customers onboarding, accounting, and more.
What makes HubSpot different?
While HubSpot does let you manage projects, it's not built exclusively for project management. HubSpot has a suite of products designed to help with marketing, sales, customer service, and content management. If you're looking for a platform with a narrower focus, take a look at our list of the best project management software in 2023.