Social media is a free or low-cost way to put yourself in front of literally billions of users. But how can you optimize your time, keep track of your social media content history, and make sure posts are scheduled, varied, and successful?
Laura Roeder, Founder & CEO of MeetEdgar
tells us how out of her frustration, she built
MeetEdgar
, a tool that creates a library of posts that can be categorized, automatically generated, and scheduled across multiple social media platforms.
Please tell us a little about your background before founding MeetEdgar.
I have been an entrepreneur pretty much my entire working life. At 22, I started as a freelancer doing graphic design and creating websites. In 2008, after Twitter and social media started to become a thing, clients wanted my help figuring out how to use social media for marketing their businesses. I started doing social media consulting and created training courses on social media marketing. In 2014, I launched MeetEdgar which is social media automation software.
How did you come up with the name MeetEdgar?
Whenever we developed a side project, we chose a codename that sounded a little old fashioned, and we named this one Edgar. When we were ready to launch, we just couldn't come up with a name we liked. We played with traditional startup names, but they all sounded like clichés. I thought it would be memorable if we stuck with the name Edgar, so we registered the domain MeetEdgar.com, and here we are!
How important is social media presence these days?
"Do I have to be on social media?" is a question I get a lot. You certainly don't
have
to be on social media, but it's an amazing free global marketing platform that can be very helpful to your business.  Just think of the TV show Shark Tank. Whenever the Sharks hear an entrepreneur has large sales figures, they're like "How did you do that?! "And the answer is always the same –  social media is how they did that! They started an Instagram or a Facebook page and really connected with their community, allowing their product to take off in this huge way. While social media is certainly not the only way to market your business, I don't know why a small business wouldn't take advantage of these global networks with literally billions of users, to get their business in front of people.
Are certain social media platforms a better fit for some industries than others?
Definitely.  A platform like Pinterest is a better fit for a retail business or visually oriented business. If you sell jewelry, you want to pin your jewelry so others can find it and add it to their Pinterest jewelry collections. For an accountant, it's much harder to create visually compelling pins. Some people have done it with infographics and things like that, but it's not going to be a home run the way it is for a jewelry business. The opposite would be LinkedIn. For an accountant who works one-on-one with clients and where networking and referrals are a large part of their business, LinkedIn can be a powerful tool for meeting and pitching new people. However, a jewelry business that's selling to consumers probably isn't going to be able to get much traction on LinkedIn.
How does Edgar helped organize social media content and increase their reach?
Most other social media tools only allow you to enter and schedule your updates, and then sends it to multiple platforms. I built Edgar out of my frustration of not being able to create a database of my social media updates. One of the things we do at Edgar that is unique is store an organized library of all your content divided into categories, so you can review what was posted, when, and how it performed. Another great feature is our system of continuous scheduling. A lot of businesses make the mistake of creating "evergreen" content, like this interview you're reading, and only promoting it once. "Evergreen" content, is content that is valuable not only the first week it is published, but also when reading it three years later. When most entrepreneurs create "evergreen" content, they promote it on social media for a day, maybe a week, and then never again. This is such a waste of the time it took to create that podcast or blog post. MeetEdgar will post that link with either the same status update or a variation thereof on a continuous schedule. This way you're not just promoting what is new this week, you're promoting your entire library of content.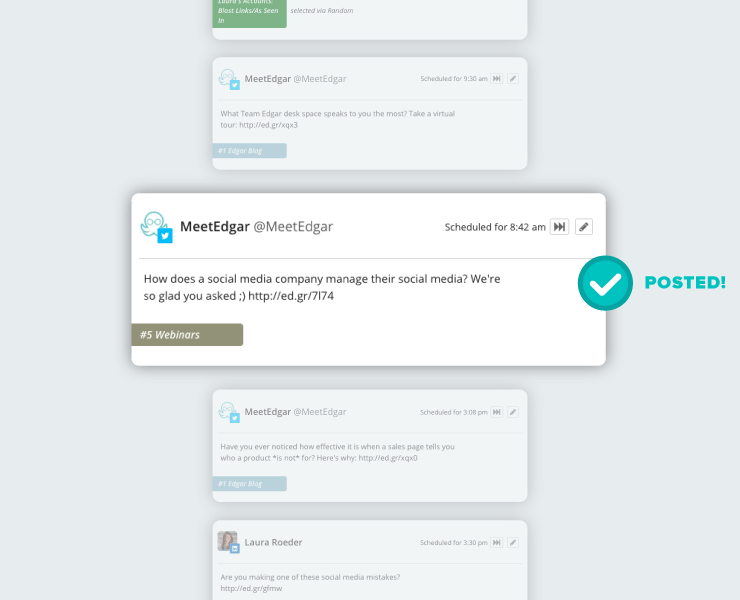 Is there a recommendation of how often to promote the same post?
Within Edgar, you can decide how frequently to promote a post, but when done automatically, the more content you have, the less frequently a particular post will appear. So, if you have five updates, those are going to cycle more often than if you have 50. The big concerns are "Will I repeat a post too often? Will I bother people?" Of course, if you send out the same message every 20 seconds for weeks that could get annoying, but short of that, we have found it's
incredibly difficult
to repeat things too often. We don't realize that we are the only ones who see everything we post. If you look at your stats on any of the social networks, only 5% or less, sometimes
much less
, of your followers will see any given post. Additionally, it's very common to see the same article posted more than once. In fact, you'll often have to see the same post multiple times before you click it. That's what "trending" means, that's what "going viral" means. It means you saw the same thing
everywhere
! It's extremely difficult to get people's attention online, so you need to promote and link to your content more frequently than you would think.
How do scheduling and continuous posting work?
Edgar has many options for setting up scheduling and continuous postings.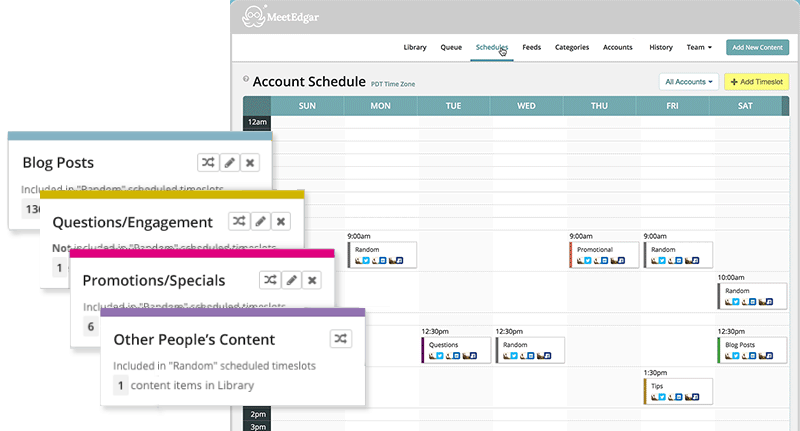 Edgar's database includes the option to categorize posts. So, for example, a user can create a category for their blog posts, a category of other people's posts and perhaps another category of "helpful tip" posts. They can then set different schedules for different categories. They may want their blog post to go out twice a day and other people's post to go out once a day in the morning and "helpful tips" to go out three times a week. Edgar will pull from those categories and cycle through them. You can always decide to send something just once or to expire a piece of content on a certain date, so there's a lot of flexibility with scheduling.
What is Edgar's "auto variations" feature?
Auto variations is a really cool feature we recently launched. We found that while people want to send out a link more than once, they don't want to use the same status update each time. Auto variations helps mix it up a bit by generating different ways to talk about the same link. Edgar uses natural language processing technology to "read" the content and pull out relevant quotes to turn into updates. Edgar will even show which status update was the most successful. So, if one update got twenty clicks while another only got five, you know which way was more compelling.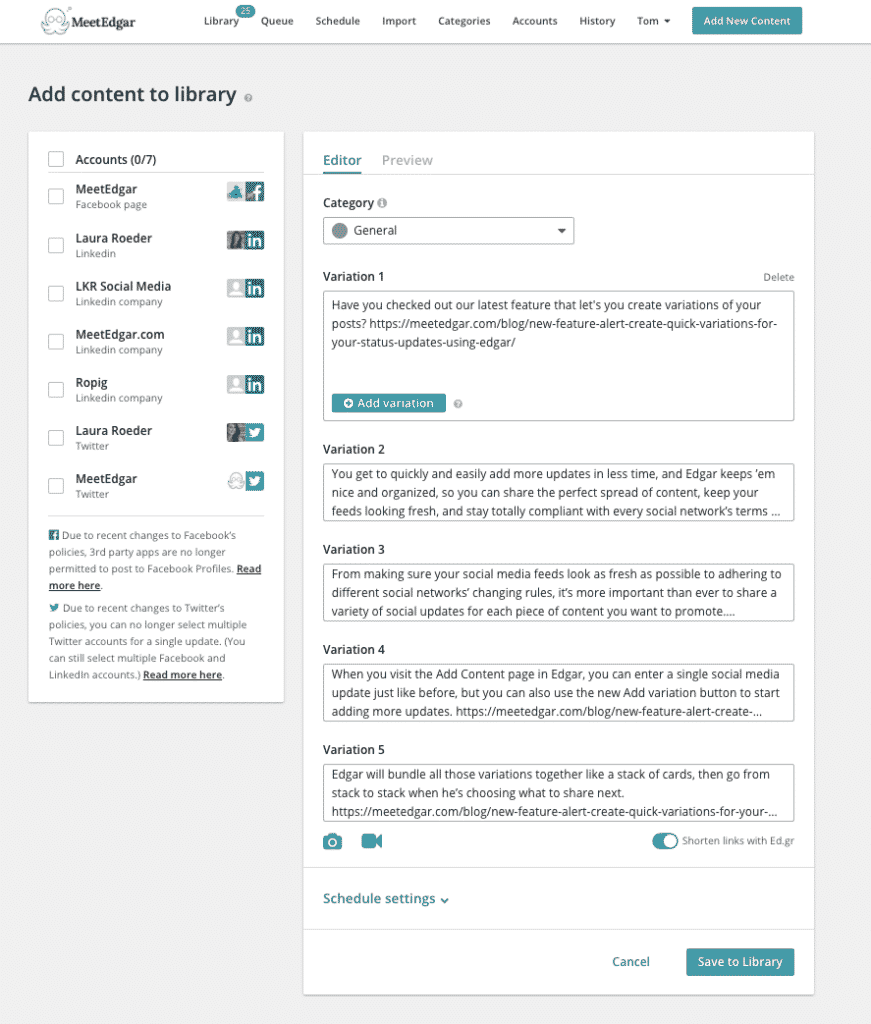 What goes into the scheduling of successful social media presence and how does Edgar help?
Edgar's biggest impact is ensuring you're posting every day. Social media can be very time intensive – you're expected to post multiple updates just about every day, and it's difficult, especially for a solopreneur (which a lot of our customers are), to dedicate that type of time. Therefore, I recommend batching content within Edgar. Let's say you send out daily inspirational quotes. You can create a category "inspirational quotes," add 50 postings in one go, and choose the frequency of scheduling and cycling of these posts to all your different social networks. Batching content liberates you to engage in activities beyond the capabilities of software, such as building relationships. With this approach, you are able to dedicate your daily allocation of social media time to interact and establish connections with your audience, forge new acquaintances, and promptly respond to inquiries.
How does Edgar gauge the success of a social media campaign or post?
Edgar's reports make it quick and easy to see how your stats are changing across the different social networks and which status updates are getting the most clicks. Since social media networks do not pass along all their data to third-party tools like Edgar, I always recommend that people periodically log into their social media accounts to get the full picture.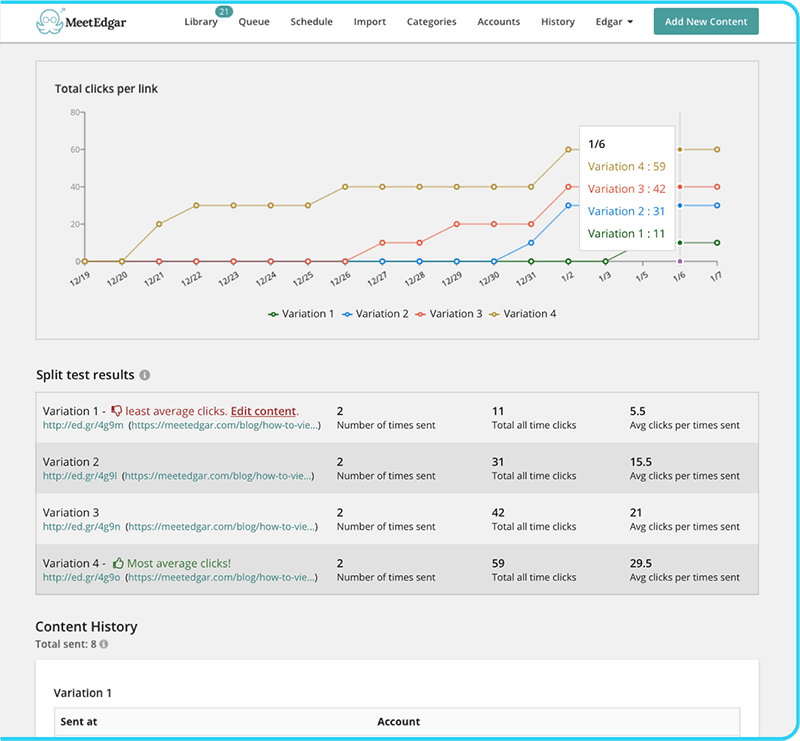 What type of support do you offer?
We have a great support team of social media marketing specialists. Support is available via email, or you can schedule a call. We're super happy to answer everything from technical questions about the tool to social media strategies. We're here to assist you with anything you need to succeed at social media!