Website Planet
had the chance to interview Harrison Gross, cofounder of Lucyd, and inventor of over 60 patents and apps in the smart eyewear industry, including their cutting-edge ChatGPT enabled smart glasses distributed in collaboration with Nautica, Eddie Bauer and Reebok. He gave us a full breakdown of the challenges faced trying to market a new tech that people barely know existed back in 2019, plus everything that worked (and what didn't) to grow his eCommerce business.
Meet Harrison Gross
Hi I'm Harrison Gross, CEO and cofounder of Lucyd (NASDAQ:LUCY). I've spent the last six years working in the wearables industry to develop and sell prescription-ready smart eyewear for all day use. Working with my incredible team, I am named
inventor on over 60 patents and applications in smartglasses and related software.
We like to see ourselves as pioneers in the smart eyewear market, and have achieved several "firsts" in the sector:
We were the first to ship prescription-fitted smartglasses direct to consumer back in 2018.
We were the first to launch a line of smartglasses with 10 or more styles.
We developed what we believe to be the the first social media application purpose-built for smartglasses.
We created the first voice interface for ChatGPT, enabling this powerful AI on many different wearables.
We were the first to launch a wireless charging pad for smart eyewear.
What products do you sell?
We develop smart eyewear products intended for all-day wear. Our core Lucyd Lyte product line is essentially a Bluetooth headset and a pair of glasses in one, which is actually much more useful (and more complex to develop!) than it sounds. Some of our customers wear our frames as their main glasses, while some use them for a few hours at a time as sunglasses and blue light blockers. Our goal from the start is to make smart eyewear more comfortable, affordable and stylish than any other brand on the market. Additionally, we have developed two iOS/Android applications to support our eyewear platform with additional features–the Vyrb social app adds unique social audio features, while the Lucyd app enables connection to ChatGPT with your voice.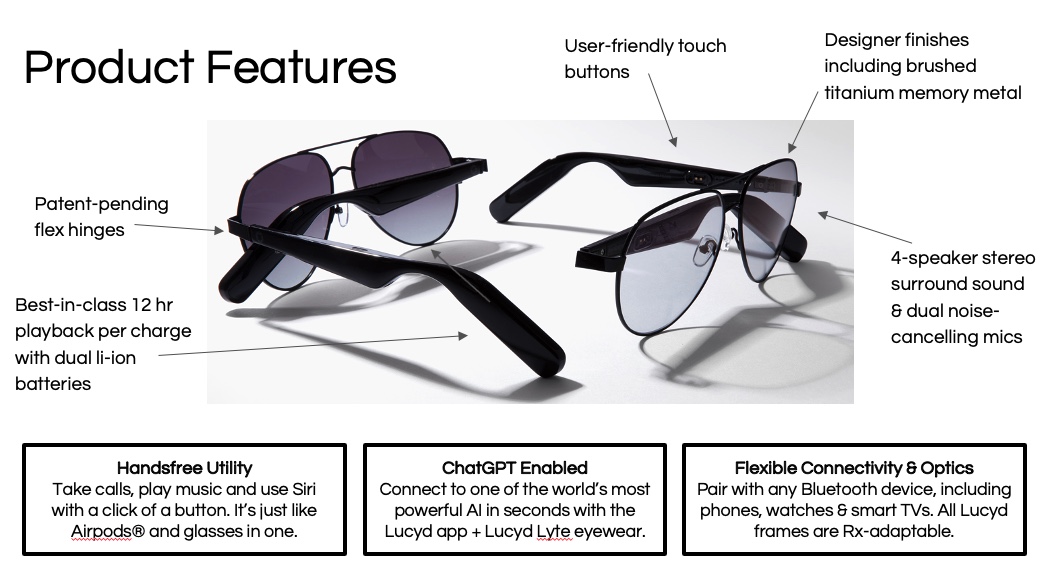 How do you stand out from the competition?
No other smart eyewear brand offers the number of styles and sizes we offer (currently 21 options) and the number of custom lenses we offer. This really clarifies our position that
smartglasses need to be eyeglasses first, and wearable tech second
. Consumers simply need an amount of variety comparable to traditional eyewear to be able to effectively adopt this new category of products. Additionally, when you examine our styles compared to other smart eyewear on the market, you can see that we are really leading the pack in terms of style. Additional standout features are our software ecosystem, which comprises two cutting edge mobile apps, and our battery life which enables 12 hours of playback per charge. Finally, our price point of $150-229 is extremely competitive with the rest of the sector, with many other products starting at $300 and up.
What is your website's current tech stack?
We run on Shopify plus and also do great volume through Amazon FBA. We offer the Shop Pay installment method for BNPL as well as Paypal checkout. We used to offer a crypto checkout but people hardly used it! Lensadvizor has been an invaluable partner in developing custom prescription intake and lens selection, and we worked with them for years to help develop their software. Because of the complexity of prescription eyewear, many of our flows and processes were custom developed. I am also really fond of Pushowl for sending out quick little reminders and promos to customers.
What challenges have you faced during the years, and how have you overcome them?
The biggest challenge is the lack of consumer awareness of this category overall
. It has always felt like an uphill battle, while other companies with more mundane products must simply make comparative marketing to other products, we have always had to do a great deal of exposition and education on the category before making a sale. So for example,
our website has always necessarily had much more information than most direct to consumer websites
, which can slow down the sales funnel but at least shows we are doing our best to ensure the product and consumer expectations are aligned. What does that mean practically? It means that
we have had to produce a LOT of video content over the years, which is costly and time consuming
. We have leaned on influencers to produce organic and engaging content to capture the audience's imagination about what smart eyewear can do to transform mundane routines into enjoyable experiences while you listen to your favorite music and podcasts. We have also had to try (and mostly fail) our hand at a lot of different marketing channels, everything from email marketing to broadcast. Even still, we often have a mismatch between customer expectations and the product they actually receive from us – sometimes in our favor and sometimes not. So building customer lifetime value in this category has always been a challenge, as we have had to provide much more attentive and detailed marketing and customer service than is needed for many other electronic products – especially when it comes to prescription-fitted pairs. Smart eyewear is a very sporadic, yet cyclical market. There is burgeoning consumer interest at times, followed by lengthy lulls in demand. We think we have gotten some powerful tailwinds when major tech corporations announce smart eyewear products, but this has often fizzled out due to those companies over-promising and under-delivering when their often overhyped products launch. We've seen this happen time and again, starting around when Snapchat released a pair of smartglasses that fell totally flat on the market. A cool product, but perhaps ahead of its time. However, we believe in the long run, smart eyewear is here to stay and we are very well positioned to capitalize and grow this market as an independent company, but one that is publicly traded and therefore has greater access to capital than most early-stage companies.
What helped you grow your audience, and how long did it take to get constant traffic?
It has been a long slog to build a loyal following. Interestingly,
crowdfunding has been one of our best community-building tools
– and many of those investors went on to become customers. See the loathsome term, "
investomers
". That's always been a real force for us since our first crowdfund on Startengine, when we raised the legal limit from 4,000 individual retail investors who loved our mission and wanted comfortable, stylish smart eyewear products that just weren't available at the time. We've always been able to draw sizable traffic because of social media and ad expertise on the team, but the challenge is drawing conversion-optimized traffic. This is something we are still working hard at, but things have started to improve now that general awareness of the category is much better than it was when we started. Lately, we've seen some early traction from influencer content posted to their own audiences, this has brought us a few thousand Instagram followers in just 2-3 months.
How do you ensure a great User Experience?
First, it's the main thing that sets us apart from other smart eyewear products – the huge amount of frames and lenses we have available for this category. Again
that degree of customization is so essential to maintaining the expectations consumers bring over from the traditional optical realm.
Next, we have
a friendly and understanding approach to returns
. We allow customers to try our products risk-free for a week to ensure it's a good fit and what they're looking for, and provide warranty support for a full year in case anything goes wrong with their glasses. In general our customer service is attentive and we can be reached by phone, email and live chat. We have been resistant to providing any support through social media as we have found it doesn't result in the best outcomes, and redirect these customers to our primary support channels. Finally,
we REALLY listen to our community about what styles and what features they are looking for in the glasses
. This has been essential to developing products in an emerging space where there aren't really other successful products or trends to look to for guidance.
What helps you increase customer retention and sales?
An interesting strategy that we deploy that comes from the smartphone world, is that
we offer extremely discounted frames to existing customers whenever we launch a new product line.
This is a win-win for us and the customer – we ensure that they have our best and latest product and turn a modest profit on the upgraded unit, while they get our newest frame tech at an amazing discount to retail. It helps us keep our live customers in the most current products, and also tamps down on support needs for each customer that does this since our frames get successively more reliable and durable with each new generation.
Email marketing has been our most effective tool for this and other repurchasing initiatives
. This might be because our email list is our largest following across all platforms (over 20k regular subs, 800 affiliates and over 400 resellers). Social media promotions have also been integral, but largely in the format of standard Facebook ads, which vary in effectiveness month to month. We offer a few key upsells including a 2-year pro insurance (a la Apple Care), an upgraded dock charger that can charge your phone, tablet and watch at the same time as the glasses, and a few other accessories.
What is in the future of your company and your industry?
The future of smart eyewear, in our view, is that it is going to dovetail with the traditional eyewear market in the next 5 years, and perhaps around that time smart eyewear sales will begin to match or surpass traditional. A great analogy for this is the smartwatch market – While smartwatches have been around since the calculator watches of the '90s, once they got to a form factor and level of functionality that so far surpassed traditional wristwatches, marked by the introduction of the Apple Watch, consumers now had a real choice to make:
"Do I just want a piece of jewelry, or do I want a very capable digital support device that tracks my heart rate and exercise, allows me to take and make calls in a pinch, shows my notifications, and gives me directions without needing to pull out my phone?"
At that point it became a wiser purchase to buy a smartwatch, and starting just around 2020 there have been seasons where smartwatches outsold traditional watches worldwide. We think the same shift is on the horizon for smart eyewear, and we look forward to continuing to build a future where your eyewear does more than just correct your vision, but also helps you stay connected to your digital life and loved ones more easily and ergonomically than ever before.