Brian Jackson, CMO
of
Kinsta
talks about their premium WordPress hosting platform unlike anything else in the industry. Powered by Google Cloud, your get lightning-fast load times, 24/7 support from veteran WordPress experts, and free migrations by their team.
What is managed WordPress hosting?
Managed WordPress hosting is designed for those who want to
focus on growing their business
and
not worry about all the server-side problems
that can occur. The hosting provider, not the user, is responsible for configuring, updating, and keeping servers running and operational. In most cases, managed hosting also comes with features that help streamline your workflow when managing WordPress sites daily.
Managed WordPress hosting is like having your own sysadmin at your fingertips 24/7. 
Here are just a few things you
no longer
have to worry about:
Locking down your server to protect your sites from hackers.
Spending time updating software packages and libraries like PHP and Nginx.
Configuring monitoring tools to make sure you know when your site goes down.
Taking care of backups and finding a good solution.
Choosing the right caching solution.
Figuring out how to set up a separate staging environment.
Troubleshooting performance issues without any help.
What managed WordPress plans do you offer?
Kinsta
hosts all types of sites, from small blogs up to Fortune 500 customers. Our managed WordPress hosting plans start at $30/month (Starter plan) and go up to $900/month (Enterprise plan). We also have custom and dedicated plans for those that need even more. All of our hosting plans are powered by Google Cloud Platform and its lightning-fast "premium tier" network, along with their powerful C2 "Compute Optimized" servers built to handle high-demanding workloads. These servers have shown speed improvements of up to 200%!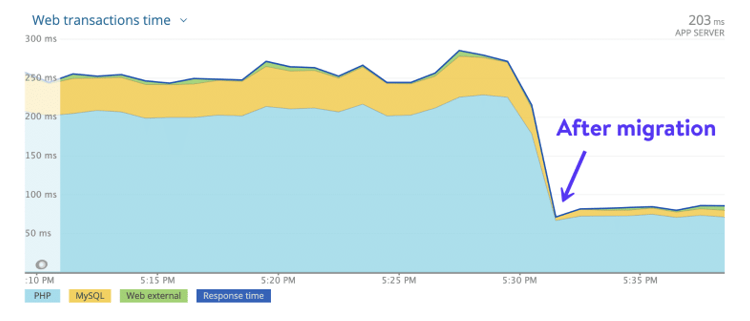 Kinsta clients can choose from 20+ data centers around the globe. Our auto-scaling and container technology allow for complete isolation of resources, ensuring your business stays online during traffic surges and secure like Fort Knox. Another excellent advantage of our platform is that it's the same score infrastructure regardless of the plan you're on. It makes upgrading and downgrading seamless and painless. You can switch plans with a single click and everything is prorated down to the second.
Is SSL included with your plans?
Kinsta has offered free SSL certificates from Let's Encrypt since 2016. You can also upload your own third-party SSL certificates at no extra cost. All of this can be done with a few simple clicks in the MyKinsta dashboard.
What eCommerce solutions are available?
You can run any WordPress based eCommerce solution at Kinsta. However, WooCommerce and Easy Digital Downloads are by far the most widely used on our platform. ECommerce stores are a lot more demanding than your typical WordPress sites. Factors such as uncacheable content, number of concurrent users, complex queries, and size of the database all come into play. But not to worry, our team deals with optimizing high traffic WooCommerce sites every day.

Here are just a few ways we go further to find the perfect balance between performance and functionality:
Fast server-level caching in place with rules to ensure proper WooCommerce functionality.
Users automatically bypass the cache when the "woocommerce_items_in_cart cookie" is detected to ensure a smooth and in-sync checkout process.
By default, certain WooCommerce pages like cart, my-account, and checkout, are excluded from caching.
The ability to programmatically purge individual URLs using the kinsta-cache/purge_list filter.
Programmatic purging can also be done via cURL by calling a URL with a prefix provided by our support engineers.
Redis and Elasticsearch add-ons are available to improve caching and search queries for large eCommerce sites.
We offer the latest PHP versions (PHP 7.2, 7.3, and 7.4) to ensure the fastest performance.
We also have a one-click WooCommerce installer, which makes it quick and easy to launch new production and development eCommerce sites.
Do you offer a "staging" area where sites can be developed and tested before going live?
Yes, every WordPress site at Kinsta comes with a free staging environment. Resources used on staging sites are excluded from our reporting to give you the flexibility you need to test and develop. You can easily create a staging environment with a single click, and when you're done testing, you can push the changes back to your live site. You can even restore a live backup directly to staging.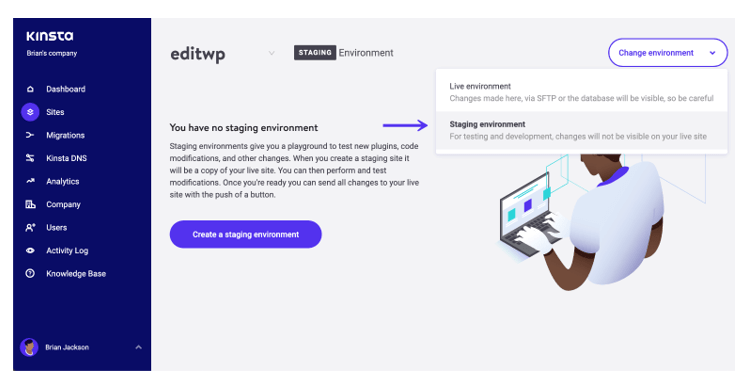 Are backup and recovery services available?
At Kinsta, nothing is more important than the retention, storage, and safety of your data. That's why we offer six different types of backups:
Automatic backups: Taken every 24 hours and stored for 14 days (longer on higher plans).
Manual backups: Create a restore point at any time.
System generated backups: Automatically created when you perform important tasks in the Kinsta environment.
Full downloadable backups: You can download an archive file (.zip) containing your entire WordPress site. The archive file has your website's files as well as the SQL file containing the contents of your database.
6-hour backup add-on ($50/month per site): Backups are created every 6 hours and are available for 24 hours. Ideal for websites that change frequently.
Hourly backup add-on ($100/month per site): Backups are created every hour and are available for 24 hours. Ideal for eCommerce sites, membership sites, and sites that change continuously.
We also create and store persistent disk snapshots (containing your backup) of every machine in our infrastructure every 4 hours for 24 hours and then every 24 hours beyond that for two weeks. And don't worry,
Kinsta doesn't include your backups in your total disk space usage
. You can easily restore your backups at any time to live or staging.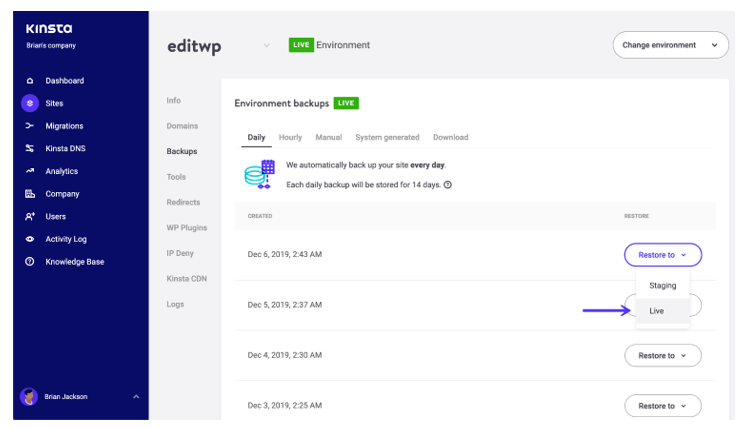 Do you have migration services for customers with existing web sites?
All of our hosting plans come with one or more
free
premium services, where our dedicated migration team handles everything. Fill out a form, schedule a time that works for you, and our team will let you know when it's ready to test. For basic WordPress sites, we also offer
unlimited free migrations
over from specific hosting providers. For those of you with hundreds of complex sites, we have bulk migration discounts. We always encourage users to take advantage of our team's knowledge and expertise. Migrations can be tricky and using a third-party plugin is not always be the best way to go.
When choosing a data center, what is the advantage of one center over another?
At Kinsta, you can choose from 20+ Google Cloud Platform data centers to host your site. You can even choose a different one for each individual WordPress site.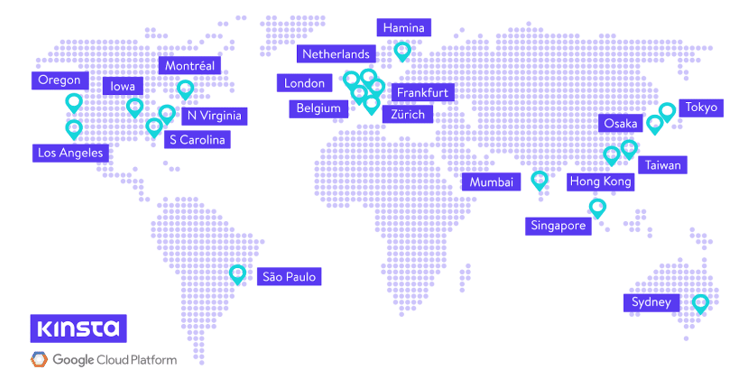 When choosing a data center, look at your current visitor/customer data. If most of your customers are from a specific region, it's vital to choose the right data center location to improve the performance of your WordPress site – the closer the data center, the lower the latency. You can also use a free tool like GCP Ping to measure the latency to your current physical location. Choosing a data center closest to you will also ensure you get fast SFTP speeds.
How are your servers secured against hackers and other cyber threats?
Kinsta implements active and passive measures to stop attacks in its tracks. We monitor all WordPress sites every two minutes for uptime, have very tight software-based restrictions in place, detect DDoS attacks as they happen, and proactively stop malicious code from entering our network. We use container technology on top of Google Cloud Platform (GCP) which enables us to completely isolate not just each account, but each separate WordPress site. Additionally, every website is
secured behind the GCP firewall
.  Because of the sheer scale of Google's infrastructure, it enables our platform to absorb many DDoS attacks automatically. Here a few additional ways we keep clients safe:
We support two-factor authentication and GeoIP blocking.
Our platform automatically bans IPs that have more than six failed login attempts per minute.
Strong passwords are enforced on new WordPress installs.
Free malware cleanups and removal for life! If your site is compromised while at Kinsta, we'll fix it.
We only support encrypted SFTP and SSH connections.
We offer only the latest supported versions of PHP.
Since we use GCP, encryption at rest is utilized to store customer data.
All Kinsta servers and the Kinsta CDN support TLS 1.3, a new encryption protocol update that is more secure than TLS 1.2.
Protection against XML-RPC brute force attacks. These requests are blocked by default.
We have a one-click password protection (htpasswd) tool.
Need to block a spammer? We've made this easy! In our MyKinsta dashboard, you will find an IP Deny tool you can use to block any IP address from hitting your site.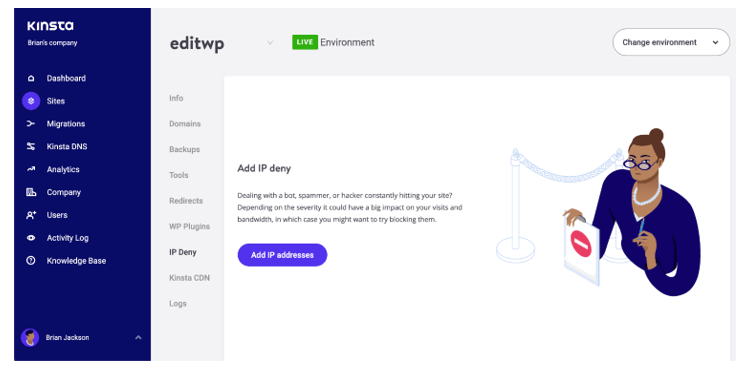 What support is available to your customers?
Kinsta has structured support different than other hosting providers as we felt the traditional model was broken. We don't have level 1 or level 2 support reps; our entire support team is staffed exclusively by WordPress developers and Linux hosting engineers. This way ensures you'll receive expert advice from someone who actively uses and develops WordPress. Every Kinsta client
gets to chat with the same team members that support our large enterprise and Fortune 500 companies
. Our support team is available 24/7/365 days a year. Our average ticket response time in Q3 2019 was 1 minute and 19 seconds!