freelancers looking to advance their career
.
Please Present Salesforce Ben To Our Audience
SalesforceBen.com is the worlds largest Salesforce news and media site, I founded the website in 2014 as a blog, to share interesting technical solutions and walk-throughs in my day job as a Salesforce professional. For those that might not know, Salesforce is the worlds largest enterprise software vendor, which holds over 24% market share in the CRM market. As well as CRM software, it sells marketing, business intelligence and commerce solutions, as well as business messaging, through their acquisition of Slack in 2020. We produce daily content on our website and share it to our 400k monthly readers across Email Newsletters, LinkedIn, Twitter & YouTube. In addition to our content, we also sell premium courses to help our readers level up, as well as a job board to help professionals land their dream role.
What's Your Story? What Sparked The Idea, And How Has It Evolved So Far?
I was never very academic at school, but I've always been interested in technology and entrepreneurship. When I started a career in Salesforce, I was often faced with the challenge of working out solutions on my own, with very little resources online. This led me to setup a website using WordPress, and starting writing up blogs to help people in the ecosystem. I've never been academically or professionally trained in marketing, but I've been an avid user of the internet since I was about 9 back in 1999, so I've been using websites and tools such as MSN Messenger, MySpace, Facebook etc for years.. I think this gave me a bit of an idea of what people expect when they land on a website, and also the best ways to promote the site across the internet. Fast forward to today, and the website has 400,000+ monthly readers growing at about 50% YoY.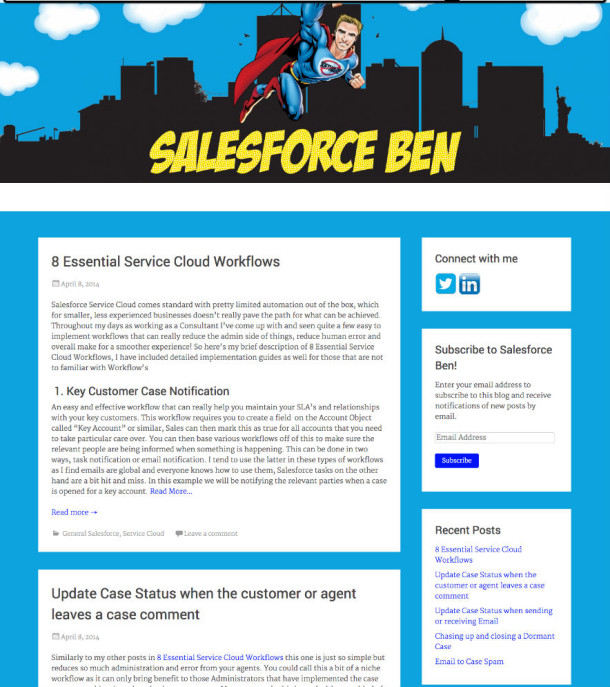 What Services Do You Offer, And What Makes You Stand Out From The Competition?
Our core offering is as a media publisher, we publish round 10-15 blog posts a week that are well researched and written. Although there are a lot of individually ran Salesforce blogs out there, I believe we are the only one that has full-time employees with a multi-disciplinary team. We have our technical authors that write content, and also review content from our network of guest authors, and then our content team that ensures everything that is published is perfect. As well as an account manager, marketing manager, and video editors for YouTube. I would say what makes us stand out from other websites in the Salesforce ecosystem, is our deep understanding of Salesforce, and how to create, and market content within it. We're a highly creative, analytical team that likes to dig into the detail of Google Analytics to understand why something did, or didn't work. Aside from our premium courses that we sell to readers of our site, the majority of our revenue comes from advertising. We work with individual companies to provide deep understanding of the Salesforce ecosystem and the different personas within it, as well as how to market to them.
​​What Is The Mission Of Salesforce Ben?
Our mission is to help start and advance the careers of Salesforce professionals. This has only recently been put down as a mission, but this is what we have been doing since 2014, helping people with their careers. For people who are just entering the Salesforce ecosystem, it can be overwhelming. A huge amount of technical jargon to understand, as well as a mirard of different paths to go down in your career. We help people digest the Salesforce ecosystem in simple terms.
What Are Your Top Tips To Get A Job With Salesforce Without Previous Experience?
Salesforce as an ecosystem is growing at an incredible rate, and for the last 10 years, demand has been ridiculously high for Salesforce skills, and most probably will continue to grow, as Salesforce themselves grow (At 20-25% YoY). In a study from 2021, it found that Salesforce and its ecosystem of partners will create 9.3 million new jobs and $1.6 trillion in new business revenue by 2026. It's completely possible for people with no Salesforce experience to land a job, and we actually just created a free course called the "Ultimate Salesforce Career Course" to teach people how. You can sign up for free using the link above, but in a nutshell the stages are below…

In Your Opinion, What Trends Are Going To Shape The Future Of Salesforce?
Salesforce are very smart at clutching onto the newest trends. Back in 1999 when Marc Benioff founded the company, they were one of the first to build a cloud computing platform. During the COVID-19 pandemic, they pivoted their messaging for companies to start building their "Digital HQ", this involved the acquisition of Slack as remote working was becoming a major trend. Earlier this year, Salesforce launched the NFT Cloud, a product dedicated to creating, minting, and selling NFT's. But what trends will shape the future of Salesforce? It's hard to say, as they usually respond to global economic shifts. A huge trend at the moment is "Declerative development" that allows Salesforce professionals to build powerful automation inside of Salesforce with clicks no code, this removes the need for teams of developers to code, which means innovation happens faster.
Lastly, Any Exciting Developments That You Would Like To Share About Salesforce Ben?
We're really excited to be re-launching our YouTube channel in November 2022, which is a new initiative that we are going to be focussing on in 2023 and beyond. We are aiming to deliver concise videos for Salesforce professionals to further advance their career, beyond that they can learn from written posts.