IONOS
is the web hosting and cloud partner for small and medium-sized businesses – whether helping them take their first steps online or scaling up with them as they grow.  We spoke with
Patrick Schaudel, Head of Online Applications SME,
about their comprehensive range of products for building an online presence by securing a domain, building a website, or moving back-office processes to the cloud.
This interview was originally published on December 23, 2020.
What web hosting plans do you offer?
At
IONOS
, we are a reliable partner for small businesses, freelancers, consumers, and enterprise customers with demanding IT requirements. To this end, we want to take away the pain of choosing the right solution for their online business and succeed. As one of the world's largest hosting, cloud infrastructure, and cloud service providers, we offer a full range of hosting and business services. These range from classic email and domain hosting to web hosting, DIY, and e-commerce systems, online marketing tools, and full-fledged server and IaaS solutions.
What is included with your WordPress hosting plans?
We offer WordPress Hosting with a "Managed" option to our customers in which IONOS and our customers carry out the WordPress core, theme, plugin, or PHP version updates. Web professionals and agencies, primarily, can save on maintenance and can concentrate on creating great web projects for their clients. Customers who want to take over the full admin role can also manage their WordPress plans themselves and do the installation and updates manually. No matter which option they choose, we provide high-performance hosting on a fiber-optic cable and optimized PHP and NGINX settings. In addition, we only use fast SSD storage. This ensures up to 50% faster website response time than conventional storage systems. Finally, with an optimized memory setup and railgun technology, we can serve up to 500 website visits per minute with our standard plans. For customers with higher demands, we offer the WordPress Pro line, which provides the fastest possible setup on state-of-the-art dedicated cloud infrastructure. These products are designed for WordPress developers, designers, and agencies with the highest performance demands. Our cloud infrastructure is optimized explicitly for dynamic WordPress content — the integrated Speed Kit accelerates projects by up to 300% and offers automatic image optimization and sophisticated caching technology. In addition, the WordPress Toolkit offers an optional manual or automatic backup function with up to 2 TB of online storage. A dedicated support team of WordPress experts is available to answer any questions.
Do you offer hosting for any other content management systems?
Yes, we offer the most popular CMS web applications at IONOS, including TYPO3, Joomla!, Drupal and PrestaShop. To use these hosting applications, customers simply need to download them from our web hosting interface. All of the above CMS web apps are free, up to date, and set up as turn-key solutions so that users can get started right away.
How are sites built with MyWebsite Now, and what is included in the service?
MyWebsite Now is developed just for users who want to get online with their business as fast and easily as possible. We've recognized that our customers — especially those with micro and small businesses — suffer from the lack of time to devote to their online presence. At the same time, they have needs and expect the latest designs and intuitive usability.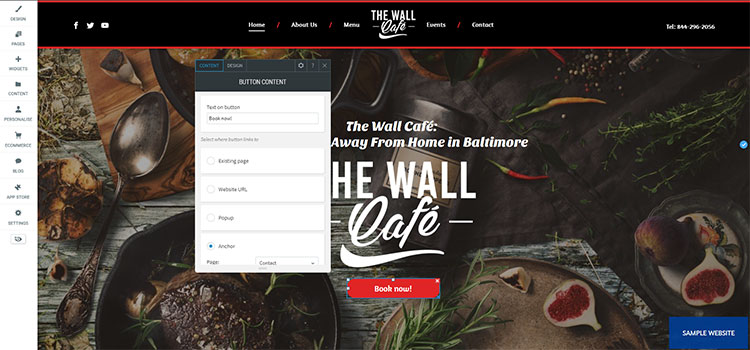 So we started developing MyWebsite Now internally, and now are proud to offer one of the easiest and most intuitive website builders on the market. Creating a great-looking website fast quickly that is individually adapted to our customers' expectations was always at the forefront of development. The tool allows you to playfully adjust layout, design, and content to your own ideas using indestructible section templates, which guarantee a professional result. So far, customer feedback shows that we hit a sweet spot. More precisely, the solution is based on ready-made building blocks and intelligent, combinable page sections that can be customized with styles and colors in no time. These predefined sections can be used to create a website with a perfect design quickly. All elements, such as fonts, photos, shapes, and color schemes, can be easily personalized according to taste. The site is also practically indestructible because all structure and design changes are seamlessly integrated and always lead to a professional result. The finished website is also automatically optimized for all screen types, including smartphones, tablets, and desktops — essentially, users get one website that's optimized for all devices. All MyWebsite Now packages also include everything needed to launch a successful website: a free domain secured by an SSL certificate and a matching professional email address. And last but more important than ever for global business — MyWebsite Now's consent-management solution ensures that the website is fully compliant with the European Union's new data protection law (GDPR).
You describe MyWebsite Creator as a website builder for pros. In what way is it different and more powerful than MyWebsite Now?
"Pro" is a pretty broad range. MyWebsite Creator is the best tool for people who need full flexibility in layout, design, and functionality. While MyWebsite Now focuses on fast and easy page creation with an indestructibly great design, MyWebsite Creator allows advanced control in all dimensions. This means users can choose a predefined template and design their individual website pixels precisely to match their ideas. With access to the CSS and HTML code, they get full control and can also integrate web services, apps, and widgets from third-party providers and define automated site interactions like pop-ups and overlays. This is where MyWebsite Creator shows its full strength and is still much easier to use than an entirely professional CMS like WordPress, for example. We also take care of all the application management, hosting, and security. Additionally, we provide an integrated cookie and consent solution which enables users to run a GDPR-compliant website.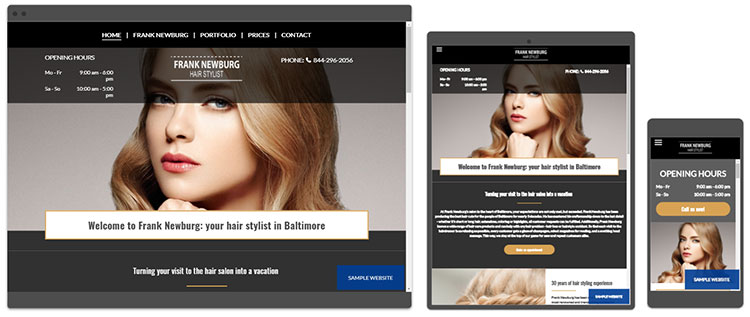 What e-commerce options are available for creating an online store?
In the website builder range, we offer two options for all who want to bring their sales channels online. As a MyWebsite Creator user, you can easily add integrated e-commerce functionality to your website anytime without rebuilding your website. For those who want to start from scratch or build their first online store,  our best-selling MyWebsite Online Store is the right choice. Both Creator and Online Store allow for sales of up to 5,000 items with the smallest package, while the most extensive package allows for up to 1 million items and digital products like software or apps. Payment options like credit cards, PayPal, direct debit, and many more come ready to use as well as a shipping wizard that allows customers to choose their preferred shipping provider. It is also definitely worth saying that we don't charge any additional transaction fees. Also, the store can be easily managed via smartphone or tablet with an Android or IOS app. If you already have a website with different CMS for your business, you can use the IONOS eCommerce plugin called ConnectaStore to add a store to your existing site simply. It doesn't matter if it's WordPress, Joomla!, Wix or TYPO3, or whether IONOS or another provider hosts it; store integration is easily implemented with a plugin or HTML snippet Moreover, we also provide an e-commerce solution aimed at social media users. Our Social Buy button is the right choice for business or solopreneurs who are only active on Facebook and Instagram. Up to 10 products can be sold easily through these social media channels. For all those professionals, agencies, and businesses with specific online store requirements, we provide highly individual solutions like Magento, Prestashop, Shopware, and more. Any of these can run on professional cloud infrastructure, VPS, or even dedicated server
s
.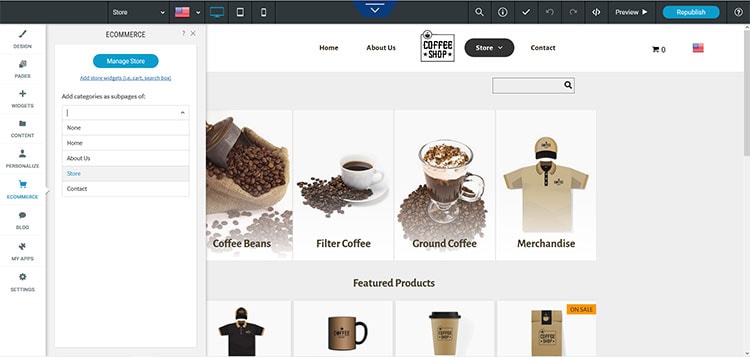 Do you offer any custom design options for users who don't want to build their site themselves?
Our MyWebsite Design Service is the right choice. Dedicated IONOS conceptual and web designers, copywriters, and search engine experts build a customized website utilizing MyWebsite Creator, entirely according to the customer's ideas. This full-service offering accompanies users from the first briefing to the final handover of the finished website. For continuous development and optimization, the maintenance service included takes care of both small and large edits, from updating contact data and promotions to replacing outdated imagery. This complete peace-of-mind service is perfect for those who want to dedicate all their time to their profession or rely on a partner who takes complete care of their online presence.
How does working with rankingCoach improve a website's search engine ranking?
To increase website visibility, the online marketing solution rankingCoach supports website users with customized video tutorials for most CMS systems and easy to use step-by-step task lists. The tool helps select the right keywords and explains individual work steps, giving helpful tips for improvement and search engine optimization. Therefore, the tool is especially practical for SEO newcomers because it provides detailed explanations of what has to be done on the website to optimize the search ranking. The integrated, comprehensive analysis helps keep an eye on the direct competition by evaluating search engine rankings daily. These analysis functions enable the user to continuously optimize their website's findability on search engines and check the optimizations' progress and success. Another highly valuable feature of rankingCoach is the integrated Google Ads engine. Using all available business data in combination with intelligent keyword selection, rankingCoach automatically generates relevant Google advertisements. There are no skills needed to use it. You can easily define the monthly budget you would like to spend on advertising on Google, and the tool takes over the rest. With transparent and detailed reporting, you can continuously monitor the ads' effectiveness and adapt the budget to your requirements. And the best part — since this is a pay-per-click solution — you only pay if somebody clicks on the corresponding ad, and you'll never exceed your predefined limit. rankingCoach automatically adapts to the user's content management system and works with all familiar website systems such as WordPress, Joomla!, and the IONOS MyWebsite range of website builders.
Can sites use IONOS to build and maintain a mailing list? What options are available for creating, sending, monitoring, and optimizing email campaigns?
We have a dedicated email marketing tool for creating and maintaining mailing lists. Customers can build their newsletter and send from 10,000 to 120,000 emails per month depending on the package they choose to customers in their mailing list. With our real-time campaign statistics, they can monitor their newsletter campaigns. They can also do A/B tests, create, import, and manage contact lists, segment their recipients, and create professional, mobile-optimized templates.
Which support services are available to your customers?
We have firmly established personal consulting as a brand value proposition to take our customer relationship to the next level and to individualize it even more. This enables us to provide our customers with the best service on the market. We are the first hosting provider to offer a personal consultant with a direct telephone line and email address, available at no extra charge for all questions concerning contracts, our products, and success on the net. The personal consultant knows the customer and their goals and offers extensive support beyond just troubleshooting. This unique offer is complemented by experienced support teams from IONOS, who are available around the clock, 365 days a year, and provide help and tips by phone, email, or chat — no one else in the entire sector offers this!