Digiarty Software
is a leading multimedia software company founded in 2006.  In this
interview
we learn more about their hit products, 4K video processing software
VideoProc Converter
and video editing software
VideoProc Vlogger
.
Please describe the story behind the company: What sparked the idea, and how has it evolved so far?
With an educational background in computer science and a firm resolution to art up the digital life, I started Digiarty Software in 2006. My dream began with the DVD author debuting in the market. Later I built a team with brilliant individuals and we expanded the product line with DVD ripper, DVD copier, and video converter. VideoProc is the primary branch of our company, aiming to provide one-stop video solutions. Now we have accomplished the first phase with the full growth of VideoProc Converter, a powerful 4K video processing program. Also, we've taken a big stride in video editing with our first non-linear video editing software, VideoProc Vlogger, to help people make cinematic and outstanding vlogs.
Who are the main users of your products?
So far VideoProc products have proudly attracted over 4.6 million users from 180 countries, among which desktop users from the USA, UK, Canada, Australia, and Japan account for a great proportion. Our users are different in occupations, hobbies, ages, languages, and multimedia literacies, but have the same interest in video content. VideoProc Converter users are mainly in need of converting, compressing, fixing, downloading videos and digitizing DVDs. While VideoProc Vlogger users are video creators who want to make pro-looking videos effortlessly.
What makes you unique to other platforms?
We always put our heart and soul into products and UX improvements and treasure users' passion and needs more than you can imagine. Compared to other commercial products, we have better free and professional tech support, all-rounded video and text tutorials, and timely responses across all social media platforms. Compared with online platforms, our products are safer and more powerful with multiple cutting-edge technologies behind the scene. Moreover, our lifetime-free video editor, VideoProc Vlogger, does not impose any restrictions on the editing process. Users can enjoy the full features without worrying about the video file size, video length, output quality, or watermark added to any part of the video.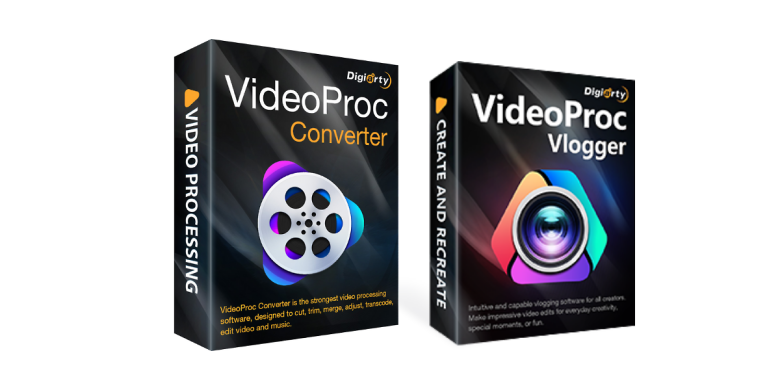 What are the key differences between VideoProc Converter and VideoProc Vlogger?
They target different needs. VideoProc Converter is a multimedia tools suite to convert, compress, fix, download, record, and apply simple edits to videos. VideoProc Vlogger is a non-linear video editor with 999+ media tracks, effects, transitions, filters, and many advanced features supported. While used in combination, they can offer you trouble-free and seamless video solutions. For example, VideoProc Converter can pre-process and prepare source videos for video editing in VideoProc Vlogger by converting, fixing, downloading, and screen recording.
How easy is it to use, would I need to read a few guides or how tos first?
VideoProc Converter and VideoProc Vlogger are both designed with an easy-to-navigate interface and practical presets, and even beginners can get the hang of them on their own. After a walkthrough of our text/video guides or how-tos on specific features, esp. our inspiring video tutorials on VideoProc Vlogger, you'll pick up more useful and professional tips.
Where can we get them?
You can get all of VideoProc products in the download center of
videoproc.com
. They have been verified safe, clean, and lightweight to install on all recent Windows and macOS computers.