Traveling in 2020 is certainly a challenge! For businesses whose employees still need to travel, help with booking flights and hotels and controlling spending while also providing safety and health information is welcome. We spoke with
Meagen Eisenberg, CMO, TripActions
about the benefits of their end-to-end travel solution and its increasing importance during the COVID-19 pandemic.
This interview was originally published on November 23, 2020.
What is TripActions?
TripActions is the leading, cloud-based modern travel and expense management platform. TripActions combines industry-leading T&E tech for travel booking, payments, and expenses with best-in-class travel agency service. Trusted by 4,000+ companies globally, TripActions empowers organizations with real-time data and insights to make business decisions, paired with flexible T&E management tools that enable them to adapt to changing market conditions to keep their traveling employees safe while controlling costs.
How do corporate travelers book and what services can they book (flight, car, hotel, etc.) using TripActions?
Corporate travelers and those booking travel on behalf of employees like executive and administrative assistants have access to an unrivaled inventory of flights, trains, rental cars, and lodging on the TripActions platform. Users can book trips via the TripActions desktop and mobile apps or through chat, phone, or email with one of TripActions global travel agents available 24/7 at no additional cost. With AI-driven personalization that factors in employee profile, preferences, past booking behavior, and company policy, travelers can book complete itineraries with TripActions in less than 6 minutes, as compared to industry averages of an hour or more.
What can be viewed and managed through the Live Traveler Map technology?
Executives and travel managers can view where their travelers are, have been over the last  14 days, and where they are headed on the TripActions Live Traveler Map, empowering them with real-time data and insights to ensure the health, safety, and well-being of their traveling employees. They can also communicate with travelers individually and en masse within the TripActions platform to help keep traveling employees safe and out of harm's way.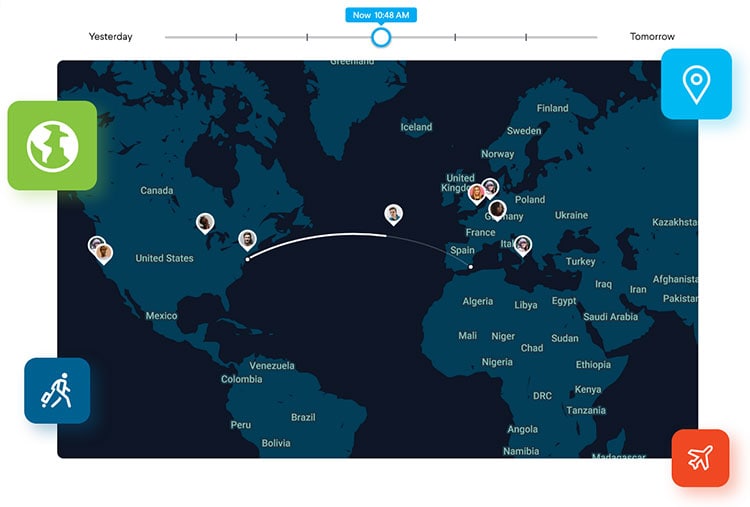 How does your TripActions Business Travel Continuity™ solution help identify and manage business travel risk?
The TripActions Business Travel Continuity solution provides travel, human resource, operations, and risk leaders, along with business travelers themselves, access to real-time data and information with a travel-focused lens to help them manage their policies and personal travel. Our team showcases information from international health organizations like John Hopkins and the CDC and combines that with booking behavior seen from all TripActions customers to help company leaders make educated decisions on when and where to permit travel, how to adjust policies, and how to stay safe if they do choose to travel. For managers, there is a dashboard that outlines virus reproduction numbers, safety information, country and state restrictions, policy-level controls, and traveler mapping which ensures leadership teams have the relevant information needed to make travel decisions. For travelers, we provide them with airline safety practices, hotel hygiene measures, COVID-19 infection rates at destination, regional restrictions, and travel safety tips to give them confidence in their travel plans.
How does centralized billing & billback simplify purchasing and reconciliation for finance teams?
Billback takes the burden off travelers by covering travel expenses upfront and it takes the heavy lifting off of program managers and finance teams through centralized billing. With billback, travelers no longer need to use a personal or corporate card when booking on TripActions. Employees instead can pay using your company's account, which generates a unique virtual card per booking. We also provide self-serve tools to ensure traveling employees are covered with pay later hotels and can submit CCAs as needed. At the end of each billing cycle, TripActions sends a consolidated invoice for each traveler's spend, making reconciliation a breeze. Plus, Finance teams don't need to track down expense reports for business travel booked through TripActions on personal cards, ultimately saving them time and effort.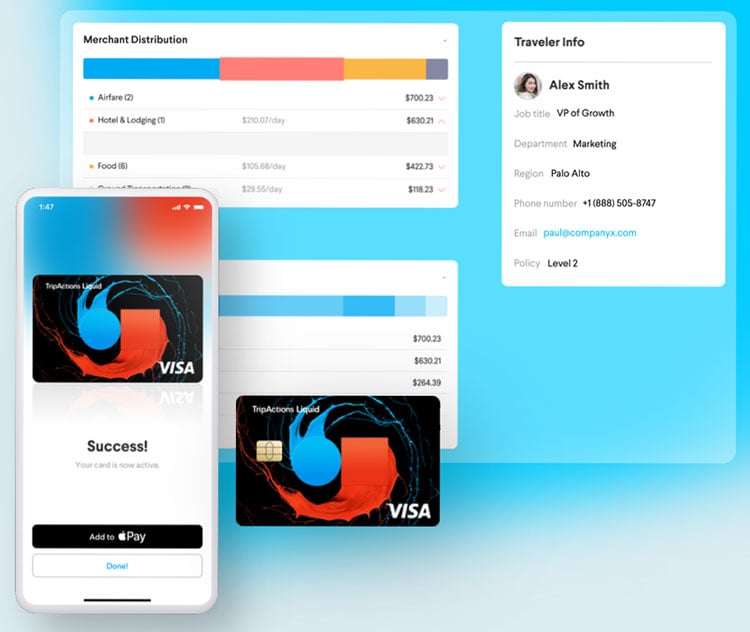 What type of analytics and insights does TripActions provide to help make future travel decisions?
All TripActions customers have access to the TripActions dashboard which is designed to provide leadership teams access to high-level information, assisting decisions that need to be made on the fly, and granular data for each booking category (air, loding, rail, car rental, ground transportation, food & incidentals), which is available for download. Each piece of our dashboard is updated in real-time, ensuring leadership teams have a consolidated view of all data for their travel and expense needs. We also share information which is particularly helpful when looking to understand traveler sentiment by providing leaders access to adoption rates, Net Promoter Score (NPS), customer satisfaction (CSAT) scores, support times, and more. To further assist leadership teams make travel decisions, we offer company benchmarking based on a dozen of different characteristics (Travel Budget Under Management, number of employees, locations, customer behavior like domestic vs. international air, etc.). These benchmarked data points help leadership teams see how their spend and policies stack up against similar companies, and the product gives the teams easy access to modify their policies accordingly.
How can users receive travel agent support?
TripActions' expert travel agent support is available to users 24/7/365 via chat, phone, and email at no additional cost. Our agent response time is less than 60 seconds, on average, and our customer satisfaction scores are consistently north of 93%. Our agents are located globally, speak multiple languages, and are available 24 hours a day, with the ability to quickly support travelers with any issue they may be having and direct lines of communication to airlines and major hotel chains.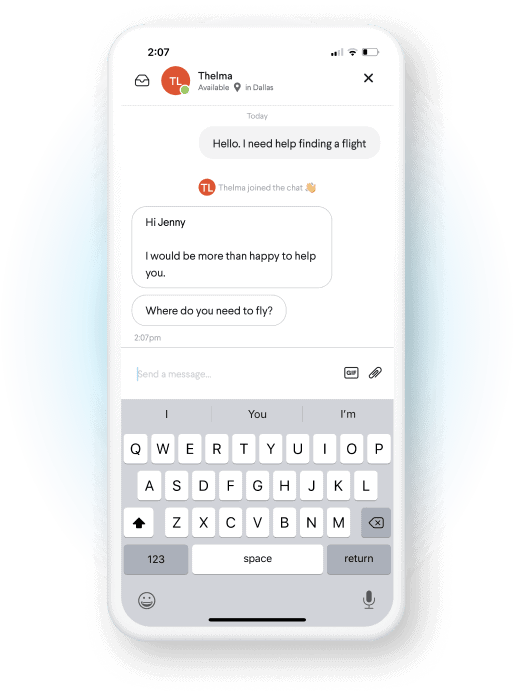 What is your TripActions Carbon Impact program?
We're all aware of the impact of business travel on our carbon footprint. In fact, 80% of TripActions travelers surveyed noted they are concerned about the impact of business travel on the environment. Due to this increasing global concern, we've partnered with our customers to build the TripActions Carbon Impact program, so you can empower your organization to address climate concerns. We give you the carbon impact data you need with access to the emissions output of your business travel program, including actionable data on your organization's CO2 footprint, along with air and rail mileage. TripActions gives you the flexibility to opt in to offset your organization's carbon footprint through partnerships with organizations that offset carbon emissions in support of your company's mission, philosophy, and/or perhaps other sustainability initiatives you have in progress. We empower travelers by providing them access to their carbon footprint data, allowing them to understand their individual impact on the environment and your company's commitment to reducing it.