Tresorit
is an end-to-end encrypted productivity solution for ultra-secure collaboration including managing, storing, syncing and transferring files.  Using technology based on zero-knowledge principles, Tresorit protects confidential data and makes cloud collaboration easy as
VP of Product, Peter Budai
explains.
Please describe the story behind Tresorit: What sparked the idea, and how has it evolved so far?
Tresorit was founded exactly ten years ago by three university students in Budapest, Hungary: they had various backgrounds in computer engineering, cryptography, and economics. One of them, now Tresorit's CEO, Istvan Lam wanted to be a cryptographer since the age of 12 when he received a book about cryptography from his parents – he was mesmerized by the systems of codes that can hide information. Together with Tresorit's co-founders, Gyorgy Szilagyi and Szilveszter Szebeni they wanted to create a safe space for their university files in the cloud. Their primary concern was data security. At that time, cloud usage was skyrocketing, however, Tresorit's founders felt that mainstream services were inherently unsafe as data stored with them could be accessed and scanned easily. They wanted to create a more secure way to store and share files in the cloud and had the idea of applying the most secure type of encryption, called end-to-end encryption (E2EE) to secure data uploaded to the cloud and keep it away from all third-party access. As I went to university together with Tresorit's co-founders, I was excited to join the team at the summer of 2012 as one of Tresorit's first software engineers. In the past decade, we have come a long way. Our first consumer app was launched in 2013, while our business-oriented service was launched in 2014. Tresorit has grown into a 110+ people company with offices in Budapest, Zurich and Munich. We are all working for a joint mission: we want to help people take back their control over their digital data. I'm proud that now our service is used by privacy-conscious individuals all over the world and by teams of all sizes from more than 10,000 organizations including smaller companies, NGOs and enterprises. What is common in them is that they are valuing their data security and want to keep their information as secure as possible –the majority of our customers are working in heavily regulated industries and have to comply with strict data protection standards. In 2021, we have launched our enterprise-focused product called Tresorit Content Shield which is tailored to the specific requirements of large organizations and help them share confidential data externally with ultimate control and security. And end-to-end encryption has been on the rise, too: beyond specialized services, it is now applied by tech giants such as Facebook, Google or even Microsoft. This proves that our approach has been right from the beginning. In 2020, Tresorit became the first ever end-to-end encrypted SaaS vendor to receive the Gartner Peer Review Customer's Choice distinction.
What are some of the challenges that you solve for your clients?
For our individual users, Tresorit is a privacy-focused alternative for storing, sending and collaborating on files in the cloud, let these be photos from their smartphones, personal finance or school-related documents. For businesses, Tresorit helps overcome their challenges related to secure, controlled file management and file transfer both internally within teams or externally with partners and customers, while staying compliant with data protection regulations. Some use cases include sharing bid materials with contractors, keeping IP-protected research files secure while collaborating on them, storing personally identifiable data or healthcare data of clients. Tresorit's value proposition combines industry-leading E2EE, extensive data management and control features to ensure data protection compliance and seamless integration into organizational workflows. Enterprises need both the convenience of the cloud and the security guarantees of on-premises data storage to function. In-the-cloud (or at rest) encryption models (like the one Dropbox offers its clients) do not satisfy both requirements: they are convenient but not secure. Tresorit's end-to-end encryption combines the advantages of the cloud with on-premises grade security: it enables easy implementation, flexibility, accessibility, and scalability – together with the aforementioned security and data control. End-to-end encryption ensures that control over encryption keys and the data itself remains in the hands of the owner.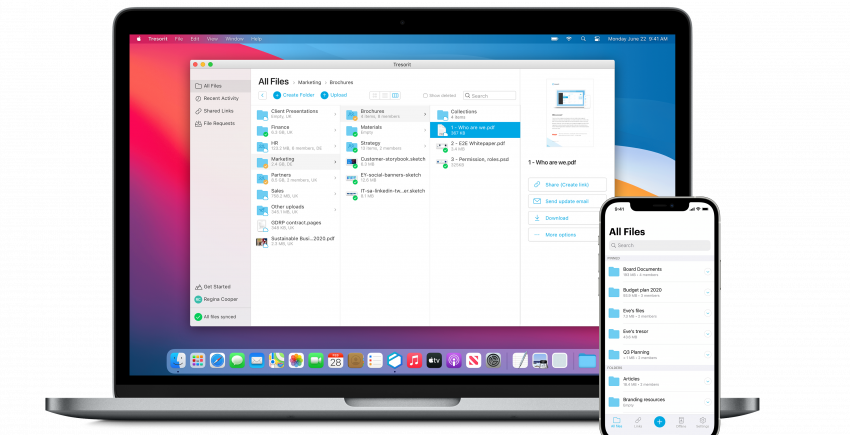 With the rise of remote work due to the COVID crisis, how can Tresorit support enterprises?
Due to the pandemic, organizations are leaning more heavily on cloud-based services for both internal and external collaboration – this means that the demand for secure services is growing, too. Workforces has become dispersed, with people now working from anywhere and in the need of flexible solutions that can be reached from all platforms. Enterprise IT thus needs to support a much more decentralized infrastructure which presents more cybersecurity risks – endpoints that need to be protected, of course, but also there is a huge demand for productivity tools that are easy to use and maintain, and have automatic, built-in security guarantees, such as Tresorit. I expect that the remote work trend is here to stay, and it transforms how companies organize their workforce. Once people experienced these more flexible work environments, they will be reluctant to go back to the "old normal" and hybrid systems will prevail. Tresorit supports this transformation with a secure collaboration and file transfer tool that can be reached from anywhere and provides the same high level of security regardless of where and from which platform it is reached (mobile, desktop, or web). Another important area where Tresorit is supporting companies is organization-to-organization collaboration, for example, communication between partners or a financial audit where an auditor needs to access confidential data. According to our experiences, internal collaboration is more likely to be secured, however, external collaboration remains a grey zone where shadow IT tools are abundant. For example, according to or recent survey on enterprise external file transfers in three European countries, 62% of the surveyed IT decisionmakers said that their organizations do not have comprehensive company policies on how to share sensitive data outside their organization.
What makes you different from other similar platforms?
Tresorit's biggest differentiator is our integrated, built-in security that is guaranteed by end-to-end encryption: this works at all times automatically in the background while our users can easily store, share and collaborate on files and apply extended data control features, too. From a technical perspective, as opposed to the server-side encryption applied by most cloud providers, Tresorit's end-to-end encryption ensures that control over encryption keys and the data always remain in the hands of the owner, making it impossible for any third parties to access the data. Only the sender and the recipient can read the files, besides them, it is technologically impossible for anyone, even to our own developers, to access the contents. Basically, Tresorit combines the functionality of a cloud storage with ease-of-use collaboration features, everything designed with privacy in mind, and I'm proud of that. Tresorit can also be integrated easily into popular workplace tools such as Office 365 or Google Workspace/Gmail.
How do you expect the recent developments around user privacy to impact your business and industry?
Since Tresorit was founded, we have seen a steady increase in the demand for privacy and security-focused services. In the past year, the growth was fueled by the shift to dispersed workforces due to the pandemic. We saw a significant surge in the demand for Tresorit's services when lockdowns began globally in March 2020 and were surprised by how quick some companies moved to the cloud (this decision-making process slowed down later). Companies needed to switch to remote work almost overnight – this was challenging for both SMBs (who didn't typically have work-from-home policies) and enterprises (who did not have remote work policies not suitable for large-scale deployment).
Which trends and technologies do you find to be particularly intriguing these days?
I find all research related to encryption particularly interesting, for example there are huge developments nowadays in the field of homomorphic encryption. This technology would help to solve one of the biggest technology challenges of end-to-end encryption, that is, how we can perform operations such as search or indexing on end-to-end encrypted data. These operations are currently impossible in E2EE apps because on the servers we store only encrypted, non-readable data. Homomorphic encryption though would enable some features that we take for granted with non-E2EE apps such as searching among the content of the files, which would make E2EE apps more user-friendly. Another exciting area is quantum cryptography, which would uplift the security of public-key cryptography, digital signatures and key exchange so they can also resist to the upcoming generation of quantum computers that traditional cryptography cannot withstand.
How do you envision the future of your industry?
I expect that data security and privacy will become even more important aspects of developing SaaS products. As customer demand for data security is ever increasing, vendors  must create products that are as secure as possible, protect the data privacy of their users, yet are easy to use, deploy and integrate in internal workflows. Regarding end-to-end encryption, I expect the adoption increase further, also in the field of enterprise applications: as it minimizes the readable data stored on the server-side, it also reduces the chances of data getting into wrong hands. This zero-knowledge approach of E2EE will expand into a wide variety of use cases beyond messaging and file transfer and will be applied by any application that handles data in the cloud.