Serif has been developing creative applications for over 30 years but now, with the release of their Affinity line of applications for Windows, Mac and iOS, Serif has some of the best graphic and layout software available. In this interview
Website Planet
heard from
Ashley Hewson, Managing Director of Serif, developers of Affinity Suite
on their journey of creating award-wining creative software.
Please share the story behind Serif: Where did it start and how has it evolved so far?
The company was founded in 1987, so 35 years old and now actually one of the oldest software companies around. We have always been involved in creating creative software, desktop publishing, photo editing, and graphic design. When we first started out and for the following 20-odd years the applications that we developed were geared toward hobbyists. For example, our desktop publishing app at the time, PagePlus was more focused on creating projects like greeting cards for the family, village newsletters, that kind of thing and at that point all our old apps were Windows only. But we were successful with it and the business was always profitable. Around 11 or 12 years ago a group of the developers came to us with a proposal, as you can imagine when you have apps that were developed 20 years ago with technology moving on and you are still trying to add on new features to the existing code base all the time it can become frustrating to develop for. We had all these skills to develop creative software but were not really putting them to great use, with the skill set in-house we could set our sights a lot higher. The developers felt confident that they could develop a whole new kind of creative suite of apps that would be very competitive in the more professional end of the market. It was a big gamble as fundamentally we had to start again, all the code that we built up with the old apps over a 20-year period had to be discarded and we developed from scratch. It took nearly five years of development using this new technology that we were writing and during that time we thankfully just about managed to keep the business running as we were still selling the old software. That is really the story of Affinity. About eight years ago we released Affinity Designer, the first of the new suite of Affinity Apps that we launched followed a year later by Affinity Photo. Initially we were Mac only for Affinity but then launched Windows versions, we launched Affinity Publisher and launched iPad versions. The philosophy of throwing everything away and starting again meant that we could code using the latest best practice ways of writing software. It also meant that we were very conscious and making the right decisions at a very low level in our technology around the latest hardware, multi-core processors, high-power GPUs building at a low level of our code which would have been impossible if you were adding onto something that already existed. We had a very clear idea about what this suite could be and how we could make it different.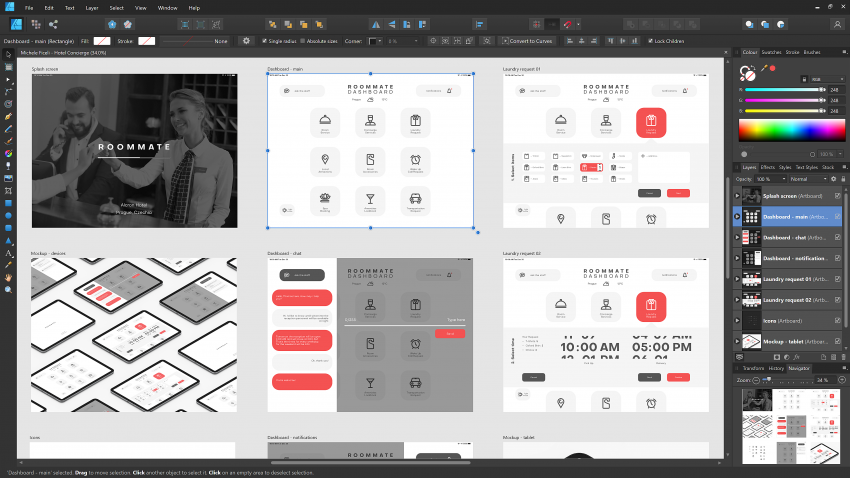 What are some of the features that make Affinity apps stand out from other creative software platforms?
There are two fundamental USPs that we focus on. Firstly, because of the way we started took advantage of the latest technology when developing we can achieve performance speed that hadn't really been seen before. Everything renders live on your screen, if you're applying a filter effect, for example, like a blur, or whatever it might be, as you are adjusting the slider of that blur, put simply, you're seeing it happen, live in real-time without lagging or if you move massive groups of vector objects around your page, or resize them, you're seeing them actually move in real-time. That speed is really important for creatives because you want to get live previews of everything you are doing as you are working and editing and take away all the potential trial and error where if you are typing in a value and then waiting for the result it takes a big chunk of time away. Live editing was always something that we were very focused on to achieve performances that hadn't been seen before. The other USP vitally important is workflow, all of our suite share the exact same file format which comes back to them all sharing the same back-end code. It is a massive differentiator if you have a layered file from Affinity Photo with lots of adjustments, effects and masks and you move over to Affinity Publisher and want to edit you can place it as a raw Affinity file and publish, there is no need to convert to a JPEG first. Within Publisher you can actually expose the layers and edit them or change the visibility without having to go back to Affinity Photo saving time.
How easy would it be to switch from another platform and import existing documents?
It is something that we were very conscious of for people to transition from other platforms to use Affinity Apps we were going to have to make it as seamless as possible. We worked very hard in particular on our PSD import and export. We really think that we are the best that there is in terms of any other third party software to import PSD. Generally speaking if you already have a library with many Photoshop files you can import them seamlessly without losing any layers, masks or structure and continue editing. We also import Illustrator files and now also support IDML files and we have tried to make importing thousands of files and templates as painless as possible. We didn't do anything too crazy in terms of reinventing the wheel in how creative software works, there had already been a consensus about the most productive way, for an app like that to work. You tend to have a toolbar down the left-hand side with your tools, panels, with attributes that are associated with objects, like the Pen or Brush tool generally working in very consistent ways. While for some things, we might have had some different ideas about how some of it could work, we mostly went with the status quo. We know that people have potentially spent 20 years using other professional creative software and when they transitioned to us, we didn't want it to feel totally alien.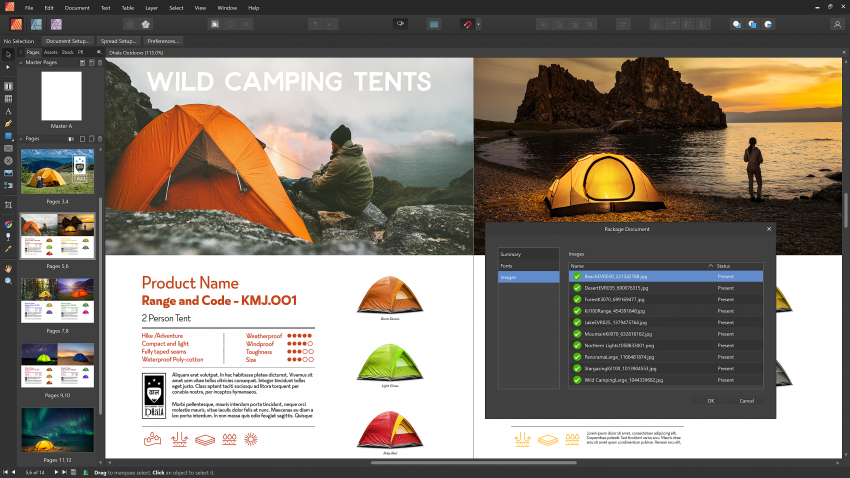 As we have seen mobile technology evolve, along with the rise of social platforms there is an abundance of novice photographers and designers. What is the ease of use of the Affinity apps for inexperienced users?
We are very much geared towards more high-end professional users, they are set up in such a way that is very productive for doing relatively complex tasks. With a lot of more "point and click" photographers we have a quite big following in that space with many people using our apps which I would certainly say are easier to use than trying to learn the full Adobe Suite. But they are not amateur apps, there is a learning curve in using creative software. One important thing about ease of use with us which comes back to our core back-end technology is that fundamentally as soon as you learn how to use one of our apps, you've learned how to use all of them. The functionality is identical in Affinity Photo, Affinity Designer and Affinity Publisher.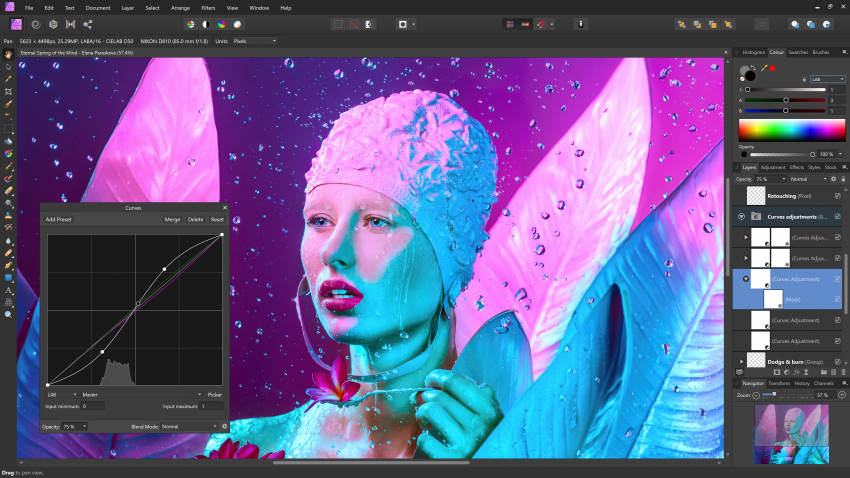 The metaverse, augmented reality, and virtual reality have been hot topics of late, does this have any impact on your future growth plans?
It's a very interesting area but we're not exactly sure how much of a change of direction in terms of the type of creative software that we currently produce we'd need to consider. We have some potential around offering some level of 3D features to edit 32-bit textures in taking an asset into a virtual space that looks accurate but it's not something we have majorly focused on as it is very much in its infancy.
Lastly, any exciting new updates or developments that you would like to share?
There are loads that I would love to share and we've got something quite exciting coming up, but I can't really divulge anything else at this point. We are constantly developing to drive our technology forward and incorporate new features that customers have been asking for.