Whether you're a small startup or an established business owner, when it comes to choosing a Limited Liability Company (LLC) formation service, you want to save time, money, and hassle. Discover the ideal LLC formation service for your business with our comprehensive comparison of two companies from our top ten list. When it comes to Swyft Filings vs. Bizee (formerly Incfile), it's a close race, but we were able to come up with a clear winner. We've carefully researched each company's various features, pricing and plans, customer support, and the overall value you and your business receive. In that respect,
Bizee has some surprising features to offer, but Swyft Filings impressed us even more
. Read on to see if our choice is the right choice for you.
Features
A Lot of Value for Money from Both, but Swyft Filings Offers More
In our original reviews of each company,
we found that Swyft Filings and Bizee have a lot to offer for the price.
There were some differences, of course, but both companies are solid, reputable, and can offer you just about everything you need to legally get your LLC off the ground.

You get standard LLC formation features, like a "free" plan option. You'll find both include compliance alerts, assistance to file a DBA, filing your annual reports, and even help with trademark registration. When it comes to features, these two providers are fairly even – until you come to one factor: personalized attention.
Swyft Filings builds personalization
into all its services. You receive custom documents, not just templated, fill-in-the-blank paperwork. You're treated to personal customer service, which we'll get to in more detail below.
You aren't just another customer number to Swyft Filings.
We consider that a huge advantage.

Another advantage of using Swyft Filings over Bizee is its 100% satisfaction guarantee.
Bizee doesn't offer any type of satisfaction promise at all. With Swyft Filings, if things aren't done right, you either get your money back, or your personal Business Specialist works with you until you're satisfied with the results. On a related note, Bizee charges a cancellation fee if you aren't satisfied and choose to cancel your account.
Ease of Use
From First Look to Client Dashboard, Swyft Filings Comes Out Ahead
Both Swyft Filings and Bizee make signing up for their services quick and easy. Both have very user-friendly client dashboards. Where Bizee fails, however, is with the quality of its website. Our research really couldn't find much difference in the sign-up processes when comparing Swyft Filings and Bizee.
Both claim that it takes just "minutes" to create your business.
An Bizee customer stated in their review that it took less than 30 minutes, while Swyft Filings says it can get the job done in 10. Our experience showed that in both cases, it took us less than 10 minutes. Both companies' client dashboards really impressed us, too. They're easy to navigate and intuitive to use.
One advantage Swyft Filings has over Bizee is that its dashboard can easily be accessed and used from any mobile device.
There's no mobile app, but you don't really need one. Bizee's dashboard is best accessed via desktop.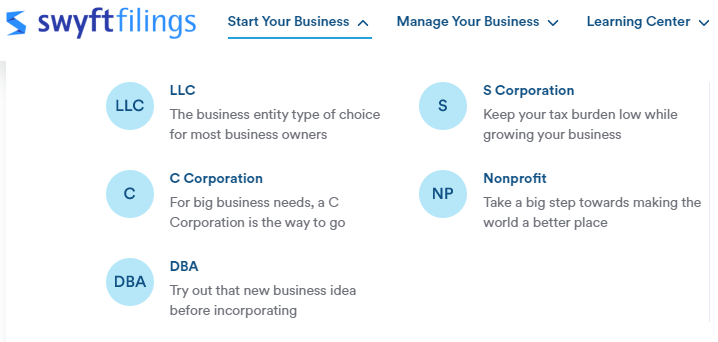 Our initial review found some minor faults with Bizee's website, and further review showed these issues are still present. It has some links that are misdirected and some inconsistencies in its link design. It also features some cluttered and confusing menus.
Swyft Filings's website, on the other hand, is well-designed and easy to use.
It has no clutter or usability issues to complain about.
Pricing
Bizee Takes the Lead
Both companies offer you a "free" plan, only charging your state's filing fees.
In both cases, it's pretty much the same service – filing your Articles of Organization plus business name searches and unlimited support. Bizee does provide a free year of Registered Agent service, as well. The middle-tier plan in both instances includes your Employer Identification Number (EIN) application and a lot of business documentation, such as your banking resolution letter. And the main difference between the two top-tier plans is that Swyft Filings promises same-day filing.
Bizee promises next-day filing
 on all its plans.
Notice that Bizee includes your Registered Agent service right from the start. In this regard, Swyft Filings falls short. It charges a yearly fee to provide your LLC with a Registered Agent. Yes, Bizee charges a renewal fee after the first year, but you get that first year free of charge.
Swyft Filings' Registered Agent fees are on the high end when compared with most of the other service providers on our top ten list.
Another difference between the two is Bizee's included compliance alerts.
Swyft Filings has a paid program, ComplianceGuard, that provides compliance maintenance. It does offer top-tier members a 14-day free trial of the program. When it comes down to the cost of the individual plans, prices from both Swyft Filings and Bizee are exactly the same. So in the end, a new startup may decide that next-day filing, compliance help, and a Registered Agent are more important than an online presence and a longer wait. An established business owner may think differently. In this case,
we're siding with the startup and claiming Bizee has the better services for the price.
You can see for yourself in the table below.
Swyft Filings
Bizee (Incfile)
Starting paid plan (minus state fees)

$

199.00

$

199.00

Fastest filing time (minus state processing time)
Same day
Next day
EIN?

✔

✔

Registered Agent?

✘

✔

 (free for a year)
Banking Resolution?

✔

✔

Unlimited Support?

✔

✔

Compliance Alerts?

✔

 (free 14-day trial)

✔
Support
With Swyft Filings, Support Is Helpful and Personal
Both Swyft Filings and Bizee offer support via phone, email, online chat, and an online resource center.
We found the online resource centers impressive in both instances. As we found out in our research, however, that's where the similarities in support end. Let's review each one separately to get into the details.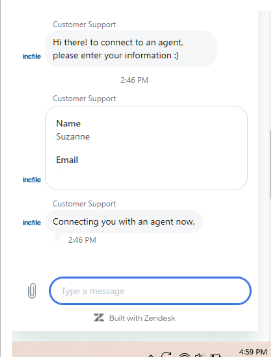 Our experience with Bizee support was less than impressive.
The phone agent kept responding with "I can't answer that" or "I can't advise on that" even though many of our questions had corresponding answers in the website's resource center. And then there was our sad attempt at using the online chat. We gave Bizee nearly
two hours to answer
before we finally gave up.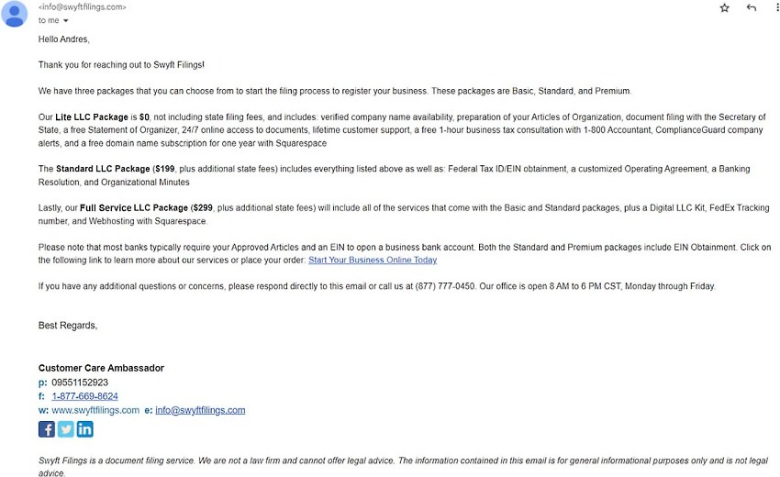 With Swyft Filings, our experience was vastly different.
The phone agent was friendly, knowledgeable, and patient with our many questions
. We even received a follow-up email summing up some of the info in writing, so we wouldn't have to rely on notes or memory. Swyft Filings also has a somewhat unique support feature for its clients, which we hinted at earlier.
You're assigned a Business Specialist, a personalized support agent of your own.
They become familiar with your business and your needs. You aren't just another faceless account when you choose Swyft Filings. Our one issue with Swyft Filings support was with the ticket system. Our first attempts at submitting a ticket were met with a glitchy
Send Message
button that didn't click through.
When we finally did get a ticket submitted, it took a week to receive an answer.
Given the strength of its Learning Center, phone support, and email, however, we considered it a much smaller issue than those we encountered with Bizee.
Swyft Filings vs. Bizee: When Close Isn't Close Enough
We said at the beginning that the contest between Swyft Filings and Bizee was a close one. Our findings don't refute that. Sure, Bizee has a few advantages, especially in regard to costs.
In the end, however, it comes down to who offers the best
overall
, and that's clearly Swyft Filings.
Swyft Filings offers similar features
as Bizee, but it employs a more usable website and is accompanied by far, far better customer support. And while Bizee comes close, it doesn't come close enough. The only way we'd recommend Bizee over Swyft Filings is if your business was on a tighter budget than Swyft Filings's fee would allow. The table below makes that decision very clear.
Swyft Filings
Bizee (Incfile)
Features
Customized, personalized documents and services, 100% satisfaction guarantee
Templated documents, cancellation fees if unhappy with services
Ease of Use
Well-designed website, beginner-friendly sign-up process, mobile-accessible client dashboard
Website design issues, beginner-friendly sign-up process, desktop-only accessible client dashboard
Pricing
Pricier than many competitors
Budget-friendly pricing
Support
Excellent support from personalized Business Specialist support agents
Below-average support service with many complaints from users
FAQs
What is an LLC formation service?
An LLC formation service is a professional service that assists individuals or businesses in creating a Limited Liability Company (LLC). These companies – such as Bizee and Swyft Filings – handle the paperwork, filing requirements, and legal processes necessary to establish an LLC in accordance with state laws.
Can I form an LLC on my own without an LLC formation service?
Yes, it's possible to form an LLC on your own without using a formation service. However, the process can be complex and time-consuming, involving research, understanding state-specific requirements, preparing and filing documents, and fulfilling ongoing compliance obligations. Utilizing an business services provider like Swyft Filings can simplify and expedite the process while ensuring compliance.
How long does it take to form an LLC using an LLC formation service?
The duration of the LLC formation process can vary depending on the state and the LLC formation service. Typically, it takes between a few days to several weeks to complete the process. Factors influencing the timeline include state processing times, document preparation, and any additional services requested, such as expedited filing. Bizee's next-day filing can also affect the timeline.
How do you choose the best LLC formation service?
When selecting an LLC formation service, we consider factors such as reputation, customer reviews, pricing, included services, customer support, and additional features. We thoroughly research each service to provide you with comprehensive and reliable reviews. Read our full report to see how Swyft Filings and Bizee compare to the other eight LLC formation services on our top ten list.