As the name implies,
LegalZoom focuses more on the legal side of things.
With a network of independent attorneys on hand – which you can contact on its affordable legal plans as needed –
you can save yourself plenty on otherwise pricey (but sometimes invaluable) legal advice.
However, it may have some tough competition from Inc Authority. Undoubtedly,
Inc Authority offers one of the best-value, free LLC formation packages out there
. Packed with tons of valuable features – such as a free year of Registered Agent services and more – this bare-bones LLC service is well worth a mention. However, when you compare each service's paid LLC formation plans, things get a little trickier. While considered more affordable for some services than LegalZoom, the pricing of
Inc Authority's premium plans and add-ons isn't quite as competitive
– or transparent. Since Inc Authority doesn't list pricing online, it's possible to get charged fees for services before you know how much you'll be paying. Plus, having to call customer support to get a quote is inconvenient. So,
I found LegalZoom to be the better company formation service provider overall.
Go ahead and check out LegalZoom's best plans, or find out more about how I came to this conclusion below.
Features
The Best Paid vs the Best Free LLC Formation Plan: Who Wins?
As far as features go, both Inc Authority and LegalZoom score points – but not in the same category. While Inc Authority is known for the incredible features packed into its free bare-bones LLC formation plan,
LegalZoom's paid plan features
 are its biggest draw. Both companies offer a free LLC formation package. But
Inc Authority adds more value by including a year of Registered Agent services
. In contrast, Inc Authority's paid plans are pricier than LegalZoom's while delivering less value. It appears that paying customers may be covering the full costs of the "free" Registered Agent service for everyone.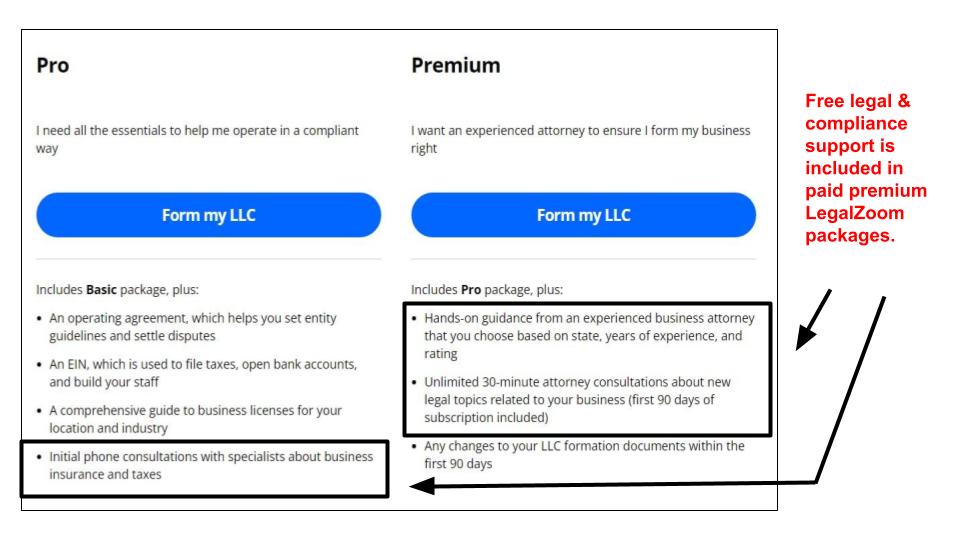 The most important factor is to consider what you actually need. While
a year's worth of Inc Authority's Registered Agent service is certainly of value
, it won't save you money if you don't use it. Likewise for LegalZoom's free trials of its Total Compliance and Legal Protect subscriptions – which come with its paid plans. It's important to note that Inc Authority doesn't offer legal support and services.
LegalZoom is really your best bet if you have a lot of legal administration to complete,
thanks to its network of independent attorneys. While both LegalZoom and Inc Authority register LLCs, C-corps, S-corps, and nonprofits, LegalZoom goes one better by also covering DBAs, should you wish to use a name different from the one you registered in your LLC filing.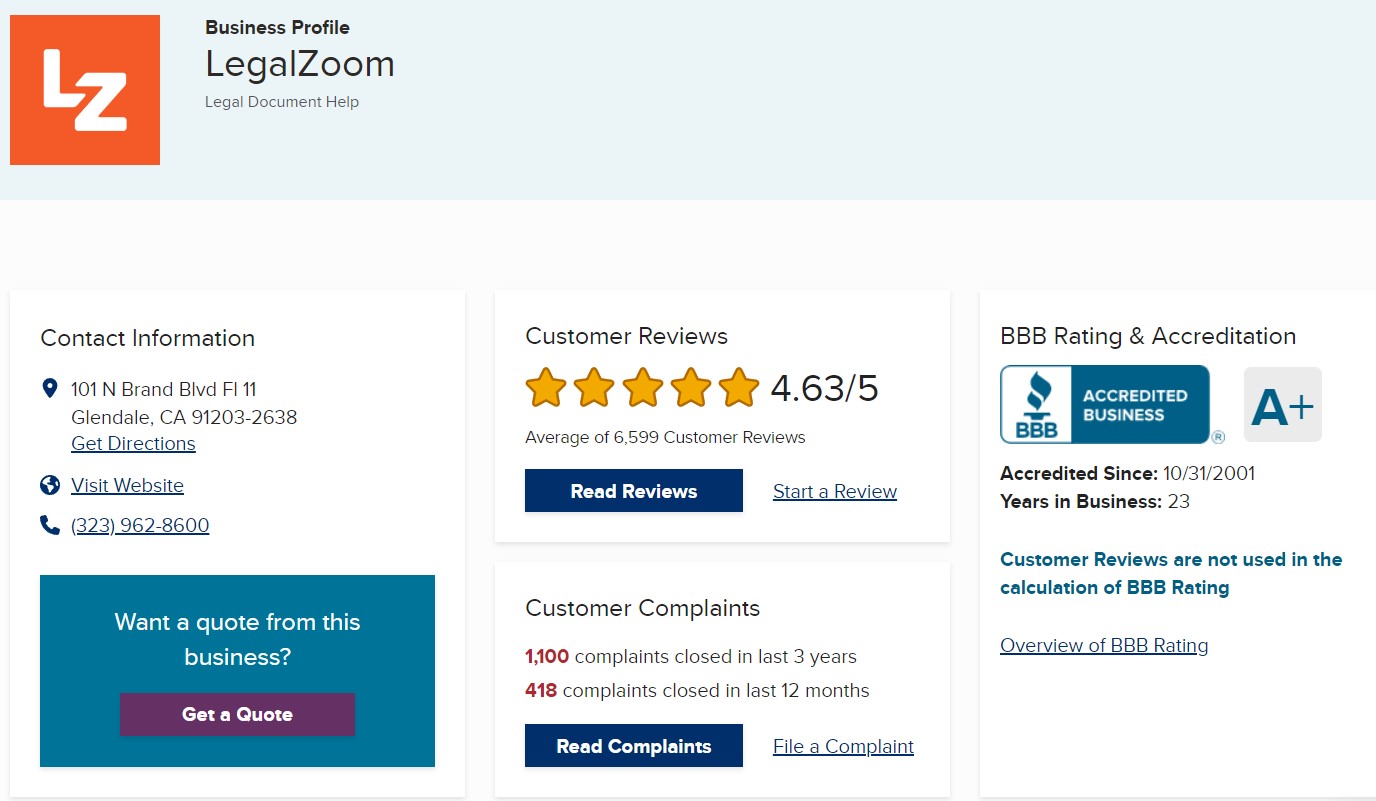 Otherwise, paid add-on and subscription offerings are similar – including drafting an Operating Agreement and registering for your EIN. The only notable difference is LegalZoom's digital welcome packets, business guides, and founder's kits, which cost extra or are included based on the plan you choose. Unlike Inc Authority,
LegalZoom is accredited by the Better Business Bureau – with a stellar A+ rating
. For low-revenue LLCs with limited start-up capital, I recommend
Inc Authority's free LLC formation package
. After all, Inc Authority didn't gain so many positive reviews on Trustpilot for nothing! However, LegalZoom's Premium LLC formation plan with legal support is useful for businesses with higher revenue and a lot of licensing and legalities to adhere to.
Ease of Use
Both User-Friendly, but LegalZoom Has the Edge
LegalZoom is well-known for a reason – it has put a lot of work into designing its website to deliver a premium user experience. In contrast,
Inc Authority's website and page layout are a little basic – if quite similar in look
. That said, they're both easy to navigate – LegalZoom's via its top-situated menu, and Inc Authority's using its top right-hand menu.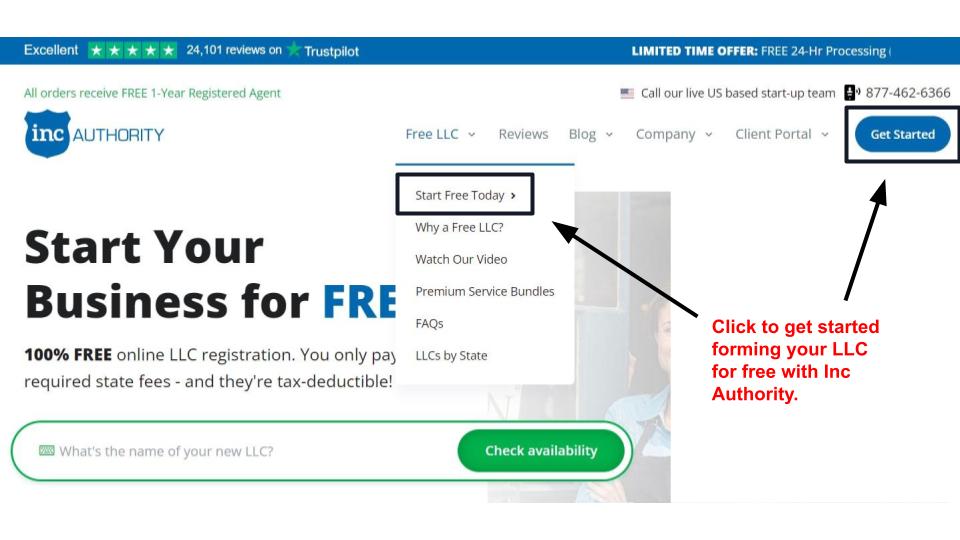 On Inc Authority's homepage, you can click on the prominent and conveniently situated
Get Started
button to opt in for its
free LLC formation plan
 and start filling in the application form. LegalZoom's signup form is similarly easy to find and navigate, and is slightly quicker to complete. However, while both providers have intuitively designed account dashboards, only LegalZoom offers a smartphone app (iOS only).
Both Inc Authority and LegalZoom also lose points for excessive upselling during the sign-up process
, though either only takes about 10 minutes to complete, and in any case you may welcome these additional offers to suit your precise needs.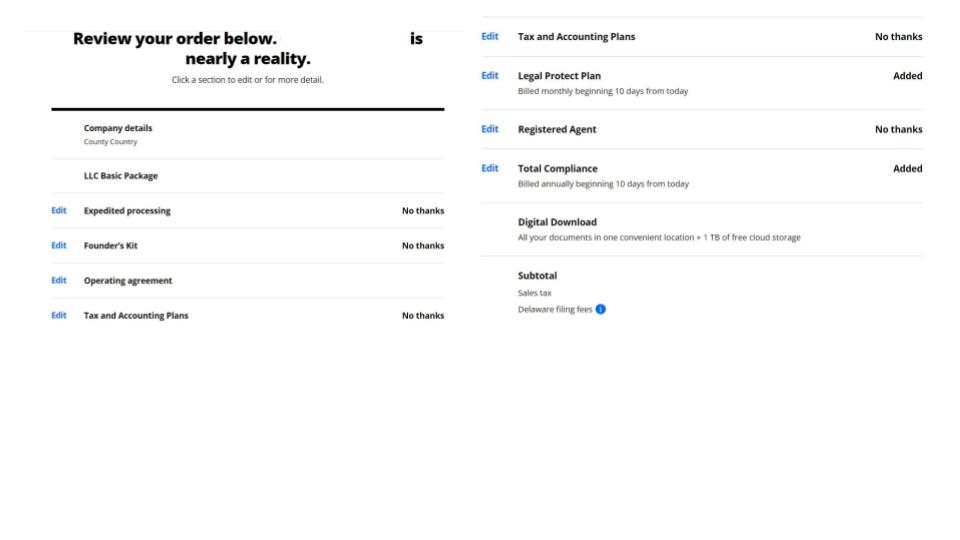 The handy order review pages are also a bonus, allowing you to fine-tune your add-ons and expenses in one place – without jumping back and potentially losing your selection so far.
LegalZoom allows you to add, edit, or remove your add-ons and subscriptions just before you make a payment
, while Inc Authority only lets you untick certain services and add-ons – not all of them. Overall, you can expect a similar user experience when going with either Inc Authority or LegalZoom. However,
LegalZoom has a slight edge regarding ease of use
, thanks to its slightly speedier-to-complete
LegalZoom LLC formation package
 form, a more modern website, and a handy iOS app.
Pricing
Both Free Inc Authority & Paid LegalZoom Plans Offer Good Value
No doubt,
Inc Authority's free LLC formation package
 is a winner – especially compared to LegalZoom's, which only comes with a "free" Wix website (which is free regardless) and a digital welcome packet.
The free year of a Registered Agent service is a true bonus
. You really aren't paying for it, seeing as it's included in both the free and paid Inc Authority plans. However, you're in for a surprise if you think Inc Authority is the least expensive of these two services. Should you shop its paid plans – Starter Business or Fast Track Business – the discrepancy is considerable. At around half the price – while still offering the same features (plus some perks) –
LegalZoom's Premium and Pro LLC formation
 packages offer much better value. LegalZoom offers the more affordable of the two LLC formation plans, but its paid add-ons and subscriptions are not as budget-friendly. When enlisting LegalZoom as your Registered Agent, it costs almost twice as much compared to Inc Authority. Additionally, LegalZoom charges slightly higher fees for services such as drafting an Operating Agreement and registering for your EIN. All in all, this simply makes Inc Authority's free LLC formation plan the top option if you just want to form your LLC as cheaply as possible – perhaps with some basic add-ons. However,
LegalZoom's Pro LLC formation package is where the magic happens
for larger or higher-revenue businesses. EIN and Operating Agreement are bundled in. You can also access legal services, including attorney consults, licensing guides, legal document library access, and copyright registrations. With LegalZoom, you can pay using most major cards, including Visa, MasterCard, Amex, and Discover.
Inc Authority allows you to use all of these cards, plus PayPal
. Both also offer a 60-day money-back guarantee, which you can claim should you be unhappy with the service. However, your refund will not cover any mandatory state filing fees.
Inc Authority
LegalZoom
Price of the cheapest or most comparable plan (minus state fees)

$

0

$

249.00

Stated filing time/range (minus state processing time)
1–4 weeks
5–14 business days
Registered Agent?

✔

(free for 1 year)

✘

EIN?

✘

✘

Website?

✘

✔

Expedited processing (add-on)?

✔

✔

Premium paid packages?

✔

✔

Money-back guarantee?

✔

✔
Support
LegalZoom's Live Chat Is a Winner – But Both Are Satisfactory
We noticed a few things when testing LegalZoom and Inc Authority's support channels. While LegalZoom is on board with being responsive around the clock, Inc Authority lags behind in this regard. It offers the more traditional phone, email, and contact form support channels. Plus, live chat – but only during business hours.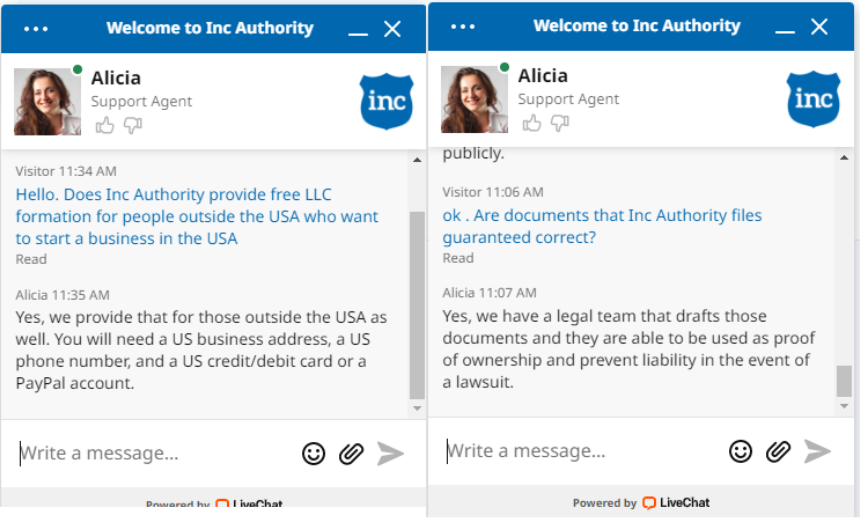 Though LegalZoom doesn't advertise itself as offering 24/7 chat support, they were online at and on unusual hours and days
when I sent an inquiry. Other LegalZoom support channels include a contact form and phone support.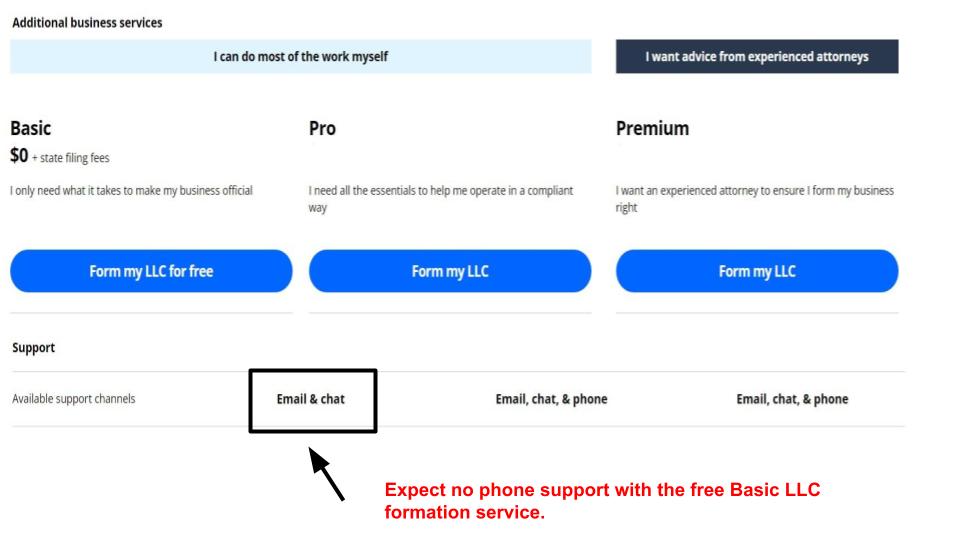 Similar to Inc Authority, LegalZoom does have limited phone support hours
. However, these are slightly more accommodating – from 5:00 a.m. to 7:00 p.m. (PT) from Monday to Friday and 7 a.m. to 4 p.m. on weekends. In contrast, Inc Authority will only field calls from 6:00 a.m. to 5:00 p.m. (PT) – but even on weekends. While both offer toll-free 800 lines,
LegalZoom loses points because only its paid LLC formation package comes with phone support
. That said, its support team will probably take a pre-sale call if you've yet to buy a service.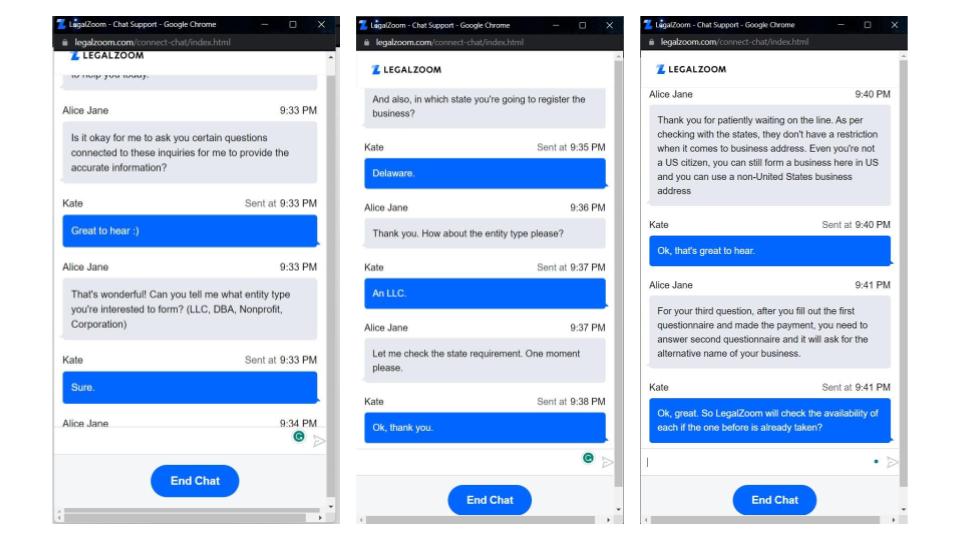 In terms of the quality of support, both LegalZoom and Inc Authority support agents were equally responsive, helpful, and reliable. Live chat and phone support were stellar, but
neither Inc Authority's email support nor LegalZoom's contact form yielded a response.
LegalZoom wins this category, as we found its support team to be available more often.
Paid vs. Free LLC Formation: The Deciding Factor
Overall, LegalZoom is still one of our top choices for LLC formation, scoring highly for price, ease of use, compliance, support, and more. However, it's not the clear winner, as
Inc Authority's free LLC formation service
 is the better of the two free offerings
. Not only does it come with more value-adds. Adding basic services, including an Operating Agreement and EIN registration, to it is more affordable. That said, do avoid Inc Authority's paid plans, which are downright overpriced – if you even get quoted the same as we were.
You can get better value selecting either a Premium or Pro LLC formation package from LegalZoom
. Packed with all the same features at half the cost, they're way better value – and the fees are set. To summarize, there are pros and cons to going with either LegalZoom or Inc Authority. However, one of the two scored higher overall.
Features
1 year free Registered Agent on all plans; domain name and Operating Agreement on paid plans; expedited filing add-on
BBB accreditation; EIN and Operating Agreement on paid plans; expedited filing add-on
Ease of Use
Website dashboard login, >10-minute sign-up, and order review page
Website dashboard login, iOS app, >10-minute sign-up, and order review page
Compliance
Tax advisory consult call on all plans; compliance notification, business advice, corporate forms, and banking advice on paid plans
Insurance and tax advisory consult call on all plans; founder's kits, business license guides, 90 days of attorney guidance, consults, and free document changes on paid plans
Pricing
Paid and free LLC formation (minus state fees), 60-day money-back guarantee, and complimentary add-ons
Paid and free LLC formation (minus state fees), 60-day money-back guarantee, complimentary add-ons, and legal and accounting subscriptions
Support
Phone (business hours and weekend), email, contact form, and live chat support (business hours)
Phone (extended business hours), contact form, and live chat support (extended business hours and weekend)
FAQ
Is using a free LLC formation service like LegalZoom or Inc Authority worthwhile?
Free LLC formation services save you time and may include valuable free features while also allowing you to keep your personal and business finances separate. The optional services you can add on to your plan may also be valuable – like expedited filing, and money-saving tax, accounting, legal, and compliance subscriptions.
Can you get a refund from LegalZoom and Inc Authority?
Yes, both LegalZoom and Inc Authority offer a 60-day money-back guarantee. Contact either company through the support channels mentioned in their respective money-back guarantee terms and conditions within this period to receive a full refund. However, note that any mandatory state fees already paid cannot be refunded to you.
Will LegalZoom or Inc Authority file an LLC formation for free?
Yes, both LegalZoom and Inc Authority will file your application for LLC formation for free. All you need to do is pay the mandatory state filing fees, which differ by state. Usually, you can find out how much these fees are on each company's website – or they will be quoted to you when you place your LegalZoom or Inc Authority order. State filing fees range from around $50 to $500.
Is ZenBusiness better than LegalZoom and Inc Authority?
ZenBusiness is a top LLC formation service, offering both free and paid company formation packages. It offers useful tax, compliance, and bookkeeping tools that LegalZoom and Inc Authority don't. Though ZenBusiness's paid plans are competitively priced, they're charged on subscription – but the included features are valuable. All of these vendors made our list of the top LLC formation services.