Paid campaigns with social media influencers can greatly boost your brand's visibility, but with the proliferation of fraud, it can also be risky. We spoke with
Alexander Frolov, Co-Founder & CEO of HypeAuditor
about their platform which detects fake accounts while checking the quality of legitimate profiles and their audience demographics to help you find your most relevant influencers. Their tools can also supply data on your competitor's influencer marketing campaigns to help you best strategize your own.
This interview was originally published on October 7, 2020.
What is HypeAuditor?
HypeAuditor is an industry-standard analytical platform for effective influencer marketing. Our customers use us to find the most relevant influencers and to check the quality of their profiles and their target audience. We are well known for our best in the market solution for fraud detection, which is included in all our products.
Our discovery tool finds and reports on all the influencers on Instagram, YouTube, and TikTok, along with the quality of their audience. We also offer tools for tracking so you can check the quality of your influencer marketing campaigns. Our latest product HypeAuditor Research Hub is a set of tools for market and competitor analyses. It currently includes six tools for in-depth research of what influencer marketing campaigns your competitors run, what influencers your competitors work with, the tactics they use, and so on.
What is your Discovery Tool?
Our discovery tool helps you find the very specific, relevant influencers for your campaigns. What makes us different is that we don't only use the usual information like gender, age, and location of an influencer and their audience. We also have quite advanced filters to look at audience quality scores to find the influencers only with a quality audience. You can also look at growth patterns to find the trending accounts growing for the last seven days or months.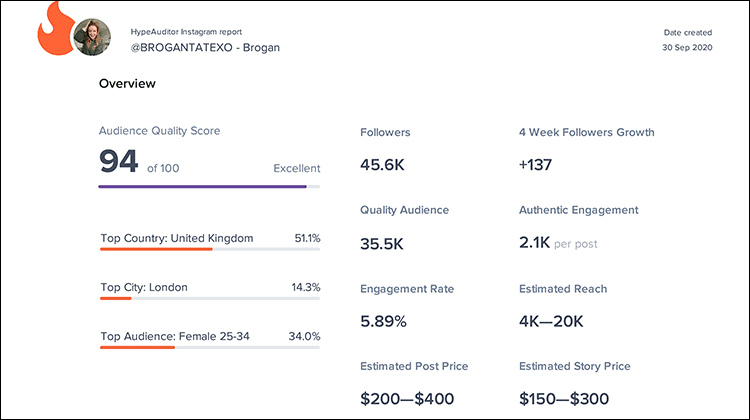 Our database consists of 11M Instagram influencers, 4M YouTube influencers, and 4M on TikTok. Over 19M influencers in total. We are probably the only solution on the market with a TikTok discovery tool that includes audience demographics. Our discovery tool is quite advanced compared to the other market solutions.
How do you identify fraudulent accounts or accounts with fake followers?
First, we collect all publicly available data and prepare it to work with our algorithms. Using AI and machine learning, we run accounts through 53 different pattern checks to detect which are genuine and which are fraudulent.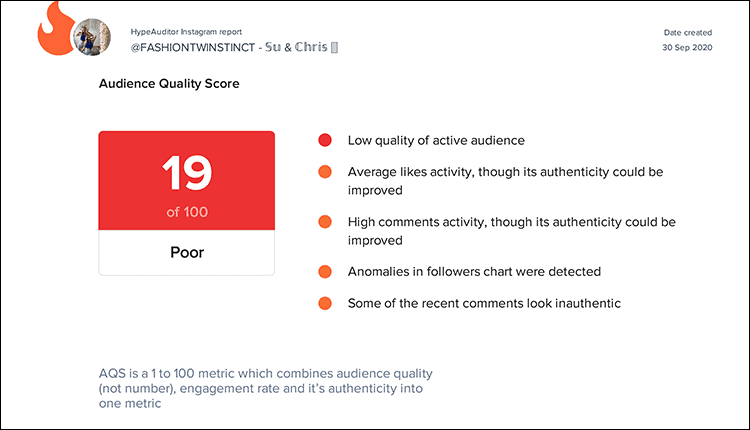 What are some of the metrics available on these influencers?
There are three sets of metrics you want to look at with influencers. The first, as I mentioned before, is determining that an account is legitimate. The second thing to look at is how authentic an influencer's engagement rate is, and how good it is compared to other influencers. The third metric you need to look at is the breakdown of their target audience as different products and different clients need different target audiences. So we give you very detailed stats about the influencer and the quality of their audience and the age, gender, ethnicity, language spoken, and countries of residence of their followers to help you understand the demographics.
How do you compile this information on influencers?
There is a lot of publicly available data, such as the location of an audience. We collect this data and then analyze it with artificial intelligence. There are also a lot of patterns for different parts of the product. With the help of computer vision methods, HypeAuditor understands the content of images and detects audience age and gender. This information helps advertisers to better target and make their campaigns more diverse.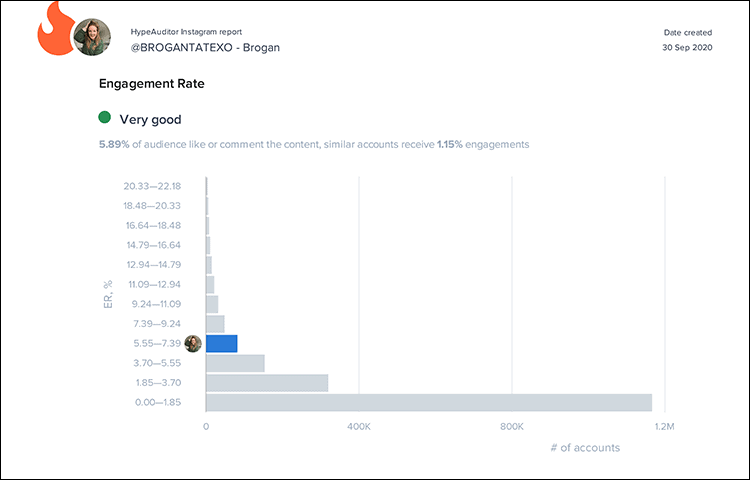 How do you report on the effectiveness of influencer marketing campaigns?
Using our campaign tracking tool, you can input the hashtag, brand mention, or link to the influencer post you want to evaluate. We will then collect all the posts and analyze the content. We compare the post's engagement rate with the influencer's organic engagement rate and report the difference. We will check the post's authenticity and inform of any fraudulent activity. We also share information about their company's dynamic in general, such as the campaign's reach and its engagement rate compared to the market results.
What is your HypeAuditor Research, and what are its benefits?
HypeAuditor Research is a solution for market and competitor analysis. It's our latest product and one of the most advanced tools we offer. While there are tools like this for almost every other marketing channel, ours in the first for influencer marketing. Our tool helps clients strategize effective influencer marketing campaigns of their own by showing the marketing landscape and what marketing campaigns their competitors are running. It can show you the influencer marketing campaigns of any competitors. For example, you can look in the beauty or fashion brands and find the top 10 spenders in that industry along with their region, who works with influencers most, and who spends the most significant budgets. You can then dive deeper and analyze what campaigns they are running with which influencers and their effectiveness. You'll see the top trending accounts, the most mentioned brands in the region, and you can create reports for competitors you choose. For example, if you wanted to check BMW's activity in the UK region. You can use their brand name, mentions of their account, or their hashtags, and we will find the relevant accounts and hashtags to help you analyze their activity.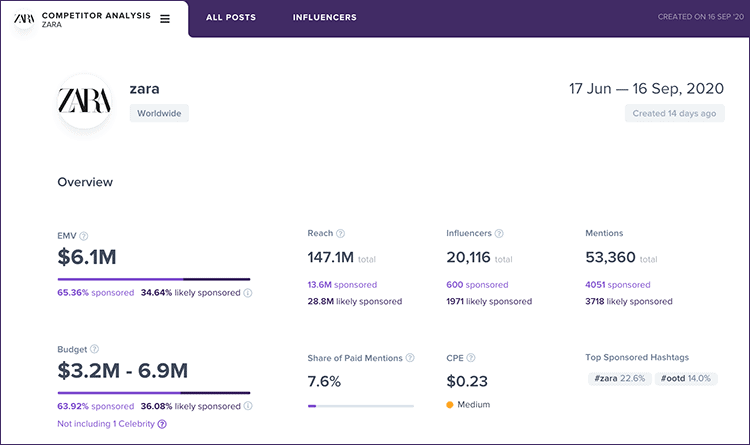 How do you gather information about the influencers your competitors work with and how much they're spending?
We have created our own database of influencer prices gathered from the different agencies and the influencers themselves. We find all influencer posts marked as sponsored or identified as sponsored to calculate a very accurate estimated price range using our AI algorithms. Seeing the difference between brands that spend between 50 to 100k and brands that spend more than 500K helps you understand how large a brand's market presence is.
Do you offer marketing advice or consultation to decide which influencer to work with or structuring campaigns?
We are considering offering consultancy and managing campaign management services as a service, but right now, we only provide consultation on an individual basis at a client's request.
What is HypeAuditor Academy?
We recently launched HypeAuditor Academy in September. Right now, we offer a course on fundamental factors, like how to understand the metrics, how to read reports, how to use discovery, etc.  We have high expectations for HypeAuditor Academy and hope to create additional, more advanced courses.