It can help you design an eye-catching website while giving access to essential tools for marketing your wares, attracting buyers, and managing your store.
On the other hand, relying on a pre-built marketplace (e.g., Amazon) can make it harder to differentiate your brand and convince shoppers to buy your products and not take their business elsewhere. Setting up your store with Shopify is pretty straightforward.
If you're still unsure, there's a free trial that gives you time to design your furniture store and test its fantastic features before you commit.
Keep reading for tips on how to build a furniture store on Shopify and start promoting and selling your products online.
How To Get Started With Shopify: Step-By-Step Guide
Before you pick a theme or start designing your online store, you should have a good idea of the type of furniture you want to sell and a clear vision for your brand.
Start by deciding the type of furniture you want to sell, creating a startup budget, and evaluating your storage needs.
You'll also want a clear idea of your target customer and what sets your brand apart. Once you've settled on a particular niche and defined your unique value proposition (UVP), you must figure out how to source your products. Are you a skilled craftsperson who can make the furniture you plan to sell? Offering customers handcrafted, made-to-order wood furniture is one way to stand out. It's how the founder of the successful Timberware furniture store built his business.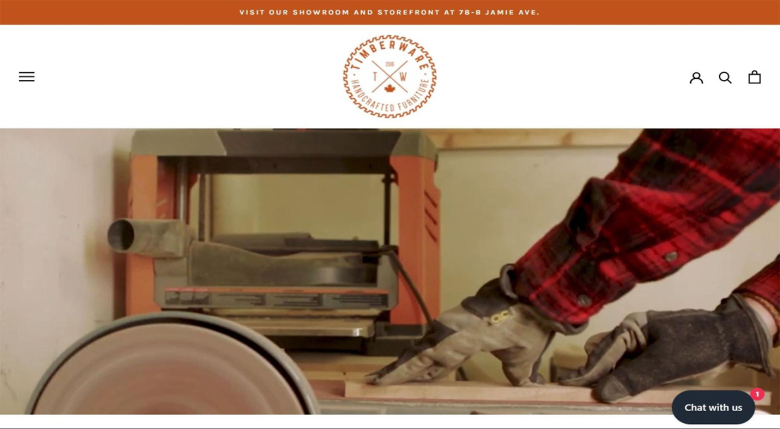 On the other hand, if you have a one-of-a-kind design concept but no furniture-making skills, you might want to focus on forging relationships with trusted local manufacturers, as the popular Ønske store's founders did. Other successful Shopify store owners resell used, vintage, or antique furniture and home decor they source at thrift shops, yard sales, and auction houses
. But the fastest and cheapest way to get a furniture business off the ground is by dropshipping.
If you decide to dropship, you can launch a fully-stocked furniture store without investing a penny in inventory or storage space. You'll also offload the hassle of order fulfillment and shipping, which frees you to focus on marketing and other efforts that will grow your business. Now it's time to
combine all these elements in a well-thought-out business plan that includes your brand's UVP, target demographic, mission statement, and marketing strategy.
Choose the Right Platform To Sell Your Furniture
If you know what you want to sell but don't know which platform to choose, here's something to consider. An online marketplace like eBay or Etsy might be suitable if you only want to sell an old chair or table that's taking up room in your basement or garage. But relying on these platforms if your goal is a thriving furniture business could be a mistake. Whether you're looking to sell furniture you make yourself or plan to partner with a local manufacturer who will bring your design concept to life,
an e-commerce website builder like Shopify offers the best path to success.
Unlike the pre-built storefronts online marketplace offer,
Shopify gives you complete creative control over your furniture store's design and features.
There are dozens of suitable responsive themes, and no two are exactly alike. That makes it easier to show visitors exactly what sets your brand apart.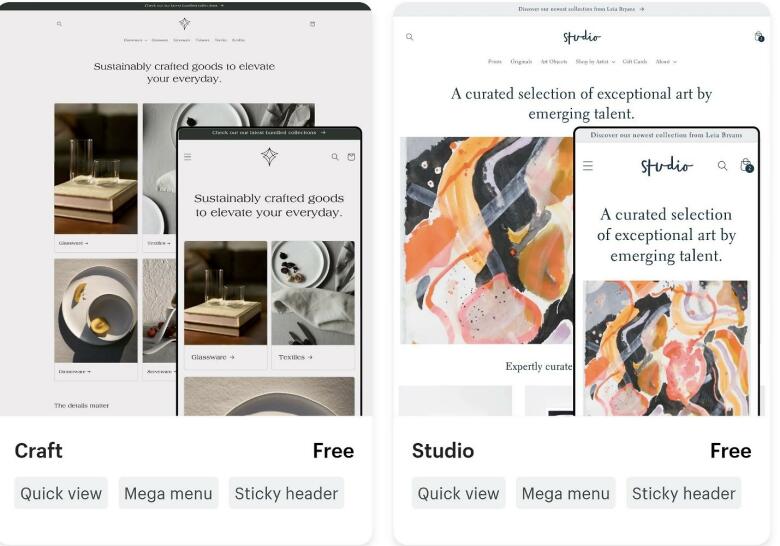 Once you pick your theme, you can customize the layout and design elements to fit your unique brand and vision – no coding required.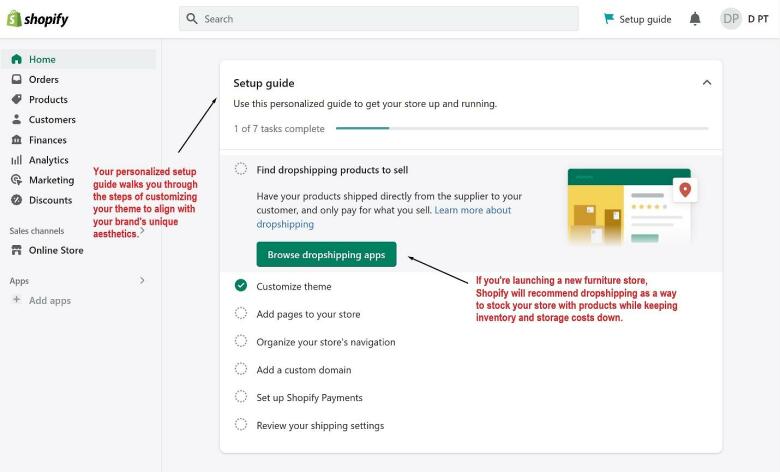 Moreover, you'll also have the support and tools only a top e-commerce builder like Shopify provides. Built-in SEO, content marketing, and social media tools help you reach new shoppers. Business tools help with inventory management, fulfillment, and email marketing. And you don't have to give up selling on other popular sales channels –
you simply add them to your Shopify store and
manage them all from your Shopify Admin dashboard
. What could be easier?
Choose a Good Name for Your Furniture Store
A great product needs a memorable and to-the-point name, so shoppers – and search engines – will immediately get what your brand is about and what furniture your store sells. What if you're short on ideas?
Shopify has a free tool that can help – the Web Design Company Name Ideas Generator
. Just enter keywords that define what your furniture business is about to see what Shopify comes up with.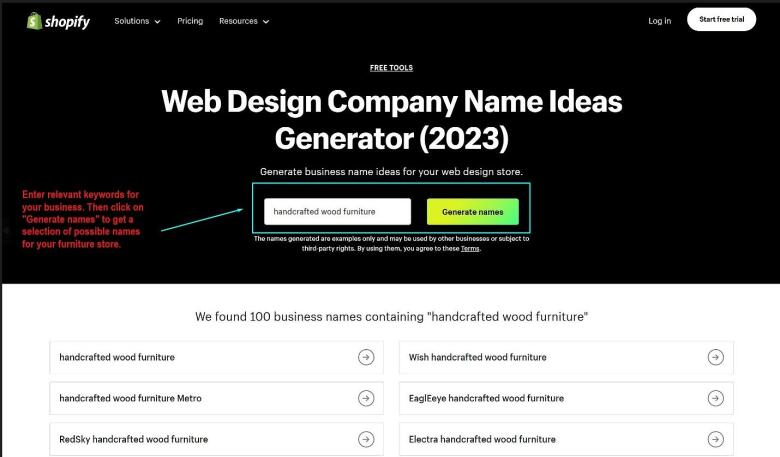 Equally important is your domain name, the URL a customer types into their browser to bring up your store.
Aim to secure a custom, keyword-rich domain name that matches your business name for best results.
The
Shopify Domain Name Generator
 is a nifty tool that will search for available domain names that fit your business name and recommend the best options. You'll even get an estimate of the annual cost for each domain name.
Customize Your Shopify Furniture Store
You won't need a web designer to launch a furniture store on Shopify –
even total beginners can easily create a branded site.
You start by choosing one of Shopify's 90+ designer-made furniture themes. You can search and filter themes by price, popularity, catalog size, and feature. The stylistic range makes it easy to find one that fits your brand's aesthetics and has essential built-in features.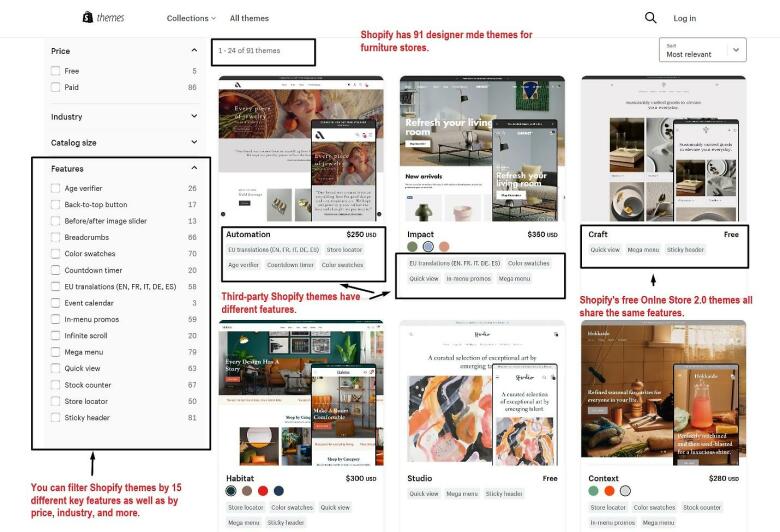 After you choose your theme,
Shopify's 7-step checklist will walk you through customizing your theme and store settings
. You start by personalizing your theme's homepage's image, background, colors, and text. Then do the same for all your other pages.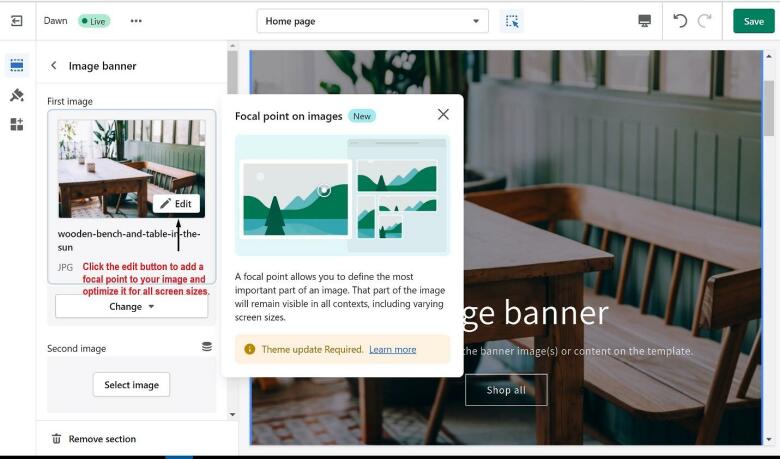 Use Shopify's new photo editing tool to adjust your homepage image's focal point and achieve great visuals on both desktop and mobile. Additional pages you may want to add to your theme (if they're not built-in) include a Contact page with your store's phone, email, and retail address (if you have one) and a searchable FAQ that customers can browse if they have questions about shipping and return policies.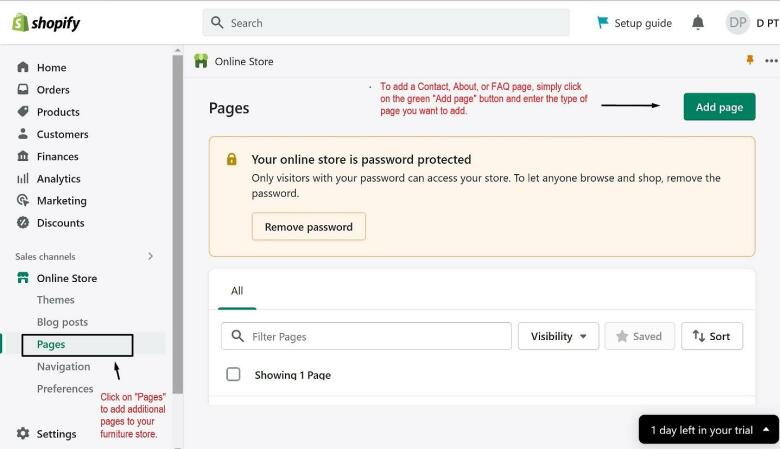 Sharing your brand's unique story by adding an About page builds rapport with shoppers and establishes your store's credibility. As you develop a base of satisfied customers, adding a page or section for testimonials is yet another way to build trust.
The Shopify app store has many apps you can use to add design features, find new products to sell, and broaden your store's reach.
You can start by adding apps Shopify recommends for furniture stores or browse by category until you find what you need.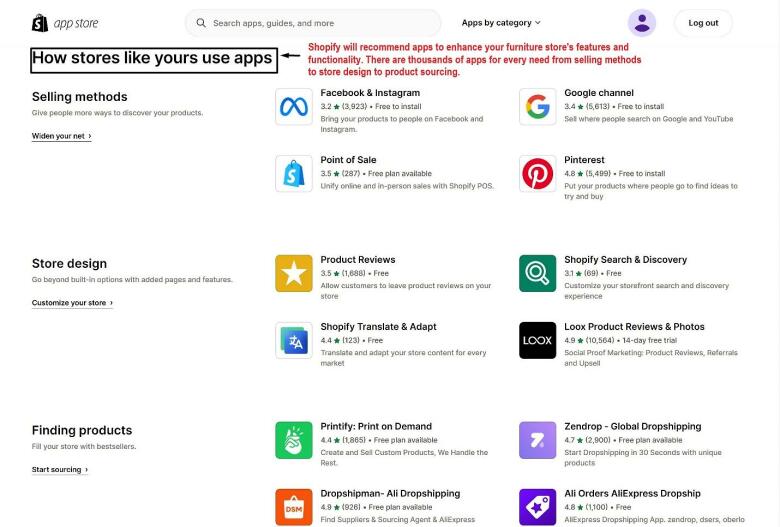 If you want to browse more apps, scroll down to
Apps and Sales Channels
in your store settings to access the app store. Shopify even allows you to build custom apps if you're so inclined or have coding skills or a website designer on staff.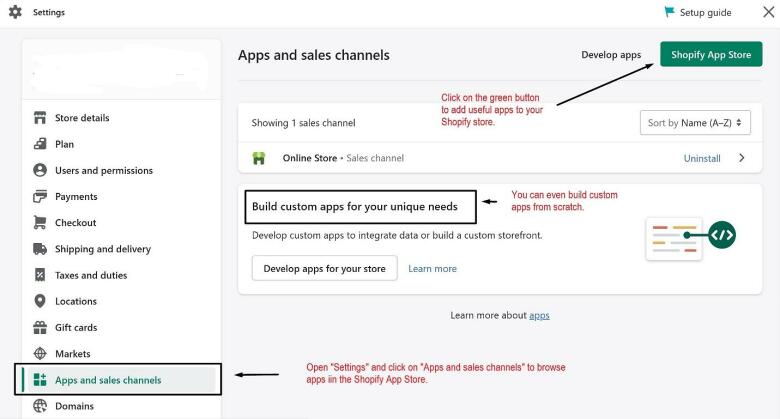 What if you need extra help personalizing your theme or customizing your store's settings?
Shopify offers multiple support options, including phone, live chat, and email
. Support is available 24 hours a day, seven days a week.
You can also
view tutorials, sign up for courses, and network with successful Shopify business owners.
Best of all, you can access all these support channels without leaving your Shopify store.
Add Your Furniture as Products
To start adding your furniture inventory, scroll down to
Pages
in your online store's dashboard and click on the
Add a product
button that pops up in the upper right corner. Then upload photos, a complete description, and additional details. You can also add related products, tags, availability, and other information.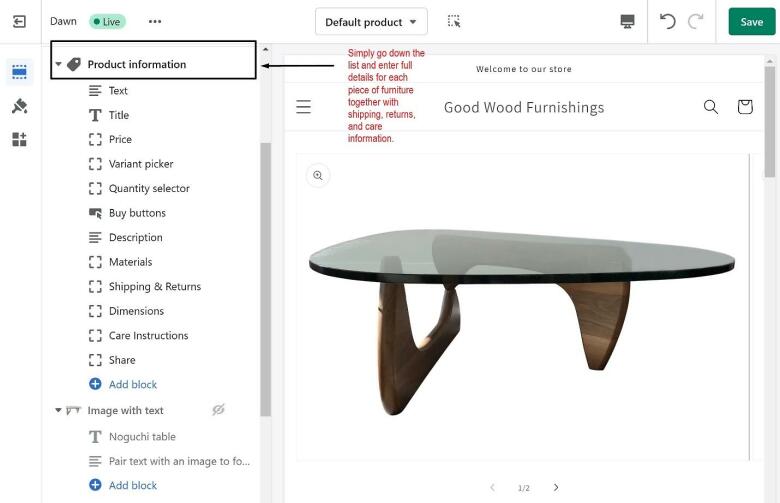 Your primary product photo should be high-quality, capturing your product's overall style and scale
. Additional images should give shoppers a close-up view of the finer details of each piece of furniture from multiple angles. Staging home furnishings in appropriate settings is a clever technique that can help visitors envision how your products will fit into their interiors – and make them more confident about a purchase. Shopify even allows store owners to
upload 3D models and videos of individual pieces to give customers a more "in-store" experience that can help boost sales.
It also optimizes product images for the web to ensure fast load times so shoppers don't get impatient and go elsewhere.
Update Your Store Settings and Payment Information
Your Shopify dashboard is where you access all your store's core settings: checkout experience, payment options, shipping and delivery, taxes, duties, and more. Shopify's user-friendly interface makes the task simple. Just go down the
Settings
panel item by item.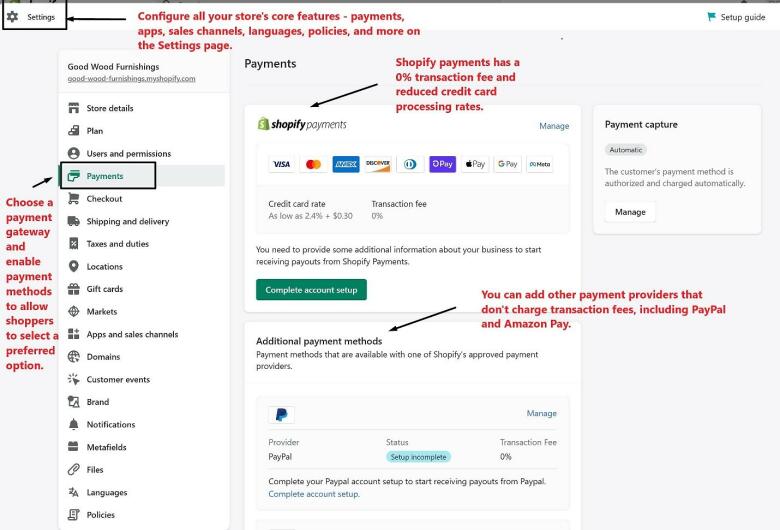 Shopify offers 100+ secure payment gateways and 50+ payment methods (from both US and international providers).
Shoppers can pay via credit card (American Express, Visa, Mastercard, Diners Club, Discover), debit card, digital wallet (Apple Pay, Google Pay, and Samsung Pay), PayPal, Amazon Pay, Meta Pay, and bank transfer.
If you use Shopify Payments, you won't be charged a transaction fee besides the standard credit card processing fee.
Other transaction-free options include PayPal, Amazon Pay, and Apple Pay. Offering customers a range of payment options allows them to both pay in their preferred currency and use a preferred payment method at checkout, which makes for a more user-friendly shopping experience. As a result, they're also more likely to return. You can further enhance the checkout experience by allowing shoppers to set up accounts and securely store their personal information and preferred payment method for speedier checkout. Still, other settings allow you to
access business productivity and marketing tools to streamline and improve customer relationships.
You can automate the delivery of customizable emails, including new subscriber notices, abandoned cart/product browse notifications, and special discount invitations.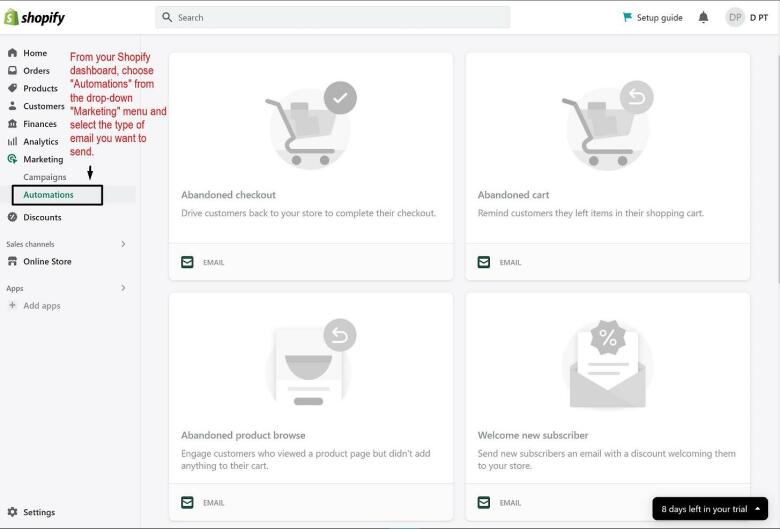 To connect with global shoppers, you can add Shopify's translation app.
The free Shopify Translate and Adapt app will automatically translate your website into multiple languages
. The number of free translations depends on your plan, but it is at least two. Shopify also takes pains to protect your business from losses due to fraudulent transactions by offering secure payment gateways and
monitoring and flagging potentially fraudulent purchases to reduce your risk of chargeback fees.
Preview and Launch Your Furniture Store
Before you hit the
publish
button, a final step is previewing your website's content and testing your store's navigation, links, checkout experience, and other functions.
It's also a good idea to "shop" your store by choosing a product, adding it to your shopping cart, and going through the checkout process.
During checkout, note whether appropriate payment methods are available, taxes are correctly applied, and shipping options are clearly displayed. If you've enabled customer accounts, evaluate how easy it is to set one up.
You'll also want to
ensure that all clickable images, links, and buttons work correctly
. For example, clicking on a featured product image or collection on the homepage should bring up a detailed product page or the appropriate category page. Other features to evaluate from a customer perspective include how easy it is to access contact information and whether the system sends order tracking and email notifications at the right time. If all seems in order,
the last step is ensuring that your furniture store looks great and offers a user-friendly experience on any device
.
Start Selling on Amazon, eBay, and Social Media
When you choose Shopify for your online furniture store, you don't have to give up selling on popular third-party marketplaces and social media platforms.
In fact, that's one of the biggest advantages of using Shopify.
You can sell on social media platforms (Facebook, Instagram, TikTok) and marketplaces (Etsy, Amazon, and Google) while managing inventory, sales, and marketing from your Shopify store's dashboard.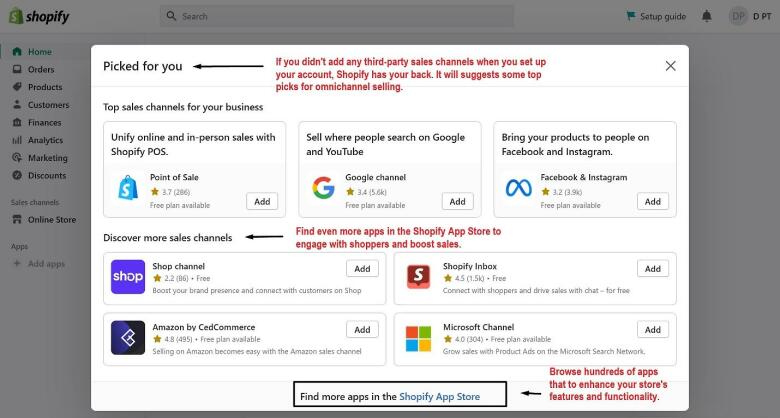 Shopify automatically syncs and updates your inventory, so you can sell wherever your customers want.
Each sales channel you add to your Shopify store will also have its own dashboard
with traffic, sales, visitor data, and other performance metrics.
With Shopify, Learning How To Sell Furniture Online Is Easy
Building a thriving online furniture business is a challenging task. But you can improve your chances of succeeding in this highly competitive space when you choose Shopify for your furniture store. With Shopify, you'll have the flexibility to start big or small – there's a plan for every business need.
You can have your own website up in a matter of minutes.
The platform gives you the design features and essential tools to build an appealing storefront, source your products, create effective marketing campaigns, and attract and grow your customer base. In addition to these fantastic features, you'll have many support options to guide your business journey and the SEO tools and analytics data to improve your store's performance.
FAQ
What is the cheapest way to start selling furniture on Shopify?
Partnering with a dropshipper is the cheapest way to launch a furniture business on Shopify. You don't have to pay for inventory and storage space or worry about shipping with dropshipping. To get started, browse dropshipping apps in the Shopify app store until you find one that fits your needs – there are plenty of good options.
How do I market my Shopify furniture store?
Shopify gives you a variety of marketing tools you can use to build a thriving business. You can add sales channels to broaden your reach, use built-in tools to create targeted email and other marketing campaigns, and post on your store's blog and linked social media platforms to connect with shoppers.
What kind of furniture or home décor can I sell on Shopify?
There's no limit to the type or style of furniture or home décor you can sell. Shopify's theme selection and customization options allow you to create a store that aligns with your brand's products and vision, whether you make handcrafted products, sell antique or vintage pieces, offer used furniture deals, or partner with a manufacturer.
Is Shopify the best platform for selling furniture online?
Shopify is one of the best ways to sell furniture and home goods online, whether you make your own products, resell furniture and home decor, partner with a manufacturer, or dropship. It offers excellent e-commerce, management, marketing, and analytics tools to help you launch, promote, and grow your business. Looking for more options? Check out our list of the 10 best website builders.