it's a great alternative to "traditional" e-commerce for beginner entrepreneurs.
But as with any entrepreneurial venture, you need a battle plan, starting with finding the right e-commerce platform.
My top recommendation for dropshipping is Shopify.
It offers tons of dropshipping integrations, great customization options, and even guides to help you set up your dropshipping brand. On top of that,
Shopify is beginner-friendly and easy to use, even if you've never used a website builder before.
It's the ideal choice if you want to begin dropshipping but aren't sure where to start. So, without further ado, let me show you how to set up a dropshipping store on Shopify.
Why Is Shopify Great for Dropshipping?
While many e-commerce platforms
say
they support dropshipping,
few offer the sheer breadth of dropshipping features as Shopify.
Among its 8,000+ apps, you'll find 400+ for dropshipping and print-on-demand alone, giving you hundreds of thousands of products to choose from. Many offer auto-ordering features, so you won't have to manually submit orders to your suppliers when a customer orders from you.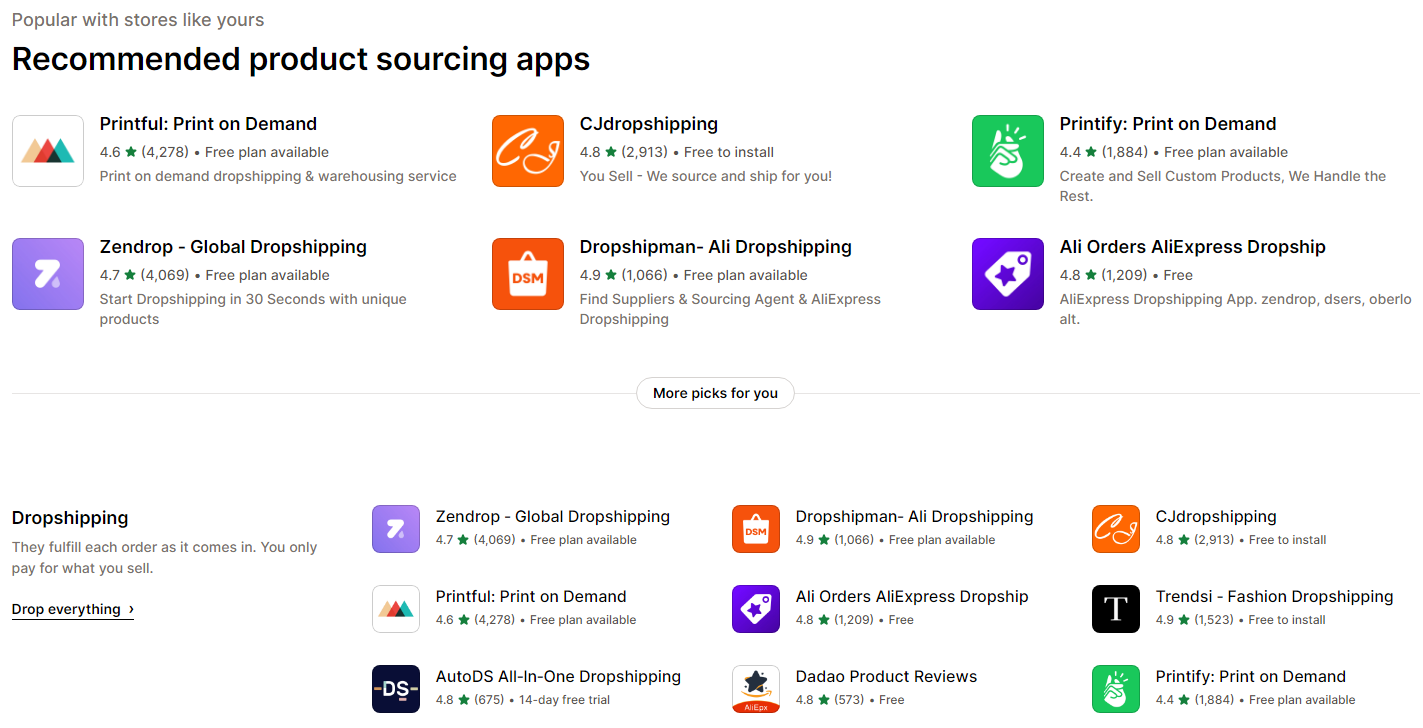 You'll also get everything you need to differentiate your brand from the competition.
There are 100+ free and paid templates to kickstart your brand, and you can also find thousands more third-party templates online. You can also add custom code to any template to make it unique. Given that other stores will offer similar products, brand differentiation is vital to building a profitable business.
Shopify has many guides to help you get your dropshipping business off the ground.
You'll get plenty of free how-to guides and courses to teach you everything from identifying a profitable niche to marketing your chosen products. And, if that's not enough, Shopify's 24/7 support can point you in the right direction. Don't get me wrong, Shopify isn't the ideal choice for everyone. If you're selling products like alcohol, vapes, or even car parts, you won't be able to use all of Shopify's e-commerce tools. However, as you'll shortly see, these product regulations are nowhere near as strict as on other platforms or marketplaces.
What Can I Dropship on Shopify?
Nearly all e-commerce platforms regulate the products you can sell. They don't like dealing with fraudsters, scammers, and companies distributing illegal goods.
This means that no matter what platform you use for dropshipping.
Shopify is no exception to this rule.
A Note on Terminology
If a product is prohibited, you cannot sell it. If a product is restricted, then additional terms apply. These terms could be using a specific payment gateway, having to provide a license, or only selling that product to certain countries. Shopify outright prohibits the sale of:
Certain firearms and firearms parts
Illegal products and content
Products and content that infringe copyright or trademark law
That's it. However, its list of restricted products is much longer.
Shopify's restricted products include:
Age-restricted items, like alcohol and tobacco
Drugs and related paraphernalia
Financial services, including cryptocurrencies
Medical devices and accessories
Weapons and explosives, including fireworks
If you're selling a restricted product, then
you cannot use certain Shopify features like the Shop app or the Shopify Payments gateway.
In addition, in categories such as medical devices and accessories, you may have to show that you're licensed to sell those products. Don't let this scare you away from using Shopify, though. In truth,
Shopify's product regulations are a lot more relaxed than other platforms and marketplaces.
WooCommerce, for example, completely prohibits the sale of alcohol and tobacco.
Product Regulations and Payment Gateways
Shopify Payments isn't the only payment gateway that restricts the products you can sell – most payment gateways will only allow you to use them for "low-risk" products. Similarly, most payment processors will only work with businesses that operate in these low-risk industries. While there's no set rule on what products are permitted,
the best rule of thumb to follow is that if it's age-restricted, it's likely high-risk.
Before you commit to dropshipping such products,
ensure your payment gateway (and payment processor) allows high-risk businesses under their terms of service.
Otherwise, you risk not being able to open a merchant account or having your account shut down without warning. To learn more about high-risk merchant accounts,
check out our expert PaymentCloud review
– it's one of the best processors for high-risk businesses.
How To Start Dropshipping on Shopify: Step-by-Step Guide
1. Research Your Product, Niche, and Customers
First, you need to identify whether your product is profitable. Fortunately, checking whether there's demand for the products you want to sell is relatively easy. Shopify regularly posts curated lists of trending products.
You can also use Google Trends to see where, when, and to what degree users search for similar products.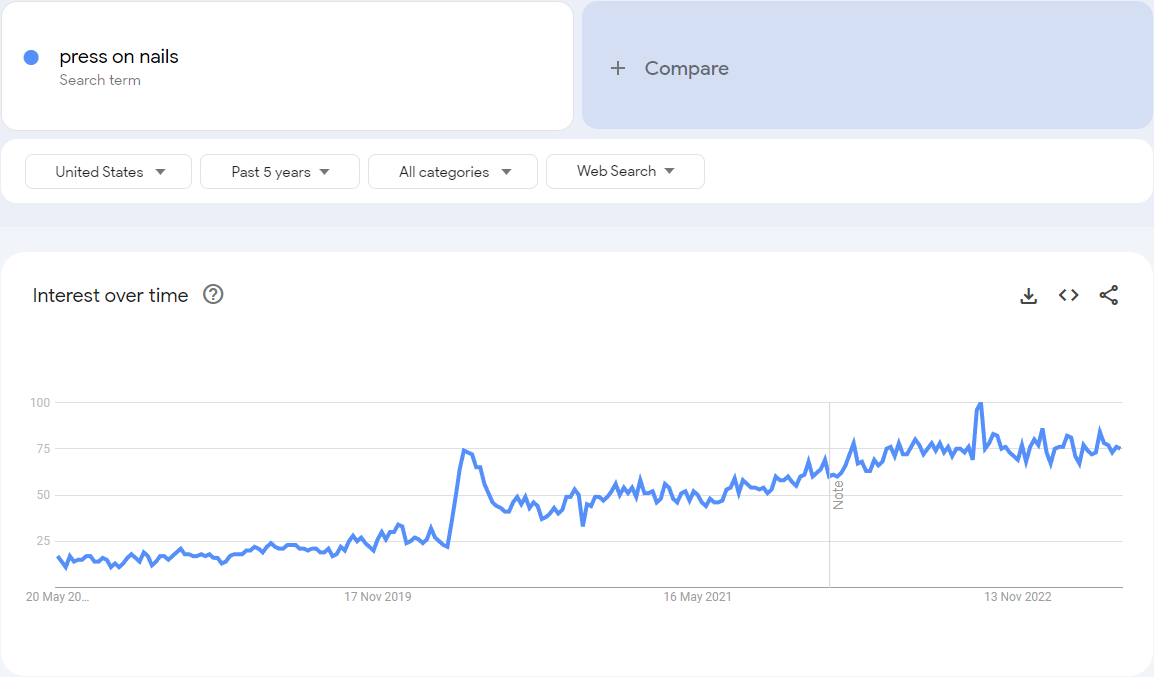 But it's not enough to just find a trending product.
You need to find a business niche with few competitors.
Remember, there's a fine line between a lucrative niche and one far too narrow to attract enough sales. If you scroll down on your Google Trends results page, you'll be able to see related topics and queries that can help you to identify niches related to your product. Exploring these trends is also a vital part of identifying your target audience.
As with niches, you want to define a narrow target audience that won't restrict your sales too much.
While researching, note down who would buy this product, how they found it, how they can benefit from it, and more. You'll start to build buyer personas and determine whether your niche is profitable – or if you need to change course.
Top Tip: Market Research and Branding:
As you conduct market research, keep track of everything that can impact your branding. This is why competitor research is vital – it'll give you an idea of how other businesses build their brand. Think about this while researching to save time once you start working on the look and feel of your online store.
2. Set Up Your Shopify Store
So you have identified a great dropshipping niche and developed some branding ideas – way to go! It's time to put that all into action. You don't need to spend any money yet –
you can get started with a 3-day Shopify trial.
It's not long, but if you need more, you can usually get a one-time extension from customer support. When you create your Shopify store, you'll answer a few questions about your business. The more information you provide, the more customized your quickstart checklist on your dashboard will be.
You can either go through each point one by one or choose which parts of your store you want to work on first.
I recommend building your store before deciding which products to sell. To do that, click
Customize your theme
 on your checklist. This will take you to the
Themes
page.
There are over 100 themes, but only 11 are free.
Fortunately, they all offer many customization options to make them your own.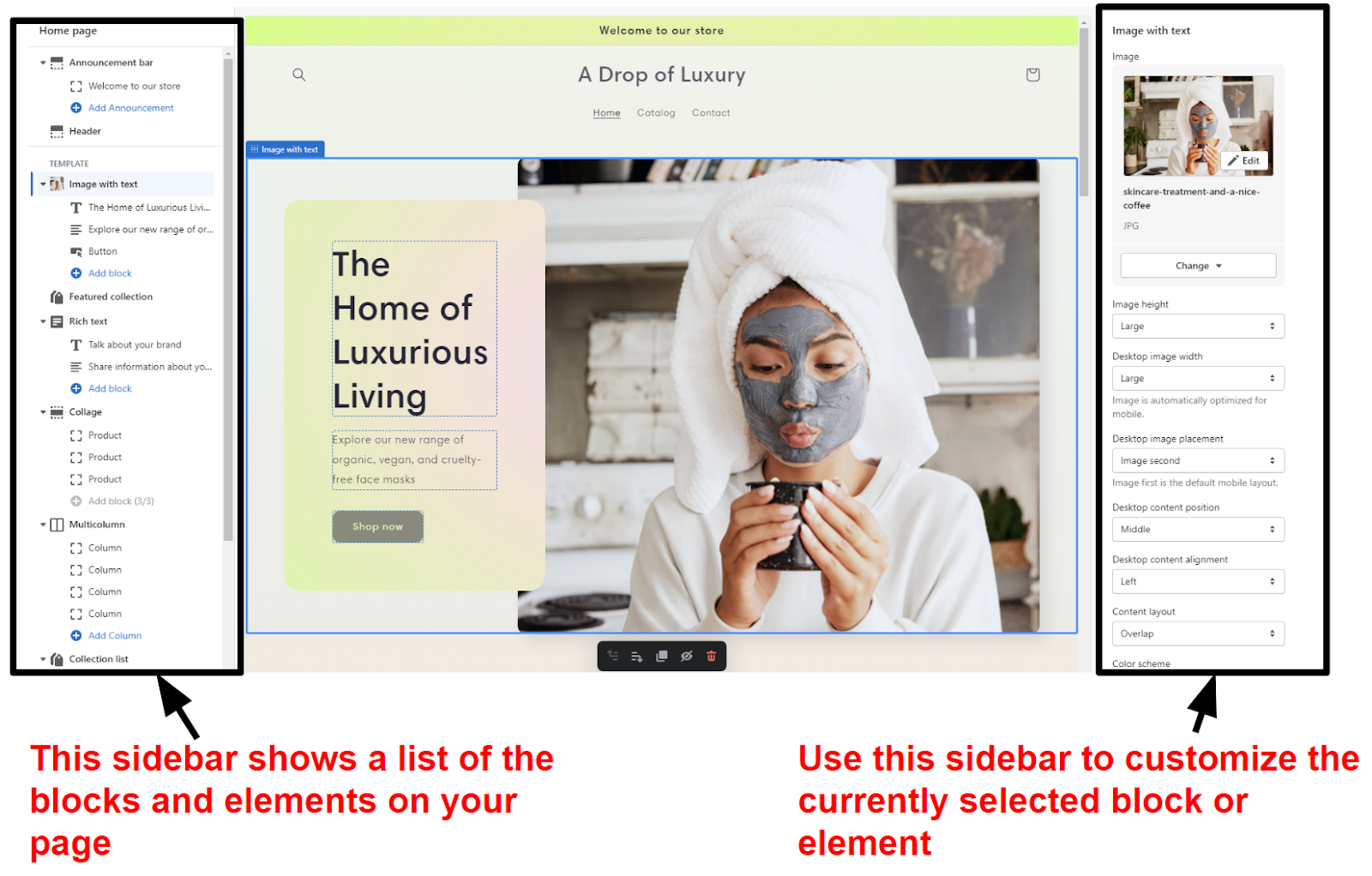 Just bear in mind that
your product page layouts are fixed by the theme you choose.
You can only change the layout of your homepage. If none of Shopify's themes work for you, there are thousands of third-party templates online, so you've got plenty of choices.
Top Tip: Business Names and Custom Domains
When you create your Shopify account, you'll get a free subdomain (.myshopify.com) matching your business name. You don't want to publish your site under this subdomain, though. A custom domain name makes it easier for customers to find your store – and makes it more trustworthy. Ideally, you want a custom domain name that matches your business name exactly. I recommend securing your domain early in your customization process so you don't fall in love with a business name with no matching domain names.
3. Connect a Dropshipping App
Once you're happy with your store's look, you'll need to add dropshipped products.
Shopify makes this easy with the help of dropshipping apps.
To search the app store, you can either navigate to it directly or click
Products > Find products to sell
to go straight to the dropshipping app store.
There are over 400+ dropshipping apps
, so make sure you take your time to find one (or multiple!) that works for you. While some dropshipping apps will have free plans,
you'll typically need to pay a monthly fee to get the most out of these apps.
That's because the free plans often limit the number of products, how many orders you can place, or how many stores you can have. For example, Spocket allows you to dropship from AliExpress for free, but you won't be able to choose any products that are unique to Spocket. Once you've found a dropshipping app that you like, click
Add app
.

The next page will show you the data the app collects and any editing permissions it needs. Take some time to review this – you'll need to know where customer data is used to write your privacy policy later. If all looks good, click
Install app.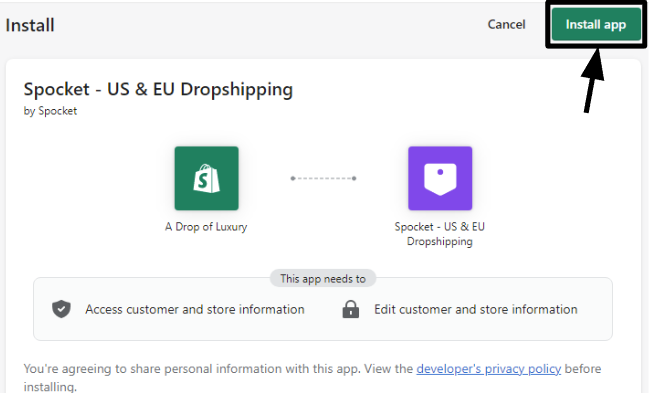 Let's start sourcing products! The exact method you use will depend on the app you're using.
You'll add products to an import list as you search through suppliers.
Once you've found a list of products you're happy with, you then import these products into your Shopify inventory.
From there, you can edit your product page to change the pricing, add more details, and more. Unfortunately, at this point in my testing, I hit a major snag:
AliExpress's verification service was down, so I couldn't import any products.
So, all I have is a basic product page I put together to show you the settings you can change.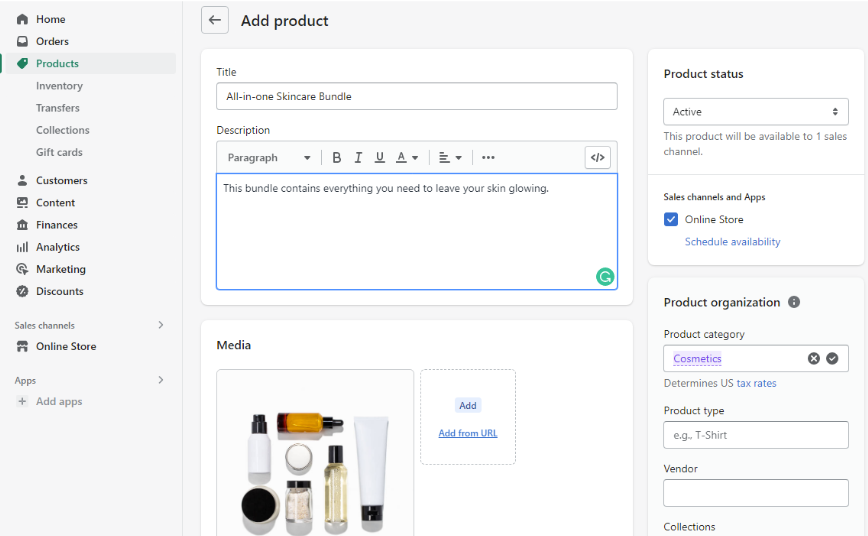 4. Review Your Business's Compliance
Before you hit
Publish
, you must ensure your business is legally compliant. There's a long list of things you'll need to sort out, and it's longer than I have space for here. So, I'm going to go over the highlights.
Do you need a business license?
Most US states only require licenses if you have a physical store location, but some states may require licenses for e-commerce stores. It's worth considering getting a resale certificate, too. A resale certificate allows you to sell products you source from suppliers without paying sales tax. As your business grows, this exemption could save you money. On that note,
I recommend registering your business as soon as you start selling online.
You'll likely need to be registered to obtain the licenses I listed above, plus this saves any headaches with tax later down the road.
Top Tip: Registering Your Business
While dropshipping is relatively low risk compared to regular e-commerce,
registering your business as an LLC is worth considering
. It's an extra cost but will keep your business legally separate from personal entities. Most LLC services provide additional support with legal compliance, which is ideal if you're new to the world of e-commerce.
Make sure your website has a published privacy policy for your customers.
This is vital for dropshipping businesses as you won't be the only one using your customers' data – it'll get sent to your suppliers through any dropshipping apps you're using. Multiple different data security acts require privacy policies, plus it builds trust in your company. Finally,
you must comply with various security and privacy acts.
At a minimum, you'll need to comply with PCI-DSS (for financial data) and COPPA (for the privacy of children under 13). Depending on where your customers live, you may also need to comply with GDPR or the California Privacy Act.
Top Tip: PCI compliance
There's a lot to PCI compliance, but don't worry – if you're using Shopify Payments, you're automatically PCI compliant. With other payment gateways, you'll have to do it yourself. However, any good payment processor will help your business to obtain and maintain PCI compliance.
5. Market Your Products
The final step is to market your products. Fortunately, thanks to your earlier research, you've already got a head start!
As you already know who your customers are, you can use that data to find the spaces those people are likely to frequent.
Of course, there's a lot more to marketing than just paying for ads on niche forums and social networks. Email marketing, content marketing, and SEO strategy all work hand in hand with paid marketing to bring more customers to your website. You'll have to invest in every method to build a holistic marketing strategy that enhances your brand. Diving into the marketing world is overwhelming, to say the least, especially if you're brand new to the concept. However, Shopify has you covered. Not only does it offer tons of free marketing guides and courses, but it comes with a built-in email marketing tool.
Shopify Emails lets you send 10,000 free monthly emails, and every email after that is paid on a pay-as-you-go rate
, helping keep your overheads low.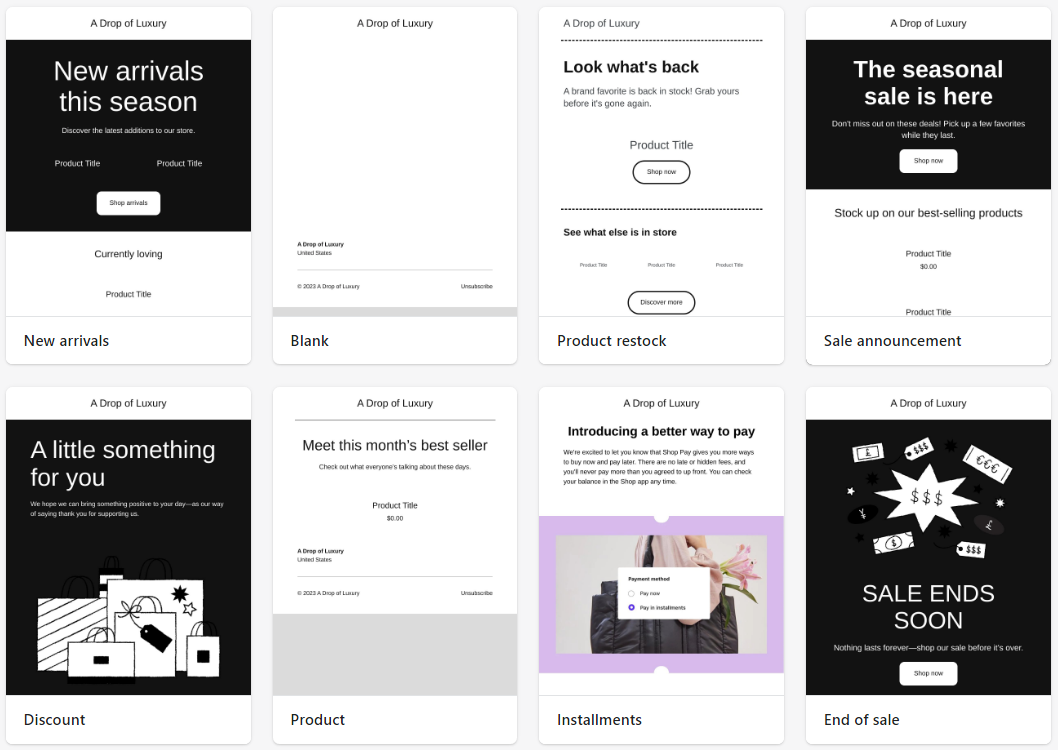 For everything else,
Shopify offers thousands of free and paid marketing apps.
On top of the typical marketing apps you'd expect (like SEO optimization tools and other integrations), you can also find tools that help you understand how customers navigate your site. These are fantastic for helping you optimize your site by making it easier for customers to find the products they're looking for – and helping you upsell associated products. While marketing is vital to any business, it's ever so crucial to dropshipping stores. Again, given that other stores will sell the same products as you, you need a great brand to stand out.
And as much as brands are built by well-designed websites, they're reinforced by your marketing efforts.
Top Tip: Email Marketing
As helpful as Shopify Emails is, it's not the best for email marketing. There's a good chance that, as your store grows, you'll outgrow its basic built-in tool. Our expert email marketing reviewers have tested all the popular email marketing services that integrate with Shopify. Check out our
top 10 email marketing tools in 2023
to find the best one for your business.
Is Dropshipping on Shopify a Good Choice?
Shopify is one of the best e-commerce platforms for dropshipping.
Not only is it beginner-friendly and easy to use, but you'll get plenty of customization options to build your brand.
Plus, with 400+ dropshipping apps, you can find a supplier, source products, and import them into your store in a few minutes. Thanks to its built-in email marketing tool and thousands of marketing apps, you'll also get plenty of support with marketing your brand and products. Admittedly, it's not the cheapest dropshipping e-commerce platform out there.
However, you get what you pay for.
In my experience, no other platform supports – and encourages – dropshipping as much as Shopify. So, while you'll pay a higher monthly fee to use Shopify (and, optionally, the apps of your choice), you'll get a far smoother experience with fewer restrictions.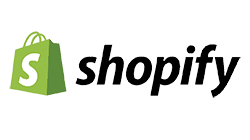 Save up to 25 % on your Shopify plan!
Limited-time offer - Don't miss it!
293 users used this coupon!
FAQ
Is Shopify dropshipping still profitable?
Yes! Dropshipping on Shopify is still worthwhile if you're ready to explore profitable niches and market your products. This e-commerce platform gives you all the tools you need to build your business – it's just down to you to put them to good use.
How do I start Shopify dropshipping with no money?
Unfortunately, you can't. Shopify's trial only lasts for three days, and you'll need to upgrade to a paid plan to publish your website. However, you can get started with Shopify's dropshipping apps for free. Many dropshipping apps offer a free limited plan – a great way to try different suppliers and reduce overheads while setting up your business.
Do you need an LLC to dropship on Shopify?
No, but registering your dropshipping business as an LLC is a good choice. While it's an extra cost (and perhaps not a feasible one straight away), it's worth it for the additional protection it offers. An LLC creates a legal separation between you and your business, so if anything goes wrong, your assets are safe.
Is Shopify good for beginners?
Yes! Shopify is one of my top recommendations for e-commerce beginners. It offers a ton of support to help you get set up and hundreds of free guides and courses covering everything from business basics to advanced marketing strategies. If you've never built your own website or tried dropshipping before, Shopify's the place to be!