We noticed that ever since Hostinger reduced their prices, many users are closing their accounts with OVH.
Are you considering canceling your OVH account? Perhaps you're disappointed in the speed of customer service, and I totally get that – it took me three days to get a reply to an email. Maybe you've just found a cheaper price elsewhere.
Whatever the reason, this article will take you through the exact steps to cancel an account with OVH. I'll warn you now, it's the not the quickest process, but bear with me—with a bit of perseverance, it can be done.
Quick Guide: How to Cancel Your Account with OVH and Get a Refund
You can't cancel your OVH account via an online form; instead, you need to follow these easy steps:
Log into your OVH dashboard
Click on Help in the top-right of the header
From the drop-down, select Create Support Request
Fill out the fields in the support request form and click Continue
Wait for customer service to reply and confirm the cancellation and refund; follow up, if required
Once you've received a reply to your support ticket, your refund should be processed within ten business days (check your payment method to make sure the full amount is refunded)
My Cancellation Experience
My cancellation experience was satisfactory. As per the instructions, I submitted a support request on a Friday. I waited patiently for a couple of days, but nothing came back.
After four days, I was getting a little worried. Of course, I'd read all about how to cancel OVH here on Website Planet, and I'd had my own slow experience with OVH's customer service, so alarm bells were beginning to ring. I promptly followed up with OVH.

I braced for a lengthy delay, but to my surprise (actually, I was blown away), OVH replied the very same day. Thankfully, my cancellation would be processed and I could expect a refund within 10 business days.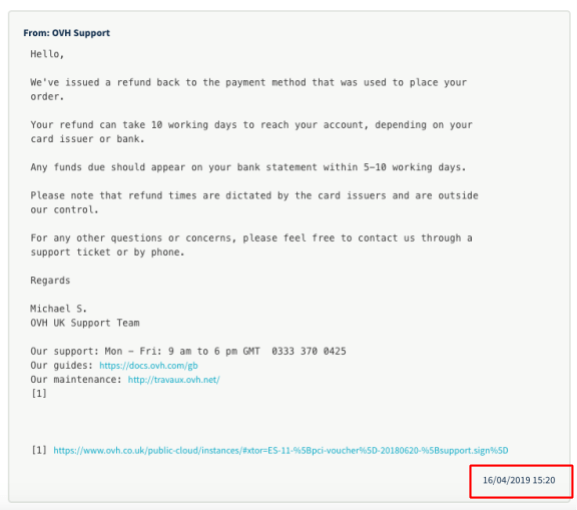 Overall, the process was fine. OVH isn't going to win any awards for its customer service anytime soon (not from me anyway), but my experience was far, far better than other reviews I've found online.
Best OVH Alternatives
Fed up with slow customer service? Ready to try a new website host? Here are our top OVH alternatives:
If you're looking for a host with reliable and speedy customer service, I'd recommend going for a well-known company like SiteGround.
If you're looking for a simple, easy-to-use, and intuitive host, I'd recommend reading about FastComet.
If you're looking for a company with tons of beginner-friendly features, Bluehost is designed specifically for you.
If you're a developer and you want to get your hands dirty with the command line, check out Vultr or DigitalOcean.
Better than Anticipated, but Still Not World-Class
Based on our previous experiences with OVH, I was prepared for the worst. But I have to give OVH a little credit. Four days to cancel, while nowhere near as good as other companies, is actually a massive improvement on its past performance.