Click here to see Hostinger's latest deals
or keep reading to discover what makes Hostinger the winner of this comparison.
1. Plans and Pricing
Hostinger Gives You Lots of Budget-Friendly Options
Hostinger has a wide variety of hosting solutions, including shared, VPS, cloud, managed WordPress, email, e-commerce, CMS, and Minecraft hosting. On the other hand, Kinsta only provides managed WordPress and WooCommerce hosting. Hostinger has three WordPress hosting plans for beginners and businesses, whereas Kinsta offers ten WordPress hosting packages suitable for professionals and demanding enterprises.
A free domain name is included with some hosting plans from Hostinger
2. Features
It's a Tie! Both Hosts Have Feature-Packed Plans Depending on Your Needs
When you look at Hostinger and Kinsta's managed WordPress hosting, the number of features can be overwhelming. Let's discuss some of the most notable ones. Starting with the similarities, both Hostinger and Kinsta provide SSD-based storage, free CDN, free SSL certificate, site staging, custom control panels (hPanel with Hostinger and MyKinsta admin with Kinsta), and SSH access with all packages. Now, for the differences. With Hostinger, you can host 1 to 300 websites, get 100 email accounts, from 30 GB to 200 GB of disk space, unlimited bandwidth, unlimited MySQL databases, unlimited FTP accounts, and unlimited Cron jobs. All plans come with LiteSpeed Cache, WordPress acceleration, WooCommerce, GitHub integration, and a variety of themes and plugins. Hostinger also provides the JetPack plugin (free, Personal, and Premium) and weekly or daily backups, depending on your plan. On the other hand, Kinsta lets you host from 1 to 150 hosted websites, gives you from 10 GB to 200+ GB disk space, and from 20,000 to 3 million monthly visits. Unlike Hostinger, all plans come with daily backups. Kinsta also has a multi-user environment that enables you to assign and manage users by giving them access to your websites and billing. Kinsta hosts all of its WordPress packages on the Google Cloud Platform. With Kinsta's 1-click site cloning feature, you'll be able to clone any of your live websites or staging environments to build a template for your client. Discover more differences between Hostinger and Kinsta using the following comparison table:
Hostinger
Kinsta
Hosting Types
Shared, VPS (Linux and Windows), Minecraft server hosting, cloud hosting, WordPress hosting, email hosting, CMS hosting, e-commerce hosting
Managed WordPress hosting, WooCommerce hosting
Free Domain

✔

(Depending on the plan)

✘

Free SSL Certificate

✔

✔

Disk Space
30 GB – 300 GB
10 GB – 200+ GB
Bandwidth
100 – unlimited
Automatic Backups

✔

✔

Control Panel
hPanel
MyKinsta admin
Email Accounts
1 – 100
Free CDN

✔

(Depending on the plan)

✔

Free Site Migration

✔

✔

Money-Back Guarantee
30 days
30 days
3. Performance
It's Another Tie! Both Hostinger and Kinsta Deliver Top-Notch Performance
Hostinger operates via server locations in the U.K., Brazil, the U.S.A., Indonesia, Singapore, the Netherlands, and Lithuania. On the other hand, Kinsta has servers in more than 20 locations all over the world. Both hosts provide a free CDN (Content Delivery Network) with all plans, placing your website on a global network of cloud servers. Among other benefits, a CDN boosts the loading speed of your website from different locations. You'll also get SSD storage instead of the regular HDD storage, which performs faster in website data processing. This speed reflects on your website's loading speed and overall performance. Hostinger and Kinsta have a 99.9% uptime guarantee, and when tested, showed perfect uptimes and exceeded this promise. Even though these hosts differ in server locations, they both got perfect scores when testing loading speeds from various locations (without a CDN).
Check out Hostinger's detailed performance test results in our expert's full review
. If you compare it with Kinsta's results,
in its detailed review
, you'll find that the global loading speed score is identical. Both hosts show excellent performance in all related aspects making this round a tie.
4. Security
Hostinger Offers More Advanced Security Features
Even though Hostinger and Kinsta both provide DDoS protection, Hostinger applies this on multiple levels. It uses the Wanguard anti-DDoS traffic analyzer and intelligent firewall rules on switch level, BitNinja or Immunity360 (Web Application Firewall) on each server, and custom web server rules. In saying that, Kinsta also implements strong firewalls and 24/7 server monitoring. With the Linux-based shared hosting plans, both hosts use container technology systems. Hostinger uses CloudLinux OS, and Kinsta uses a similar system called LXC containers. Both systems are responsible for two things – securely isolating each account from other accounts on the same server and fairly allocating resources. You'll get free SSL certificates with all plans from both hosts, as well as free automatic regular backups. Kinsta performs its backups daily with all plans, while Hostinger takes backups weekly with some and daily with others. It's clear that both hosts take security very seriously, but Hostinger's security measures are more advanced, making it the winner of the security round.
5. Support
It's Easier to Get Help from Hostinger
Both Hostinger and Kinsta have extensive knowledgebase sections. However, Hostinger's knowledgebase has more categories and is better organized, making it easier to navigate and find the information you require. Hostinger provides 24/7 support via live chat and support tickets. I had to wait a while to connect to a live chat agent; however, the support staff was well-trained and knowledgeable. In other words, you will get the help you need.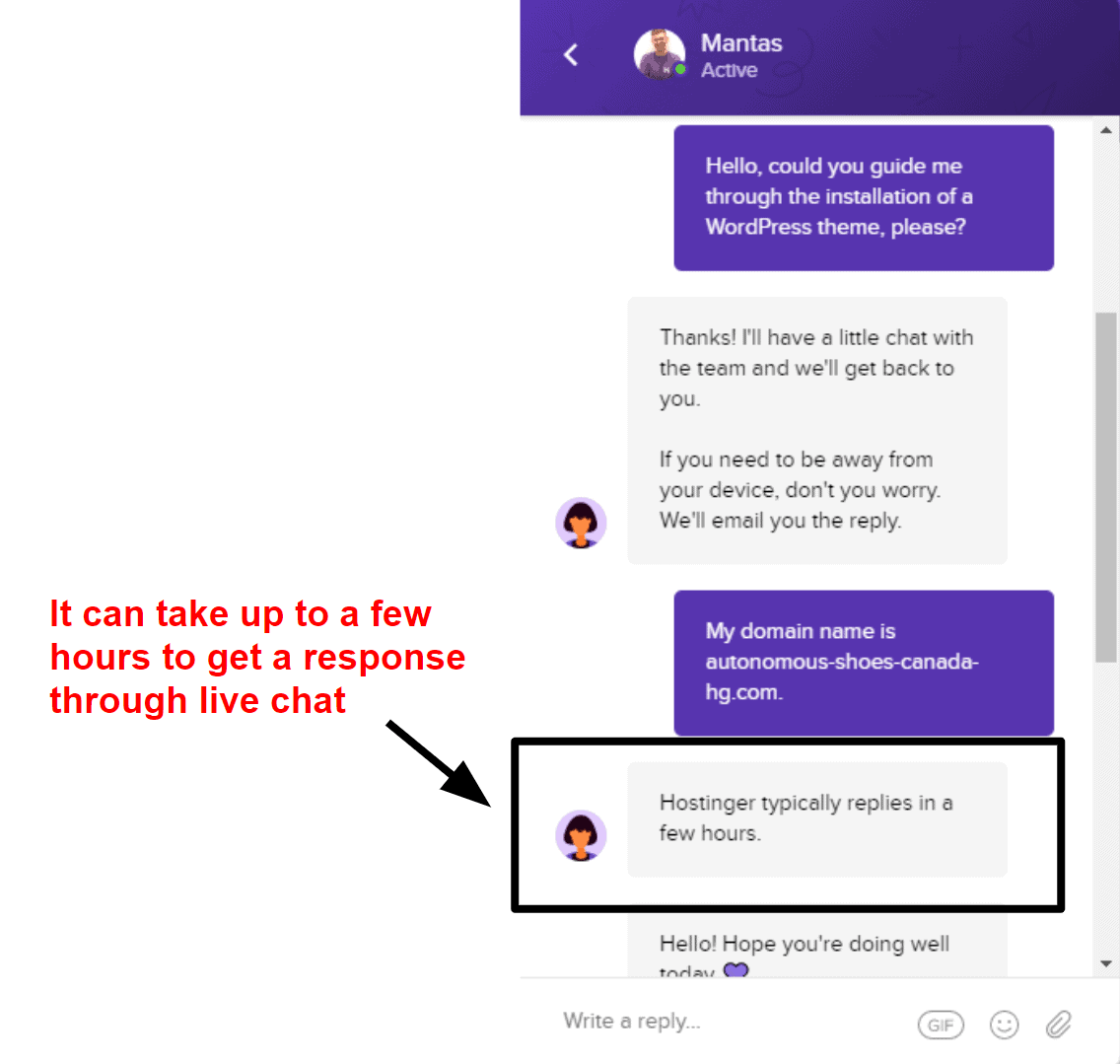 Kinsta's support is also available 24/7 via live chat, email, and phone. However, you can only access the live chat once you have subscribed, and the phone channel is one-way, meaning you must request a call-back. Once you're past these complications, the support staff are responsive and helpful.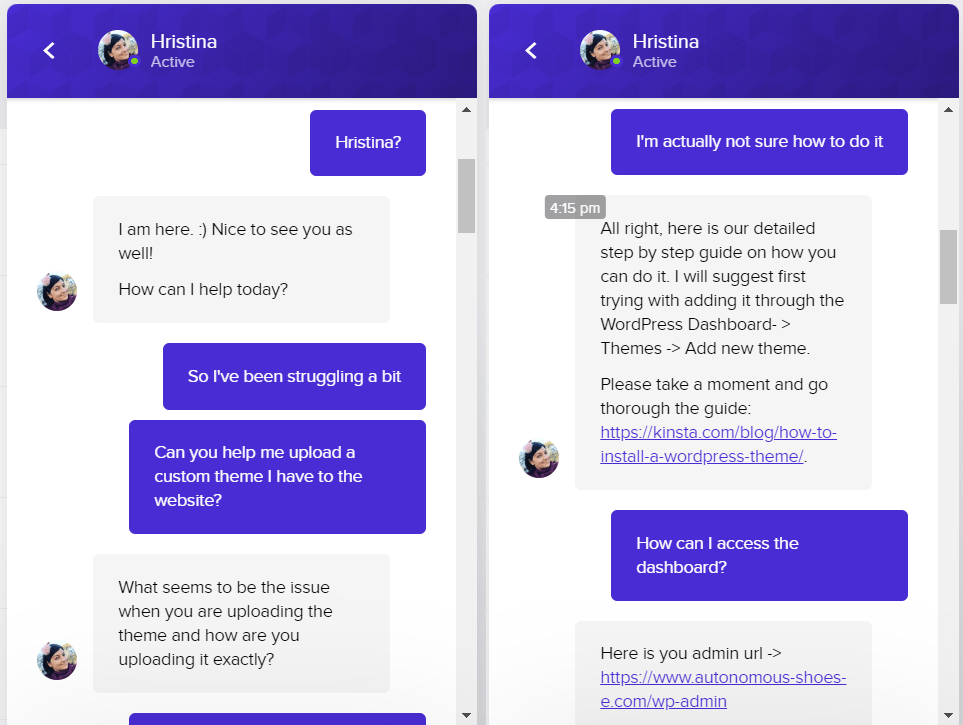 Even though it can take some time to connect with Hostinger's support, it's easier to seek help than with Kinsta. Plus, Hostinger's impressive knowledgebase leaves little room for questions.
Both Are Great Hosts, but Hostinger Wins by a Hair
Although both Hostinger and Kinsta are among
the top 10 web hosting services
, it's a win for Hostinger in this neck-and-neck comparison.
Hostinger offers an array of hosting plans
from simple shared hosting to VPS and cloud hosting, whereas Kinsta only specializes in WordPress and WooCommerce hosting. Kinsta can't beat Hostinger's cheap prices and support. Nevertheless, both services were equal when it came to performance and features with the managed WordPress hosting plans. Even though Hostinger wins this battle, Kinsta is an excellent option for demanding business websites. It all depends on your hosting needs.
Plans and Pricing
Variety of hosting plans. Cheaper prices. 30-day money-back guarantee
Variety of WordPress hosting plans. More expensive prices. 30-day money-back guarantee
Key Features
Free domain, free site migration, SSD storage, free SSL, 100 email accounts, and custom control panel (hPanel)
Free site migration, free SSL, custom control panel (MyKinsta admin)
Performance
Fewer server locations, free CDN with all plans, 99.9% uptime guarantee, no downtimes, perfect loading speeds
More server locations, free CDN with all plans, 99.9% uptime guarantee, no downtimes, perfect loading speeds
Security
Wanguard anti-DDoS traffic analyzer and intelligent firewall rules on switch level, BitNinja or Immunity360 (WAF) on each server, custom web server rules, CloudLinux OS, free automatic daily/weekly backups (depending on the plan)
DDoS protection, 24/7 server monitoring, strong firewalls, LXC containers, free automatic daily backups with all plans
Support
Comprehensive and well-organized knowledgebase, 24/7 live chat and support ticket, low responsiveness, very helpful staff
Comprehensive but less organized knowledgebase, 24/7 live chat (for subscribers), email, and phone (call-back option), high responsiveness, very helpful staff
FAQ
Which is better, Hostinger or Kinsta?
It depends on what you're looking for in a web host. Both Hostinger and Kinsta are recommended by our experts as one of the best web hosting services today. Hostinger has an edge over Kinsta by offering more budget-friendly prices, slightly better security, and helpful customer support.
Does Kinsta offer VPS hosting?
No. Kinsta only provides managed WordPress hosting and WooCommerce. If Kinsta isn't cutting it for you, why don't you take a look at my top recommended VPS services that are also cheap?
Does Hostinger offer cloud hosting?
Hostinger has three SSD cloud hosting plans for large scale projects (free SSL and domain included). With Hostinger for cloud hosting, you can host unlimited websites and get up to 8 CPUs and 16 GB RAM. Looking for more alternatives? Explore this list of the best cloud hosting services.
Is Hostinger good for e-commerce?
Hostinger is one of the best e-commerce hosting services. When you sign up for an e-commerce plan from Hostinger, you can expect blazing fast loading speeds, servers worldwide, affordable prices, a free website builder, and SEO tools (for Magento, PrestaShop, and WooCommerce).