Not only is Hostinger much cheaper than A2, but its performance is similar, and sometimes better, worldwide.
Don't get me wrong: A2 Hosting can deliver outstanding results, especially if you opt for one of its Turbo plans. In addition, A2 gives you more storage space and slightly better security, but the question for me is: do these small advantages justify the added cost? I've taken a close look at both hosts to compare their pricing, features, performance, security, and support.
 I can tell you right now that Hostinger comes out on top in most categories, but A2 Hosting is never far behind.
Click here to see Hostinger's latest deals
, or read on for an in-depth comparison.
1. Plans and Pricing
You Can Save More with Hostinger in the Long Run
Both Hostinger and A2 Hosting offer a broad range of services, from shared hosting to managed WordPress and more advanced VPS solutions.
However, Hostinger's shared plans are significantly cheaper than A2's.
Take A2's Startup and Hostinger's Premium – two shared hosting plans with similar prices for the first prepaid term, which spans three years with A2 and four years with Hostinger.
A2 gives you five times more storage space but only allows you to host a single website, while Hostinger allows up to 100 websites and provides one free domain name for the first year.
A free domain name is included with some hosting plans from Hostinger
Otherwise, the two plans are fairly balanced, but only during the first term.
Following renewal, A2 Hosting's Startup plan becomes almost twice as expensive as Hostinger's Premium.
 Something to keep in mind if you're in it for the long run. Then there's Hostinger's Single shared hosting plan, which is three times cheaper than anything A2 has to offer if you opt for a four-year plan. It comes with 30 GB of SSD storage and 100GB of bandwidth, which is more than enough for a small project.
If you want to host a blog, a personal website, or a landing page for your business, Hostinger's Single plan is the perfect, low-cost solution.
For managed WordPress hosting, Hostinger is still cheaper than A2. For example,
Hostinger's WordPress Starter plan allows you more websites and storage space than A2 Hosting's 1-Site package – at about a quarter of the cost.
 However, A2 does offer a Jetpack Personal license for a single URL, while Hostinger only includes the standard free Jetpack license. A2 Hosting seems to have an edge in price with its unmanaged VPS solutions.
Hostinger's VPS 4 package is about 50% more expensive than A2's comparable Runway 4 package, which offers over five times the SSD space but does not include its much more costly Turbo Server option.
Hostinger's VPS plans are billed as "semi-managed," in that the support team will always attempt to answer every query, but may not be able to help with your project-specific questions.  A2 Hosting also offers managed VPS hosting, but at a significantly higher price.
A free domain name is included with some hosting plans from Hostinger
2. Features
Hostinger's Control Panel Is More User-Friendly, but A2 Hosting Gives You More Tools
Hostinger and A2 Hosting include similar features in their shared hosting plans.
You get generous storage space, bandwidth, and email, as well as free website transfers.
 But there are a few noteworthy differences. For one, the two hosts use different control panels.
A2 Hosting comes with the more traditional cPanel, while Hostinger has its proprietary hPanel solution.
 hPanel is less cluttered with options that most users never need, which makes it easier to navigate overall.
That said, some of cPanel's advanced features – such as website cloning and staging – are missing from hPanel.
 Most users won't even notice their absence, but if you're accustomed to working with these tools, you might. hPanel also makes it easy to install WordPress or any other popular CMS. However, once the setup is complete, you have to tweak the settings and plugins yourself to obtain the best possible performance.
A2 Hosting gives you the option to install a pre-optimized version of WordPress, which may save you some time.
One downside with A2's entry-level Startup plan is that it doesn't include automated backups.
Hostinger, on the other hand, gives you peace of mind with automated weekly backups on all plans.
It's also worth noting that while Hostinger has a fairly standard 30-day money-back guarantee,
A2 Hosting gives you the option to apply for a prorated refund at any time during your contract.
| | | |
| --- | --- | --- |
| Feature | Hostinger | A2 Hosting |
| Hosting Type | Shared, WordPress, Cloud, VPS | Shared, WordPress, VPS, dedicated servers |
| Free Domain | Yes, on Premium and Business plans | No |
| Free SSL Certificate | Yes | Yes |
| Disk Space | 20GB SSD to 300GB SSD | 100GB on Startup, unlimited on all other plans |
| Bandwidth | 100GB on Single, Unmetered on all other plans | Unmetered |
| Automatic Backups | Yes (Weekly) | Yes (Daily), but not on the Startup plan |
| Control Panel | hPanel | cPanel |
| Email Accounts | 1 on Single, 100 per domain  on all other plans | Unlimited |
| Free CDN | Yes | Yes |
| Free Site Migration | Yes | Yes |
| Money-Back Guarantee | 30 Days | Anytime |
  3. Performance
The Race Was Close, but Hostinger Performed Slightly Better
Both Hostinger and A2 Hosting include SSD storage and full support for Cloudflare CDN on all plans, but that's about as far as similarities go.
The most important distinction between the two is that Hostinger uses LiteSpeed technology and caching on all servers, whereas A2 makes you pay extra for these features.
LiteSpeed is arguably the fastest web server for WordPress, which is why it's slowly replacing the more traditional Apache. With Hostinger, you have access to a LiteSpeed web server and an automatic caching function regardless of the plan you choose.
With A2 Hosting, you're stuck with Apache unless you go for the more expensive Turbo Boost or Turbo Max plans.
Plus, Hostinger gives you more options in terms of data center locations.
 A2 Hosting has data centers in the US, the Netherlands, and Singapore, while Hostinger also covers Brazil, the UK, Lithuania, and Indonesia. If you want your website to load quickly for your target audience, choosing a server that is closer to them is one way to make it happen. To test the performance of both hosts, I signed up for their entry-level plans, created two identical websites, and ran speed benchmarks over the course of several months.
On GTmetrix, A2 Hosting's average loading speed was 1.3 seconds, while the best recorded time was an outstanding 1.1 seconds.
For the full results for the speed tests,
see our in-depth A2 Hosting review
.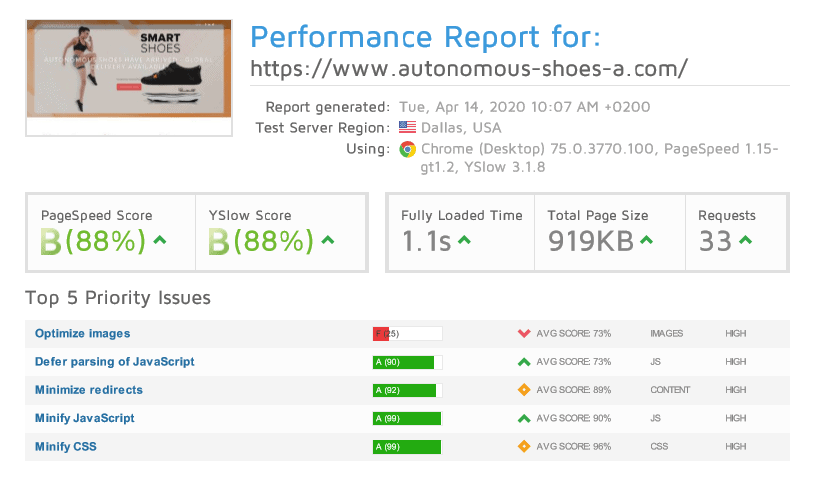 Hostinger's average loading speed was 1.56 seconds – not far behind that of A2.
But Hostinger's fastest recorded time was just 1 second, slightly better than A2 Hosting's best result.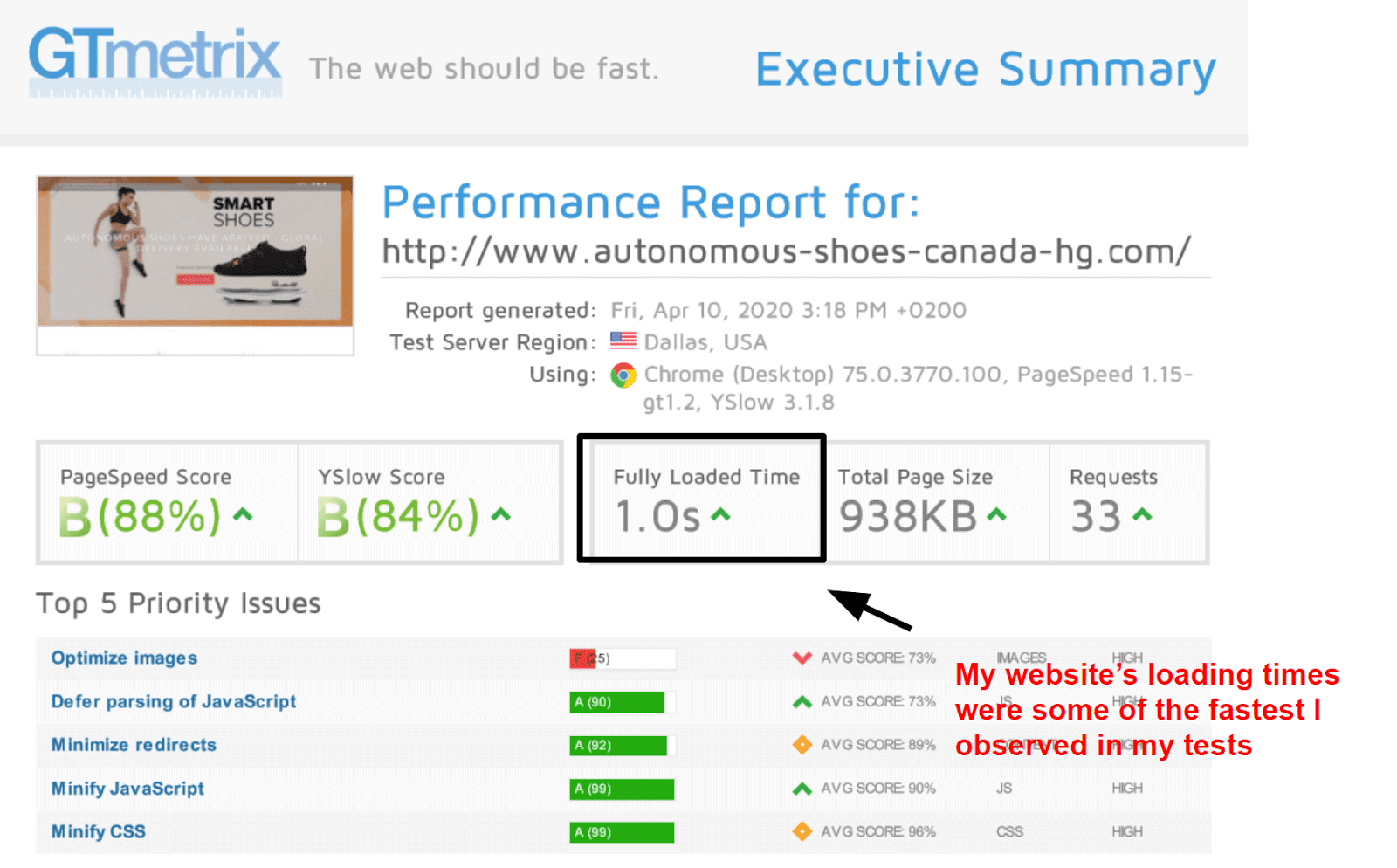 Given the price difference between the two hosts, I didn't expect Hostinger to deliver similar performance, but that's exactly what happened.
The Sucuri Load Time Tester confirmed Hostinger's excellent results with an A+ overall score, a rare sight with shared hosting platforms.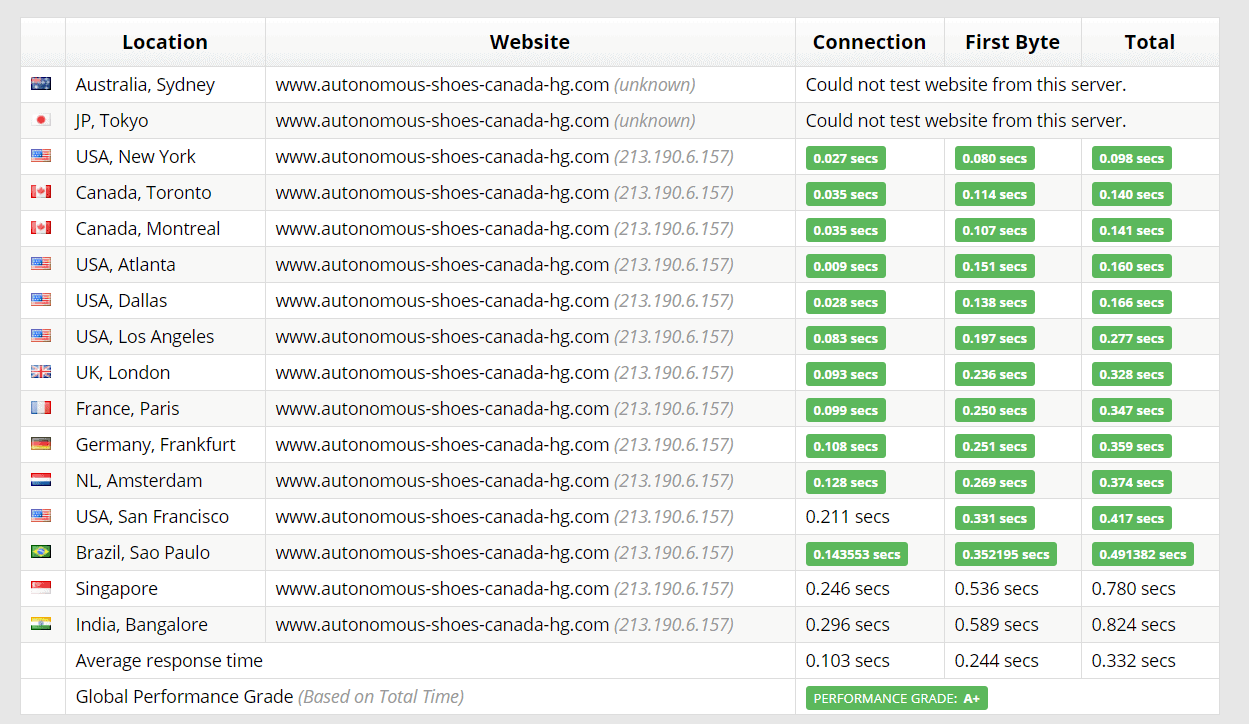 When I ran the same Sucuri test on A2 Hosting, the overall score was a measly F, with several failed tests. This didn't make much sense given A2's great results on GTmetrix and the feedback it had from other users.
This might be because Sucuri's scans are sometimes blocked or throttled by web hosts for security reasons.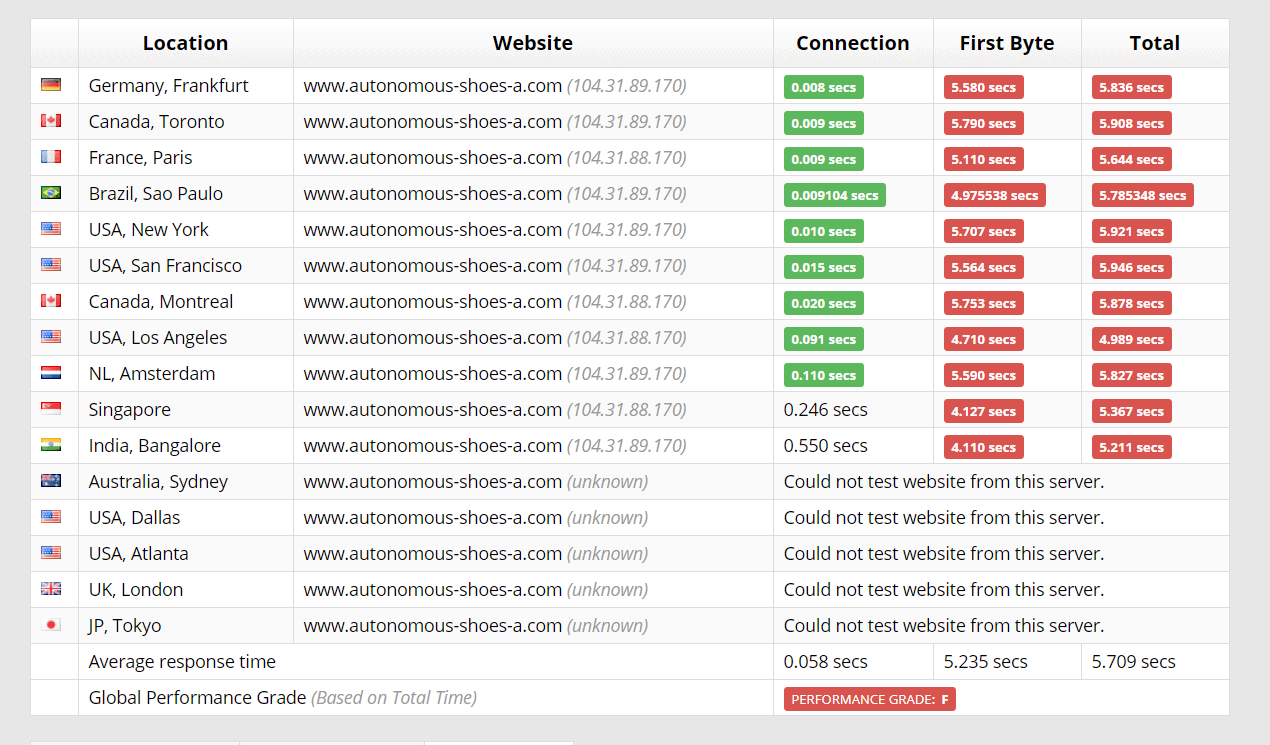 Even so, these tests made one thing clear: although its shared plans are incredibly cheap, Hostinger can deliver the same (or even better) performance compared to A2 Hosting.
I got similar results for uptime. A2 Hosting promises 99.9% uptime, but during my tests with UptimeRobot, I recorded a perfect 100%. All the better.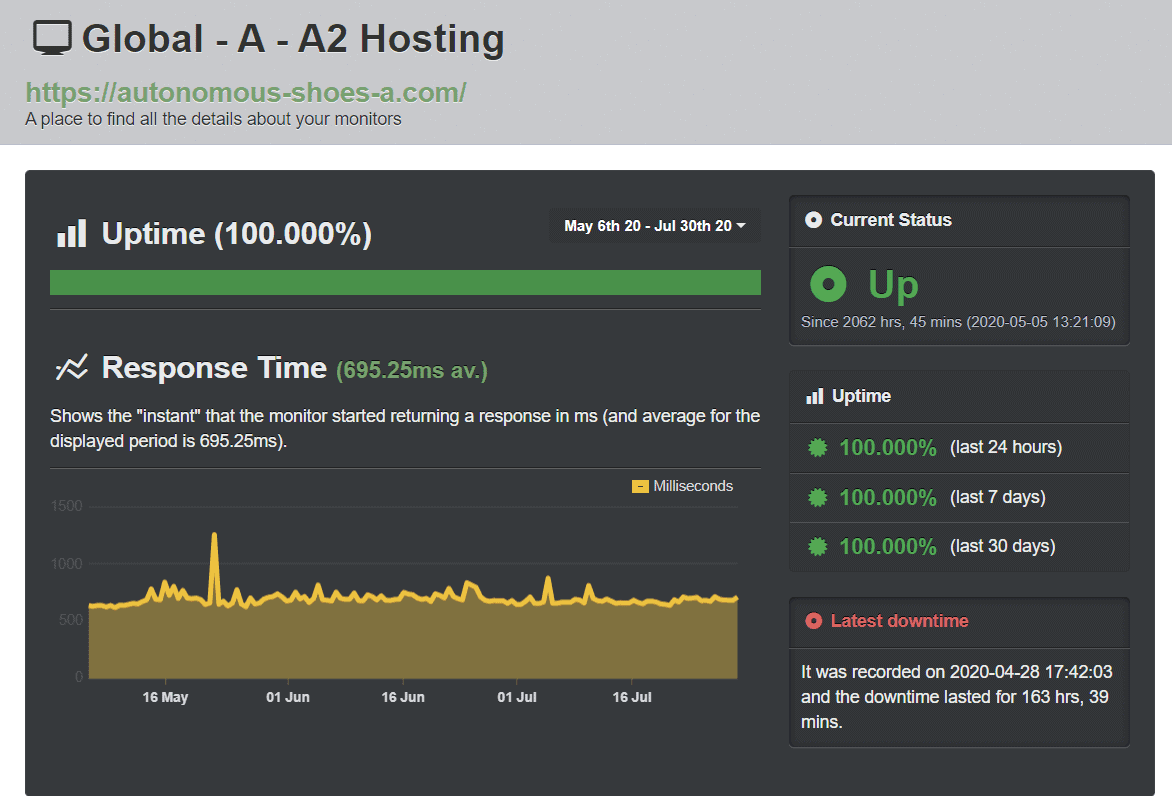 Hostinger came in a
very
 close second, with 99.997% uptime over several months.
Overall, the race between Hostinger and A2 Hosting was neck-and-neck for performance.
However, I had to hand the victory over to Hostinger.
 It achieved the fastest loading speeds on GTmetrix, a rare A+ score on Sucuri's Load Time Tester, and stellar uptime overall. I'm sure that hosting my website on one of A2's Turbo servers could have rendered slightly better results. But for me,
it doesn't make sense to pay extra when I can get a high level of performance from Hostinger at less than a third of the cost.
4. Security
Hostinger Has Great Security, but A2 Hosting Does Slightly Better
Whether you go with Hostinger or A2 Hosting, you can rest assured that your website is in good hands.
Both hosts include free SSL certificates on all plans, and take active measures to prevent malicious attacks.
Hostinger offers DDoS protection, server-wide firewalls, and BitNinja security.
 You also get weekly backups on all plans, so you can always restore a previous version of your website if needed.
Similarly, A2 Hosting has DDoS protection, a dual firewall, and a virus scanner, plus the Patchman security tool.
 The latter helps you detect any outdated software installed on your account, and immediately quarantines any suspicious files.
Also, A2's Perpetual Security Initiative includes server software on all plans that ensures the most up-to-date Linux security and malware protection.
The downside with A2 Hosting is that automated backups are not included in the Startup plan, but you can schedule your own backups using cPanel without having to upgrade to a more expensive plan.
5. Support
Don't Expect Much from Either Hostinger or A2 Hosting
Both Hostinger and A2 Hosting offer 24/7 customer support.
 With Hostinger, you can get support through live chat, while A2 also gives you the option to get in touch through phone or tickets. Unfortunately, one problem with both hosts is that an agent isn't always available.
Sometimes, it can take several hours to get an answer, which means that you have to comb through a knowledge base to find a "quick" solution.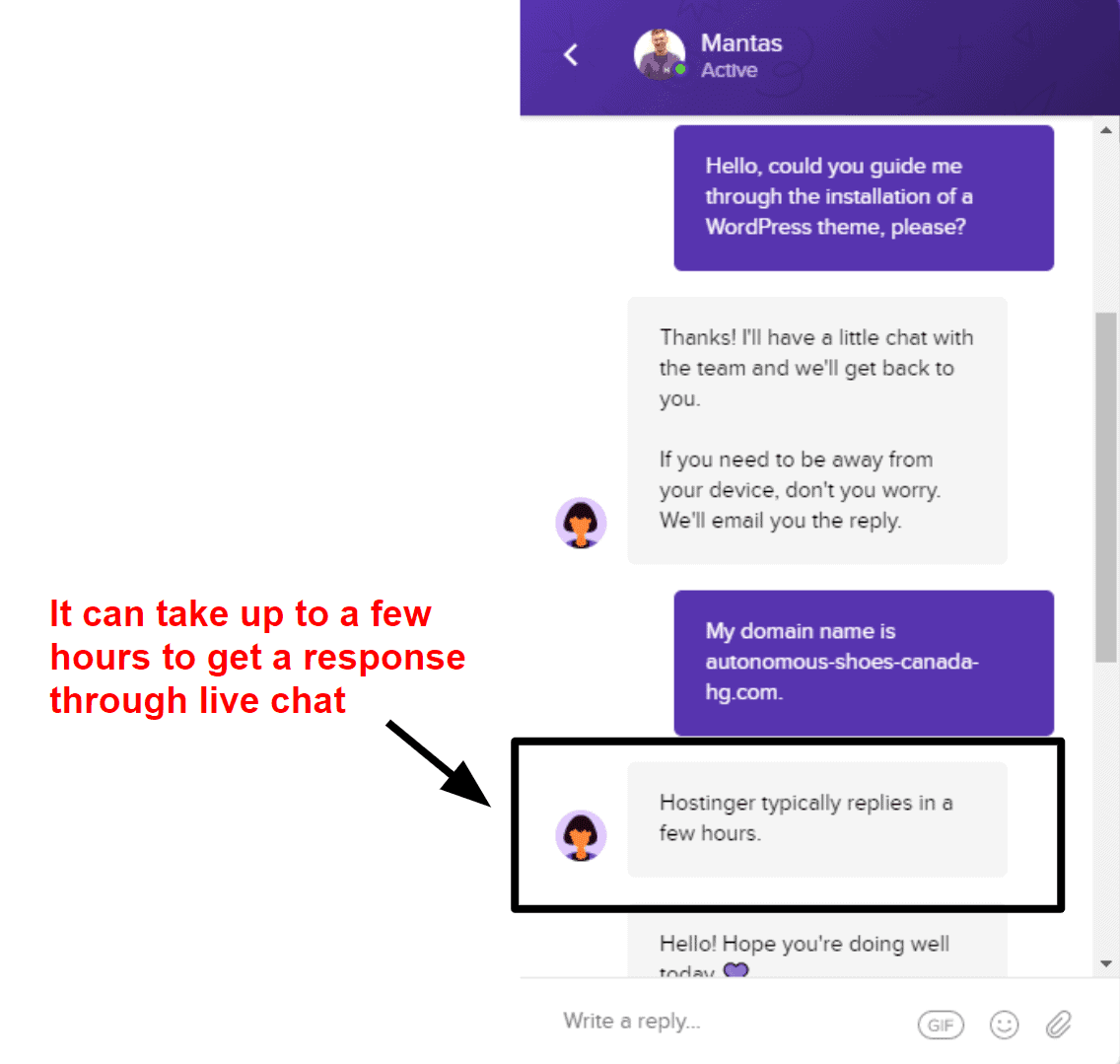 That said, I had better luck getting a useful answer from Hostinger than I did with A2 Hosting.
 For instance, when I asked one of Hostinger's agents for help optimizing my website, I was given several good links for reference, including to a helpful article in the knowledge base. I followed the steps described, and this improved my website loading speeds.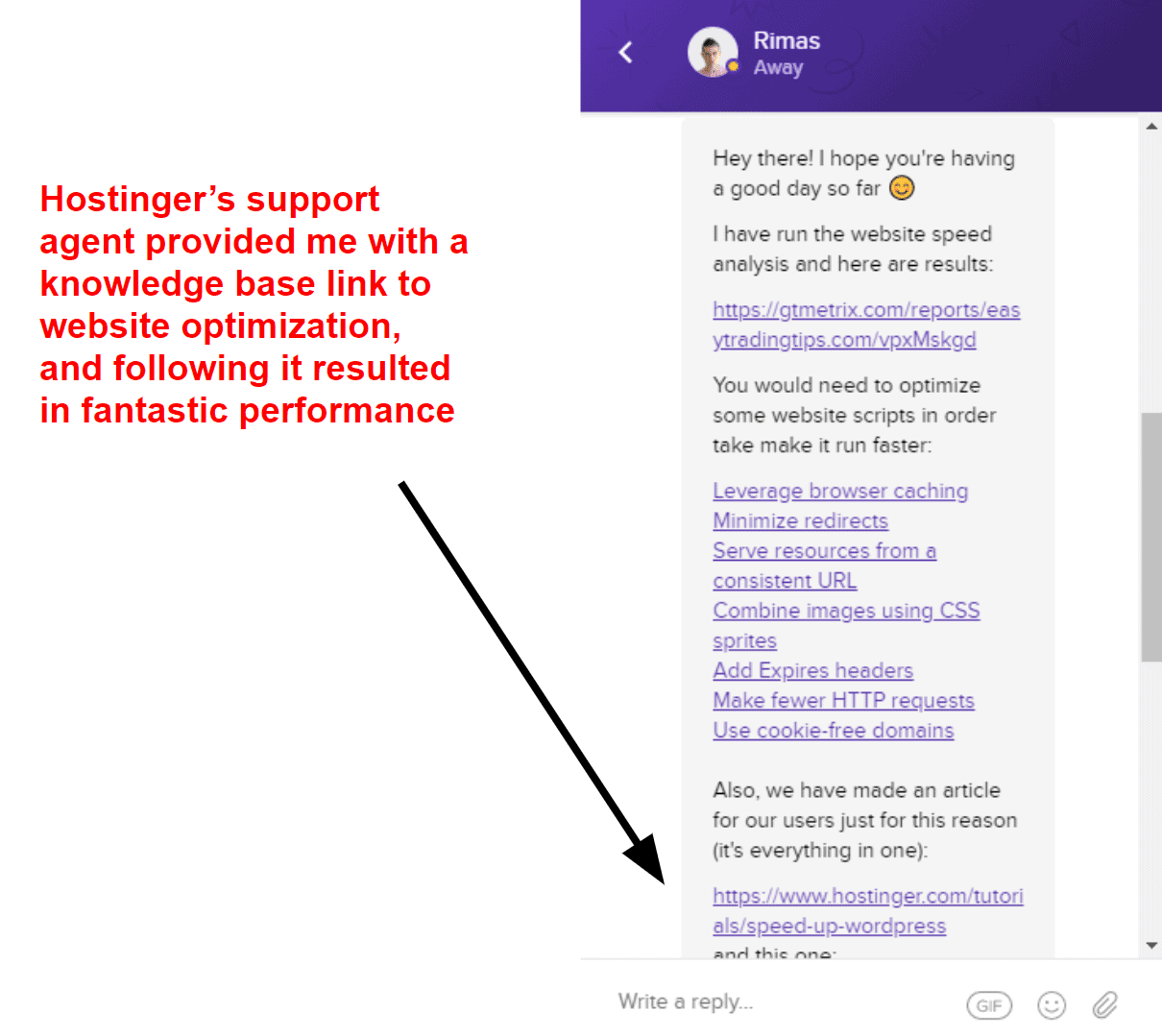 Although slow, Hostinger's support is in-house, and it shows.
I had a very different experience with A2 Hosting, a company that has almost entirely outsourced its customer support.
Whenever I got in touch with an agent, they were slow to respond, and not always clear.
Many times, I ended up even more confused.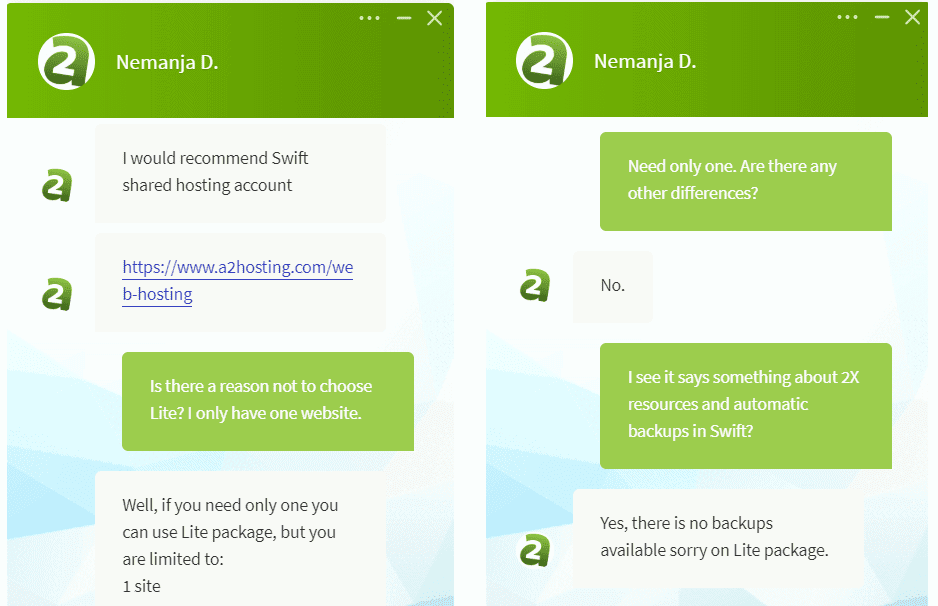 The responses improved to some extent when I utilized the ticket system. However, had I posed my questions on Google, I could have obtained the same information more promptly.
Overall, I had a fairly disappointing experience with both hosts, but if I had to pick a winner in this category, I'd go with Hostinger.
 Yes, its agents took several hours to respond, but they at least provided some useful answers when they did get in touch. In both cases, the knowledge base proved to be useful, but this'll give you little comfort if you're not a fan of DIY solutions.
Go with Hostinger for Outstanding Performance at a Low Cost
There's no doubt that Hostinger vs A2 Hosting is a tight matchup, especially when it comes to features and performance. It's no wonder that both hosts made our list of
the best web hosting services
.
That said, Hostinger's shared hosting plans are considerably cheaper, giving it the advantage.
A2 Hosting's plans
might give you more storage space and the pre-optimized CMS installations can save you a bit of time, but if you ask me, these features alone are not worth the extra cost. As for the Turbo servers, it's likely that they offer even better performance, but once again, they don't come cheap. Still not sure? Here's a quick summary of my comparison between Hostinger and A2 Hosting:
Plans and Pricing
Significantly cheaper than A2 Hosting, especially after renewal, except with unmanaged VPS
More expensive overall for similar plans, except with unmanaged VPS
Features
Generous storage space and bandwidth, free domain for the first year on most plans, user-friendly proprietary control panel, 30-day money-back guarantee
Unlimited storage space and bandwidth on most plans, traditional cPanel, optimized CMS installations, anytime money-back guarantee
Performance
SSD storage, support for Cloudflare CDN, LiteSpeed web server, seven data center locations, outstanding performance and uptime
SSD storage, Cloudflare CDN, four data center locations, LiteSpeed web server on more expensive plans, outstanding performance and perfect uptime
Security
DDoS protection, firewall, BitNinja defense, automated weekly backups, free SSL
DDoS protection, dual firewall, malware scanner, Patchman security, automated daily backups on most plans, free SSL
Support
24/7 support via live chat; extensive knowledge base
24/7 support via live chat, tickets, and phone; extensive knowledge base
FAQ
Is Hostinger the best host?
Hostinger is currently the #1 rated host on our list of the best web hosting services. However, to say that Hostinger is "the best host, period" would be inaccurate. Yes, it has achieved outstanding results during our performance tests, and its prices are incredibly low, but there is no one-size-fits-all in web hosting. The best host is one that suits your specific needs. If you want to host a blog, a business presentation website, or any other small-to-medium site, Hostinger's shared hosting plans are ideal. On the other hand, if you're building an e-commerce store or your website sees a lot of traffic, you might want to go with a premium service like Kinsta or Liquid Web instead.
Does A2 Hosting offer WordPress hosting?
Yes. In fact, A2 has some of the best managed WordPress plans in the industry. These plans are not as cheap as Hostinger's equivalents, but they do come with some excellent features, such as extra speed optimizations, automatic updates and backups, a one-click staging environment, and a Jetpack Personal license.
Is Hostinger cheaper than A2 Hosting?
Yes, if you're looking for shared or managed WordPress hosting, Hostinger is more affordable than A2. This is especially true if you intend to stick with your web host long-term. Following renewals, Hostinger can be up to three times cheaper than A2 Hosting. However, A2 Hosting offers less expensive unmanaged VPS plans. Before you commit to a long-term hosting plan, be sure to check our web hosting coupon page to make sure you're getting the best deal possible.
Is A2 Hosting fast?
Although our most recent tests have shown that Hostinger can achieve better loading speeds than A2 Hosting, A2 is still one of the fastest low-cost hosting solutions in the industry. That said, it can be challenging to properly test a web host's performance for audiences around the world. If you'd like to learn more about the process, you can do so here.