Web conferencing has become an integral part of business and now, due to COVID-19, personal continuity.
Joe Manuele, CEO at Highfive,
explains how their WebRTC driven conferencing platform and their immersive audio and video powered Dolby Voice® create an unparalleled user experience for both business and personal interactions. We talked about how the pandemic has changed the way we conduct business meetings, sell products, provide counseling services – even teach pilates! – and its long terms effects on a post COVID world.
This interview was originally published on May 10, 2020.
Please tell us a little bit about your background before Highfive.
I've been in the telecommunications industry for almost 30 years. My previous position was at Dimension Data, a division of NTT, where I ran their Global Collaboration and Customer Experience business. I had roughly US$1.8 billion of revenue in my business unit of about 9,000 employees. Dimension Data was Cisco's largest global partner in telecommunications and collaboration.  When we saw Zoom start to take off, I researched different video and web conferencing companies to see what was out there. I came across Highfive and met its founders, Shan Sinha and Jeremy Roy, both of whom had left Google several years prior. I joined Highfive's board of directors a little over two and a half years ago, and then 18 months ago, I was asked to join as CEO and help take the company to the next level.
What about Highfive drew your attention?
Three things attracted me to the platform. One is, Highfive is built entirely in the cloud, so it's a true "born-in-the-cloud" company. We are running on Amazon Web Services (AWS) and use Google Cloud Platform for some telemetry data, so all of our services run on a hyper-scale public cloud and provide industry-leading security.
The second thing Highfive did was build the service on WebRTC, an open-source framework enabling Web
R
eal-
T
ime
C
ommunications. While we felt this was the underlying communications protocol of the future, eight years ago, that philosophy was a bit more controversial. We used to joke every year at our annual conference,
'This is the year of WebRTC
,' and 2019 was finally the year. We knew WebRTC had arrived when that same year Apple and Microsoft both declared they would support WebRTC in their browsers. The last thing was audio, which is the most essential part of any conference. Because, if we cannot hear each other clearly, the meeting is essentially dead before it's even begun. Traditional vendors like Webex handled voice by attaching a PSTN connection with an audio bridge or the 800 number for those who chose to join by telephone. There are two things unique to Highfive audio. Voice was built in collaboration with Dolby using the Dolby Voice® codec for a great conferencing experience over WebRTC. Secondly, we partnered with Twilio to provide phone numbers using CPaaS (Communications Platform as a Service) for people calling in from all over the world.
What about WebRTC gave you the foresight to realize its potential all those years ago?
The thing about WebRTC is that natively it's a low latency protocol, which is very important when you're trying to do audio and video simultaneously. It's also a light protocol in the sense that it can operate on devices beyond traditional laptops and Web-based systems and phones. Any of over seven billion browser-enabled devices, even if they are not primarily a computer, could theoretically run WebRTC protocol. This allows you to launch a WebRTC session directly from devices like smart TVs or smart cars like Teslas. In fact, Elon Musk recently tweeted that video conferencing is "definitely a future feature" using its vehicles' in-cabin cameras. We installed Highfive last year in my Tesla, and it works great! Our vehicles may soon become new digital workplaces. Let that sink in for a moment.
What hardware/equipment is needed to set up Highfive?
We looked at the industry and found that out of the 50 million conference rooms worldwide, less than 10% had any kind of video because it was very costly to install room-based conferencing. Now that the cost of TV screens has dropped dramatically, we set out to make installing video conferencing as easy as installing a cable set-up box. The hardware arrives pre-configured to Highfive service and with just three cables to connect: power, Ethernet, and HDMI. In less than 15 minutes, the room is up and running. The most complicated part of a Highfive installation is mounting your TV to the wall.  We recommend hiring a professional to ensure proper installation.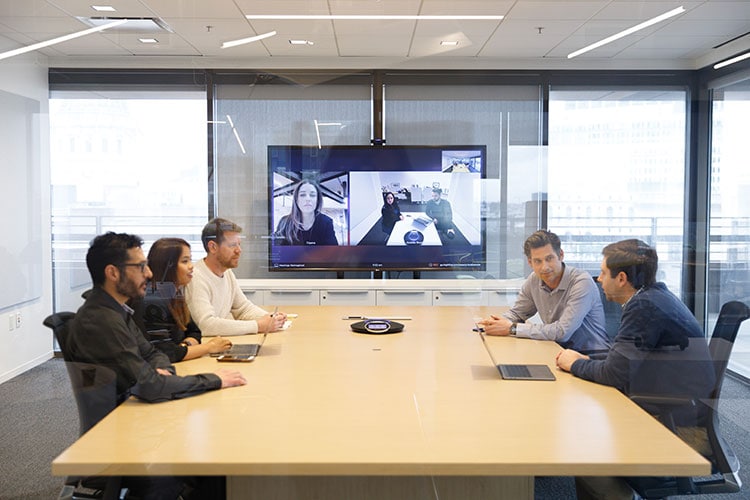 What are some features that contribute to the ease and quality of Highfive's video conferencing?
To provide continuity for businesses, especially those suddenly finding themselves with remote workers due to the COVID-19 pandemic, our software was developed to make it very easy to join a meeting. When using Google Chrome or Microsoft Edge browsers, participants don't need to download an application to join.  They simply click a URL provided in their Google or Outlook invite, and they can join the meeting. We expect Safari's WebRTC implementation to be ready soon. And because we use Dolby Voice®, our immersive audio and video bring the theater experience into the boardroom – even on a desktop. If there are multiple people in a room, there is spatial recognition, as well. I have a Dolby Conference Phone (DCP) in my home office—where I'm talking to you now—so if I stand up and walk around, it will amplify my voice up to five dB to maintain that proximity. The range of the DCP will also pick up my voice as far as 22 feet away. The ability to share content is an essential feature, too. When entering a Highfive meeting room, you'll find a link at the bottom that anyone can click to receive a PIN code (for security) and share their content. There are three ways to share content. You can share your entire screen, which is useful when doing IT support, share a specific application such as a PowerPoint presentation or Excel spreadsheet, or share a specific tab in a browser.
What type of integrations are available?
Aside from video conferencing, to efficiently work remotely, some kind of collaboration software is essential. With our Slack integration, if at any point while communicating in Slack, you want to jump to a video call, you can type /highfive or simply click the video icon, and you are automatically escalated to a Highfive meeting. We also have integration with our calendaring partners, Google and Microsoft. When I schedule a Highfive meeting, it opens in my Google Calendar, pre-populates the information for joining the meeting, and then sends an invitation to the other participants. Additionally, when I go to highfive.com in my browser, it displays all my upcoming meetings, which I can join with just a single click.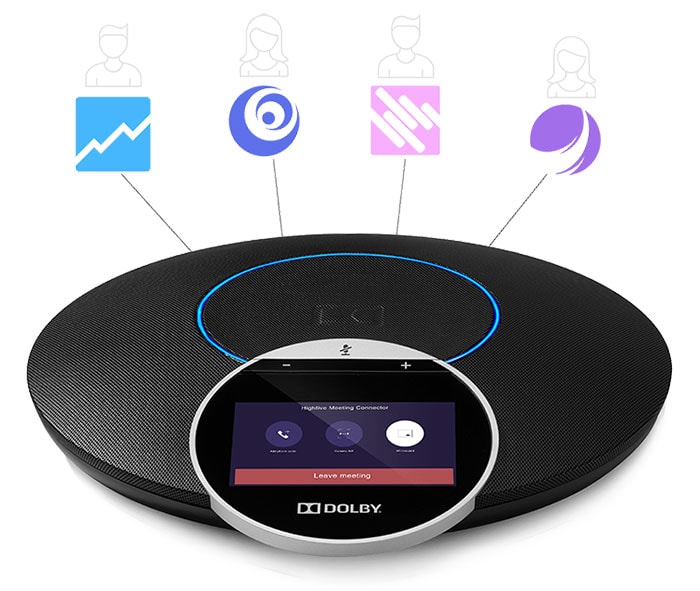 And while we would love everyone to use Highfive all the time, we recognize that there are a lot of Zoom, Webex, Microsoft, BlueJeans meetings going on, so we created an integration called Meeting Connector. Now, if I receive an invitation to a meeting hosted elsewhere, it will still show on my calendar, still populate my room, and I can still join the meeting with merely a click just as seamlessly as if I was entering a Highfive meeting.
What components of video communication do you see continuing into the post-COVID-19 world?
Every day I talk to customers who are finding their businesses transformed while coping with COVID-19. I spoke with a brick-and-mortar furniture chain in New York that can only connect with customers remotely, so the audio and video experience needs to be flawless every time. I love hearing about the creative ways companies are using our technology. A local pilates studio here in Half Moon Bay, California, installed one of our cameras. Now, Natasha, the owner, leads classes of 20-25 people virtually, in real-time, over her Highfive system. Without the ability to build this virtual practice, it's unlikely she would have been able to maintain her business. As to the long-term effects, the common thread of every business I spoke with is that they knew they would have to undergo a digital transformation eventually, and COVID-19 just accelerated the process. The pandemic highlights that digital transformation and business continuity never take a day off. We believe that a video conferencing service like Highfive is the enabler for business continuity. And that's the message I hear from customers every day. In the future, the pilates studio intends to run hybrid classes with a combination of participants in the studio while others join the class remotely.  The furniture retailer is seriously rethinking its brick-and-mortar strategy. They doubt they will go all digital and still want to have people coming to their stores, but they like the idea of having fewer locations and adding more cameras so they could include interactive digital showrooms that are way more exciting than today's "static" e-commerce websites. While we have talked about business continuity, we also have a unique opportunity to challenge ourselves and do some good from a life continuity perspective. My first case was when one of my employees called from New York about setting up an account for his rabbi. New York City was shutting down, and people were unable to get to synagogue. With Highfive, this rabbi is still able to connect with his congregation during COVID-19. And it's much more than weekly services. People go to their priests,  their rabbis, their Imams for personal counseling, as well, so during this exceedingly difficult time, people with a sick friend or relative or those just feeling isolated can still have that connection.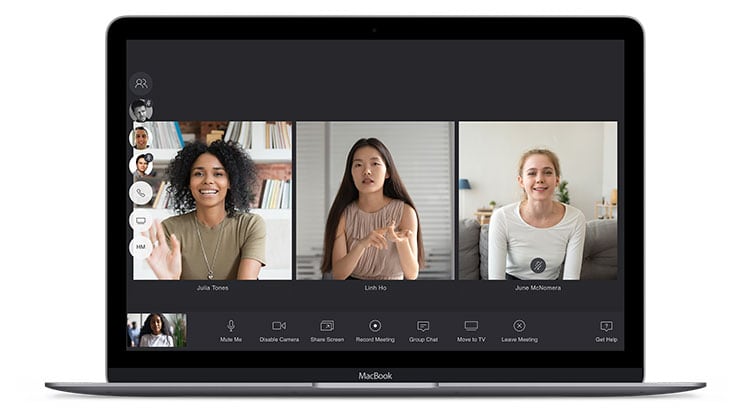 There is also our project with the YWCA, which provides a large number of counseling services to victims of domestic abuse. Although these women can no longer come to their centers, through Highfive, they can continue to connect and speak to a counselor on how to cope and move forward. We also have a child bereavement center here in the San Francisco Bay Area for families who have lost a child. The center is using Highfive to continue with counseling and group therapy. What will happen post-COVID-19? I'm sure people will want to go back to face-to-face meetings, but for times when it is physically impossible, they can connect over video. We're not going to shift 100% as was necessitated, but I certainly see embedding video as a way to enhance those connections.
Are there any new features in the works?
Like I've said, it's all about life and business continuity. Every video conferencing company has pivoted to some degree to focus on filling any gaps they might have with their business, whether it's internal processes or actual features and capabilities they're building into products. At the end of the day, everyone is trying to figure out how we will meet when moving forward into the post-COVID world; however, customers today want easy, high-quality solutions that will sustain them tomorrow. One solution you are going to see from Highfive is WebRTC enabling our service to connect to streaming devices and technologies. Imagine you and I are leading a symposium, which we want millions of people to watch live. A webinar like that typically requires very costly solutions from service providers, but we are going to democratize that. Our customers want a service that will allow them to have larger and larger meetings involving more and more people. Highfive will soon have the ability to invite thousands, perhaps millions, of people to watch a Highfive meeting in real-time just by clicking a link.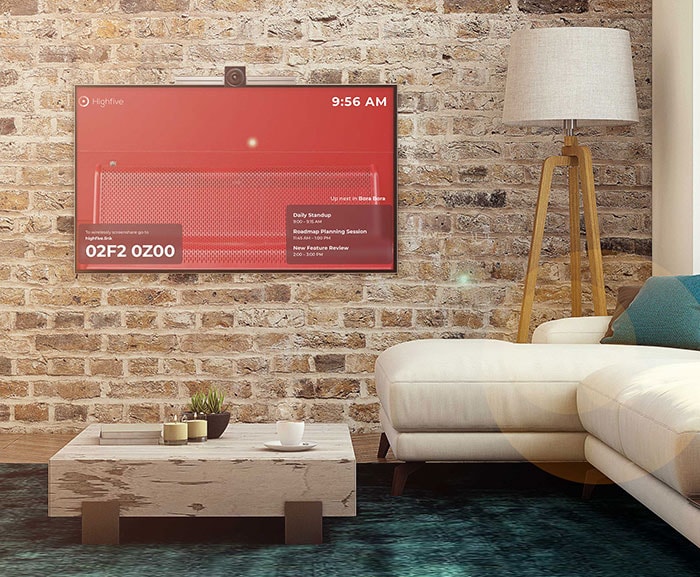 There's a slew of other things that we're looking at a little bit further down the road. For example, smart TVs will have built-in video cameras and microphones, along with Highfive software and the processing power for WebRTC. Not only is that everything you need to set up a room for conferencing, but it will open up the residential market in a huge way. My mom is an 84-year-old Italian immigrant living in Montreal, and it's just too complicated for her to join a video call. So, imagine if all she needs to do to video chat with me is to select a channel on her TV! I'm very excited about what's possible.