The internet is a very competitive place, so engaging and building relations with visitors is an essential factor in maintaining an advantage.
Ryan Bettencourt
,
CEO
of
Hello Bar,
walks us through the many options available within their platform to easily place and test units such as a pop-ups or page takeovers on any page of your web site to effectively interact with your users.
This interview was originally published on January 6, 2020
Please tell us a little about your background before joining Hello Bar.
I am based in San Diego and for the last 12 years or so have been involved with various technology startups. One of those companies, Digital Telepathy, helped startups and technology companies with design and user experience to increase conversion and grow their business. We worked with a series of venture capital firms and their portfolio companies and when that business really took off, we launched a spinoff of several software companies, one of which was Hello Bar which I joined as CEO in January 2019.
What is Hello Bar?
Hello Bar is a platform that allows users to put a unit on any page of their web site to interact and build a relationship with their users. They can create a form to capture email addresses, add a push the call button so visitors can immediately call for more information, redirect visitors to a separate URL to drive them to a particular sale or offer, or a series of other actions. We provide the technology that allows anyone to add these units to their site without any prior technical knowledge. By using a very simple interface, they can customize the units, launch and test them, and get analytics for optimizations.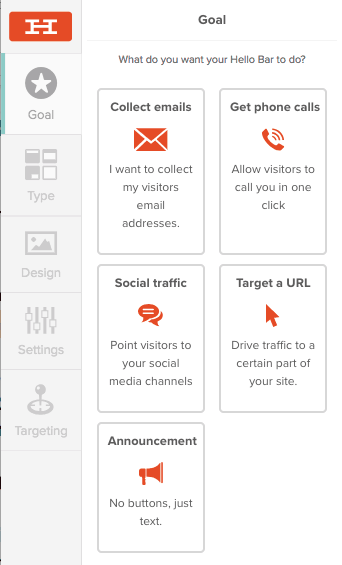 What are these units?
When Hello Bar started, it was only available as a bar at the top of a webpage; hence, the company name. But we now offer a series of different units, and in fact, about 70% of the units currently in use across our platform are not the bar. Units can be popups with customizable properties – such as whether you want the page behind it to be very visible, as well as the ability to adjust the size, look, and feel of it. You can create units that sit in the corners and even a little alert bell that pops up a unit when a visitor clicks it. There are also full-page takeovers that are the most effective. You can also control where and when the unit appears. Do you want it to appear only on your blog or homepage, or do you want it to show no matter a visitor lands on your site? Do you want the unit to pop up immediately, 30 seconds after they arrive, or just before they're about to leave? So if you have an eCommerce site and want to promote a shoe sale, you can have a pop up appear when a visitor selects your Shoes category. Or you may decide to have them browse and shop as usual and target them when they are about to leave your site with a "Wait, have you checked out our shoe sales page?" pop up.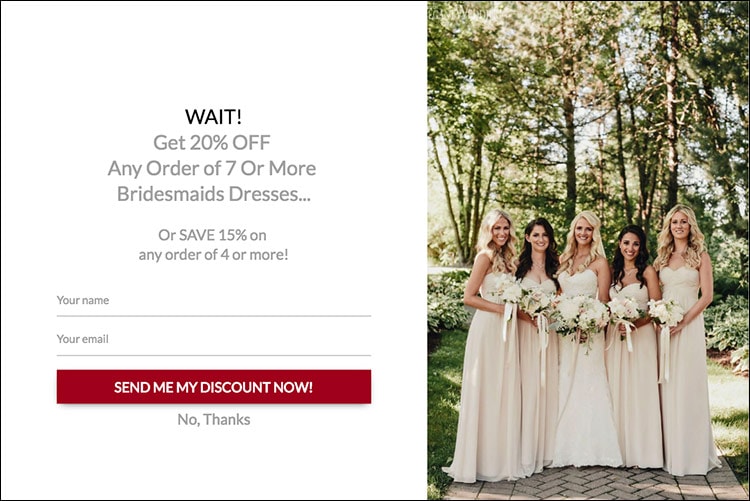 We have found that with Hello Bar, like any tool, if you just install it, you're going to see OK results, but if you invest the time and energy to really optimize it, you're going to see
incredible
results. Therefore, we encourage customers to test the various units to see what's most effective and then to test multiple designs and messaging within that. We make that easy to do with A/B testing and our WYSIWYG platform that allows you to see any changes to the unit before pushing them live.
How does A/B testing work?
Our platform allows you to create two different units to be used in an A/B test. The differences can be as subtle as a text change, or they can be completely different. So, your A can be created using one of our templates with the message "Join our mailing list and get 20% off" and your B can use a different template with the message "Join our mailing list and be the first to be notified of sales." Your A can be a popup, and your B can be a bar. For a good A/B test, we encourage users to test at 50/50 and make sure they get enough data to make adjustments afterward. We then give analytics of each version so you can quickly determine which one performs better, so you can start drilling down on the next A/B test. If a full-page takeover does really well compared to the other unit, you might want to test a full-page takeover with a blue background vs. an orange background. Every test you run gets you closer and closer to your optimal point.
Can you also target units based on user-side data?
Yes, you can also control the appearance of units based on information from the user, such as browser, operating system, and location. It takes a little bit more work, but you can also target by specific things a customer has already done, such as past purchases.  So, the platform is very powerful in terms of being able to drill down and target very specifically.
You state three goals for using Hello Bar. The first is "drive traffic to a specific URL. "
There are times when visitors arrive at your site from either an organic Google search, a paid search, or a Facebook post and you want to drive them to another page of your site. Hello Bar units can help you do that. For instance, when someone views a specific product on your site, you can have our units direct them to a sale or special offer page. Or let's say you're in real estate and want to drive people to properties in San Diego. You can create a blog post about pricing trends in San Diego with a pop up – "Use our calculator to determine how much house you can afford in San Diego" which directs users to another page.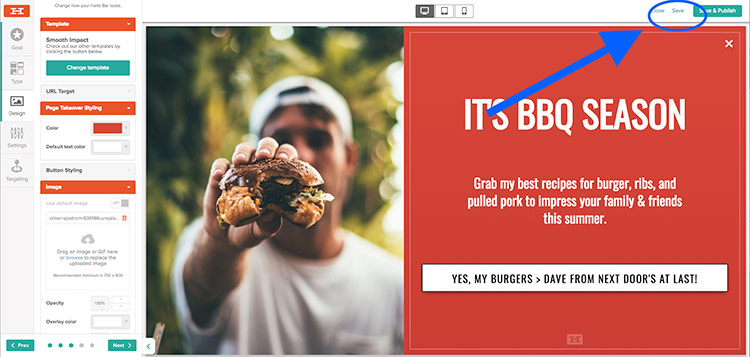 Your second goal is "growing an email list."
Growing an email list is as simple as integrating Hello Bar into your emails. We offer an easy plug-and-play way to do that within the major email service providers. The most popular use of this function is to offer a discount for signing up, but it can be used for anything including signing up to receive a newsletter or to be notified of sales. You can place our email bar into one of our templates or into your own custom email. Once the email is ready, it goes directly into your email service provider for sending. On the horizon is making it simpler to send emails from within hello bar so that you don't have to go through your email provider. We currently have several accounts testing that feature, which is going well, so we hope to be able to roll that out soon.
Your third goal is to "connect and share."
Connect and share is a feature that has been requested quite a bit. Everyone is looking to grow their social media following so they can market to them as well. By integrating Hello Bar, you can use messaging to drive people to your social media platforms and gain more followers.
Once a unit has been created, how is it integrated into a website?
We have plugins available for the major website builders such as WordPress, Wix, Squarespace, etc. which integrate our units directly into your website. For other sites, we provide instructions on how to place the Hello Bar code. It's easy enough that most people find they can do it on their own without the help of a developer.
What analytics are available?
Within the Hello Bar dashboard, we post key highlights of your data. We also provide analytics on the number of views and clicks so you can view the effectiveness of each unit or each iteration of a unit. So, if you see one unit is performing at a 3% opt-in rate whereas another unit is operating at a 6% opt-in rate, you can quickly determine which one is more effective.

We also send a monthly email with your high-level analytics, such as the number of live units, total unit views, total click-throughs, and percentage click-throughs. We are working on ways to make our analytics more granular so that you'll be able to look at things such as the source of traffic, but that's not quite ready.
How is pricing structured?
We have a free version that supports up to a certain number of views per month and includes the Hello Bar branding. Views are the number of times a unit has been seen within that given month. Most people test us out for free, and if they feel it's a good fit for their business will upgrade to support their growth. But we still have and are very thankful to have hundreds of thousands of sites over the last few years using the free version. We offer two tiers of paid versions with additional useful and valuable features and the removal of our branding. If we see a site getting close to their maximum number of views, we will reach out and recommend they upgrade to the next tier, rather than charge overage fees. For larger sites that exceed even our top tier maximum views, custom plans are available.
What support is available to Hello Bar users?
We are very supportive of all of our customers, regardless of which tier of service they have with us. We've worked very closely with companies in many industries, including fashion, sporting goods, real estate, food, and travel, so we've learned some of the specific nuances to achieve the best results in those businesses. We share these case studies on our site so users can benefit from our experience of the best practices for their company. Since headline writing, great design, and ease of conversion are key; we have written blogs and articles with tips for those aspects. Users can also make use of our documentation, instructions, and online forums.
Beyond that, we offer graduated levels of service. Free users receive customer support for basic things like help with script installation, understanding analytics, upgrading, etc. We generally respond to these issues within 24 hours. Our premium support level places support requests higher in the queue for a faster response. Higher up on the continuum, we offer onboarding services where we create and set up the account, set up the initial A/B testing, write headlines, and a series of other services. One of our most common requests was, "Since you guys know best what works and what doesn't work, can you do it for me?" So earlier this year, we created a service offering in which we manage everything – so we're doing custom design, creating all the A/B testing, writing all the headlines, doing all the targeting and optimization. Users who know very specifically what their revenue model is and how much each lead or each customer is worth have seen a high ROI from this service.