Website Planet
interviewed Ryan Bettencourt, CEO of Hello Bar, the conversion plugin chosen by Neil Patel and Fortune 500 brands to collect more emails & drive more sales.. We looked at how Hello Bar helps increase conversions by over 80%, what key features made it become the go-to tool for 600k websites, and how they plan to grow even more in the future.
Meet Our Guest
My name is Ryan Bettencourt and I help to lead Hello Bar as well as our sister product Subscribers.com.
Hello Bar
was originally launched over a decade ago to help website owners be able to add announcements and updates on their websites without needing a web developer. Over the past decade, Hello Bar has become a recognizable name and go-to product for website owners looking to convert website visitors into customers.
Hello Bar has been used by over 600,000 websites including sites owned by the likes of top thought leaders, great start-ups and large Fortune 500 companies
. And, while Hello Bar has been copied by many companies over the years, we still work with great companies because of how easy the product is to use, the powerful targeting features and the top customer service we offer.
What problems are you solving with your products and services?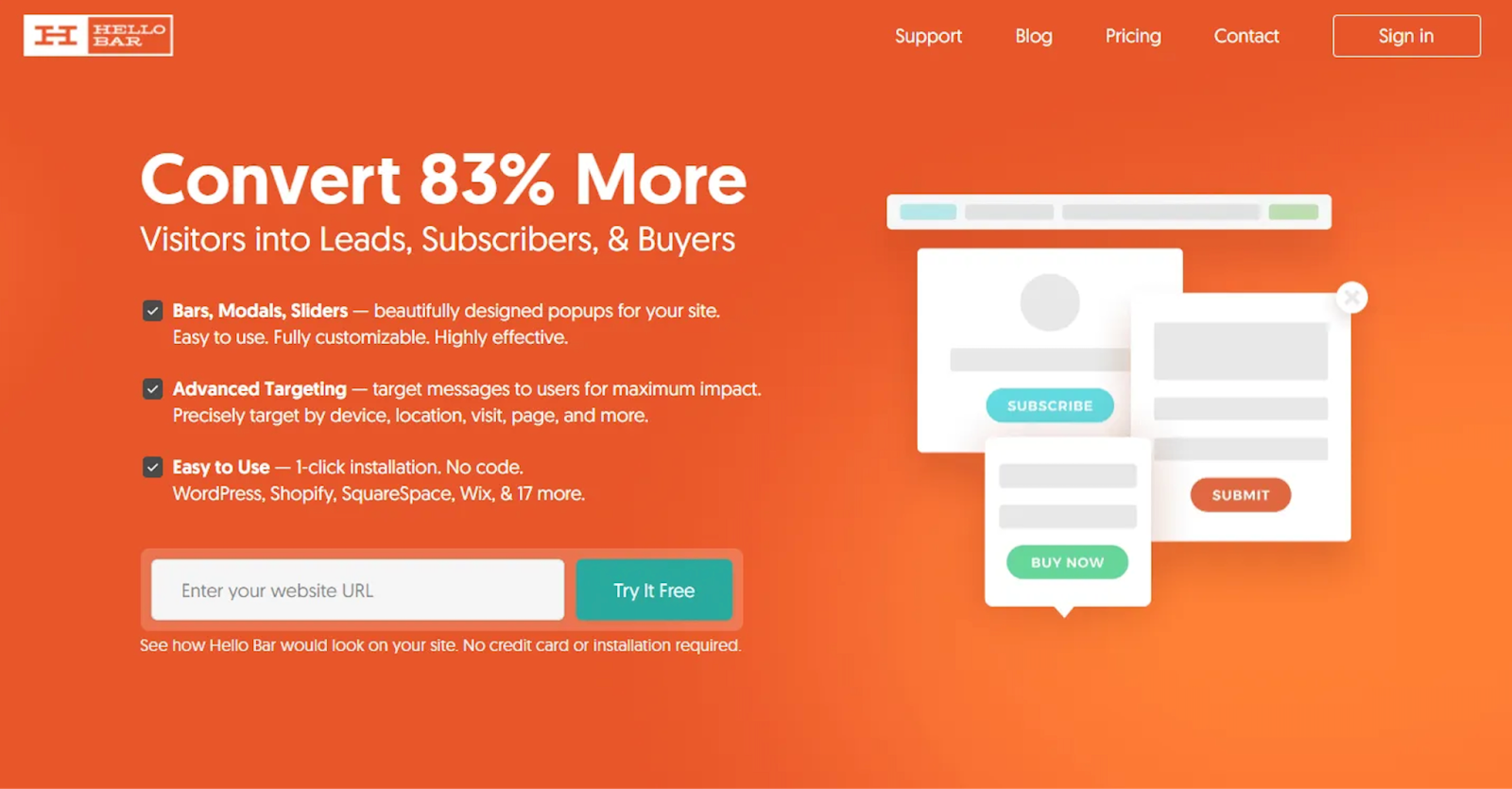 Companies spend tremendous time, energy and money on driving people to their websites. However, 99% of visitors to a website will never take any action on that website. Therefore, the crucial problem for companies trying to grow is converting more of those website visitors into customers.
Hello Bar can help companies convert 83% more of their website visitors into leads, subscribers and buyers
. We do that through easy-to-add website units that can help websites capture e-mail addresses, convert visitors into leads, drive visitors to specific parts of their websites or provide general updates. Each conversion unit can be designed and added to websites using an intuitive platform, which stands out for its targeting features and user experience that have been praised by the best companies for over a decade. Our in-house, friendly customer service and the comprehensive library of templates and targeting features provide all the support our customers need to succeed with Hello Bar.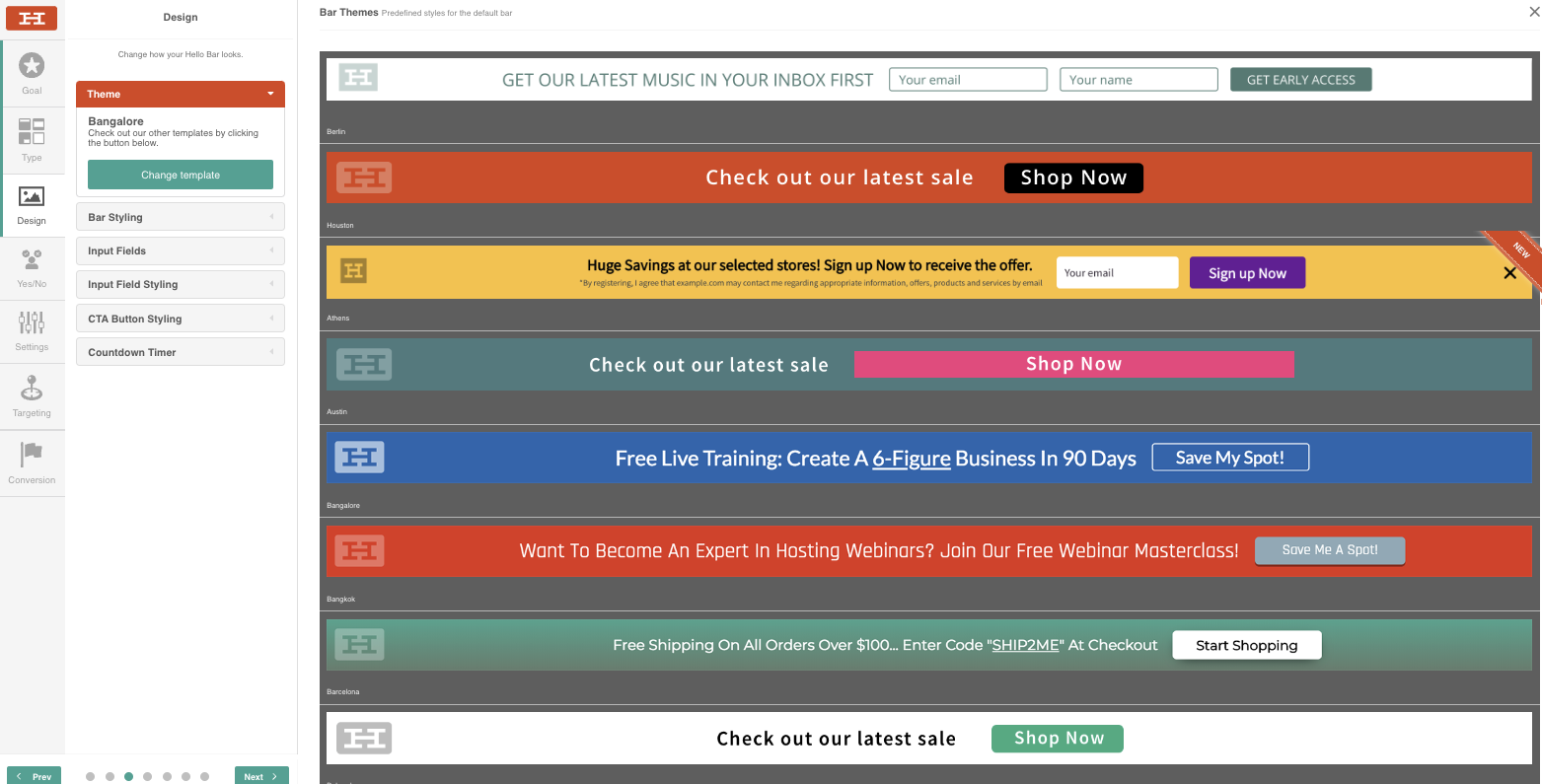 What's your story and how did you come up with the idea?
Hello Bar was originally created by a digital agency called digital-telepathy (later rebranded to Telepathy) and my friend Chuck Longanecker. I helped Chuck at digital-telepathy for a couple of years and had a number of conversations with him about this simple tool that would be easy to add to websites to help website owners make simple announcements. digital-telepathy worked with a lot of companies who were trying to post announcements to their websites but always had to ask a web developer to make those announcements. So, Hello Bar was originally created just as a top bar to enable website owners to make announcements and direct traffic to specific pages on their sites. Here is a screenshot of what the website looked like soon after launch: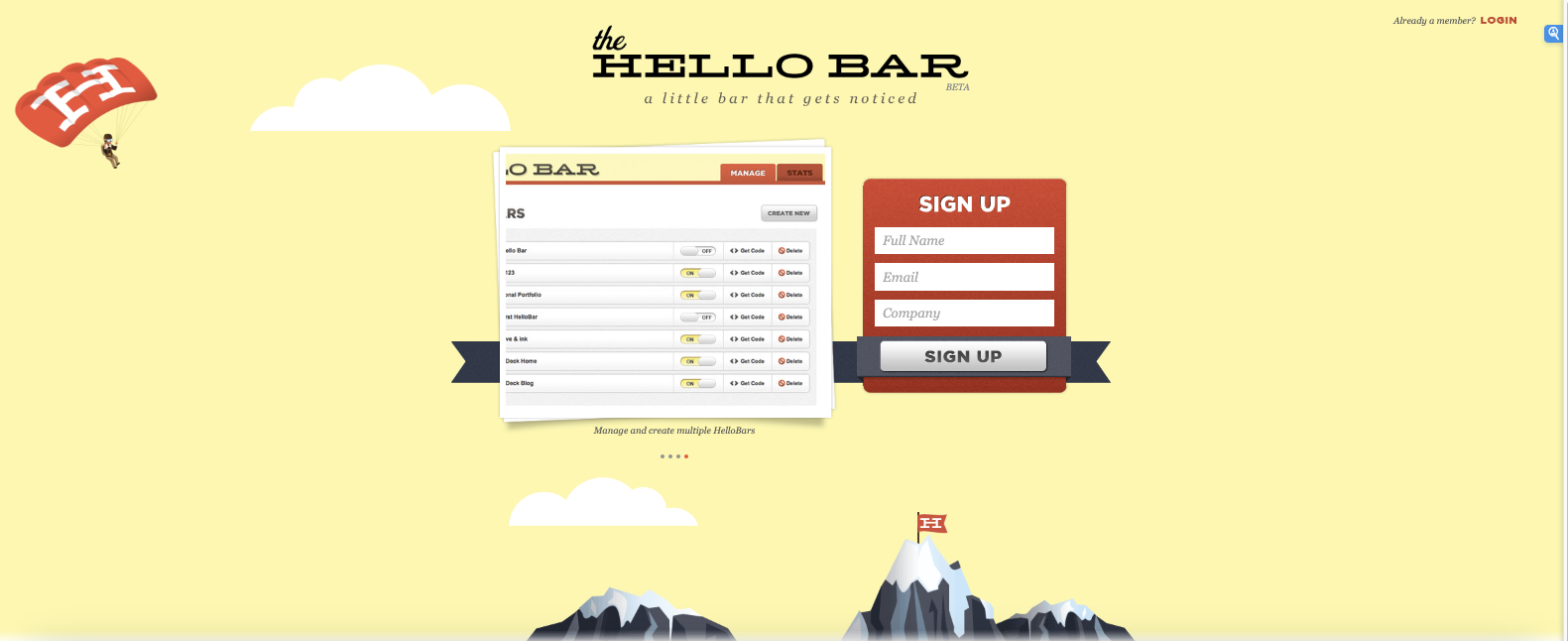 Immediately after launch, the product enjoyed viral adoption by some of the leading thought leaders and tech companies. Gary Vaynerchuk had a Hello Bar. Eric Ries had a Hello Bar. Heck, it seemed everybody had a Hello Bar soon after launch. One of those thought leaders was Neil Patel and he got involved with the company early on. Neil had put Hello Bar on his own websites and loved it so much that he wanted to be a part of the company. Neil helped the product expand into other website units that could help websites capture leads and sales. I got re-involved with Hello Bar a few years ago given its continued opportunity.

We have since added another product to Hello Bar called Subscribers, a web push notification platform. We are also adding in a series of features for better testing and optimization, integrating with more platforms (we already have integrations with many of the largest marketing platforms), enabling our customers to keep their email lists clean and much more. We have some big ideas for how we can evolve Hello Bar further to help companies convert their online visitors to customers.
What industries or business sizes benefit the most from your solutions?
While we work with companies of all sizes and across a broad range of categories, some of the most popular use cases for Hello Bar are:
E-Commerce companies looking to increase conversion rates and build up an email list that they can market to for future purchases.
Bloggers that want to regularly bring people back to new articles and features.
SaaS companies looking to build lead nurturing programs and campaigns.
Sales organizations looking to convert website visitors into leads that they can market and sell to.
One of our biggest customer groups is entrepreneurs who are just getting started with their online businesses. Because of this, we have made getting started with Hello Bar really easy. It only takes a few minutes to get it set up and Hello Bar is one of the most important things a new business can add to start engaging their website visitors. Moreover, on our YouTube channel you can find a variety of tutorials to help you get the most out of Hello Bar (and, of course, our team is always here to help).
How people use Hello Bar to convert website visitors into leads and sales: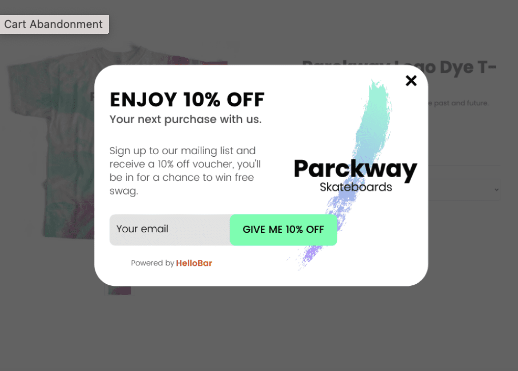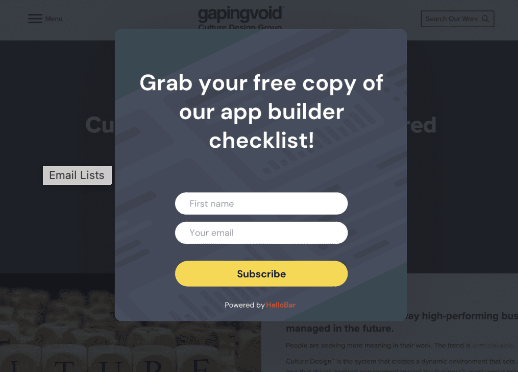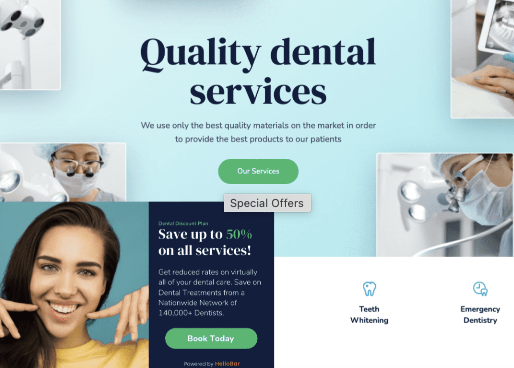 How are you doing today and what do you see in the future?
When Hello Bar started it was original and was early in a market of marketing tools to add to websites. That was over a decade ago and a lot has stayed the same but a lot has also changed. The market Hello Bar operates in has matured, with a number of competitors that flat out copied Hello Bar or include similar features and website visitors and what they are looking for have also changed. But,
we continue to win through our brand, platform and how we work with our customers
. While we weren't adding many new features for a while, we have been very active in the last six months. Website visitors are more fickle and hesitant to take action than ever before. Therefore, what Hello Bar does is as important as ever and we need to expand our features to help with the new realities that our customers face:
How can we use AI to make our product more powerful?
How can we add additional testing capabilities into the platform?
How can we create greater personalization now that it's harder and harder to rely on 3rd party data?
We also recognize that marketing changes every day. Therefore, we are in the process of rolling out a newsletter for our customers to be able to learn, get access to other great marketing tools, and be inspired to take their businesses to the next level. However, I want to make it clear this:
Hello Bar does not want to become a Billion Dollar company. We simply want to help our customers build better, more successful businesses.
Are you offering any partnership opportunities at the moment?
We are always looking to partner with great companies who have a similar mission of helping ambitious companies to grow. We are big believers in partnering with like-minded companies to help each other grow and do so with a broad range of companies and people. We have long had a generous affiliate program with even greater affiliates that help more people to be able to use Hello Bar to grow. We also have integrations with a large number of marketing platforms. You can see some of those below: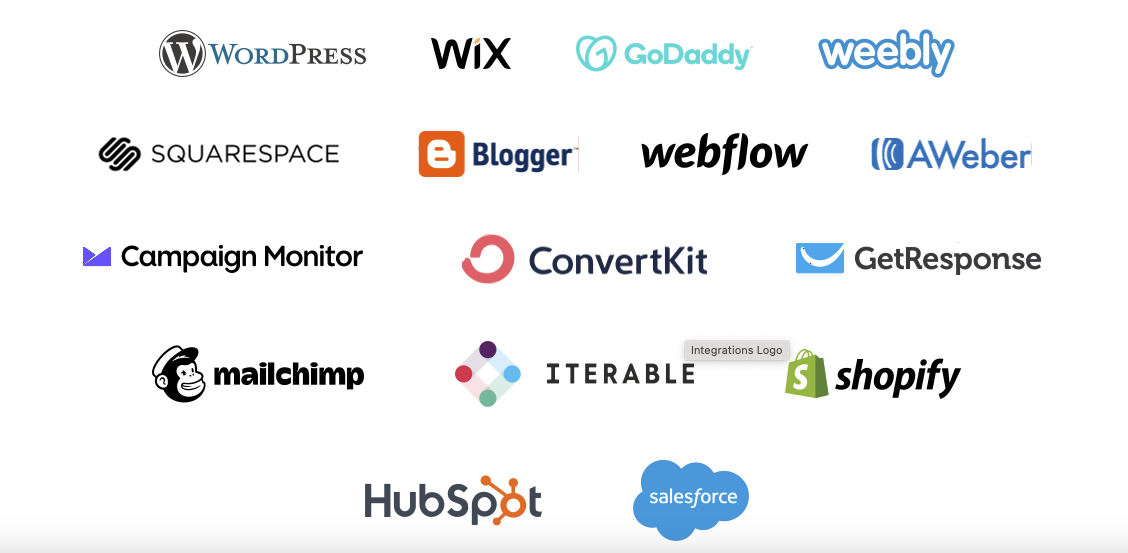 As I have said before, our goal is to help ambitious companies grow. My team and I are here to answer any questions or offer help to use Hello Bar to make your company more successful.