At a glance, both Helcim and Square might seem almost identical. After all, both processors offer proprietary, minimalist POS hardware built for convenience and a slew of e-commerce and analytics tools. That said, a small difference can mean the world when dealing with your business.
You don't want "good," you want the best.
That's why I spent weeks of research and dove deep into hundreds of merchant reviews to find the better payment processor for your business in 2023. The differences between Helcim and Square start to grow apparent the closer you look. Sure, Square might have a bit of a lead in the features department. But
Helcim's reliability, ease of use, pricing transparency, and commitment to security make it by far the better option for most merchants.
You don't have to take my word for it. Keep reading to discover why Helcim is a much better processor than Square for most merchants.
Features
Helcim Tools Are Simple and Reliable, but Square's Catalog Is Unparalleled
Square and Helcim have fundamentally different approaches toward features. Helcim looks to offer the most streamlined and simple experience it can. That means that while it doesn't miss anything essential, its suite of features is also a little limited. On the other hand,
Square strives to be an all-round solution for as many merchants as possible
, which translates into a very robust offering for (almost) all kinds of businesses and industries.
In terms of point-of-sale (POS) devices,
Square offers a wide variety of equipment
that ranges from small, portable readers to full-fledged over-the-counter terminals. You also have the option to get its more powerful POS devices pre-configured with industry-specific software. Helcim, on the other hand, offers only two devices: the Helcim reader, a small and to-the-point device that connects to Helcim's (more notable) software, and
the Helcim Smart Terminal, a much more powerful and versatile handheld device
.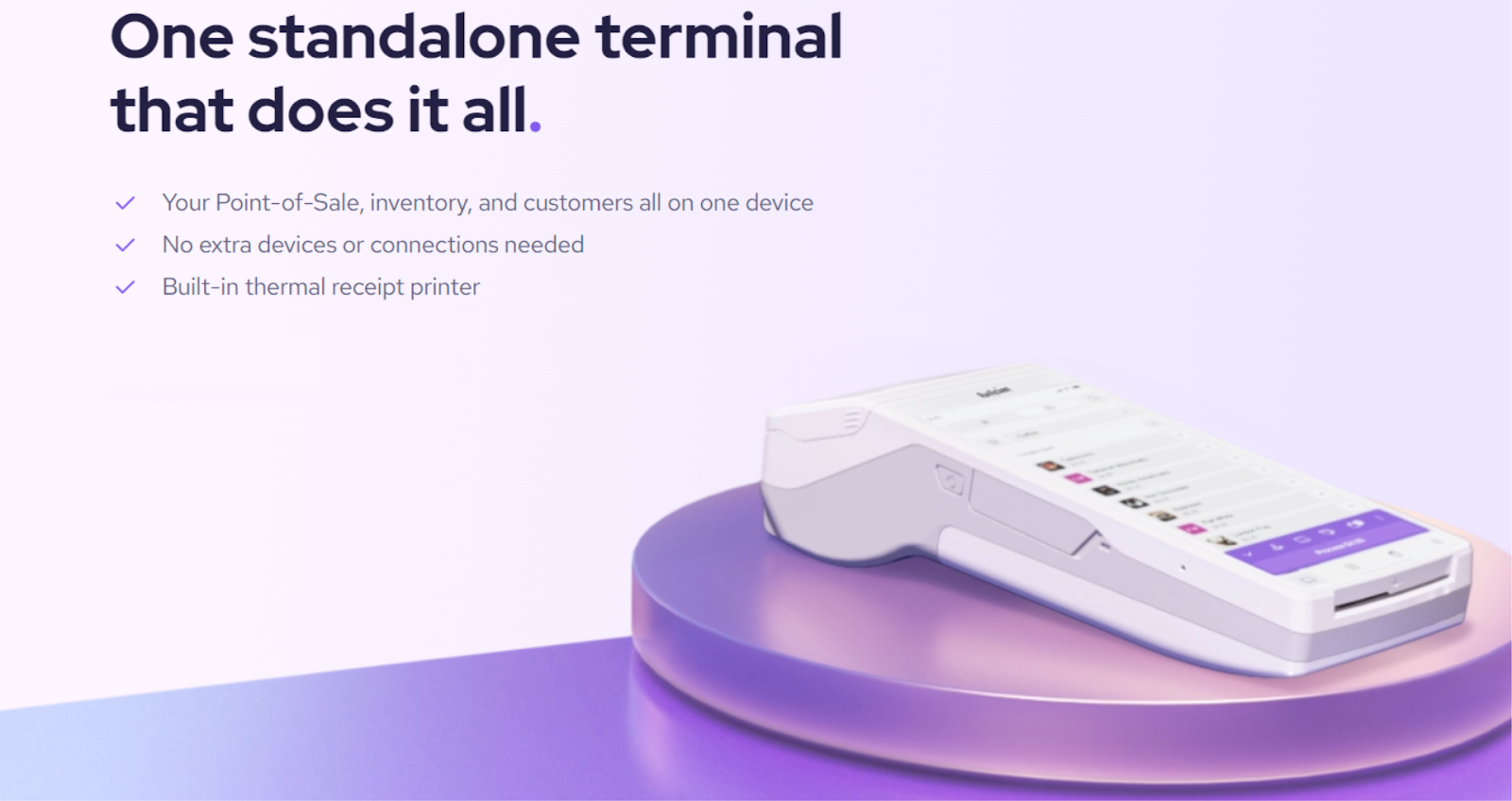 Though the Smart Terminal is a rather impressive device, I'd be remiss if I didn't note that its main difference with the Square Terminal seems to be overzealous marketing. Either way, it's worth mentioning that
both processors require you to buy the equipment outright, but Square offers monthly payment plans.
If you run a mostly brick-and-mortar business, Square's greater POS variety makes it the better option, but to be honest, both processors' strength really lies in their e-commerce. Both Helcim and Square offer virtual terminals, proprietary payment gateways, easy invoicing, and recurring billing tools. While both processors offer website-building features,
Square offers a full (though basic) website builder, which allows you to design and publish your own e-commerce store.
Helcim, on the other hand, only lets you create an online checkout page. It can come in handy as an add-on to a pre-existing website, but it's not enough to create an online identity. If you want access to actionable information about your customers' shopping habits, Square has a set of proprietary analytics tools. You can also get access to useful analytics using Helcim, but it has to be through compatible, third-party software.
In the end, while both Square and Helcim offer outstanding e-commerce tools, Square offers additional features and a much larger POS catalog.
Ease of Use
Both Offer a Simple Sign-up Process, but Helcim Lets You Know Where You Stand
Both Helcim and Square pride themselves on an easy and speedy sign-up process. If you want to create an account, all you have to do is go to their respective websites and click on
Get Started
. There, you'll have to input some basic information, such as an SSN, banking details, and a valid ID.
Helcim might make you wait a couple of days before approval, but you can start processing with Square right away
.

Though it takes a little longer to vet you, Helcim offers excellent customer support to help you through every part of the setup process, while Square pretty much just leaves you on your own. Once approved, you'll notice that
Helcim's dashboard is incredibly intuitive
. It takes a stunningly short amount of time to learn its ins and outs, even if you have no experience with credit card processing.
The bad news is that if you already own any POS equipment, chances are you won't be able to use it.
Neither processor offers any integrations with third-party card readers, and the integrations with extra hardware such as printers and cash drawers are limited.
The integrations with third-party software are more extensive, as both processors offer website builder and custom shopping cart API integrations. So far, Square offers a slightly faster setup process, while Helcim offers a slightly more intuitive dashboard. While it might appear that both processors are on par, there is one thing that puts Helcim on top.
It's way less likely that Helcim will drop your business without prior notice.
The reason that Helcim takes longer to set up your account is that
it actually vets you
.
Square accepts all merchants immediately and later decides if they're incompatible with any of its terms of service.
This has led to multiple accounts of merchants losing considerable amounts of money when Square freezes their funds without prior notice. The assurance that you won't suddenly lose your money is definitely an ease-of-use feature here – so I'd say that this win goes to Helcim.
Compliance and Security
Helcim Goes the Extra Mile to Ensure Your Peace of Mind
Whether you decide to go with Square or Helcim, you can rest assured that they both follow the highest standard of security set up by the Payment Card Industry Data Security Standard (PCI DSS). Helcim also submits to the voluntary guidelines set forward by the National Institute of Standards and Technology (NIST). However, depending on the kind of processor that you choose, it's not enough for it to be Level 1 PCI-certified.
You also need to meet PCI regulations on your end.
As a payment aggregator, Square doesn't require any extra legwork on your end.
As long as Square is certified, you have nothing to worry about. That said, there are still some common-sense security measures you should take when dealing with your customers' credit card information. Once again, Helcim requires a bit more work from you as a merchant, but it also provides the assistance necessary for you to become PCI certified. That extra work upfront can save you a lot of trouble in the long run.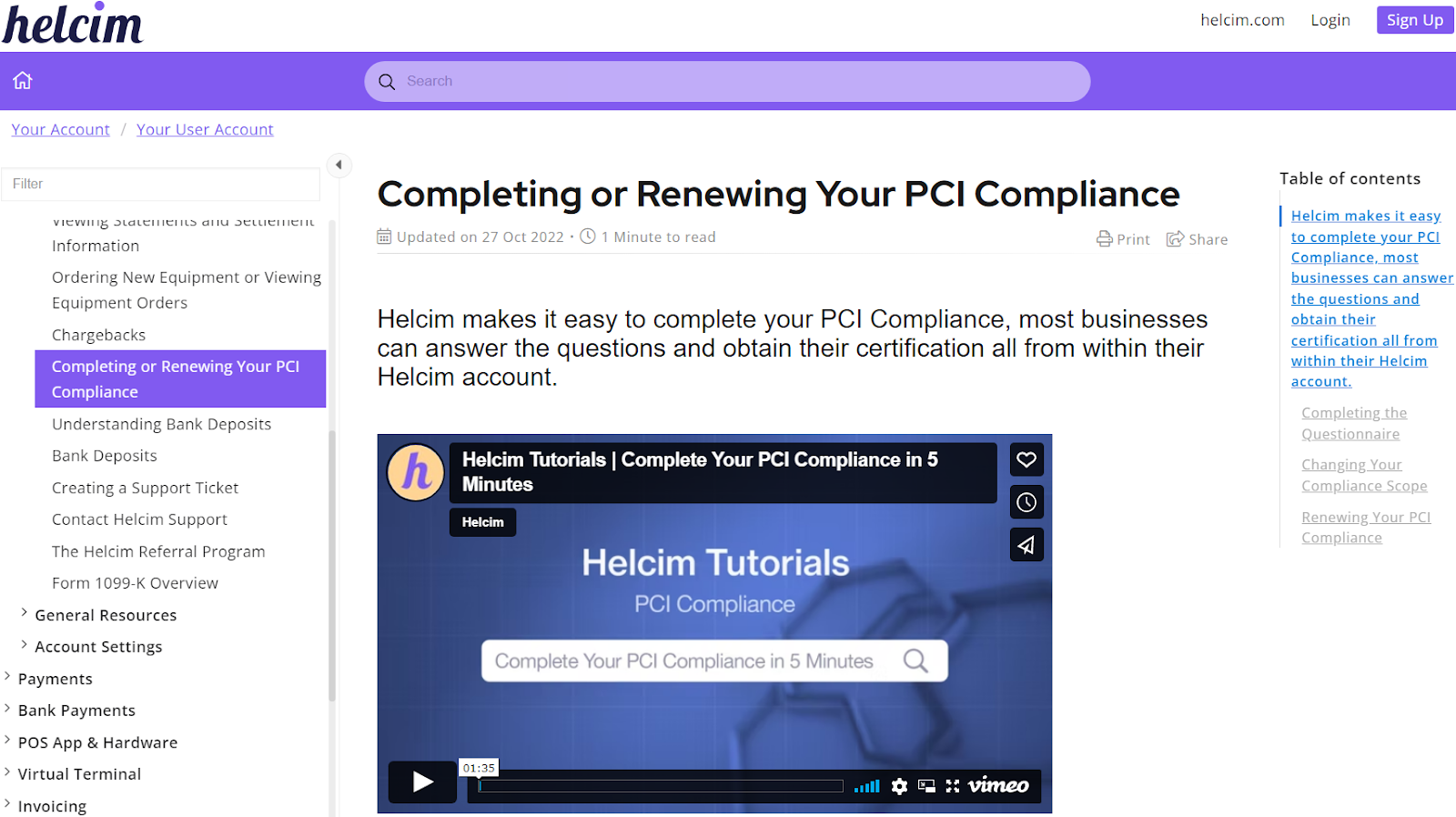 To ensure that you're PCI-compliant,
Helcim offers a free PCI compliance
 questionnaire and tons of informative video and written material.
Though I couldn't test this, it seems that Helcim also offers free PCI assistance to its customers through the usual support channels. Besides PCI certification, both processors offer state-of-the-art fraud identification and prevention tools. So regardless of which you choose, you'll have the tools to avoid and dispute chargeback fraud. Both processors offer robust security features. However,
Helcim goes above and beyond with its NIST certification, which gives it the edge in this category.
Pricing
Square Is Cheaper Overall, but Helcim Offers Better Value
One of the biggest pros that merchants report about Helcim is its pricing transparency. Though Helcim uses an interchange-plus pricing model, which is famously not the simplest for merchants,
Helcim's page is filled with detailed information to help you understand exactly how much you'll be paying per transaction
. Generally speaking, you can expect to pay about
0.30% + 8¢ (in-person)
for card-present transactions and
0.50% +25¢ (online)
 for card-not-present transactions. The fees change depending on your monthly income, though
. If you start earning over $25,000 a month, Helcim's fees grow progressively cheaper.
Square, on the other hand, offers a series of fixed fees depending on the specific plan that you contact. Your markup should be about
2.5% + 10¢
 for card-present transactions and about
2.9% + 30¢
 for card-not-present transactions, with a monthly fee of anywhere between $0 and $60 depending on your plan. Square is going to be a little cheaper for businesses making under $25,000 a month, while Helcim is going to be the cheaper option if you make over that.
Helcim's model is transparent and more convenient overall.
For a quick overview of how both pricing models compare, see the table below:
Helcim
Square
Monthly fee on the cheapest plan
$0
$0
Transaction fees on the cheapest plan

0.30% + 8¢ (in-person)

0.50% +25¢ (online)

POS hardware

Helcim reader
Helcim Smart Terminal

Magstripe reader
Contactless & chip reader
Square Terminal
Square Stand
Square Register

Integration with third-party hardware
Limited

✔

Payment gateways
Proprietary
Proprietary
Payout times
2 business days
1 business day or same-day funding for a fee
PCI-assistance

PCI assistance questionnaire
PCI learning materials
Free PCI support

Fraud detection tools

✔

✔
Support
Amazing Phone Support From Both, but Square's Email Support Could Be Better
In terms of support channels, both processors have about the same offering, with email, ticket, and phone support lines (though I had to dig a little deeper than I'd liked to find Square's phone number). But we all know that
having more or fewer channels doesn't actually mean that much if the
actual support offered
is subpar
, so how did these two processors fare? Honestly, surprisingly well. I started off by calling both processors' support lines relatively early in the morning. From my previous experiences with customer support in general, I know that the quality can vary greatly depending on how much you annoy the actual representatives. I made sure to lay on my thickest Mexican accent and act absolutely clueless about most things to really test how each representative dealt with a less-than-ideal customer. The results? Amazing.
Both representatives kept a friendly and composed manner – even when going over the same thing multiple times or clarifying things that should be obvious from the website.
Both agents connected the call in under three minutes and made sure to walk me through each one of my doubts in detail. If you're not a fan of speaking on the phone, however, your support experience might be vastly different. I filled out a ticket with Square and sent a direct email to Helcim. Not only did Helcim answer my email in a swift and satisfactory manner, Helcim's representative also sent the following email immediately after my call: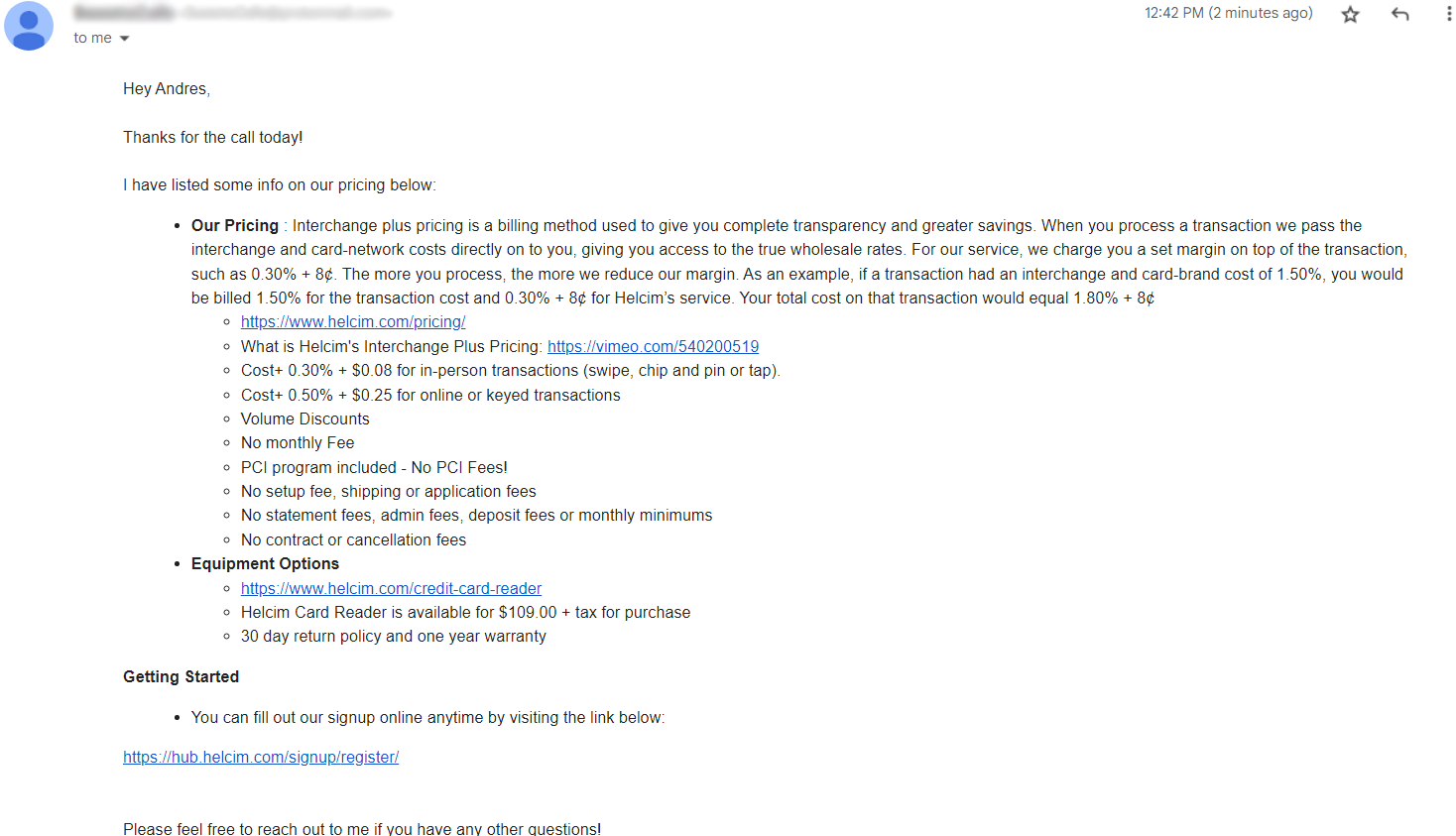 The email was comprehensive, understandable, and crucially
much better than getting no response whatsoever three days after filing a ticket, which is what happened with Square.
The worst part is that this isn't even the first time Square's email support has left me on read. In another review, I wrote about how Square hadn't answered a query four days after my original ticket. That article was written a couple of months ago, and
I still haven't received an answer
. So as positive as my support experience might have been with the phone representatives,
I'm afraid that Square's completely broken ticket system gives Helcim an easy win.
Helcim's Offering Is Slimmer, but It Ensures a Top-Notch Service
While Square's myriad of features is enough to entice any merchant,
Helcim's quality support, ease of use, and robust set of security tools make it by far the better option for most
. Even when it comes to features, Helcim might offer slightly less, but by no means does it offer little. Some merchants could still benefit from Square's selection of modern POS devices and a variety of online tools. However, you can't put a price on the security of knowing your account won't be suspended or canceled without notice.
For a quick glance at how both processors stacked up, take a look at the comparison table below:
Features
Powerful e-commerce features and simple POS hardware
Powerful e-commerce features and a variety of POS hardware
Ease of Use
Slower setup time with better overall user experience
Immediate setup but a little harder to get used to
Compliance
Level 1 PCI-compliant and a suite of assistance tools
Level 1 PCI-compliant, doesn't require compliance assistance
Pricing
Interchange-plus, transparent pricing
Fixed pricing plans with better value for businesses making under $25K a month
Support
Large knowledge base and great phone, email, and ticket support
Large knowledge base, great phone support but bad email support
FAQ
Is Helcim better than Square?
Normally, I try to give a nice, political "it depends" to this sort of question, but the data suggests that yes, Helcim is indeed a way better processor. For the most part, both processors offer very similar features and a strong focus on e-commerce, but Helcim offers better overall support, security, and user experience. That's not to say that no one can benefit from Square. Depending on your business, Square might be the most logical choice for a good return on investment.
Is Helcim a good company?
Helcim is a reliable and trustworthy processing option for merchants focused on e-commerce. It offers great customer support, reliable service, and easy-to-use software to handle your credit card transactions. Overall, if you sign up with Helcim, you can count on high-quality assistance and care.
Is Square trustworthy?
Square is Level 1 PCI certified, so you don't have to worry about it keeping your and your client's credit card information secure. However, there have been reports of Square changing its terms of service overnight and freezing merchants' funds without prior notice. So you do need to keep a close eye on Square's terms of service, especially considering that Square doesn't have a vetting process at sign-up.
Is Square good for small businesses?
Square is a good processor for small businesses with a strong focus on e-commerce. Square offers user-friendly setup and software, as well as a range of point-of-sale devices that cater to a variety of different needs. That said, I wouldn't say it's the best processor for small businesses. To learn more about the best processor for you, check out our list of the top 10 credit card processors in 2023.