now offer a freemium product
. But can GoDaddy really compete with a giant like Squarespace?
On the surface, it might seem like there's little to separate these two web builders,
but looks can be deceiving. Taking advantage of my 5+ years as a digital content creator, I put both GoDaddy and Squarespace through their paces to see where the similarity ends. Investigating each builder's features, flexibility, pricing, and support, I discovered that
GoDaddy simply can't match Squarespace when it comes to design, customizability, or functionality
.
Try Squarespace now with a free 14-day trial
, or read on to discover why it might not be worth investing your time in GoDaddy.
1. Templates
GoDaddy Simply Can't Beat Squarespace's Stylish Designs
Squarespace starts by letting you choose from more than 80 different templates. These are grouped into 14 categories that cover just about every industry out there, from blogs and portfolios to online stores and restaurants. Once you've chosen your template, you can alter it pretty much as you want –
Squarespace offers a level of customization unmatched by most website builders out there.
You can even switch to another preset template (version 7.0) if you want to make really major changes. All of the designs are mobile-responsive and, for want of a better word, they're
gorgeous
: clean, stylish and modern, trending towards the Apple-esque minimalism that Squarespace is well-known for.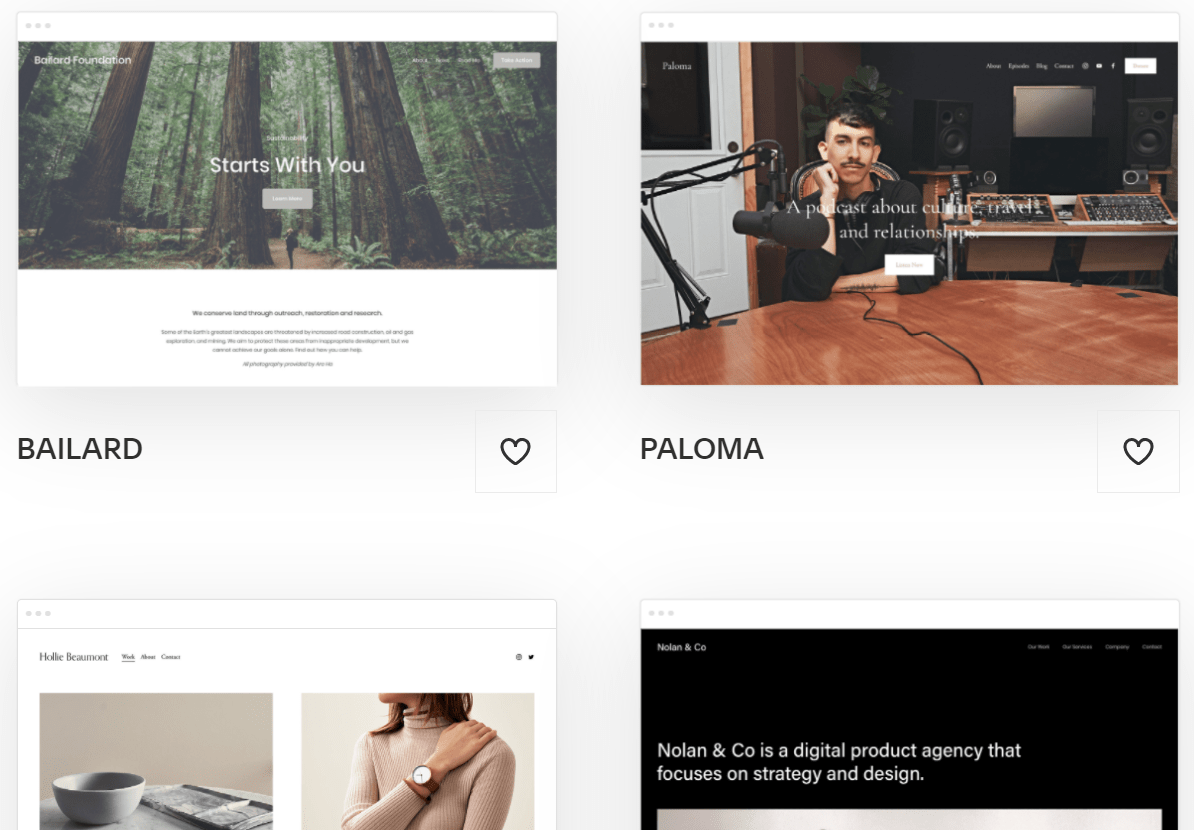 It's this same pared-back design that GoDaddy is clearly striving for with
its 300 mobile-responsive templates
, which are ordered into 13 categories to cover all kinds of different industries. You can also switch to a new template at any time, even after you've started editing. Beyond that, however,
your creative control is limited
. You can change text size and font, and edit buttons and your colour scheme, but that's about it. This limited customizability is a major drawback because, for all their striving,
GoDaddy's designs certainly aren't as professional-looking as Squarespace's
. It's difficult to pinpoint exactly why, but they just look
cheaper
(and not just because I picked a cheesy stock photo of a dog during testing…) Either way, Squarespace has to take the point here.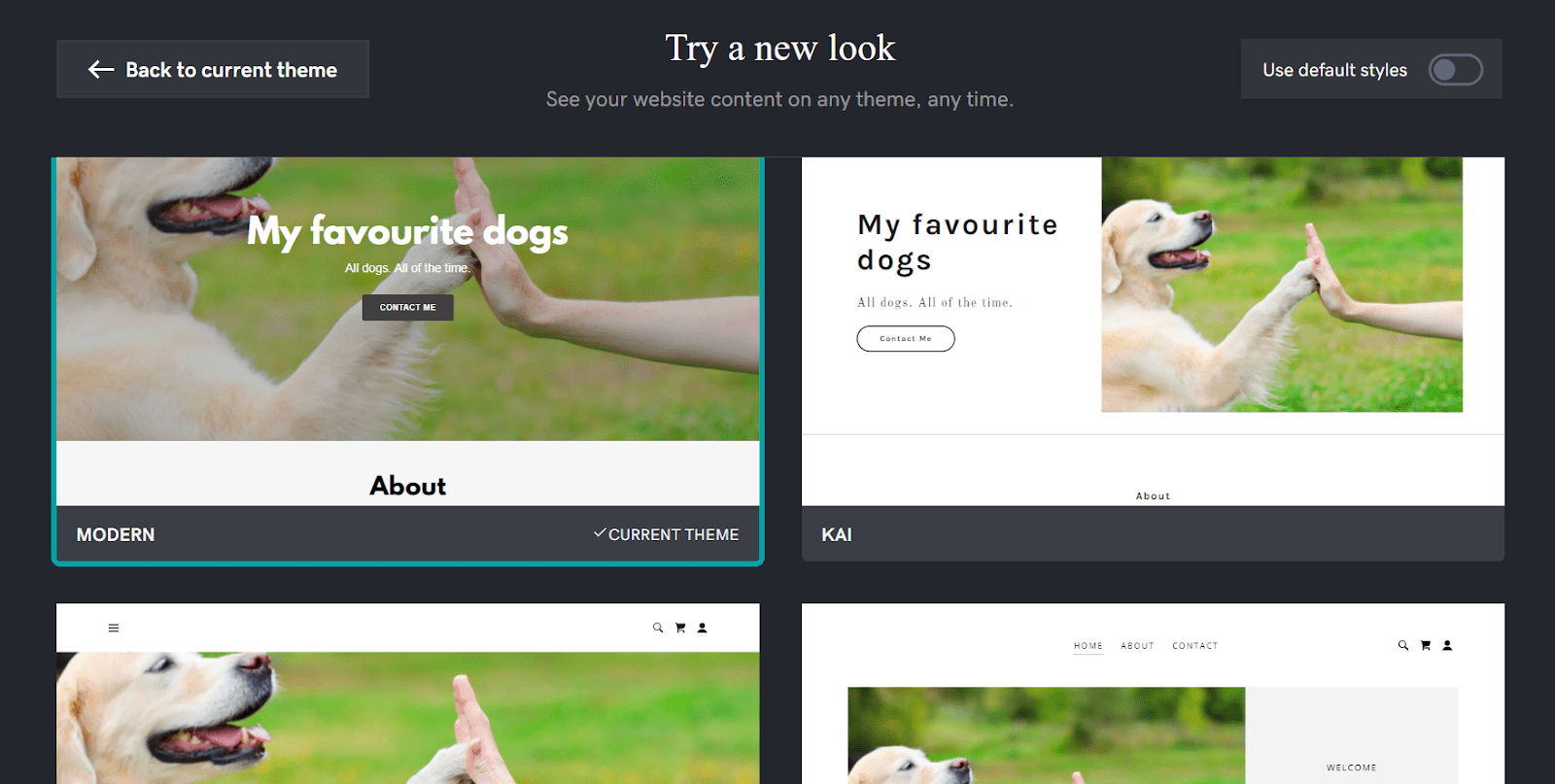 2. Features and Ease of Use
GoDaddy Is Easier, but Squarespace Offers More
Whatever your opinion on its templates,
you can't fault GoDaddy on ease of use
. It offers a neat point-and-click editor with a simple, intuitive toolbar. For the real beginners, it even makes use of ADI (Artificial Design Intelligence) to get you started and make your website feel like less of an overwhelmingly blank slate. Based on the type of website you're creating, it selects a theme for you, even adding a stock photo and some basic text. When it comes to adding new sections, GoDaddy has hundreds of different types of content blocks to choose from (some which will cost extra) – including photos, social media integrations, contact forms, gift cards, and reservations – split up into 25 different categories. There are also a number of useful business tools for SEO, marketing and social media.
The GoDaddy app even lets you edit your website on the go
 – something not offered by all website builders.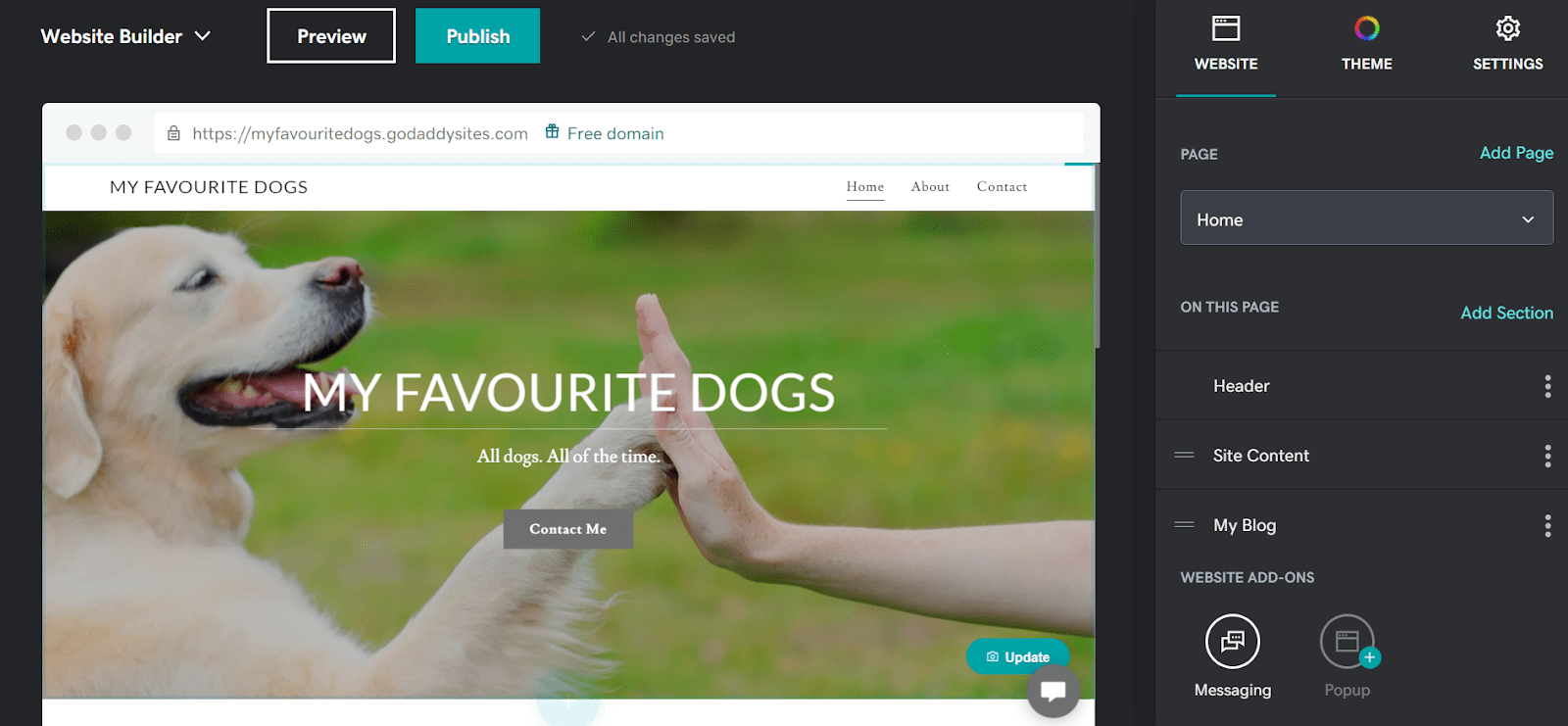 Squarespace, on the other hand, represents a bit of a steeper learning curve. There's no denying that
the custom WYSIWYG editor just
feels
less intuitive than the GoDaddy editor
 – but it's by no means impossible. Once you get your head around it, it's easy enough to work with and the number of quality features on offer – from food menus and contact forms to RSS feeds, social media feeds, appointment scheduling and e-commerce products. There's even a logo maker and the option to add custom code (with the more expensive plans). Once you've chosen your content block, you can drag elements around to put them where you like – within limits.
You can't just put anything wherever you want
, because Squarespace wants you to keep everything looking good and mobile-friendly. But for the more aesthetically-challenged individuals among us, this is probably an advantage rather than a disadvantage: you may not have full creative control, but at least it keeps you from making any truly heinous design faux-pas.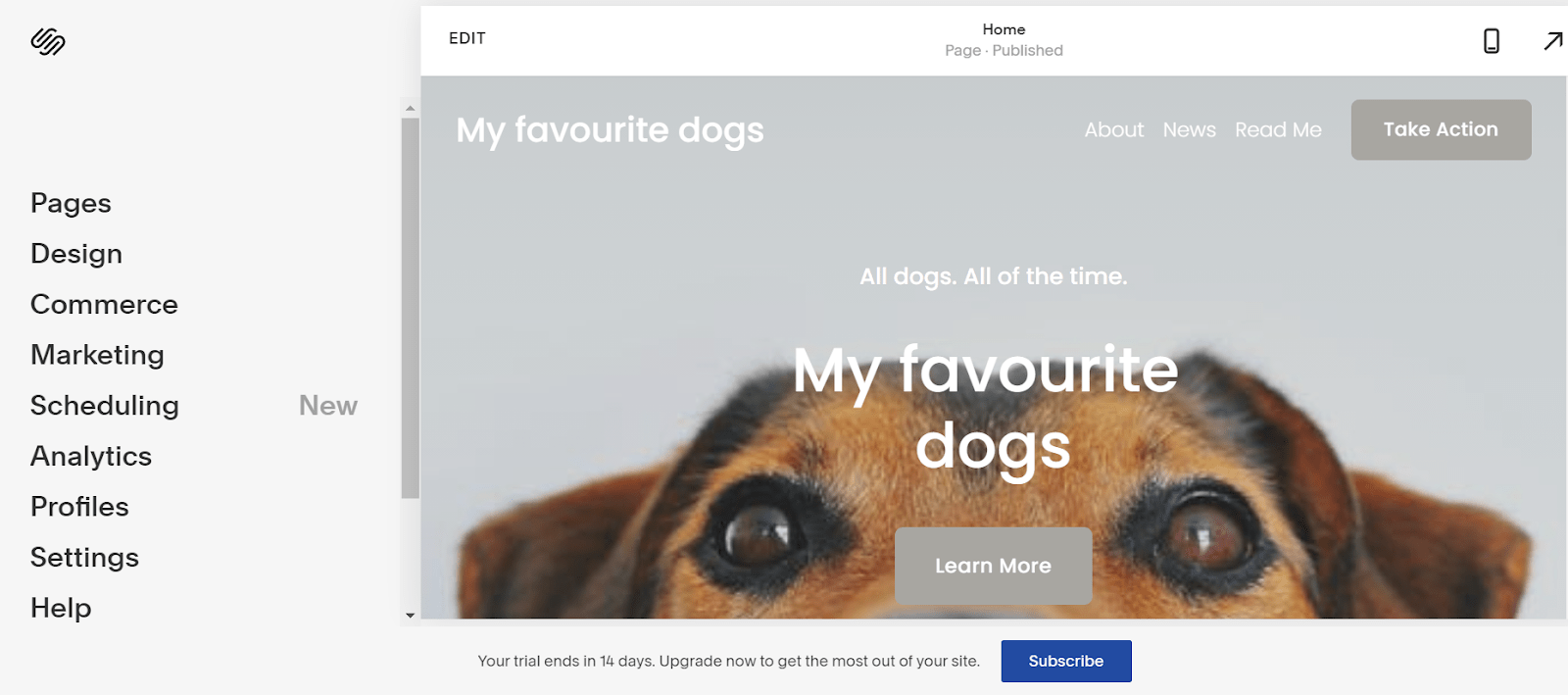 3. Apps, Plugins, and Add-ons
Squarespace Has the Best (Limited) Choice
Neither Squarespace nor GoDaddy has its own app market
 – features are already built in so you don't have to worry about dealing with third parties. But this also means you lose the levels of customizability that you get with a web builder like
Wix
 or
WordPress
, where the range of apps and plugins is virtually limitless. In the battle between GoDaddy and Squarespace, however, Squarespace comes out on top, thanks to the higher quantity and quality of built-in integrations it offers.
GoDaddy only has a limited number of extras to enhance your site's functionality, including:
Restaurant reservations
Online food orders
Real estate listings
Instagram business posts
Reviews
While these add-ons are certainly useful if you're running, say, a restaurant or a real estate business – for other types of businesses they don't add all that much. Like GoDaddy, Squarespace also has a limited number of third-party extensions, with no way of adding extras, but there's a lot more on offer.
Squarespace has teamed up with a bunch of external services to expand its functionality, including:
Google Maps
OpenTable
SoundCloud
YouTube
Vimeo
Apple Pay
PayPal
And many more
As well as allowing you to cross-publish your blog posts, Squarespace also lets you do things like embed maps and YouTube videos, take reservations, process payments, manage shipping costs, and create feedback surveys.
4. E-commerce
Similar E-commerce Features, but Squarespace Has the Edge
Both GoDaddy and Squarespace have similar e-commerce features
 (although they're only available with the most expensive GoDaddy plan), including:
SSL security
Support for PayPal, Stripe, and Square as payment processors
Unlimited products
Abandoned cart reminders
Digital and physical product sales
Building an online store with GoDaddy is very easy. You simply add a "Products" block and then enter your product information. If you have a Square account, you can also import up to 10.000 products directly. Other features on offer include the option to do external sales through platforms like Amazon, Etsy and eBay, sale notifications via SMS, and product reviews via the Yotpo integration. It's also worth mentioning that
GoDaddy doesn't charge a sales commission
 and it has really low rates with PayPal.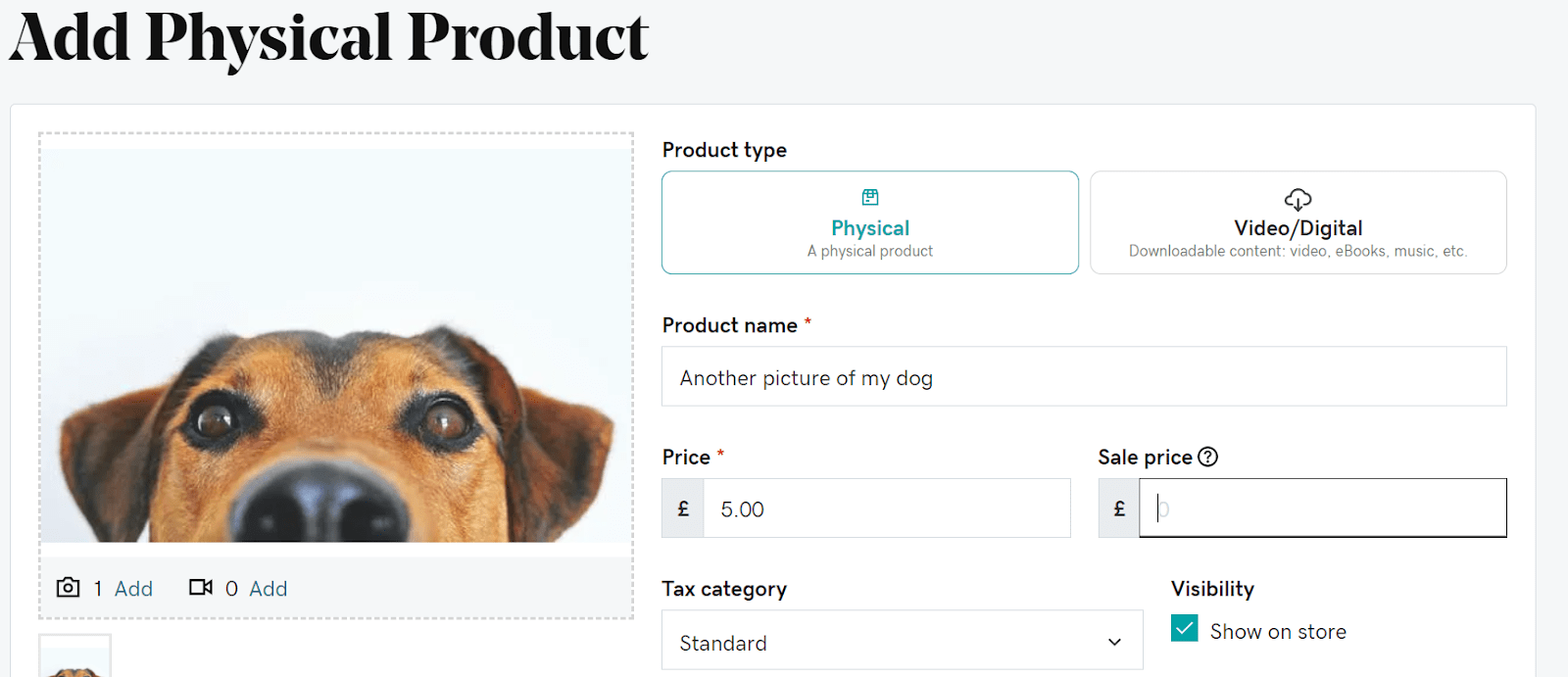 If you take out a cheaper Squarespace plan, you'll be charged a 3% transaction fee on every sale you make. However, this charge does not apply to the two most expensive plans. Once your store is set up (which takes just a few clicks), you can import your products via a CSV file or your Square account, if you have one. You can also get automatic tax calculations, sell gift cards and subscriptions, sell via social media, and get an automatic shipping fee calculation (only for the US).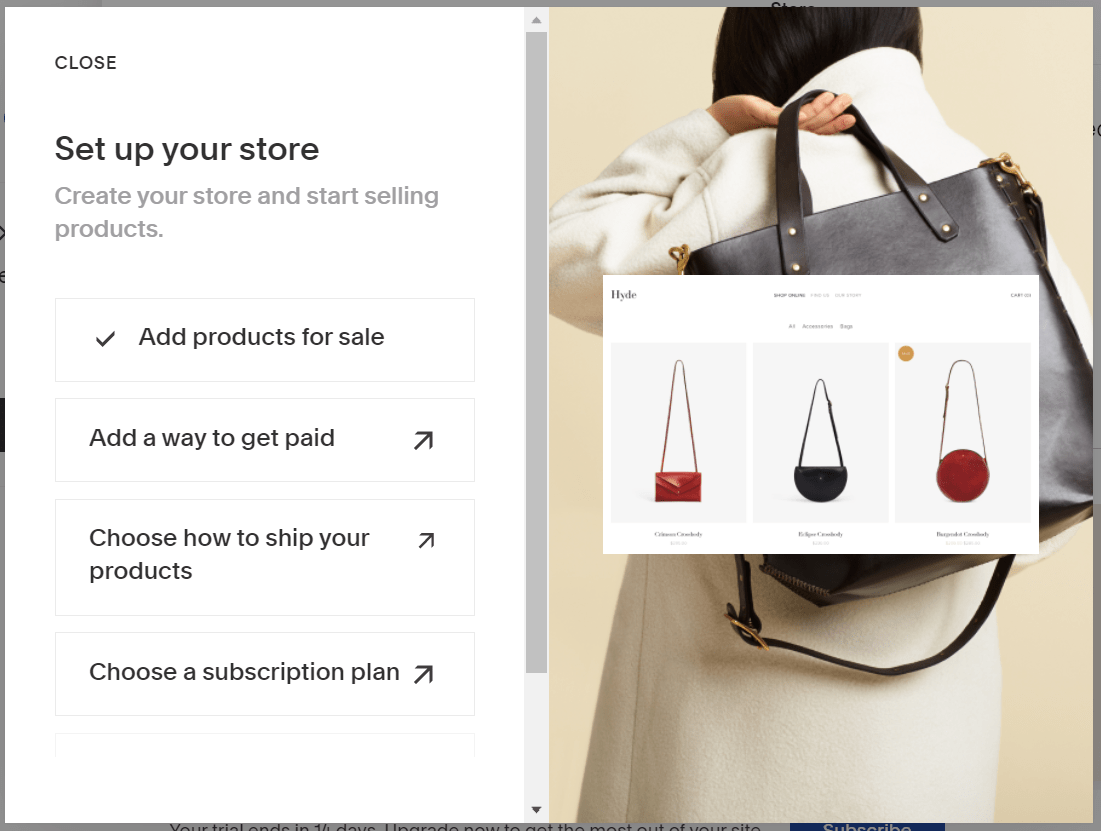 Squarespace also has the added bonus of offering Square integration, meaning that you can sell your products offline, take card payments, and keep everything synced in your online inventory. These added features, and the greater variety of plans for different business needs, mean that
Squarespace just beats out GoDaddy on the e-commerce front
.
5. SEO
Basic Stuff All Round
Of course, you're not just building a website for the fun of it; the idea is to make your business or blog or whatever a roaring success. That's where SEO tools come in useful.
Both Squarespace and GoDaddy offer basically identical SEO features
 to help make your website easier to find via Google and other search engines (although these tools are only available on the more expensive GoDaddy plans). With each web builder, you can:
Edit meta titles and descriptions
Change URL slugs
Add image alt texts
Receive keyword support
Use mobile-responsive themes
For an extra cost, you can also employ the help of
GoDaddy's automated SEO wizard
, while
Squarespace offers a free handy checklist
 or the possibility to hire a Squarespace SEO expert. Squarespace also recently released Squarespace Analytics, a useful tool which identifies the search terms that drive the most traffic to your site, helping you to fine-tune your content toward your visitors' needs and interests. Let's call this one a draw.
6. Pricing
Is Squarespace Worth the Extra Cost?
Only GoDaddy offers a free plan.
 However,
Squarespace does have a free trial
, and its pricing seems pretty fair considering the quality of what's on offer. All of Squarespace's plans come with:
Free custom domain
Unlimited bandwidth and storage
SEO features
Unlimited templates
24/7 customer support
If you upgrade to the second-tier "Business" plan, you get access to e-commerce features (although you will be charged transaction fees), complete customization capabilities, premium integrations, and advanced website analytics. If you're a larger e-commerce website and you don't want to pay transaction fees, you might consider upgrading to one of the two most expensive plans, which both also give you customer accounts, e-commerce analytics and Instagram product integration. Only the most expensive plan offers abandoned cart recoveries, the option to sell subscriptions and advanced shipping.
GoDaddy offers four different paid subscription plans: three for personal or general business websites and one for online stores. All of the plans come with:
SSL security
Free custom domain
On-the-go-editing
24/7 support
If you upgrade to the Standard plan, you get more SEO, social media and marketing tools, while the Premium and E-commerce plans both also come with up to 25,000 monthly marketing emails and online appointments.
E-commerce features are only available on the most expensive plan
.
While GoDaddy's Basic plan is much cheaper than the Squarespace Personal plan, in my opinion the additional functionality you get with Squarespace makes it worth the extra cost.
| | | | | |
| --- | --- | --- | --- | --- |
| | Squarespace Personal | Squarespace Basic Commerce | GoDaddy Basic | GoDaddy Ecommerce |
| Free domain | Yes | Yes | Yes | Yes |
| Bandwidth | Unlimited | Unlimited | Not specified | Not specified |
| Storage | Unlimited | Unlimited | Not specified | Not specified |
| SEO tools | Yes | Yes | No | Yes |
| Analytics | Basic website metrics | Basic website metrics & Advanced website analytics | GoDaddy Insight | GoDaddy Insight |
| Support | 24/7 support | 24/7 support | 24/7 support | 24/7 support |
| Unlimited products | No | Yes | No | Yes |
| Gift cards | No | Yes | No | Yes |
7. Support
GoDaddy's Phone Support Goes Head to Head with Squarespace's Ticket System
GoDaddy offers 24/7 customer support via phone and a live chat option
 that is open Monday to Friday 9am – 9pm AEDT. There's also an extensive Help Center with a blog, FAQ, a community forum, and an incredibly comprehensive How-To section filled with video tutorials. All kinds of support are available on all plans. Putting aside my lifelong dislike of talking to people on the phone, I took it upon myself to call up GoDaddy support and put it to the test. I waited for a little over five minutes before getting through to a very friendly, helpful agent who asked all of my (probably infantile) questions patiently and thoroughly. Going around the other way, via the Live Chat option, I was told the waiting time was 22 minutes but only ended up waiting a few minutes – but then it took quite a bit of back and forth to get a full answer to my question.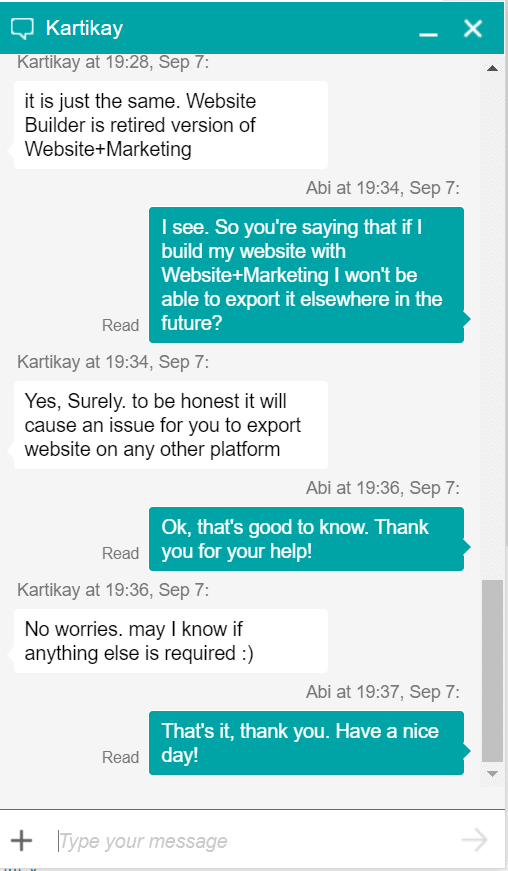 Squarespace offers 24/7 support via a combined email-ticket system and a community forum.
 They also have live chat Monday – Friday between the hours of 4am and 8pm EDT. There's no phone support, but, as I've already said, I don't like talking on the phone, so that's not a deal breaker for me. There's also a forum where you can get advice from fellow Squarespace users. The Squarespace help function initiates by requesting you to select your issue from a list. This might be slightly bothersome, as I intended to inquire about the potential of migrating my Squarespace website to WordPress at a later time, a topic that didn't appear to fit within any of their provided categories, and an "other" option was absent. Eventually, I made the decision to click on any random option, typed in my problem, and waited patiently. After approximately ten minutes, Kean W. joined the chat and provided an answer to my question by guiding me to a helpful article.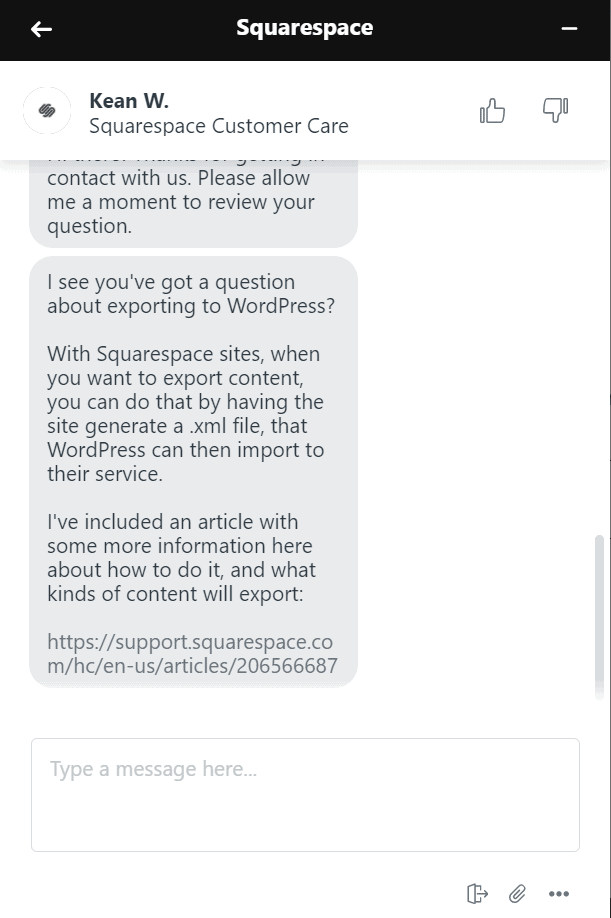 And when I submitted a ticket to Squarespace with a similar question, I received an emailed response in just nine minutes – which is pretty unusual, in my experience.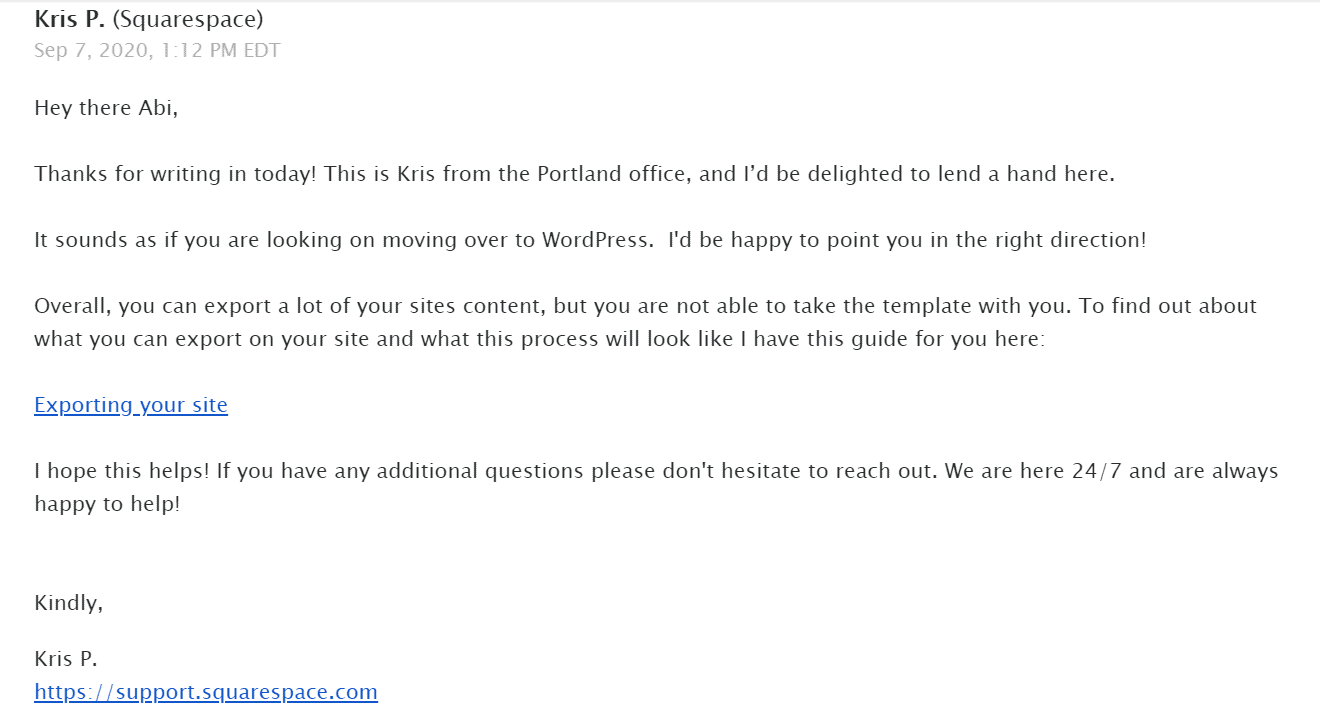 Overall, it's pretty much neck-and-neck, but I'll cast my vote for Squarespace due to the shorter waiting times I experienced.
Conclusion: Cheaper Is Not Always Better
Overall, I'm not sure GoDaddy can quite
measure up to the website builder it's trying so hard to emulate
. It may be a cheaper option than Squarespace – but it shows in its limited design options, fewer built-in integrations, and limited e-commerce features. If you aren't too fussed about having all the bells and whistles for your website, for instance, if you're just starting a blog or a personal website, I would pick GoDaddy for ease of use – plus,
it has a free plan
! But if you want a bit more bang for your buck, on-the-ball customer service, and a sleek, modern site design,
Squarespace comes out on top
.
Free trial
30 days
14 days
Templates
300+ templates, limited customization
80 beautifully-designed templates, virtually limitless customization options
Features and Ease of Use
Simple point-and-click editor, more basic features
Steeper learning curve but extra functionality
Apps, Add-Ons and Integrations
No app market; limited number of 3rd-party integrations
No app market; higher number and better quality of integrations
Pricing
Four tiered plans
Four tiered plans
Support
24/7 customer support via phone and live chat
24/7 customer support via ticket/email system and live chat
E-commerce
Only available on most expensive plan
Plenty of powerful e-commerce features
SEO
Basic tools
Basic tools plus useful checklist
FAQ
Which is better, Squarespace or GoDaddy?
If you're a complete beginner and looking for a simple, easy-to-use web designer that will get you online quickly, GoDaddy is a very good option. However, for more ambitious projects, Squarespace has the edge with its beautiful designs and high number of quality integrations. That's why it ranks highly in our list of the top 10 best website builders in 2020.
Which is cheaper, Squarespace or GoDaddy?
Only GoDaddy offers a free plan. However, you get a lot more functionality with Squarespace – for just a little bit extra. And if you use one of our Squarespace coupons, the price difference could be even smaller.
Should I buy my domain from Squarespace?
All Squarespace plans come with a free custom domain for one year – after which, you have to start paying. Prices vary according to the domain. While you may consider the price worth it for the ease and simplicity of letting Squarespace handle everything for you, you may find a better deal with a different registrar.