Even the best-laid marketing plans can go awry if emails are not reaching your audience. With
GlockApps
, you can test, monitor, diagnose, and fix deliverability issues before sending out your next campaign. We spoke with their
CEO, Alex Markov
, about how their tools test email placement in real-time and reports on delivery issues and how to fix them.
This interview was originally published on 7/5/2020.
What is GlockApps?
GlockApps is a testing, monitoring, and diagnostic tool. It was born out of the need to diagnose the email deliverability problems so many people struggle with. Our four primary troubleshooting tools – Inbox insights, IP Reputation monitor, Bounce tracker, and DMARC analytics – dig into every aspect of email marketing, saving our customers time and money by fixing deliverability problems before they even send out emails. GlockApps tests email placement in real-time and provides a comprehensive report about how the message passes through spam filters and their email spam score. The user obtains the information on whether or not the sending IP address is blacklisted and where the message is placed by all major mailbox providers, including AOL, Gmail, Yahoo, Outlook, Hotmail, Godaddy, and many others.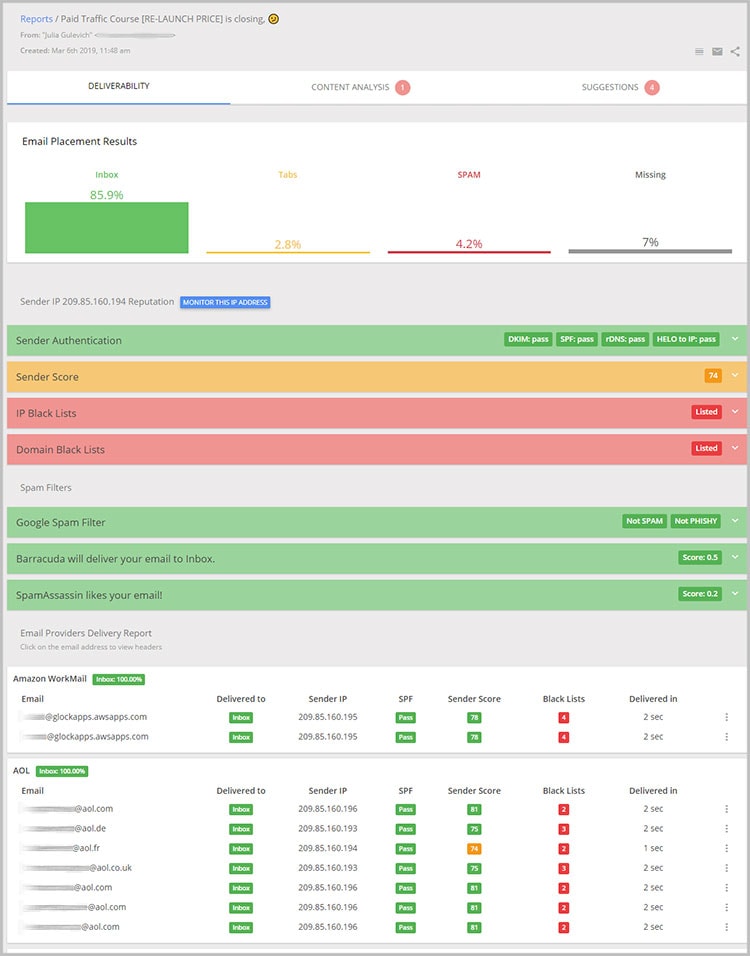 Apart from email testing, GlockApps includes a set of tools for testing the entire sending infrastructure: sending IP addresses, SPF, DKIM, and DMARC records for the domain and provides useful analytics necessary for monitoring the health of the sending system. With our customers in mind, we created software that integrates innovation, efficiency, and affordability.
What is your DMARC Analytics, and what does it check?
DMARC Analytics is one of our troubleshooting tools. A DMARC record is implemented to prevent unauthorized use of the email domain, to block spam, and prevent cyber-attacks. In turn, DMARC Analytics provides full visibility into the sending activity of your domain and suspicious changes. In case of anything dubious, our reporting mechanism will instantly alert the client via email, or, after installation of our free Gappie bot, via Telegram and Slack. DMARC Analytics investigates email traffic and authentication records and alerts the user when it detects: – a drop in the DMARC compliance rate,
– the sudden growth of email traffic from the user's domain,
– changes in the DKIM or SPF DNS records,
– increase of DKIM or SPF authentication failures in traffic from legitimate sources. We know that a cyber-attack can ruin a brand's reputation in minutes, and DMARC Analytics is essential for protecting both the company and its clients.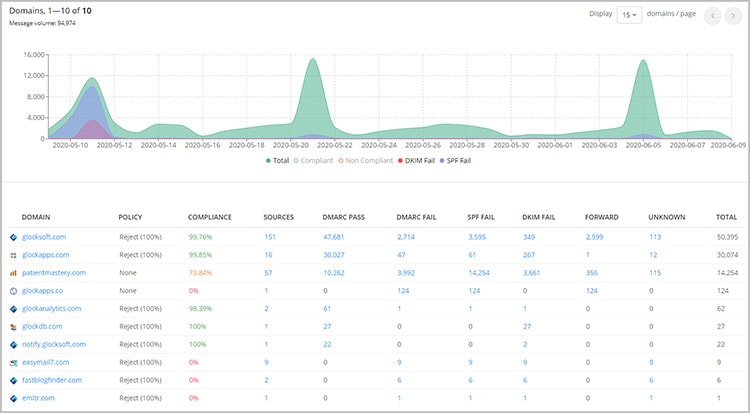 What does Gappie do? Can it detect any security or deliverability issues?
Gappie is our innovative 24/7 email marketing analytics and solutions bot. When installed in Telegram or Slack, Gappie can validate domain records, check IP reputation, spam filtering, and instantly provide compliance security alerts. It tells if a domain has SPF and DMARC records, if the records are valid or not, finds MX records and resolves the hostname to an IP address. In one tap of the finger, it can check the IP addresses against more than 30 of the most common blacklists. Gappie is a unique domain administrator's assistant that is on guard day and night, and instantly alerts of any issue that could otherwise be overlooked.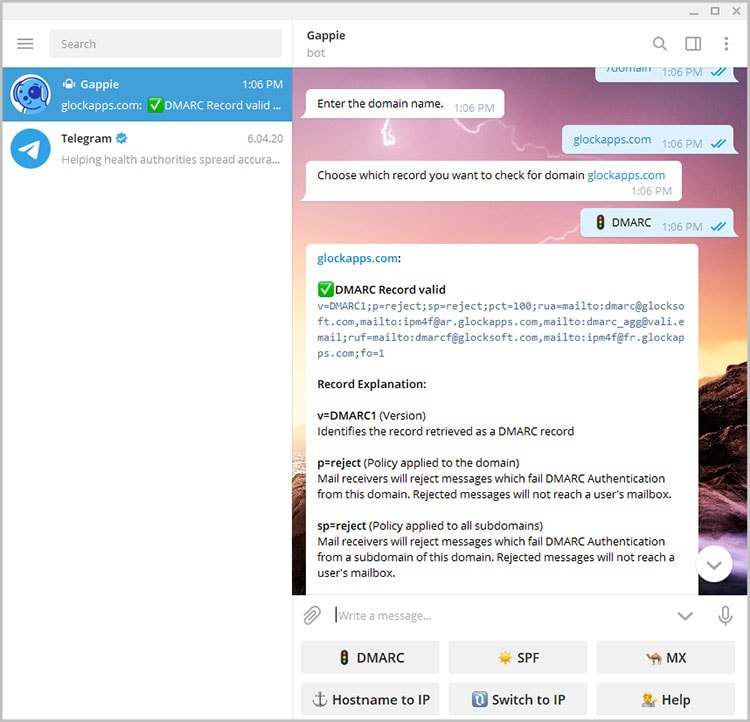 Once DMARC Analytics identifies security issues, how can it protect your domain against abuse by phishers and spammers?
DMARC Analytics receives DMARC reports sent by reporting organizations and presents the data about email authentication. Once an issue is determined, users can take steps to resolve it by setting the 'reject' DMARC policy. Phishers and spoofers won't stand a chance, because email receivers will block any email that failed DMARC, without any negative impact on the domain reputation.
What is IP Reputation Monitor?
IP Reputation Monitor is a valuable tool that shows the IP address sender score and checks the sender's IP addresses against more than 50 popular blacklists, including Spamhaus, SURBL, SORBS, and Invaluement every six hours. It was designed to help senders monitor the status of their dedicated IP addresses and prevent blacklists from damaging email deliverability.
What type of deliverability issues can be solved by IP Reputation Monitor?
Since a sender's reputation and deliverability depends heavily on blacklisting issues, IP Reputation Monitor addresses blacklist-related problems. It diagnoses a dedicated IP address, finds the source of malicious attacks, and helps solve the issue before it affects deliverability. With GlockApps IP Reputation Monitor, marketers save plenty of time, because instead of visiting different blacklist websites, they can simply run a check and instantly receive results.
If IP Reputation Monitor finds your IP blacklisted, can it assist in getting removed?
After running a check, IP Reputation Monitor provides direct links to the blacklists' websites where the IP is found. Following the link, the IP owner can read more about the listing cause and de-listing process.
What is your Bounce Tracker Tool?
Bounce Tracker is a troubleshooting tool for the marketer's mailing list. Problems inside a mailing list, like inactive old addresses, spam traps, typos, etc. generate hard bounces and spam complaints that significantly lower the sender's reputation and deliverability. GlockApps Bounce Tracker receives bounce emails and provides real-time analytics to identify their sources and decide on the right solution.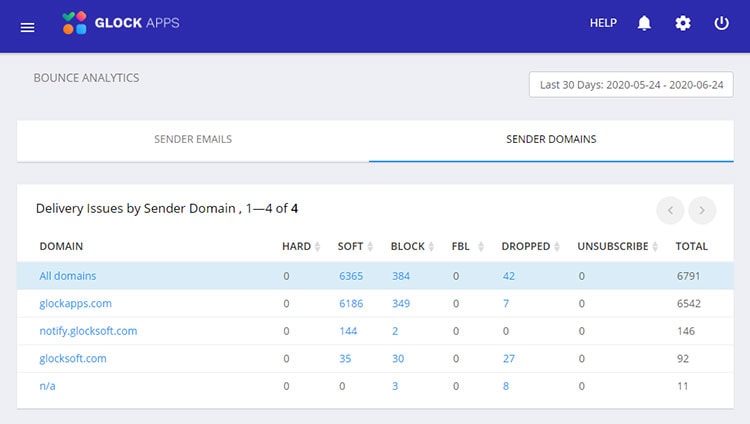 Thanks to the detailed list of bounce messages by bounce type, bounce reason, ISP, sender's domain, and sender's email address, the user can instantly see what kinds of bounce emails prevail, which email campaigns and which senders generate the highest bounce rates. Users can receive email alerts when the tool determines an unusually high number of bounced emails for the past 24 hours with the bounce types and the top 5 bounce error codes and reasons. With auto-generated suggestions for each issue, this tool not only informs about problems, but also expertise on the solution.
Can other platforms be integrated with Bounce Tracker to expand its reach?
Bounce Tracker currently integrates with Amazon SES, SparkPost, SendGrid, and Mailgun. Every time an email bounces, the client receives an instant notification to take action. Also, Bounce Tracker can be connected to an email account where the user receives bounce emails via IMAP.
How does Bounce Tracker determine the variables that cause spam complaints?
Bounce Tracker determines the bounce type by the bounce error code and description. Spam complaints are determined by the FBL emails sent when users complain. Typically, spam complaints are the signal of a bad mailing list management, irrelevant content, and sending frequency.
What type of reports are generated by Bounce Tracker?
Bounce Tracker has three dashboards that provide the full scope of information. The Analytics dashboard shows the numbers and the differentiation of bounced emails by types, sender's domains, and sender's email addresses. It is an overview of received bounced emails during the chosen period. The Bounce Reasons panel gives a breakdown by mailbox providers and bounce reasons such as blocked sender, spam content, a full mailbox, deferred message, etc. In the Live Feed panel, we show the process in real-time as far as bounce emails are being received and processed. The user can see bounce email addresses, bounce reasons, mailbox providers, sender email addresses, and source of the bounce message. The user can export the report in a zipped CSV file.
What support is available to GlockApps users?
The experienced GlockApps support team works hand in hand with our customers to navigate them through the features and functionalities of the tool, help them with the configuration and data interpretation, both pre- and after-sales. We cover all convenient ways of communications, so users can contact us via email or live chat if they have an urgent query. We can set up a call via Skype, Zoom, or connect to the client's desktop via TeamViewer to help them in real-time.