Website Planet
had the chance to interview with Alena Bitton, Director of Strategic Partnerships at Generated Photos, a disruptive project that aims to make generative AI accessible even to those on a budget. We will learn how their tool fixes all the typical pain points users face when downloading stock photos from other providers, and how it helped companies enhance their entertainment or even fight cybercrime.
What problems are you solving with your products and services?
We create photorealistic images of people that don't exist.
What for?
To
empower everyone, even with tight budgets, to get needed graphics in a matter of seconds
. Custom photoshoots are costly and complicated, starting from finding models, the location, make-up, and all that. We know this firsthand as we used to run our own studio. Photo stocks provide photos "as is", and it takes lots of time to find the right photo that will suit your project. Another problem with photo stocks, is that they are all biased. Despite all ongoing efforts to increase diversity, they are still populated mainly with photos of people of limited racial backgrounds. At Generated Photos, you can find or create images of people of all ethnicities and age groups. Moreover, we eliminate all the issues related to model releases, likeness rights, GPDR compliance, and other legal headaches associated with the usage of photos of real people. You can use generated people with no worries at all.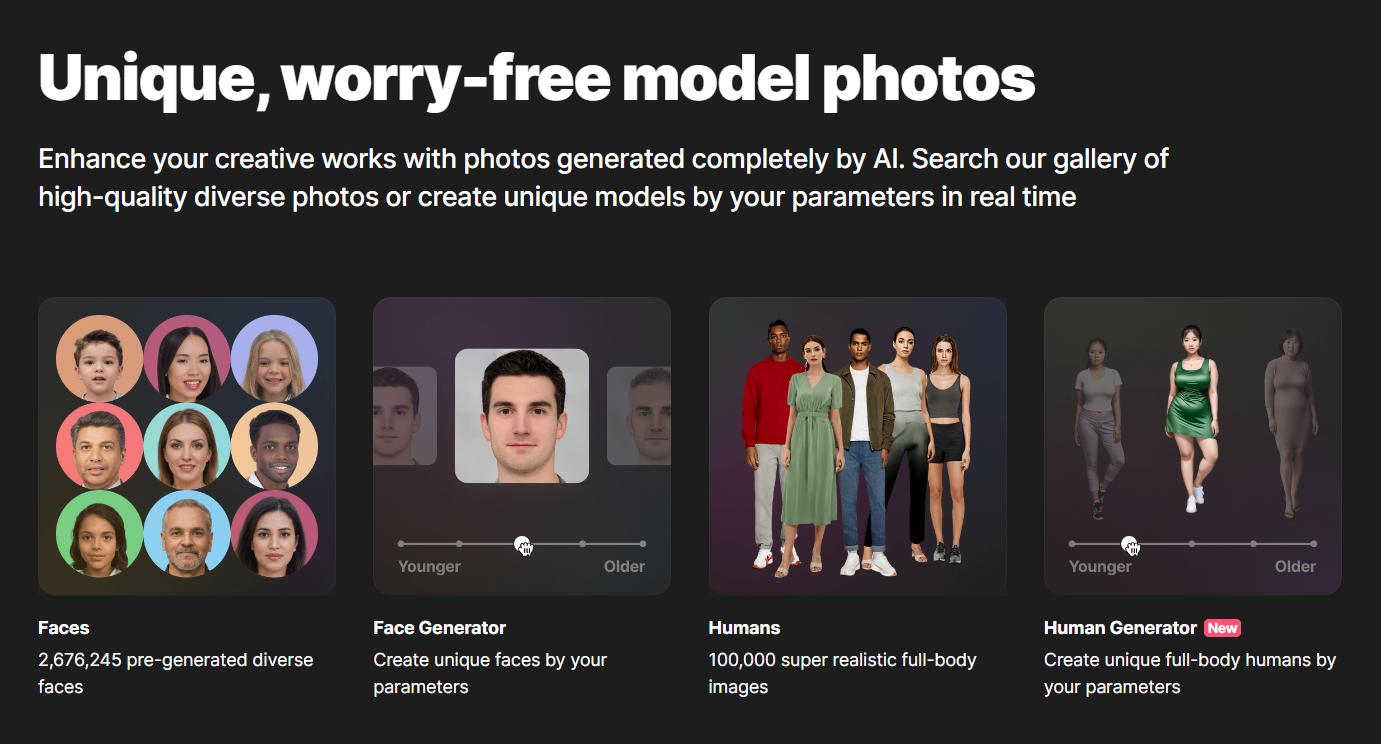 We made a whole range of products that help individual users and businesses from all sorts of industries get the photos they need:
Human Generator: an app to modify and create photorealistic full-body images by your parameters.
Face Generator: an app to generate faces and their variations.
Face library: 2.6M unique and diverse headshots
Anonymizer: a tool to find a synthetic twin in our library of faces, for those who value their privacy online.
The possibilities for using generated people are virtually limitless: design, advertising, creating computer characters and so much more. Another significant niche in machine learning. Gathering datasets from real photos that meet specific parameters can be quite challenging. Generated photos effortlessly address this issue. We also provided our photos to academics studying visual communication, perception, cognitive biases, and other things.
How does your mission differ from the other companies in your niche?
Image generators are evolving rapidly. But most of them are universal tools. We decided to focus on human imagery. We have trained our ML models intensively to create photorealistic faces and full bodies. And this is an ongoing process. Since 2019 when we released our first generated faces, we have made a huge step ahead, with much more on the horizon. For example, we got lots of requests from e-stores to let them put their clothes on our humans, generate photo sessions of the same person in different postures and clothes, or add the possibility to regenerate certain areas in the photos. And many other requests related to whole body pictures. So, we created our Human Generator and worked hard to add more exciting new features.
What also sets Generated Photos apart from other image generators is the ease of use
. You've probably come across all this prompt engineering hype. With our human and face generators, there's no need to rack your brain with complex A4-long prompts. You can if you want to, but you don't have to. All the parameters that yield fantastic results are accessible through a simple interface. Drag a couple of sliders, select a few options, and voila! Your image is ready. We're bringing technology closer to users.
And what makes users eventually choose you over your competitors?
High and stable quality of images. That's what we do and that's what our customers say. We have clients that we have worked with for years. They keep coming back for more. For machine learning projects or game development, we can generate large custom sets with specific parameters, which can be difficult to source elsewhere. The images are consistent in quality and style. We also offer customization and custom generation based on the requirements.
Can you share any success stories where your product made a significant difference for a business dealing with those challenges?
To begin with, a number of companies have used our photos to train their models and reduce bias. It's challenging to find a sufficient quantity of photos for PoC and other underrepresented groups, with the necessary quality and without any rights-related concerns. Another example is streamlining workflow big time. We teamed up with Reallusion, a renowned digital human toolset provider. They converted our photos into 3D characters for games and virtual reality. Also, some of our generated people are now working hard for virtual BMW factories and participating in many other digital projects.

You can find our images in numerous movies and TV shows. Curiously, they typically show up on lists of suspects. While in real life, generated people contribute to law enforcement efforts. There were several cases when they were used for decoy profiles to investigate and prevent cybercrimes and apprehend child molesters.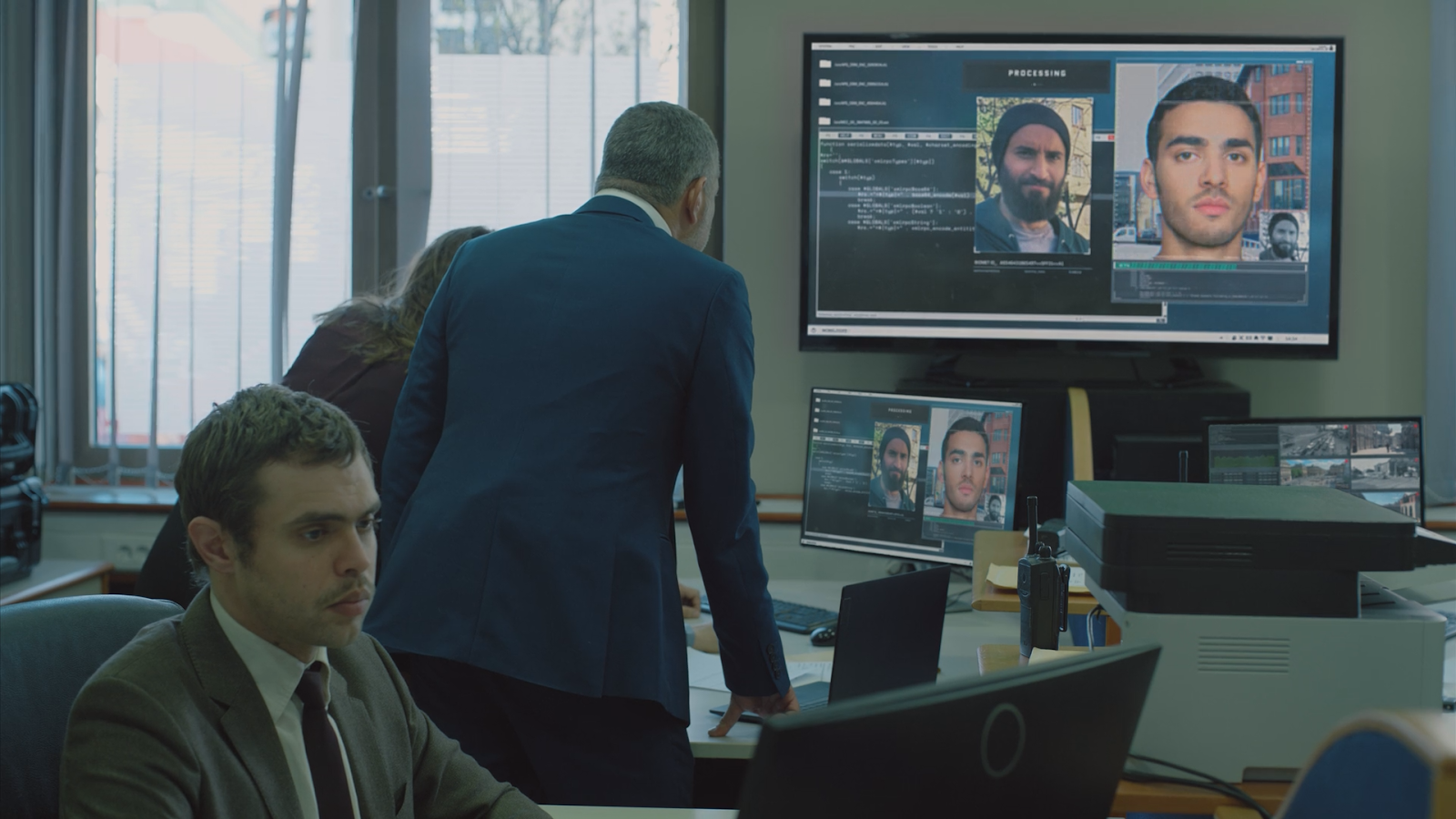 Psychologists used generated people to work with autistic children. With the help of our photos, they teach children to recognize emotions. Some of those use cases can be found in the showcase on our website, and there is a big update with many new use cases coming soon. Generated people are quickly spreading across the internet. I have a trained eye for our pics. And, you know, every time I open X (ex-Twitter) or another platform, I notice a couple of familiar generated faces here and there. I can confidently say that generated humans have become an integral part of our lives.
What opportunities and challenges do you see in the future of your industry?
AI and generative media are the future. The future that has come. It is exciting to be at the forefront and contribute to the development of new technology. Soon, more and more generated humans will move and speak. There are AI-generated assistants already. Could you believe that ten years ago? So, we as humanity will need a tool to detect what's real and what's not. And legislators will do their job to seal what's good and what's not. Creating technology is a huge challenge. But understanding the technology and making it work for the good is a challenge, too.