#1: Make Sure all Images are High Quality
The website you're building is the display window for your business. It is one of the first places online surfers will encounter on the web and, therefore, it is very important to use quality photos.
You can get photos for the site from a variety of ways:
Photos you took yourself
Buying photos from professional websites
Using professional photography
Use of Wix's free photos
It is important to make sure all photos on your website are under an appropriate user license. Photos that can be found on Wix's editor are available to you for free and recommended to use since these pictures are very high quality.
Remember, "A picture is worth a thousand words" – A bit corny but still always true!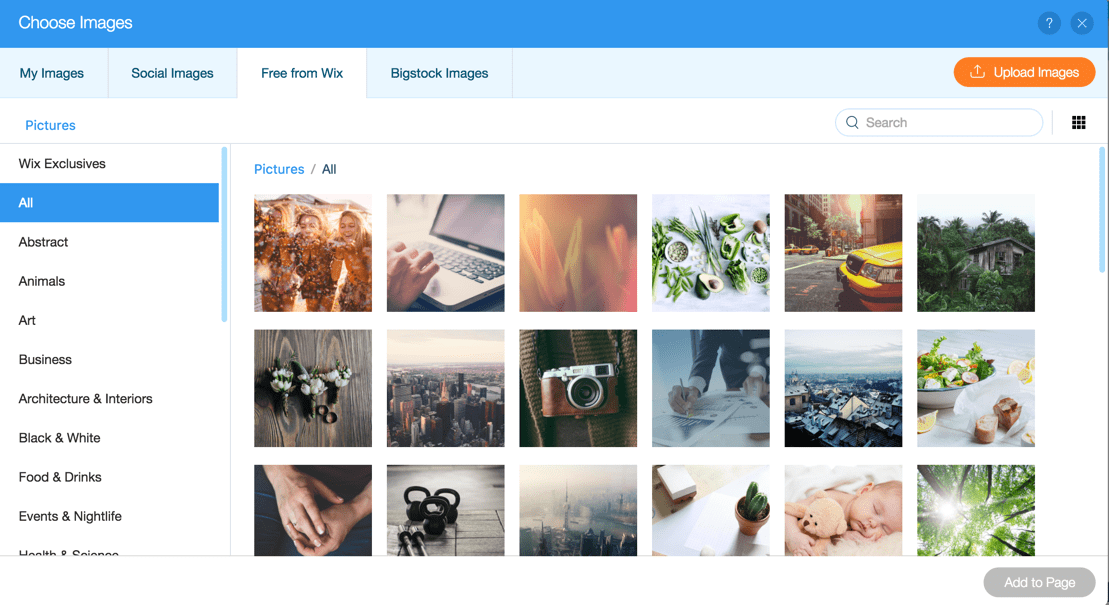 #2: Use of Eye-Catching Animation
Today the average time a visitor is on a website is mere seconds.
During this time the visitor needs to understand what the business' area of operation is and what services it can provide him with. A good way to save time is by using animations.
Animation grabs the visitor's attention and leads them exactly where you want them to go on your website.
This is how you can make the visitor focus on the elements important to you on the site.
In addition, correct use of animations creates an innovative and interactive effect upon the site and obviously is always recommended.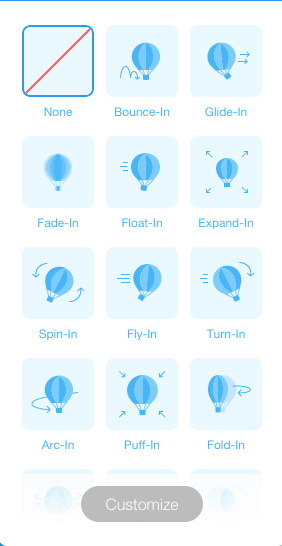 #3: Links to Social Media Networks
Facebook, Whatsapp, Twitter, Instagram, Pinterest, etc.
You've definitely heard of at least two of these.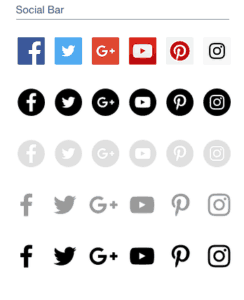 The benefit of using social media is to draw users from various networks to your site.
This is really very simple!
You wrote an interesting post on Facebook? Add a link to your site beneath the post.
Did you add an amazing picture on Instagram? Tell users why they should also visit your website.
Did you upload a cool video clip to YouTube? Convince viewers to go to your website at the end of the video clip.
All activities on social media networks that refers users to your website will also create additional use traffic who created more quality leads for you!
#4: Proper Use of the Website's Main Menu
My recommendation is that your website's main menu contain between 5-7 pages. If the menu is too big, your users may "get tired" of the data load and leave the site.
In order to ensure the presentation of a large number of pages on the menu, it is possible to use sub-menus. You simply group a number of pages with identical characteristics and place them under one main menu.
#5: Hiding a Specific Page from the Main Menu
If there is a need to add a webpage to your website but you don't want it to appear on the main menu, it can be hidden by clicking on the Hide button.
This option can be used when you want the page you added to be used as a landing page or that access to this page be through ha link/internal button but not from the main menu
#6: Downloading the Header and Footer from a Page on the Website
Each page in your website contains a Header and Footer as a default. For the most part, you'll see the main menu and the logo in the Header, and in the Footer you'll see contact details, important links and sign-up for the mailing list. Sometimes there is a need to download these two parts for a specific reason.
A good example of this is the desire to create a landing page. A landing page is a page that belongs to your website (and is found under the same domain) but access to it is through a specific link and not via the website's main menu.
#7: Upgrading Photos on the Website
Most pictures you have in your possession (like those you photographed on an old camera or on a cellphone) are not of a high enough quality to be uploaded to the website; however, sometimes there is no choice and you'll have to use these pictures because they can, in your opinion, get across the required message to the visitor.
It is exactly for this situation that Wix allows you to edit photos online and to upgrade them via the advanced picture editor.
Within the scope of editing, it is possible to do actions such as cropping, changing clarity, focus, sharpness, changing color, reducing red eye and a wide range of actions.
You'll discover that amazing changes you never thought could be done can be made to many pictures you already use.
Remember, a website with a professional appearance is website that contains first and foremost quality photos.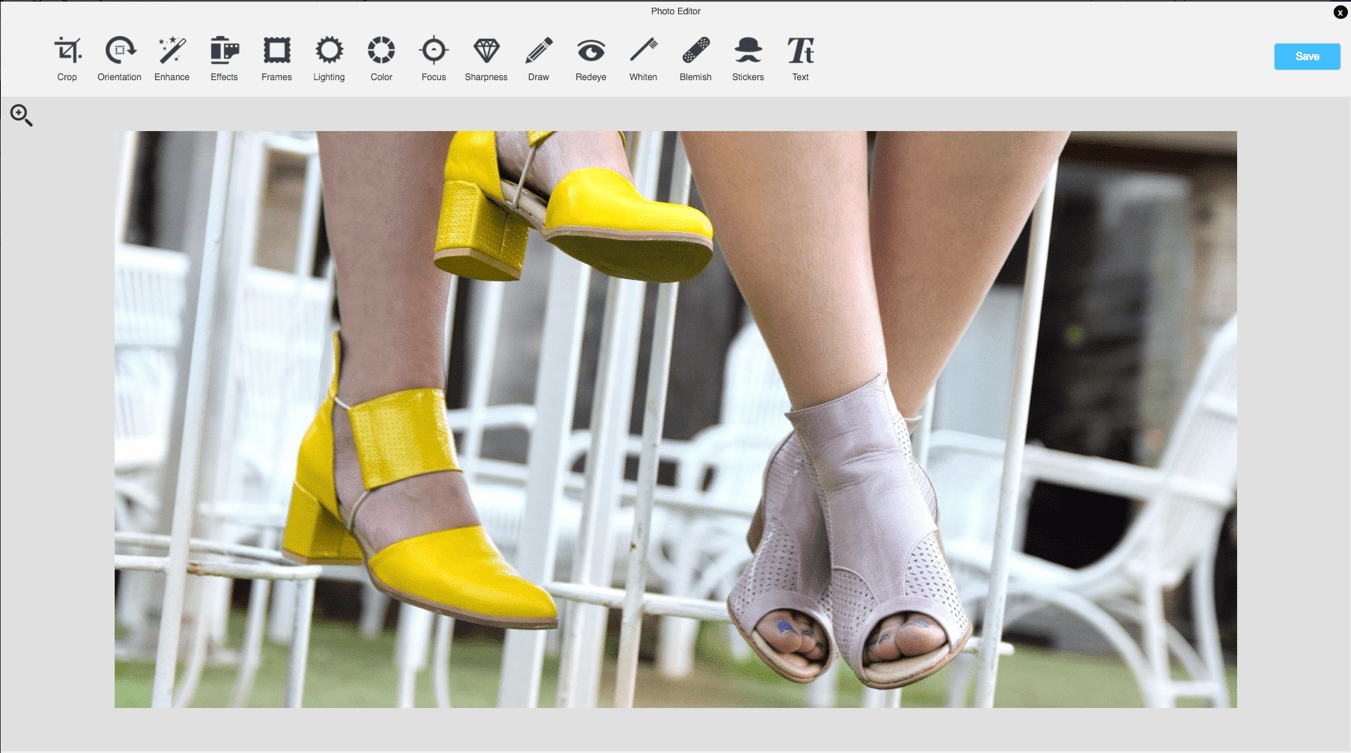 #8: A Relevant Name for Each Photo on Your Website
When you upload a picture file to the website, it automatically includes the name of the file and for the most part, this name is appropriate.
My recommendation is to change the file name,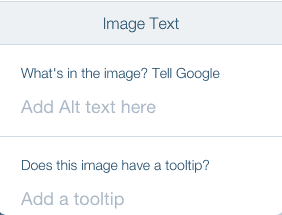 and this is for three main reasons:
This is good for SEO definitions – meaning Google will know how to read your website better.
This makes your website professionally accessible to handicapped persons.
A relevant name looks more professional than DSC_1043.jpg
Defining a Fixed Picture for the Website by Sharing on a Social Media Network
Did you notice that the moment you share your website on Facebook, the link to the website appears with a specific picture from the site and sometimes without a picture at all? Are you interested in uploading a fixed picture that will appear with share on Facebook?
Wix allows you to define which picture it will be according to the following steps:
Login into the Wix website editor
Click on the Manage Website button
Click on the Social button
Upload a picture under Facebook Share Image
#9: Referring Pages from an Old Website – Redirect 301
Did you build a new website on Wix that will replace your old website?
If the answer is "yes," you should become familiar with the Redirect 301 function.
This function allows you "notify" search engines that a given page on the old website is no longer found at its present address, but at a different address at the new website.
In order to add a page redirect from the old website to the new one, take the following actions:
Enter the management system on the Wix website.
Click on the Manage Website button.
Click on the SEO button on the left side of the screen.
Under the option of Manage 301 Redirect, click on the Get Started button.
At this stage, add the old addresses for pages on the old site to the appropriate pages on the new site.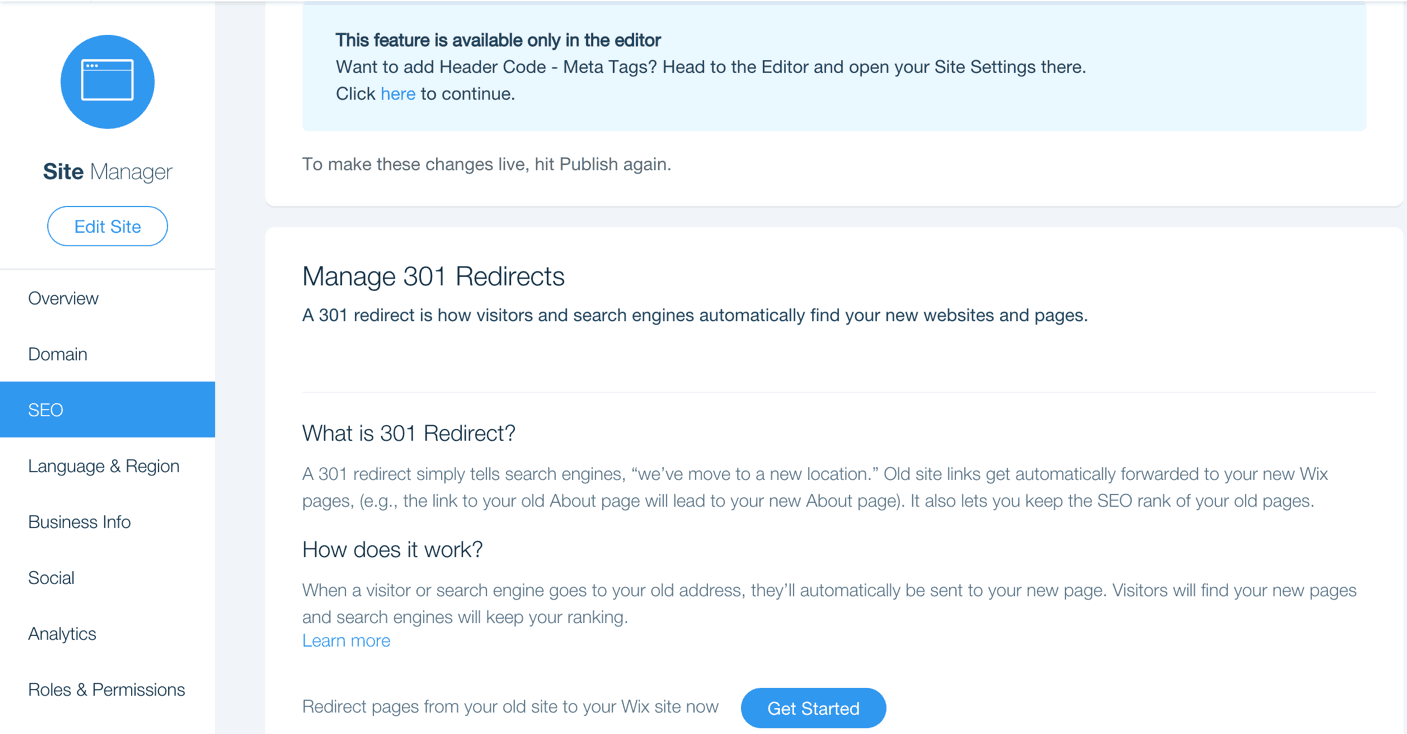 #10: Applications
Wix offers an assortment of applications in various categories for its customers' use. For example, an online store, social media networks, orders, events, photography, music, etc.
Adding applications will allow you to improve the website's functionality and will offer visitors an innovative and attractive design.
You can enter Wix's application store through the following steps:
Enter the Wix website editor
Click on the Add Apps button that appears on the right side of the editor
Applications can be searched in the window that opens.
Click on the Categories button to search applications according to categories
Search by keywords
All applications that appear in the store have undergone careful screening by Wix and they are approved for use. Some of them are given for free and some are for pay.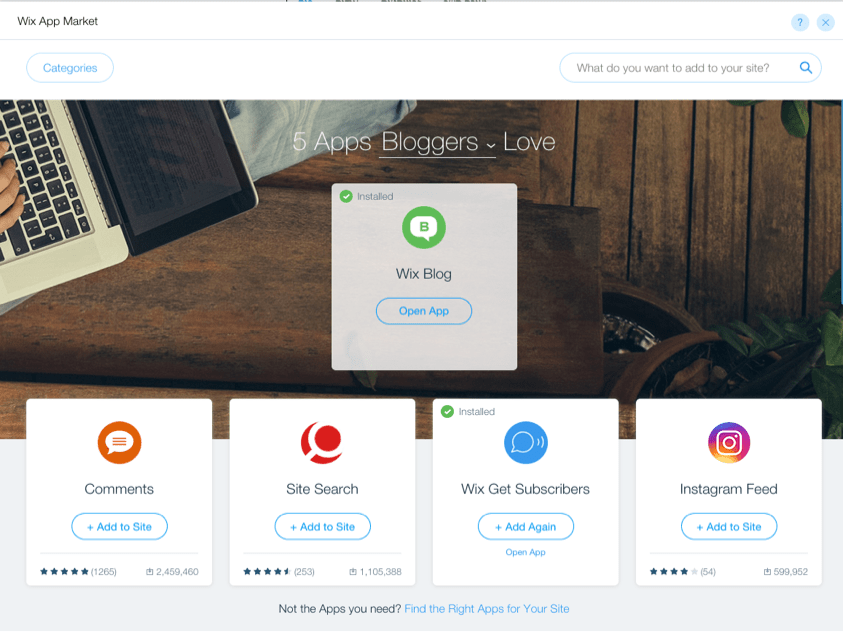 #11: Adding a Blog to Your Wix Site
Google has stated that one of the parameters that influence website ranking is new content. This means that a website which refreshes its content in short spaces of time merits a better company ranking and creates a situation in which it appears in a better location in Google's search engine.
It is obviously possible and recommended to refresh the content on the website every few months, but the best way it to simply add a blog to your site.
A blog can include essays, posts or even a person experience that you as a business owner would like to share with your visitors. This is also an excellent way to draw potential customers from social networks to your website.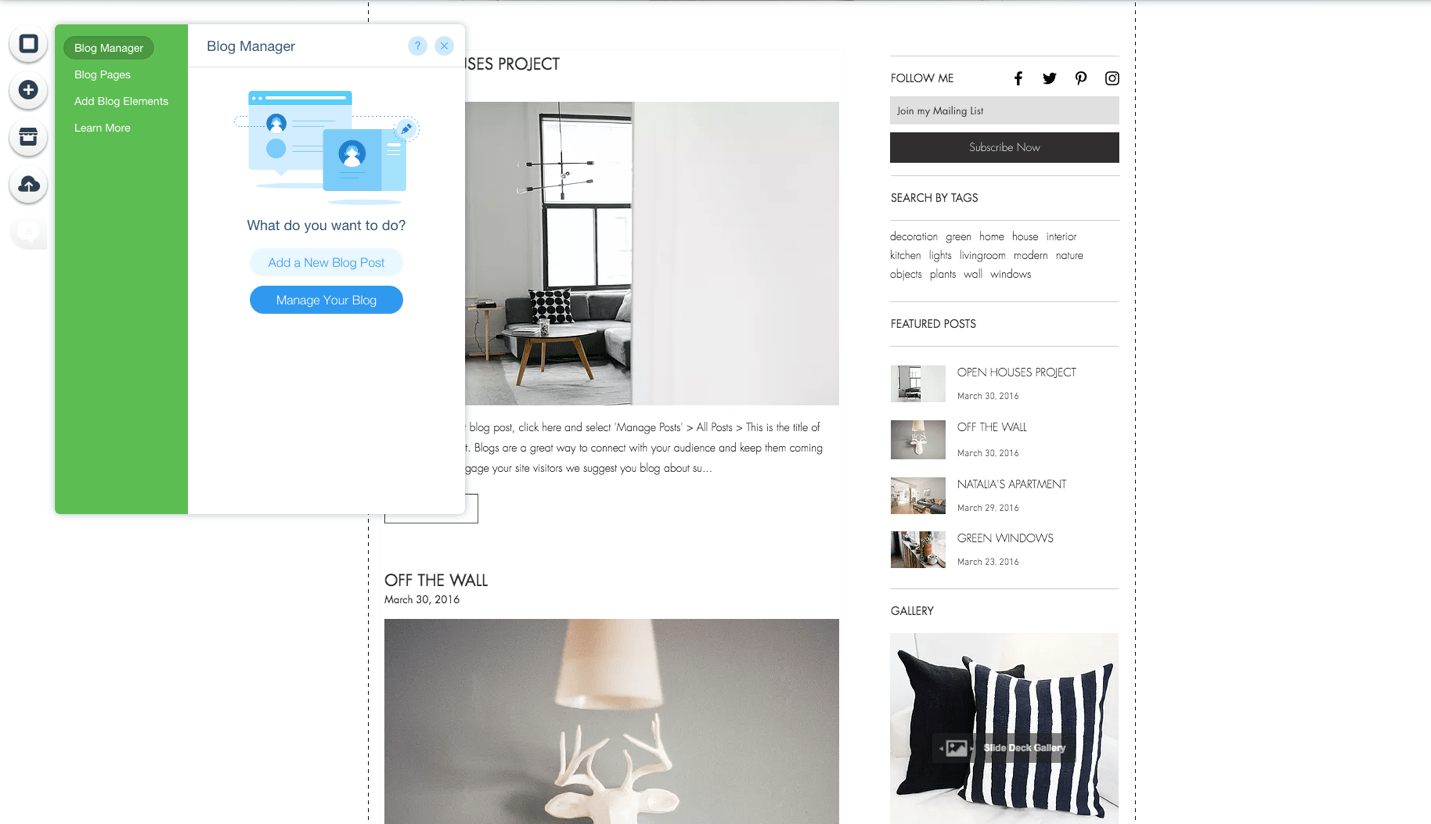 #12: Adapting Your Website for Mobile Devices
Today we live in an era where more and more
surfers chose to view various websites through their cellphone.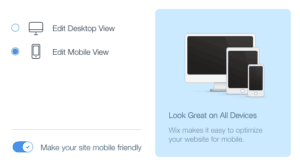 In order to make sure your website
reach the as many potential customers as possible, it is
important to make your website responsive.
A website that is not adapted for mobile devices will appear too small, uncomfortable for viewing, and it can be reasonably assumed that the visitor will abandon the site immediately after entering it.
It is possible to enter into mobile view through the following steps:
Enter the Wix website editor.
Click on the button that includes a picture of a cellphone on the upper right side.
Click on the Edit Mobile View button in the window that opens.
At this stage, a new editor will open with your website shown in Mobile view.
#13: Analyzing Traffic Through Statistical Tools
You can use Wix to connect your website to Google Analytics. This is an important tool that allows you to reach qualitative and quantitative conclusions, including the types of customers, bounce rate, and most popular pages. All this information helps you make your website better for your intended target audience.

#14: Connecting Facebook to Your Wix Website
Wix allows you to add Facebook's pixel code to your website. This code helps Facebook know which visitors went to your website and which pages they visted.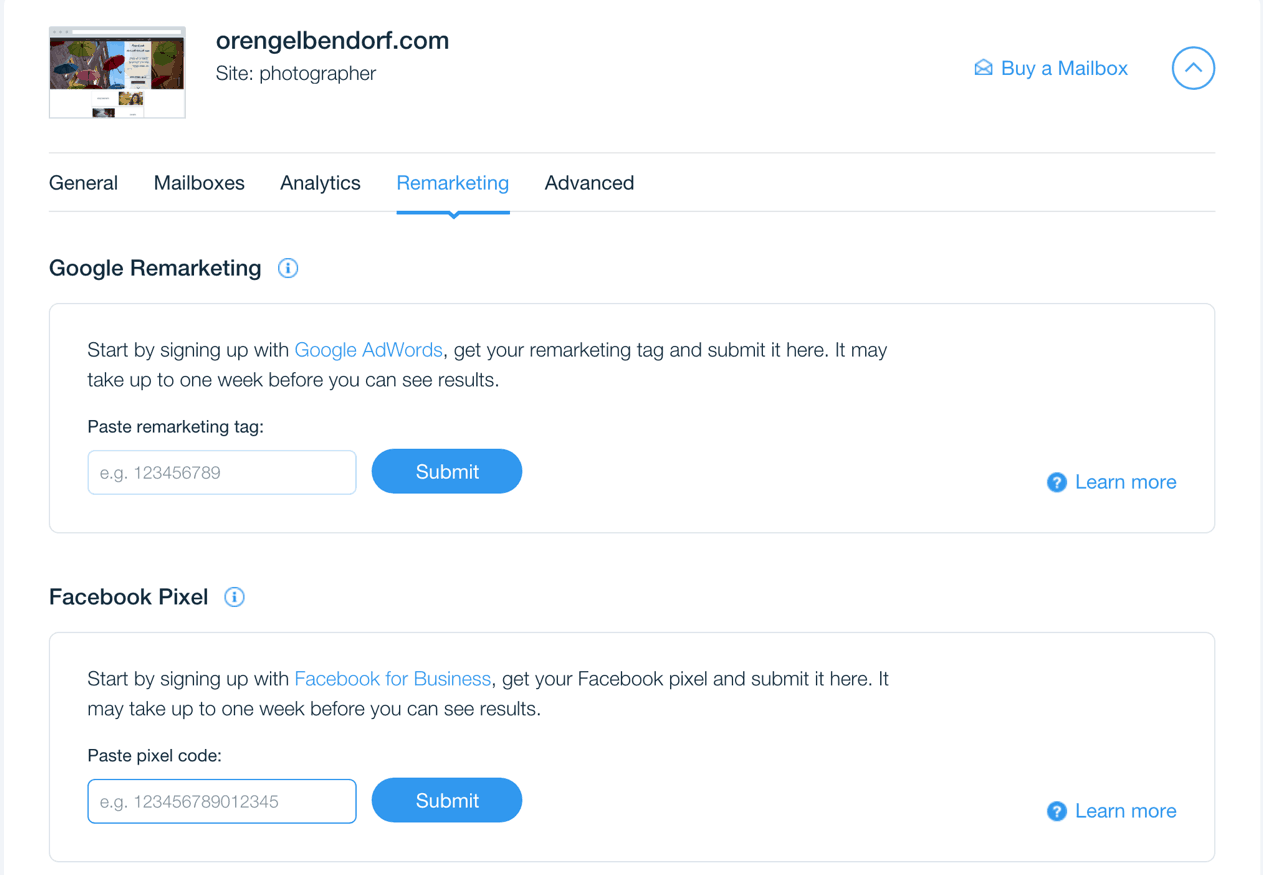 #15: Adding a Favicon Image to Your Website
Favicon is a small icon that appears on the left side of each tab on your browser and is highly recommended for all websites. The Favicon's function is to present the website's logo or any other photo that are chosen as a similar symbol in order to create quicker identification of the website. The addition of a Favicon image will give the website a more professional appearance.
Add a Favicon image via the following steps:
Enter the administrator system for your website on Wix.
Choose the relevant website if you have several websites.
Click on the Manage Website button.
Click on the Favicon button on the left side of the screen.
Click on the Upload Favicon button and choose the picture that is appropriate for you.
The recommended size is 16×16 pixels only.
It only possible to use this option on a website with a premium (paid) plan.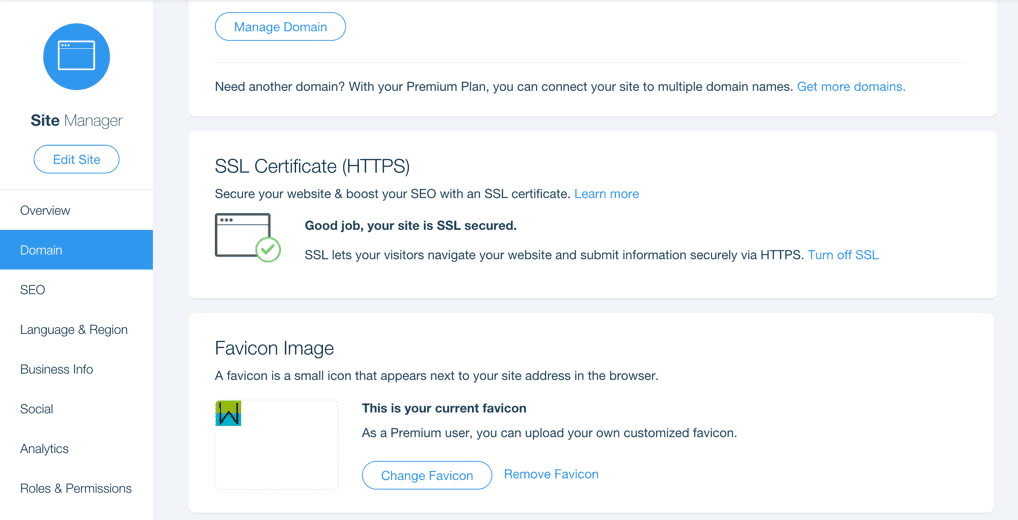 #16: Adding Access Permissions for Other People on Your Website
Wix allows you as the website owner to add permissions for various employees in the business who will update content, design, the blog…etc.
It is possible to add permissions to an employee through the following steps:
Enter your website's administrator system on Wix.
Chose the relevant website if there are several websites.
Click on the Settings button.
Click on the Roles and Permissions button.
Click on the Add Contributor button and add users based on the permissions you choose.