By now you have probably visited hundreds, if not thousands, of websites. While the look and feel of individual websites can be strikingly different, there are a few similarities that most 
successful 
websites share—and for a good reason.
FOR INSTANCE, THERE ARE FOUR WEB PAGES YOU CAN FIND ON MOST WEBSITES…
About Page
Contact Page
404 Page
Site Map
Why are these web pages used on websites so frequently? Because they work effectively.
THE "ABOUT US" PAGE
Studies show the About Page is consistently one of the most visited web pages across websites in general. Usually within 3 to 4 clicks. This is because people want to know who is behind the product or service they are considering. But before you create your About Page, keep in mind that your visitors don't care to hear your entire life story, like how you became an entrepreneur in fourth grade by starting a successful lemonade stand.
In other words
—don't make it all about you. The best About Pages are about 
them
—the first time visitor. Usually, they go to your website because they are looking for a solution to their problem.
A self-absorbed About Page can silently hurt your business by turning people off.
Here's what you need to include on your About Page to pull in customers…
Solutions – What are the "hot buttons" of your target audience? In other words, tap into the anxieties your customers face, and tell them how you can solve their dilemma. For example, if you provide custom designed content marketing software, give a brief description how the product can make their business better and their life easier.
Facts and Figures – Using real numbers and real examples about your business are appreciated by website visitors, especially when you avoid the flowery extras and buzz words. Saying, "Our sandwiches are delivered 16% faster than any other local sub shop" will bring in more conversions than saying, "Our excellent sandwich delivery service will make you smile."
Awards –  Your accomplishments can provide credibility if presented correctly. You really don't need a page long list that includes your 6th grade junior Olympics blue ribbon. Choose to list only the top awards and accomplishments that will help the most with prompting your About Page visitors to choose your business.
Real Photos – Why are you still using photos of businessmen in suits climbing up mountains? Or the perfectly groomed woman with outstretched arms standing in a wheat field?  In other words… why are you still using stock photos? This isn't 2003. Regular people not in marketing and design can now spot a stock photo…Use real photos instead. Or don't use a photo at all.
Ultimately, the About Page just needs to be genuine. As long as you are using words and pictures that capture the true heart of your brand, then your About Page will succeed in its purpose. Be honest. Be transparent. Be real. Like 
Andrew Reifman
. He's a graphic designer who has a fantastic About page. Check out how clearly the page informs you about who Andrew is and what he does, in a concise way. The humor of the page and how everything reflects his personality (from the copy to the photo), makes this a winner. Another fantastic About page can be found on 
Tumblr.com
. They have all the pieces in place that make a great About page that many others are missing. Like social proof. Interesting "At a Glance" facts. Latest blog posts. All tightly written and sharply designed.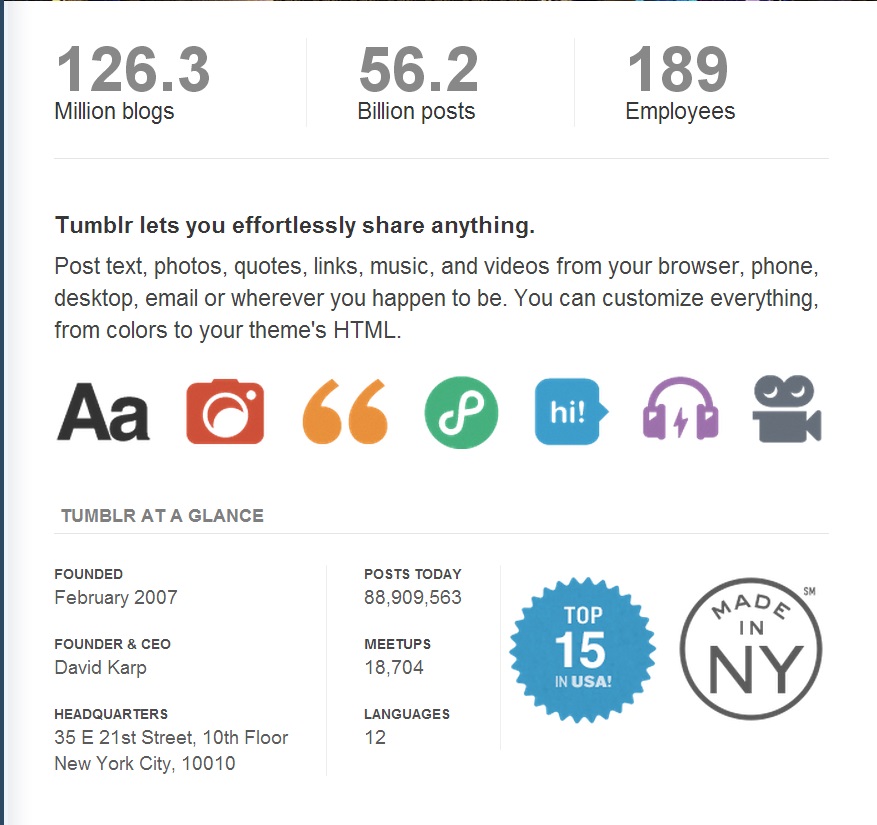 Tim Ferris
 is widely recognized for his bestsellers 
The Four Hour Work Week
 and 
The Four Hour Body
. But there's so much more to know about Tim, that it could take you four hours to read his entire list of accomplishments. All kidding aside, notice how easy it is reading through his About page. Lots of social proof included. Great photos. And, it's written in the third person, which takes away the self-promoting feel that a first person narration produces.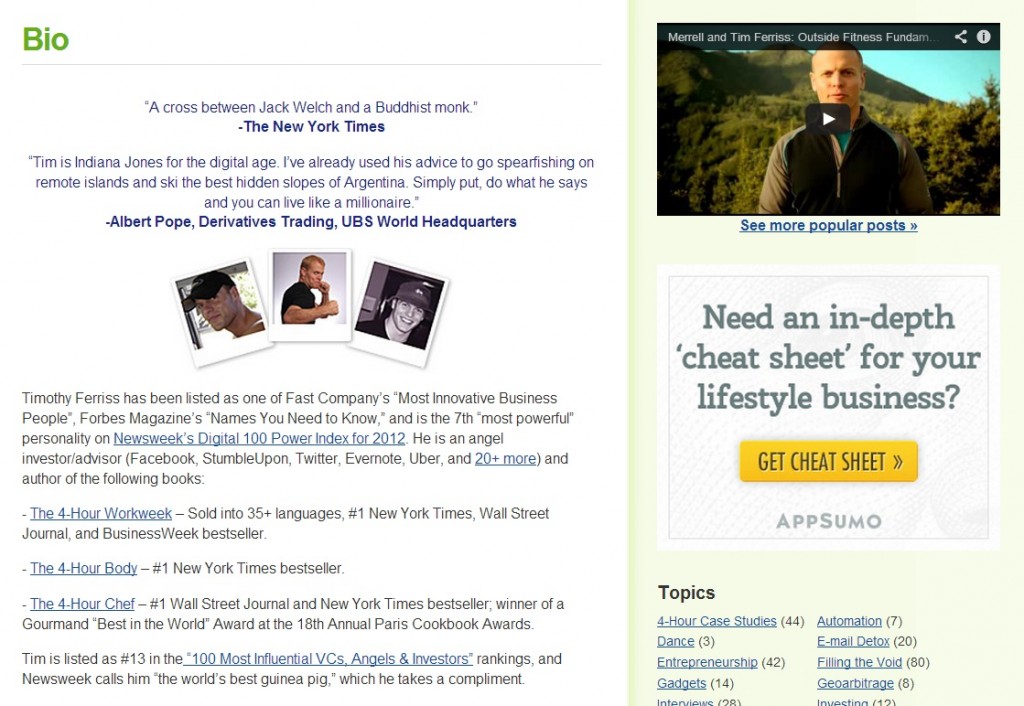 CONTACT PAGE
Why do so many websites fail when it comes to the Contact page? That's a good question, because the Contact page is where the deal is sealed, so to speak. Normally, this is where your web visitors take your call-to-action and run with it. A poor Contact page makes all the hard work you put into the other pages on your website meaningless. Not only does your contact form need to function properly, but the copy and design of the page needs careful planning just like your other pages. Unless you don't want anyone contacting you… Ensure that you craft engaging content capable of swiftly and efficiently capturing the reader's attention. If you become lax in this aspect, anticipate that your website visitors won't invest the necessary effort to input their information and execute the action of clicking "send." Finalize the sale. Create the boundaries you expect with clients. For example, don't say "We reply to emails within 24 hours," if you cannot actually come through. Or don't say, "Calling us on Sunday is okay," if that's really not the case.
Here are two examples of excellent Contact Pages:
Here is an excellent example of an agency contact form from digital base. Provides all the basic information needed, while including a helpful roadmap. The high def photo that provides a clear symbolic gesture to the page gives the design a sense of elegance often missing from contact pages.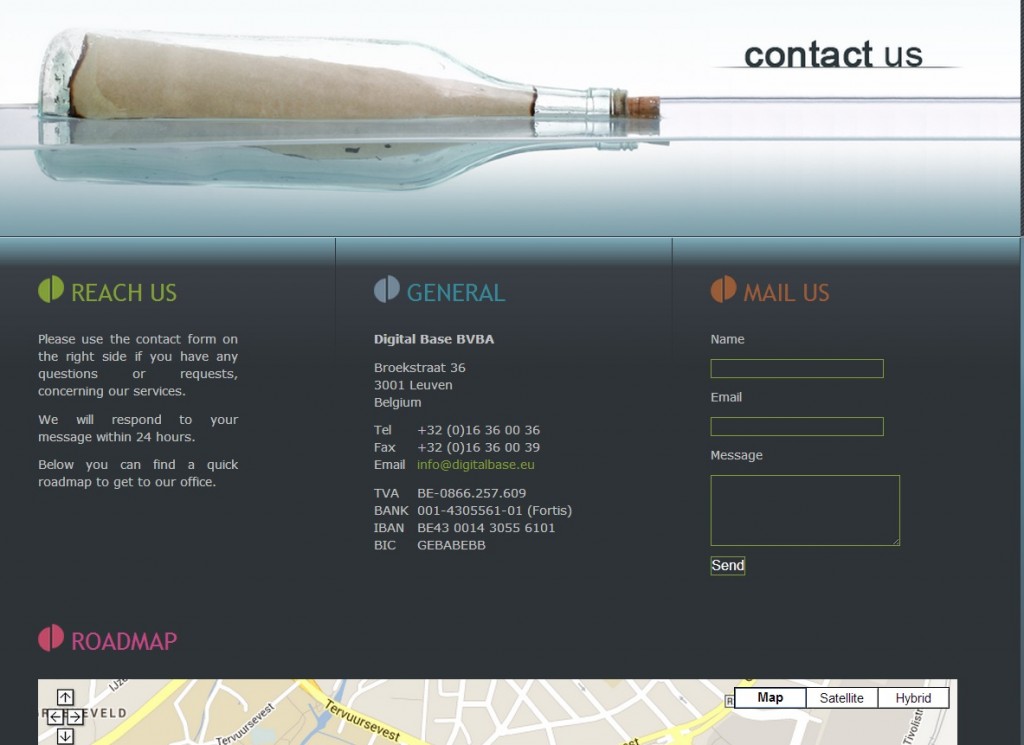 The Contact Page of Alexy Abramov really works to close the deal here. He's a designer, and right away you see his talent with the home page, along with the easy to spot Contact bubble. The Contact Page itself is minimalist genius here. The "If-Then-And-Plus" copy is fun and easy to follow. There are also two suggested ways of contacting Alexy, which includes the easy contact form right there.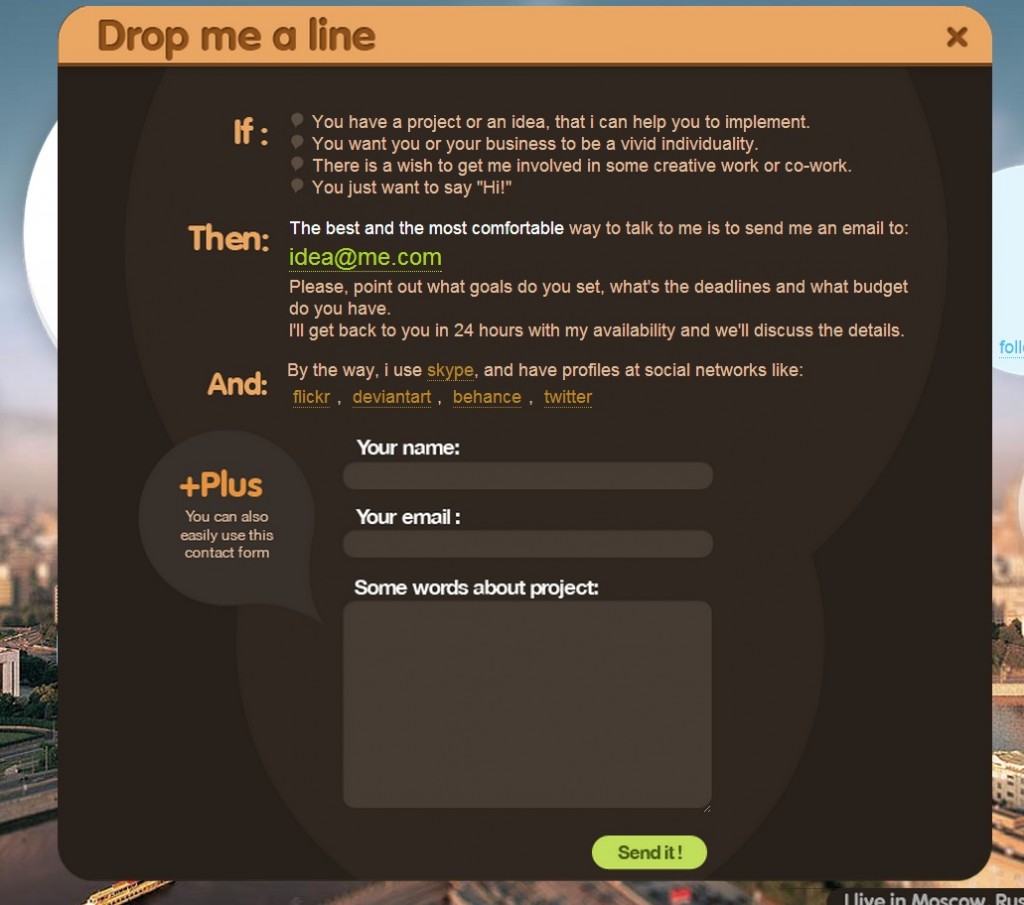 ERROR 404 PAGE
Someday, a visitor to your website will click their mouse and see this:

Count on it. Things happen. Chances are it's not even your own website's fault. Glitches can occur from other sources now and then. So then, is your website ready? Are you going to let them see an Error 404 page like the one above? Because, chances are, if your website visitor sees a 404 error page like the one above, their interest level will evaporate within precious seconds, causing them to leave. Seeing this sort of web page only succeeds in ticking off the website visitor. But you can prevent this by creating your own 404 error page. Humor is the key to diffusing this unpleasant online experience. You can have some fun here, as long as your choice of visuals and words stay consistent with your brand. Somehow tying this page into your business can work well.
Here are some of the best Error 404 Pages we found: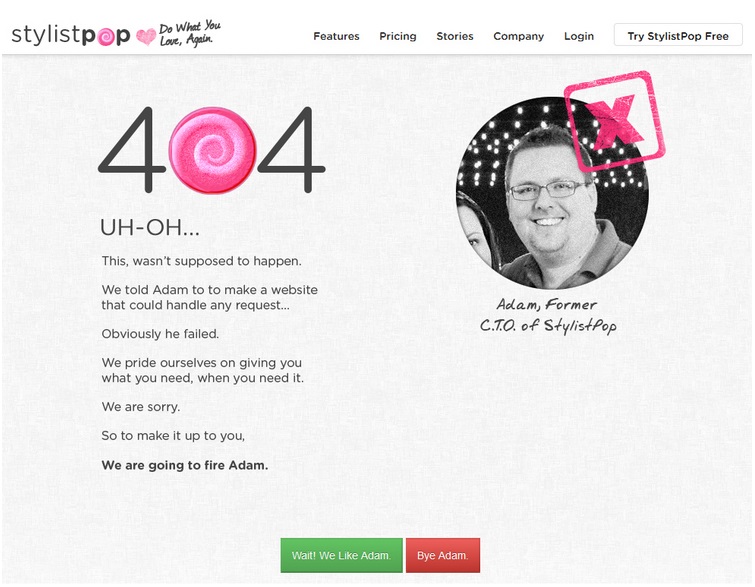 SITE MAP PAGE
Like a city map helps you find your way around town, the purpose of the Site Map page is to provide your web visitors with an easy to follow overview of the your website and how to navigate the site to reach their desired destination. Websites with the best Site Maps look like a one page outline for a screenplay, speech, or business plan.  They should be easy to follow and not include too many links. If your website covers a lot of ground, you should be strategic in creating a Site Map that includes only the most "significant" pages for navigation.