The two hosts belong to the same parent company (EIG) and offer similar features on their plans.
There are, however, important differences that you should know about before making a decision.
To compare FatCow and Bluehost, I've researched and tested both in five important categories. Bluehost might save you a few dollars here and there, like on its Basic shared hosting plan, but you won't get as many resources as you would with FatCow.
Although it's a close call, FatCow is the overall winner of this comparison.
Before moving on, though, you should know that both web hosts fall short of what you can get with a powerful and reliable host like Hostinger.
Click here to see Hostinger's best plans
, or read on to get the full story.
1. Plans and Pricing
Bluehost Is Cheap, but FatCow Offers Better Value
While headline prices for FatCow and Bluehost are certainly attractive, they don't exactly reveal what you're signing up for.
Renewal prices are two to three times more expensive with both hosts.
For shared hosting, FatCow gives you the option of a monthly term, but Bluehost does not – a yearly billing cycle is the lowest you can go.
The Basic shared plan, which I examine more closely in the Features section, is better on FatCow than on Bluehost.
 Bluehost's pricing is more attractive, but the plan comes with steep limitations in terms of resources. I don't know about you, but I'd rather pay a couple extra dollars for better tools and resources.
A free domain name is included with some hosting plans from FatCow
A free domain name is included with some hosting plans from Bluehost
It's clear that FatCow gives you more for your money. With FatCow's basic WordPress plan, you get unlimited disk space and email accounts, while Bluehost's equivalent plan only gives you 50GB of space and 5 email accounts. Sure, Bluehost saves you about a dollar a month, but if you ask me, the trade-off isn't worth it.
On VPS plans, Bluehost comes out slightly ahead.
 Its Standard VPS is a little cheaper than FatCow's equivalent and gives you more resources.
A free domain name is included with some hosting plans from FatCow
A free domain name is included with some hosting plans from Bluehost
I was not happy to see that both
FatCow and Bluehost engage in upsells at checkout, so you'll have to manually uncheck those add-ons if you don't want to pay extra.
Overall, I have to say that neither Bluehost nor FatCow have the most affordable, value-packed plans out there. You can easily find web hosts with better features
and
 lower prices, like Hostinger.
A free domain name is included with some hosting plans from Hostinger
2. Support
Both Hosts Offer Mediocre Support
If you want to compare Bluehost and FatCow based on customer support, you'll have a hard time coming up with a winner.
They're both only average.
While you do get 24/7 live chat and phone support, as well as a good knowledge base of tutorials with both FatCow and Bluehost, the agents only offer limited technical assistance.
If you're a beginner looking for basic guidance in navigating either host's platform, an agent can run you through how to set up your chosen plan and add-ons, but this doesn't guarantee that you can rely on their assistance when something goes wrong.
To test them out, I interacted with support agents from both FatCow and Bluehost.
 Let's see how they did. Bluehost's live chat agent, Guy, asked me about my needs before recommending a plan.
Although it was a nice touch that he asked for more information, there was a fair amount of upselling involved.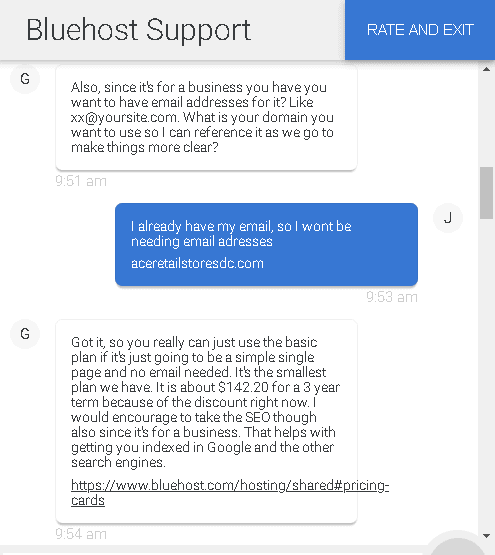 First, Guy recommended that I also purchase the Bluehost SEO Tools. Then, when I mentioned that I already had a WordPress site, he offered to walk me through the sign-up and transfer process. That's when it became obvious that he was pushing for a sale.
Throughout the conversation, Guy kept recommending more expensive plans that would deliver better performance, as well as the SEO add-on.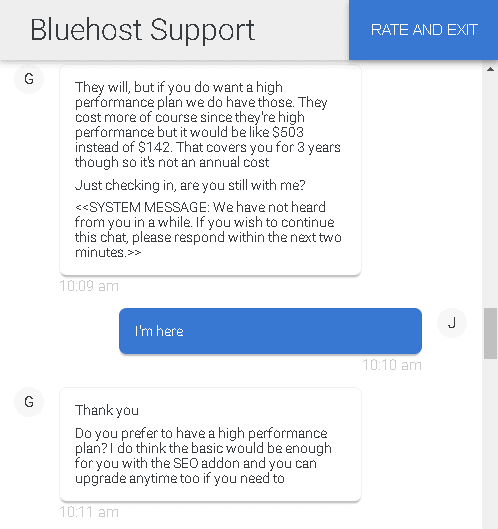 With FatCow, I chatted with Jarod. There was less upselling than what I experienced with Bluehost, which was refreshing. He did offer to walk me through the signup process once, but that was it.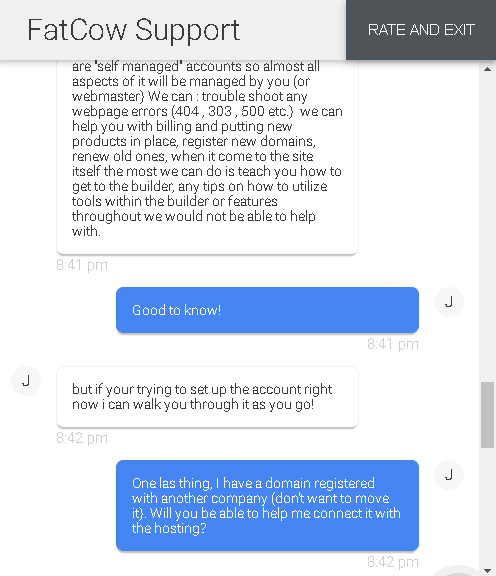 I wanted to get a bit more technical, so I asked Jarod about setting up a domain that is already registered with a different company.
He gave me a quick and clear overview of what the process required.
Jarod's instructions were much more comprehensive than Guy's answer to the same question.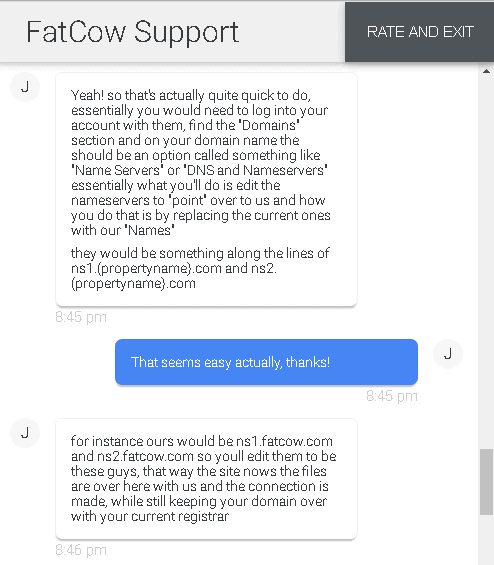 Overall, the similarities between the two gave me the impression that Bluehost and FatCow have a shared support platform.
 My experience with FatCow's agent was better, but there's no telling if this is the norm.
3. Features
FatCow Offers More Features and Resources than Bluehost
In terms of features, FatCow wins, but only by a small margin.
 FatCow's advantages are most apparent in its shared plans. Let's take a closer look. FatCow's only shared plan is just slightly more expensive than Bluehost's entry plan, but it provides better value.
With FatCow, you get unlimited storage and email addresses, whereas Bluehost only gives you 50GB of disk space and a meager 5 email accounts.
 If you're building a website that features a lot of media, such as high-resolution images or videos, FatCow's plan is better.
FatCow gives you access to a free version of the Weebly website builder 
– but it's just a trial version that will allow you to create only six pages. If you want any more than that, you'll have to pay about double. Bluehost has no website builder feature available. If you're a beginner or you just prefer not to use WordPress, this could be a major drawback.
With Bluehost, you get access to a cPanel dashboard, whereas FatCow uses a modified version of vDeck
; both provide sufficient functionality. FatCow pushes paid add-ons through its control panel, which can become annoying quickly. For example, it will first give you access to a free trial (such as the website builder), but even after the trial ends, the add-ons stay on your dashboard.
Neither Bluehost nor FatCow offers free automatic backups, which is disappointing.
 You have the option to create manual backups, but doing this on a daily basis can get tiresome. If you want the ease of automatic backups, you have to purchase Codeguard Basic on Bluehost or Site Backup & Restore on FatCow. Although FatCow is better than Bluehost in terms of features, both hosts are fairly lackluster in this department.
| | | |
| --- | --- | --- |
| Feature | FatCow | Bluehost |
| Hosting Type | Shared, VPS, WordPress, dedicated servers | Shared, VPS, WordPress, managed WordPress, dedicated servers |
| Free Domain | Yes | Yes |
| Free SSL Certificate | Yes | Yes |
| Disk Space | Unlimited | 50GB to Unlimited |
| Bandwidth | Unmetered | Unmetered |
| Automatic Backups | Paid | Paid |
| Control Panel | Customized vDeck | cPanel |
| Email Accounts | Unlimited | 5 to Unlimited |
| Free CDN | Yes | Yes |
| Free Site Migration | No | No |
| Money-Back Guarantee | 30 days | 30 days |
4. Performance
Bluehost and FatCow Both Work, but They Won't Break Any Speed Records
All hosts owned by EIG have their share of performance issues. Long-term customers have noticed a visible decline in their websites' responsiveness as a result of EIG overloading shared servers with as many customers as possible. While I can't say for certain whether FatCow and Bluehost have overloaded servers, I can say that
 your website's performance with either of these hosts won't be anything to brag about.
Bluehost refuses to tell clients where its data centers are located. If you're a company in need of a transparent hosting solution, you should stay away. On the other hand, FatCow has two servers located on the East Coast of the US, which isn't great news if your visitors are located mainly in Asia or Australia.
Fortunately, both FatCow and Bluehost have embedded CDN services.
CDNs are important because they provide extra network coverage for the geographic areas where web hosts don't have a nearby server to help keep your website fast and responsive. In terms of storage, Bluehost has the advantage since it offers full SSD storage on all its plans (shared, VPS, and WordPress) with the exception of dedicated hosting. With FatCow, it's the other way around. You only get SSD on the WP Essential plan, otherwise you get HDD.
There is no uptime guarantee with either FatCow or Bluehost.
 Although individual tests show that both hosts have decent uptimes (in the range of 99.9%), the lack of an SLA means that you won't be compensated if any outages occur. In addition,
there are no promises about how fast the servers will be brought back online in the event of downtime.
 I wouldn't blame you if this makes you uncomfortable.
Bluehost scored poorly in our performance test. If you'd like to find out more about its shortcomings, read our
in-depth Bluehost review
.
We didn't get a chance to run our performance tests on FatCow. However, you can learn more about its performance-enhancing features in our
expert FatCow review
.
5. Security
Both Hosts Will Make You Pay Extra for Security
When it comes to security, both FatCow and Bluehost will take advantage of your need for additional protection
. Aside from the free SSL certificate you get with both hosts, you don't get any additional website safety tools for free.
To get decent firewalls, malware scans, and virus protection, you have to purchase Bluehost's SiteLock Essential Security or FatCow's Website Security Bundle, which (surprise) also comes in the form of SiteLock.
How much will these paid upgrades set you back? They cost roughly as much as a discounted basic shared hosting plan.
And you don't get much in the way of DDoS mitigation with either FatCow or Bluehost.
 The two web hosts promise to do everything in their power to prevent attacks, and they say if one occurs they will do their best to restore the same level of service. Without proper guarantees, though, these promises are not reassuring.
FatCow Wins Over Bluehost, but It's a Minor Victory
Differentiating web hosts within the same company, particularly with EIG, can pose a challenge. You should anticipate similarities in policies and features (or the absence of them, particularly regarding security). The overall winner of this FatCow vs Bluehost comparison is FatCow, but only by a slight margin.
You get better value with
FatCow's shared hosting plan
 compared to Bluehost's equivalent offer, and you at least know where your website will be hosted. I expected more from both hosts, especially from Bluehost, a service that is praised left and right by reviewers. However, it seems that affiliate marketing, rather than qualitative assessment, is the driving force behind most positive reviews. For a better alternative to both FatCow and Bluehost,
check out Hostinger
. It offers great features and reliable performance, and is sure to save you a lot of money in the long run. It's no surprise that FatCow and Bluehost didn't manage to grab a spot on our list of
the best web hosting services
.
Plans and Pricing
Moderate prices with steep renewal fees and mediocre value
Affordable prices with satisfactory renewals and second-rate value
Key Features
Unlimited bandwidth, storage, and email addresses; vDeck control panel; trial website builder
Unlimited bandwidth, 50 GB to unlimited storage, cPanel
Performance
HDD storage, no uptime guarantee, US-based servers
SSD storage, no uptime guarantee, no information on server location
Security
Free SSL certificates, paid-for backups, additional security bundle available for purchase
Free SSL certificates, paid-for backups and security add-ons
Support
24/7 support via live chat and phone, meager knowledge base
24/7 support via live chat and phone, modest knowledge base
FAQ
1. Is Bluehost any good?
Not really. Despite the stellar reviews, Bluehost doesn't stand up well to scrutiny. You get few features, mediocre performance, and very little beyond basic security, which makes Bluehost's plans a poor value. I suggest you compare Bluehost to some of the best web hosts out there before committing to a purchase.
2. Does FatCow offer WordPress hosting?
Yes. FatCow has two WordPress plansy, WP Starter and WP Essential. The Essential plan offers better value, but it's still lackluster compared to what you can get with the best managed WordPress hosting providers. Both of FatCow's WordPress plans could use upgrades in terms of security tools, infrastructure, and managed services.
3. Who owns FatCow and Bluehost?
FatCow and Bluehost are owned by the notorious EIG. Both takeovers were kept fairly under the radar, but when many aspects of both web hosts' services changed, people started to catch on. As a rule, EIG-owned companies have maintained their brand identity after they were bought out. However, most things were transformed on the back end, according to long-standing customers. Due to lower standards, some clients ended up switching to competitors.
4. Does Bluehost offer VPS hosting?
Although Bluehost does have several VPS solutions, they are expensive, include few features, and constitute an overall poor value. For example, InterServer's basic VPS offer is three times cheaper than Bluehost's and has the same RAM and storage resources, as well as an additional 1TB of bandwidth. If I were you, I'd shop around and compare Bluehost with some of the best VPS hosts before committing to a purchase.