Online privacy is a major concern, especially when most email services make their money by tracking your online activity and selling it to advertisers. We spoke with
Bron Gondwana, CEO & Director of Fastmail
about their ad-free email, calendar, and contacts app that is committed to your privacy. Aside from never tracking or selling your data, he explains how the platform's built-in features give you the flexibility to create a workflow that works best for you.
This interview was originally published on November 8, 2020.
What is Fastmail?
Fastmail is a hosted software as a service designed for person-to-person email (no mass mailing broadcasts), primarily marketed to individuals, families, and small businesses. We are similar to Gmail in that we include email, calendar, and contacts, all stored securely on our systems. However, unlike Gmail's whose entire business model is the passing of information gleaned from you to their advertising partners, we offer total privacy and never scan or sell your data. As such, while we do offer a short free trial, Fastmail is deliberately not free. We feel that is the tradeoff for not using your information for our benefit and offering a service that is free from advertising.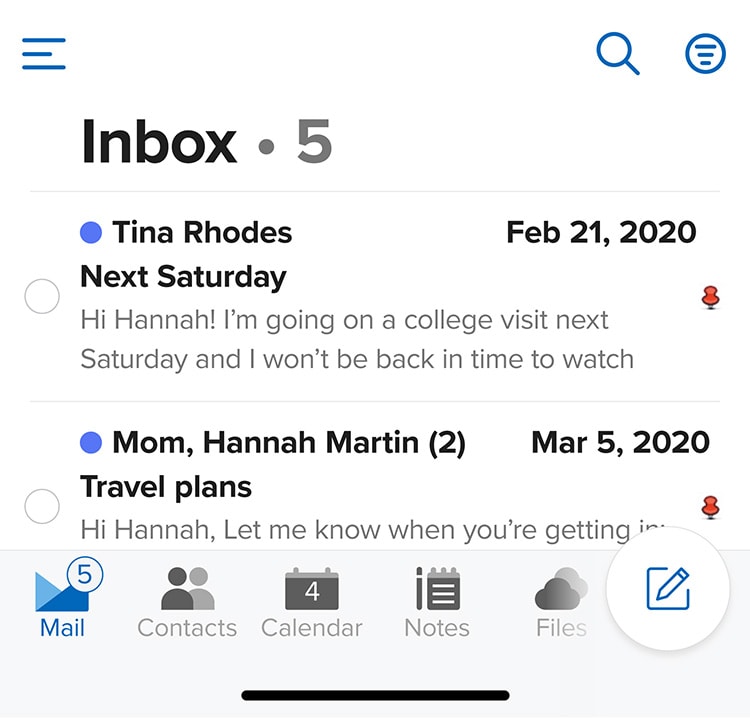 How is Fastmail pricing structured?
Pricing is structured per user and can either be paid monthly or annually. The annual price is 10x the monthly price, so paying annually will get you two months free. Our pricing levels are $3, $5, or $9USD per month depending on a user's requirements. We offer mix and match pricing which allows customers to have several users at different levels on a single account. This is particularly handy for families where the adults might have larger accounts while choosing more restricted accounts for their children. We also have a reseller program, particularly for webmasters who want to provide email service. Resellers can manage the service for multiple clients and our billing options allow them to include it as part of a bundled package or have bills sent directly to the client.
Fastmail has introduced JMAP, a new modern protocol that replaces IMAP. What are its advantages?
IMAP protocol can be difficult to implement. Because it is designed around having a permanent internet connection, it doesn't work very well with unreliable networks or those mobile phones which switch networks a lot. Therefore, it's hard for developers to work with, it's very hard to write a server for, and it's quite hard to write clients for. JMAP is developed on JSON and is built on web endpoints – HTTPS – making it much easier for developers to work with. Since JMAP has push built-in as a first-class object, it's a big advantage to our users is that they get immediate updates if something's changed on the server. While IMAP can do that for one mailbox, it cannot handle things across multiple mailboxes very easily. So, for users, primarily those with poor networks, everything will be faster. JMAP also supports more features, such as labels. Gmail had to add labels to IMAP because they're not really supported in that protocol. While we're not there yet, hopefully, there will be more clients supporting JMAP.
What are digital labels?
Digital labels are a tag that you can add to emails to keep them organized. For example, you can give priority to emails by labeling them as "Urgent" or label similar things like newsletters together. Labels can always be added, changed, and deleted and are different than folders as you can assign more than one label to an email. I think we support up to 100 labels per email but I don't think that makes it very usable! You can also have Fastmail assign a label to an email when it comes in, even before you've read it, by setting up certain criteria. Another thing about labels is that they are building blocks for many different features. I don't know if you've seen HEY, the hot new email service that was a big deal a few months ago. They have some interesting workflows, but they're very opinionated, so even if you don't like their workflow, you're stuck with it. Our approach with labels, and our approach with Fastmail in general, has been to build a toolkit that allows people to style their email interface in a way that makes sense to them. So, you can build your preferred mail flow on top of labels, or you can avoid them and just stick with mailboxes. Email is personal and the way you interact with it should be too.
Can Fastmail be used on desktop and mobile devices?
Yes, absolutely. While we have apps for the two big mobile platforms, our web interface works on mobile as well, so you don't need to install it if you don't want to. The advantage of installing the app on mobile devices is you receive notifications through the mobile native platform, even on your lock screen, or in my case, my watch. And now, with IOS 14, you can set Fastmail as your default email app which is great for the privacy of any data you send through our systems.
What are some features of your calendar and contacts functions?
We have a fully-featured calendar system that allows multiple calendars. You can import from other calendars, synchronize them to stay updated, and even do two-way synchronization where you edit the calendar on our system, and it will synchronize back out to the other system. Because calendaring is very collaborative, your calendar, contacts, and email are fully integrated. So, when you want to invite somebody to a calendar event, Fastmail uses your address book to auto-complete their name and email address. Likewise, if you receive an email with an attached calendar event, you can add it to your calendar and directly RSVP with an email. Our calendar and the contacts are built on top of CalDAV and CardDAV
,
existing open protocols.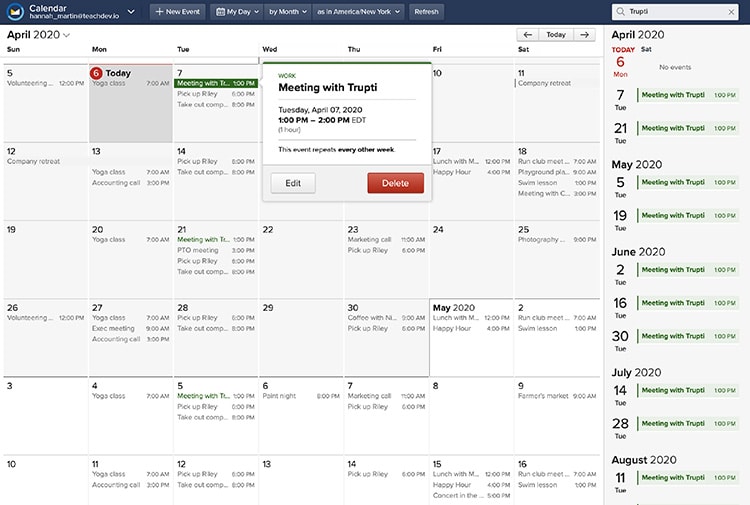 What is the VIP contact feature?
At the implementation level, VIP is just another group. You can create and name groups of contacts but there's a kind of magic around VIPs. You can click a button to filter by VIPs and you will only see those emails. A common way to set up Fastmail, especially if you receive a lot of emails, is to have it notify you or ping your phone only when an email from a VIP arrives. One of the differences between us and most other companies is that they are designed to maximize your attention and increase the amount of time you spend on their site. One of our interface's major features is right in our name – FAST. We want you to get in, deal with your email as quickly as possible, and then spend your time elsewhere. We don't need you on our site for any amount of time because we're not selling your attention, we're not selling your data.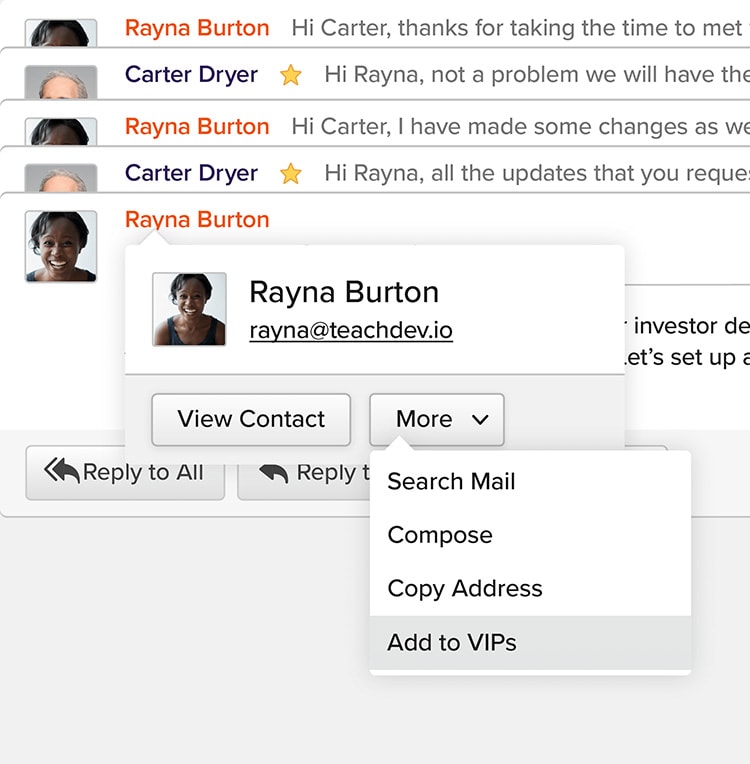 Can data from other calendars or email platforms be migrated to Fastmail?
Absolutely. Migration is something we've worked on a lot over the past couple of years and it is now very simple. One of the first things we walk you through when you set up a Fastmail account is how to bring in your data from a previous platform. You can synchronize that one time or set up an ongoing synchronization, so we keep fetching your email into Fastmail from a POP or IMAP server. Likewise, with calendars and contacts. You can bring everything into Fastmail and continue to synchronize your calendar events and contacts across both systems.
What are some of your email features?
With Fastmail, you can "snooze" an email causing it to disappear from your inbox and reappear later that day, tomorrow, or even next week – whenever you specify. We found that when people want to return to important emails, they were typically pinning them, marking them as unread, or placing them in a folder, but still overlooking them. When it's time for an email to be "unsnoozed", it reappears at the top of your inbox as new and sends you a notification. We have some very heavy users who find this extremely useful for managing their email. It's part of our toolbox design which allows you to build your perfect mail flow on top of our features rather than forcing you to work a particular way. Another great feature is our "undo send," which makes it easy to repair email mistakes. After sending an email, we give you 15 seconds to cancel the send. While those 15 seconds will not make a big difference as to when someone receives an intended email, it can make a HUGE difference when you need to stop an unintended one.
How do you detect and handle spam and phishing attempts?
Spam emails get dropped into their own folder. We don't tend to follow up on spam after it's been delivered because it is not too dangerous. Phishing, however, is extremely dangerous and often cannot be detected from a single email, but rather after hundreds of people have received the same email with the same patterns. So, we do both automated pattern detection as well as monitoring users' phishing reports. We then feed that information back and label those emails as phishing. If a user views that email, they'll receive a warning advising them not to follow links. Additionally, since email images are loaded through our server, users are provided with extra privacy protection and security because they're not directly connected to wherever those images are hosted. So, we've designed several safeguards to protect user privacy and stop dangerous targeting delivered through email.
What support is available to Fastmail users?
We do not outsource customer support. All our representatives are fully employed by Fastmail, giving them direct access to the development team to fully investigate and solve support issues. Due to COVID-19, everyone is working from home, but our customer service reps and developers are in the same Zoom room, where there's lots and lots of crosstalk. So, you not only get knowledgeable support people who don't need for a script, but also their access to our developers which gives you the continuity needed to get your issue resolved. We are very proud of the level of support they provide.