Since its founding in 2000, Doteasy's goal has been to offer quality, affordable, banner-free, domain-based web hosting solutions. Over the years, they have expanded their hosting plans to include advanced web hosting solutions, such as cloud hosting, and introduced suites of web hosting solutions and applications. We spoke with
Dora Mui, PR and Marketing Coordinator at Doteasy,
about their comprehensive and secure hosting solutions, from a website, to email, eCommerce, domain names, and more.
This interview was originally published on September 10, 2020.
Can domain names be registered, purchased, and transferred through Doteasy?
Yes! Doteasy is a domain name registration provider, and you can register or transfer a unique domain all through us. All domain purchases include free domain privacy protection for eligible extensions, domain forwarding, advanced DNS controls, and a free parked page. When customers transfer a domain to Doteasy, the new term will begin when their current term expires. This way they won't lose any of the time remaining on their current registration. We also easily allow customers to manage and keep track of all of their domains in one place with our Master Account.
What are your Web Hosting plans?
We offer a wide range of plans to accommodate our users at any stage of their journey. We offer Shared Hosting plans to cover starter to advanced needs, as well as Business plans that include even more resources, unlimited domain emails, and first-class security for optimal performance. We also offer plans that are optimized for use with CMS platforms, such as WordPress, Joomla, and Drupal. Lastly, for those who have outgrown the shared hosting environment (or are even looking to resell), we offer fully managed cloud hosting services. We aim to be a "one-stop shop" to be able to support our customers' online presence needs as they grow.
What is included with your WordPress hosting?
Our WordPress hosting plans come with the optimal hosting standards for compatibility with WordPress. WordPress and security plugins are pre-installed for our customers' convenience. The goal of these plans is to help users who know they want to use WordPress to build their website but are unsure of the hosting requirements needed to make it happen. Our WordPress hosting plans emphasize security and are equipped with SSL encryption, auto-updates for WordPress, and servers that are monitored 24/7. Our WordPress plans also come with free domain name registration and domain email accounts. Another advantage of our WordPress plans is that unlike many other WordPress hosting plans on the market, we don't implement any plugin restrictions. We're also happy to say that our in-house support team is well versed in WordPress, so we're here for our members if they ever need a hand! Our team also provides daily updates on our WordPress resources site with free plugin and theme recommendations.
Do you offer hosting for any other CMS platforms such as Joomla?
We definitely do! We offer Joomla hosting plans, which include the optimum security and website resources that are perfect for building a Joomla website. In fact, we're proud to have been recognized by TemplateMonster as a Top Web Host for Joomla. We also offer Drupal Hosting plans, which can easily be installed with our free 1-click installer.
Do your plans include SSL?
We're delighted to say that all of our hosting plans include SSL! SSL is essential to not only protect both the site owner and site visitors but also to increase site rankings on search engines and convey a sense of security in the browser. SSL is enabled automatically for cPanel hosting services upon sign up.
How are sites built with your Doteasy site builder?
We're proud to be partnered with Website.com, who powers our site builder. With the site builder, users can choose a design from hundreds of their industry-specific templates and drag and drop their content to create their website – no coding is required. What you see is what you get on the site builder, so users can easily visualize what they're creating. Another unique aspect of our hosting plans is that we allow customers to simultaneously create versions of their website using the Website.com site builder, or through the cPanel using a CMS such as WordPress, or even by coding. They can choose to point their domain to any version at any time!  This is perfect for any of our customers wanting to try their hand at a different building method without having to take their existing site down.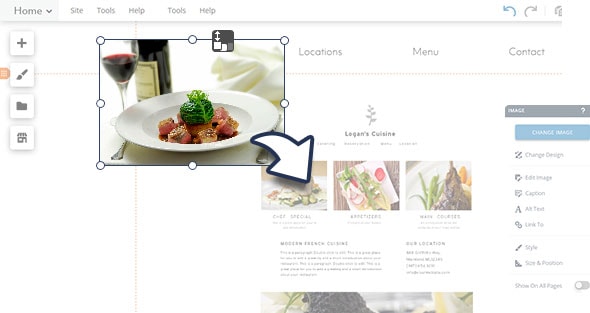 Can users create eCommerce sites?
Of course! The quickest way to build an eCommerce site is to use the site builder. Users can choose an eCommerce template and easily add their products. The site builder also includes other features to help their business excel, such as curbside pick up, abandoned cart recovery, coupon codes, etc. WordPress and WooCommerce are also popular methods to create an online store, and can easily be installed with one click using our auto-installer.
What apps or scripts can your users add to their site?
Our hosting plans offer PHP support, MySQL database, as well as a free Softaculous auto app installer – so the sky's the limit with the scripts our members can add to their site! The Softaculous auto-installer is included with our hosting plans and can be found in the cPanel. We offer 250+ open-source scripts, including popular apps such as WordPress, Magento, Joomla, Drupal, phpBB, SMF, and more!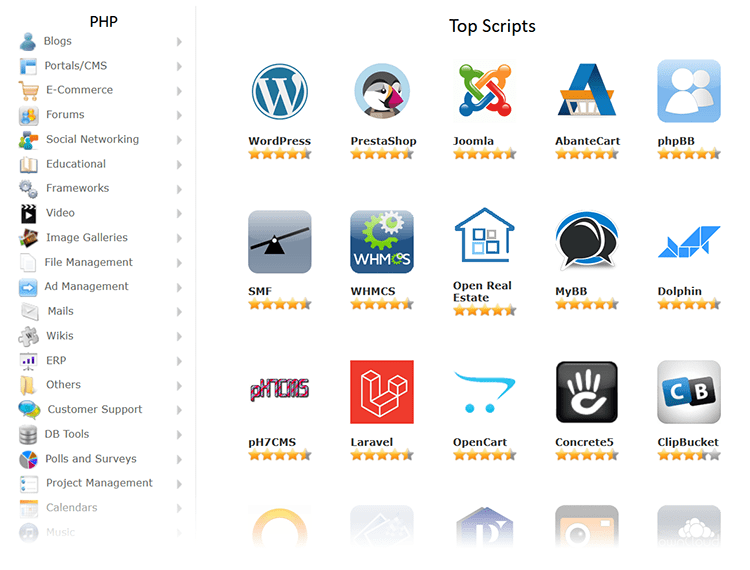 Are migration services available for customers with existing sites?
Yes, feel free to move on over to Doteasy! Depending on the method of site creation, our team can help new clients migrate their files to Doteasy to allow them to experience our incredible value, reliable service, and unbeatable speed. The migration is taken care of through the cPanel, and we offer it for free! As mentioned before, we also offer an easy way for customers to transfer a domain over to Doteasy while keeping the remaining time left on their existing registration. The new term with Doteasy would begin after their current registration term expires.
Do you offer custom web site design and development?
Yes, we do! We have an amazing in-house design team that focuses on researching the needs and industry of our clients to help them achieve results. What makes our web design stand out is that they are crafted on an easy to use drag and drop builder, giving our customers control of their site. Once the completed site is delivered, our customers can add their own future updates at no extra cost, without the need for any coding experience. We also provide custom tutorials and personalized support so that our clients feel supported even after the design is handed over. We've had a lot of clients who were so thankful for this, as they felt like their previous web designers had "held them hostage." Unlike other web design firms, we don't lock our web design clients into high monthly costs – they can continue to maintain their website with just regular hosting fees. Our approach is to be here to offer additional services and support, but also provide the tools to allow our clients to make the most cost-effective decisions for their business.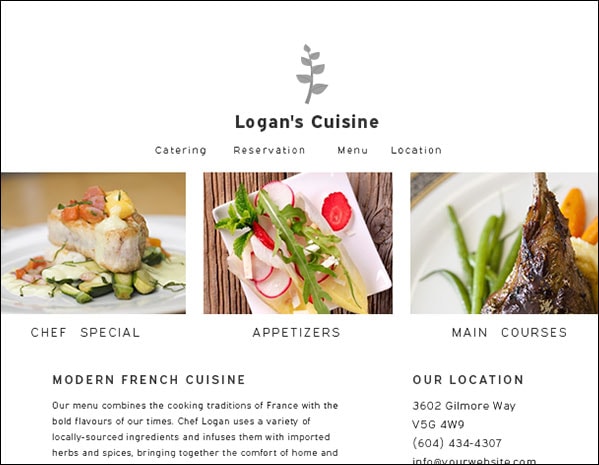 How are your servers protected against hackers and other cyberthreats?
We pride ourselves on our security and power measures to guarantee maximum uptime for our customers. Our data center is located in our office in Vancouver, Canada. Our servers are monitored 24/7, and our data center and team are located in-house to ensure maximum responsiveness against any threats. We focus on protecting our customers on both the server and domain level. We use malware scanners, web-based firewall applications, and intrusion detection and security applications to detect and block attacks. We also employ server hardening measures and ensure there are no vulnerabilities. Our network is connected to multiple upstream providers to ensure data travels in the fastest manner possible. Our network partners are comprised of nationally recognized telecom companies who have worked with us to build and maintain our world-class network. Fully redundant core switches and routers using the BGP4 protocol ensure that data can be routed even in the event of an uplink failure. We also don't rely on the local power grid to guarantee uptime. Our on-site diesel-powered generators and centralized Uninterruptible Power Systems (UPS) ensure uninterrupted hosting operations. In the event of a power failure, our dedicated diesel generator will switch over to ensure continuous power. Our power systems and generators are tested regularly to ensure tip-top performance and response. All this to say, we take security and uptime very seriously at Doteasy!
What support is available to your customers?
Our customers can reach us through phone, live chat, or tickets! Our award-winning support team is in-house in our Canadian office, so we're constantly training and staying on the same page about what our customers want and need. We're also proud to provide resources to help our customers educate themselves and find answers right away, through our YouTube channel and article database. We also update our WordPress resources site daily with free plugins and themes.