, I have to admit that this match is closer than I thought it would be.
In fact, WordPress and Concrete5 have a lot in common.
But there's one area where WordPress comes out on top. Almost all web hosting providers that have 1-click installers offer both Concrete5 and the self-hosted version of WordPress, but
one advantage WordPress has is that you can get managed hosting for it, while with Concrete5 you'll have to manage everything yourself
.
WordPress definitely has an edge over Concrete5 when it comes to choosing a web hosting provider
, but Concrete5 can also be a solid option if you're new to website building. I'll focus on features, ease of use, themes, customer support, and more to help you decide which CMS is right for you – plus I'll give you the best hosting services, regardless of which platform you decide on.
If you're in a hurry, take a look at Hostinger's best plans for WordPress and Concrete 5
– or stick around to find out why I recommend WordPress over Concrete5.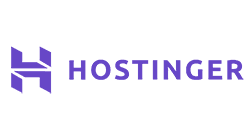 Save up to 75 % on your Hostinger plan!
Limited-time offer - Don't miss it!
7002 users used this coupon!
1. Features
Concrete5 Has More Features Built-In, but WordPress Has Plugins for Everything
Both Concrete5 and WordPress have a WYSIWYG (What You See Is What You Get) editor. In other words, you can make changes to your website and preview them before you hit the publish button.
Both editors work with drag-and-drop blocks (these can be text, headings, images, or forms), and you can easily arrange each block on a page.
You can create a basic website with WordPress and Concrete5, but
Concrete5 has most functionalities built into the native editor, while WordPress needs plugins to achieve similar results
. For example, WooCommerce can help you build an online store. You can use Yoast SEO to optimize your site for search engines. Or you can install Divi to turn WordPress into a drag-and-drop website builder.
There are tens of thousands of plugins for WordPress, so you can do pretty much anything you want with your site.
However, too many plugins can affect your website's speed. And since most plugins are developed by third-party providers, you might have to deal with compatibility issues. You also have to manually update your plugins, unless you
get a WordPress host like Hostinger to do it for you
. (As a bonus,
all of Hostinger's plans come with a 1-click installer
that makes it easy to get started with WordPress). Concrete5 is more lightweight.
SEO and e-commerce are built into the CMS, as are sitemaps, galleries, forms, social media buttons, and more.
Most plugins are developed or fully endorsed by Concrete5, so there are fewer compatibility issues. That said, fewer plugins are available overall, so you don't have as many options as you would with WordPress. One area where WordPress truly shines is blogging.
WordPress was built for blogs, and it makes it much easier to publish, organize, and categorize content with categories and tags that are easy to search and view.
Concrete5 does have some blogging functionality (adding a blog with comments is simple), but it lacks WordPress' awesome system for organizing posts.
2. Ease of Use
Concrete5 Is More Intuitive, but WordPress Is Backed by an Impressive Community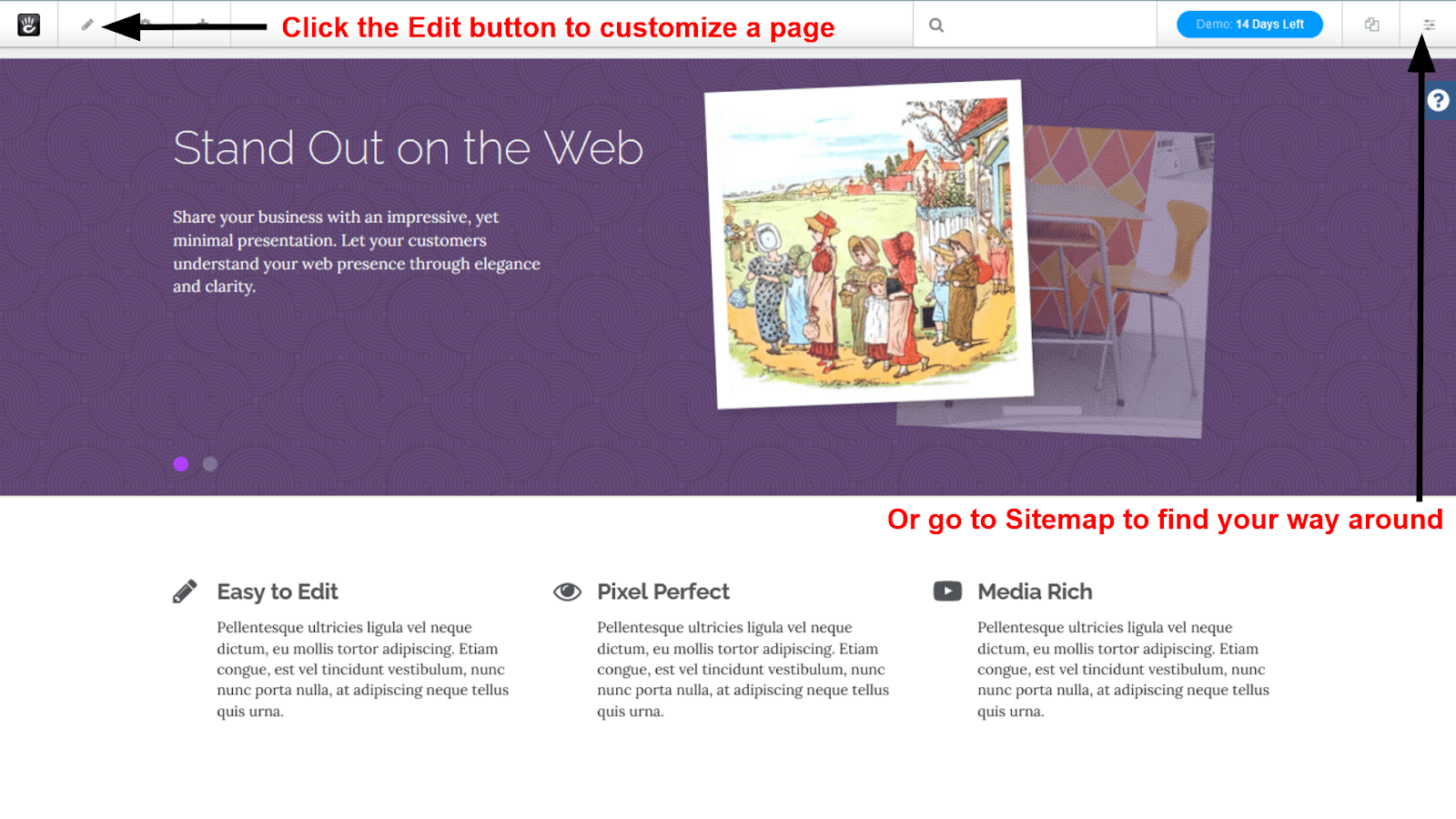 Both WordPress and Concrete5 are fairly easy to use, but with WordPress, there's a bit of a learning curve.
It gets easier as you become more familiar with its interface, and there are plenty of guides to help you get started, but if you've never used WordPress before, you'll need some time to learn the ropes.
By comparison, Concrete5 is more intuitive.
You just select a theme, click the Edit button, and you're ready to design your site. The themes are easy to customize, and you have several preset filters to choose from. If you're managing a lot of pages and subpages, you can head over to the built-in sitemap to get a brief overview of your website and each individual page.
The problem with Concrete5 is that it becomes increasingly difficult to use if you want to build a more complex site.
It's great for a simple portfolio or business landing page, but if you want to create an online store, for example, you might need help. Which brings me to the issue of documentation.
There are several guides that'll introduce you to Concrete5, but its knowledge base is not nearly as impressive as the existing documentation on WordPress.
Even if it might take a bit of time to get used to WordPress' editor, at least you know that there's a guide out there for virtually everything this CMS can do. With scalable plans, managed hosting services like
SiteGround
and
Kinsta continually develop tools
 that'll help you manage various aspects of your WordPress website.
They also optimize their servers specifically for this CMS, so you can expect outstanding performance.
I can't say the same for Concrete5.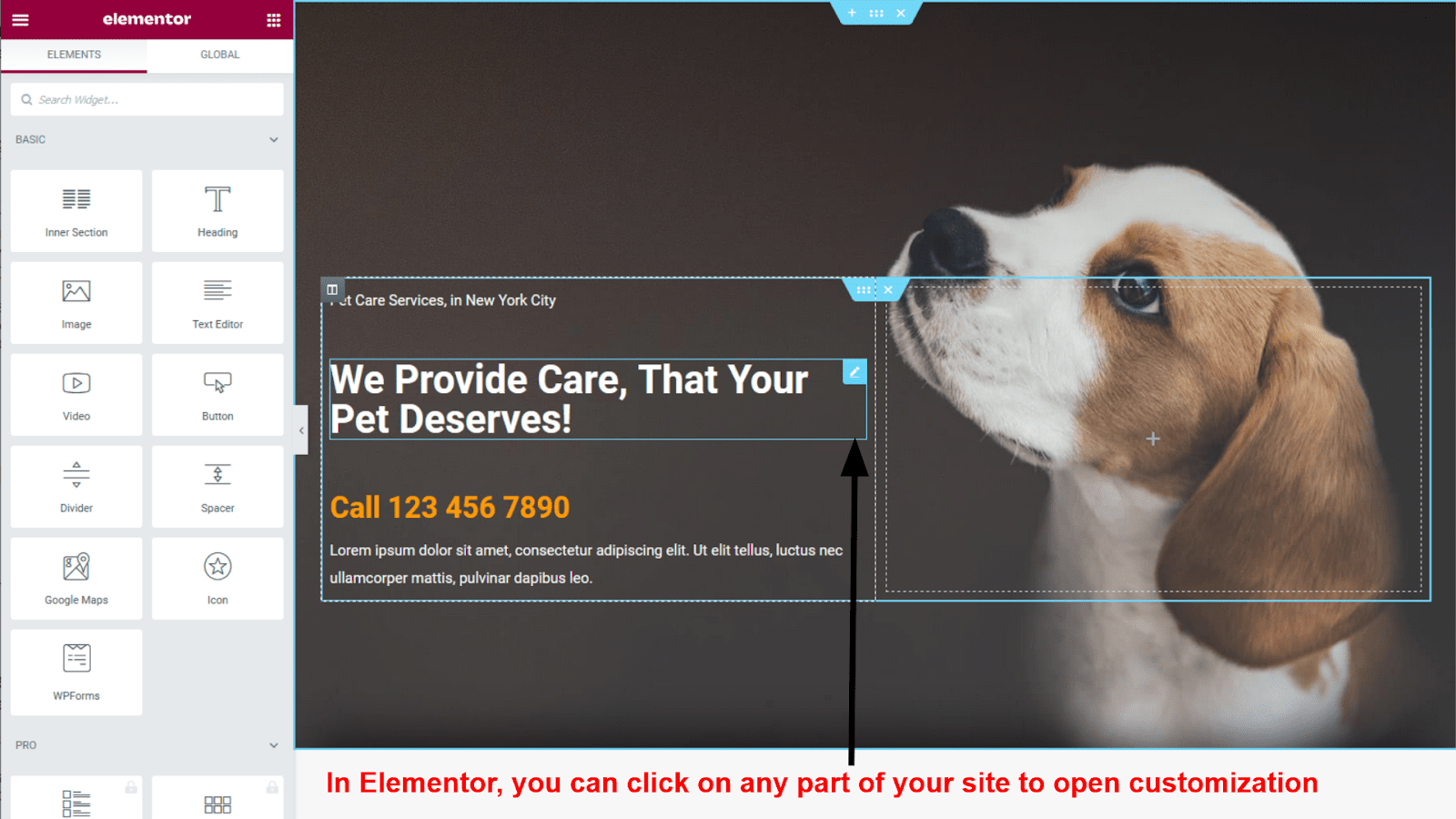 Plus, you can make WordPress easier to use by installing a free plugin like Elementor
, which is a website builder with a drag-and-drop editor. It's similar to what you'd get with Concrete5, and you're not at the mercy of the standard block editor that comes with WordPress.
3. Themes
Concrete5 Can't Match WordPress' Massive Collection of Themes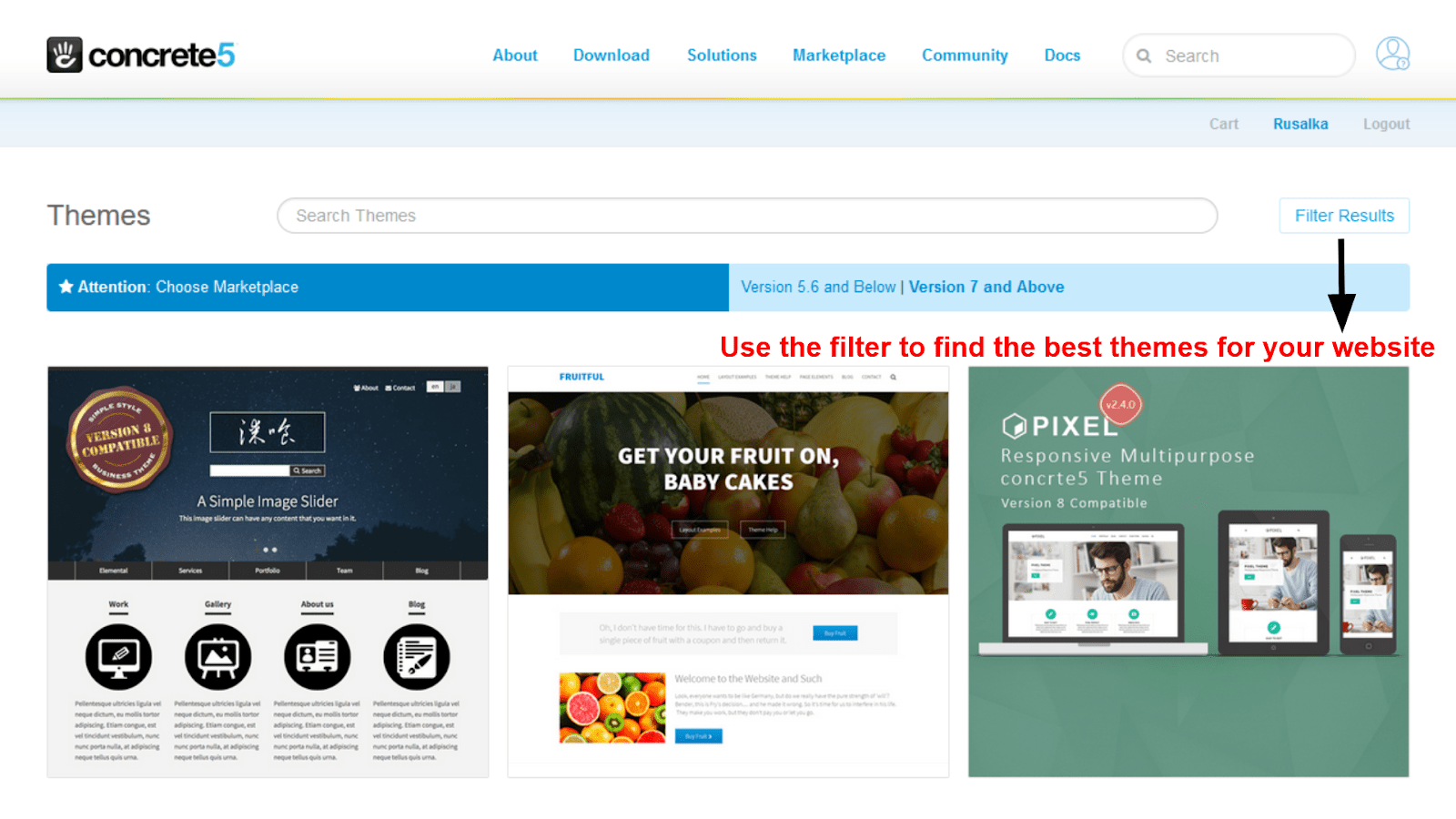 Both Concrete5 and WordPress have a marketplace where you can find themes and plugins to customize your website, and there are professional-looking themes for a wide range of subjects. Unfortunately,
Concrete5's collection pales in comparison to what WordPress can offer.
To give you some context, Concrete5 has just over 100 themes organized into 20+ categories (for version 7.0 and higher).
Of these, only about a dozen themes are free to use. The themes are fully customizable, and most are mobile responsive, which is a big plus. But unless you hire a developer to create a custom theme for your website, your options are fairly limited. On the other hand,
WordPress has thousands of themes and a broad community of developers who regularly contribute to its marketplace.
Plenty of these themes are free, and some web hosts give you access to premium themes as part of their plans. For example,
WP Engine's managed hosting plans
 include 30+ premium StudioPress themes for free
.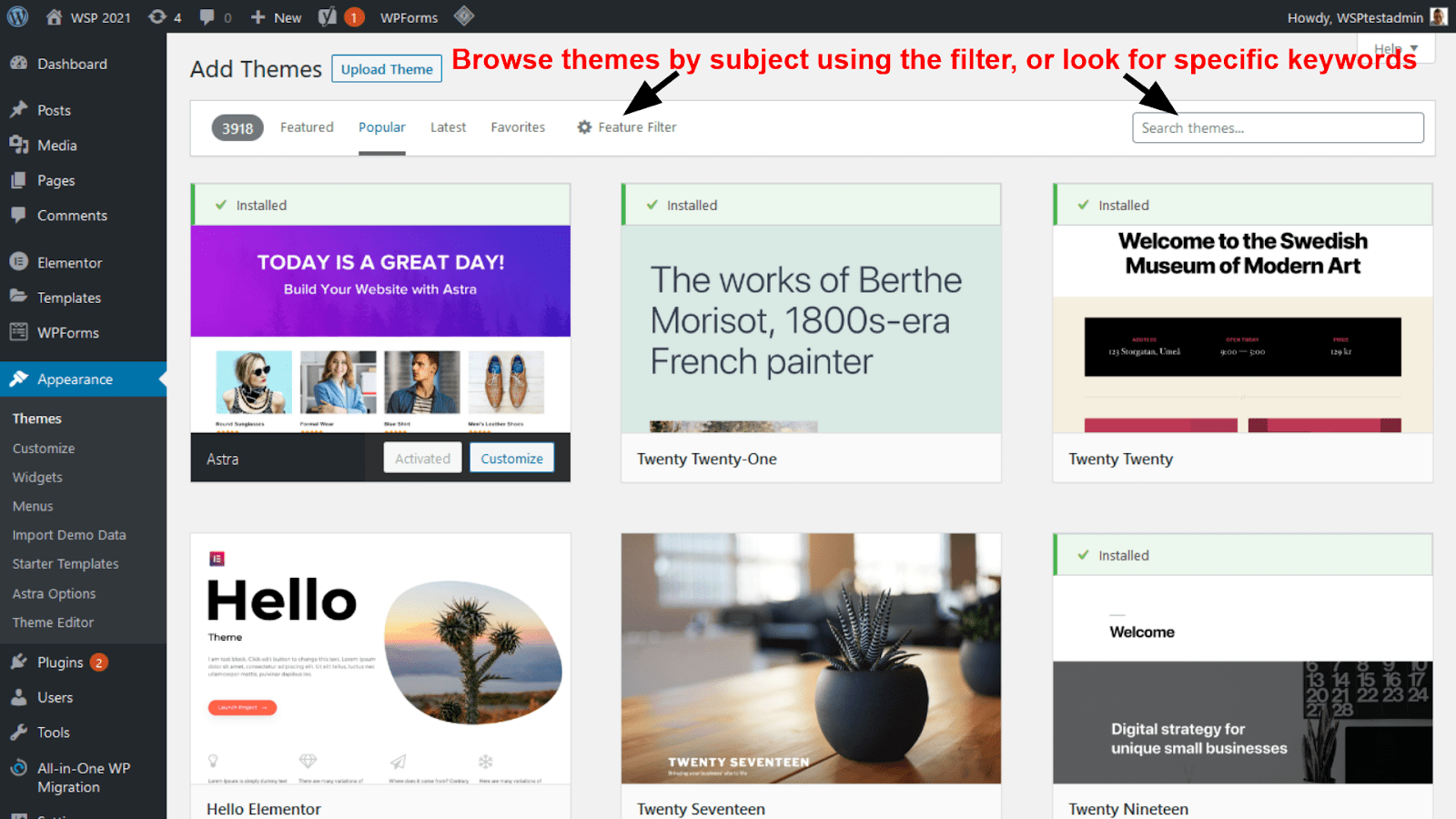 WordPress themes are organized into nine categories like photography or e-commerce, but you can also filter them by features and layout.
Not all themes are mobile responsive, though, and you can't filter your search to find the ones that are. However,
you can use plugins like Elementor
to easily preview and edit the mobile version of your site.
Both WordPress and Concrete5 let you switch between themes if you want to give your website a fresh look, but don't expect this to be an easy process.
Depending on the theme you choose, some of the old elements on your site might stop working or go missing. The actual content won't be deleted, but it'll take some work to display it properly.
4. Add-Ons/Plugins
WordPress Has More Plugins, While Concrete5 Is Missing Some Essential Add-Ons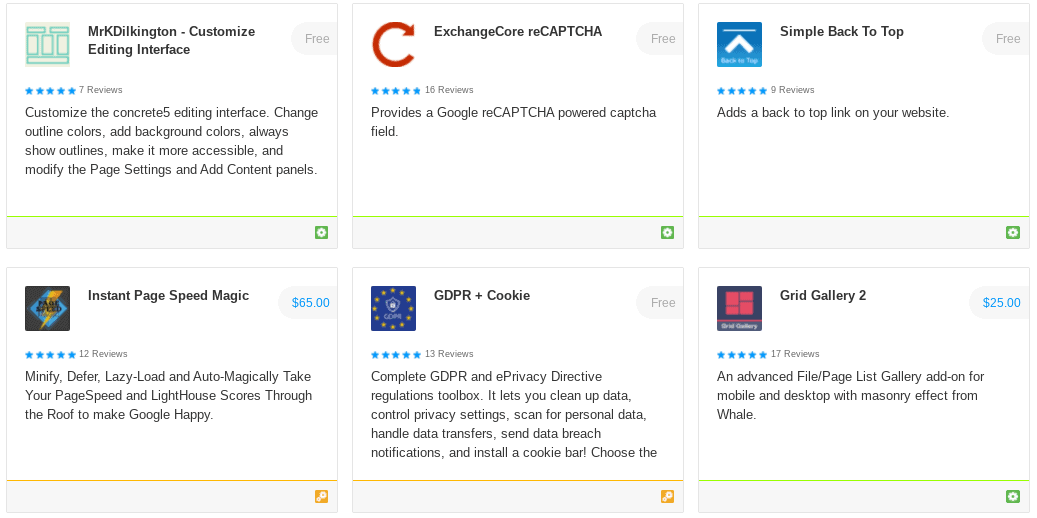 Concrete5 has hundreds of add-ons that can extend its functionality, but many of these aren't free.
You can add galleries, sliders, CTAs, a live chat feature, and more without spending extra money.
However, if you want advanced forms or e-commerce features, these will cost you.
And so will other essential tools, such as spam protection.
Meanwhile, WordPress has tens of thousands of plugins in its marketplace.
Not all of these are free or updated regularly, and some are incompatible with others, but the point is that if you want to add something (anything) to your website, you can.
The one advantage that Concrete5 has in this category is that it comes equipped with lots of functions by default, so you don't need as many add-ons.
For example, Concrete5 has built-in SEO tools that you can easily access from your sitemap. With WordPress, you'll need an SEO plugin to manage things like meta titles and descriptions, readability, XML sitemaps, and more.

The good news is that
there's a (free) WordPress plugin for pretty much everything you'll ever need to build a website.
From spam protection to malware removal, website widgets, and caching, no valuable tool is missing. Some WordPress-friendly hosts, including Hostinger, will automatically add plugins to your site to boost SEO and speed performance.
Just remember that loading up your website with plugins will slow it down.
As a beginner, you might be tempted to install a little bit of this and a little bit of that, but the more lightweight your WordPress is, the better.
5. Security
Both CMS Cores Are Safe, but WordPress Has Better Security Plugins
WordPress and Concrete5 are well-secured by default, but this is only true of the core installations.
For instance, developers can extend the functionality of Concrete5 by writing their own code. But in this case, it's the developer's responsibility to properly secure this code. The same holds true for add-ons and, in the case of WordPress, for plugins.
Concrete5 doesn't have a built-in malware removal tool, nor is there an add-on that can fill in this gap.
If you ever want to scan your files for malware, you have to use the tools provided by your host. Keep in mind that some providers might ask you to pay extra for some security tools.
Unlike Concrete5, WordPress has several plugins that can help protect your site against spam and malware.
Most of these are paid, but some have free versions that offer some form of basic protection.
It's also worth noting that WordPress is patched and updated more frequently than Concrete5.
In theory, this is a good thing. But keep in mind that most security breaches occur because of vulnerable, outdated software, so it's essential that you either turn on automatic updates for your core WordPress installation and plugins, or take the time to install these updates yourself.
6. Support
There Are Forums for Both CMSs, but You're More Likely to Get Help with WordPress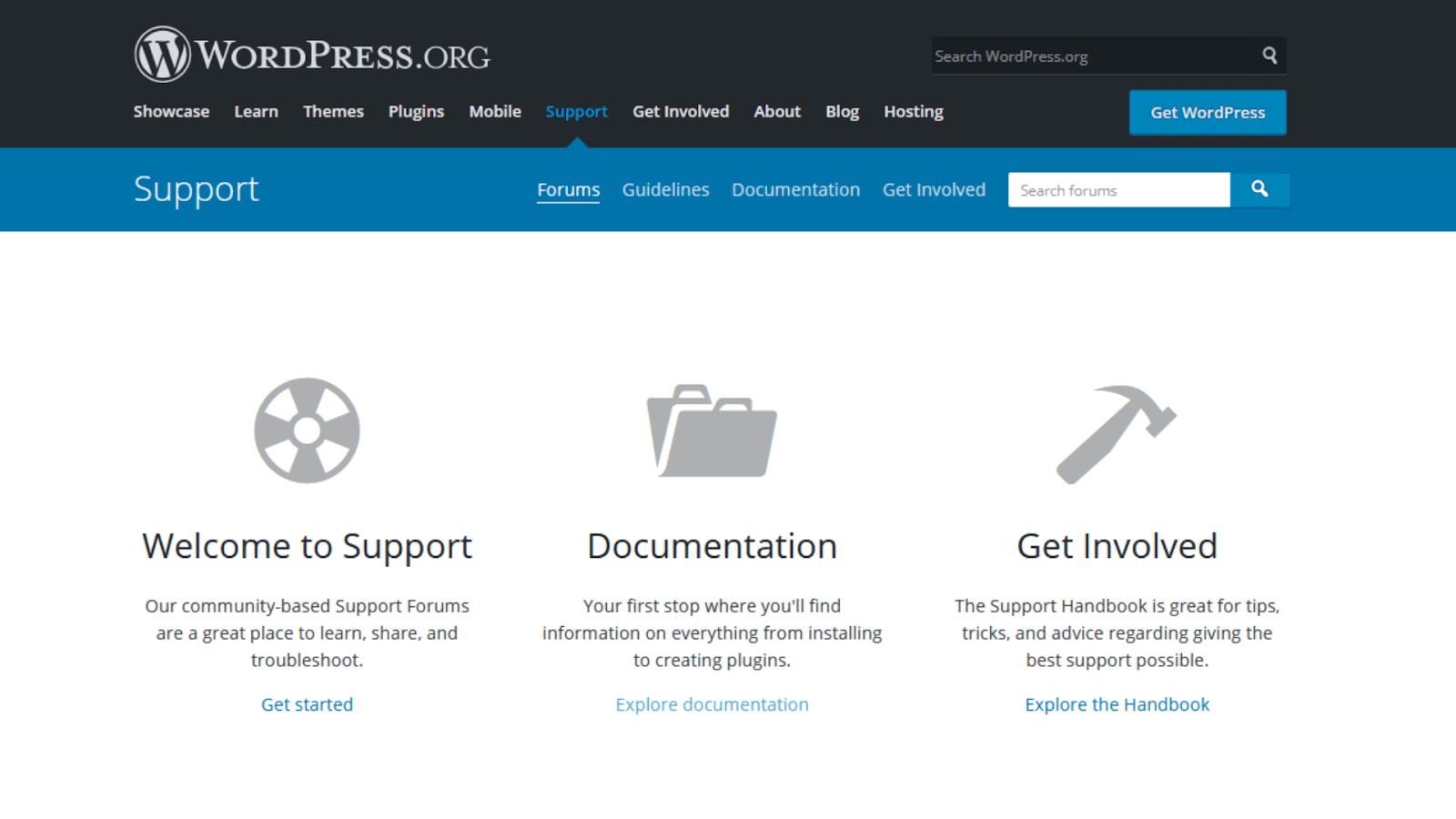 WordPress and Concrete5 are not web hosting services, so they don't offer customer support through live chat, phone, or tickets.
What you can do, however, is head over to the knowledge base and try to find a solution there. You can also try your luck with the support forum, where other users might be able to help.
Almost half of all websites online are built on the WordPress platform, so there's a
massive
knowledge base with hundreds of useful guides.
You can enhance your experience by incorporating thousands of tutorials created by developers and other users. An impressive community supports the support forums, ensuring that you're likely to discover a solution there if the knowledge base doesn't suffice.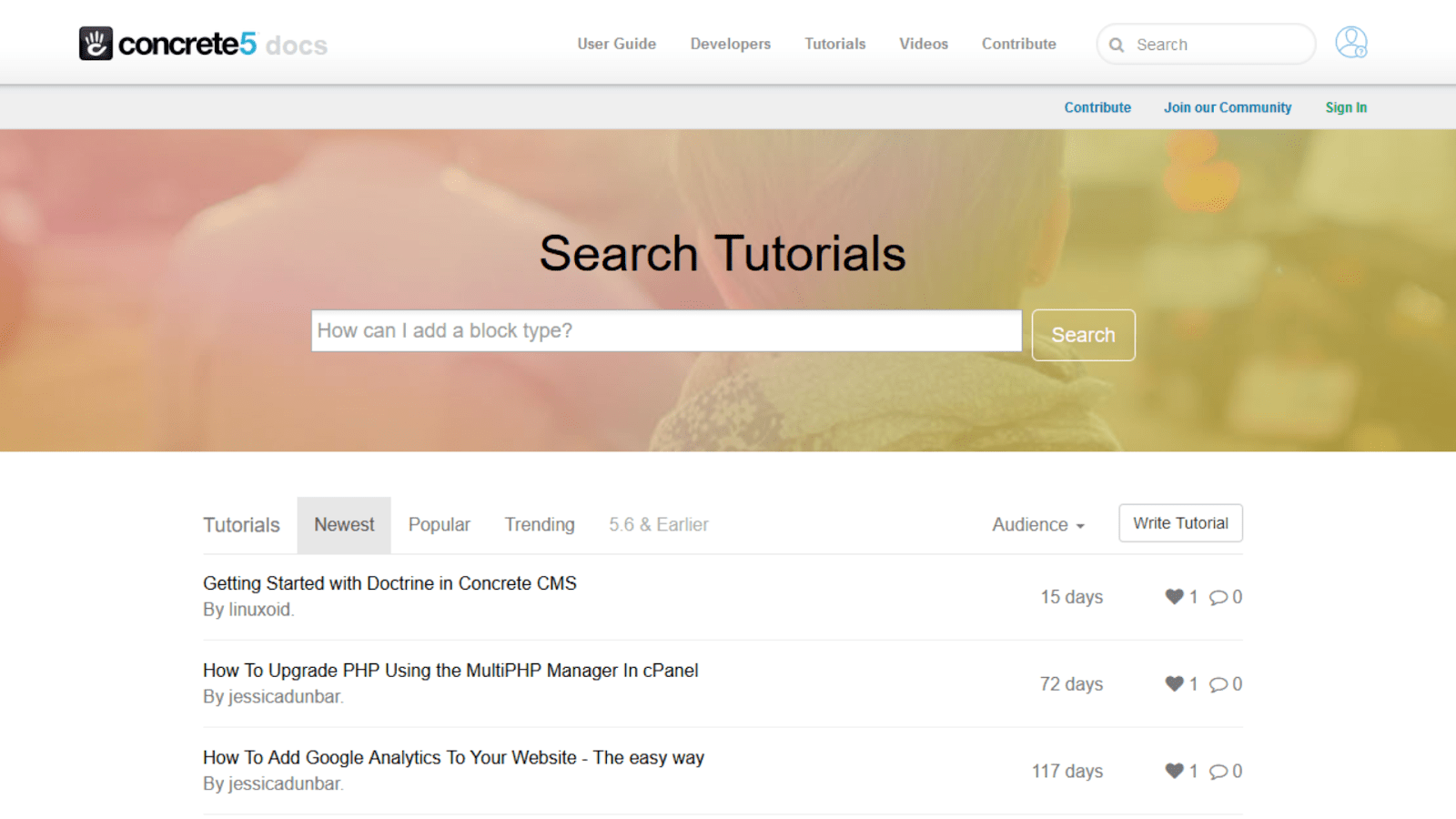 Concrete5 also has a comprehensive knowledge base that can help you get started, but once again, it has relatively few users compared to WordPress.
This means that you're not as likely to find guides for it online, and there are fewer people who can answer your questions on the support forum. And there's one other thing to consider.
Some web hosting services, including A2 Hosting and InMotion Hosting, offer support for popular CMSs like WordPress.
Don't get me wrong: the tech team won't help you build your website, but you can get some guidance with your WordPress installation and the optimization of your site. This isn't the case with Concrete5. Sure, your host will probably give you a one-click installer for the CMS, but other than that, you're on your own.
WordPress Has the Upper Hand, but Concrete5 Has Its Uses
At the end of the day, the gigantic community behind WordPress is one of its biggest advantages, and something that Concrete5 simply can't match.
As a result, WordPress has better themes, plugins, and support. Does that mean that you
have
to use WordPress? Absolutely not.
If you're a web developer, you might prefer Concrete5.
It gives you tons of freedom, and your clients will have an easier time updating their sites once you've transferred ownership.
Even if this is your first time building a website, you might prefer the simple point-and-click interface that comes with Concrete5
(and you won't have to install any add-ons to get this feature)
.
So long as you don't need any special widgets, a free, simple theme should do the trick.
But if you want my advice, WordPress is a better long-term choice.
Yes, you'll need a bit of time to get used to the editor, but you'll have half of the internet (and your web host) on your side while you learn.
And when you pair WordPress with one of Hostinger's low-cost hosting plans, you can get your website online with even the smallest budget.
For a quick recap of my hosting recommendations, take a look at our list of
the best web hosting services in 2023
.
Key Features
WYSIWYG point-and-click editor, lots of built-in functions
WYSIWYG block-based editor, fewer built-in functions but tons of plugins
Ease of Use
Intuitive builder, easily customizable themes, ideal for simple websites
There's a steeper learning curve, but drag-and-drop builders like Elementor can make the process easier
Themes
Over 100 professional-looking themes, but most of them are paid
Thousands of available themes, many of them free
Add-Ons/Plugins
There are hundreds of add-ons, but there are no free tools for spam protection, e-commerce, and other essential features
Thousands of free plugins let you do virtually anything with your website
Security
Concrete5 core is secure, but it doesn't have a malware removal tool
WordPress core is secure and there are lots of security plugins, but patches are more frequent
Support
Decent knowledge base and support forum, but the community is relatively small
Extensive knowledge base and support forum, plus guides from third parties and help from a gigantic community
FAQ
What's the difference between WordPress.com and WordPress.org?
WordPress.org is where you'll find the self-hosted WordPress. You can use the CMS to create websites for free, but you need a web hosting service to publish them online. On the other hand, WordPress.com is a website building platform built around the WordPress CMS. While it takes care of hosting for you, you'll get less freedom to customize your site. For example, most plans include very little storage space and restrict your ability to install plugins. My recommendation is that you use WordPress with a more flexible host. Head over to our list of the best web hosting services in 2023 to find some outstanding options.
What is WordPress best used for?
WordPress started out as a blogging tool, and to this day, it's one of the best CMSs for bloggers. However, you can also use it to build a portfolio, business landing page, or even an e-commerce store. Hostinger's Starter plan can host up to 100 sites, so you'll be able to build as many WordPress sites as you need. If you need some tips on building a WordPress site, take a look at our comprehensive web building guide.
Which is better for beginners, WordPress or Concrete5?
Concrete5 has an intuitive point-and-click editor that makes it super easy to customize a theme, but I'd still recommend WordPress for beginners. It takes some time to get used to WordPress' editor, but you can install a plugin like Elementor to quickly build a site, and you have thousands of guides to turn to if you ever get stuck. InMotion Hosting has a premium site-builder called BoldGrid that makes WordPress super easy to use and is ideal for beginners.
Are WordPress and Concrete5 free?
Yes, both WordPress and Concrete5 are free to use, although some themes and plugins are not. You also need web hosting to publish your website online, but you can check out the awesome deals on our coupons page if you're on a tight budget.