AWS and Azure's public clouds have changed the way companies manage their web presence, workloads, and data. But what do you do when it's a good choice for one aspect of your business and not such a good choice for another?
William (Bill) King
, president and CEO of
Codero
talks about the hybrid multi-cloud solutions which when properly designed and executed, provide added flexibility, cost savings, and enhanced scalability by allowing workloads to move between private and public clouds as computing needs and costs change.
This interview was published on November 19, 2019.
Please tell me a little bit about your background before joining Codero.
I've spent most of my career in the finance and accounting world.  For the last 25 years, I ran a boutique investment bank, working primarily with the owners and management of rural local exchange carriers (RLECs) and community-based communications providers, including telephone, wireless, internet, and cable TV companies. Over the past two decades, my partners and I have been advocating for RLECs and community-based communications providers to diversify their product and service offerings in light of competitive and regulatory change impacting their core offerings.  Codero presented an opportunity to acquire and nurture an "IT" platform company that could address the infrastructure and hosting needs of not only Codero's traditional customer base but the RLEC community and their customer base as well.  In May 2015, my partners and I led a group of 32 RLECs to acquire Codero.  In April 2019, I took over as Codero's President and CEO.
What services does Codero provide?
I believe our fundamental and most important service is service!  Codero is an Infrastructure as a Service (IaaS) provider offering IT hosting and infrastructure services, including dedicated servers, managed private clouds, and database clusters provided through two business-class, Tier III data centers located in Dallas, Texas and Phoenix, Arizona.  We also offer a variety of third-party services and solutions, leveraging both our network and data centers as well as those of our solutions partners.  But our primary service is providing the know-how and support to both architect and maintain the infrastructure solutions that address the specific needs of our customers.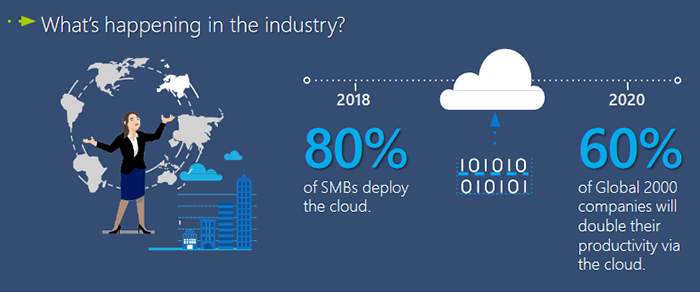 In late 2017, Codero made the strategic decision to turn down its public cloud and, instead, expand our relationships with the leading hyper-scale public cloud providers, including AWS and Microsoft Azure.  We haven't yet established a partner relationship with Google Cloud Platform, although that may very well be in our future.  It was clear to us that we did not have the depth of resources to compete with these players on a product development or marketing basis, so we instead focused our efforts on developing appropriate opportunities to integrate our hosted offerings with the hyper-scale public cloud providers. Moving to one of the hyper-scale providers is not the solution for every problem, but we recognize the market dominance of the likes of AWS, Microsoft, and Google and the importance of having the ability to integrate these services with our offerings.  Over the last several years, we have coordinated the migration of well over 500 customers to Azure and AWS.  This has provided our team valuable insights and experience as to how to best migrate customers and how customers can best leverage the hyper-scale public cloud offerings. So, in addition to our hosted infrastructure and third-party solutions offerings, we also resell Azure and AWS services.  Most of our customers use AWS and Azure as a back-up solution or as part of a hybrid, multi-cloud environment.  We also offer managed instances on both the AWS and Azure platforms but have found that competition and extremely slim margins make this an unattractive line of business unless the customer already hosts a part of their environment with us.
What is a managed hybrid cloud, and when is it the right solution?
Codero provides managed hybrid cloud services by designing and orchestrating the combined elements of on-premise and cloud computing platforms.  Often this takes the form of an integration of a customer's on-premise computing resources, Codero's hosted dedicated and/or private cloud infrastructure, and the public cloud infrastructure of AWS or Azure.  Hybrid environments can be tricky to deploy but, if properly architected, can provide customers added flexibility, cost savings, and enhanced scalability by allowing workloads to move between private and public clouds as computing needs and costs change. Hybrid environments enable customers to leverage on-premise or dedicated hosted infrastructure for sensitive or critical workloads and public cloud infrastructure for less critical applications and workloads.  Hybrid environments are also helpful when customers experience significant demand spikes, such as, for example, during the holiday season.
Are there certain circumstances that would make you recommend Azure over Amazon or vice versa?
There are myriad factors to consider when choosing between AWS and Azure, including but certainly not limited to operating system considerations.  Despite inroads made by Azure over the last several years, AWS still dominates, so from a compatibility standpoint AWS is often the most logical choice.  AWS has the edge when it comes to open-source environments while Azure, as would be expected, has the edge when working in Microsoft environments.  When it comes to hybrid environments, Azure tends to have the edge. Frankly, it is our partner relationship that tends to most influence our AWS vs. Azure recommendations.  Over the last few years, we have found Azure to be much more channel-friendly as Microsoft tries to gain market share and make up ground on AWS.  It really is all about service and Microsoft because they seem more focused on growing and supporting their channel, tends to play nicer with its partners, which makes it easier for providers such as Codero to support our customers.
Is all your hosting on the cloud, or do you still do dedicated hosting?
The vast majority of the hosting services Codero provides occurs on dedicated infrastructure located at our Dallas and Phoenix data centers.  We maintain DirectConnect and ExpressRoute connections to AWS and Azure so that we can resell AWS and Azure services and provide hybrid cloud environments for our customers.  However, our niche remains in the provision of dedicated infrastructure backed by strong, responsive support. Cloud usage and growth is far from a zero-sum game. While our dedicated infrastructure may not meet the technical definition of the cloud, we think we are positioned to take advantage of what we see as exponential cloud growth over the next few years.  We have lost customers that prioritize the name recognition or scalability offered by the hyper-scale providers, but we have found that we retain and gain customers who prioritize affordability, control of their environment, and personalized and responsive service and support.

What industries do you serve?
Our typical customers are SaaS developers, website developers, and the eCommerce community.  We serve a wide swath of the internet and eCommerce spectrum from on-line retailers to video content distributers to news aggregators.  We also provide the compute and storage resources for many of our clients' day-to-day workloads.  And we have an extensive list of partner companies who resell our services on a white-label basis.  In fact, it was that value premise, the ability to white label Codero's hosting services under the reseller's private label, that piqued the interest of many of our RLEC investors. Additionally, about 35% of our business originates internationally.  We have customers in Peru, Brazil, Mexico, Vietnam, India, Australia as well as in Europe and Africa.  A significant portion of our international business is with companies that resell our services.
Which compliance guidelines do you meet, and how do you audit them?
We're SOC certified, HIPAA, and PCI compliant.  We have an affiliation with a CJIS compliant data center, which helps us address the needs of law enforcement, municipal governments, and courts.   We are also GDPR compliant, which is necessary for any of our customers who interact with EU citizens on the web. We have independent third-parties who come in and periodically audit our systems, procedures, and facilities to ensure our compliance.  We also do our own internal mock audits, where we go through checklists to make sure the proper procedures, controls, and documentation are in place.  It's a grueling ongoing process.
What solutions do you recommend for small businesses?
That's a loaded question, so I'll need to say – it depends!  Many, if not the majority of small businesses, can address most of their needs by leveraging one or more of the big-brand SaaS applications available on the public cloud such as Office 365, Google Docs, Quickbooks, Dropbox, etc.  While we host many of our customers' accounting and collaboration environments, I'll be the first to admit that it's tough to beat the big brand SaaS applications on a price and feature basis.  We do resell a few SaaS applications such as Office 365 and provide related support, but we do that principally as an accommodation so that we can aggregate demand and pass on some volume discounts to our partners.

A small business customer comes to us when they have a significant web presence or if it makes sense for them to locate workloads or data remotely.  We work with our customers and their IT staff and/or consultants to provide the infrastructure best suited for their needs.  We have a variety of internal customization options and third-party solutions (e.g., VMWare, eVault, Infrascale, cPanel, Plesk, Microsoft SQL, Cloudflare, etc.) that are available based on the specific requirements of the customer and its environment. Frankly, in my opinion, the most important solution we provide is personalized, customized and scalable support.  Azure and AWS are excellent services, but good luck getting your phone call answered if you have any problems.  Both AWS and Azure are rapidly getting out of the support business, instead relying on their channel partners to provide support, typically at fairly high prices.  Codero provides that first layer of support between the customer and AWS and Microsoft as well as many of our third-party solutions providers.  That doesn't mean we can internally address every issue that surfaces, but we have the expertise as well as relationships with third-party consultancies and developers that can be leveraged if circumstances warrant.
What solutions do you have to meet the specialized needs of streaming media and gaming sites?
We have extensive experience working with both gaming and video content providers, and for them, it's all about speed.  Our two data centers allow us to couple the latest in server technology with significant bandwidth capacity drawn from our relationships with top-tier transport providers to stand up a robust environment with both power and speed.  Once their network requirements are addressed, its about affordable storage, protection against attacks and constant network optimization.  We leverage partnerships with leading technology providers such as Cloudflare, Dell, FortiGate, and others to ensure our customers' environments remain safe, secure and accessible.
What kind of support is available to your customers?
In the end analysis, we rack and stack the same top of the line equipment as many of our competitors.  What ultimately sets us apart is our customer experience. Customers witness our expertise first-hand when they interact with us, whether during the sales process or when accessing post-sale support.  Customers want things to run smoothly, but they also want to know that someone is watching their infrastructure and working with them to make sure their environment is stable and optimized. In order to provide a consistently excellent customer experience, you need to start with a solid foundation.  Our network is our foundation and includes two business class, Tier III data centers, which were built with the speed, resiliency and reliability requirements of multi-tenant hosting firmly in mind. We also believe well-designed and orchestrated back-end systems and procedures are an integral component of our support foundation.  We invest heavily to ensure our support engineers have the tools, training, and techniques necessary to provide our customers the most efficient, effective and responsive support experience.  We also perform automated monitoring and alarming of literally hundreds of attributes so that we can alert customers before an outage occurs.

We recently launched our Serious Support™ initiative, which consolidates our support commitment and capabilities under a unified brand.  Serious Support™ is a highly customizable framework that enables our customers to choose the level of technical support their business needs, rather than wedging them into a "one size fits all" model. Within that framework is
Essential Serious Support™,
which provides customers with live 24/7/365 phone, email, and chat access to a wide range of core support services, including enterprise-grade real-time monitoring, 5-minute new online request confirmation, 1-hour support engineer response, and comprehensive hardware and network support. Essential Serious Support™ is best suited for customers who maintain their own self-sufficient internal IT support team and are comfortable addressing their non-hardware support requirements. Then there is
On-Demand Serious Support™,
which is for customers wanting to maintain a high level of control over their hosted environment while still leveraging our extensive engineering support.  On-Demand Serious Support™ includes all services provided with Essential Serious Support™ plus an extensive array of additional features, such as expanded enterprise-grade real-time monitoring, accelerated response times, and the invaluable peace of mind of knowing their IT department has 24/7/365 "on-demand" access to Codero's support and managed service capabilities. Our top-shelf
Pro-Active Serious Support™
is where we take everything in terms of support off a customer's plate.  With a fully managed 24/7/365 server administration solution, we basically function as their IT department, making sure they're up and running and optimized.  Pro-Active Serious Support™ customers rely on our industry-certified support team to provide comprehensive, "pro-active" oversight of their infrastructure.  We continually monitor, maintain, and optimize their infrastructure's memory, bandwidth, and about 237 (and counting) other attributes and report back to them if there's a problem.  Pro-Active Serious Support™ includes all services provided with On-Demand Serious Support™ plus additional features, including world-class pro-active server administration, security patching, operating system, application updates, and WordPress, firewall and third-party software installation and support.