Squarespace is a pretty great site builder and one of my personal favorites, but it's not for everyone. Maybe you found a better option, or maybe you just want to get a bit more hands-on with your site design. Whatever the case, canceling a website with Squarespace is easy, and you can get all your money back – if you work fast!
I forked over a year's worth of cash for Squarespace's cheapest plan to make this guide
, so you know I had every reason to figure this out. Now that I've been through the whole process, I'll show you exactly how to cancel both your website subscription
and
 your domain names. Oh, and if you're looking for another site builder to try out,
take a look at Wix
, or one of
the other site builders we recommend
.
How to Cancel Your Site
Requirements:
 To get a refund, you'll need to cancel within 14 days of buying an annual subscription. That's right: you've only got two weeks to decide if you want to keep your site, and you'll only get your money back if you paid for a whole year in advance. No refunds on monthly subscriptions. Oh, and you can't get refunds on renewal payments. This process will only work for your very first payment. If that seems like too short a window for you, you could sign up for
Squarespace's 14-day free trial
 before you buy your subscription
.
That would give you 28 days to decide if you want to keep your site. Lastly, be sure to download or copy all of your website content as soon as possible. Any website you cancel is scheduled to have its content deleted in 30 days. After that, you'll no longer be able to access it. With that out of the way, let's move on to the actual tutorial.
First, log in to Squarespace; you'll be taken to your dashboard like usual.
 There, you'll click on your site's menu button and select the
Billing
 option: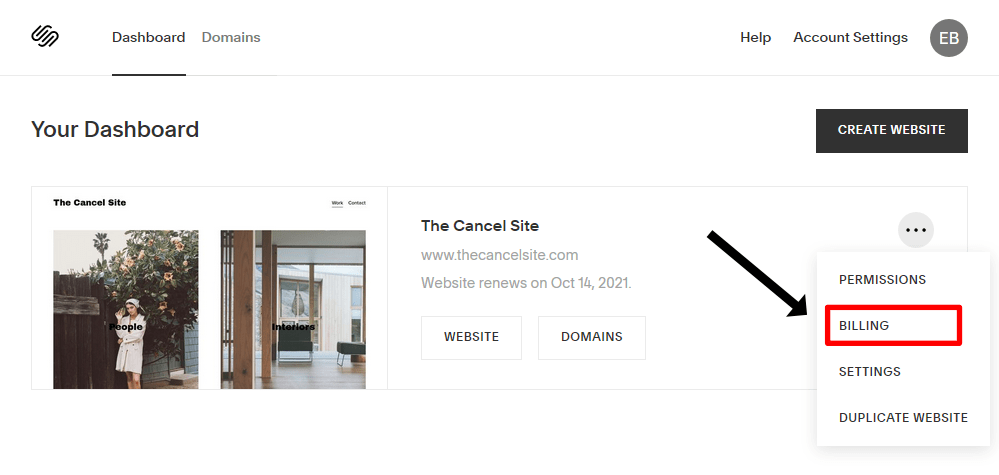 On the next screen, you'll need to click on
Billing
 again. Well, at least now you know where your invoices are.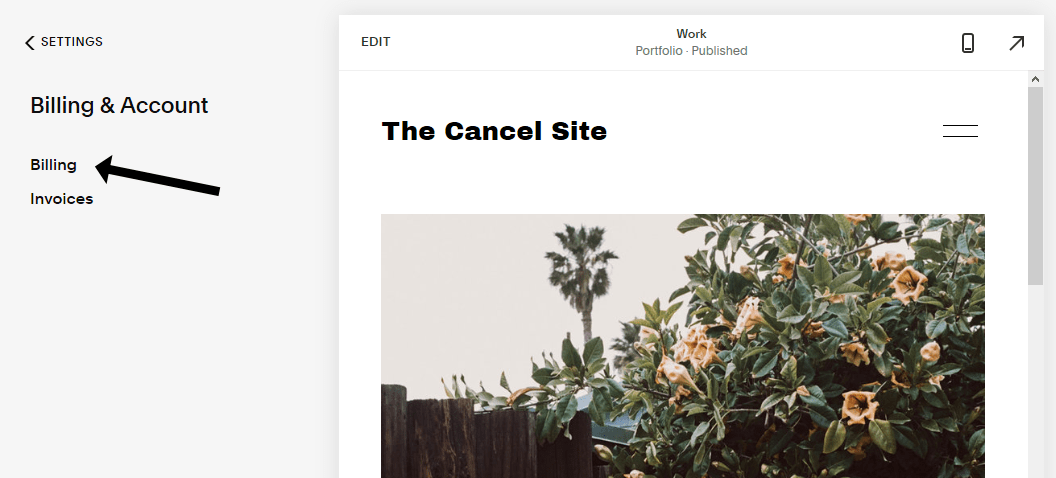 Now you're getting closer to the good stuff.
You're looking for a section in the sidebar called
Subscriptions
.
 That's where you can change – or in this case, cancel – both your website plan and your domain. To cancel the website, click
Website
.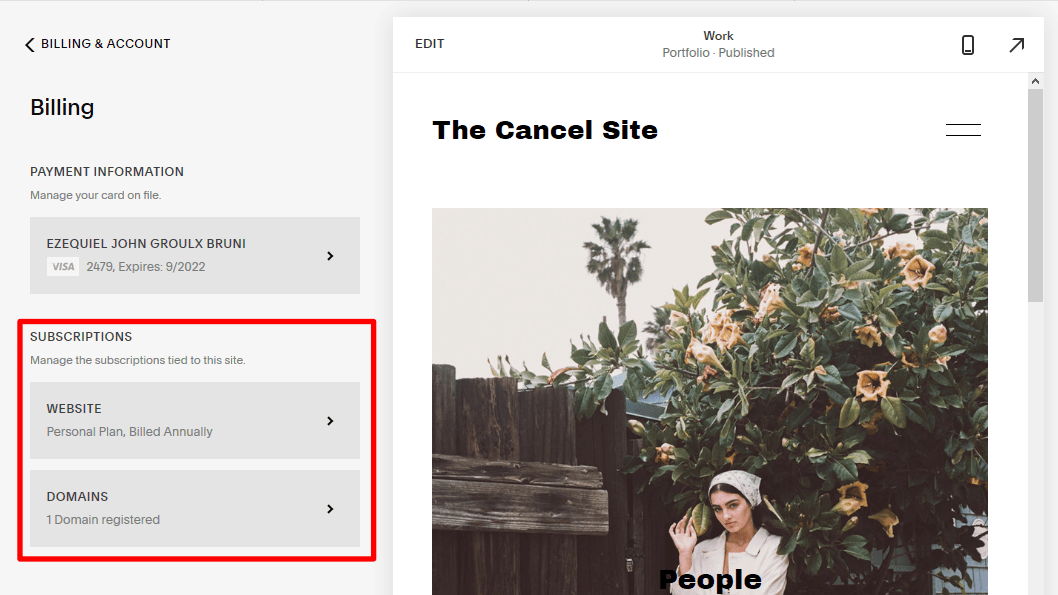 Now scroll on down to the bottom of the sidebar. You'll see a
Cancel Website Subscription
 option and a checkbox that says
Auto-renew
. You don't actually need to bother with that checkbox (once you cancel, there won't be anything to renew) but you can always uncheck it anyway for good measure. Then hit
Cancel Website Subscription
.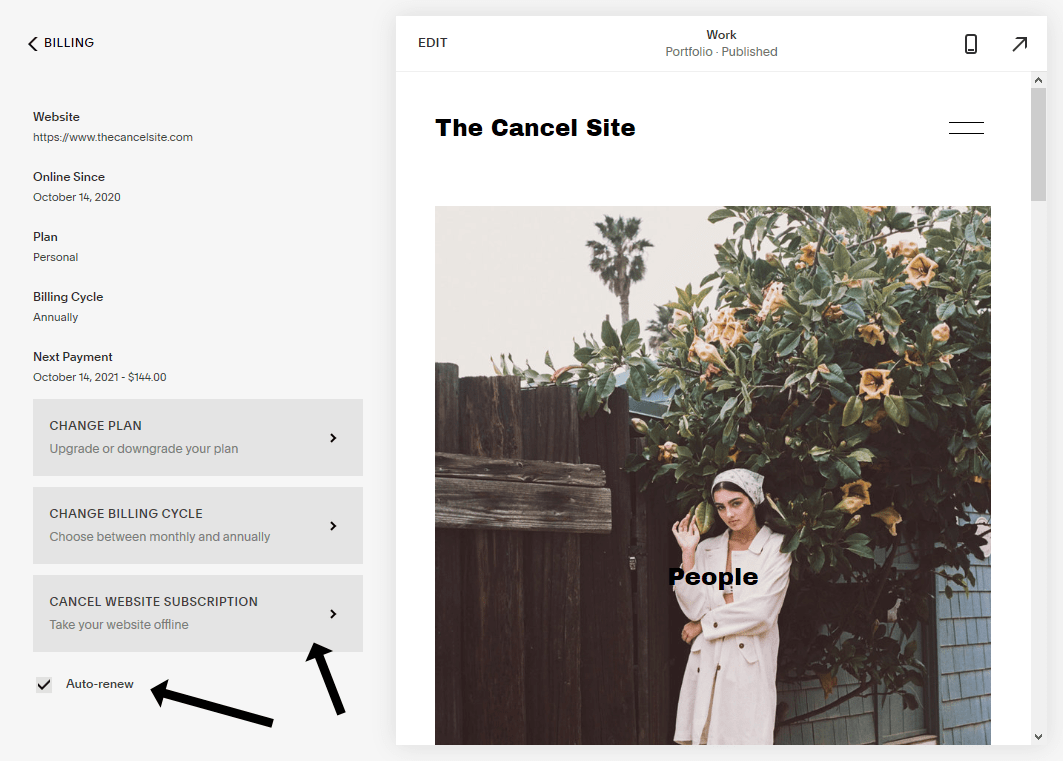 Next, you'll be asked to provide some feedback on why you're leaving. Just select any of the drop-down options and hit
Continue
.
There's also a text field you can write in, but you can leave it blank if you want.
I find it's usually best not to say "Because I never intended to let you keep my money anyway, MWAHAHAHAHAHA!"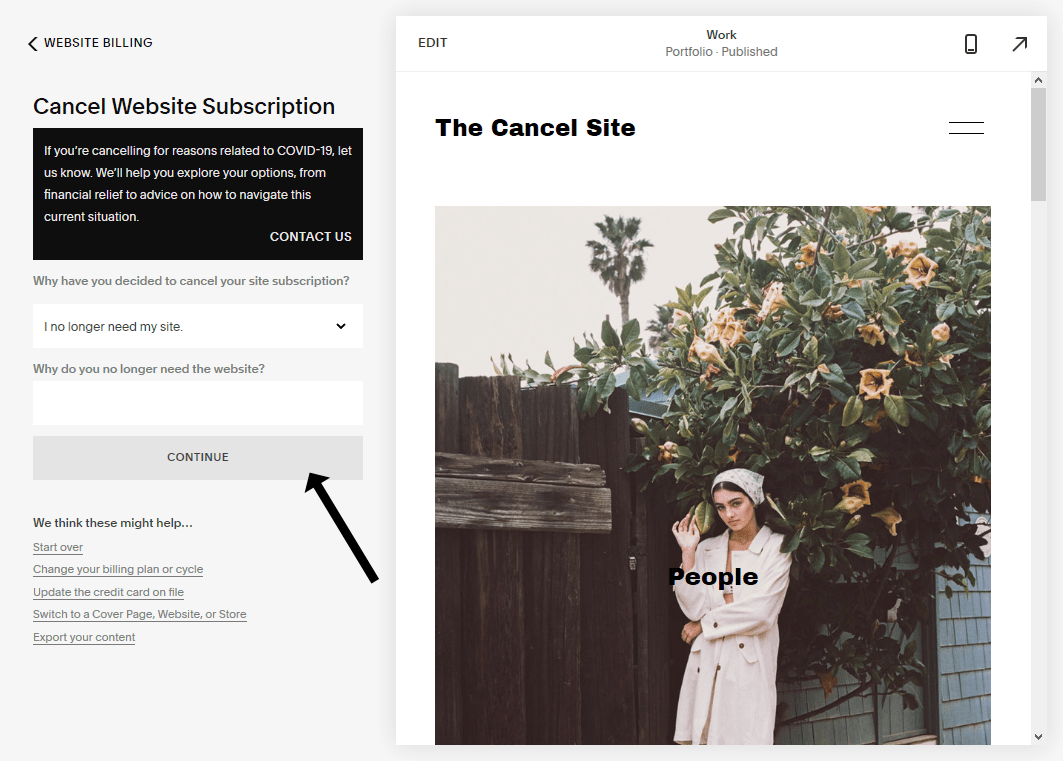 Lastly, you'll need to click on
Cancel Site Subscription
. And it's over: you're free! Your money's coming back home.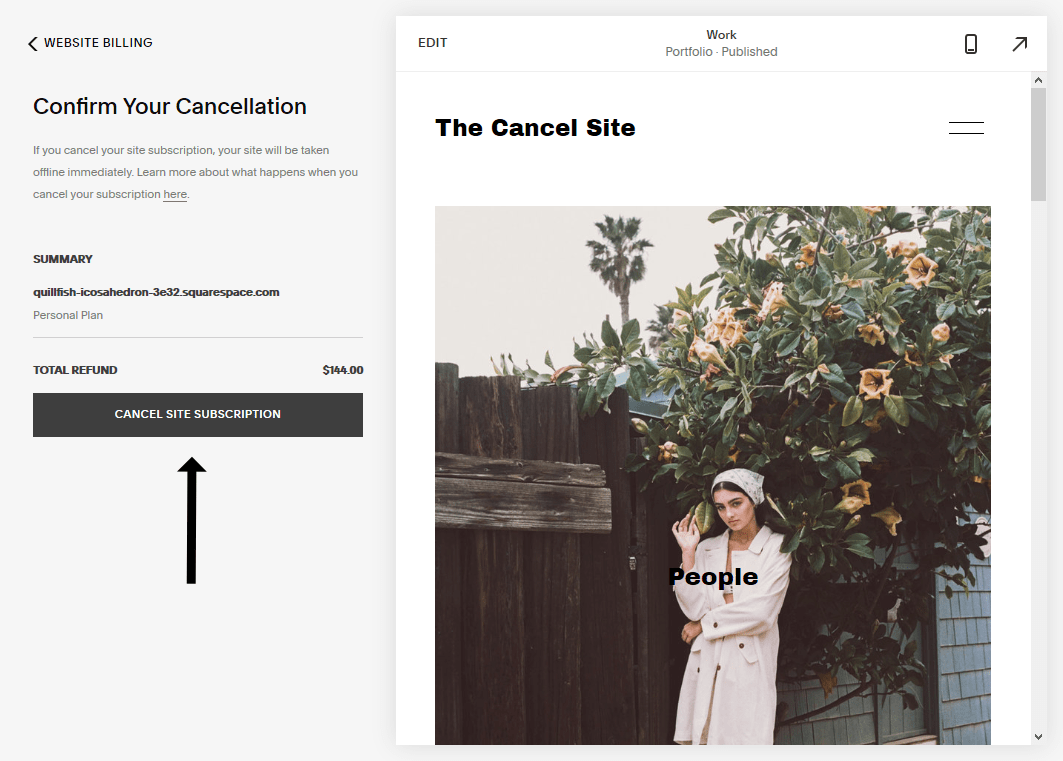 Afterward, you should see a little notification at the bottom of the site editor that says your subscription has expired. Even though that's not entirely accurate, don't worry: the point is that your website is no longer online and people can't access it anymore.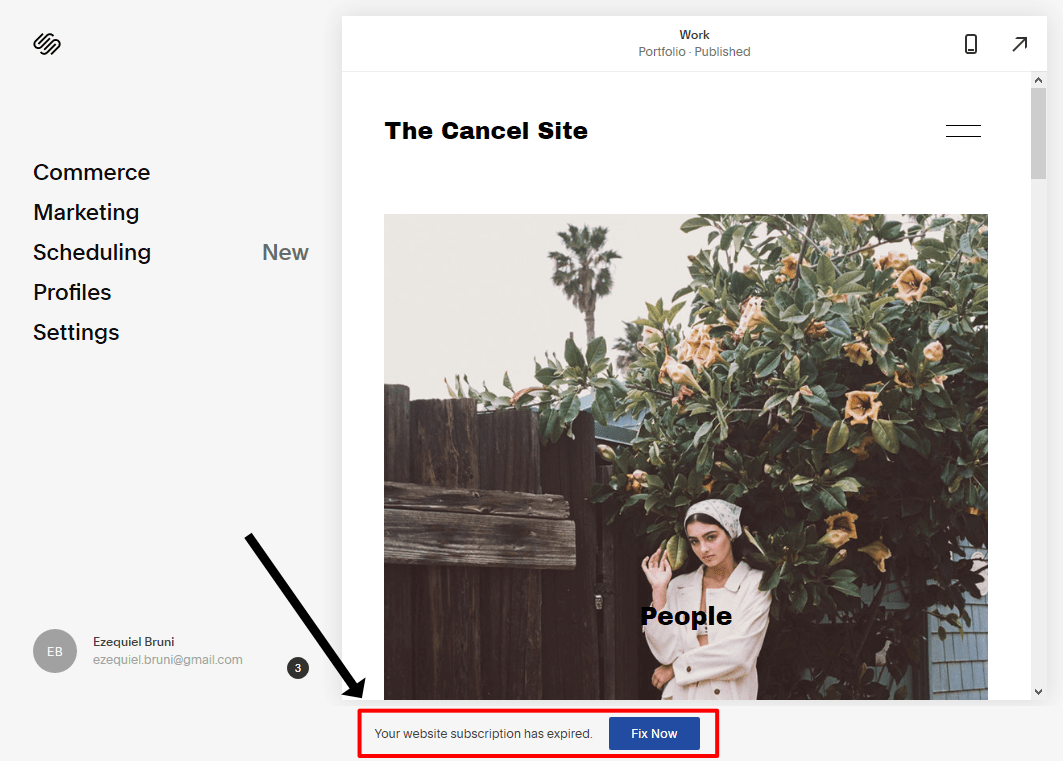 You'll receive an automatic email telling you that your website subscription has been canceled.
 This email should show up in your inbox right away. If it doesn't, you might want to contact Squarepace's customer service, or at least check your spam folder.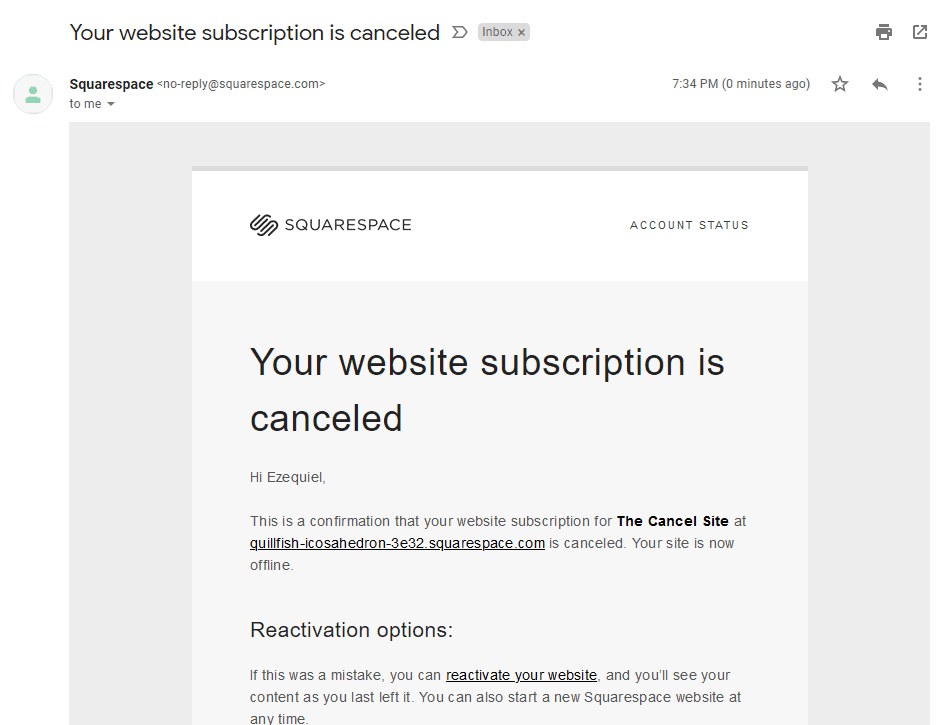 You won't see your money right away, but that's normal:
 Squarespace takes three to ten business days to process refunds. (You'll probably get it before ten days are up, but it's good to know what their official policy is.) In theory,
 Squarespace will delete your site content 30 days after you cancel your subscription.
In my experience, they're a bit lax about that deadline: I went back to one of my canceled sites after 30 days had passed and my content was still there. But regardless of when Squarespace gets around to cleaning out old sites, your stuff is definitely headed for the trash can, so
you should think about exporting your site content before you cancel your plan.
Squarespace provides an
Import/Export
option on the
Advanced Settings
tab. Or if you don't feel comfortable dealing with .xml files, you can copy and paste your content into a document somewhere.
How to Cancel Your Domain
Requirements:
 To get a refund, you need to cancel your domain within five days (yup, only five) of paying for it. In my case, the annual subscription I bought came with a free domain for the first year, so I didn't get any extra money back on the domain for this tutorial. But if you
did
 pay money for your domain, then yeah. Five days. Unless you bought a co.uk, .de, or .uk domain, in which case you won't get a refund at all. You also can't get a refund on domains you've transferred from another registrar to Squarespace. So now that we've been over the ground rules…let's do this.
So first, we go back to the page in your site settings where you can change or cancel your subscriptions.
 This time, click on
Domains
.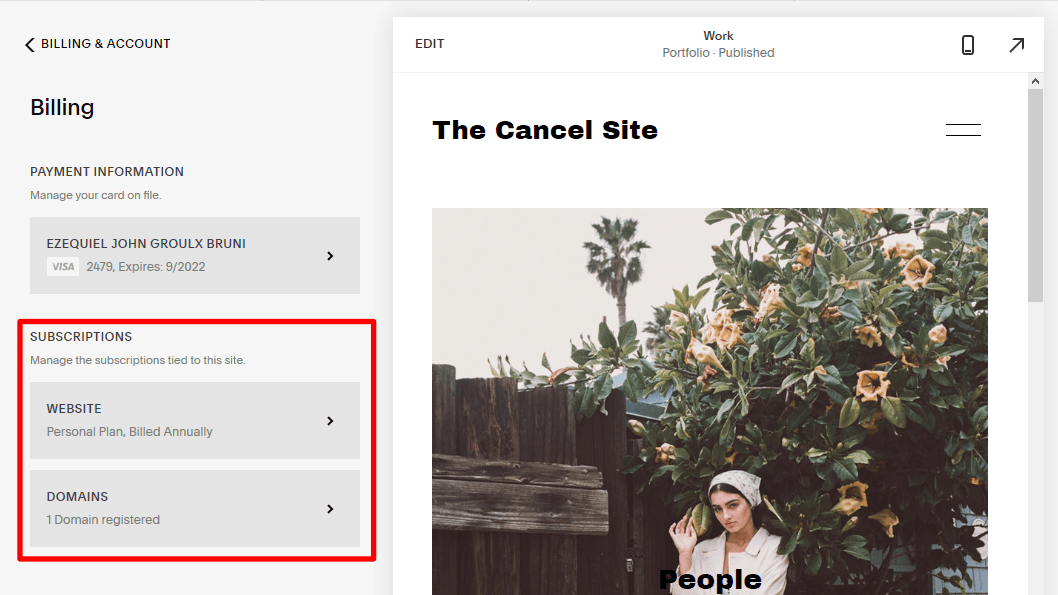 Next, you'll see a list of the domains attached to your website. Well, I only bought the one, so that's what we're going to cancel. Just click on a domain name to go to the next step.

Then you'll see a lot of options on the sidebar; just scroll down to the bottom and click the
Cancel Domain
button.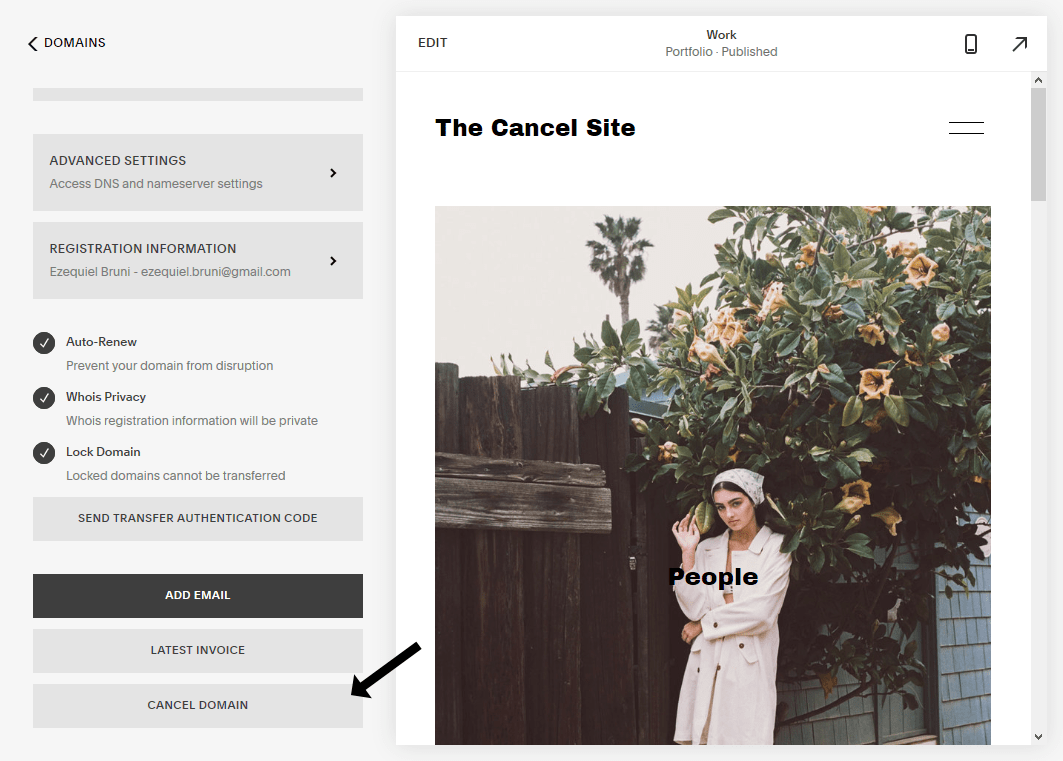 There'll be a popup asking if you're really,
really
 sure you want to cancel your domain. Click
Yes
. And that's it! You're done.
This time, I didn't get any sort of confirmation email for my cancellation; the domain just kind of disappeared.
 That could be because I canceled a "free" domain, but the whole thing felt sort of anti-climactic, to be honest. Anyway, refunds for domains will
also
 take three to ten business days.
Best Squarespace Alternatives
If Squarespace just isn't doing it for you, you still have lots of other options –
and most are cheaper than Squarespace.
In Summary
Based on my experience, I assure you that you can place your trust in Squarespace's refund policy. While it does possess certain restrictions, particularly with its two-week timeframe, making a prompt decision will enable you to effectively navigate it. In my case, my refund was both prompt and automatic. I honestly can't ask for more than that.
FAQ
How do I cancel my Squarespace plan?
Here's the really short version: On your website's settings, go to the Billing page and look for a section called Subscriptions. Click on the Website button. Scroll down to the bottom, and click the button on the sidebar that says Cancel Website Subscription. You'll need to select a reason why you're cancelling and click a couple of buttons to confirm this important life decision, but then you're done. Congratulations. Now that you've canceled your Squarespace plan, you may want to check out other site builders. We recommend taking a look at Wix or one of the other site builders we've reviewed.
Does Squarespace give refunds?
Yes! You'll have to cancel your website subscription within 14 days of your first payment to get a refund. Domains have to be canceled within five days of your first payment. Note: You can't get a refund on monthly subscriptions or renewal payments. You also can't get a refund on domains you transferred to Squarespace from elsewhere, or on co.uk, .de, or .uk domains. As long as you meet those requirements, you should get your refund automatically. And hey, you can always cut down on the amount of money you shell out in the first place by checking out our coupon page.
Does Squarespace own my domain?
No. You own it, and you can transfer it away from Squarespace, whether that's to another site builder or a traditional hosting company like Hostinger – if it's been at least 60 days since you registered it. Just keep in mind that your new provider might charge you a transfer fee at the other end. It won't be too expensive, but it does happen.
Can you change your Squarespace domain?
Sort of. You can't just "change" it: you'll have to cancel your domain within the five-day grace period, then register a new domain. It's a somewhat convoluted workaround, but at least you have that option. With some services, if you want a different domain you have to create a whole new site from scratch. That just seems a bit…dumb.