We noticed that ever since Hostinger reduced their prices, many users are closing their accounts with Contabo.
Did you sign up with Contabo and realize it wasn't perfect for you? Perhaps you found the signup process overwhelming. Maybe you'd like a host with better customer service, like DreamHost or one of our other recommended alternatives.
Whatever the reason, this article will take you through the process to cancel your account with Contabo. But there's a huge caveat: you will not get a refund.
To cancel your Contabo account, just follow these easy steps:
Log into your Contabo Client area.
Select Your services from the left-hand menu.
Click Cancel service from the drop-down to the right of the service you want to cancel.
Enter your reason for canceling and submit.
My cancellation experience
It was really easy to cancel my account with Contabo (getting a refund is a different story). I followed the steps above and logged into my dashboard. After clicking Your services, I was then able to select Cancel service from the drop-down.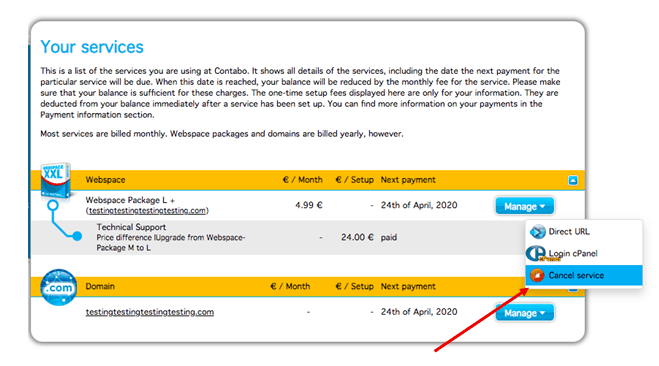 On the next page, I was asked to provide a reason for my cancellation. There are a few pre-filled choices, or you can select Other and give more detailed feedback. Once you've provided a reason, click Submit cancellation.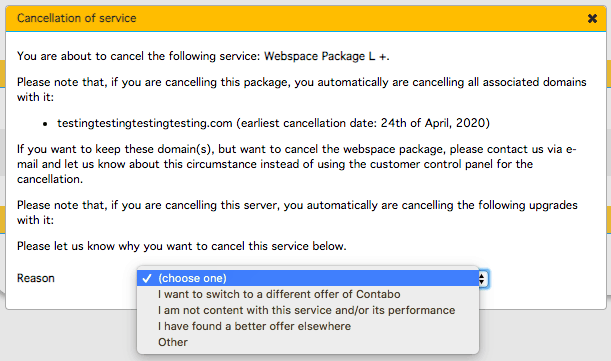 On the final screen, you will see a confirmation of the canceled services and the date the cancellation will be effective.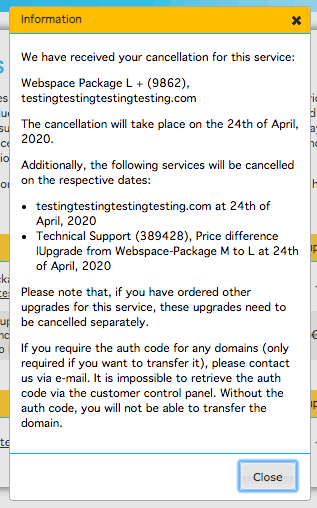 Getting a Refund
Getting a refund was a much less simple experience. I'm going to dive into the terms and conditions here, to show both sides, and also how my experience panned out.
Let's start with the legal information on the website. Contabo does talk about its refund policy a few times in its terms and conditions. It's pretty open about the fact that you're unlikely to get a refund.
They state in the terms that the customer has to pay an "appropriate fee which equals the ratio of the services already rendered," that the customer will be billed 25 euros per 15 minutes for work by Contabo that is deemed to be beyond the normal duties of the company, and that customer fees will not be refunded—"except in the case of an effective revocation."
That all might seem quite clear. Contabo isn't likely to give you any money back, and it may even try to charge you extra. However, while I was submitting my order, I'd read that there was a 14-day period in which to revoke the order and get a refund. I assumed that this would apply to me and that getting a refund would be simple.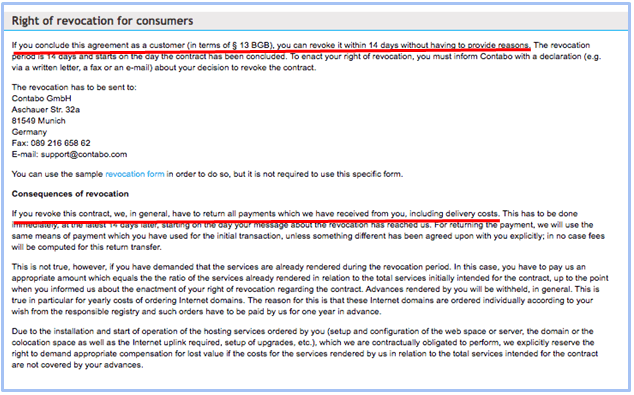 As I was never advised throughout the cancellation process how much or when my refund would be applied. To be on the safe side, I contacted customer support to ask for confirmation. And this is where it starts to get complicated.
I was informed, "There is no refund policy and we are unable to process a refund." I was shocked. I'd only purchased the contract two days earlier, so I assumed I was well within the 14-day revocation period (you can see it in the screenshot above).

I contacted customer service again, still hoping it was a mix-up. I'd paid for an annual term, used it for two days, and Contabo would not refund anything. Unfortunately, I was again advised that the payment was non-refundable.

I followed up a few more times, but each time, I hit a wall. I still don't fully understand the purpose of the 14-day revocation period. Whatever the reason, the whole experience left a bitter taste in my mouth.
Best Contabo Alternatives:
Looking for a new website host? Here are our top Contabo alternatives:
If you need a host with better customer service, DreamHost offers an excellent support team and you get good value for your money.
If you're looking for a developer-friendly alternative, you'll find advanced tools to get you started with Vultr.
If you want to focus on building your WordPress site without having to mess around with server settings and system updates, check out Liquid Web's managed WordPress hosting plans.
Poor Customer Service
From creating an account to canceling an account, Contabo was totally inflexible. It was probably the worst cancellation experience I've ever had. I had to upgrade the day before to access the WordPress one-click installer, and the next day, I wasn't offered any refund, despite having had to pay for a year up front.