Data and security breaches are becoming increasingly prevalent.
Sergiu Candja, CEO of CactusVPN,
explains the different ways their products can protect us from such breeches without impacting connectivity performance, as well as some other advantages such as improving SEO performance and the ability to bypass blocks to access VOIP and streaming services in other countries.
This interview was originally published on July 14, 2020.
How does a VPN secure your data and privacy?
It's pretty simple – you use a VPN app to connect to a VPN server. The two will then establish a secure connection between them (often called a "tunnel").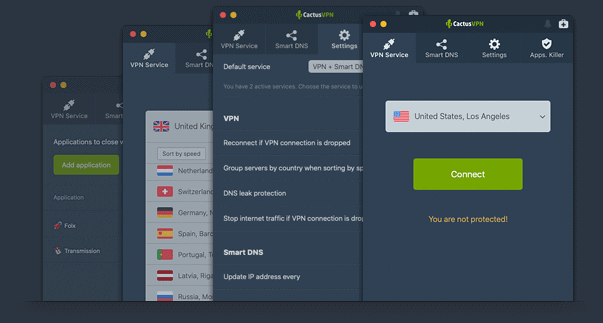 Whenever you access the web, your traffic will be routed through that connection. Since it's encrypted end-to-end, nobody can spy on it. Only the VPN app and server can encrypt and decrypt the data. We also go the extra mile to further protect our users' privacy by not keeping any logs files.
What is Smart DNS?
It's an online service that lets you unblock geo-restricted content. It doesn't hide your IP address like a VPN, though. Instead, it tweaks your DNS settings (which also reveal your geo-location) and routes your traffic through different proxy servers around the globe. Smart DNS also doesn't encrypt your traffic, making them perfect for binging geo-blocked content because your online speeds don't suffer.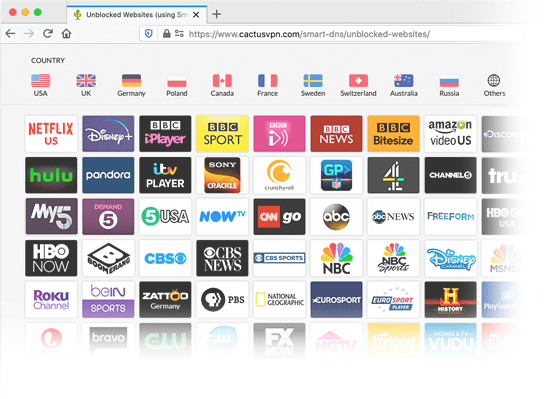 How can using CactusVPN optimize SEO strategies?
Basically, it can help you:
Get around Google's annoying search query reCAPTCHAs, which you'll often see when Google detects too many searches coming from your IP address.
See results from different countries (they're location-based) since it spoofs your geo-location.
Stop competitors from seeing and tracking your IP address, and realizing you're researching their sites.
How does your platform enable users to access VoIP services in any country?
With a VPN, your connection requests to VoIP apps go through a VPN server. When the apps receive your request, they only see the server's IP address, not your address and geo-location. The same goes for firewalls. Those restrictions are only valid for your IP address, but you use VoIP apps through a VPN server whose IP address isn't blacklisted. So you instantly bypass online censorship.
Can CactusVPN be used on a Smart TV?
Yes, we actually have an app for smart TVs running Android TV, and an app for Fire TV. For other smart TVs, you can set up CactusVPN on your router. They will automatically use the VPN connection every time they go online that way.

Does connecting through CactusVPN impact streaming speed?
That can happen. VPNs often slow down speeds a bit due to the encryption-decryption process, and because the user is far from the server (so it takes longer to send data packets back and forth). The good news is we offer lightweight protocols like IKEv2, L2TP/IPSec, and SoftEther that don't impact online speeds that much. And if you use our Smart DNS service, your speed won't go down at all because it does not use encryption.
When using CactusVPN on a router, can it be turned on and off?
Yes, you can enable and disable the VPN connection whenever you want. How you do it will depend on the router model, though. However, keep in mind that once you set up a VPN on your router, you don't need to worry about turning it on every time you go online. It'll always be active as long as your router is on.
How many devices can be connected to CactusVPN a time?
CactusVPN offers support for up to five simultaneous connections. Most of our users use more than two or three web-connected devices, and this seems to work very well for them. It's also an excellent way for the entire family to take advantage of our VPN.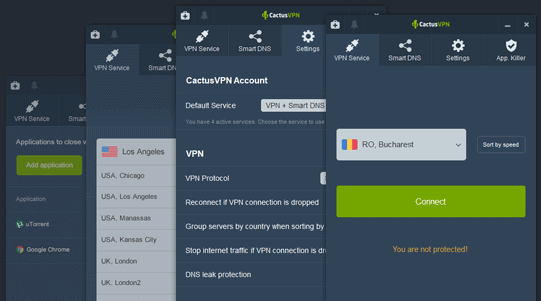 Do you limit bandwidth?
No. With CactusVPN, you get unlimited bandwidth on all our servers. Also, we don't impose bandwidth limitations during the free trial or 30-day money-back period (so going over 10GB of data doesn't mean you're not eligible for a refund).
What support services are available to CactusVPN users?
Users can submit support tickets, which we respond to fast because we're available 24/7, and they can also use the live chat feature on our website. Besides that, we offer straightforward step-by-step tutorials with screenshots, a comprehensive FAQ section, and a Knowledge Base where we explain technical things in easy-to-understand articles.