Sacha Brant
serial entrepreneur and founder of
Brand Scrubbers
and Multiplayer Apparel is a survivor and badass business boss who has overcome great adversity to learn how to shine. She works with peers to help build their businesses from start-up to stardom. She has learned that being a survivor can be more of a strength than a weakness. Sacha has come to understand that her experiences and memories have turned into action and growth and helped shape who she is today.
This interview was originally published on November 26, 2020.
What is Brand Scrubbers?
Brand Scrubbers is a digital marketing and development agency that specializes in helping business owners successfully launch and grow their online business from startup to stardom.
You know I have to ask. Why the name Brand Scrubbers :-)?
I LOVE that you asked – because I LOVE explaining it! First off, my initials are SB (which backward is BS). Brand Scrubbers became a thing because we literally aim to take the BS out of launching a successful online business. We'll brand your best and scrub the rest, leaving you with a shiny clean brand and business.
Why is Logo/Brand Creation important? What brand creation services do you offer?
Your brand is the visual cue, the lasting impression, that lingers with your audience. It allows them to see you, connect with you, and recognize you across different mediums and platforms. The wrong brand will make it hard for your customers to REMEMBER you. Why is this an issue? Well, for many business owners, the products or services they offer aren't daily use items. It requires the consumer to be ready to purchase what they have, which can happen sporadically. A business owner likely won't need a website exactly when you cross them, though if you manage to stay present in mind with a strong visual cue (branding), you are more likely to be the first thing they think when it's time to commit. Additionally, your branding works on a unique level – subliminally. Let's face it, we each make a lot of snap judgments when first seeing something. We judge the image, the colors, what it invokes, and classify a brand without even really thinking about it. A solid brand will help the right people make the right connection to you, and the right choice when they are ready to purchase.
What type of Print Media services do you provide?
As the primary designer for my company, print media is a personal passion piece. I can digitally assist in the creation of a host of products anywhere from business cards to banners, PDFs to pamphlets, and everything in between. Where required, we will go as far as sourcing the actual products and having them ordered and delivered straight to our clients. Whatever it takes to ensure the brand connects to their intended audiences as well in person as they will online.
What Web Development services are available? How is pricing structured?
"Do it yourself" free website builders are great, though businesses often find it suits them much better to hire a professional designer. Brand Scrubbers can deliver everything a business will need to build its website and online presence. The bulk of our customers are full-service support – meaning we assist them from their earliest startup spots until they begin to thrive. This process usually involves; URL and Web Hosting, Brand Creation, Web Design and Development, SEO Research and Implementation, Social Media Integration (and later management), as well as On-Going Website Maintenance and Support. Because we do provide start-to-finish, full-service assistance – it's by far the most popular because our customers feel fully supported and guided without having to hire an army of different individuals and companies. It takes the pressure off businesses by taking care of loads of different aspects that every business needs to consider, such as developing their website. We also include hosting services, as the best website hosting for businesses will ensure websites are powerful enough to keep up with the demand for increasing traffic.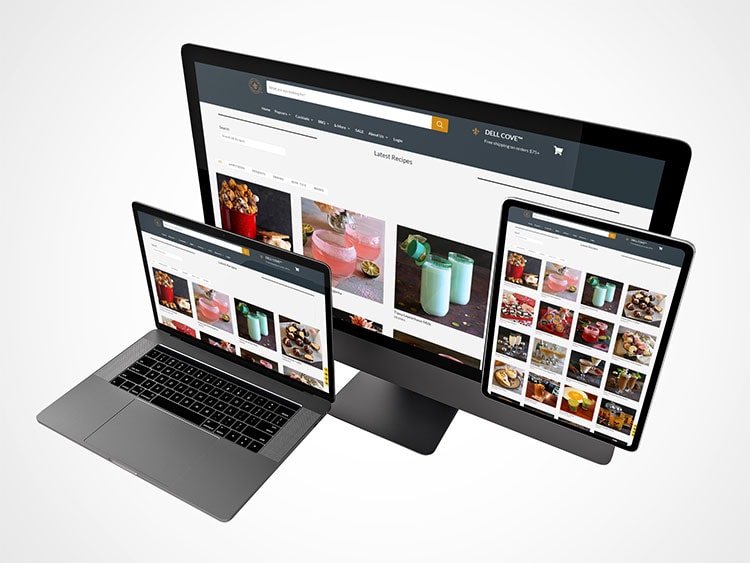 Once you have completed a site, can the customer move it to any hosting company they want?
ABSOLUTELY. The goal is not to get you paying us every month, in perpetuity, like SOME companies out there…
*cough, cough*
Wix, Shopify, Squarespace
*cough, cough*
Whether you purchase outright or wish to use our 12-month pay-as-you-grow option, you WILL own your own site and content once all is said and done.
Do you offer a website maintenance service?
Yes, and we encourage it. Security is a never-ending battle and almost a full-time job on its own (ask my Chief Technical Officer!) and not something most business owners want to (or should have to) deal with. With our pay-as-you-grow packages, support is included throughout the entire 12-month period and we have several options to continue support services beyond that point.
What type of Video Creation does Brand Scrubbers do?
We LOVE videos – because consumers LOVE videos! That's why we offer video creation to our clients. We'll assist with many aspects, such as storyboarding, content gathering, sourcing for a local videographer, editing, splicing, and audio/video production. If we can help you create a video that compels your audience, we've done our job just right.
How does your SEO service help raise a site's SEO ranking?
SEO is neither set-it-and-forget-it nor is it quick and easy. SEO is something that is built alongside your web presence, from the ground up, and continually managed and adjusted to peak proficiency. We work with business owners and entrepreneurs to use the right kind of SEO with the right strategy to build a strong base and reach over time. This can include anything from supporting and guiding short and long term keyword/keyphrase research, editing copy for SEO keyword penetration, managing website presence across directories such as Google My Business, assisting in selecting the right content for consistent updating and posting, and teaching the client and/or their staff to do the same as they continue growing.
What is included with your Social Media service? With which social media platforms do you work/integrate?
Social Media is one of the few mediums out there where a business owner or entrepreneur can invest NOTHING and still find clients and make money. That's why we promote it as a means of business growth AND assist our clients in understanding how to use it and support their ongoing management. We work with most major platforms, such as Facebook, Twitter, LinkedIn, and Instagram. We'll assist our clients in developing a strategy, content, and can even manage on-going content creation and posting.