Bigger isn't always better. Sure, Bluehost is one of the top 20 largest website hosts around. Sure, it gets good reviews all over the place. But do you want to know why? Because it offers reviewers incentives (i.e., money) to bring in more customers. Don't follow that herd! You might have been torn between Bluehost vs DreamHost, but let me give you my expert, unbiased opinion:
DreamHost is the better option
.
Look out for their cheapest plan which comes with a free domain and a website builder too.
There are a number of reasons why DreamHost is my winner, like security features and pricing to name two – but you'll have to keep reading to find out why it takes the top spot in this battle.
In this review, I've tested Bluehost vs DreamHost in five important areas
:
Performance
Bluehost Is (Marginally) Faster – but Is DreamHost Still Better?
Bluehost's server response times and page loading speeds have improved
since the hosting company moved from HDD drives to faster SSD drives for its servers. It also offers the Cloudflare CDN (content delivery network) to improve page loading speeds no matter where in the world your visitors are located, as well as NGINX, a common speed-boosting technology. Bluehost's servers respond quickly to requests when US-based visitors land on your website, with response times between 0.2 and 0.4 seconds. If your visitors are in Asia or Australia, however, the response time is longer. DreamHost uses SSD drives as well and has optimized servers designed for the best possible performance. Nonetheless,
its server response times are marginally longer than Bluehost, ranging from 0.4 to 0.8 seconds
. It's only a small difference, however, and the response times have been improving. Like Bluehost, DreamHost's speeds are best for US-based users. The screenshot below shows page loading times for a test site on Bluehost vs DreamHost.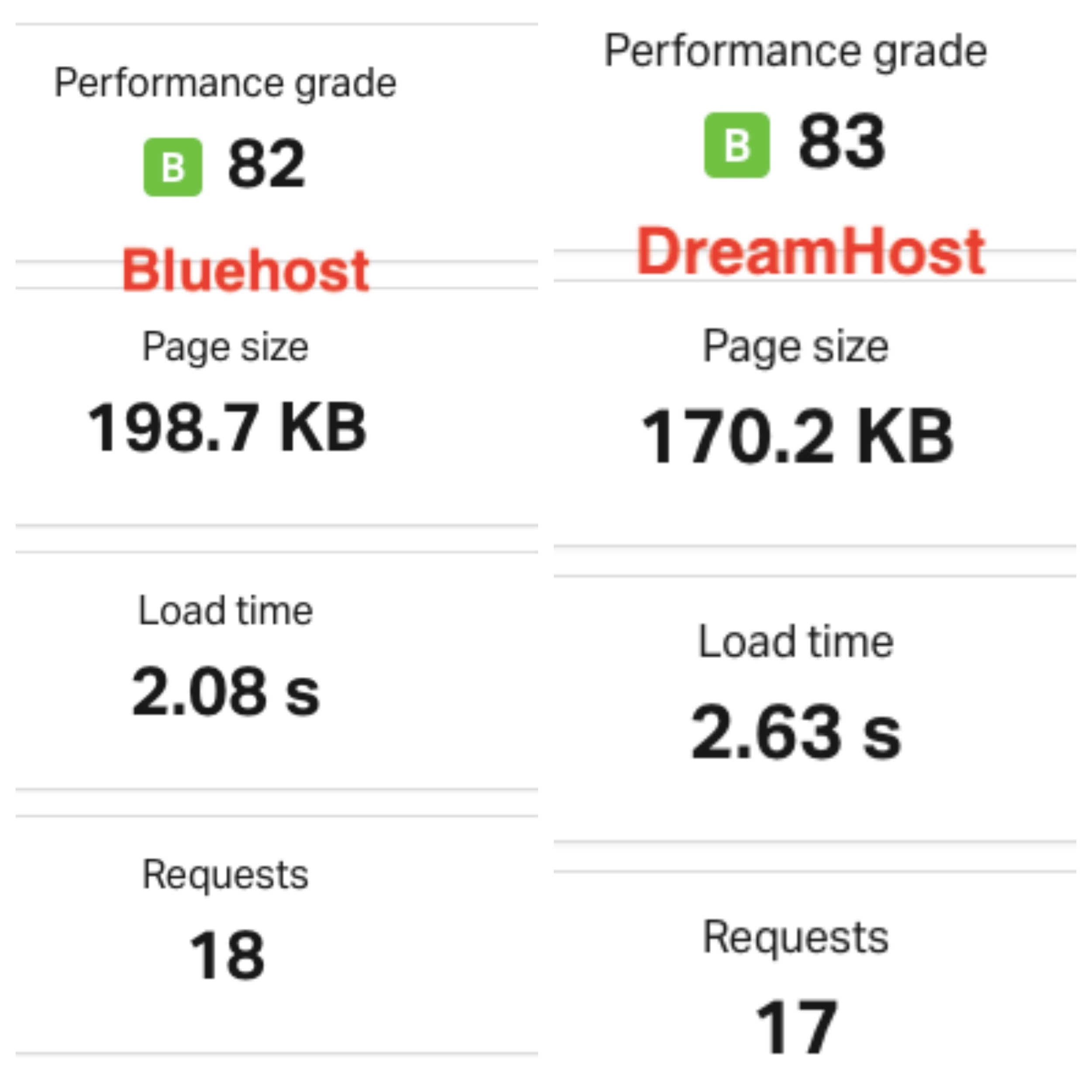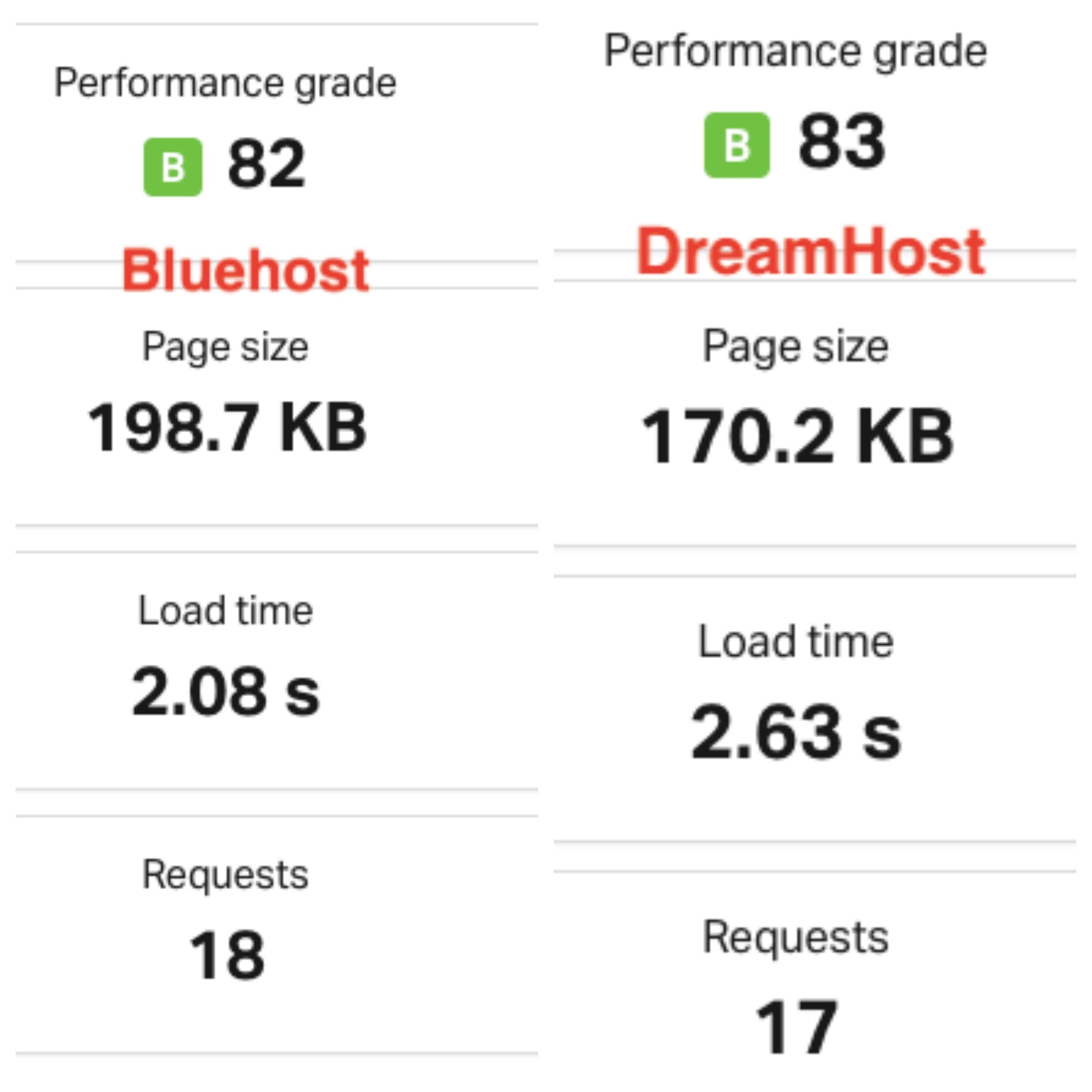 While Bluehost beats DreamHost for speed, it's one of the few web hosting companies that doesn't have an uptime guarantee.
Instead, its website makes vague promises about aiming to ensure 99.9% uptime, while admitting that it can't guarantee it. By contrast,
DreamHost offers a 100% uptime guarantee
–
higher than the industry standard of 99.9%.
So if your website experiences
any
downtime – as long as it's not because of something you did – you'll get a credit.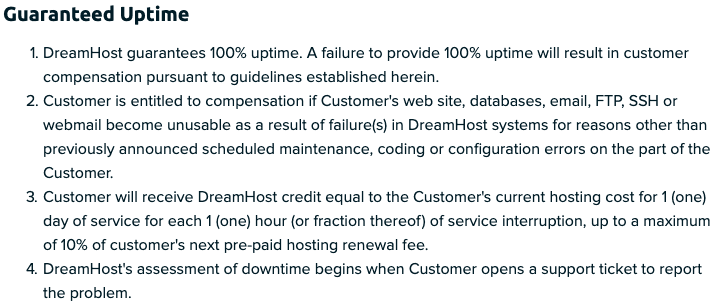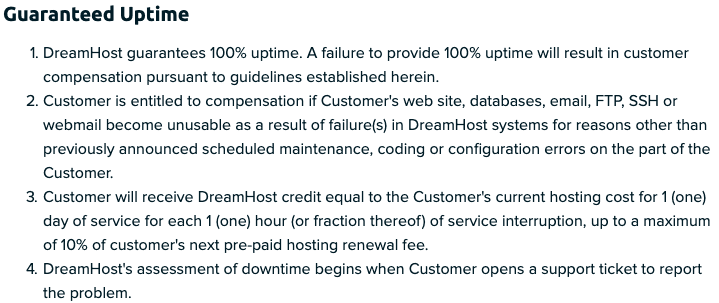 And the winner is:
DreamHost. Even with its slightly slower page loading speeds, the 100% uptime guarantee takes it over the top. You know DreamHost doesn't want to have to pay out credits, so the team will try hard to meet that guarantee.
Security
Bluehost Charges Extra for Basic Security – DreamHost Protects You for Free
Hacking attempts, DDoS (distributed denial of service), and brute force attacks can leave your website at risk, but you'd expect your web hosting provider to ensure your website is secure from those kinds of attacks, right? Unfortunately, that's not always the case, so you need to check carefully what security your web host does – and doesn't – provide.
Bluehost seems to offer the bare minimum of security
, forcing you to purchase a security add-on if you want your website to be fully protected. It includes SiteLock Lite, a bare-bones malware scanner that will only scan five web pages on your website per month. For protection against malware across your whole website and other essentials, such as protection against malicious script injection, DDoS attacks, and brute force attacks, Bluehost requires you to purchase SiteLock Premium. The company is so confident that you'll purchase the add-on that the option for
SiteLock Premium is automatically checked when you enter the checkout process
. If you don't want to pay, you have to manually deselect it. DreamHost includes mod_security, a frequently updated web application firewall (WAF) to protect your website from malicious traffic, brute force attacks, cross-site scripting, and more. It also has enhanced user security, which helps to prevent your DreamHost control panel from being hacked. DreamHost has its own malware scanner, DreamShield, but this is an optional, paid add-on. This advanced malware scanner has been specifically developed to quickly identify malware without slowing down your website. Our
expert DreamHost review
 gives you the full lowdown on all its security features.
And the winner is:
DreamHost. The included WAF keeps your website protected 24/7 and is updated as soon as threats emerge. Unlike with Bluehost, there's no additional cost for this level of security.
Features
DreamHost Has the Best Money-Back Guarantee in the Industry
Shared hosting providers know what their customers are looking for, so you probably see the same basics on every host's website. But you need to know what features make certain hosts stand out.
DreamHost's premium feature is its 97-day money-back guarantee.
That's over three times the length of Bluehost's money-back guarantee, making DreamHost truly risk-free for three months.
Meanwhile, Bluehost gives you a free CDN and the simplicity of cPanel.
So which is right for you? To make it easier for you to compare DreamHost shared hosting with Bluehost's similar plans, here's a look at what they offer, side by side:
| | | |
| --- | --- | --- |
| Feature | DreamHost | Bluehost |
| Storage Space | Unlimited | 50 GB to unlimited, depending on the plan |
| Money-Back Guarantee | 97 days | 30 days |
| Free Domain Name | Yes, for your first year when you sign up for an annual plan | Yes, for your first year when you sign up for an annual plan |
| Automatic Backups | Yes, daily | No, backups are only offered with CodeGuard Basic, which is an add-on |
| Free SSL Certificate | Yes | Yes |
| Free CDN | No | Yes, Cloudflare CDN, but it's not automatically enabled |
| Bandwidth | Unlimited | Unmetered, but Bluehost often limits websites due to "performance issues" |
| Free Site Migration | No, there's a fee for this service (though it's cheaper than Bluehost's) | No, you have to pay for this service |
| Email Accounts | Yes, on the Unlimited plan | Limited to five on the basic plan (unlimited on all other plans) |
| One-Click Application Install | Yes, plus the ability to install Squarespace, Weebly, and Wix via the app library | Yes |
| cPanel | No, DreamHost has its own bespoke control panel | Yes |
| Pre-Installed WordPress | Yes, you can select this option (for free) during checkout to have WordPress automatically installed for you | No |
And the winner is:
DreamHost takes the lead with unlimited storage and free automatic backups. Bluehost's most basic plan limits your storage to 50 GB, and Bluehost backups are only available as an add-on service.
Pricing
DreamHost Won't Raise Your Prices on Renewal – Bluehost Will
Is the cheapest web hosting plan the best value
? Not always, but in the case of DreamHost pricing, this does seem to be the case. For example,
DreamHost's starter plan
 is cheaper than Bluehost's (whether signing up for 3 years, 12 months, or 1 month), but DreamHost backups are included, and so is unlimited storage space. In addition,
DreamHost offers free privacy protection with its domain names
– on 12-month plans and above – which most hosts, including Bluehost, charge extra for. Normally, when you register a domain name, your personal details are held on a public database unless you pay for privacy protection.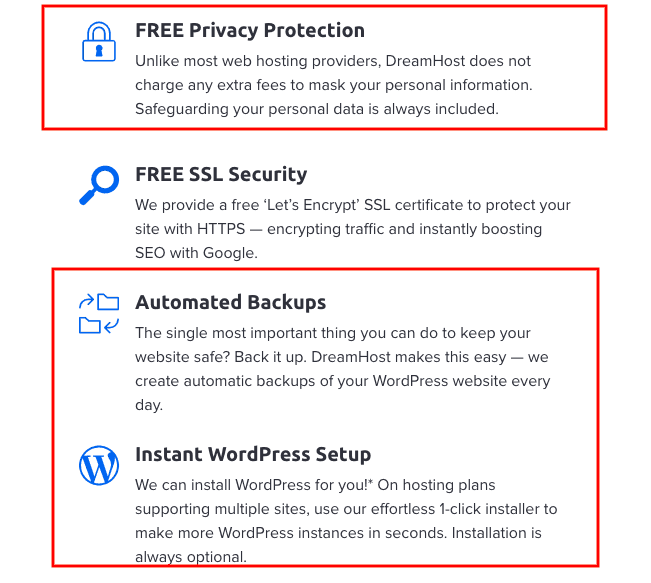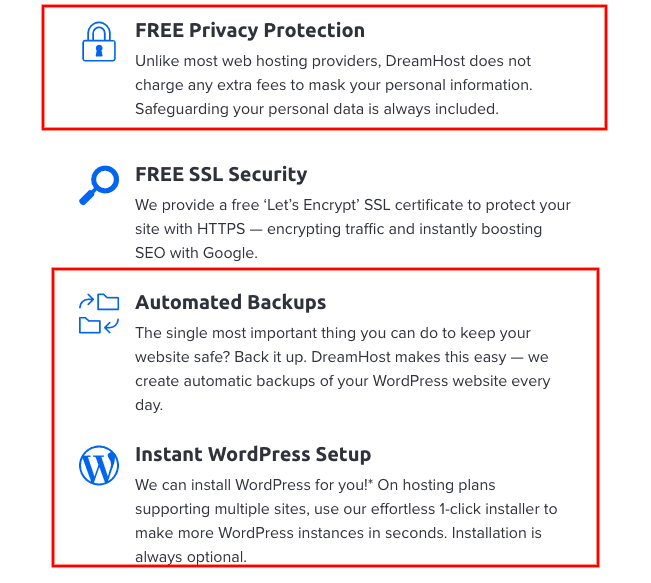 Bluehost is notorious for having high price increases when it comes to renewing your plan
– you can pay more than twice the price of your initial term. Then there's DreamHost, which doesn't increase its prices on renewal – you can expect to pay the same price when you renew as you did when you first signed up. This means that you can save more with DreamHost in both the short term
and
the long term.
And the winner is:
DreamHost
.
It's cheaper than Bluehost while offering more value-added features, and it offers great value when you first sign up
and
when you renew.
Support
Bluehost and DreamHost Have 24/7 Support, but Neither Is Impressive
Accessing round-the-clock assistance while managing a website proves highly valuable, particularly if you're not entirely comfortable with the technical facets. Both DreamHost and Bluehost provide 24/7 support, yet they exhibit certain notable distinctions.
Bluehost gives you 24/7 support via live chat and phone.
It's one of the few web hosts that doesn't offer email support or a ticketing system. By contrast, DreamHost's 24/7 support is only available via email (isn't all email 24/7?). Live chat support is available from 5:30 a.m.to 9:30 p.m. PST. When I tested Bluehost and DreamHost's customer support, I wasn't impressed with either of them. With Bluehost, for example, I had to wait for over 30 minutes just to be connected to a chat agent.
The agent I chatted with seemed unable to understand the nature of my (hypothetical) issue
, and it took another 30 minutes to get an adequate answer to my question. Other customers report that Bluehost is particularly bad with WordPress support. With DreamHost, the issue was getting connected to a support agent. Although I tried connecting with the live chat system during the stated hours, I was met with this message via the DreamBot: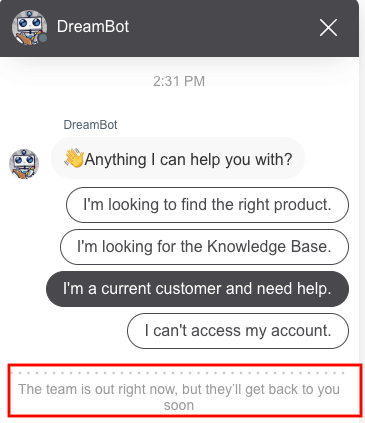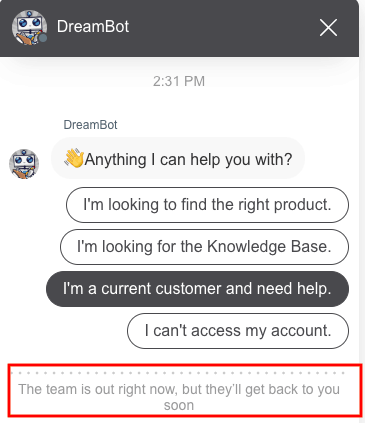 The unavailability of support agents is a problem that other DreamHost customers have also reported
. Often, even when trying to connect through the control panel, you get a message telling you to contact the support team via email instead.
And the winner is:
Nobody. Neither Bluehost nor DreamHost support is particularly great, and while you can get 24/7 support from both hosts, you should expect to have to wait for a response. If you prefer to be able to call for support, then Bluehost will work better for you. If you want to email your support requests, then
DreamHost is the better choice
. And if you're looking for a reliable host who can offer you speedy support around the clock, check out
Hostinger
.
DreamHost Offers Better Value, Security, and Features Than Bluehost
DreamHost beats Bluehost to become the overall winner in this battle of the budget shared web hosts. If you want to find out more about DreamHost, read our
expert, in-depth review
. That said, neither of these hosts made it onto our list of the
best web hosts this year
– so make sure to check out the list before you make your final decision.
Performance
Speeds are slightly better than DreamHost, but no uptime guarantee
Impressive 100% uptime guarantee, and speeds have been improving
Security
Security beyond a very basic malware scanner is an add-on
Mod_security's firewall to keep your website protected from malicious attacks
Features
Cloudflare CDN as part of its hosting plans
97-day money-back guarantee, the longest in the industry
Value
More expensive (overall) than DreamHost, plus your renewal fees will be 3x higher
More features in its basic plan, and your renewal prices won't rise
Customer Support
24/7 support available via phone and live chat, but expect to wait for responses
24/7 support via email, with limited hours for live chat, and you may struggle to get connected