Countless hours of tinkering and testing have led me to believe that not all builders are created equal.
 Of course, each one has its own set of features for a certain price. With some you'll get a great deal. With others? Not so much. Three years ago I built my first website as a way to promote my freelance writing business. While working on the site, I fell in love with the process. Since then, I have built several different websites using a variety of builders. For example, I recently tested both Wix and Blogger to see which one is better. It was close, but by the time I finished, I knew that one outperformed the other.
Due to Wix's robust suite of options, not only as a website builder but also as a marketing tool, I believe it is the best choice for the vast majority of cases.
Continue reading to find out exactly why Wix prevails over Blogger. Or, if you're short on time, you can skip the review and
start your free trial with Wix right now
.
1. Templates/Themes
Wix Allows You To Create Any Type of Site
Both Wix and Blogger offer a number of premade designs to give your website the look you want.
Wix calls these templates, while Blogger calls them themes but essentially they mean the same thing. It also allows you to customize the color, layout, typography, and other features of your website. The difference between Blogger and Wix is that
Wix provides 900+ template options
for nearly any type of website while
Blogger offers just 12 blog themes
, each with the option to choose different color and text. With five different categories of templates (Business & Services, Store, Creative, Community, and Blog) Wix makes it easy to find the one that's perfect for your site. So, if you're looking for a simple blog with minimal design customization, Blogger might be enough for you.
But if you're rather picky about how your website looks (like me) then I would recommend going with Wix.
2. Ease of Use
Wix Allows You to View Changes in Real-Time
Right out of the gate,
Wix displays a much more user-friendly experience compared to Blogger.
As you begin to edit, you'll notice popups with tips that show you how to add certain elements to each of your pages.
You'll also get notified if there are any potential issues that occur as you design.
 For example, I was trying to add a block of text to the homepage of my website and got a message that read: "you dragged an element out of the gridlines, some of your visitors won't see it." Had I not received this message, I probably wouldn't have realized until my site was live!
Blogger also offers a user-friendly editor that allows you to arrange pages to your liking by dragging and dropping Gadgets into place.
 Gadgets make it easy to add features like search bars, social media buttons, RSS feeds, and other helpful elements to your site. When writing content, you're presented with a simple editor similar to what you would find in a Google Document. Basically, you get a blank page with an editing bar.
However, one issue I noticed is that it takes much longer to edit with Blogger.
 That's because, unlike Wix, you cannot view the changes you're making in real-time. Whenever you want to view the changes you've made, you need to open a new page to preview your site. This was something I didn't have the time (or patience) for, making Wix the clear winner in this category.
3. Apps/Addons
Blogger Has Basic Gadgets; Wix Has Endless Apps
Wix allows you to choose from 300+ Apps
, designed both in-house and by third-party developers. There are many free options that help you:
Access social media tools
Add a blog to your website
Grow a communities around shared interests
Sell tickets and include RSVPs for events
Etc.
There are also paid Apps that allow you to:
Source online products for your ecommerce store
Integrate QuickBooks online for orders made to your site
Accept online bookings for your business
Etc.
Wix has made it easy by integrating an "App Marketplace" directly into the dashboard.
 Here you can browse through Apps created by both Wix
and
 third-party developers without leaving the editor. On the other hand, Blogger has free Gadgets you can use to drag and drop different elements on each page. These include:
Adsense ads
Search bars
Images
RSS feeds
Etc.
Just like Wix, Blogger permits the purchase, download, and integration of Gadgets from third-party vendors. Here's a look at some of the ones you can buy to enhance your site:
Embed buttons
Countdown timers for product sales
Integrate chat to your website
Etc.
4. Plans and Pricing
Wix's Free Plan Includes Customer Support, Blogger's Does Not
Both Wix and Blogger offer a free plan.
Let's take a minute to compare:
| | | |
| --- | --- | --- |
| Features | Wix | Blogger |
| Free Domain | Assigned Domain (username.wixsite.com) | Assigned Domain (blogname.blogger.com) |
| Includes SSL Certificate | Yes | Yes |
| Customer Support | Yes | No |
| Ads | Wix ads are displayed on site | No ads displayed on site |
| Storage | 500 MB | 1GB or 15GB if you have a Google Drive account |
| Bandwidth | 500 MB | Unlimited |
Both builders provide results aligned with their pricing. Since they are both offered at no cost, you can observe that your choices are somewhat limited. However,
Wix makes it easy to upgrade to paid plans
 with additional features. These include several e-commerce and business plans that allow you to:
Remove wix ads from your site
Connect a personal domain to your site
Access premium support
Increase storage (3GB with Combo Plan, 10GB with Unlimited Plan)
Etc.
Blogger only provides a free plan and there are no options to upgrade if you need to add additional features to your site.
5. Support
Wix Lets You Contact Real People; Blogger Does Not
Wix's help center is complete and comprehensive.
 They provide individual videos that show you exactly how to use the builder to customize your site. These videos include tutorials that show you how to:
Add and customize strips, text, pages, links, and menus
Connect social media channels
Optimize images
Boost your site's SEO
Translate your site into any language
Etc.
Blogger provides a Help Center with basic user guides and articles that address commonly asked questions. While many of these resources are highly beneficial, users may encounter challenges in locating answers to specific inquiries about their websites. If you want to reach out to a real person to get help,
there's an outside chance that you'll be able to connect with someone in the Blogger Help Community, but no promises. Wix allows you to submit a support ticket via email, however, it took me a fair amount of time to figure out where to do this. That said, once I found the right place to submit a request,
 my question was answered by the Wix customer support team in just 12 minutes! 
I asked if the Wix domain comes complete with an SSL certificate. In addition to being quick, the reply I got was helpful and courteous.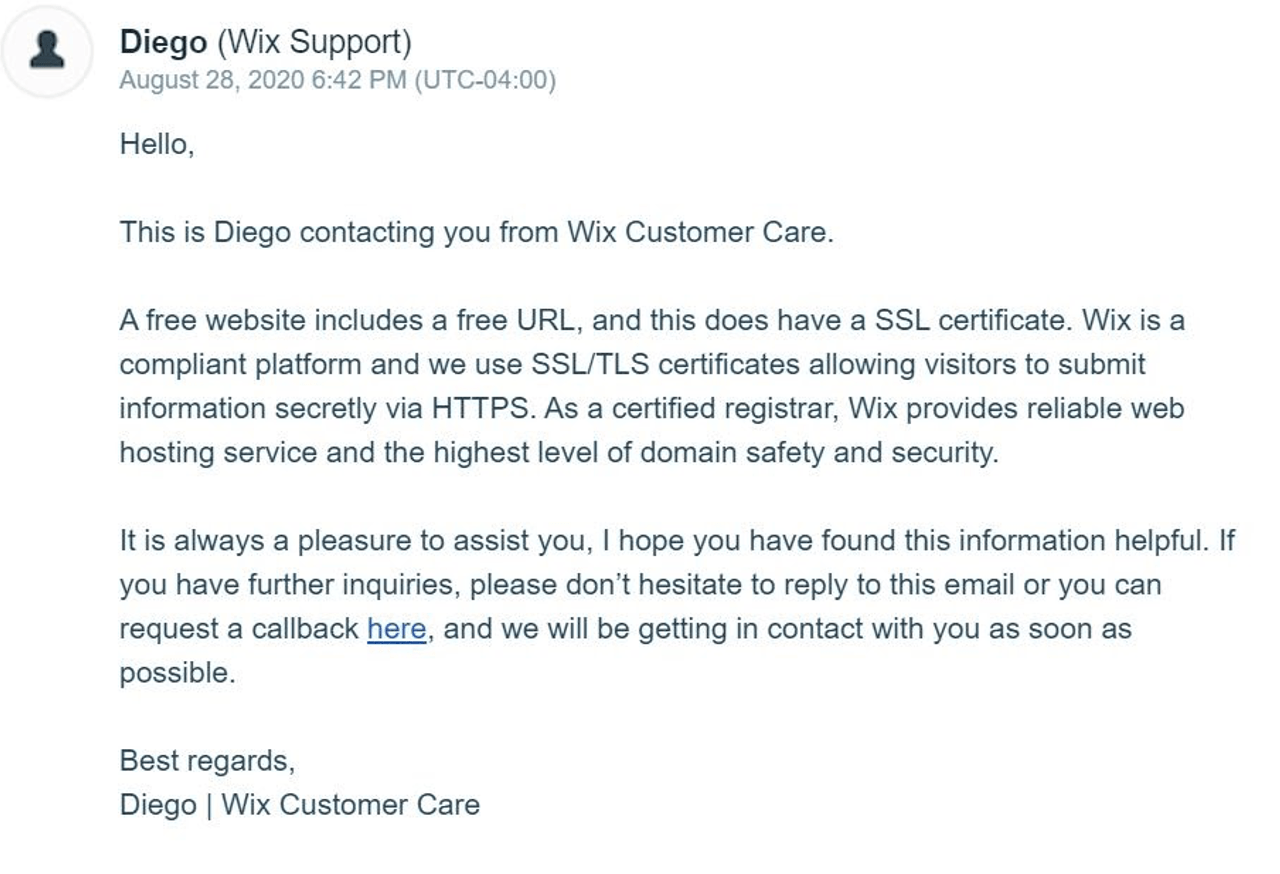 A Close Competition, but Only One Winner
Across the board, Wix has proven to be a much better website builder compared to Blogger.
 This decision is because, with Blogger, it's difficult to create anything other than a simple blog. Wix allows you to create blogs, business, e-commerce, and many other types of websites.
Wix also offers a free plan
, which makes it easy to test it out before you decide to upgrade to a paid plan.
Templates / Themes
900+ to choose from for any type of site.
12 blog themes with variable color and text designs.
Ease of Use / Features
Interactive builder gives helpful design tips
Simple easy-to-use editor with basic features
Apps, Plugins, and Add-ons
300+ options in the App Market
Limited Gadgets to add additional elements to your site
Pricing and Plans
Free plan available, plus the option to upgrade
Free plan only, no option to upgrade
Support
Submit a help ticket or get a callback
Basic articles with frequently asked questions, no live support
FAQ
Which is cheaper, Blogger or Wix?
Blogger and Wix both offer a free plan with basic features. However, only Wix provides the opportunity for users to upgrade if they would like to pay for additional features. With Wix, there are also affordable plans specifically designed for business, e-commerce, and more. If you do decide to go with a paid plan, make sure you take advantage of any deals or coupons that Wix currently has on offer.
Which is easier to use, Blogger or Wix?
Due to its interactive editor, speedy customer support, and helpful tutorial videos, I find Wix much easier to use than Blogger. This is especially true if your site requires capabilities beyond that of a simple blog. If you're interested in learning more about what it's like to build a site on Wix, check out our expert review.
How do I decide what website builder is best?
This will depend on what you're looking for in a website builder. If your goal is to create a simple blog with a minimalistic design, Blogger might have the necessary capabilities. If you're looking to create a professional website, I would recommend going with Wix, because it's so customizable. If neither of these options fits your needs, you can also browse our list of the top website builders