Nothing is more important to businesses than the ability to keep all their business tasks and customer data organized and up to date in one central location. The free online business suite,
Bitrix24
, can do all that, and more! We spoke with
Chief Marketing Officer
Dmitry Davydov
about their apps, which give businesses the flexibility to work, communicate, and interact with their employees and customers in the ways that work best for them.
This interview was originally published on May 11, 2020.
What is Bitrix24?
Bitrix24 is a free online business suite of five integrated modules. Employee communications, client and sales management, project management, customer support, and website/online store creations. Imagine Slack+GSuite+Saleforce+Trello+Dropbox+Wix/Shopify all in one. That's Bitrix24. We launched in 2012, and over 7 million businesses, organizations, and non-profits have signed up with us. Because Bitrix24 enables remote work and remote sales, our use during the coronavirus pandemic has exploded. To make our tool more accessible to everyone, we have removed the 12-user limit on our free plan, so now everyone can work and interact with unlimited users.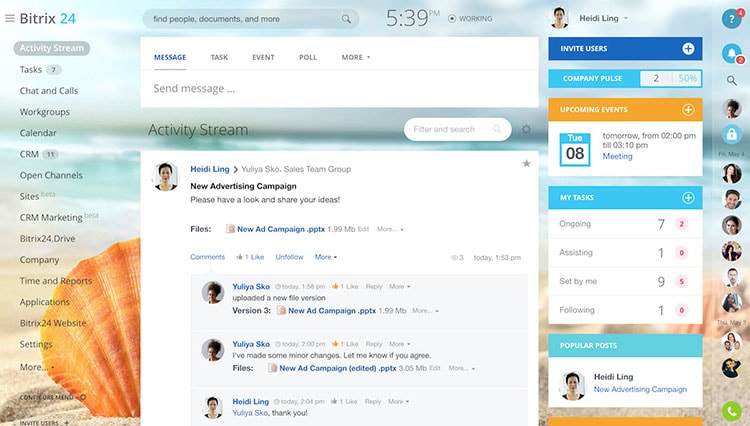 What are some of the Bitrix24 communication apps?
We have old-fashion telephony, group chat, video calls, both one-on-one and videoconferencing, as well as intranet/enterprise social network capabilities (think private Facebook for your company with no external access). You can create video announcements with Bitrix24 (recorded videos for your employees to see). We have workgroups where a lot of communications happen. It sounds like a lot, but that's because there's no single 'right way' to communicate. Different activities encourage different communication modes. For instance, a lot of companies are now switching to Bitrix24 from Slack. Not because our chat is better than Slack's, but because people no longer like chatting all the time – it's very interruptive and can have the opposite effect by lowering productivity if used too much. So, our belief is if you give people multiple communication tools, they'll figure out which to use when. I remember how, five years ago, every new tool promised to be an 'email killer.' Well, guess what? It's 2020 and email is still widely used. That's because email is good at what it does. Just like chat, video conferencing, telephony, or mobile messaging are good at what they do. They all have their place.
How can Birtrix24 help with collaborative project management?
Bitrix24 is mostly known as CRM and Project Management platform. Our project management approach is unique because we don't push any particular methodology. We have a Kanban view, which is very popular right now, but with one click, you can convert your Kanban board to a Gantt chart or a list. Again, people work in very different ways. Some projects are 100% internal, while others require external user access (called extranet in Bitrix24). Those external users are usually contractors or clients. Each project in Bitrix24 has additional collaboration tools. There's Project Drive, where you can store all project documents and Project Calendar, which is self-explanatory. We even have Project Wiki, which will soon be replaced by a better tool, Project Knowledge Base. Also, in Bitrix24, you can copy projects and save projects as a template. This is extremely handy if your projects are very similar. I am willing to make a bet that with Bitrix24, you can create a new project from scratch 2-3 times faster than with any other solution.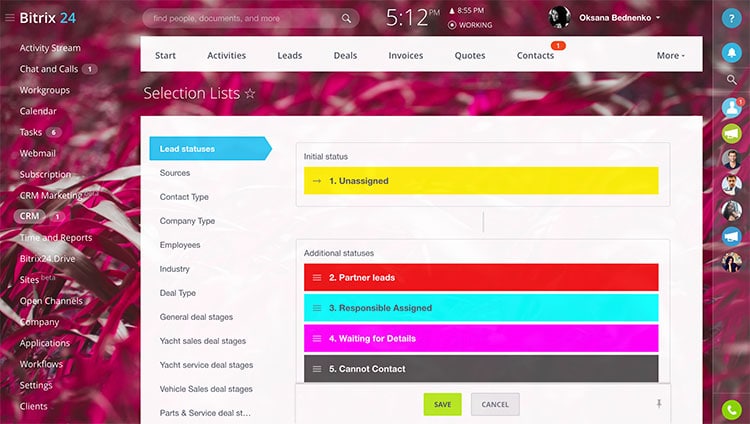 What features are available in your CRM apps?
We've once tried to count all of our CRM features, and there were over 30. Some examples are email marketing, invoices, online payment processing, order forms, marketing automation, etc. But rather than bore you, I'll speak about broader categories, avoiding industry terms like 'sales enablement.' Bitrix24 CRM helps you find new clients through lead generation and to sell and track orders. For example, if you want to know how much money in sales each customer generated last month, Bitrix24 CRM can tell you with one click. When it comes to marketing, you can run marketing campaigns from inside Bitrix24 using Email marketing, SMS blast, or cold calling. Finally, our CRM is great at customer support, because keeping customers happy is really, really important.
How can your apps be used by a contact center, especially when messages arrive from multiple channels such as social networks, messengers, email, phone, and SMS?
There were times when customers would only call or email. But now customers interact with businesses on Facebook, iMessage, WhatsApp, Viber, Telegram, Skype, etc. Bitrix24 is an omnichannel contact center meaning you can connect your Bitrix24 account to Facebook and WhatsApp, etc. so all those messages will be relayed to your Bitrix24 account. All your replies are sent back to the appropriate message channel, so you no longer have to switch between email, Skype, and Facebook.
What functionality can Bitrix24 add to websites?
In 1998, our company started as a web studio. We then created our own CMS (content management system) and built Bitrix24 with it. So, you can use Bitrix24 to build a website or even an online store. Or you can use your current website and create live chat widgets, contact forms, call back request forms with Bitrix24. Our embed code can easily be added with WordPress.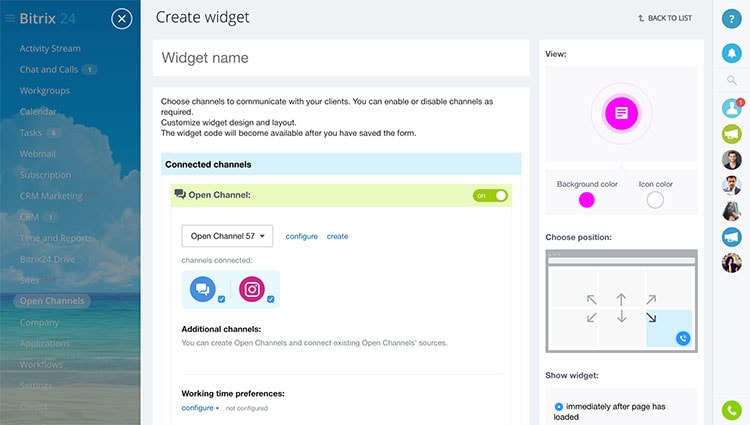 When using Bitrix24, where is data stored?
Again, Bitrix24 is very different from everyone else in this respect. Bitrix24 is available as both a cloud and an on-premise solution, meaning you can store all data on our cloud or a server in your office. Most Bitrix24 accounts use Amazon Web Services infrastructure. So Bitrix24.com data is stored in West Virginia (USA), while our European clients are serviced by AWS center in Frankfurt, Germany. We are 100% GDPR compliant because that's the only way to do business in the EU. Unfortunately, AWS data centers aren't available in every country, so we use other hosting services as well. You can go to any Bitrix24 website to see where your data will be stored.
Can Bitrix24 be integrated with other apps?
It can, and it is. Our API is 100% open, and we also support Zapier.
How do different roles and industries use your apps and tools?
The key to Bitrix24 is flexibility. As of April 2020, our most popular use is businesses enabling their employees to work from home without interruption. Currently, all of our nearly 500 employees are working from home using our platform. But our user base and pre-COVID scenarios are very diverse. We power a lot of UN projects, especially in countries with poor internet access that can't use cloud services. Local governments, such as the cities of Venice or Moscow, are clients. About 20% of our users come from the non-profit sector because we are free, and our commercial plans don't have per-user fees. Small businesses use Bitix24 mostly for CRM and sales. Solo entrepreneurs use our apps to create websites and online stores.
Our next significant segment is IT, digital studios, web designers, or software developers. They need to manage projects, interact with clients, calculate hours spent on each project, and bill clients, and Bitrix24 can do all that. Finally, we have a lot of clients in the healthcare and financial industries. Most, if not all, of the largest banks in Eastern Europe, are our clients. For example, healthcare and banking industries have heavily regulated, complex data access, and storage rules. These banks and hospitals install Bitrix24 on their own servers so that no one outside of their buildings can access it.
What support options are available to Bitrix24 users?
Free accounts are self-service only, and their support is limited to reading helpdesk articles. Since we are a small company of only about 500 employees with a user base of over 7 million businesses, we decided that the best way to keep providing our free service to as many people as possible, we have to keep our costs down. Commercial clients have access to our helpdesk live chat. For a monthly fee, we offer premium support options provided by local partners to support local businesses in their native language. 24/7 phone support can also be purchased from some of our partners.