I've taken the stress out of finding the best WordPress hosting provider by doing it for you.
My colleagues and I tested all the most popular web hosts on the planet, and I've examined our results and identified the top six WordPress hosts for startup companies. Some of these hosts offer advanced features, developer tools, and enough resources to run a small country, but that's not what we're after here.
This list includes the hosts with the most attractive, high-value entry-level plans.
Every host on this list optimizes its servers for WordPress, but if I were you, I wouldn't just point and pick.
Each offers something the others don't, and which one is right for you totally depends on your current needs and your plans for the future.
So which hosts made our top six, and which one is best for you? Read on to find out.
Short on time? These are the best WordPress hosts for startups:
A2 Hosting – Generous resources and optimized WordPress at a low price
Kinsta – Best-in-class loading speeds and reliability
Nexcess – Autoscaling to meet the high-traffic demands of intermediate users
What We Look For in the Best WordPress Hosts for Startups
Most hosting providers offer WordPress-specific plans, but that's not enough to make them worth your startup funds. Here's what I looked for in the best startup-appropriate WordPress hosts:
Managed WordPress features. Letting your host manage the technical aspects of web hosting – like installs, server optimization, security, and updates – lets you focus on building your site and growing your business.
WordPress optimization. When servers and functionality are optimized for WordPress, your site visitors will get smoother performance.
Speed and reliability. Fast page loading speeds and uptime are critical, so you'll want a host with advanced tech, a data center near your target audience, and an uptime guarantee.
Ease of use. Bells and whistles are great and all, but they won't do you much good if the hosting platform is a challenge to use.
WordPress-centric support. Every host has customer support, but not all support teams are experienced with WordPress. Expert support will go a long way if you run into issues.
Value for money. You should always get adequate features, resources, and performance, even with budget hosts. And if you pay for more, you should get enough to justify the price tag.

A2 Hosting provides the best value of any host on our list.
Startup, its entry-level shared WordPress hosting plan, is one of the cheapest on the market and gives you plenty of resources for a single website,
including a decent amount of SSD storage (100GB) and unlimited bandwidth.
It also comes with a free SSL certificate, providing enhanced security for your site visitors and a bump in your search results.
Beware, as there are still some other hosts who
don't
include SSL in their entry-level plans. Another big plus for A2 Hosting is
its "A2 Optimized" software configuration, which includes the functionality of top WordPress security and optimization plugins in its pre-installation
to save you time right in the beginning. A2 Hosting's shared WordPress hosting requires you to take care of your own updates, security, and backups. If you'd rather let A2 Hosting deal with all that, you can pay extra for managed WordPress hosting.
All three managed plans
 are hosted on A2 Hosting's "Turbo" servers, which offer more computing power,
speeding up page loading for your site visitors.
A2 Hosting WordPress Hosting
Enhanced WordPress security. Every A2 Hosting plan has solid security, with virus scanning, two-factor authentication, DDoS protection, and more, but its "A2 Optimized" WordPress installations include a set of plugins that "auto-harden" your site to prevent attacks.
Offsite backups. You have to pay extra for these on the Startup plan, but it may be worth it for added protection on mission-critical websites.
Automatic WordPress updates and patches. A2 Hosting's managed service makes sure you always have the best WordPress versions and patches installed or available for your site.
Site staging. Create a staging area to test changes to your website or new plugins. This is available with all packages – even the entry-level shared plan.
Managed WordPress features?

Yes, with managed plans

Beginner-friendly?

Yes

Money-back guarantee

30 days; pro-rata refund after 30 days

Storage space (entry-level)

100GB

Uptime guarantee

99.9%

Starting price

$

11.99

Kinsta is all about managed WordPress hosting. It offers cloud hosting built just for WordPress
– its servers, its software, its features and tools, and even its support are all designed for this CMS. Even better,
Kinsta is the fastest and most reliable host on our list.
When
my colleague tested
Kinsta for four months, he was wowed by the loading speeds, and his site never went down – you can't beat 100% uptime! Kinsta is also super-easy to use, so it's great for beginners, but it has all the tools a web developer needs. So what's the catch? Kinsta is the highest-priced host on our list. But
when it comes to value for money, Kinsta's WordPress optimization and rock-solid performance are worth the higher price.
Though you can get managed hosting with more storage and competitive performance from A2 Hosting for a third of the price.
MyKinsta control panel. MyKinsta is a proprietary control panel that, unsurprisingly, is optimized for WordPress. It's easy to use, and it lets you track visitor stats, bandwidth usage, and response time.
Google Cloud Platform. Kinsta utilizes GCP for fast, secure, and reliable service. With 27 data centers around the globe, you should be able to find one near your target audience – and you can pick different data centers for each of your websites.
Daily backups. Not every WordPress host includes free daily backups. Kinsta does, and these can be upgraded to every six hours, or hourly.
Uptime all the time. Kinsta automatically scales up your resources if your site gets a traffic surge, so it won't crash even after Elon Musk tweets about you. This does incur nominal overage fees, however.
"Hack fix guarantee." With the level of security Kinsta has in place, your site is unlikely to be compromised, but if it is, Kinsta guarantees it will restore it for free.
Managed WordPress features?

Yes

Beginner-friendly?

Yes

Money-back guarantee

30 days

Storage space (entry-level)

10GB

Uptime guarantee

99.9%

Starting price

$

24.00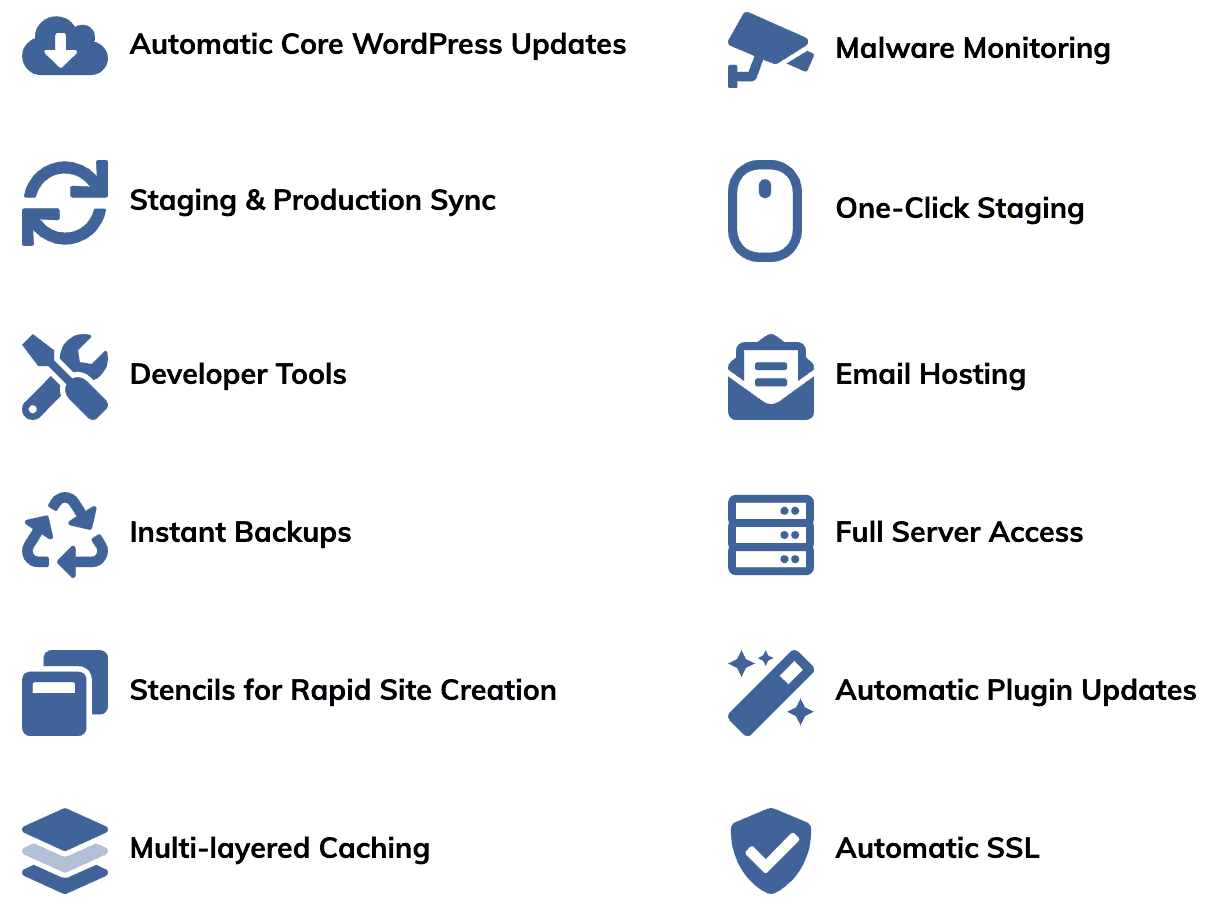 Nexcess is another one of our favorite WordPress hosting providers. You get top-tier performance and security, managed by Nexcess so you can focus on your site and business. But
this is hosting
for intermediate-level users because Nexcess doesn't give you a lot of guidance, and its proprietary control panel has a bit of a learning curve.
As my colleague discovered
during testing
, if you're experienced with building websites you'll be fine with Nexcess. If not, it may take some time to master. Nexcess is one of the more expensive hosts on our list, but it
backs up its price tag with some of the best loading speeds we've seen, worldwide data centers in the US, Europe, and Asia-Pacific, a built-in content delivery network (CDN), and a 100% uptime guarantee.
One rub against it though:
there's no money-back guarantee.
But you can get a 14-day free trial.
Skilled WordPress support. Nexcess's expert support agents will deal with any WordPress issue you have, and if they don't have the solution on hand, they'll find one.
Automatic daily backups. Nexcess backs up your site daily and keeps each backup for 30 days. Not all WordPress hosts offer backups.
No overage fees. Most hosts charge you when you go over your bandwidth limit, and although iNexcess offers suggested bandwidth amounts on each plan, it doesn't limit traffic or meter your site visits.
Stencil Sites. This proprietary feature allows you to use an existing WordPress configuration as a template for the development of new sites.
Managed WordPress features?

Yes

Beginner-friendly?

No

Money-back guarantee

No

Storage space (entry-level)

15GB

Uptime guarantee

100%

Starting price

$

21.00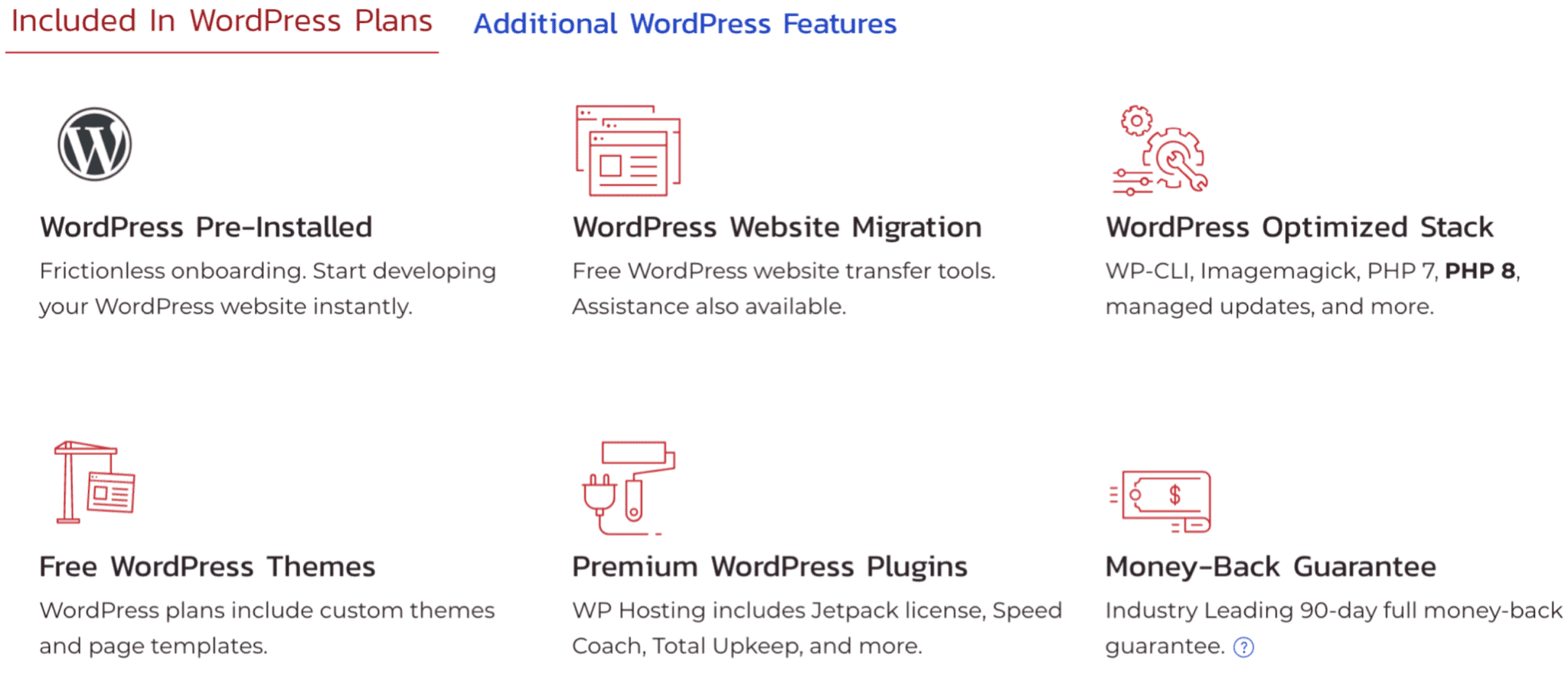 InMotion Hosting gives you managed WordPress hosting at low, but not the lowest, prices.
It includes more WordPress-specific features than most hosts
, and it comes with advanced security and optimization for solid site protection and performance.
This is a great host for beginners
because the platform is so easy to use,
with the classic cPanel control panel and a drag-and-drop WordPress site builder. And InMotion Hosting manages all the major technical stuff for you.
All of InMotion Hosting's data centers are in the US, so it's ideal for sites serving US visitors.
That said, each plan includes access to a CDN, which will speed up loading times for a global audience.
InMotion Hosting WordPress Hosting
Drag-and-drop site builder. The BoldGrid drag-and-drop site builder for WordPress is easy to use, and offers over 200 customizable templates. It is also compatible with the WooCommerce plugin, if you decide to take your online store to the next level.
Specialized WordPress caching. InMotion Hosting's WordPress optimizations include a caching setup that improves page loading times by using fewer resources, like CPU and RAM. You can control it via cPanel or through your WordPress dashboard with the NGINX Helper plugin.
Unlimited email. You can create an unlimited number of email accounts with any plan.
90-day money-back guarantee. You get 90 days to evaluate InMotion Hosting's service, which is three times what you get with most hosts.
Managed WordPress features?

Yes

Beginner-friendly?

Yes

Money-back guarantee

90 days

Storage space (entry-level)

50GB

Uptime guarantee

99%

Starting price

$

4.99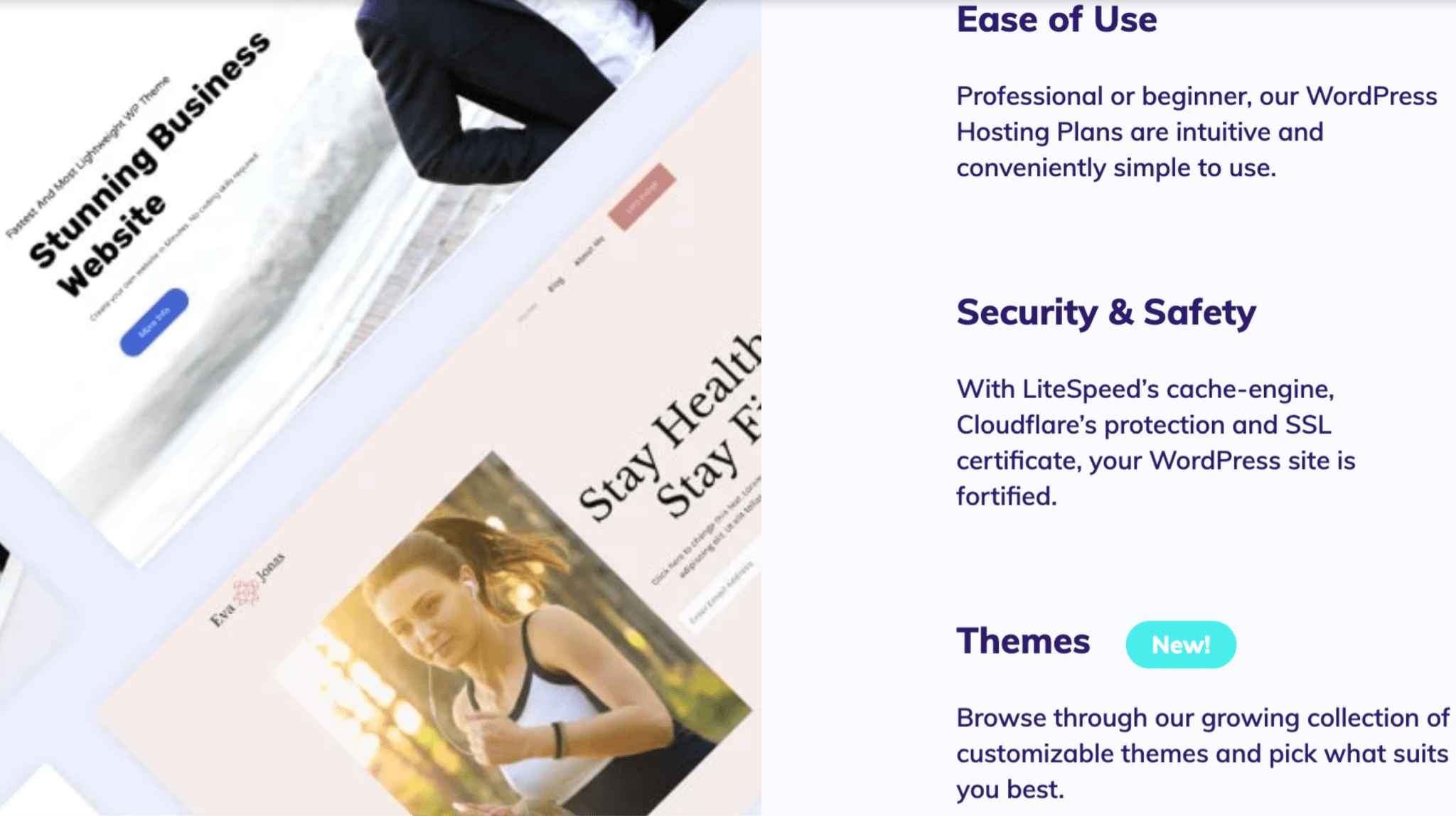 When it comes to low-cost WordPress hosting, it doesn't get cheaper than Hostinger.
But in this case, "low-cost" doesn't mean "low-quality." When my colleague gave the WordPress-optimized shared hosting
a test drive
, he found that its performance almost rivaled Kinsta and Nexcess, two of the top-performing hosts we've seen.
Hostinger's platform is easy to use.
It has its own control panel, which it calls hPanel, and while it doesn't have all the functionality you get with your classic cPanel, it gives you most of what you need. The
entry-level WordPress plan
 is missing some key features, like free backups, but that's one reason it's so cheap.
Hostinger WordPress Hosting
A free domain name is included with some hosting plans from Hostinger
WordPress acceleration. LiteSpeed Cache for WordPress is a plugin with a number of optimization features to boost your site's performance. It's also compatible with WooCommerce and other popular plugins.
Enhanced security. Hostinger uses Imunify360 to secure your WordPress site, with 24/7 monitoring and protection against most online threats.
Dedicated WordPress team. WordPress specialists with a background in fixing errors, testing features, and optimizing WordPress are available 24/7 to help you.
Cheapest long-term plan prices. Its base price is already competitively low, but if you subscribe to a long-term plan, it becomes the lowest in the industry.
Managed WordPress features?

Yes

Beginner-friendly?

Yes

Money-back guarantee

30 days

Storage space (entry-level)

30GB

Uptime guarantee

99.9%

Starting price

$

2.99

Siteground is a great managed WordPress host for beginners because
it has one of the most straightforward control panels
out there.
Its entry-level StartUp plan delivers only the basics, but those basics include features not all hosts give you for free,
like SSL certificates, daily backups, unlimited email accounts, and Railgun-enabled Cloudflare CDN access.
SiteGround's prices are on the lower side for a managed WordPress host.
The resource limits on the StartUp plan won't blow you away, but by the time you exhaust them your growing business may require a better plan – or a move to a premium host like Kinsta.
During our tests
,
uptime was fairly good but site loading speeds were a bit slow.
SiteGround WordPress Hosting
A free domain name is included with some hosting plans from SiteGround
WordPress Starter. A plugin that helps you to install the WordPress software, choose a theme, and set up functions like contact forms and Google Analytics.
WordPress-optimized control panel. SiteGround's Site Tools control panel is easy to use and optimized for WordPress. It's set up with a simple sidebar and convenient access to commonly-used functions.
Unmetered bandwidth. While many hosts cap included bandwidth, limiting the number of visitors you're allowed per month and adding to your costs, SiteGround takes a different approach. SiteGround does not impose such limitations. Instead, it provides a recommended number of monthly visits tailored to each plan.
SG Optimizer. A plugin designed to improve your WordPress site's loading speed by giving you access to various caching and compression settings.
Managed WordPress features?

Yes

Beginner-friendly?

Yes

Money-back guarantee

30 days

Storage space (entry-level)

10GB

Uptime guarantee

99.9%

Starting price

$

2.99
Choose A Host That Suits Your Budget and Needs
Your exciting new business deserves a WordPress host that will help it grow quickly. I've recapped what each of our favorite hosts has to offer, but
my best advice is to select a host that gives you the features and performance you need at a price you're comfortable with.
For example: Whether you're looking for a cheap, hands-on WordPress hosting plan or a more expensive managed plan where the heavy lifting is done for you,
you'll get extensive features, solid performance, and all-around great value with A2 Hosting.
If budget isn't an issue,
Kinsta
 gives you the best performance on the market.
Plus, its dashboard is easy to use.
Nexcess brings you great performance and security at a competitive price
, but as its dashboard is not as user friendly as the others on our list, it's best for intermediate users.
If you're looking for the cheapest WordPress host that still gives you solid performance, go with Hostinger.
If you don't have a lot of website building experience and you
only need the basics, give SiteGround a try.
InMotion Hosting is a good option if you want low-priced managed hosting with a decent amount of features
, especially if your target audience is in the US. Here's a quick side-by-side comparison to help you choose:
Managed WordPress Features
Beginner Friendly?
Money-Back Guarantee
Starting Price
A2 Hosting

✔

✔

30 days; pro-rata after 30 days

$

11.99

Kinsta

✔

✔

30 days

$

24.00

Nexcess

✔

✘

✘

(14-day trial)

$

21.00

InMotion Hosting

✔

✔

90 days

$

4.99

Hostinger

✔

✔

30 days

$

2.99

SiteGround

✔

✔

30 days

$

2.99
FAQ
What's the difference between shared hosting and WordPress hosting?
Basically, shared hosting means you share server space and resources with other websites. WordPress hosting is hosting specifically optimized for WordPress, and it can be shared hosting, cloud hosting – which spreads your resources across a network of servers – or even VPS/dedicated hosting, which gives you your own dedicated resources on a virtual or real server.
Why is it better to have hosting optimized for WordPress?
WordPress-optimized hosting should give you better performance and reliability, with servers configured to run and deliver WordPress code. Hosts offering WordPress hosting should also have support agents trained specifically in WordPress. However, just about any hosting plan will be WordPress-compatible. You may want to give our best web hosting providers for 2023 list a look to see some other hosts who might have what you're looking for.
Is managed WordPress hosting better than unmanaged?
Unmanaged WordPress hosting is cheaper, but that's because you have to do most of the technical stuff yourself, like installing and maintaining the software, testing updates and patches, and monitoring your site's security. With managed WordPress hosting, your host does all of these things so you can focus on your site content and your business operations. But that level of service is reflected in the higher price tag.
Which is the best WordPress host for startups?
A2 Hosting gives you the best value of all hosts when it comes to WordPress hosting for new businesses. You can choose between dirt-cheap, do-it-yourself shared hosting that gives you solid performance and a decent range of features, or the more expensive but still competitively-priced managed hosting that lets A2 Hosting do all the technical stuff for you.
Which is the cheapest WordPress hosting service?
Hostinger is the cheapest WordPress host on our list, but it still gives you a good set of managed WordPress services to go with solid performance. It's a great option for beginners on a budget. Though the other hosts on our list can't always match Hostinger's low prices, they might be offering some great discounts for 2023 on our coupon page.