Wix is extremely easy to use, and its website editor gives you tons of customization options,
so you can tweak every little detail of your website to fit your needs. That said, it can be hard to know where to start with such a powerful editor at your fingertips. To make things easier, I found the best Wix websites across a range of niches – so I can share with you some of
the best design tips for getting the most out of Wix's extensive toolkit.
So, without further ado, here are 19 Wix website examples that demonstrate why this website builder is so popular among amateurs and pros alike.
Did you know that you can build a professional-looking website in a matter of minutes?
Wix has over 800 website templates
across a number of categories, with most of the features already built in. Pick your favorite design, add your own text and images, and you're good to go!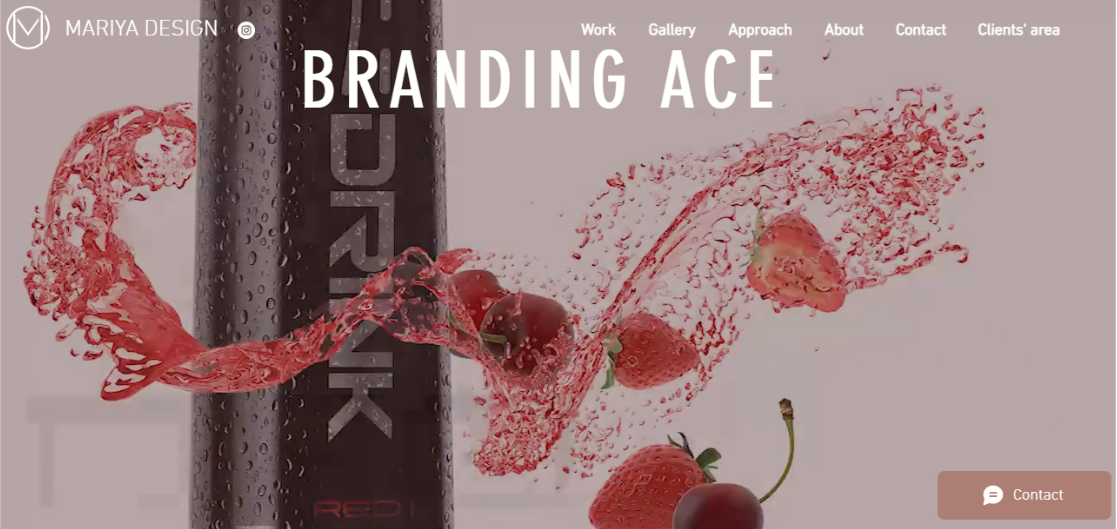 Visit the website at: https://www.mariya.design/ There's so much to love about
Mariya Design
– the attractive homepage that showcases the company's best work,
the sticky header for easy navigation, the dedicated client login area…
it's got everything covered. If you're intrigued by the homepage, skip over to the Work and Gallery pages to see all of this studio's best design work. Eye-catching animations are nicely balanced with a warm color palette and subtle logo design. When you're ready to get in touch,
the built-in chat button is hard to miss
.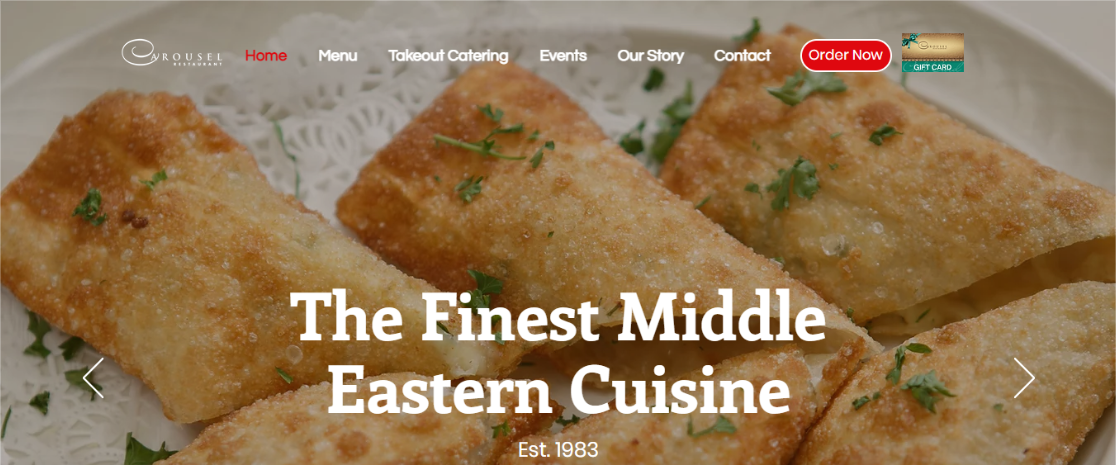 Visit the website at: https://www.carouselrestaurant.com/
Carousel Restaurant
's website makes a strong impression.
The homepage displays a full-screen slider of delicious-looking food
(along with buttons for making reservations and ordering online), and the red-white color scheme perfectly fits the joy we feel when our favorite food hits the table. The site is super simple to navigate with dedicated pages for menus, catering offers, hosting events, and more.
Thanks to Wix's integration with OpenTable, you can make reservations directly on the website
. A contact form lets you get in touch, and it's easy to stay up to date with any new developments via an embedded Instagram feed. You can also sign up for a rewards program to earn points and receive discounts.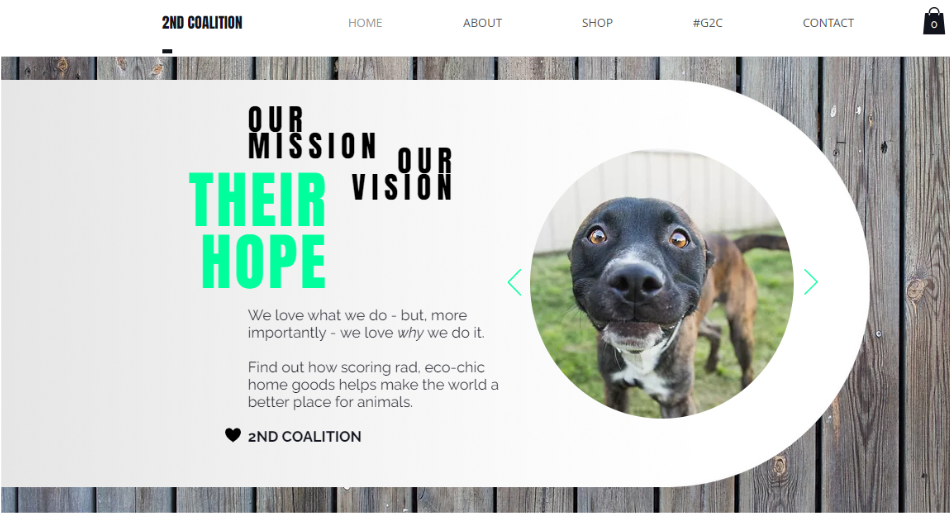 Visit the website at: https://www.2ndco.com/
2nd Coalition
is dedicated to preventing overpopulation and euthanizing healthy animals in shelters. I just love this site's mix of rustic and modern design with attractive animations popping against a wood-inspired background. Uncluttered pages are paired with powerful copy, which is peppered with adorable animal images and illustrations that keep your eyes glued to the page.
This company's mission is reinforced in several sections of the website, and they also make clear how you can take action
. The site makes good use of all its sections – the website's footer crams in social media icons, a donation button, and a sign-up form.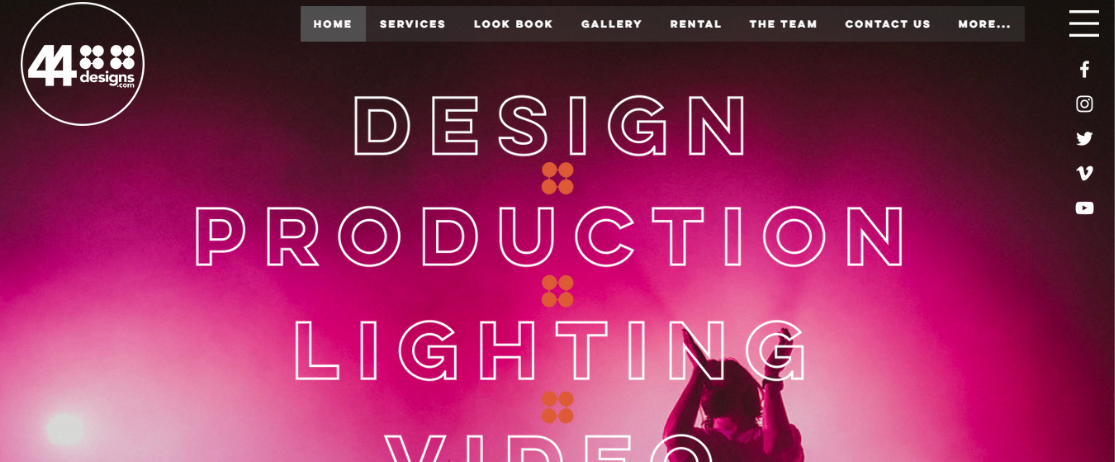 Visit the website at: https://www.44designs.com/
44 Designs
specializes in video and stage production, and I love how its website displays all its services right on the homepage. Full-screen images provide examples of the company's work, and a dedicated Gallery page gives you a more detailed look. On top of that,
the Look Book is displayed via an embedded PDF viewer, which also allows you to download the content to your device
. There's lots to love about this website, but the dynamic Team page is a particular highlight for me; it has photos of team members that also display their bios when you hover your cursor over them.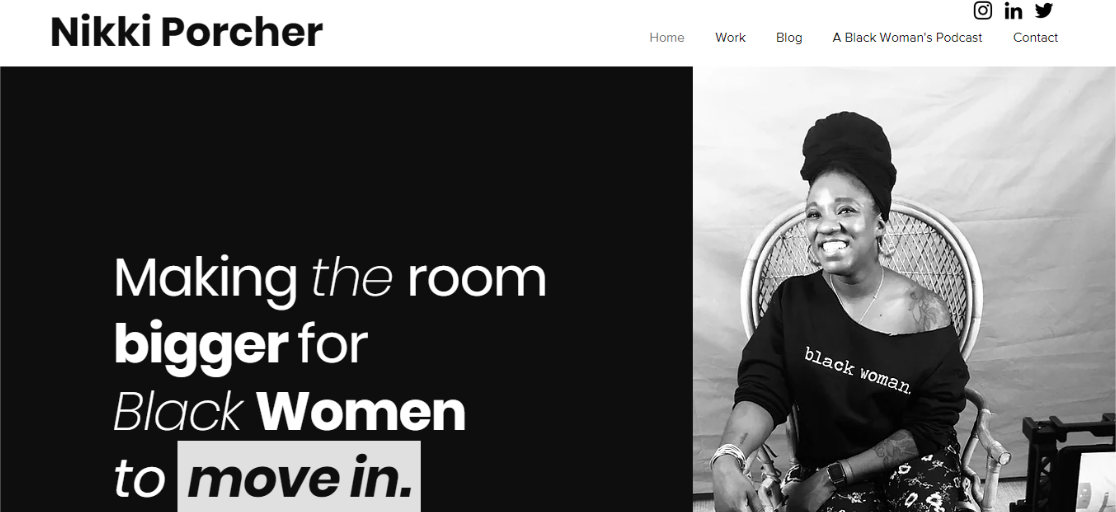 Visit the website at: https://www.ablackwomanswebsite.com/ Wix works great for personal websites – and Nikki Porcher, an advocate for Black women, proves it with her site. The way the information is organized into headlines and snippets of text gives
A
Black Woman's Website
a journalistic feel to it. A black and white color scheme also adds to its newspaper aesthetic.
The Blog and Podcast pages allow Porcher to discuss important topics and share her story
. Readers can get involved by commenting on posts and sharing them on social media. And speaking of social media, Instagram, Twitter, and LinkedIn icons are perfectly streamlined into this site's look – rather than displaying the usual brand colors, the icons are either black or white.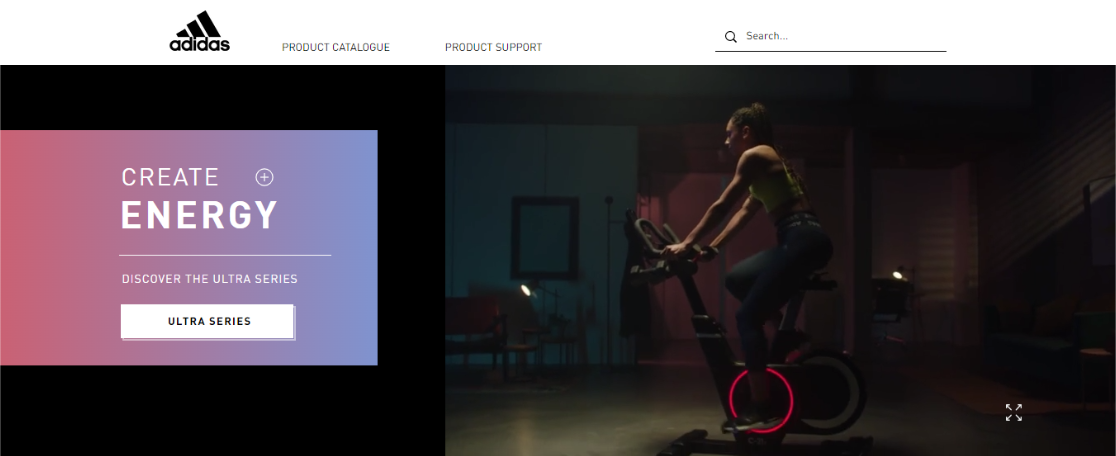 Visit the website at: https://www.adidashardware.com/
Adidas Hardware
's homepage puts its above-the-fold content to good use by displaying a professionally produced workout video to draw your attention and get you excited about this company's exercise gear. With products organized into numerous categories and subcategories, it's always easy to find what you need. Also, there's
a product support section bursting with assembly guides and user manuals
to help you get started with any purchased equipment.
Adidas Hardware
really demonstrates the benefits of building your online store with Wix. As a site owner, you can
add various product options to individual items and spice up product descriptions with videos
and images
.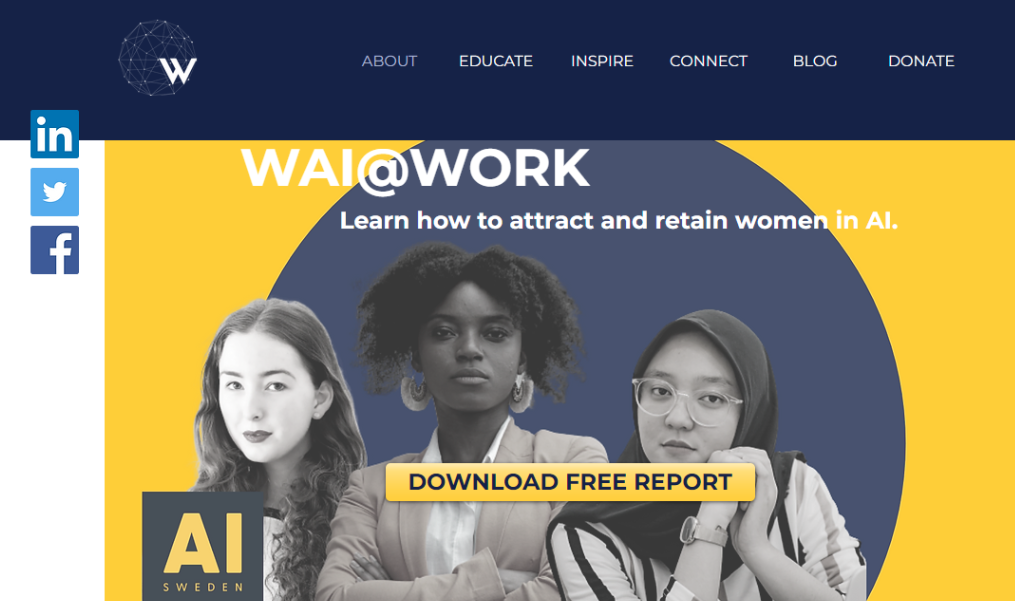 Visit the website at: https://www.womeninai.co/
Women in AI
contains a lot of information, but it's structured in a clear and well-organized way.
Prominent links and drop-down menus make navigating the site a breeze
, and prominent buttons prompt you to take action. I especially like how images and videos are used to help break up the text into distinct and digestible sections. Blog and Donate pages keep the audience informed and involved.
The use of slider images to show upcoming events is a nice touch
, as is the fact this company makes its annual report available as a downloadable PDF.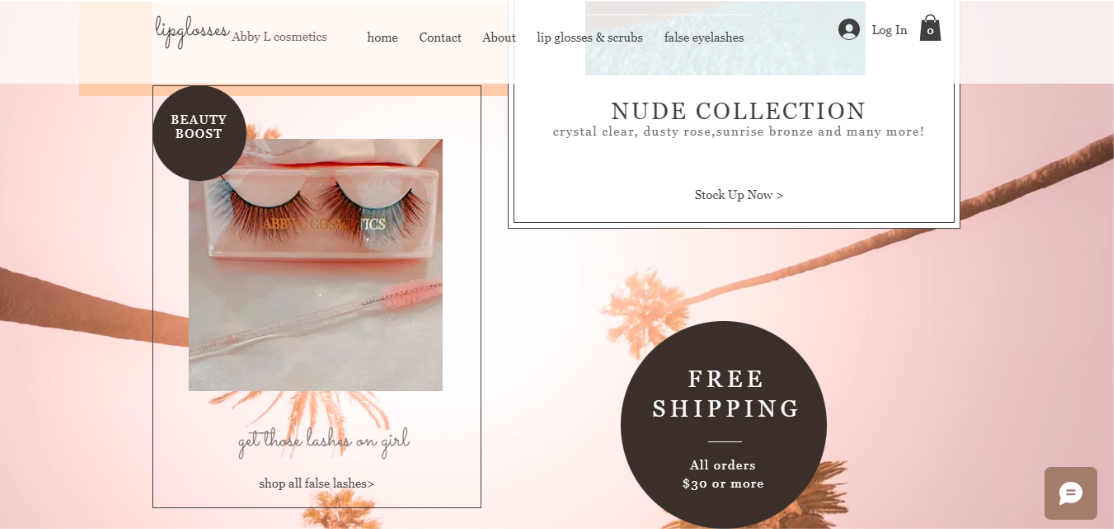 Visit the website at: https://www.abbylcosmetics.com/
Abby L
Cosmetics has an uncluttered homepage design with an
attention-grabbing parallax effect
(the background image moves at a slower pace than the foreground content as you scroll to create an illusion of depth). As you descend the page, you'll see product collections, special deals, and a sign-up form for receiving regular updates. I like how
the checkout page lets you enter promo codes and add notes
. The website also offers a client login area, granting access to exclusive content and enhancing customer communication. Site visitors can effortlessly reach out through either a contact form or the integrated chat app.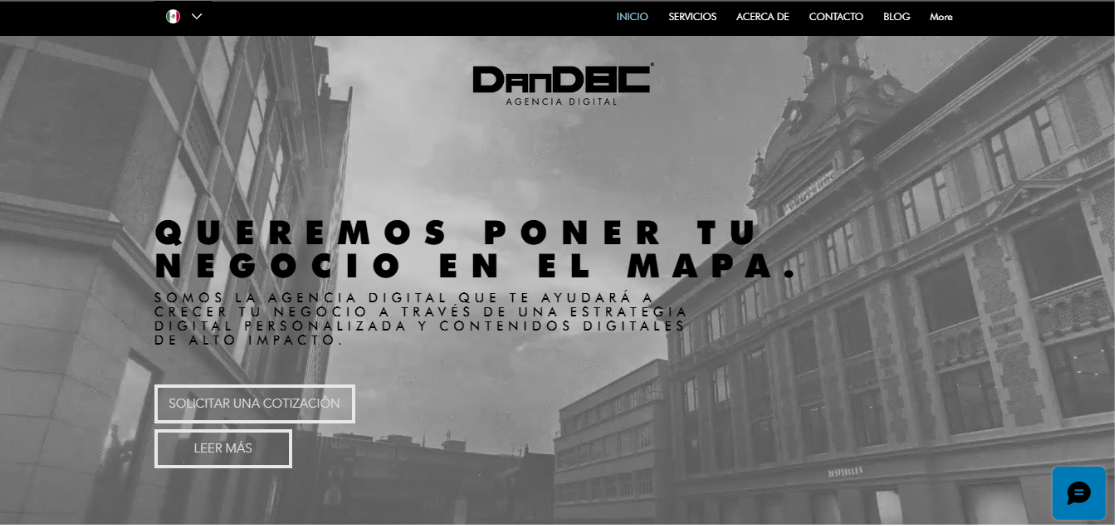 Visit the website at: https://www.dandbc.mx/
Dan DBC
is a Mexico City-based digital marketing company with a website that lets you choose between a Spanish and English version. It's a perfect example of how
Wix is a great option for building multilingual sites
, which can greatly extend your reach if you have an international audience. The
long, scrollable homepage features an eye-catching parallax image
of a bustling city, followed by a section on services, a blog, and a contact form. There are also sections dedicated to showing off testimonials and the company's partners.
Visit the website at: https://www.1000wordsmarketing.com/
1000 Words Marketing
takes a decidedly humanistic approach to its marketing philosophy, and it shows. Green appears on its logo, and plant-based images are prominently featured throughout the website, making its brand more recognizable. This marketing agency gets straight to the point with its clean design, clearly visible navigation links, and prominent call-to-action buttons.
I particularly like the structure of the Services page, which includes a slideshow of recent projects
. Another stand-out feature is the blog. Like
1000 Words Marketing
, you can take advantage of
Wix's beginner-friendly but powerful blogging platform
to share marketing tips and strategies. Wix also makes it easy to categorize blog posts so your readers can find exactly what they need.
Other Notable Wix Website Examples
If you need more ideas on how to harness the power of Wix to
build a compelling website
, these other examples are worth checking out.
11. Common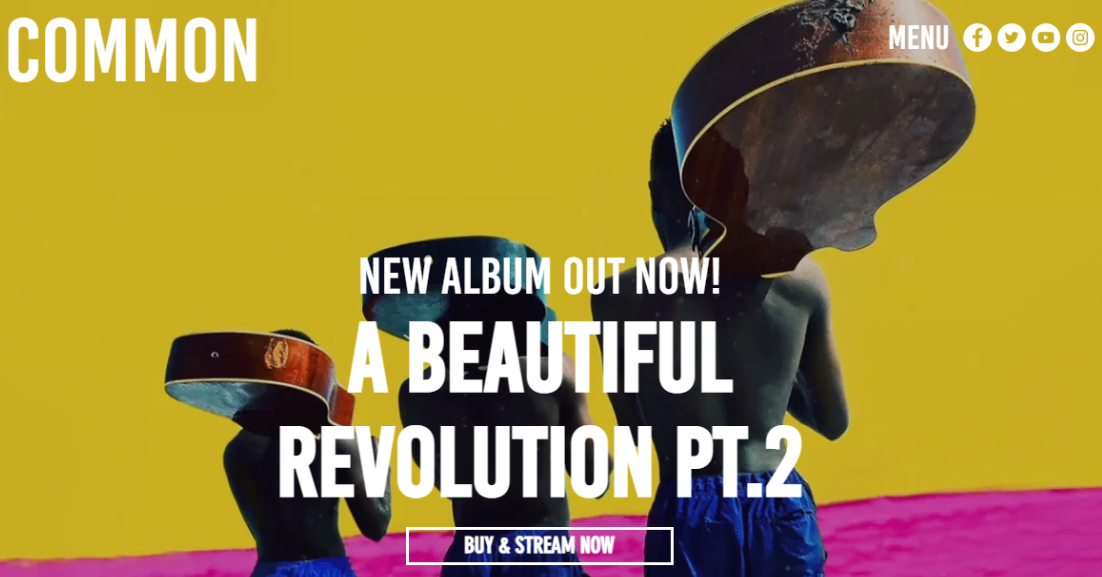 Visit website at: https://www.thinkcommon.com/ Common's website has
a simple structure that keeps all the essential information in one place
. The homepage features a full-screen image of the rapper's latest album, followed by upcoming tour dates, latest music video, an online store for merchandise, and a newsletter signup form. What more do you need?
12. Deal Room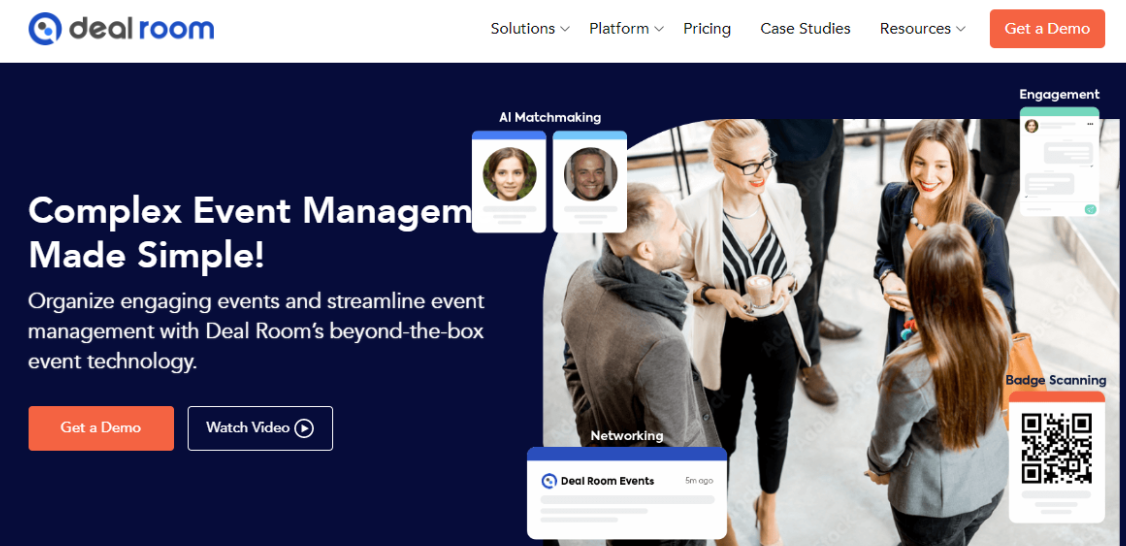 Visit website at: https://www.dealroomevents.com/ Despite being jam-packed with information, Deal Room's website makes it easy to find your way around thanks to the
sticky navigation bar and clearly outlined links that guide you to other pages
. This event management company's services are clearly presented and followed by customer success stories to convince you to give them a try.
13. Duca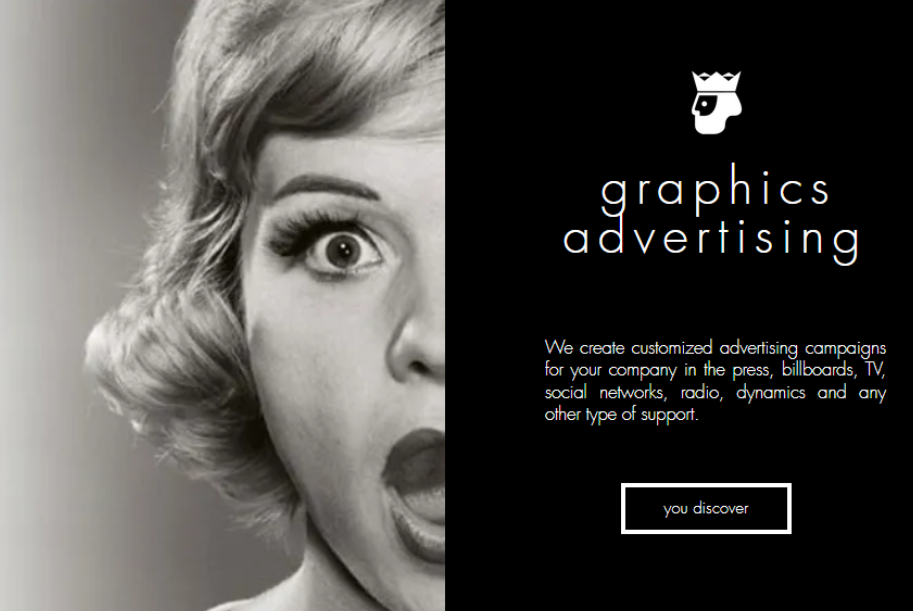 Visit website at: https://www.danieleursini.com/
Duca
is an agency with a wide range of services, ranging from web design to copywriting.
Its website's split design showcases high-quality images on the left and informative copy on the right
. You can easily get in touch via the built-in chat button.
14. White House Crafts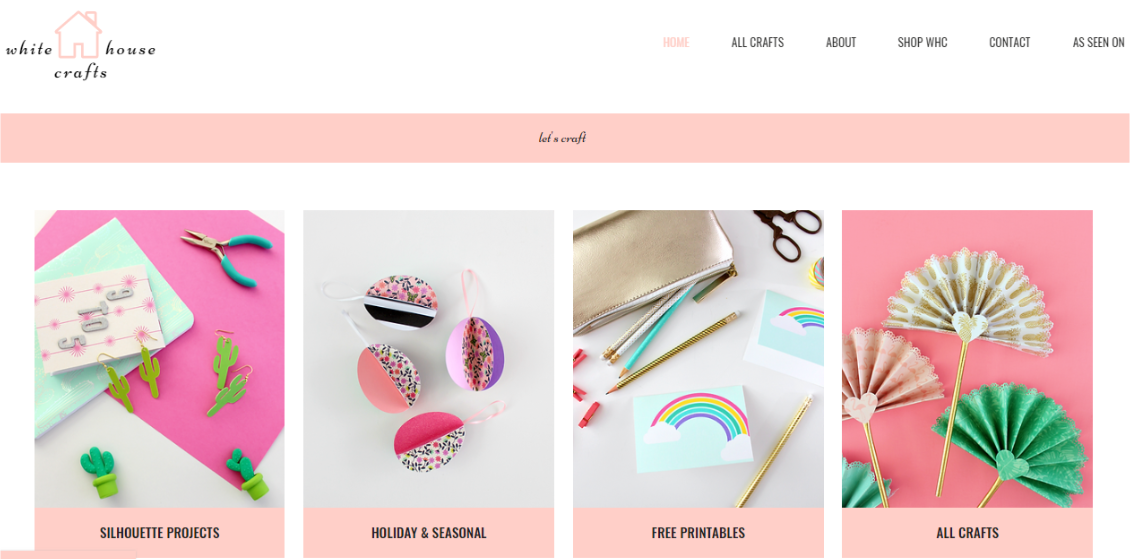 Visit website at: https://www.whitehousecrafts.net/
White House Crafts
is bound to make you smile with its bright colors and creative designs. In addition to the most popular arts and crafts guides,
the homepage displays recent blog and Instagram posts
to keep you up-to-date with new projects.
15. Peter Ummels BV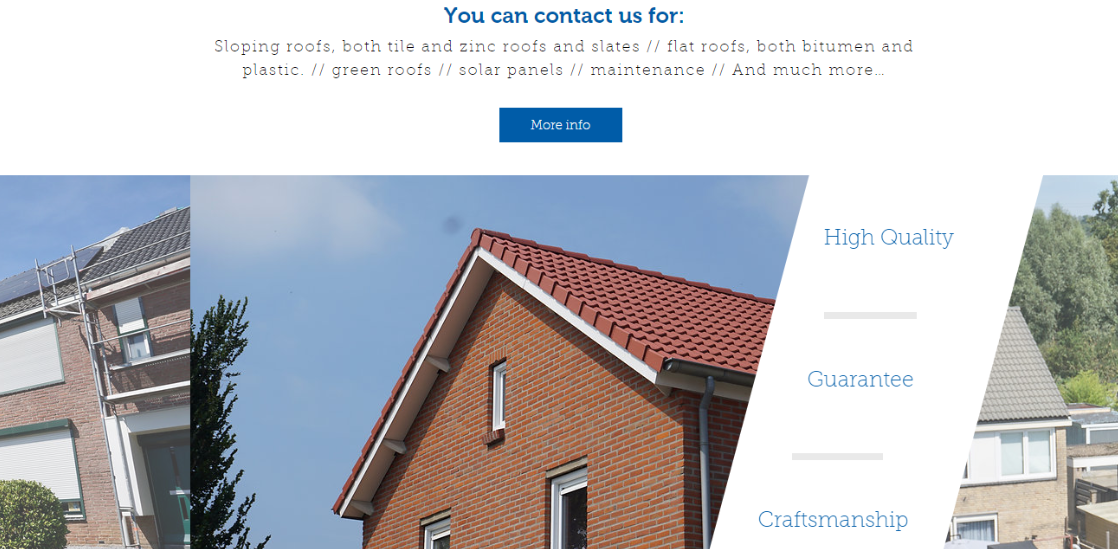 Visit website at: https://www.dakdekkersbedrijf-ummels.nl/
Peter Ummels BV
website has
a clean and polished design with a focus on high-quality images
. There's also a dedicated page for previous roofing projects that showcase the company's expertise.
16. Jimmy Webb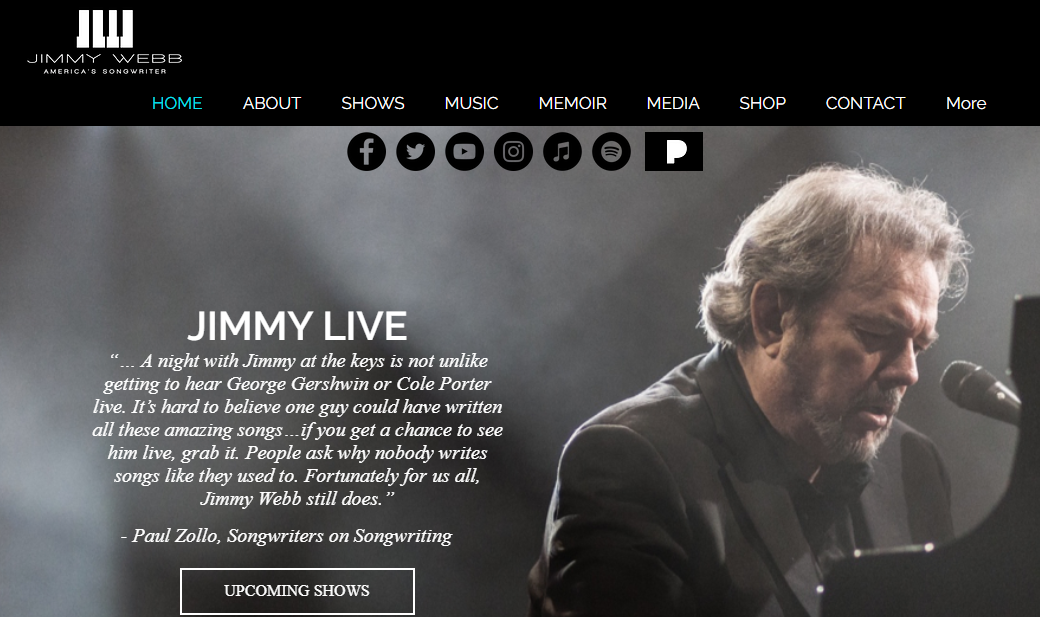 Visit website at: https://www.jimmywebb.com/
Jimmy Webb
's website exudes professionalism with a black background, full-screen images, enticing quotes, and neatly shaped social media icons. A sticky navigation bar leads you to pages for Webb's upcoming shows, song catalog, and merchandise store.
A membership section for exclusive content is a nice touch
.
17. 2morrowsmen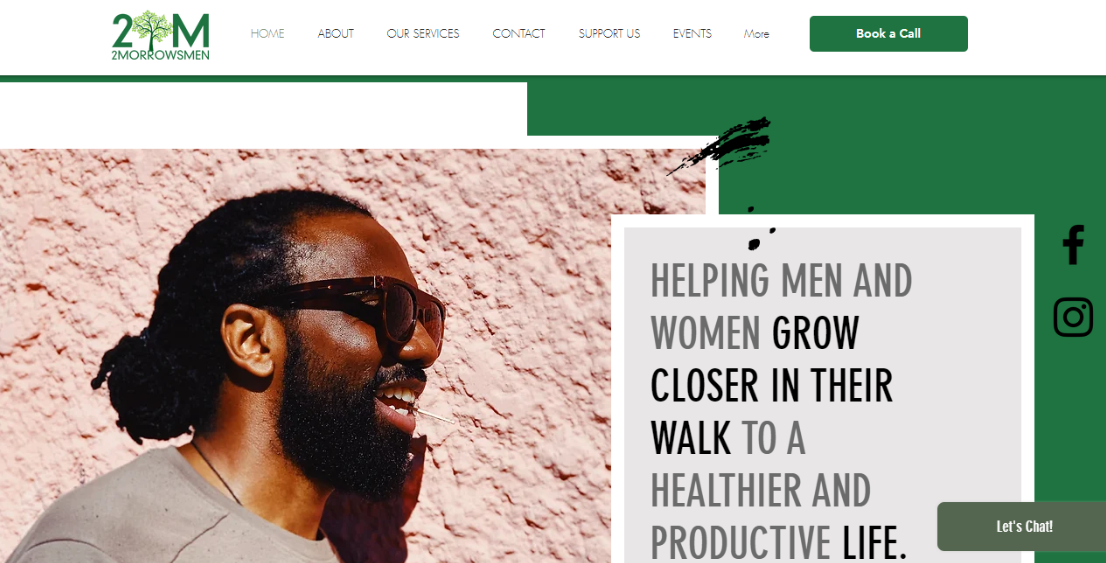 Visit website at: https://www.2morrowsmen.com/
2morrowsmen
adds a creative touch to a typical healthcare website with a memorable logo, hand-drawn details, and powerful copy.
The built-in booking feature makes it easy to schedule an appointment directly on the website
.
18. i58 Ministry
Visit website at: https://www.i58ministry.com/
i58 Ministry
is a charity that helps their local community by distributing food to those in need. Their website is
well-organized and easy to navigate
, with sections that clearly present their mission and what you can do to help. Short and snappy call-to-action buttons remove any friction between you and making a donation.
19. 2Q Homes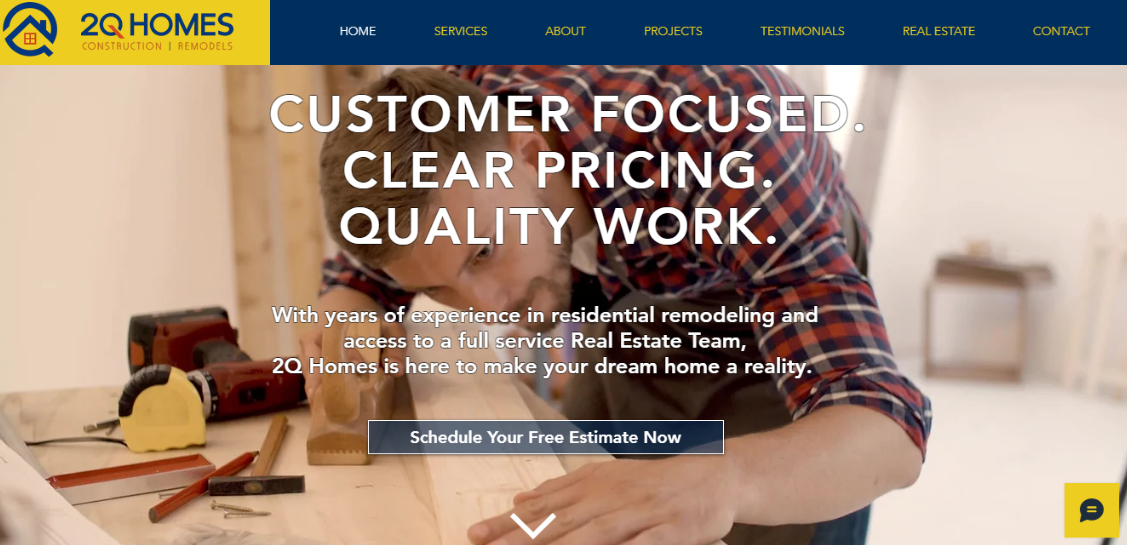 Visit website at: https://www.2qhomes.com/ The 2Q Homes website effectively displays the owner's skills in home building and renovation. I especially enjoy the Projects & Testimonials section, as it allows the owner's work to shine through clear before-and-after images of their projects.
When Should You Use Wix for Your Website?
Whether you're a graphic designer or a restaurant owner, Wix is a good choice for your site. Its templates come with many valuable features already built-in, such as blogs, galleries, and booking tools, so all you have to do is customize them for your site. And if you need even more tools,
Wix App Market has over 300 apps
. If your main focus is on online selling,
Squarespace's robust e-commerce tools
might be a better fit. This website builder also offers some of the best designed templates in the industry, even if you don't get the same level of creative freedom you do with Wix. That said, squarespace is a little on the pricier side. If you're looking for a more budget-friendly option,
SITE123 will let you set up an online store quickly
for a low monthly subscription.
FAQ
Can you make a good website with Wix?
Wix enables you to create a professional-looking website quickly. It has high-quality templates with every feature you're likely to need already built in, making it as good an option for personal websites as it is for established businesses.
Is Wix good for e-commerce?
Wix Stores is Wix's native set of e-commerce tools, and it provides more than enough for small to medium-sized online shops. Wix Stores is an intuitive tool that lets you customize your product pages and accept various payment methods. You can add Wix Stores to your website for free from the Wix App Market, but you'll need a business plan subscription to accept online payments.
Is Wix better than WordPress?
WordPress has a steeper learning curve compared to Wix, so Wix is a much easier option for beginners, especially if you plan to use your site for blogging. They have similar capabilities when it comes to apps and plugins, but depending on how many integrations you use, Wix is a more affordable solution.
What are the limitations of Wix?
Wix is a powerful website builder, but it's not for everyone. For instance, Wix doesn't let you switch between templates without losing your edits, you have to spend time editing the mobile version of your site separately, and the free plan comes with Wix branding. If you're not sure Wix is right for you, take a look at our list of the best website builders for 2023 to review more options.