I've rounded up the 8 best templates for e-commerce that Wix has to offer –
and while I was at it, I discovered a few that you may want to stay away from. That being said,
Wix Stores can be added to any of Wix's 900+ templates
, so you're not limited to the
Online Store
category. In fact, I've highlighted a few great templates from other categories that you can easily use for an e-commerce site.
Wix E-Commerce Templates That Sell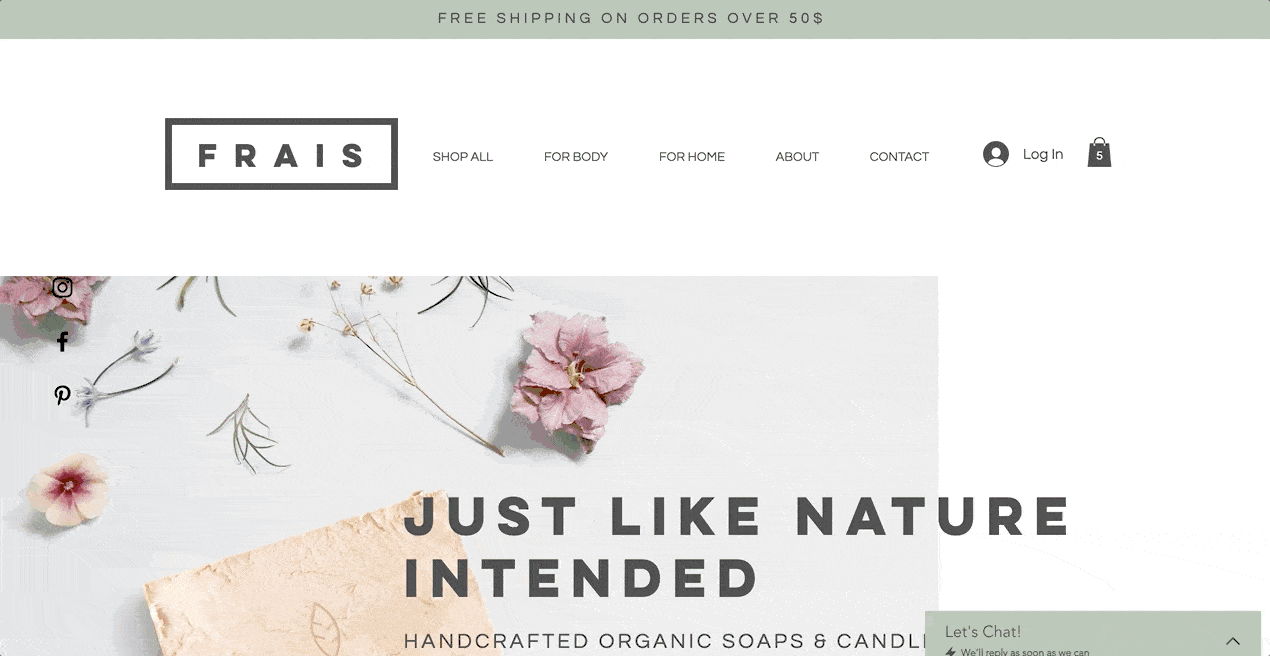 Wix's
Natural Soap & Candle Store
isn't just for selling soap and candles (obviously). Its default color palette – spring and forest greens combined with charcoal grey –
conveys a natural vibe
that's perfect for hand-crafted items, farmers markets, and festivals.
It features a video section on the homepage,
so you can post a short clip of how your products are made, or your products in action. It's also got a built-in live chat function so potential customers can speak to you in real time. One cool feature is that the product gallery connects to your Instagram. The gallery has ample space for large images, making this template ideal for artisans who want to highlight the craftsmanship of their wares.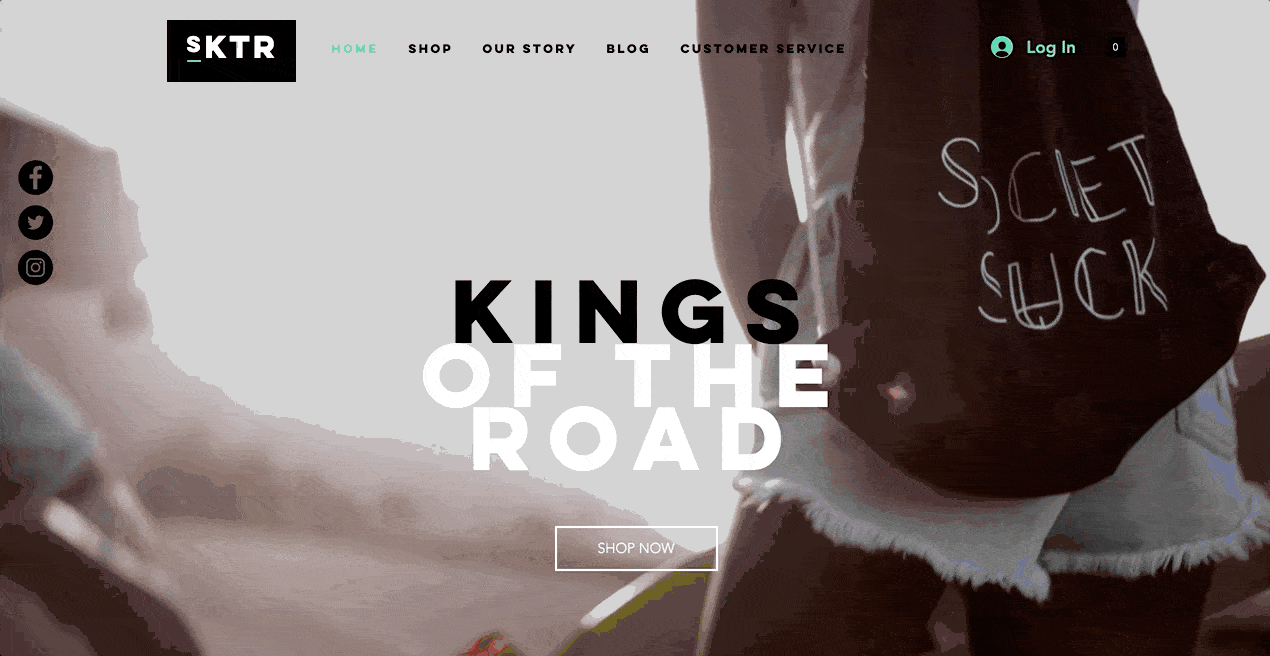 This template is
cool
, it's as simple as that. The header captures visitors' attention right away with a
dynamic video background.
 The typography is modern and easy to read, and its default black and bright-green colors are lively but not overwhelming. Plus, the
parallax scrolling and interactive slide-in text
 keep visitors engaged.
Skateboard Shop
also has a built-in blog
,
 which is
great if your e-commerce store is built around a lifestyle niche
, such as fitness, yoga, nutrition, or the outdoors. Customers can easily create their own accounts to streamline future checkouts. And
the Our Story page
gives you an opportunity to
build your brand identity
 and showcase your team members.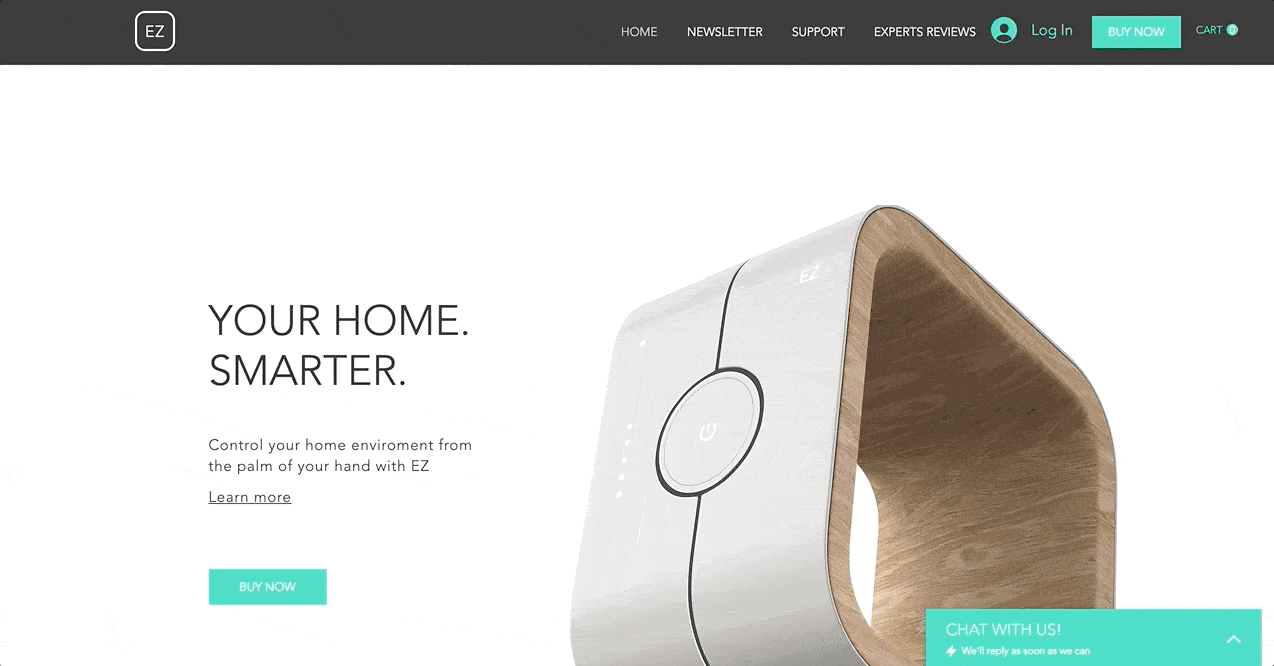 This template has a trendy minimalist design and includes a prominent parallax scrolling effect. It can technically be used to sell any number of items, but
its layout makes it perfectly suited for single-product sites.
 If you're selling something you've invented and want to highlight its features in depth,
Home Tech Store
would be a natural choice. The template uses cool icons to highlight key product features, but if they don't match your brand, that's not a problem. Thanks to
Wix's free vector art library
you can easily swap them out for icons that suit
your
product.
The
Buy Now
button takes you to a separate shop page
 with more details about your product's variants. Plus, all the necessary social media buttons are displayed prominently in the footer.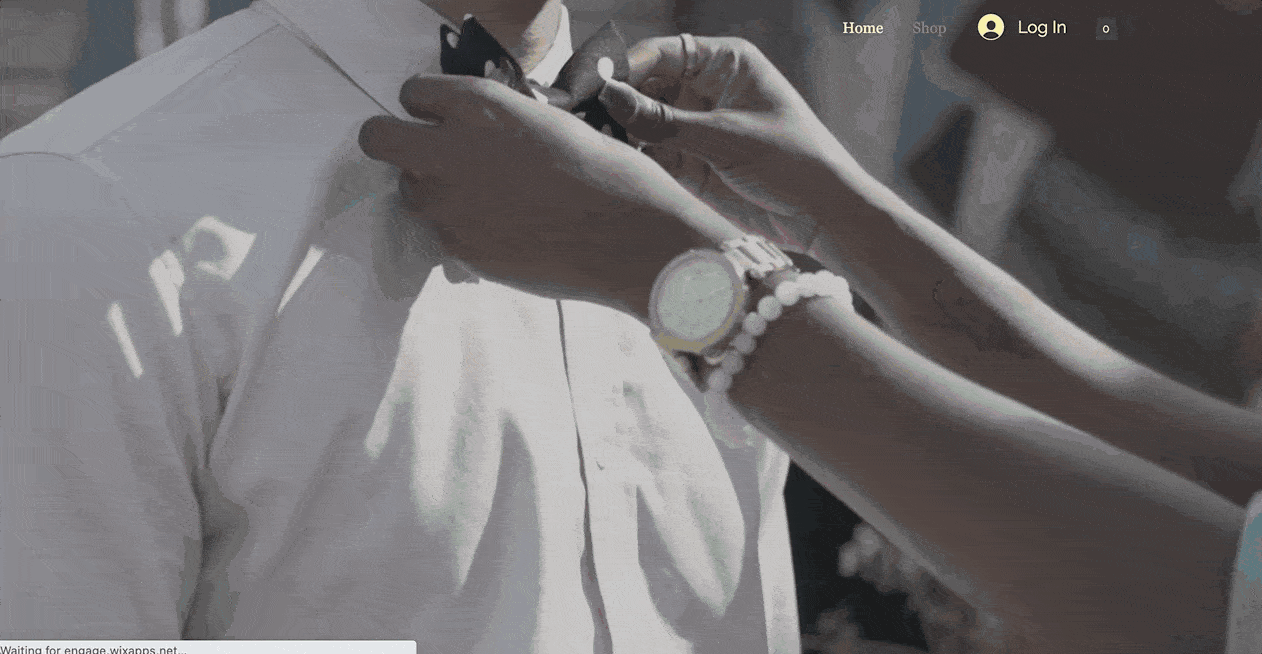 Accessories Store (Bowtie Company)
 has a truly unique default color scheme, with its deep forest green and spring yellow on a white background. And with a mix of traditional and contemporary fonts, this design
creates an air of sophistication
that
channels well-dressed garden parties. The template begins with
 an immersive video section,
while the parallax scrolling and interactive slide-in visuals also
help draw visitors in. It has a large image gallery that
showcases your product's versatility
, and the easy-to-navigate product gallery and built-in chat function will help you convert visitors. Plus,
visitors can create a member account
 to speed up their checkout process.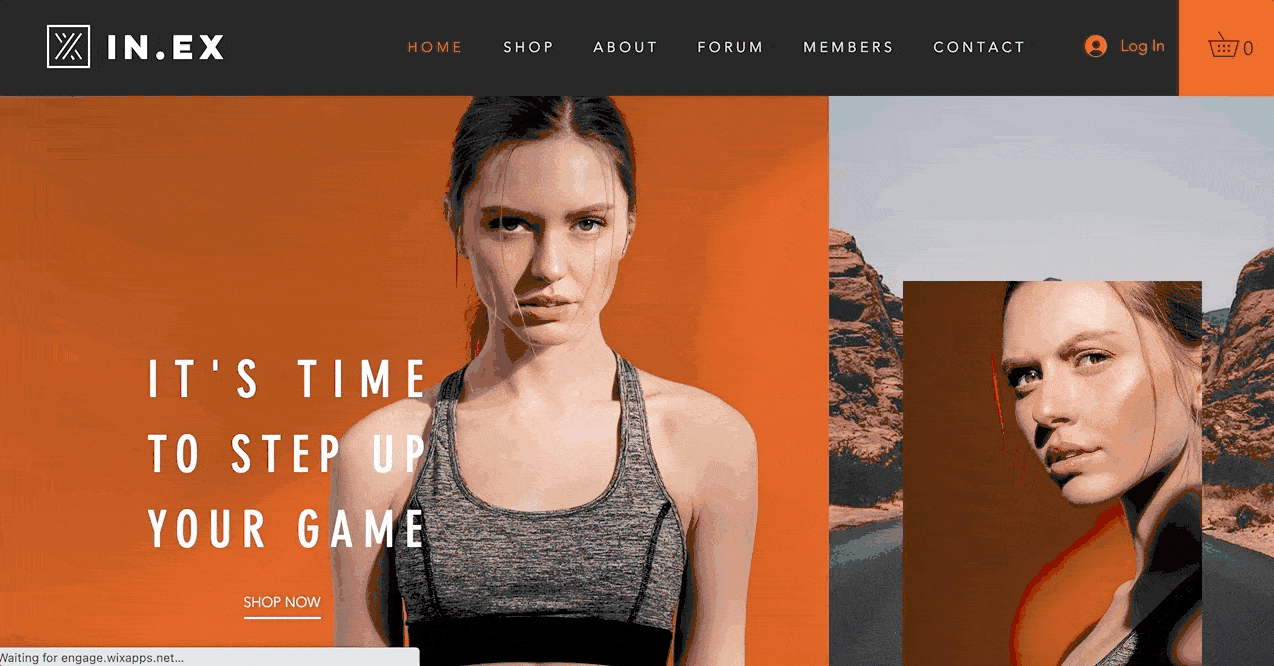 This template has an orange, black, and gray color scheme that exudes power and energy. Its fonts are trendy and easy to read, and
 it combines an asymmetrical layout with parallax scrolling to pull visitors in.
It includes a Forum page for your blog,
which is great if you're a content marketer looking to sell fitness-related clothing and products. And if you're building a following around your brand, the template has a handy
Members page where customers can connect with each other.
Plus, the Shop page has a
built-in product filter
 to help your customers find what they're looking for based on price, color, or size.
Wix E-Commerce Templates to Avoid
With 118+ online store templates to choose from, they can't all be winners. These three templates leave a lot to be desired.

Home Lifestyle Brand
's poor selection of colors and fonts
 makes for an amateurish design scheme
. And even if you change these up, that wouldn't fix the unsightly white space between the newsletter signup form and the footer, the hard-to-read typography in the menu, or the rather boring layout.
Kitchen Shop
 has a dated 70s feel
with its pastel-green color scheme. The text isn't readable enough against the background in places, and the shop page layout feels boring to me. But most of all, the template is just too simple, which doesn't inspire trust. It looks like it was thrown together in a rush.
Jewelry Store (Ania Gaudin)
 has an ill-chosen purple-and-beige color scheme and the fonts are too small in places. The biggest problem, though, is that
the shop page is actually hard to find
, as it's buried in an overly subtle menu. Plus, the vertical text on each page may have been intended as an artistic flourish, but it's just distracting.
Other Wix Templates That Are Great for E-Commerce
With such a large selection of e-commerce templates to choose from, it's entirely likely that Wix will have one that's a great fit for your business. That being said, the
Wix Stores app can be added to any of Wix's 900+ templates
, so there's no need to limit yourself to the eCommerce category when choosing a template. Here are a few of my favorite Wix templates that you can easily turn into an e-commerce site.
Graffiti Artist
is a one-page, fast-loading portfolio template with a cool monochrome color scheme, which gives it an urban and industrial vibe. Originally designed for visual artists, this versatile template would work great for e-commerce because
the
prominent gallery draws attention to your products straightaway.
You may want to add pages for FAQs and shipping policies, and connect your social media.
 Then all you have to do is add Wix Stores to generate a customizable shop page
, and you've got an e-commerce site that's perfect for any image-forward store.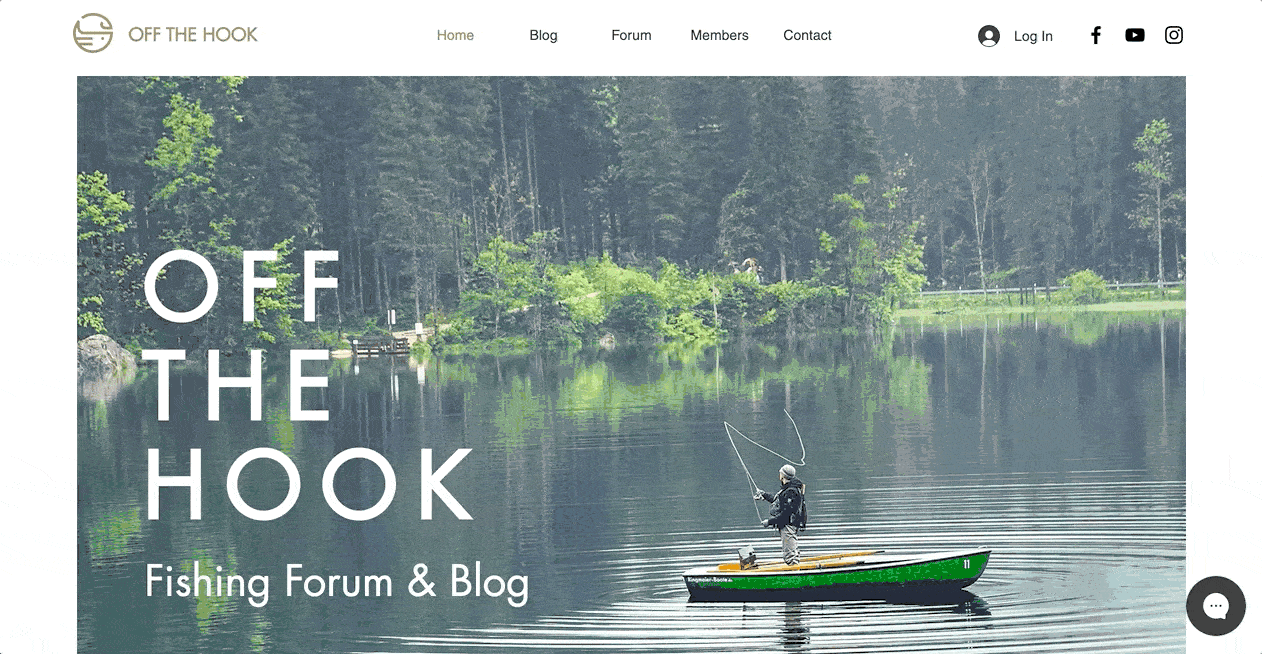 You may wonder how on earth a blog template focused on fishing would make my e-commerce list. In a word: design.
Fishing Blog & Forum
 has
 a very engaging asymmetrical layout and lots of visual space to showcase your products.
Plus, the homepage gallery connects to your Instagram feed, and the template comes with a forum and members-only page (for community engagement), a blog, and a contact page ready to go. Just change the images and colors to suit your brand and voilà, you'll have a content-driven site that's perfect for building a following around your lifestyle-focused products. With Wix Stores added onto your site, you can
perfectly target your customer avatar 
with an online shop
.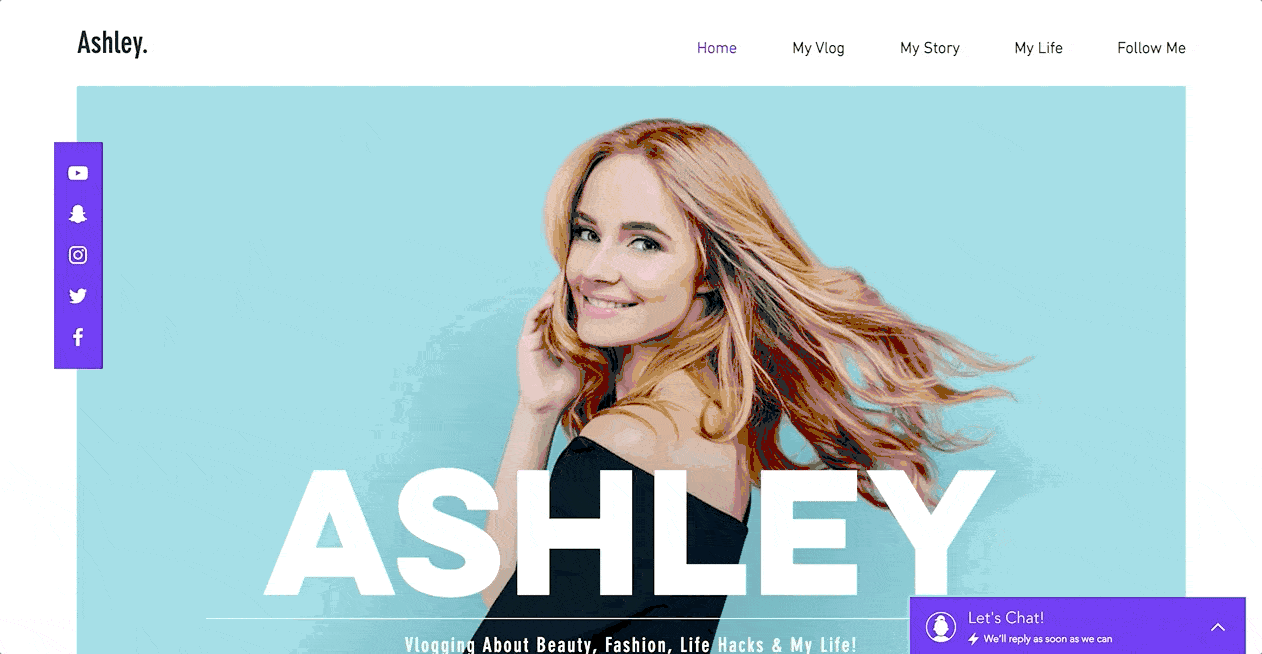 Personal Blog (Ashley)
 is a visually engaging template with parallax scrolling and plenty of room for product images. While you may want to change the colors to suit your brand, the default purple, white, and black color scheme already pops off the page.
It's a fast-loading, one-page site with built-in live chat and a gallery that you can connect to your Instagram feed.
You can enjoy a great perk with the inclusion of a vlog section, which you might find valuable, especially if you engage in frequent video marketing. Alternatively, you have the option to substitute this section with a product gallery featuring your top-selling items. By incorporating Wix Stores, you can effortlessly transform this template into the e-commerce platform it has always aspired to be.
The Right E-Commerce Template Can Boost Your Sales
Whichever template you choose, you want it to be visually engaging while keeping your customer's attention squarely on your products. It's important to make a great first impression,
 so your website's style and layout are vital.
Because Wix has
a free plan
, you can build your site first and pay later, when you're sure that the builder has everything you need.
Your store will also need to function well on mobile.
While you may need to make a few adjustments in the Wix mobile editor, all of the templates on this list do just that while looking great. And remember: you're not limited to the
Online Store
template category, since
Wix Stores can be added to
any
 template.
 So if you see a template that's a perfect match for your brand from another category, I recommend giving it a try!
FAQ
Are Wix Templates Free?
Yes, all of Wix's 900+ templates are free to use. Wix also lets you publish a site for free on its platform, but if you want to connect your own domain, remove advertising, and start selling on your site, you will need to purchase one of Wix's premium plans. Before signing up, check out some of the great discounts available. 
Can I sell my products on Wix?
You can sell all kinds of digital and physical products or services using Wix – well… so long as you're not violating any applicable laws! Or, if you don't have products of your own, you can use Wix apps such as Modalyst or Printful in order to dropship items from third-party retailers, or sell print-on-demand items.
Does Wix take a percentage of sales?
Wix does not take any kind of commission or percentage of your sales. However, if you use Wix Payments to process credit and debit payments from your customers, standard payment processing fees apply. Wix Payments charges roughly the same as other payment gateways, including Stripe and PayPal.
Which is better, Wix of Shopify?
Shopify is pretty hard to compete with: not only was it designed exclusively as an e-commerce platform, but it also has thousands of apps to improve your site's functionality. It lets your customers pay in their own currency, and it has a 14-day free trial. That said, there are lots of reasons you might want to use a website builder like Wix for your e-commerce store. Wix has far more customizable templates, more blog/vlog features, plus podcast syndication, which are all great if you use content as part of your marketing strategy. For more details, check out our detailed comparison of Wix and Shopify. Or, if you're considering all of your options, you may want to check out our expert review of the top website builders in 2023.