While Wix has a specific category for blog templates, I found some great options that weren't included there!
Now, that's not to say that there aren't some excellent templates in Wix's blog category –
but
there were definitely a few that I, personally, wouldn't work with.
Your ideal blog template captures your personality and who you are as a blogger, while also creating a unique experience for your readers. You might also want features that allow you to better connect with your audience (like a forum page or a contact form), while still keeping your content as the main attraction.
These are the blog templates that exceeded my expectations – as well as a few that you may want to avoid.
 I also included a few other templates from
outside
 of the blog category that could also work well.
Wix Blog Templates That I Love
Before we dive in, it's important to remember a few key things: Although these template names and sample layouts are tied to a specific theme (like "sports" or "the keto diet"), changing the site name and hero images can instantly transform it to match your blog's particular niche.
You'll have full control over colors and fonts, so don't get caught up looking for a template that perfectly matches your brand.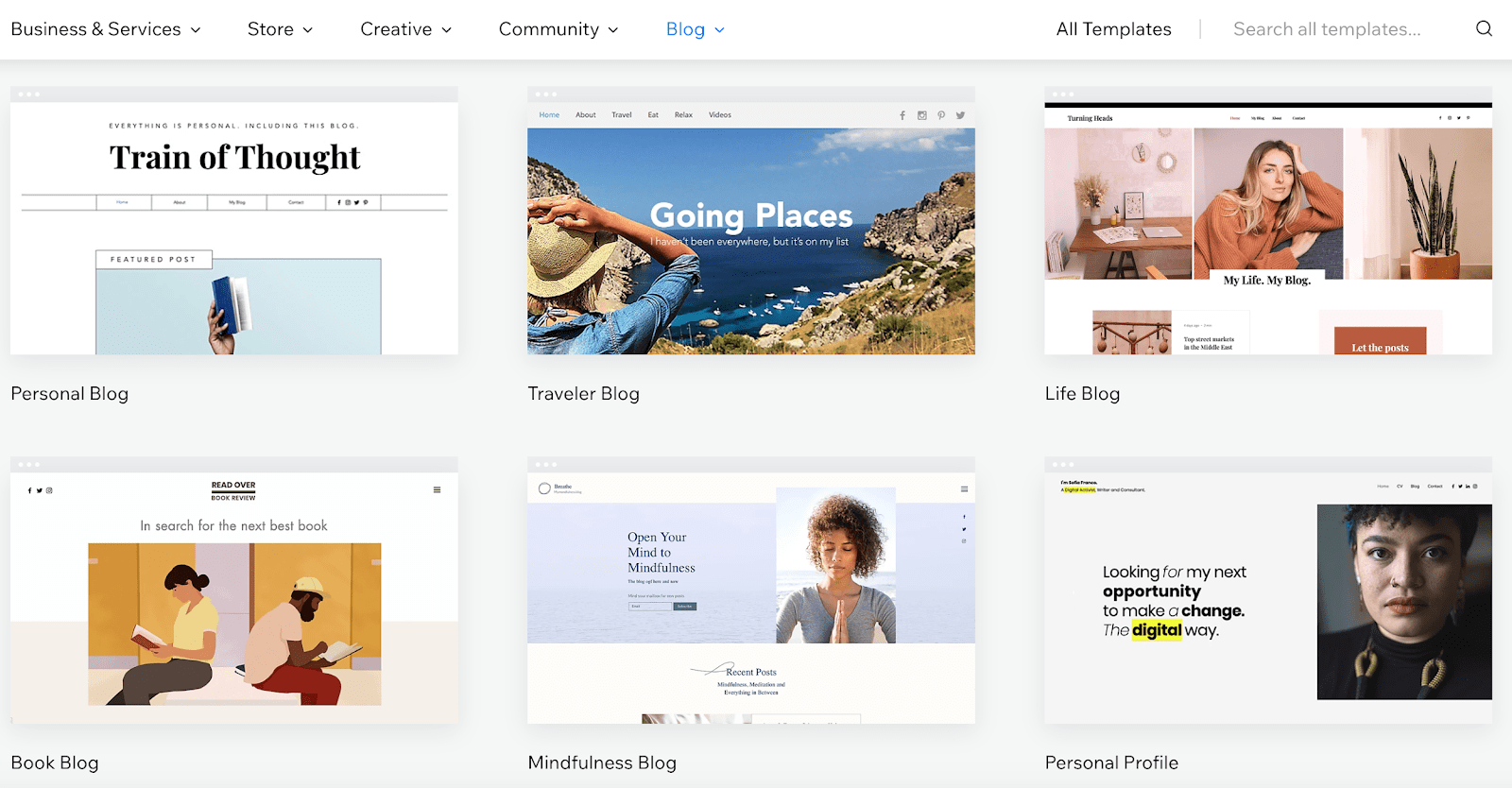 Keep in mind that once you start editing your Wix template, you won't be able to switch to a different one without losing your work, so be sure you're confident in your decision.
1. Going Places – Travel Blog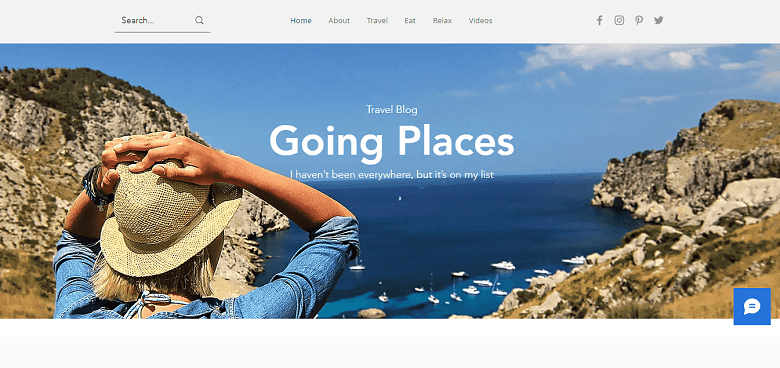 Going Places combines the best features of several other templates.
 It lets you choose between different ways to show off your images, including a built-in Instagram feed. I also like how the blog category pages are accessible through the navigation bar. There are also plenty of preinstalled apps, including Wix Videos, Wix Chat, and – one of my favorites – Wix Forms.
The easy subscription form is sure to be a plus if you're trying to get new readers.
While the template is geared toward travel blogs, the combination of design and function also lends itself well to blogs about weddings, fashion and style, photography, and more. You can also use this template to create a blog for your business. With such a great focus on images, this template would be great for professionals like photographers or wedding planners, allowing clients to book appointments or request quotes for your services.
2. Turning Heads – Life Blog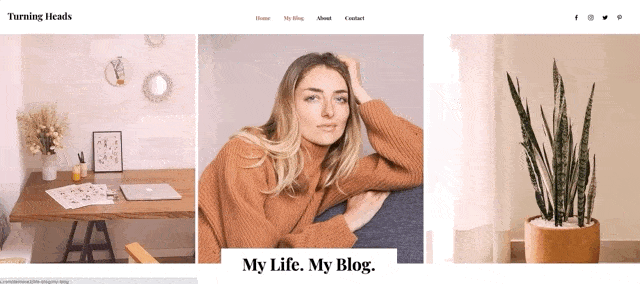 Turning Heads
 is one of my favorite Wix templates for personal blogs.
It feels familiar and intimate, while still coming across as professional
. The focus is undoubtedly on the blog content itself. The layout makes your blog the star of the show, with a few other pages, including a contact form you can use to get feedback from your readers. Keeping up with this template's clean and minimalistic design, the only preinstalled app is the Instagram Feed. However, as with any Wix template, you'll be able to add whatever apps you like to expand your site's features.
3. House of Keto – Diet Blog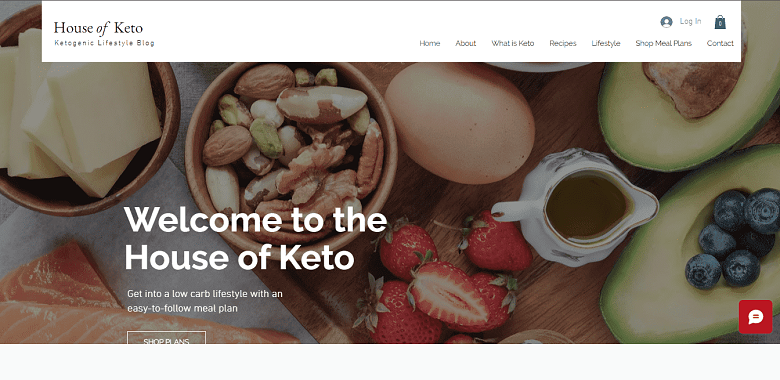 House of Keto
 is a stunning image-forward template that's great for bloggers who also want to sell products. Each page has a large header image, and featured images from blog posts are prominent on the homepage, too. With the
built-in Instagram feed
, it's pretty easy to turn this template into a visual tribute to your food, books, cats, or whatever else you blog about. In addition to the standard blog tools,
the template also comes with the Wix Stores app and the Wix Content Manager tool preinstalled.
Wix Stores gives you access to all the e-commerce features so you can sell physical or digital products right on your blog. The Content Manager allows you to create Collections, which store the content that you create, as well as any content that your visitors submit through forms. You can then choose how you want this content displayed. The Collections in the Content Manager can even act as a database that you can use in your dynamic pages (multiple pages created automatically with the same design). This could work well for a recipe database, for instance.
4. Halftimers – Sports Blog & Podcast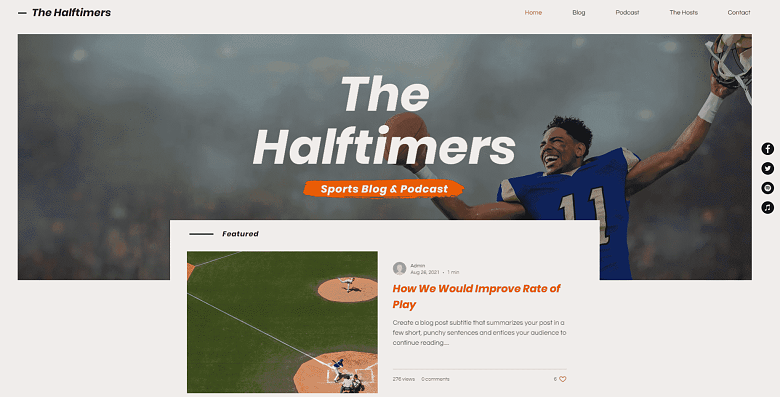 The
Halftimers
 template is modern and vibrant. The large images and accent colors give you enough to look at, while well-placed white space helps prevent a "cluttered" look. It's also a lot more versatile than some other templates –
changing the images, accent color, and font can give you a completely different feel while maintaining the excellent design foundation.
This template comes with a podcast feed built-in (all you need to do is connect your RSS feed), so it's a perfect template if you like sharing your spoken opinions just as much as your written ones. To help you promote the podcast side of your website, the default social media icons in the sidebar include Spotify and Apple Music.
5. Bump & Beyond – A Blog with a Forum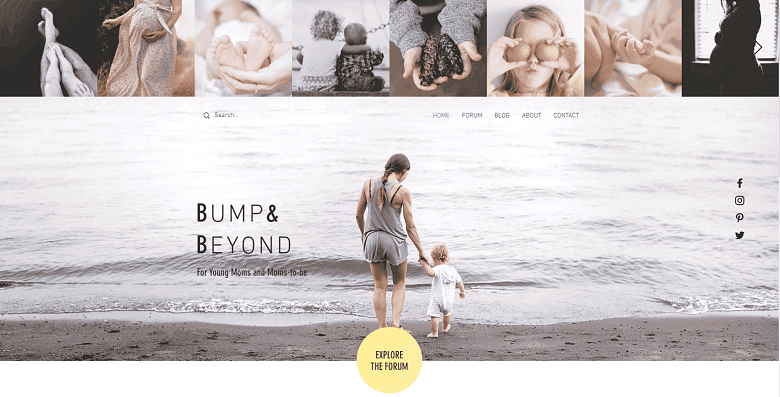 For community-minded bloggers, a forum-based template like
Bump & Beyond
 provides both a strong blog architecture and the all tools you need to engage with your readers. The Wix Forums app comes preinstalled, allowing your readers to communicate with each other, leave comments, and share their own posts and content. You can also connect seamlessly to your Instagram feed, so you can stay in touch with your followers on multiple platforms. Design-wise,
the
prominent images on every page make this template both eye-catching and easy to personalize
. All you have to do is swap them for your own and the site will instantly become yours, whether you add pictures of pets, gourmet meals, or the best hiking spots around.
6. The Food Feed – Food Blog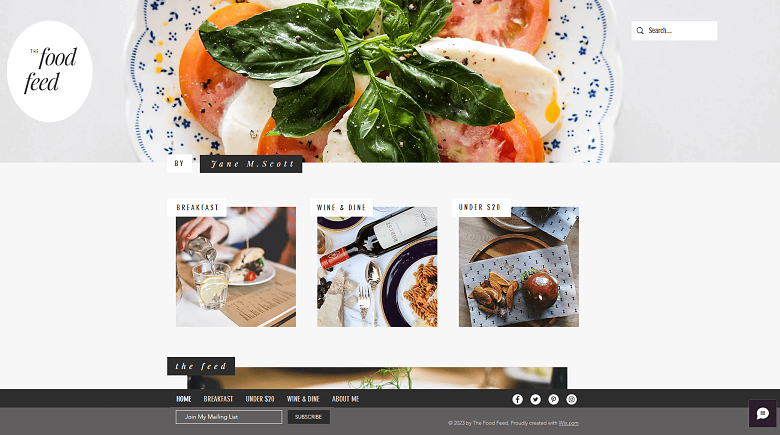 The
Food Feed
 template has a pretty unique layout, with the navigation menu locked on the bottom of the screen. You can change the color and font of the black-and-white tags labeling the blog categories on the navigation menu if they don't fit your style.
This is an elegant theme intended for chefs and restaurants, but you could easily adapt it to include recipes or cover a different niche, such as home decor.
This template comes with Wix Forums and Wix Chat already installed. Just imagine the possibilities: If you're a food blogger, your readers can talk to you about your recipes, share dishes of their own, or recommend their favorite restaurants. If you blog about arts and crafts, your readers can share photos of their own creations.
No matter how you choose to use them, these features can help build an active community around your blog.
7. Off The Hook – Blog and Community Forum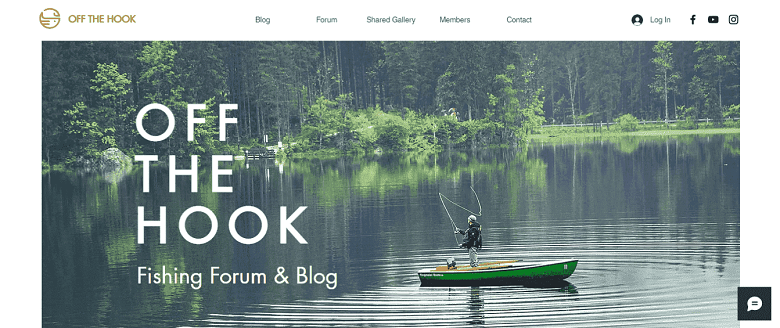 Asymmetrical layouts can be tricky to do well, but the
Off the Hook
 template pulls it off (no pun intended) while featuring images throughout.
It has a classic feel while still incorporating modern elements, so you can push it any way you like depending on your color and font choices.
 Play around with different combinations to see what you like best! The blog feed page has a similar asymmetry to it but here it's less extreme, keeping the overall feel the same while making it easy for visitors to browse around.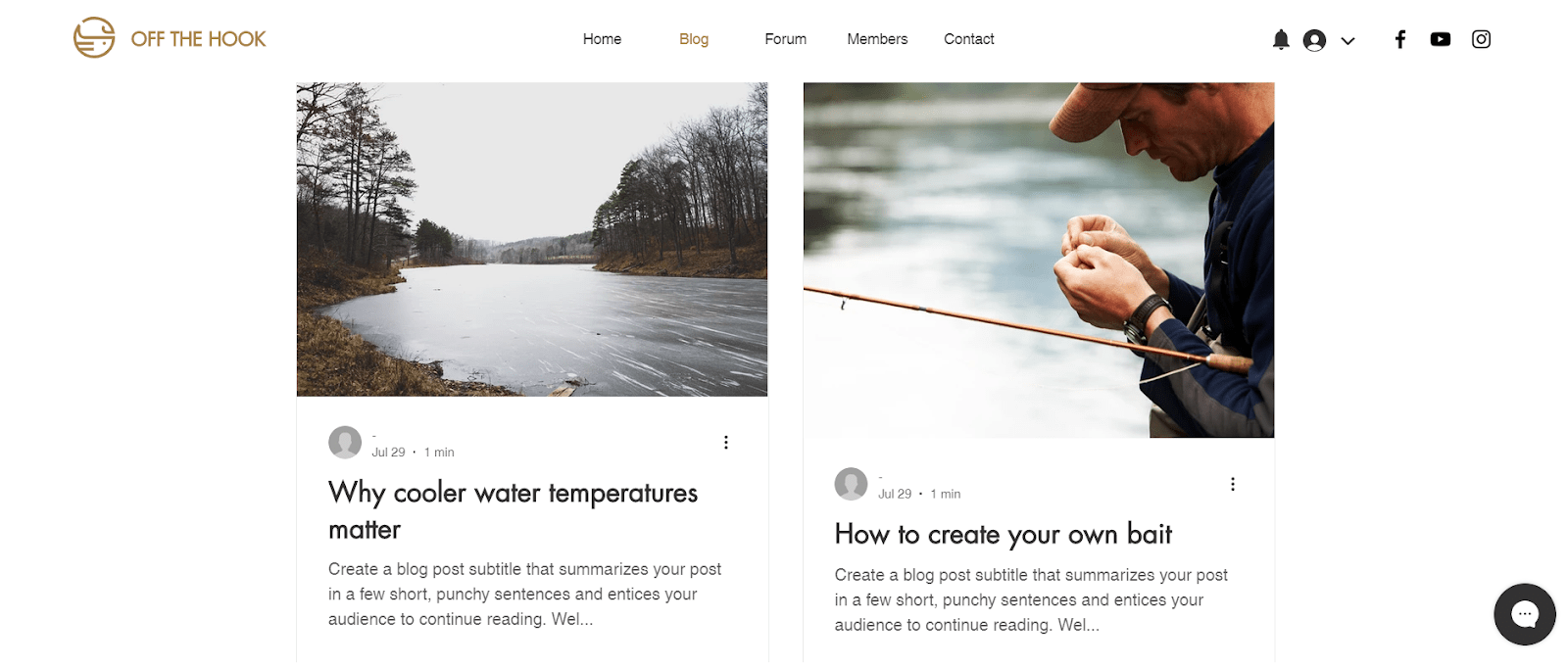 Wix Forums and the Instagram Feed app are already installed, so whether you're talking about fishing spots, backyard gardens, or tips for increasing productivity, you'll be able to connect with like-minded people however you prefer.
8. Ashley – Personal Vlog Template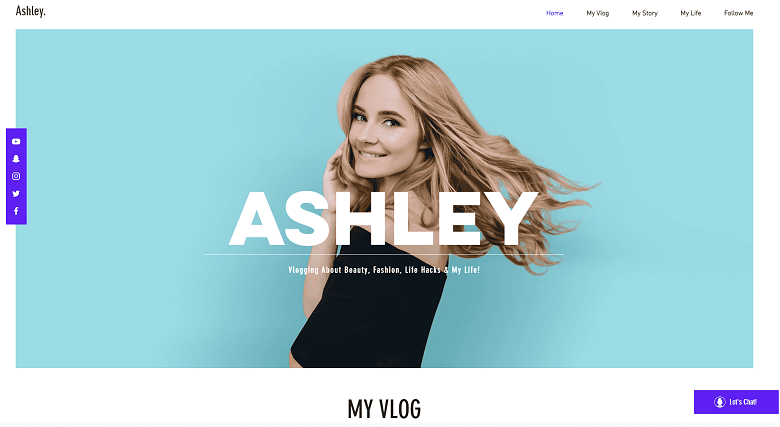 The
Ashley
 vlog template is bright, fun, and consists of just one page (the header navigation simply links to different sections on the homepage). It's a great choice if your blog's focus is on video content or podcasts. With this template, you'll have a centralized place for all of your work while still having the option to include a written blog.
If you do want a written blog, this template will require you to activate Wix Blogs before you can use it
. That said, it's such a clean and vibrant design that those few extra clicks are well worth it.
9. Lemon Squeezy – Crafty Blog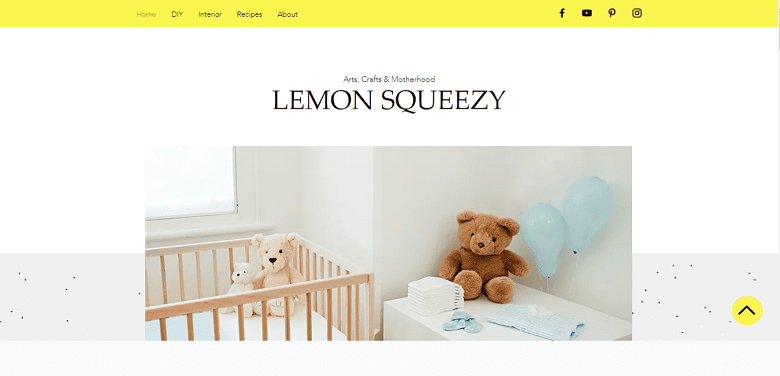 I love how the Lemon Squeezy template is mostly minimalist, but has just enough of a pop of color to draw you in.
 It feels slightly whimsical, perfectly capturing the "crafty mom" vibe it's intended for. But I could see it working for a lot of other blog topics, too – home decor and organization, funky fashion ideas, or even a pretty dessert blog could all shine with this design. It's a simple template, with three blog category pages and an About page, so it's a great choice for beginners who want to focus on publishing posts. If you want to focus more on building a community, you'll have to add apps for the members' area, forums, or whatever other features you're looking for.
10. Walkaway – Business Blog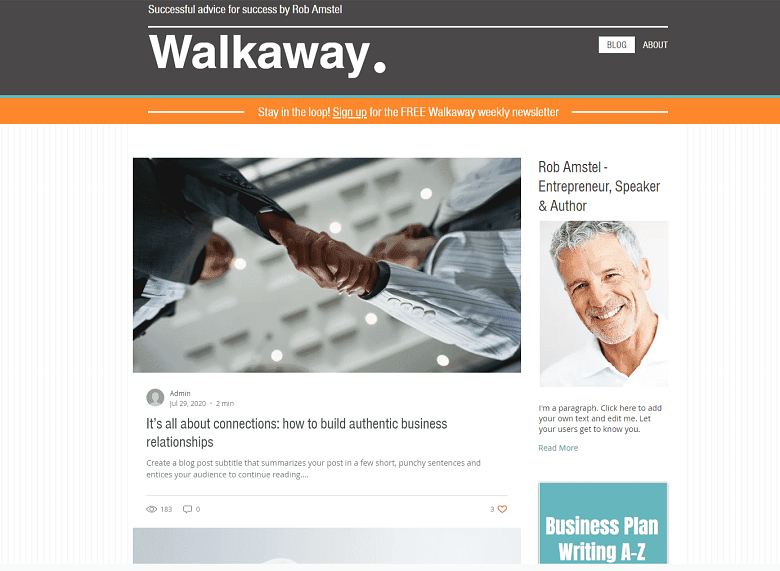 So many business blog templates look super boring, with stacks of black-and-white posts and small pictures that do nothing for me.
The Walkaway template is much more interesting – a little bit of color, large images, and a modern header layout and font selection.
 However, it's really basic. There are no extra apps, and the blog feed and About page are the only pages created for you by default.
Walkaway
 definitely works best for a business or news blog, where the focus is more on conveying information clearly than having a bunch of flashy extras. With this template, the latest posts will be front and center on your homepage, making it easy for you to update and for your readers to find.
Wix Templates for Blogs To Avoid
As I mentioned earlier, there are a few Wix blog templates that leave a lot to be desired. While Wix offers lots of beautiful and elegant options, in my opinion, these don't quite hit the mark.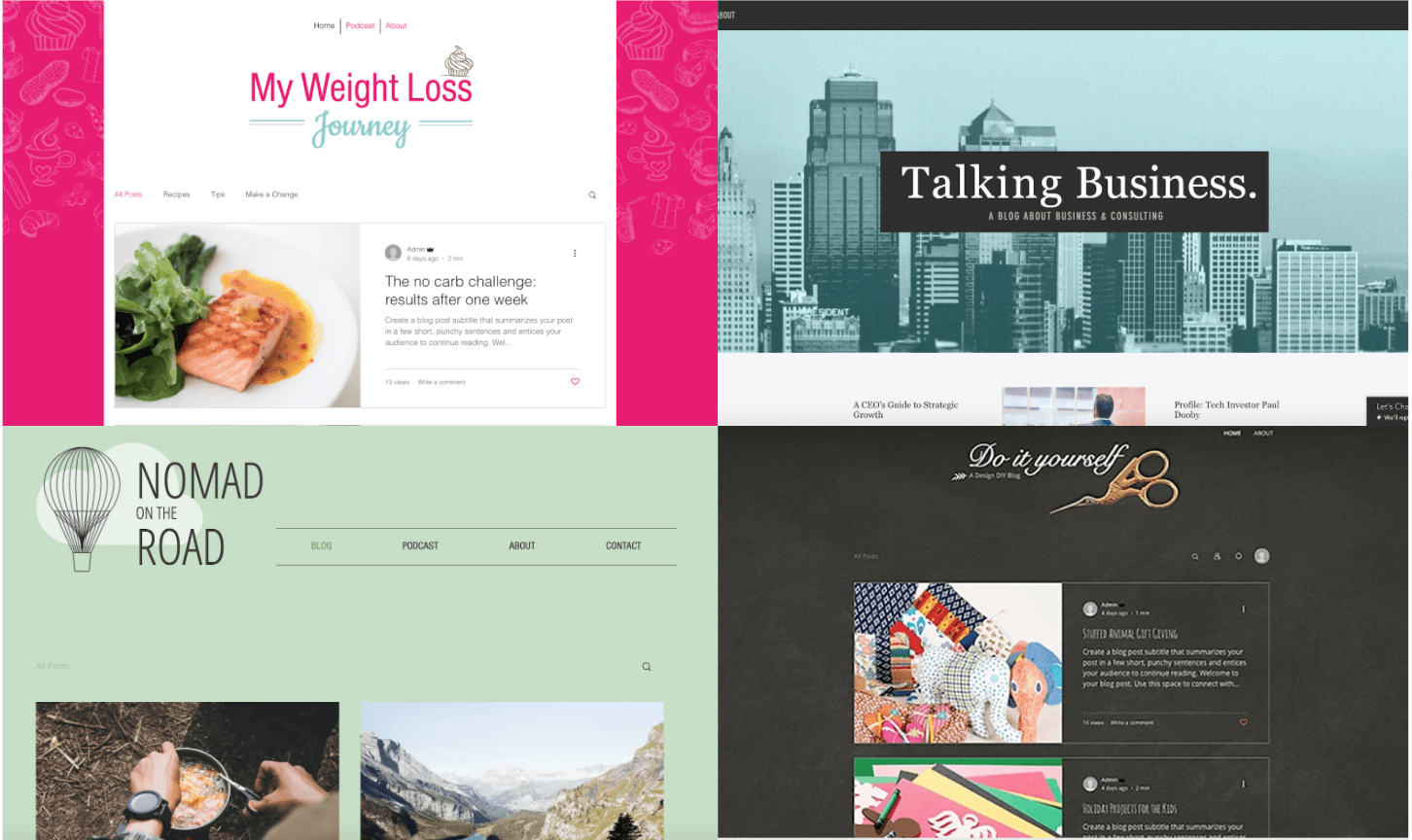 The My Weight Loss Journey template, for example, feels a little too close to a blog you'd make for a school project.
 The margins on the side make the feed feel too condensed, and the lighter gray text on the white background is hard to read.
The Nomad on the Road template's layout leaves too much blank space between the navigation bar and the content
. The last thing you want your readers to see is a huge chunk of unused space on your blog. Because of this space, the first two images get cut off before you scroll down.
Oddly enough, the Talking Business template has a similar issue, but for a different reason.
 Instead of unused space, the huge header image takes up too much room, preventing readers from seeing the content immediately. While it's usually good to have a striking image that grabs your readers' attention, that image shouldn't be taking that attention away from what's really important – your posts.
As for the Do It Yourself template, the design choices here were more than questionable.
The scissor graphic at the top of the page alone was enough to put me off from this template. Couple that with the strange font choices and the chalkboard background, and you'll find yourself spending more time changing the template than you would if you just started from scratch.
Other Wix Templates for Blogs
While I was browsing Wix's template library,
I was surprised to see some great options that could easily work for a blog, but aren't in the blog category for some reason.
 If your favorite template doesn't come with Wix Blogs installed, that's not a problem. All it takes is a few clicks to add the app to your site – and voila! It's a blog template.
Sprouted – Online Meal Plans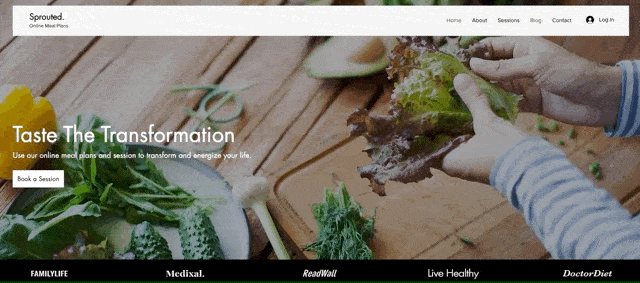 Though the
Sprouted
 template is meant for online meal plans, it lends itself extremely well to blogging – not just in the food space, but in any visual niche.
The large images are paired with an otherwise minimalist design, using mainly black-and-white in the color scheme and plenty of white space to prevent a cluttered feeling.
Sprouted
 also comes with Wix Blogs installed, as well as other business-related apps like Wix Bookings. Depending on how many other features you want, you may have to do some template cleanup to remove the booking block or other pieces of the layout, but that can be done with minimal disruption to the overall look and feel.
Greenify – School Garden Program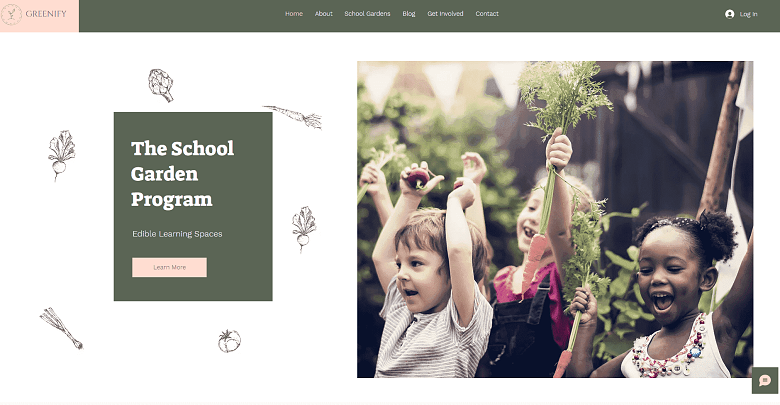 Greenify balances a professional appearance with a bit of whimsy. It uses softer colors and fun background graphics to provide some intrigue.
You could of course translate it into a gardening blog with very few changes, but you could also use this template to make a blog about baking, parenting, or any DIY niche. This template comes with Wix Blogs and the Members Area preinstalled, so it's an excellent choice if you plan to have some sort of subscription option or exclusive members-only content.
Go Mobile – Mobile App Marketing
A technology template may seem like an odd choice for a blog, but if you're creating content in the digital marketing or tech space, you need to look like you belong there.
 The Go Mobile template has the bright colors, spacious layout, and big CTAs that users expect to see from the technology experts they trust.
It can cultivate that same sense of trustworthiness for your visitors, too. You will have to do a bit of work to get this template blog-ready. It doesn't come with Wix Blogs, and there are a lot of pieces of the layout related to services offered, past projects, and client testimonials – but it's still a relatively fast process.
The extra work is well worth the result of a stunning, industry-standard design.
Choose the Right Foundation for Your Wix Blog
The template serves as the initial impression that visitors will form of your blog. Although you have the flexibility to customize elements such as colors and fonts, opting for a template that closely aligns with your intended final look can simplify your experience.
When choosing a template, think about the style and feel that you want your blog to convey before your visitors read even a word.
 Use that brand you've formed in your mind to choose a template that will help you release that impression to the world and set your blog apart.
FAQ
Is Wix good for blogging?
Yes. Wix is a great option for blogs of any size in any niche – and it's excellent for beginners too. In addition to blogging tools, it has a huge selection of other features to enhance and expand your blog into an online store, subscription site, and more. Check out our in-depth Wix review for more on what it offers.
How do I create a blog on Wix?
To create a blog on Wix, simply create a Wix account, choose your favorite blog template, customize your site, and start adding content. If you want your blog to look totally unique, consider hiring a designer – you can get a custom logo on Fiverr starting at just $5.
Can you make money off of a Wix blog?
Wix has plenty of features that help you monetize your blog, including a membership area, e-commerce tools, and more. If you aren't selling anything through your blog, Google AdSense is a great way to easily monetize your content. Some of these features – like the online store – may require you to have a paid plan, so be sure to check out our Wix coupons to get the best deal.
Is Wix or WordPress better for blogging?
Both Wix and WordPress are excellent choices for blogging. I find Wix much easier to use, but it can be pricier than WordPress and may not be worth it if you're only looking for basic blogging features. For a more detailed comparison of these two tools, check out my list of the best website builders for 2023.
Can I connect my WordPress blog to Wix?
Yes. You can easily connect your WordPress blog to Wix to import posts, or embed your entire WordPress blog on your Wix site.