web design services for small businesses don't need to be as complicated as an agency will make it.
You don't need the elaborate designs and unnecessary extras that drive prices up. Whether you're looking to refresh your website's look or just want to create a hero landing page, an online marketplace could save the day.
Fiverr Pro has grown a lot over the past few years – it's now my go-to platform when I want to get something done quickly and reliably.
And
it features more than 70 expert website designers for small businesses
.
All the designers on this list are Fiverr Pro sellers who've been vetted by Fiverr itself for their extraordinary work and consistent performance
.
7 Best Website Designers for Small Business to Hire
I've spent weeks researching
the best website designers for small businesses
, and found the best of the bunch were on Fiverr Pro.
Fiverr Pro differs from Fiverr's standard platform because a
l
l freelancers have been vetted by Fiverr
. I looked through the many highly rated professionals on Fiverr Pro and narrowed the list down to the best seven. For a great price, these website designers will:
Create beautiful and interactive designs for many different niches
Design homepages, inner pages, and unique landing pages
Consult with you to come up with designs that fit your brand's theme and vision
Offer a variety of packages to meet your needs and at least two revisions per order
One of the featured freelancers even offers a complete package that includes website development.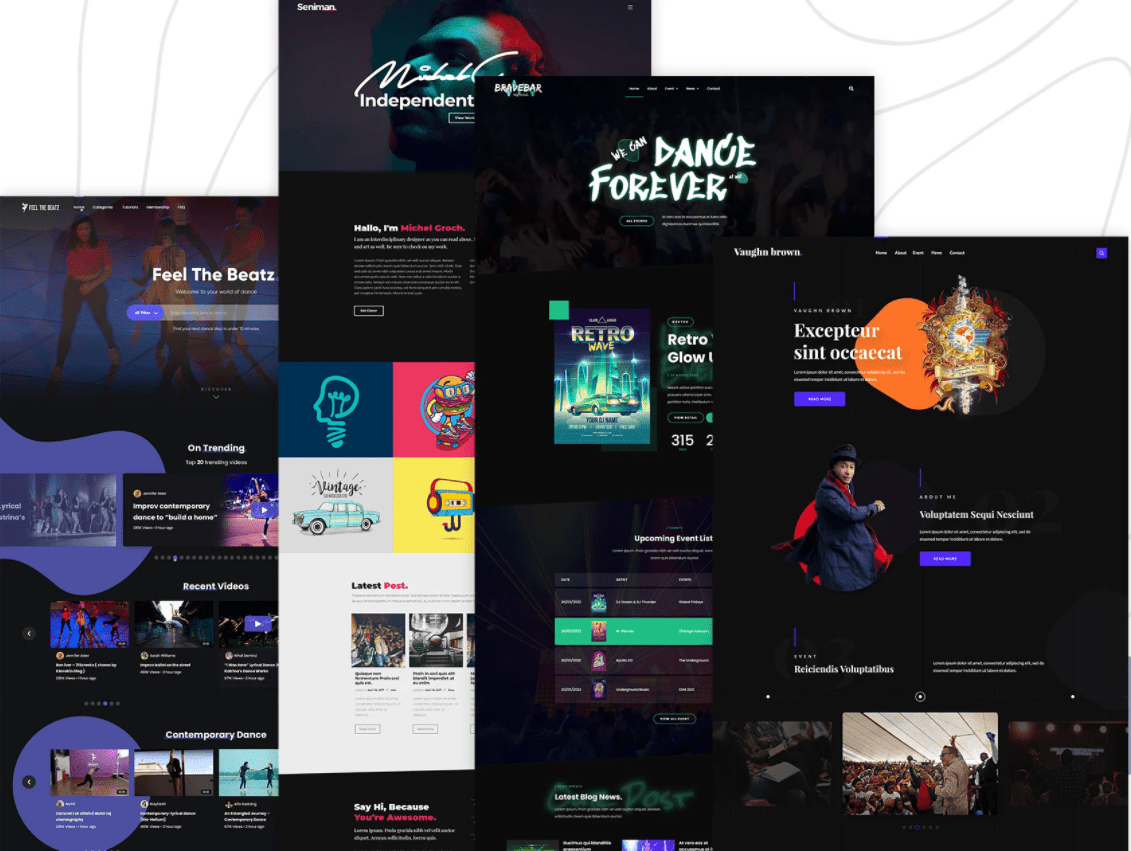 Rizki Akmanda is an experienced front-end developer and a Level 2 Seller
on Fiverr Pro – which means he's completed at least 50 orders on time with a minimum 4.7 rating. He is experienced with WordPress and has created more than 60 designs. Like all sellers on this list, Rizki's profile is filled with 5-star reviews, with previous clients commending him for his timeliness and excellent communication skills.
His basic plan, which includes one unique Photoshop design, is a lot cheaper than the competition
– a great choice for small businesses looking to create highly converting landing pages. If you contact Rizki,
you can even incorporate extra HTML and CSS elements into your design for a small cost.
Definitely check out his profile if you're on a budget but still appreciate exceptional work.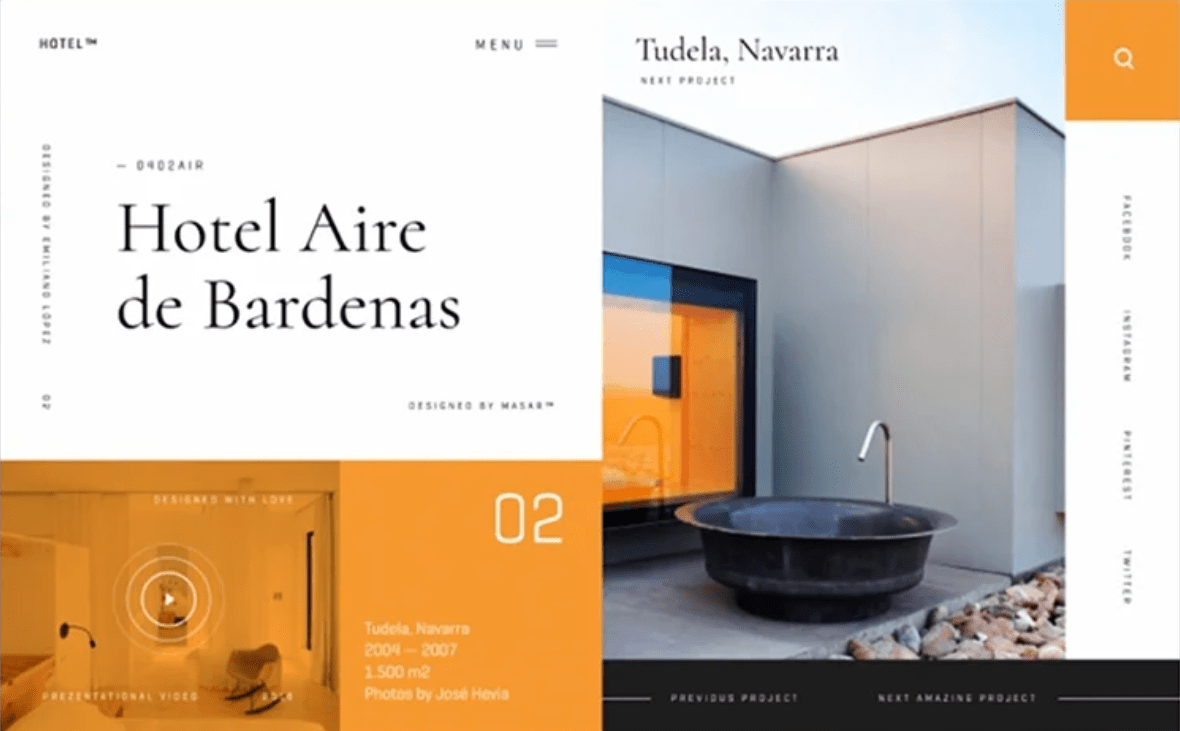 This seller is an award-winning UX/UI designer with 14 years of experience
helping brands deliver the right message through a clean website user interface.
Monodeepsamanta is a Top Rated Seller,
meaning they've completed at least 100 orders on time with a minimum 4.7 rating.
And they've also earned the prestigious Fiverr's Choice badge
for delivering consistently high-quality work. Monodeepsamanta has only received 5-star ratings so far, and many satisfied clients talk about his ability to quickly understand exactly what's needed of him. He's worked with small businesses in business, e-commerce, fitness, education, and other niches.
If you're looking for a quick and versatile designer, Monodeepsamanta might be the guy for the job.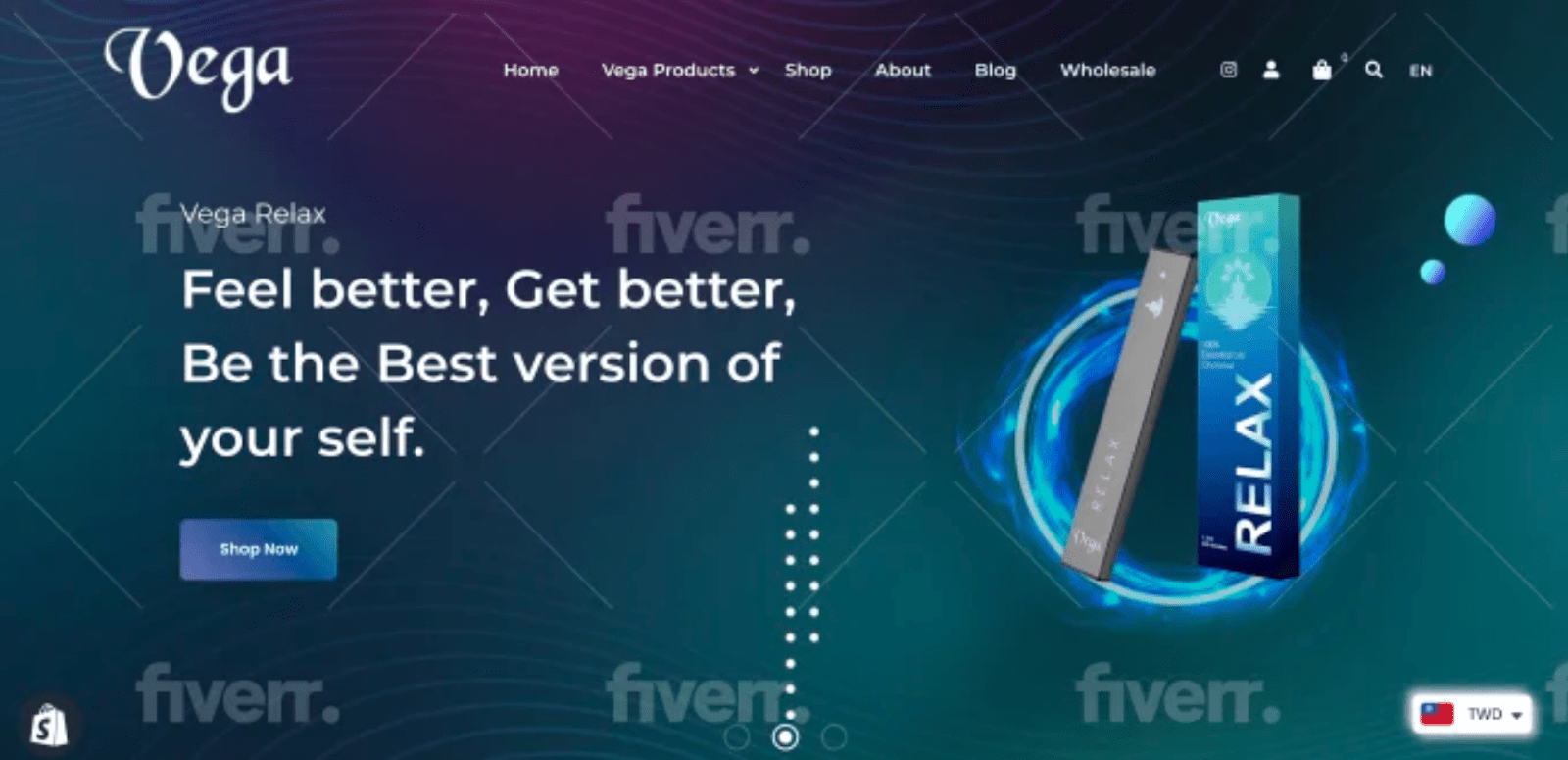 Are you looking to breathe new life into your e-commerce website? If you want to modernize your store and make it stand out, I recommend checking out Anniedo1710, a Level 2 Seller on Fiverr Pro.
The team behind this gig is called The Evolution 7 – yep, you can use Fiverr Pro to hire a whole agency for less than $2,000
. Bet you didn't see that coming! The basic package includes a custom-designed e-commerce website with up to
3 unique pages
: a home page, an about page, and a contact page.
One great thing about this team is that they don't work from templates
– they communicate closely with small businesses to create bespoke web designs.
Their standard and premium packages include a few more pages, throwing responsive design into the mix
– which is exactly what you need to expose your page to a wider audience. Think about it, you're probably reading this on your mobile right now!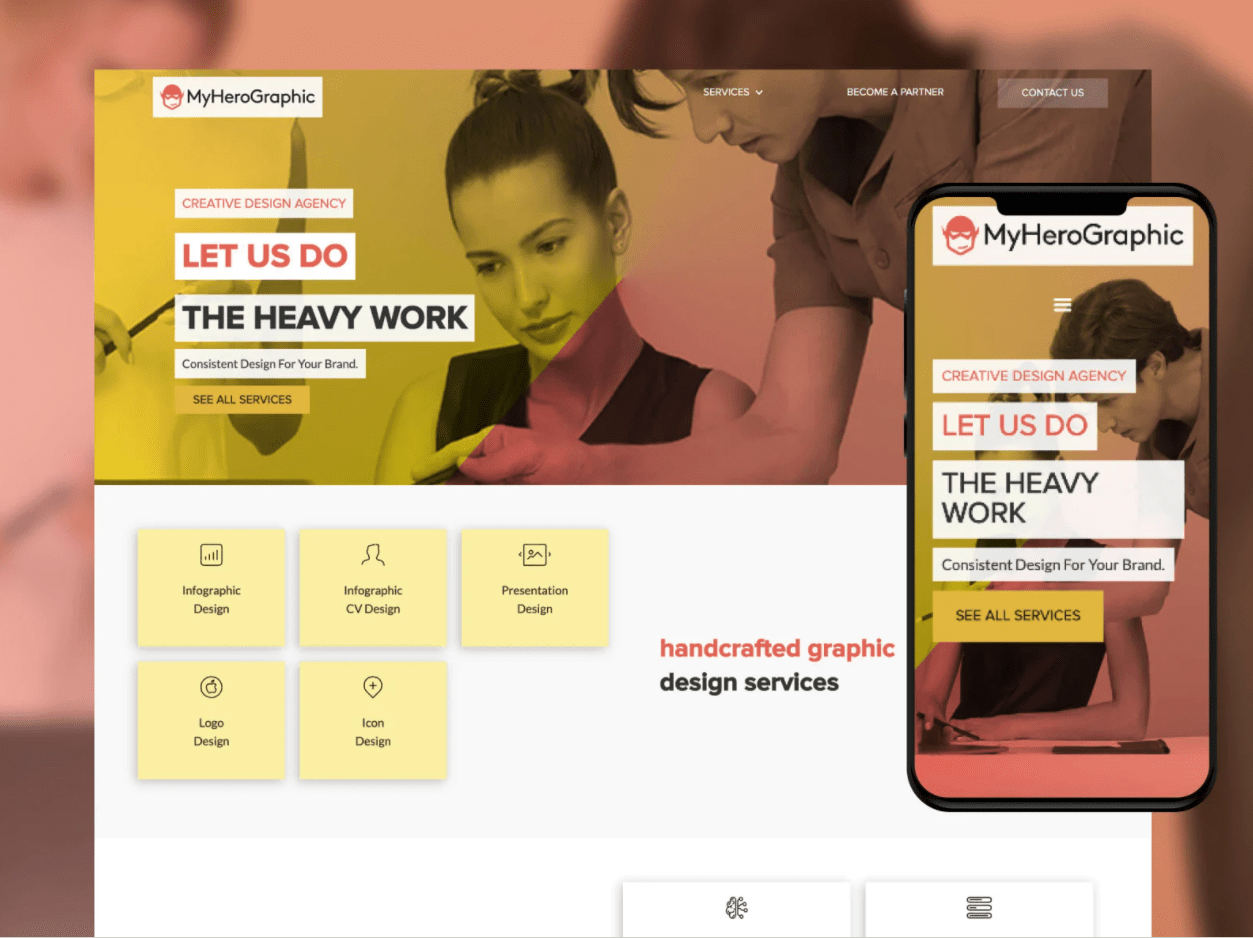 You don't always need to design a whole website from scratch.
Sometimes, all you need as a small business is a unique landing page
to showcase your brand and attract as many visitors as possible. Dreejc7 is a Level 2 Seller with 8 years of experience who specializes in responsive landing page design. Along with every page delivered,
Dreejc7 includes a detailed report explaining the thought process behind every design choice
. You'll also receive a fully editable source file option, and if you purchase a standard package, you'll even have access to the original Figma file – a vector graphics editor often used by designers to create website prototypes.
Dreejc7's packages are a great choice if you want modern, responsive landing pages that you can quickly set up for A/B testing.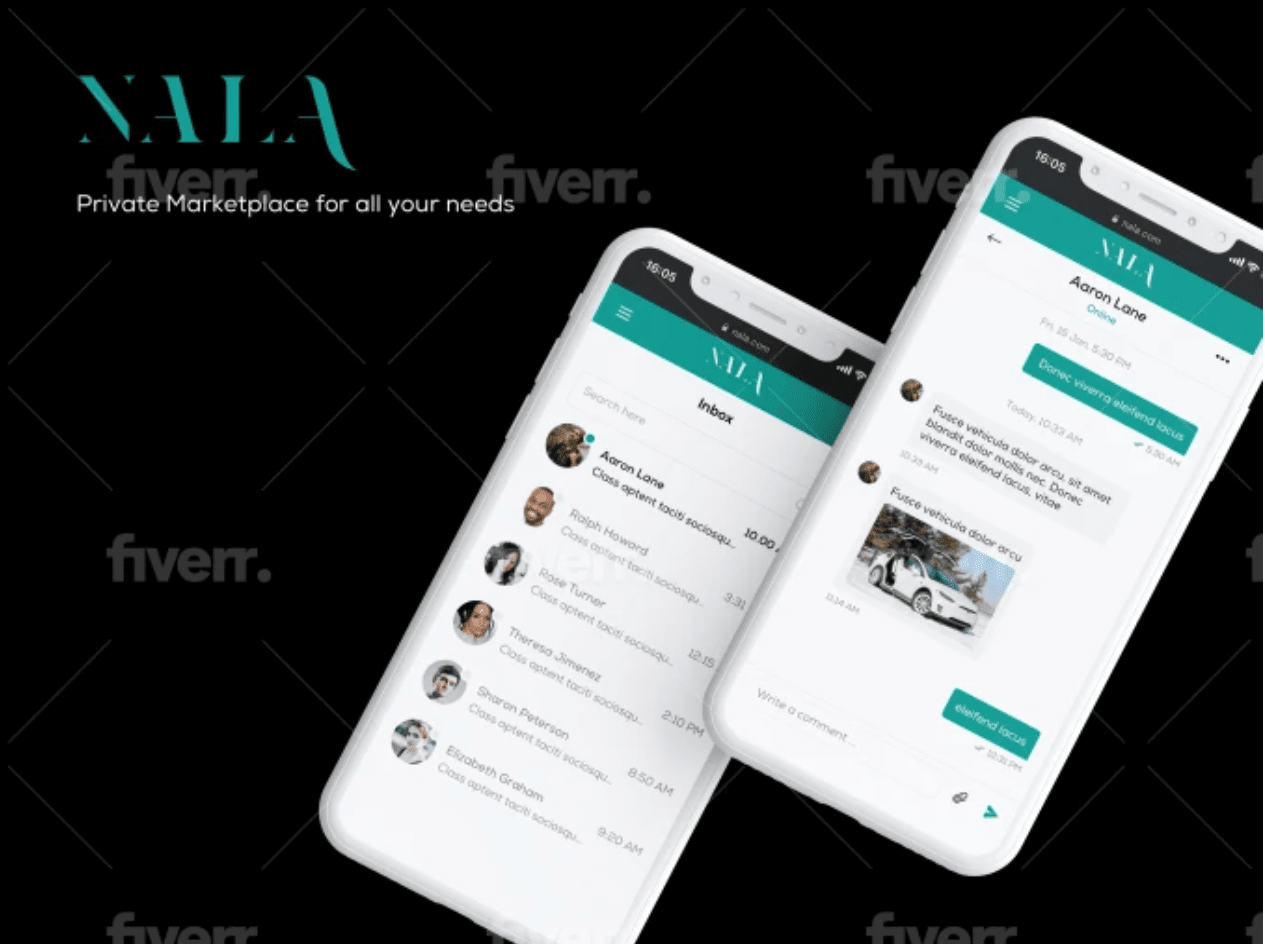 Mobile responsiveness isn't optional these days. It's a necessity.
Most users will browse your website using their smartphone – especially if you're advertising through social media. Some designers create desktop websites and then try to optimize for mobile. Rockitbat is an experienced Level 2 Seller who does it the other way round – which is honestly a better way to go at it. They will consider your requirements, competitors, and expectations to create a pixel-perfect design fit for smaller screens.
Rockitbat's profile features 100% customer satisfaction
, and it's not hard to see why. They even offer after-sales support with improvements and suggestions – exactly what small businesses need.
The basic package includes 10 pages and 4 revisions to make sure you get the result you want.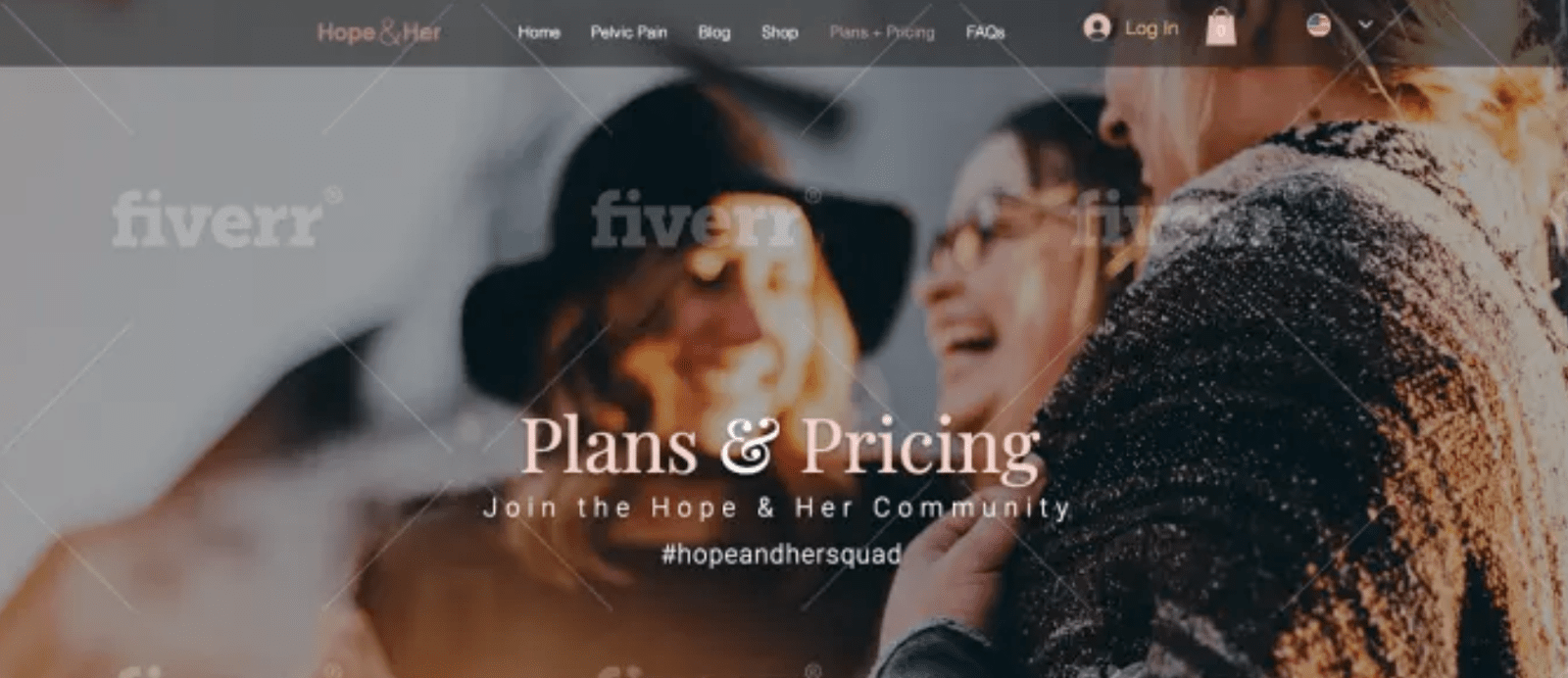 May is a certified Wix pro who runs a digital agency, Magnolia Digital
. She's Miami's Wix ambassador, and everything about her exudes confidence – even her introduction video is exceptionally well-produced.
If you have an old Wix website that's in urgent need of some love and attention, May can refresh it and bring it up to today's standards in less than 10 days.
She's received plenty of 5-star reviews and is always eager to help small businesses grow. She has the knowledge, but she's also friendly, approachable, and extremely easy to work with – a true professional.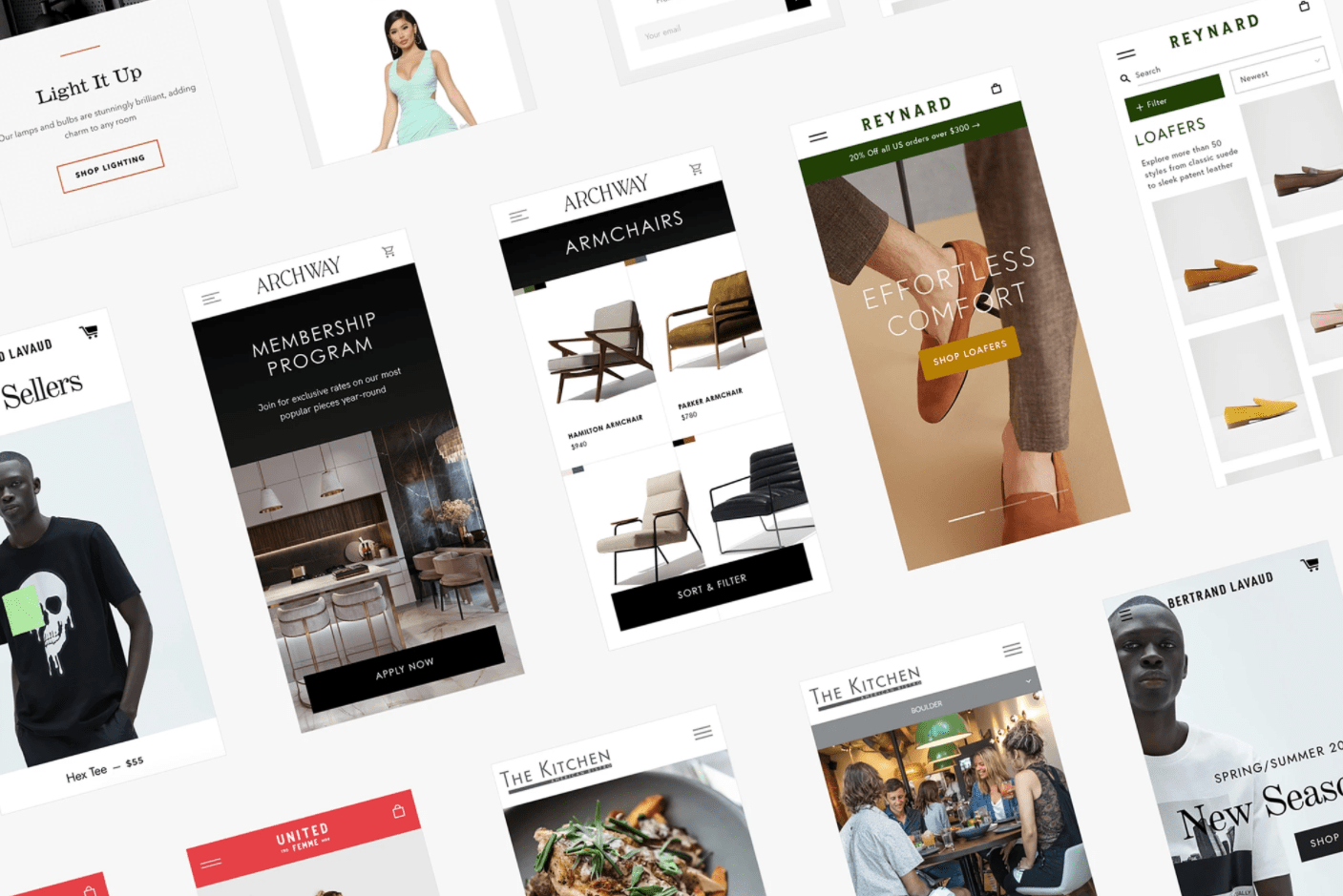 What if you want to build a website from scratch? Designers often leave development to the developers, but there's a real advantage to hiring someone who can do both: you can ensure your website will be both pretty and fully functional at the same time.
Learn more about the difference between web design and web development here
.
AJ Camara is the founder and creative director of Acquired Aesthetic.
With over a decade of experience developing and designing websites, he's helped kick off thousands of small businesses
, and his work has been featured on Yahoo and CBS. AJ can help you create a successful website with your vision in mind, and his perfect 5-star rating is a testament to his exceptional performance.
How to Hire a Website Designer on Fiverr
Not sure how to hire a website designer on Fiverr Pro? It's actually quite easy.
1. Head to Fiverr Pro's Web Design category.
If you're looking for something other than website design, you can use the search bar on the top-left side or navigate to a different service by using the quick access navigation bar below.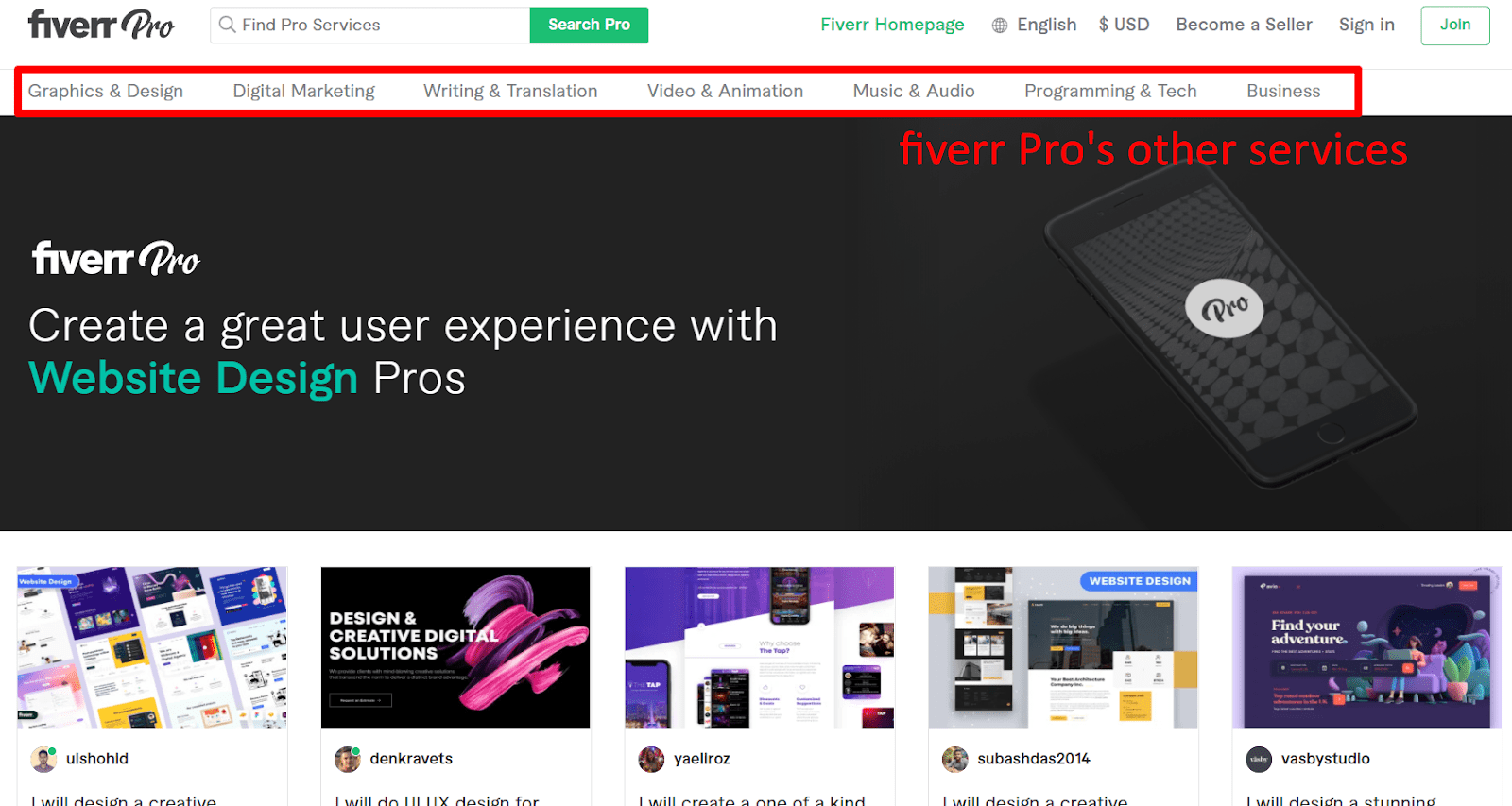 2. Scroll down the page to start viewing gigs.
When browsing, make sure to track the seller's rating (1) and starting price (2). You can also add sellers to your favorite list by clicking on the heart button (3).
3. When you find an interesting gig, click on it, and the seller's shop will load.
Scroll down to view more information about the gig itself (1) and to preview some of the available packages (2). There's also a navigation bar (3) you can use to quickly jump to different sections:
Description
About The Seller
Compare Packages
FAQ
Reviews
If you need more information or want to ask questions relating to the gig, click on the
Contact Seller
button (4) under the package preview box.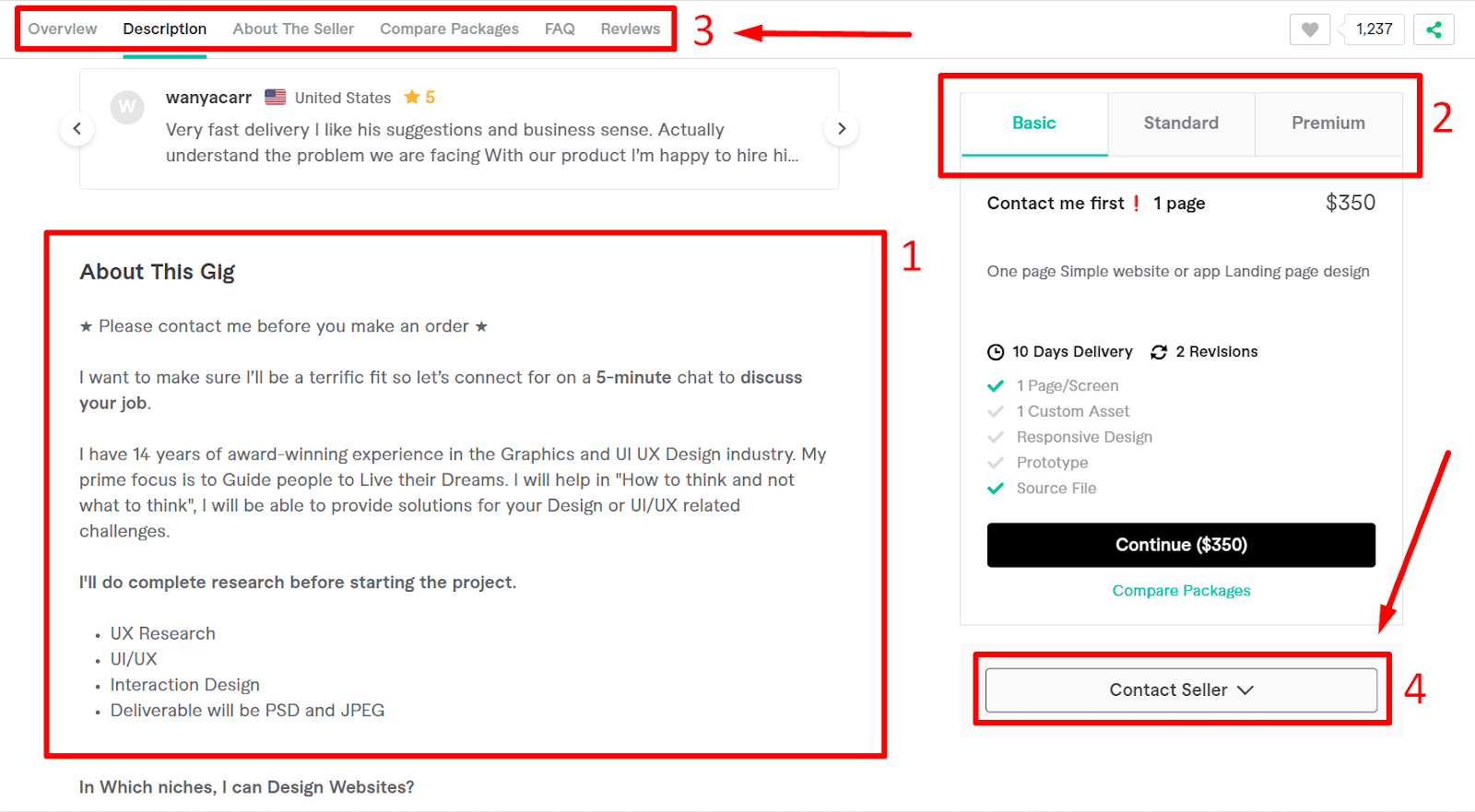 4.
While you can quickly place an order by clicking on the Continue button inside the package preview box, I recommend you navigate to the Compare Packages section first.
There, you can get a better idea of how the different packages compare. Once you've decided, make your choice by clicking on the
Select
button.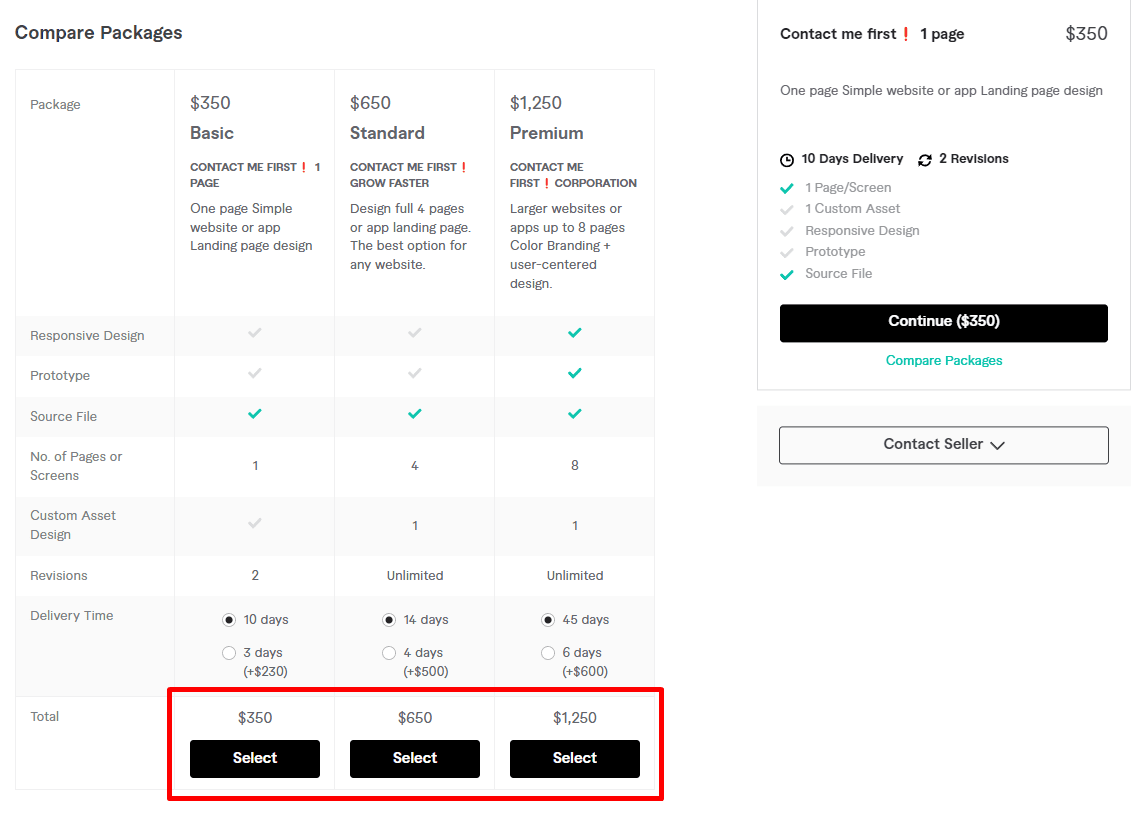 Before moving to checkout, Fiverr will give you the option to upgrade your order with some add-ons chosen by the seller, such as extra-fast delivery or additional revisions. Fiverr accepts all major credit and debit cards, as well as PayPal, Apple Pay, Google Pay, and Wire Transfer.
What to Look For In a Website Designer for Small Businesses
All freelancers on Fiverr Pro have been vetted by Fiverr, which means you can't really go wrong. That said, with hundreds of gigs available, there are a few things you should keep in mind when searching for a website designer as a small business:
Look for freelancers with a high rating (4.5+). You need someone who understands your vision and knows what you want, which is why it's crucial you only hire the best of the best.
Track their reviews and read their feedback. You need to make sure the freelancers you choose have consistently delivered quality work to more than a few clients. For example, a gig with a score of 4.8 and 50 reviews would be a better choice than a gig with a score of 5 but only 3 reviews.
Make sure their description matches the job as closely as possible. With Fiverr's huge gig variety, finding the right freelancer shouldn't be too hard. That said, you can increase your success rate by picking someone who's best equipped to satisfy the needs of your small business. For example, if you're looking to create a landing page for mobile, you probably shouldn't pick a freelancer who specializes in desktop design.
Keep note of the number of pages/screens offered with every package. Most basic packages only come with a single-page design. That's enough for most – but not all – small business projects. Don't forget to browse standard and premium packages for more options.
Check to see if they offer revisions with your order – the more, the better. When it comes to web design, small businesses often have very specific requirements that freelancers need to adapt to. Fiverr knows that, and extra revisions is how you get the result you want.
Make sure you double-check the delivery time. If you're short on time, there are pros who can create unique designs in just a few days. Fiverr's freelancers are never late, which means you'll always have your pages ready to go when you need them – no more chasing agencies while your campaign is already running late!
Other than that, you shouldn't worry too much.
Fiverr's Pro verified freelancers are verified for a reason: they've delivered successful projects to hundreds of small businesses.
Are You a Website Designer Looking to Sell Your Services on Fiverr?
If you're a website designer looking for a large online marketplace to sell your services,
you could join Fiverr today
. Follow these simple steps:
1.
Visit Fiverr and quickly sign up using your Facebook, Google, or Apple account.
Alternatively, you can sign up using your email address.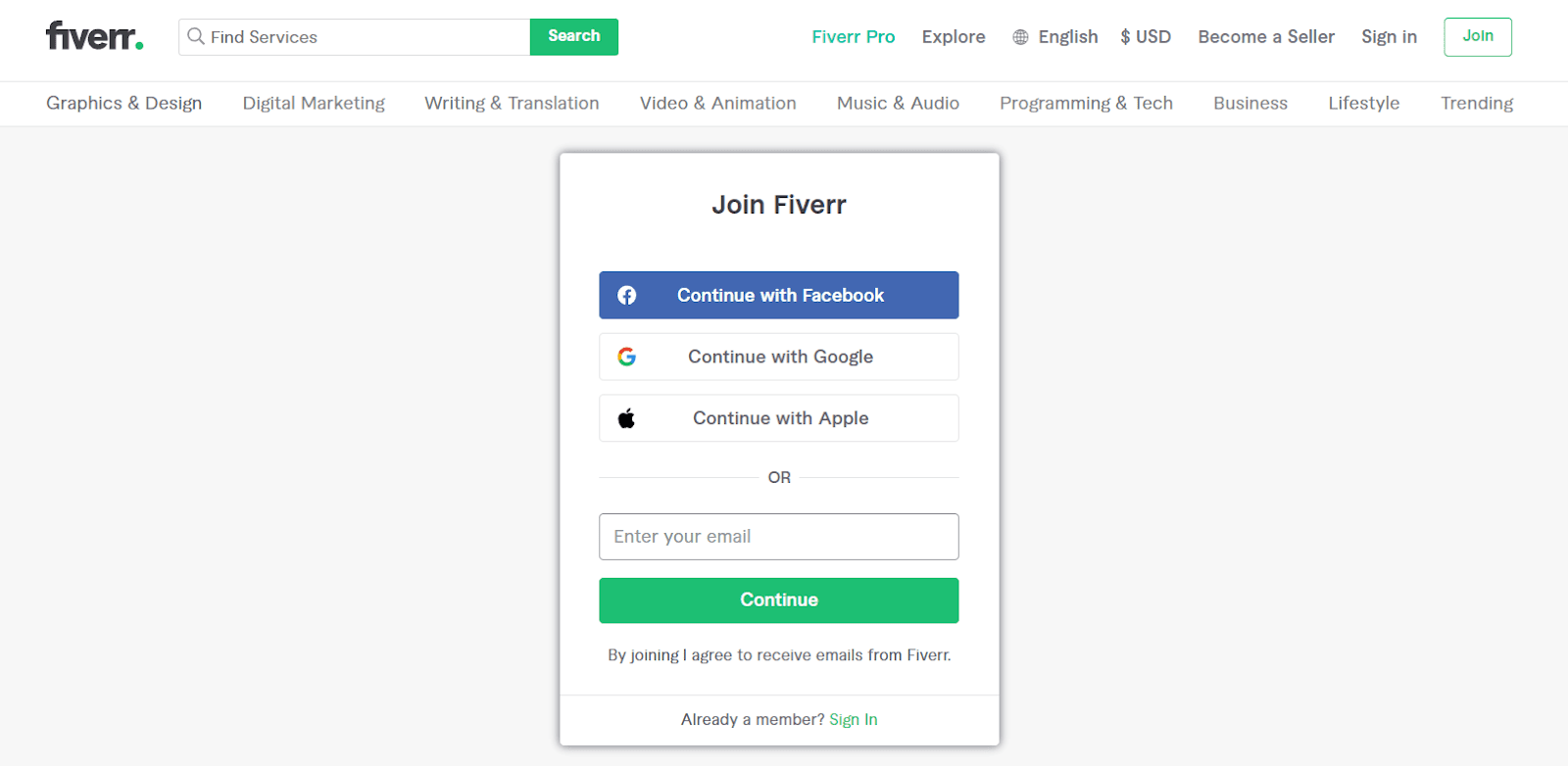 2. Choose a username and a password to create your account.
Keep in mind that your username is also your seller name – it's what buyers will see when they view your gigs.
3. Once that's done, click on your profile icon and select Become a Seller.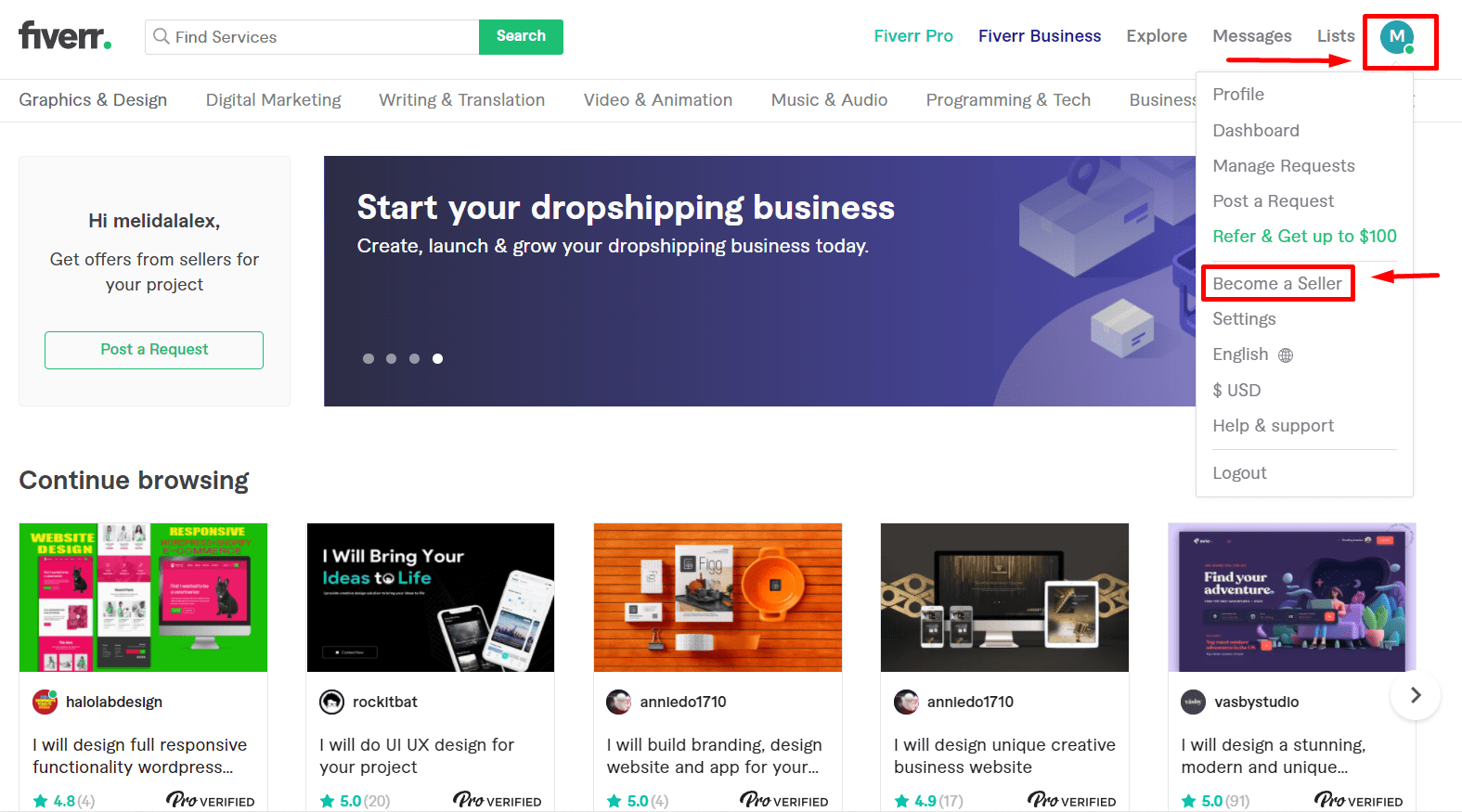 4. Follow Fiverr's instructions to create a strong profile and a captivating first gig.
Why Fiverr, you ask? Well, it's one of the biggest online marketplaces, and it's pretty easy to use. Unlike other platforms, there are no frustrating bidding processes here. Clients will come to you, provided you've created a nice profile and listed your gigs correctly. You might have to undercut yourself a bit (especially if you're just starting out), but as your reputation grows, Fiverr can make you a nice amount of extra cash. Here's how you can
find success on the platform in 2023 and beyond
.
How Do I Become a Fiverr Pro Seller?
If you're already selling on Fiverr and your gigs are performing well (or you're a certified professional in your line of work), you can
apply to become a Fiverr Pro seller
. Fiverr's team will review your application and get back to you within a few days. Exceptional gig quality, high ratings, and excellent communication with buyers are necessary to achieve Pro status.
An Online Marketplace for All
Whether you want to completely redesign your website's visuals or simply give your visuals a little refresh, Fiverr Pro can help.
There are currently more than 70 professional website designers working on all kinds of projects, from specialized Wix and WordPress designs to landing pages and layouts fit for business and e-commerce.
If you're a freelancer looking to sell your services online, Fiverr's marketplace is a great option for you, too.
Creating your account and setting up your profile only takes about ten minutes.
FAQ
How Much Should a Website Cost for a Small Business?
It depends. A one-page small business website design could range anywhere from $100 to $1,000 or more. If you're looking to hire someone to design your whole website (8-15 pages), you can expect to pay anywhere from $500 to $5,000. One of my top choices is Rizki Akmanda who charges as little as $100.
Who Can Build a Website for My Business?
You can take advantage of Fiverr's Pro marketplace to hire vetted professionals. It's a lot cheaper than hiring a small business web design agency, and you can get quite specific with your requirements.
How Do I Create a Website for My Small Business?
There are many professionals who can help you create the perfect website for your small business. On Fiverr Pro, you can even find experts who'll take care of both your website's development and design. For more alternative marketplaces filled with potential website designers, make sure to check out these great freelance websites.
What Should a Small Business Include on Its Website?
Every website should have a homepage, an about page, a services/products page, and a contact page. Optional pages include events, photo gallery, testimonials/clients/case studies/portfolio, history, and a blog/news page.