hiring a pro website designer can boost search rating, impress visitors, increase conversion rate, and make your brand memorable.
The difficulty is finding a freelancer who can deliver – and that's where I'd recommend Fiverr Pro. Most people assume hiring a decent agency or professional web designer costs way more than they can afford, but I've found
you can get a beautifully crafted website by hiring on Fiverr Pro
.
If you're willing to invest just a little more (we're not talking tens of thousands), you'll have the security and polish of a professional vetted by Fiverr itself.
We hired dozens of pro web designers to find the very best website designers and agencies on Fiverr Pro
. Here's the list of my top picks.
7 Best Fiverr Pro Website Designers For Hire
In my experience,
Fiverr Pro is the best platform to look for top web design companies.
Fiverr vets its Pro Verified sellers with an application process – before a seller can be listed as Pro, their higher education, work experience, and client history have to be reviewed and approved. That's a pretty strong guarantee you'll hire a reliable expert with a good track record. I took it one step further and looked through dozens of
Pro Verified web designers on Fiverr
 to narrow the list down to the top 7 on the platform.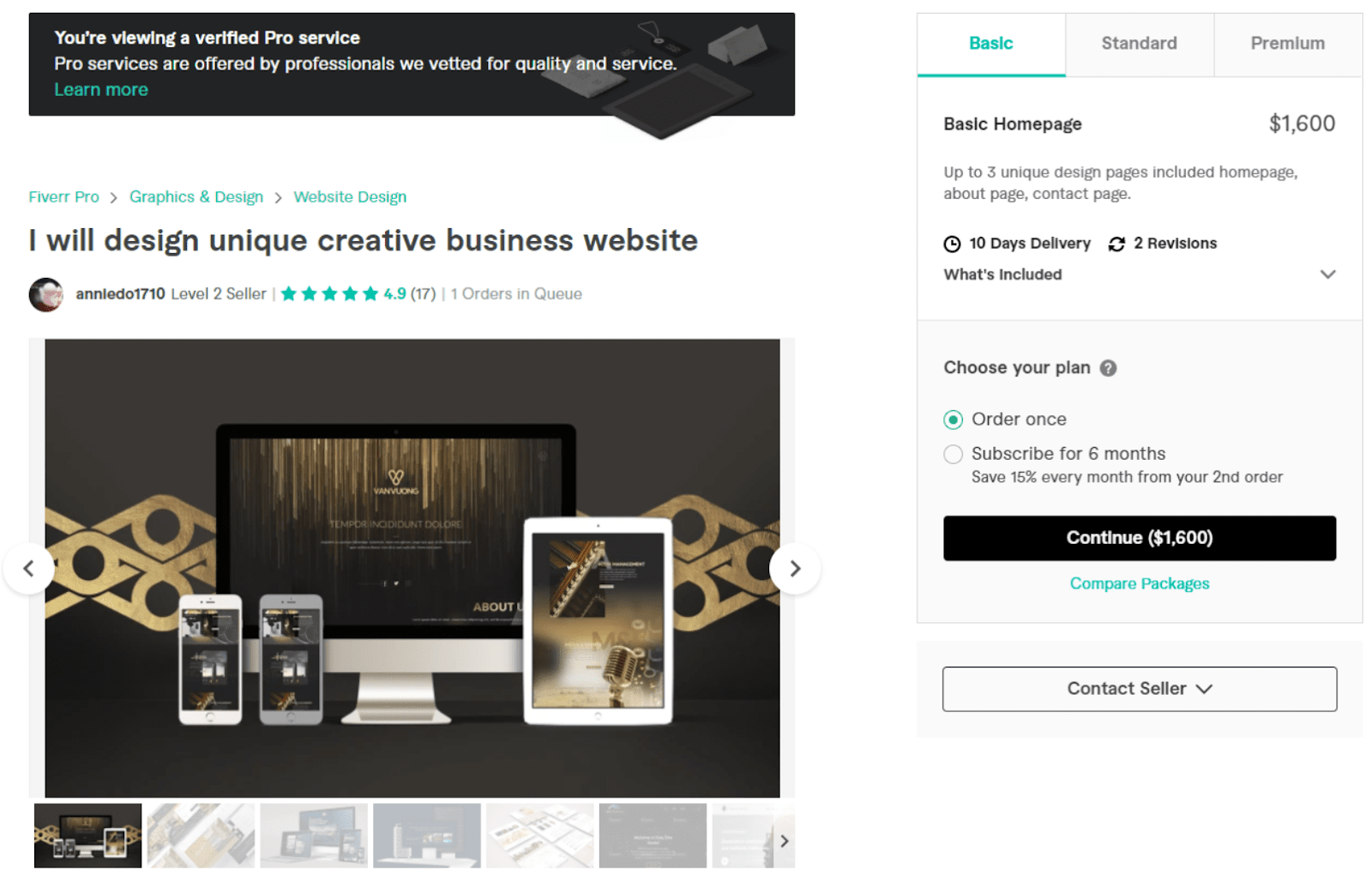 The Evolution 7 Digital Creative Agency is a team of expert web designers and developers making WordPress landing pages, portfolios, and e-commerce websites for online stores and Shopify. Their designs are plain gorgeous.
Since this agency is business and e-commerce focused, it's a perfect choice for marketing your brand and designing your online store or portfolio.
In my opinion, its stellar work is well worth the asking price – and let's be honest, a team of professional web designers and a unique design for $1,600 is still a pretty great deal.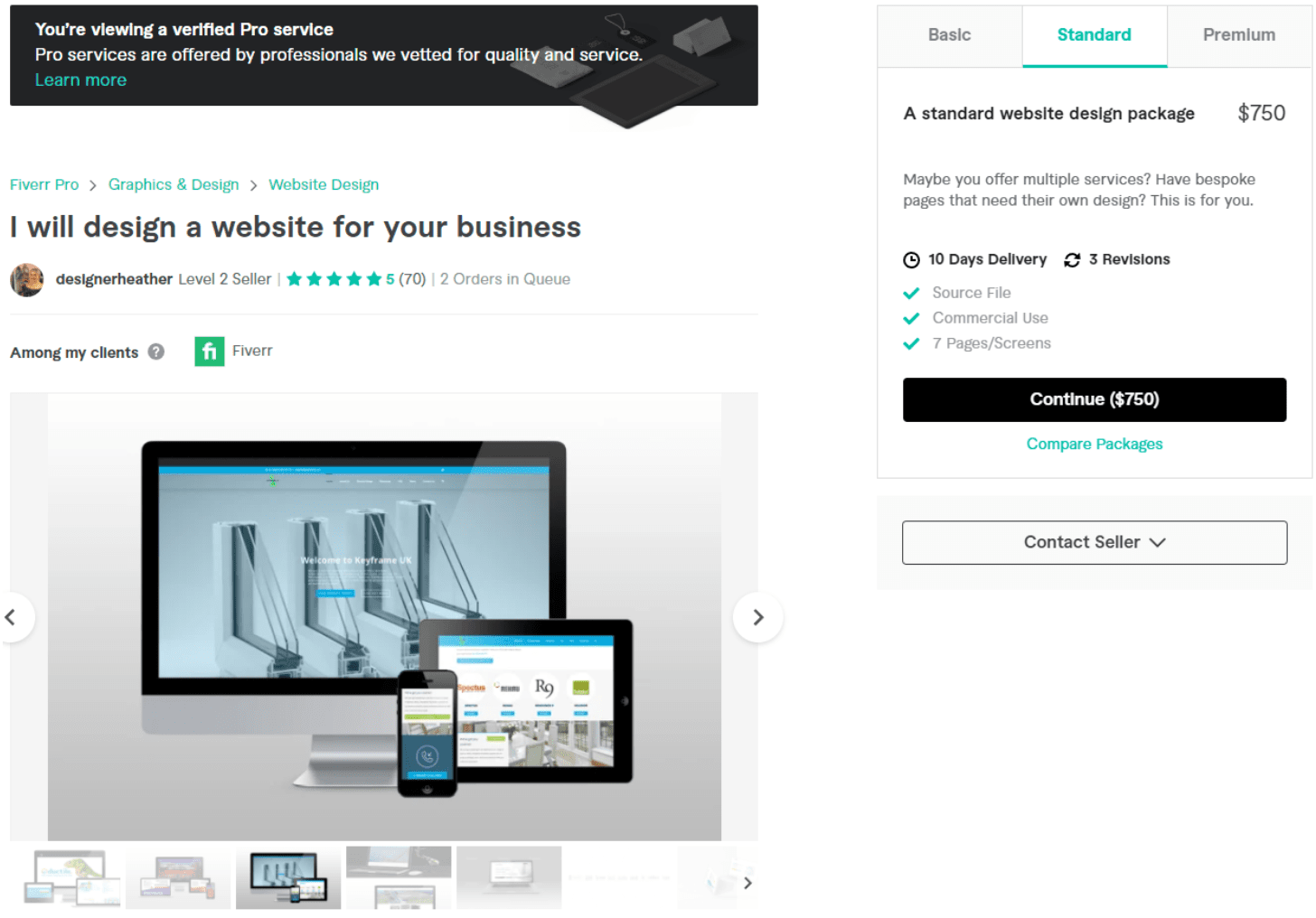 Heather is an experienced, creative website designer who creates high-quality web pages, logos, and brochures.
She delivers clean and polished pages, and her pricing is very reasonable for the number of pages and revisions (3!)
you get. Heather has received a 5-star review for every single job she's completed. Looking through her customer feedback, it isn't hard to see why. Her attention to detail and commitment to perfecting her work really sets her apart – I haven't seen that many rounds of revisions included with a freelance web designer in…ever! If you want Heather to develop your website,
she can also build a WordPress site for an additional service fee
.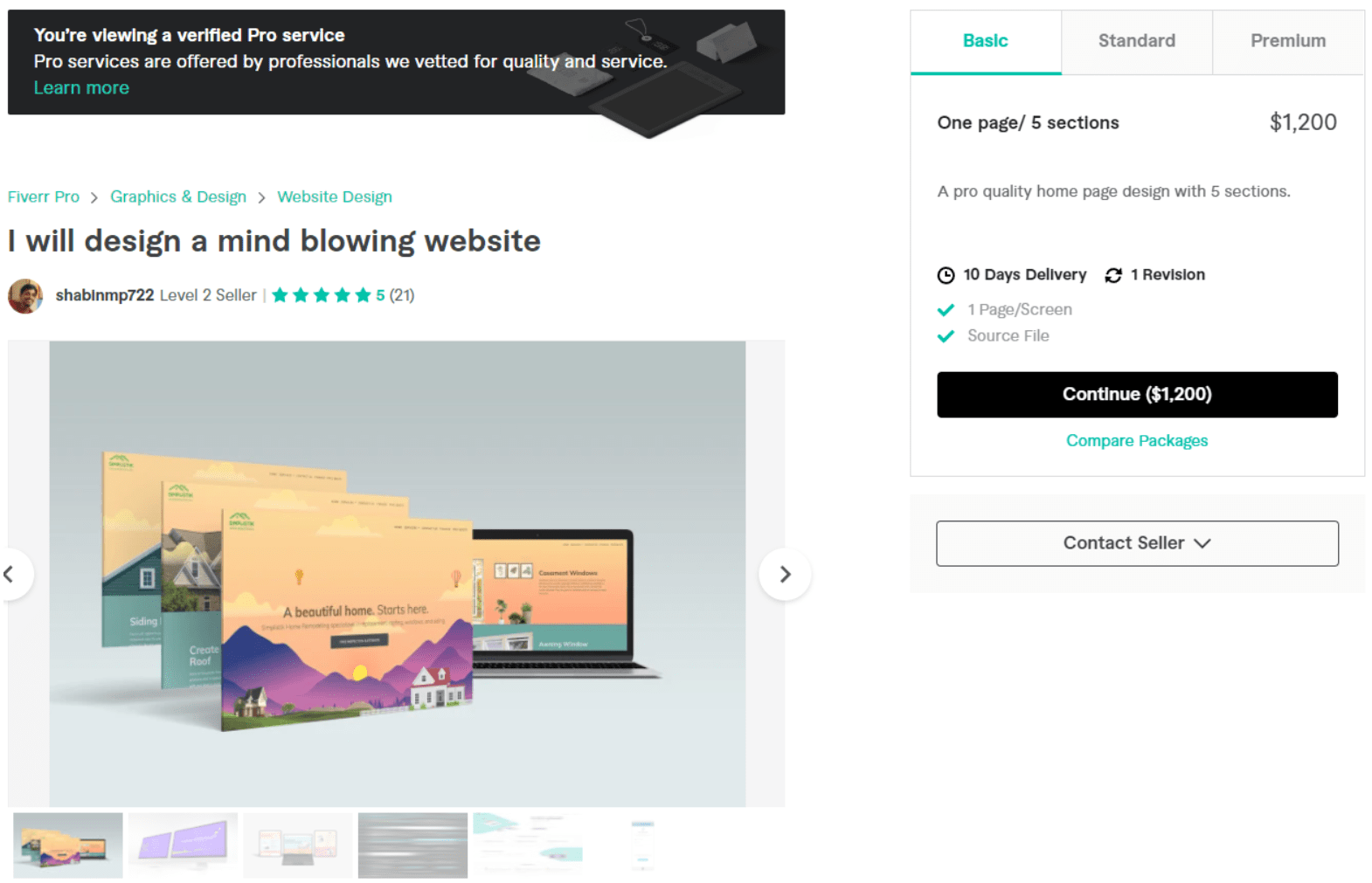 Shabin is a talented web/mobile UI designer skilled with Adobe Photoshop and Figma (a web-based tool used to prototype designs).
He creates modern yet poppy website designs with bold text and attractive color swatches.
I think his work would be perfect for youthful or energetic branding. Since Shabin communicates with you throughout the process, you won't be blindsided by the end result. He'll create a preview for you in Photoshop before finalizing your design.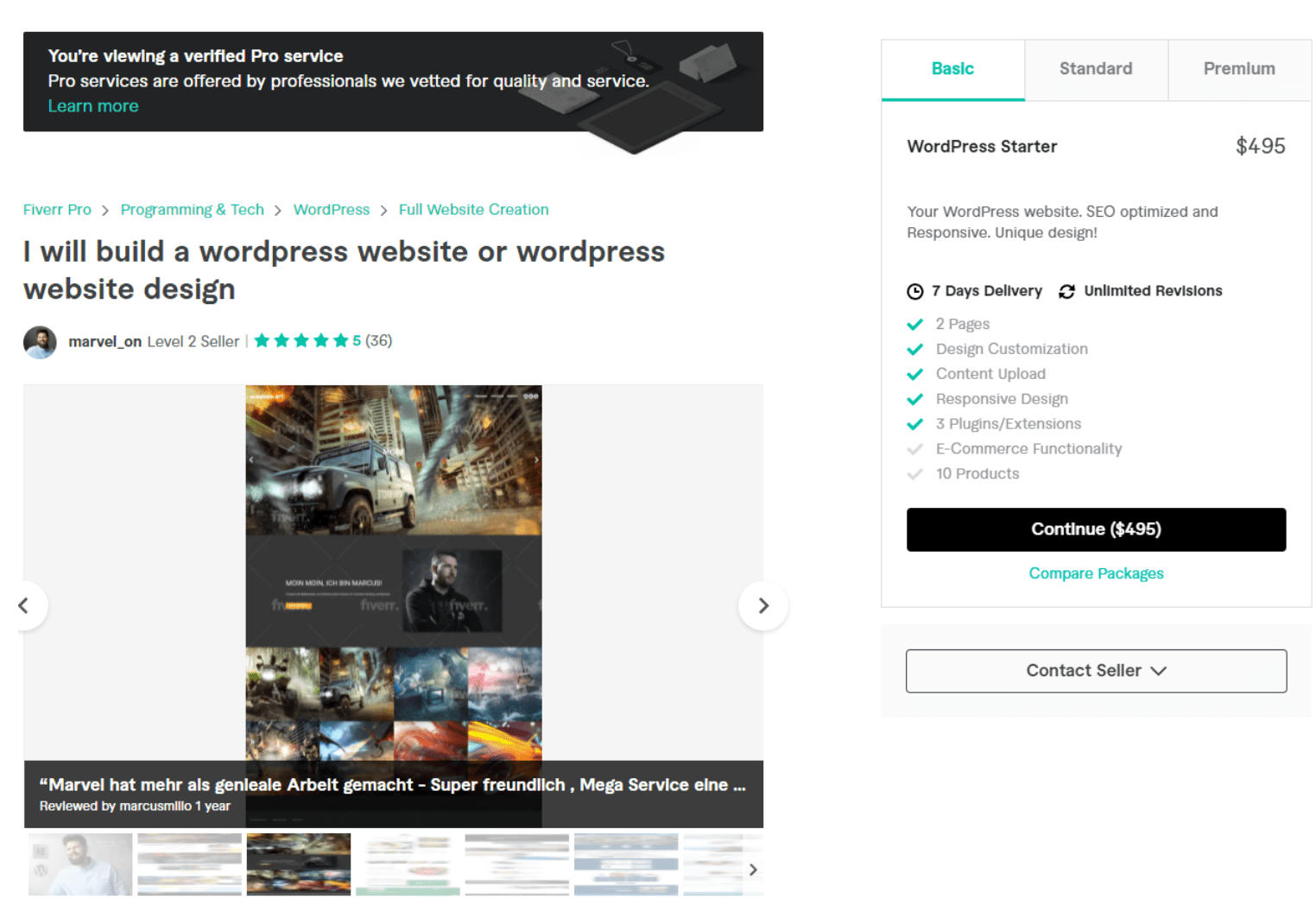 Marvel and his web agency design and build a wide variety of websites, including business and portfolio sites. I like how versatile his web designs are –
he can integrate a number of marketing and e-commerce plugins, including Facebook, WooCommerce, AWeber, and GetResponse.
Marvel makes great use of images and layout to engage the viewer.
Plus, even his cheapest package offers unlimited revisions.
Honestly, I'm pretty wowed by his low pricing. If you're looking for an affordable pro website designer, definitely check out his work.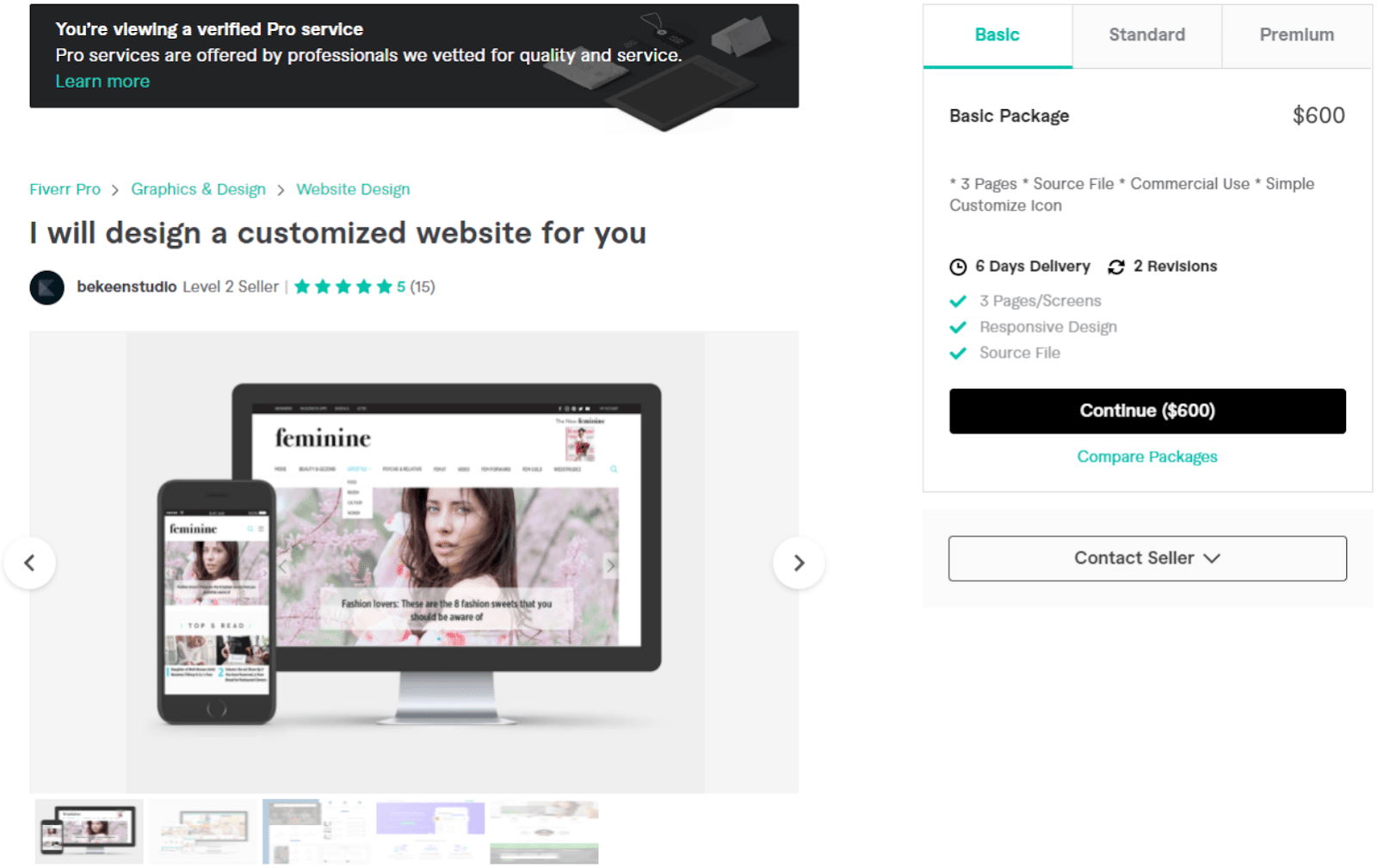 Bekeenstudio is a serious contender for the best web design agency at an affordable price. The studio creates polished websites across a wide breadth of themes, from cute and chic to sleek and stylish.
The team creates professional site designs for online stores, portfolios, and products and services.
This studio excels at communication and lighting-fast responses, which is always an absolute must in my book.
The Basic package delivers a complete design in 6 days
, which is among the quickest I've seen in Fiverr Pro.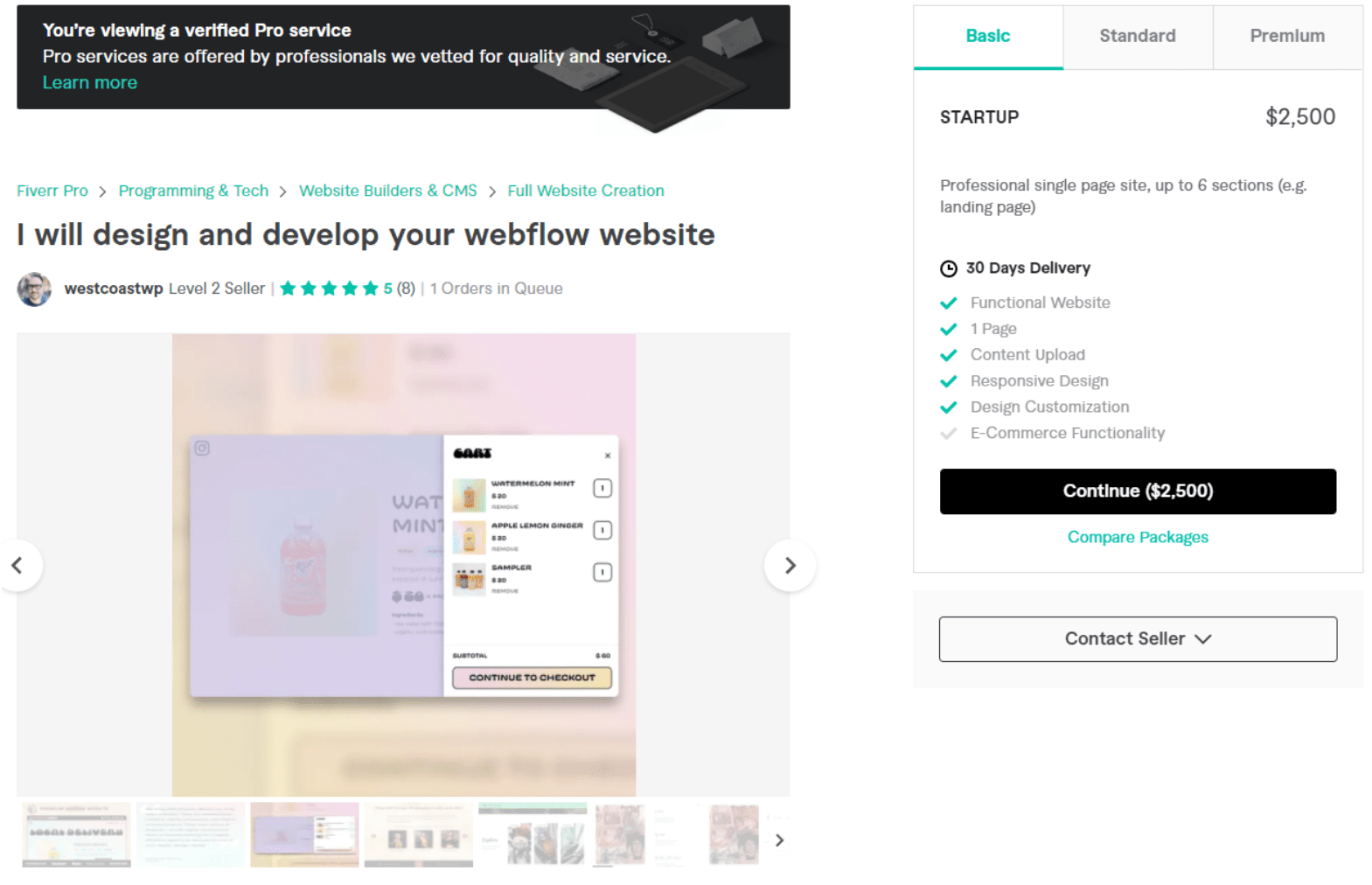 Westcoastwp is the best web design company that both designs and develops websites. This agency can build a single-page site, business marketing, or e-commerce site on Webflow –
an excellent choice if you want design, content upload, and web development wrapped up in the same package.
The agency is collaborative throughout the whole process, so you're involved every step of the way. Plus,
the studio boasts 20+ years of experience and has worked with big-name companies like Tiffany & Co. and Porsche
, so you know you're getting a veteran designer.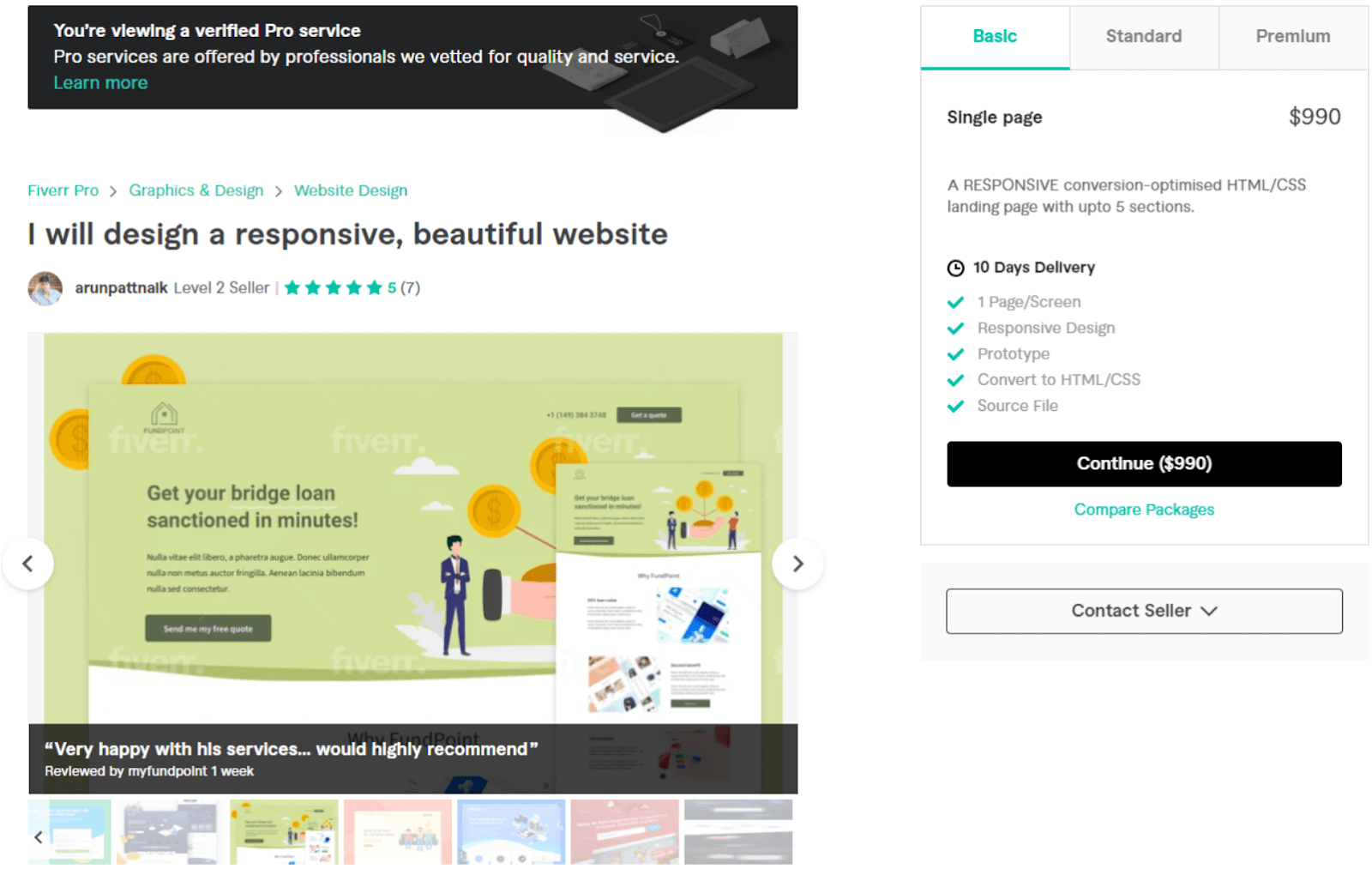 Arun is a professional web designer who excels in creating online stores which boost your ROI and promote your products.
He uses Sketch to create high-quality web designs, and also offers HTML/CSS development for desktop and mobile devices.
You have to pay more to get his development service, but his skills are well worth the price. I like how easy-to-read his designs are – he's a great choice if you want a clean and simple look.
I also hugely appreciate the free 10-minute consultation
, so you can talk with him about your website before committing.
How to Hire a Pro Website Designer on Fiverr
It's easy to
search for professional web designers
 on Fiverr. After making a free account, navigate to the home page, where you'll see a search bar. Simply enter "web design" into the search bar and filter your results by details like your budget and desired delivery time. To narrow your results to Pro Verified sellers, either select "Fiverr Pro" at the top of the page or turn the "Pro services" search filter on.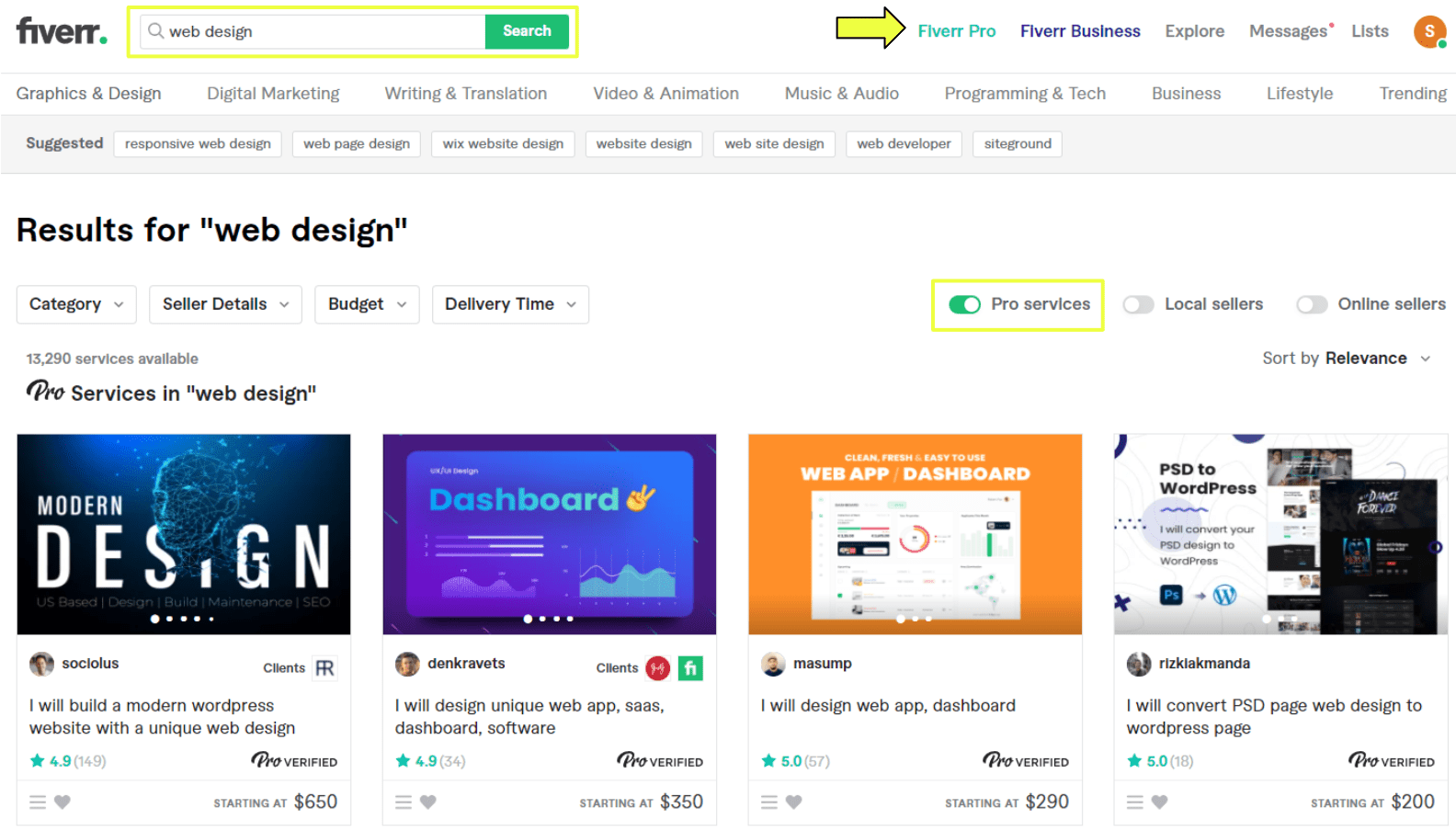 You can then look through the Pro jobs (or gigs, as Fiverr calls them) that fit your search filters. Once you see a web designer or company you like the look of,
click on the image to go directly to the gig's overview page.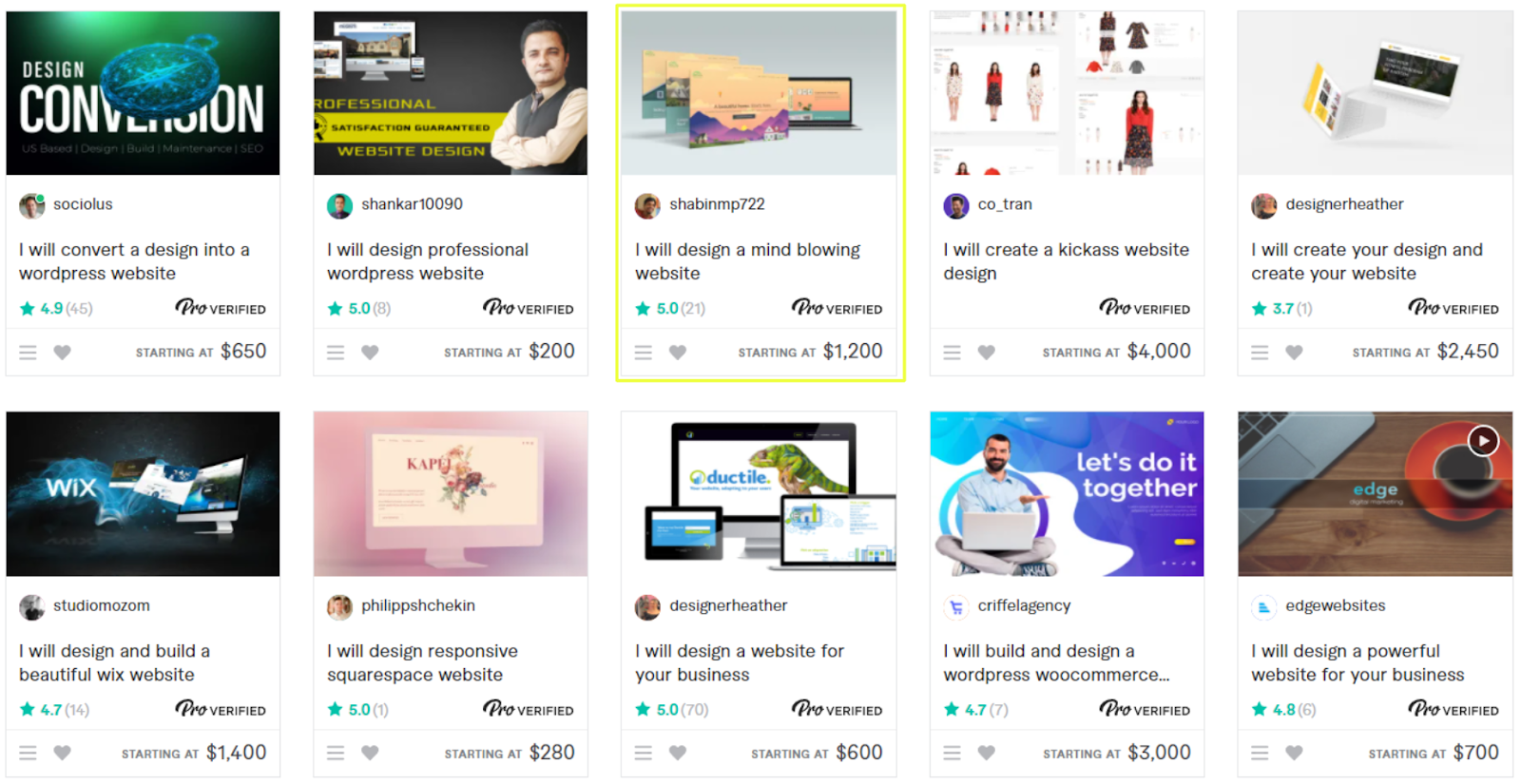 Each gig offers a Basic, Standard, and Premium package, which go up in price.
Click on each tab to get an overview of what you'll get with each package.
A Basic package might only get you a homepage design, whereas a Standard will get you more sections, and a Premium a full-blown 10-page store.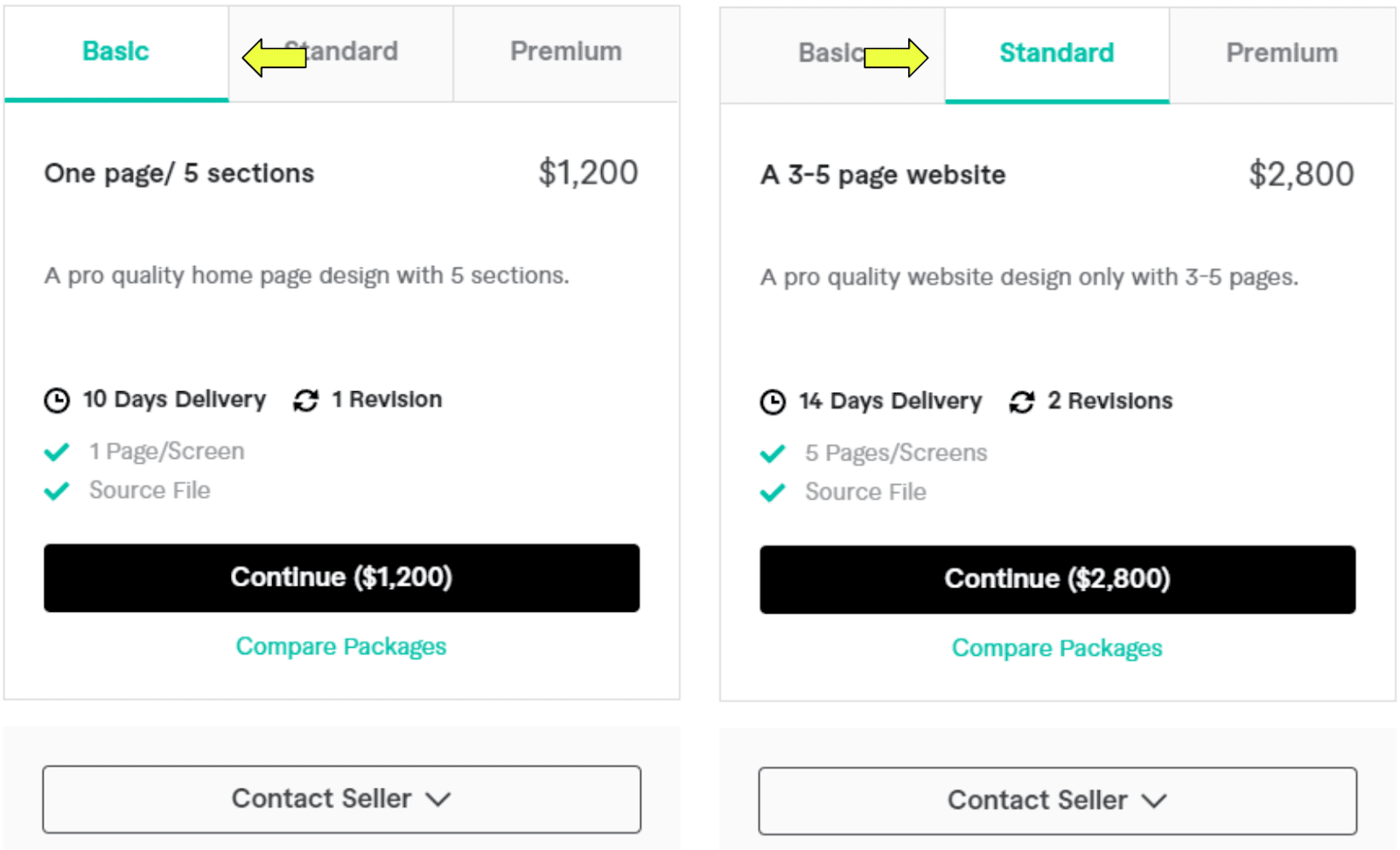 Pro Verified sellers typically have fast response times and prioritize communication, so you can contact the seller with any questions or concerns you have before ordering. To do so,
select "Contact Seller"
, located beneath packages. From there, you can ask a question or get a free quote.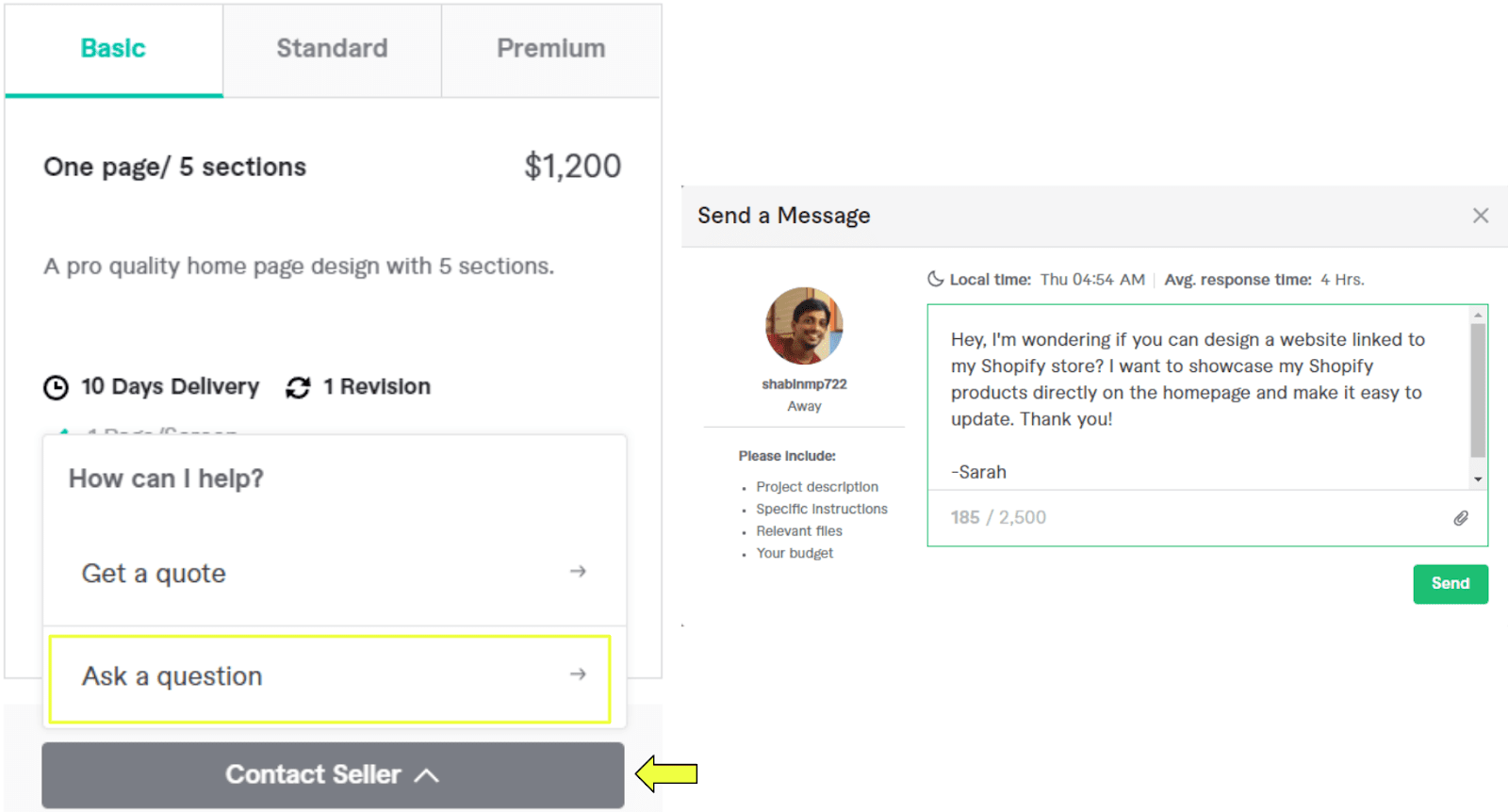 When you're ready to place an order, click "Continue" on the package you want.
You'll be taken to an order summary page where you can double-check everything and adjust delivery time and quantity.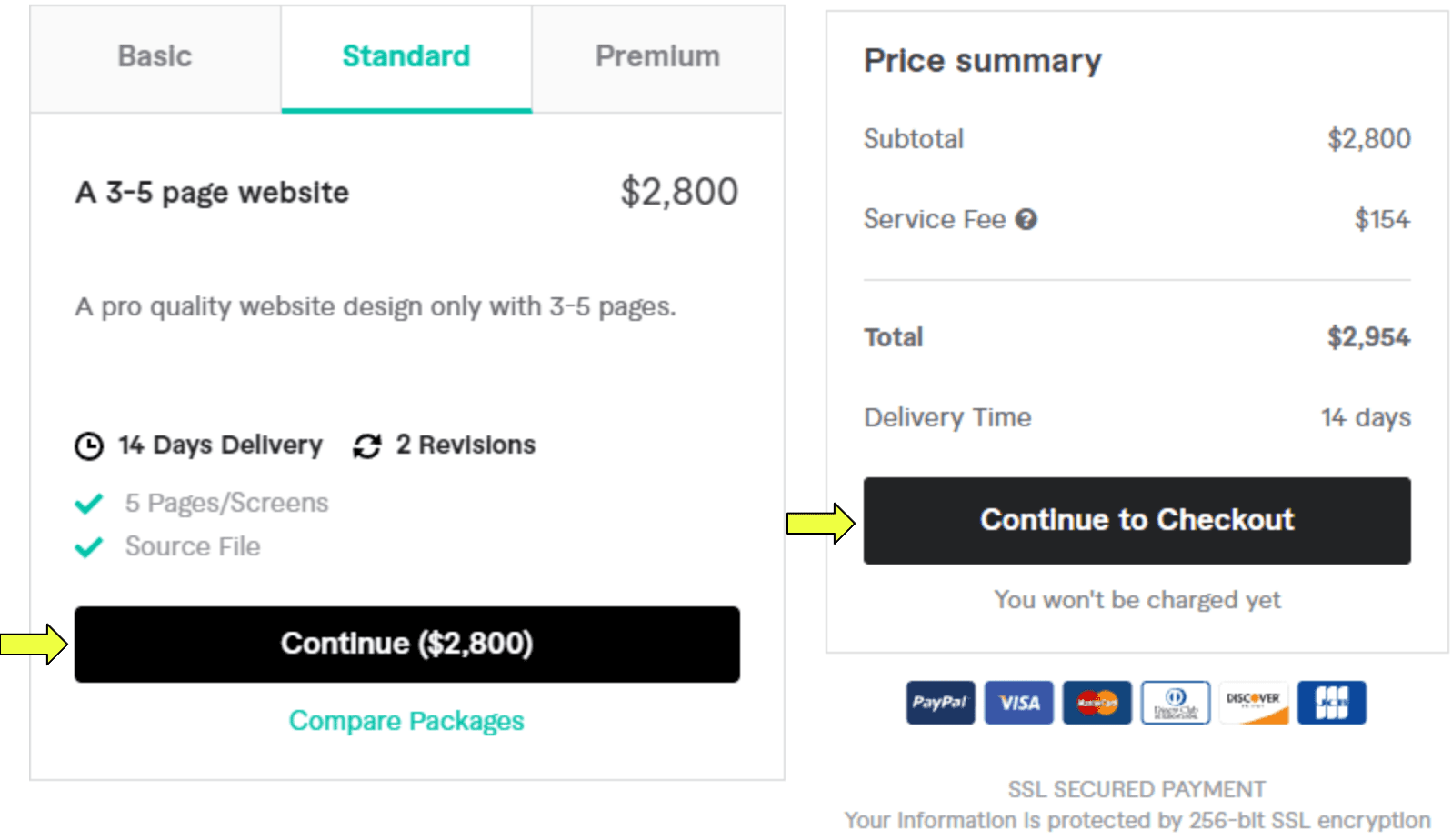 Next, click "Continue to Checkout" to pay for your order.
You can pay with a credit/debit card, wire transfer, PayPal, Google Pay, and Apple Pay, so it's pretty convenient.
What to Look For in a Creative Website Designer or Agency
You want to capture a professional vibe and make the perfect first impression on visitors to your site, but how can you be sure the website designer you hire is up to the task? Well, here's a few key traits all the top web design agencies should have:
Proficiency in art and visuals. The web designer or agency you hire should excel at creating attractive layouts, high-quality icons and fonts, and complimentary color swatches.
Marketing and SEO knowledge. A good web design agency won't just be a skilled artist, but also a marketing expert who can get your site to rank in Google search, increase visitors, and boost conversion rate. That means a good site structure and layouts to engage visitors and sell your stuff.
Expertise in digital design platforms. The top professionals should be experts in a digital design platform such as Adobe Photoshop, Figma, or Sketch. Bonus points if the designer has knowledge in WordPress, Squarespace, Wix, or HTML/CSS, too.
Customized branding. A truly professional website stands out from the crowd. The best web designers create websites based on your business and branding, and will use your logos, fonts, and images. They shouldn't just slap your content in a template and call it a day.
Strong communication. It's extremely important the agency you hire understands exactly what you need and what you're looking for. They should update you throughout the process, respond to you quickly, and communicate clearly about your project. A team of experts should work cohesively and all be on the same page with you and your brand.
Are You a Web Designer Looking to Sell Your Services on Fiverr?
If you're a freelance website designer looking to sell your services, Fiverr can help you get gigs and increase your client base.
Our Fiverr review
covers its pros and cons and how it can help you succeed. (Spoiler: it scored a
4.9
 out of 5 for a reason.) You'll gain access to new clients connected through Fiverr, and your work and payment information will be fully protected.
Clients pay through Fiverr before you deliver your service
, so there's no chance of a scammer taking your hard work and running off without paying. Signing up for Fiverr is free and super easy. To start,
head to the Fiverr homepage
 and select "Join" to create a basic buyer account. You can also sign up through Google, Facebook, or Apple to save time.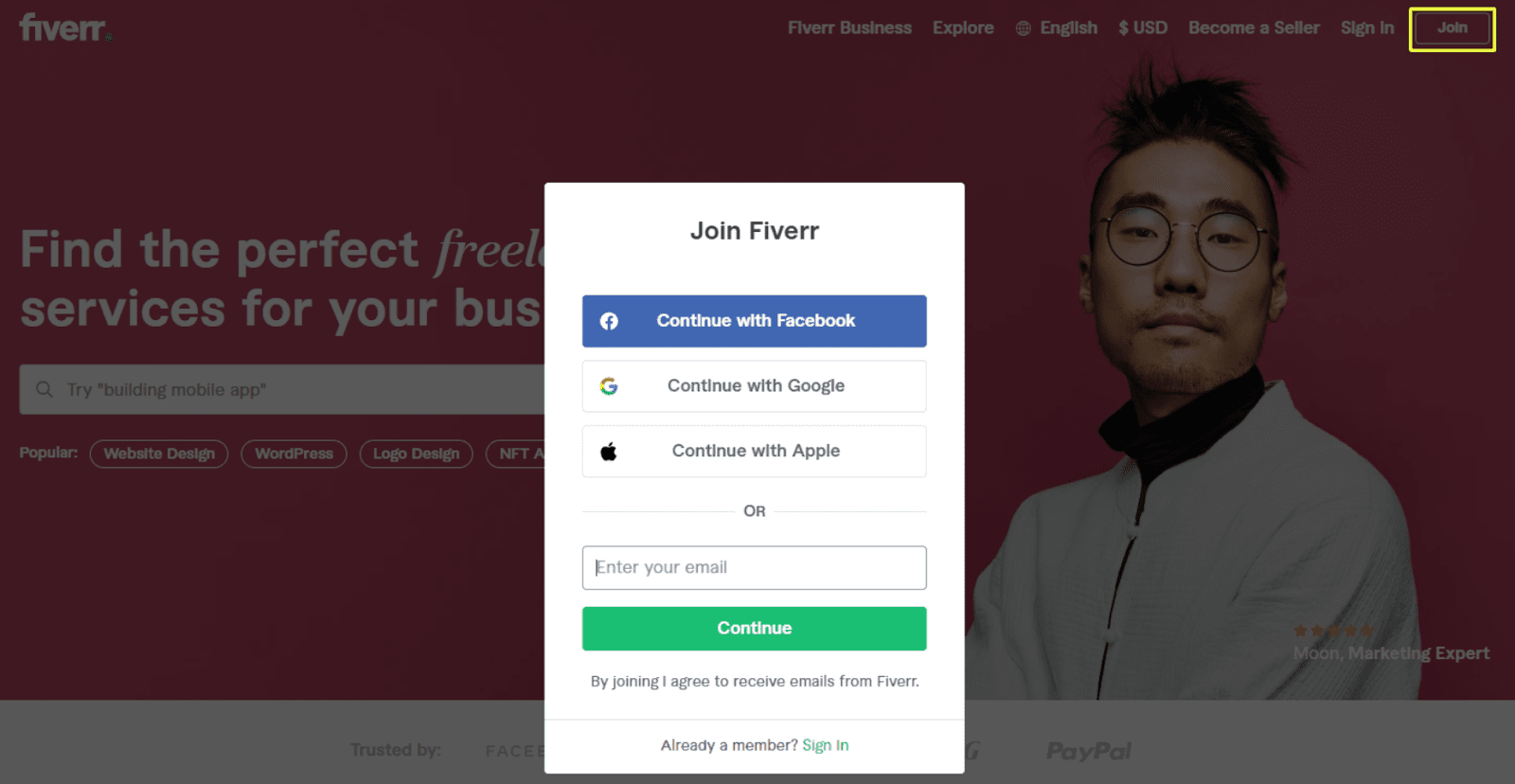 Next, you have to change to a seller account. This is also free, but requires a few more details. When signed into Fiverr,
click your profile and select "Become a Seller" from the dropdown menu.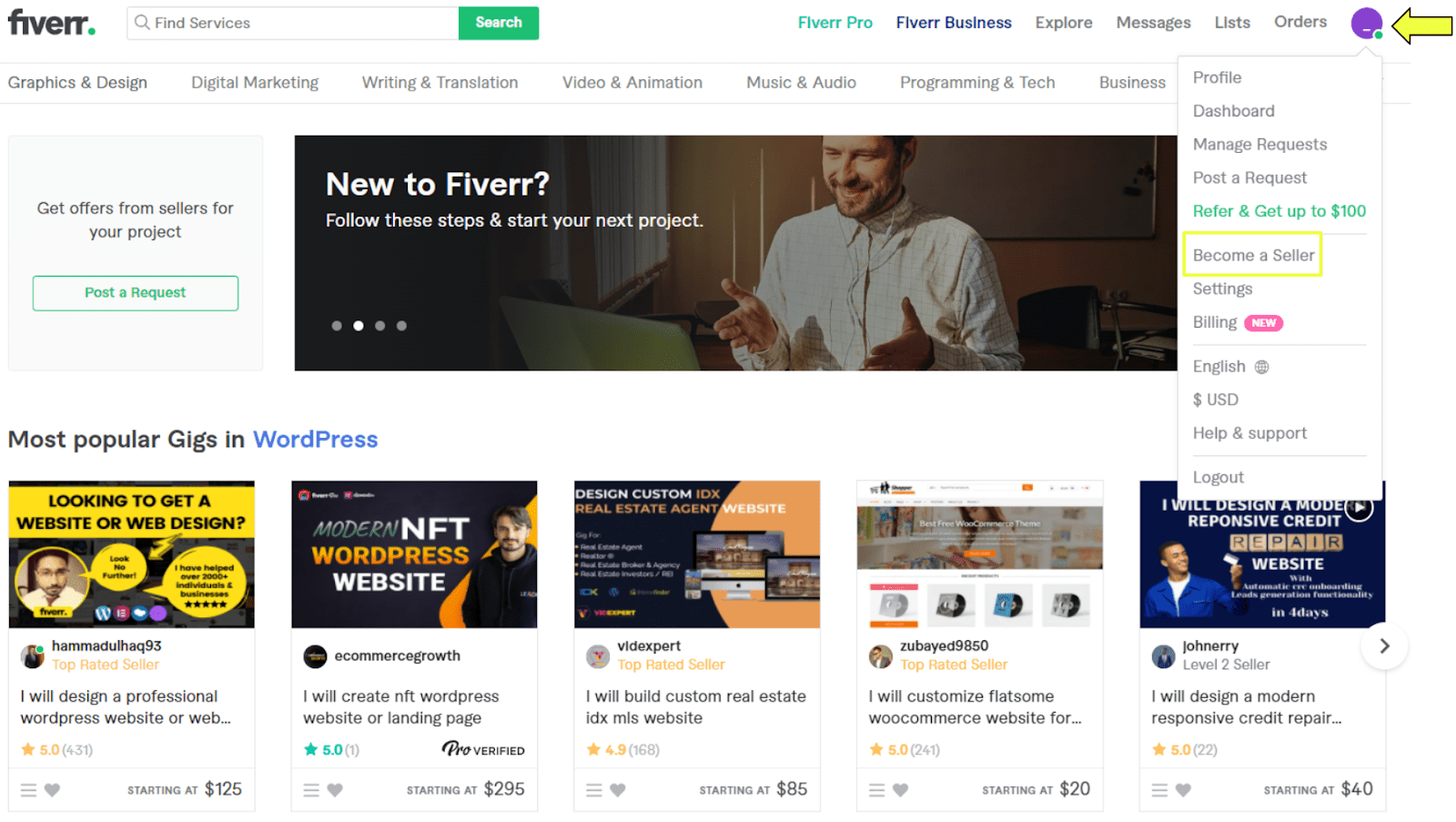 Watch Fiverr's videos and read through their tips and rules until you reach the Personal Info section. Here you'll input your bio, education, work history, and skills – everything that will help sell your service to potential clients.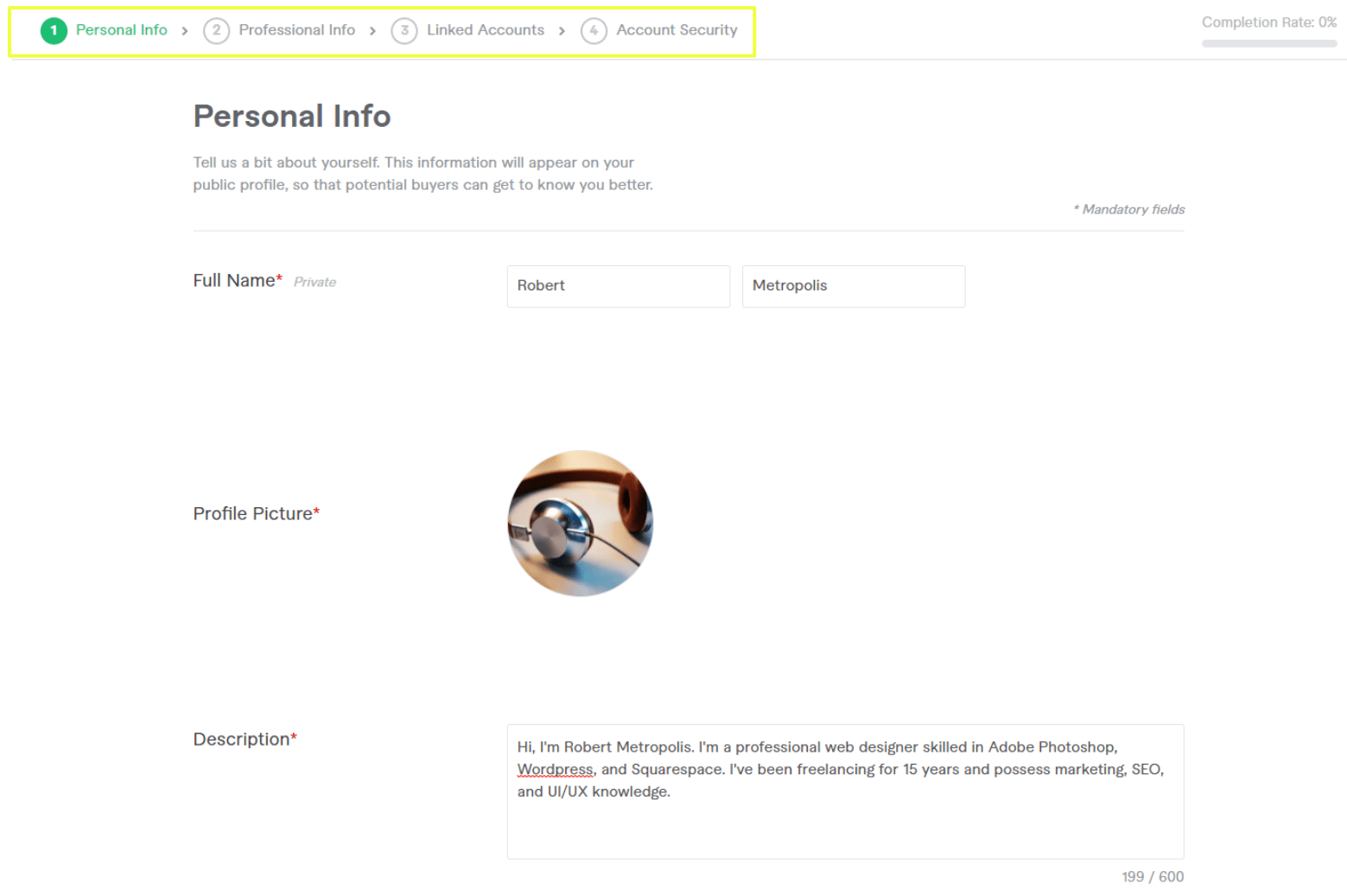 Have you completed the information submission? Congratulations, you have officially become a seller on Fiverr! You can now promptly commence the process of setting up your first gig and connecting with new clients.
Get the Best Web Designer by Going Pro
If you want a website design that knocks all others out of the park, your best bet is to go with a top web designer and proven professional.
Hiring a Pro Verified designer or agency through Fiverr is one of the safest and easiest ways to get a professional website
that outshines the competition. Pro sellers on Fiverr are carefully vetted and approved, so you don't have to deal with the anxiety of hiring a freelancer whose designs may fall flat.
These freelance web designers have proven work experience
 and a strong background. By hiring the right web designer, you'll be able to launch your site fast and make a big impact with a top-grade, professional look.
FAQ
How much does a professional web designer cost?
The exact cost of a pro web designer depends on a few factors, like how many pages you want and how complex your site is. A 1-3 page business website could cost you $600-1,200 – as you can see from the website designers I recommend here – whereas a full-blown e-commerce store might be $2,500 and beyond.
What skills do web designers have?
Pro web designers have SEO marketing knowledge and are well-versed in Adobe Photoshop, Figma, and other design platforms key to creating a great web design. When you hire a pro designer, you're getting an expert in those fields. Here are all the skills I recommend you look for when hiring a web designer.
What do web design agencies and companies do?
Web design agencies consist of a team of artists and developers who collaborate on art, marketing expertise, and development to create professional websites.
What are the best web design companies?
There are a lot of excellent web design companies out there, and many can be hired on Fiverr Pro. If you're having trouble finding a good web designer, our best freelance websites guide goes over the 7 best places to hire freelancers.